Please note that some of our links are affiliate links, which means at no additional cost to you, we will earn a commission if you click through & make a purchase. Happy clicking!
Coopers Rock State Forest in northern West Virginia has scenic overlooks, geologically magnificent hikes, and a cozy campground.
Coopers Rock State Forest is just 15 minutes east of Morgantown and is the largest state forest in West Virginia- but you'll feel like you are in another world! 
The park's name comes from a barrel maker, actually called a "cooper", who escaped trouble from the law by hiding out in the forest and continuing his trade. 
Later, the area was home to many iron furnaces that exploited the natural resources in the area before the timber industry came along to do the same. 
Our heroes, the Civilian Conservation Corps, finally arrived in the mid 1930s to construct park buildings and picnic structures. 
The amazing rock formations and expansive scenic overlooks make you forget, that like so many other beautiful state parks, the land was once overused for industry.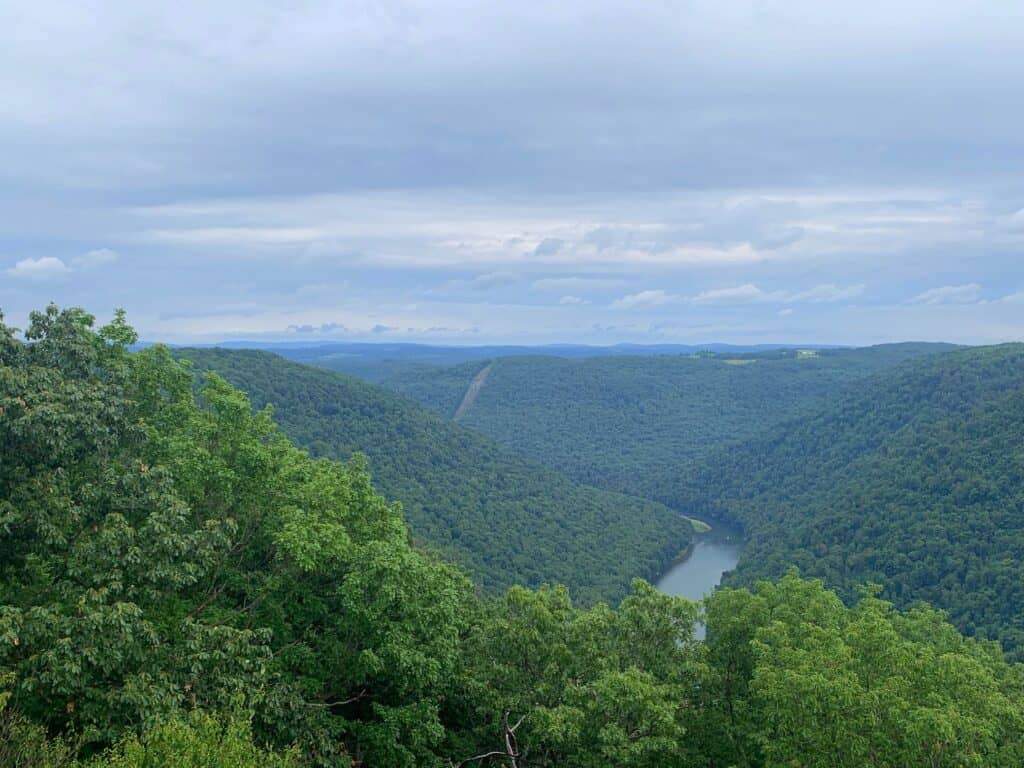 Coopers Rock State Forest has two different campgrounds:
McCollum Campground has 25 sites with electric, and a bath house with hot showers and laundry facilities
Rhododendron Campground has 25 primitive sites for tents or hammock camping, and bathrooms (but no showers)
Because nothing stands between me and a hot shower, we were in McCollum Campground, at site #2.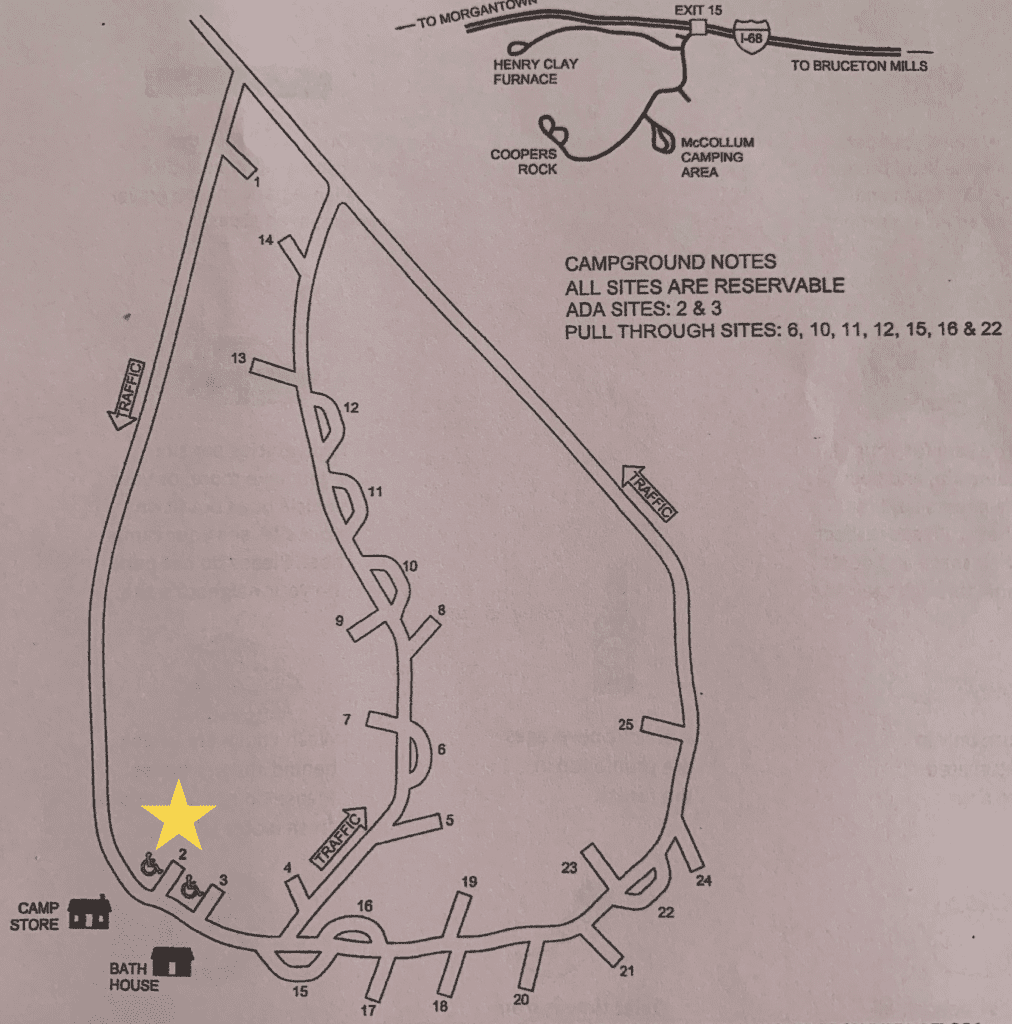 We secured our site at the last minute using the WV State Park reservation phone number after getting rained out of Babcock State Park just a few hours south. Even though it was an ADA site, we were able to reserve it because of the same-day availability. 
Site #2 is spacious and grassy – but right across from the campground check in. Franklin, our reactive dog, did not appreciate being that close to so many campers for even a brief period of time.
As cars and RVs stopped to check in or purchase firewood, Franklin gave them a big, loud "HELLO".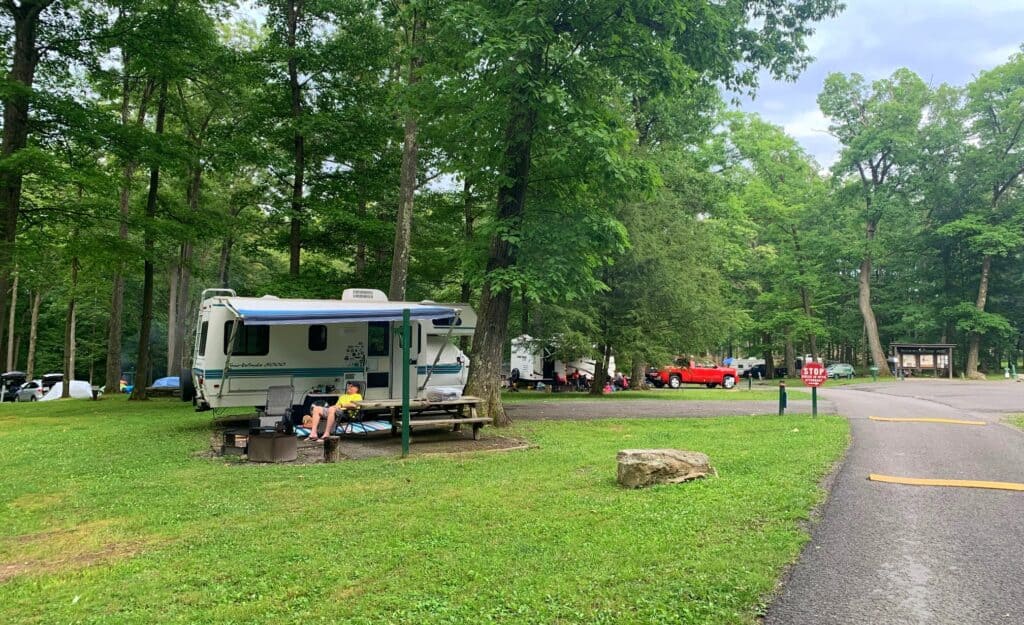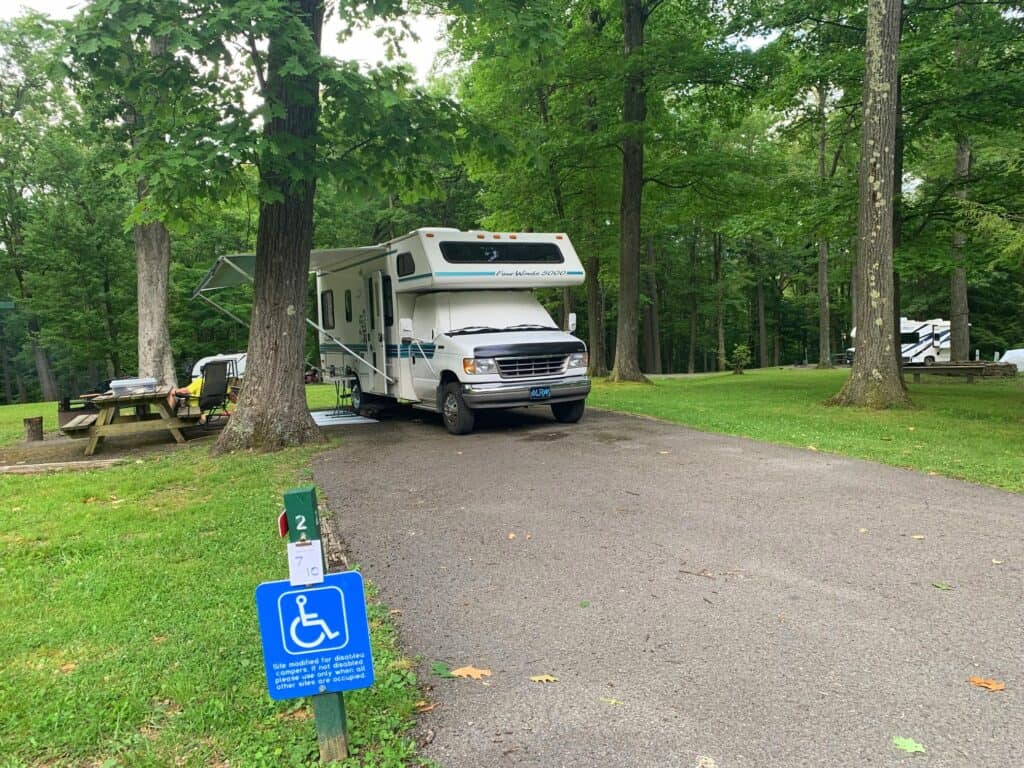 While the bath house was small (Russ commented the men's room only had one urinal and one stall), the showers were mighty! The water was screaming hot with fantastic flow and pressure. 
PRO TIP for the Campground
McCollum campground is small and cozy, so make sure you get your reservations in early for this one!
Coopers Rock State Forest has 50 miles of hiking and biking trails, and we've been lucky enough to visit three times. 
If it's your first visit, we highly recommend going to the overlook at Coopers Rock and tackling the nearly 2 miles of rocky trails around it – including Rock City, Rattlesnake, and Eagle Loop Trails.
The views and rock formations in this area are equally incredible!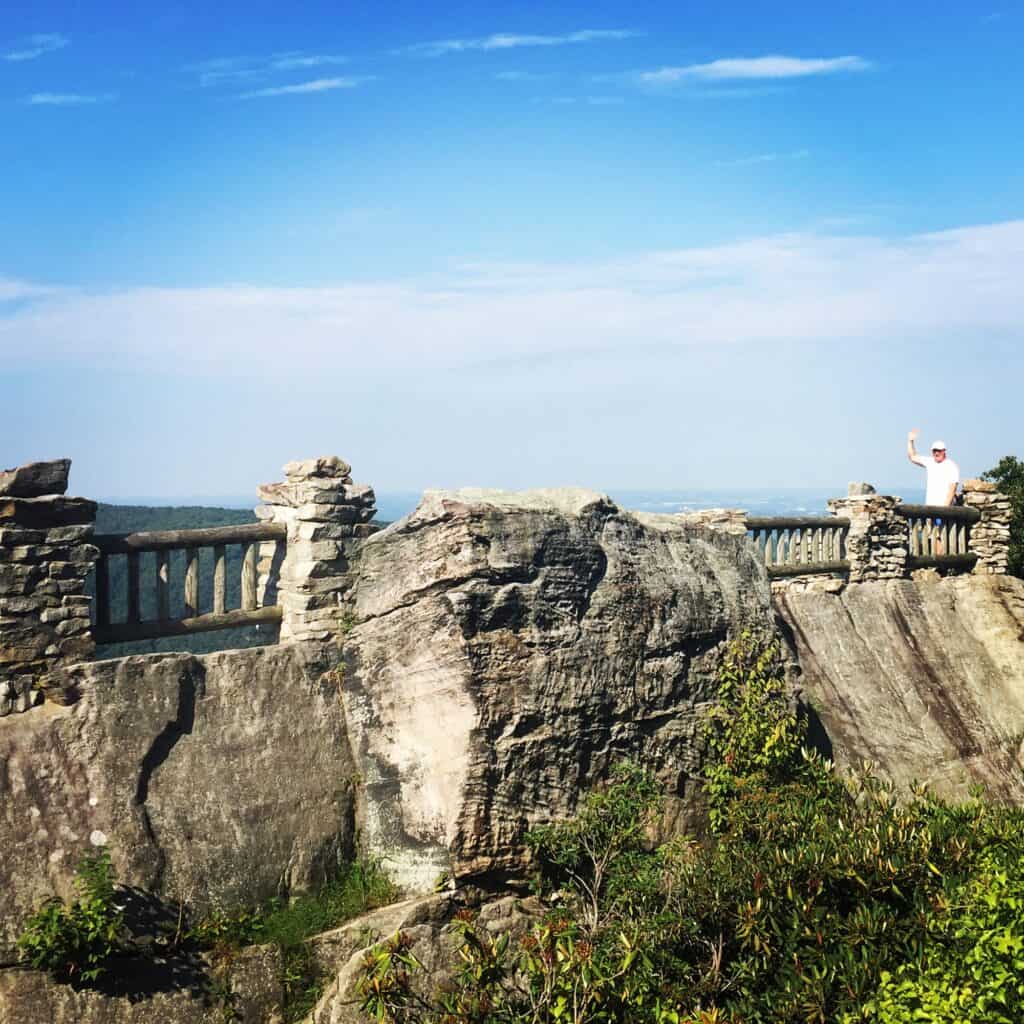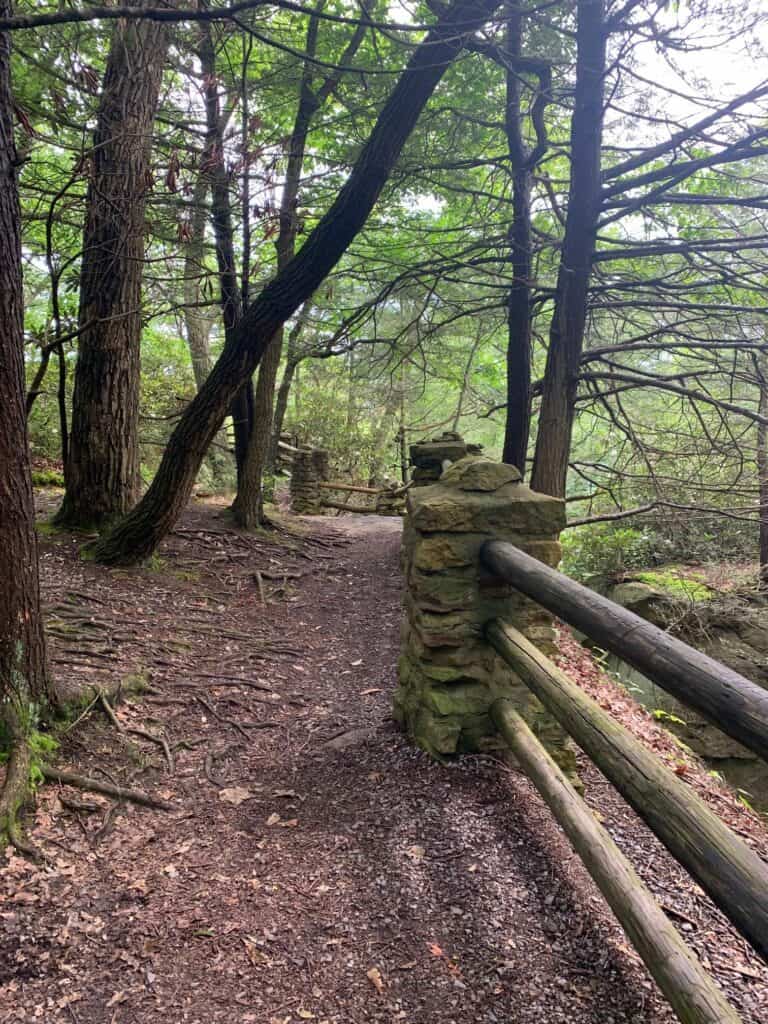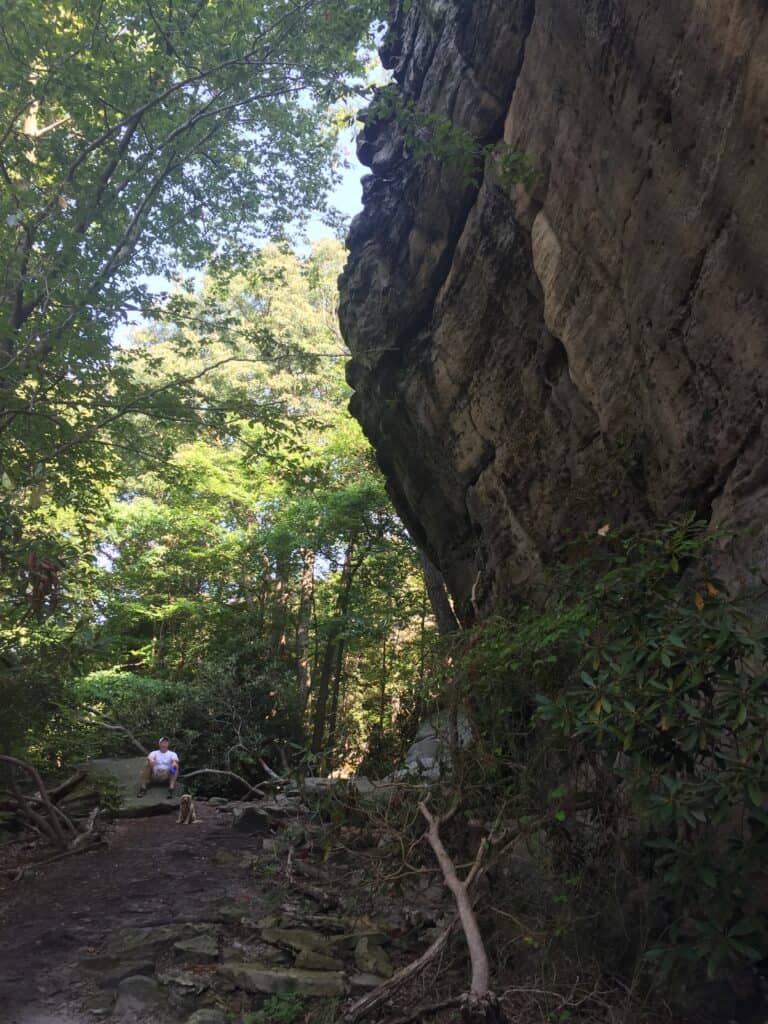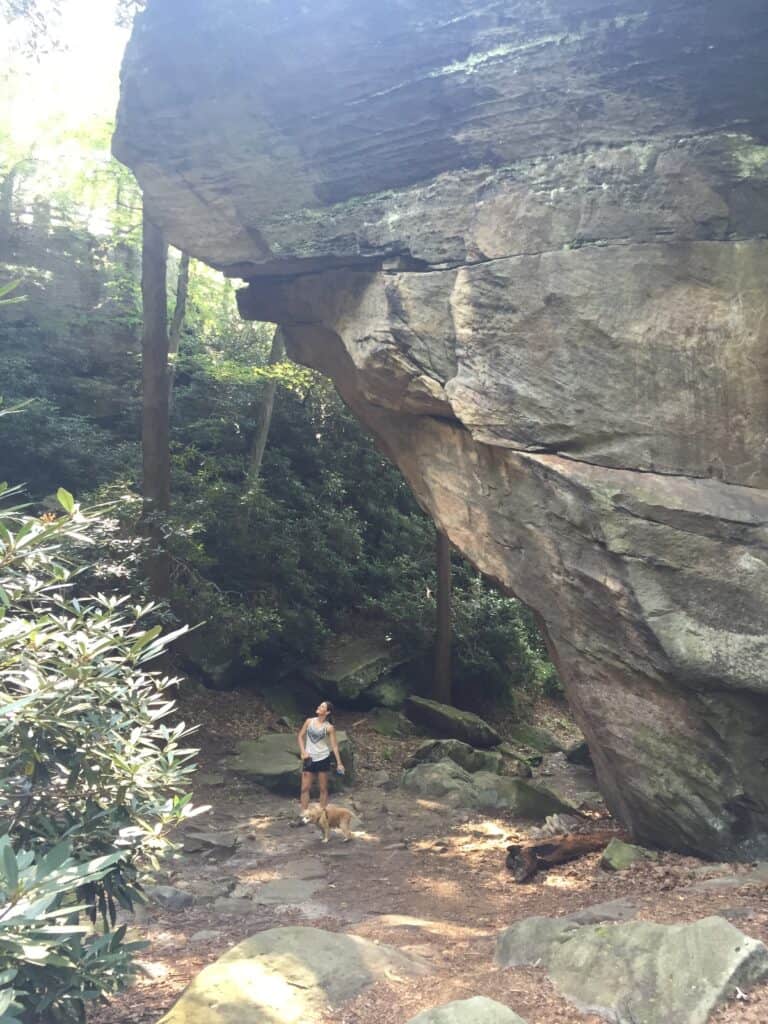 On our most recent trip, Franklin had torn his doggy ACL and was sporting a brace until his surgery, so we stayed pretty close to the campground and hiked a few flatter trails. 
He easily handled the Roadside Trail and the Reservoir Loop Trail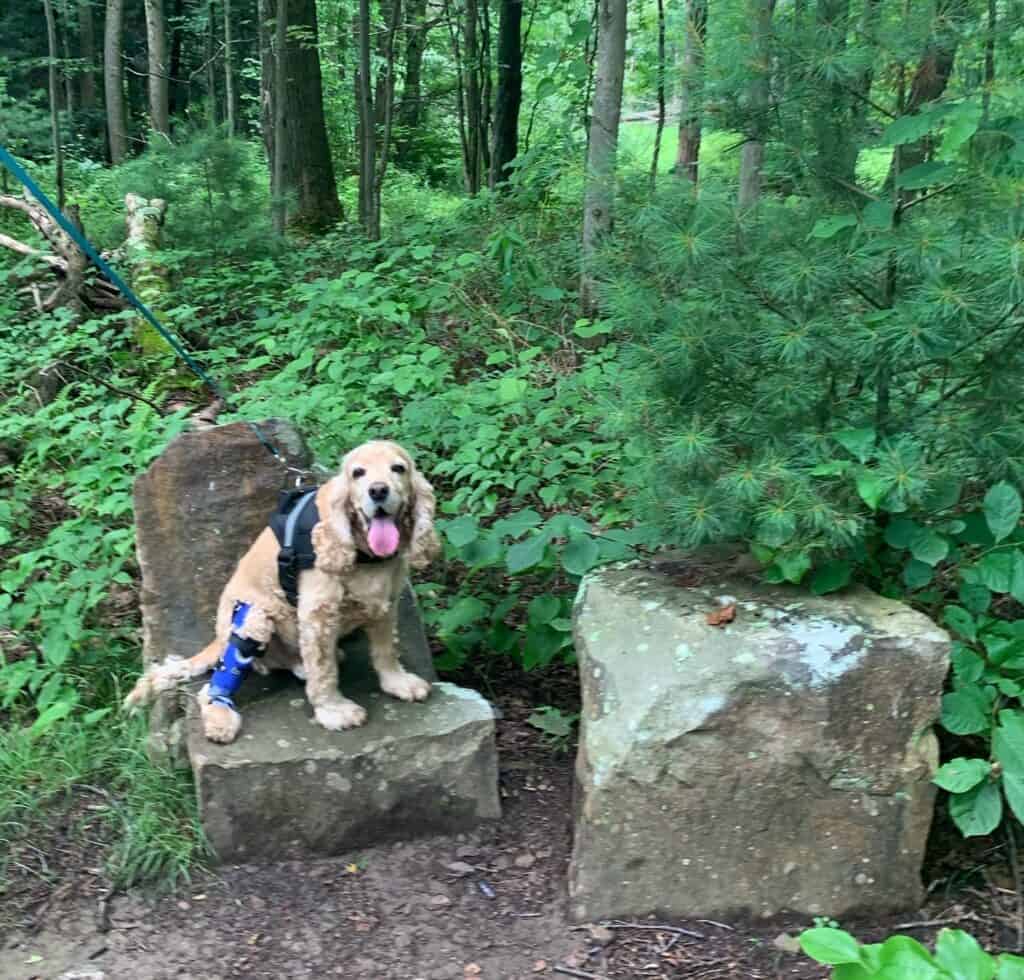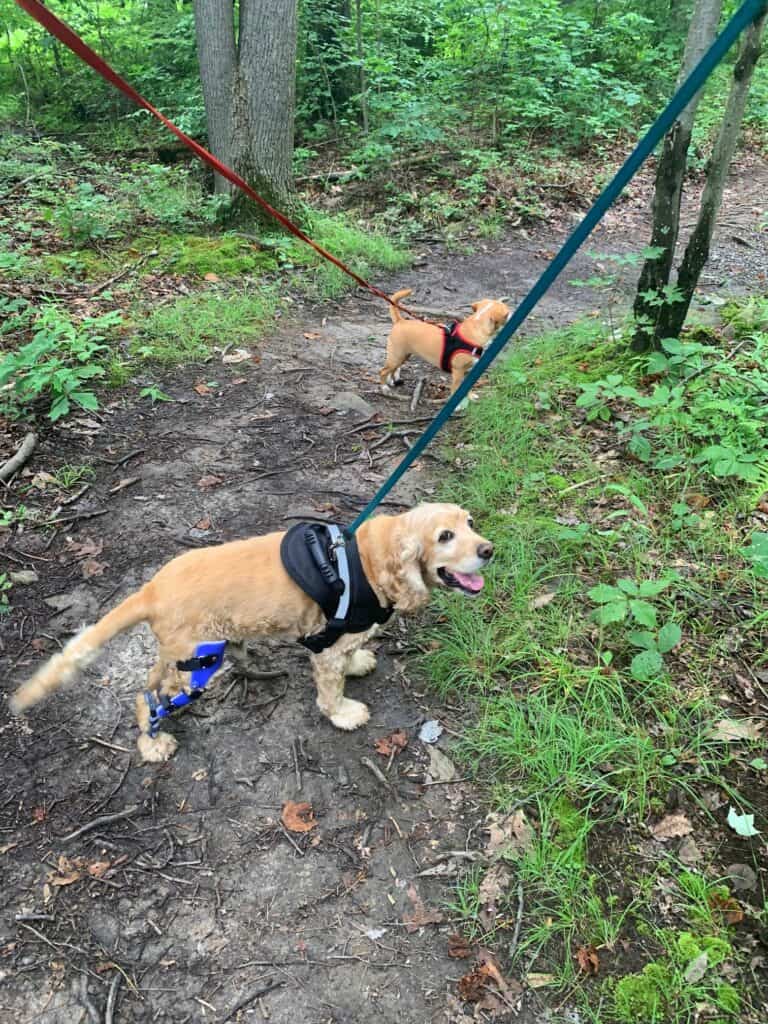 For a quick, historically interesting hike, you can head to the parking lot in the northwest corner of the park to visit Henry Clay Furnace. 
This trail was just over half a mile long, but we enjoyed the creek, furnace (although a little crumbly!), and iron ore stack.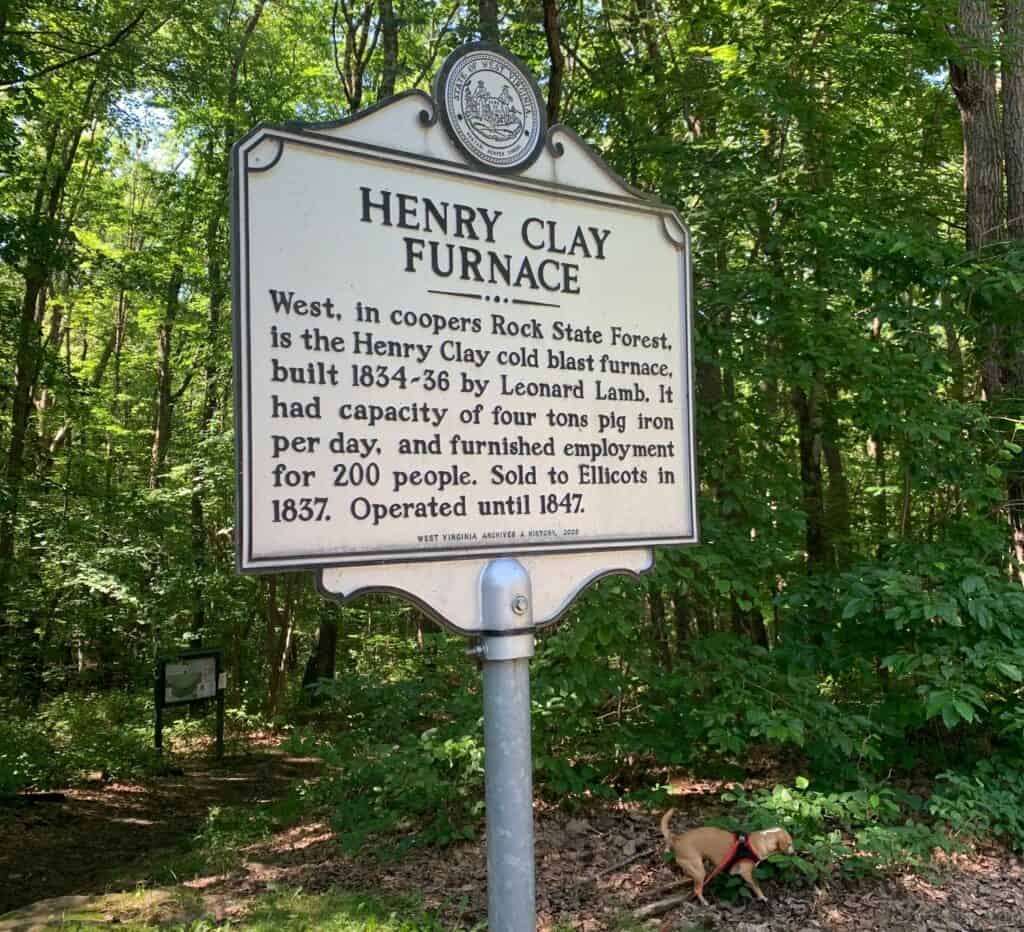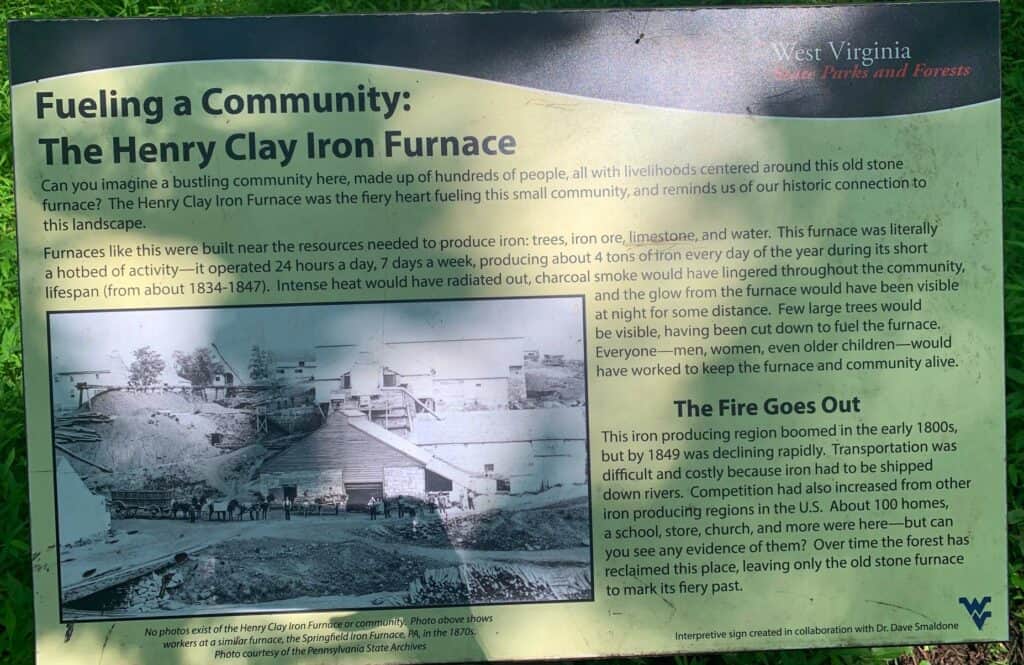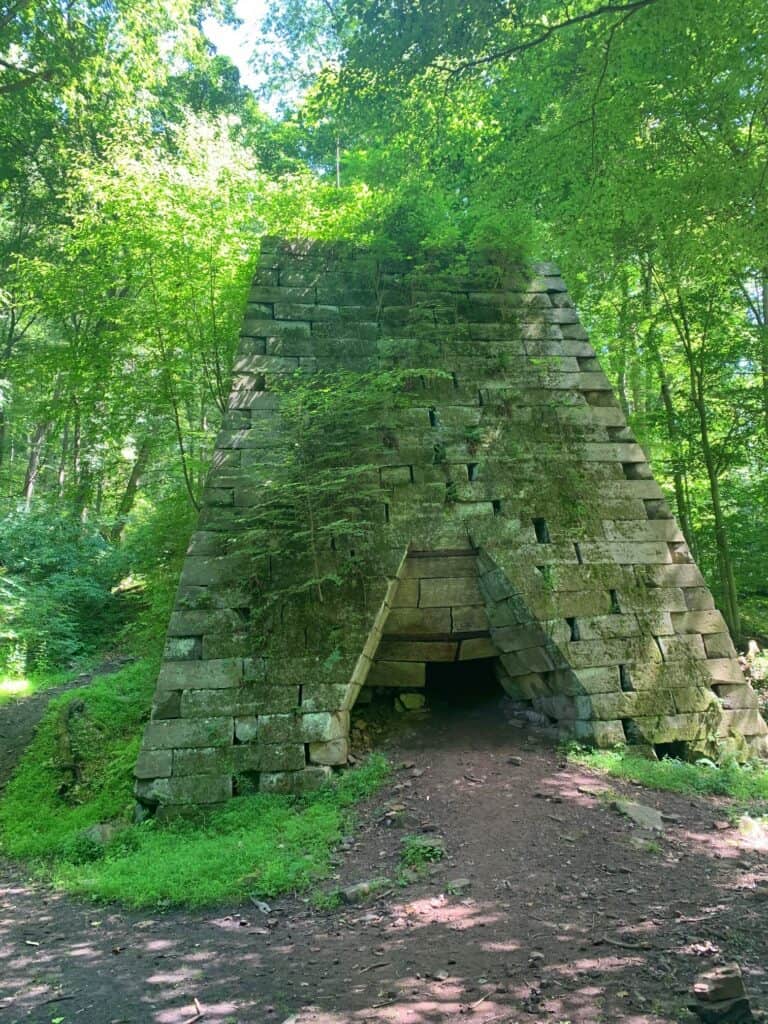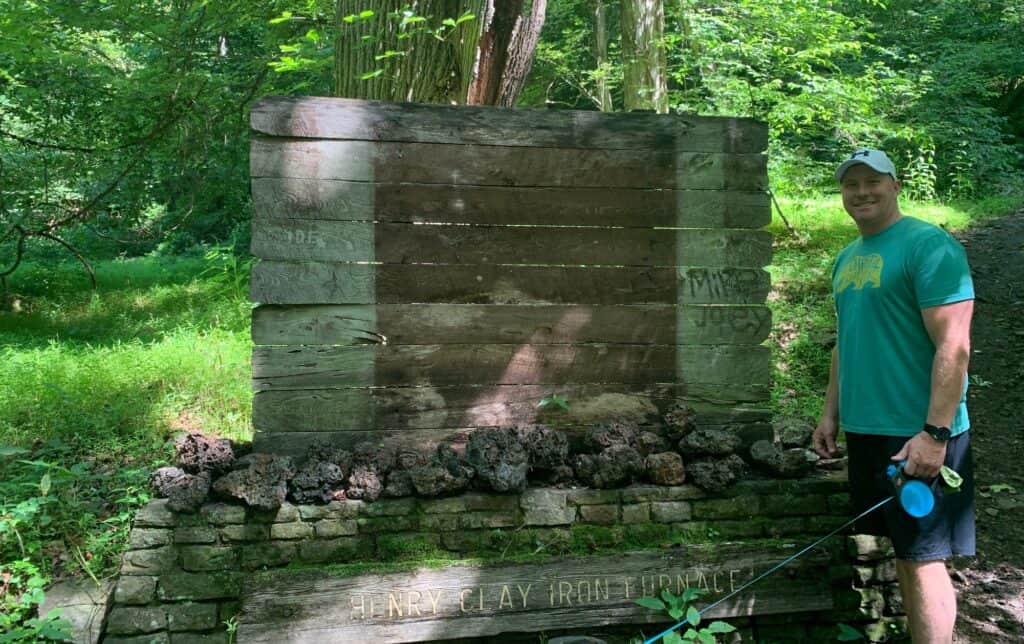 There are lots of other mountain biking and cross country skiing trails plus a bouldering area. We barely scratched the surface!
Overall, our hikes only covered the most popular parts of the park, as outlined in green, so there's plenty more to explore: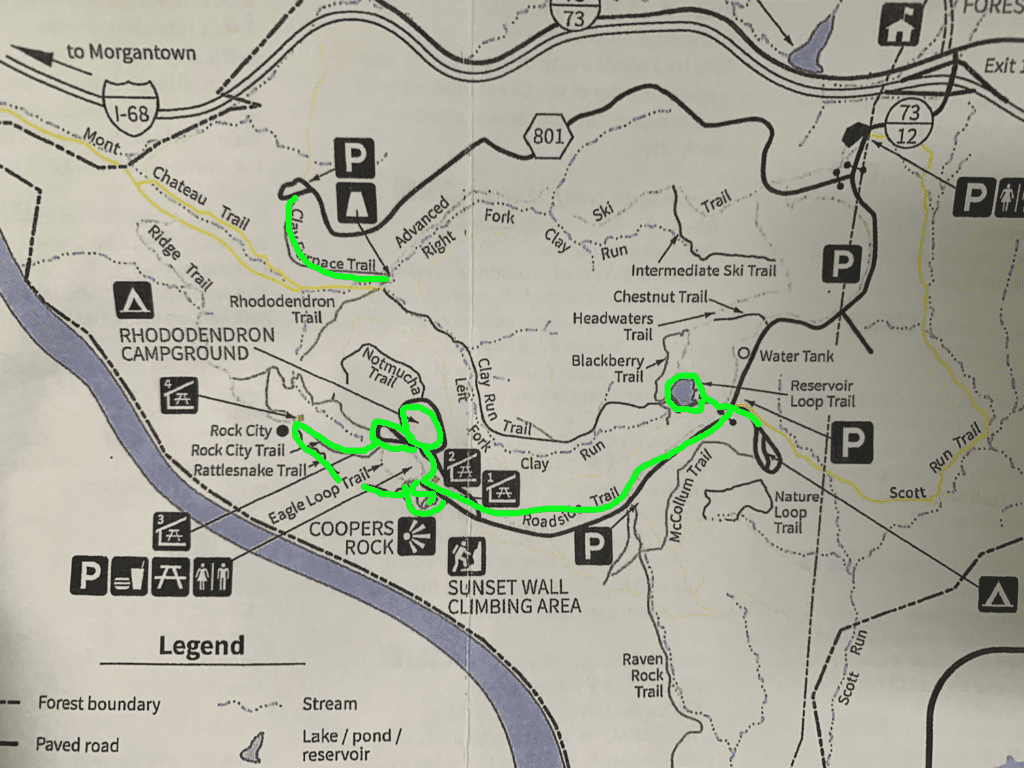 Wildlife, Fauna, and Fungi
In mid-July, the rhododendrons are blooming! Coopers Rock State Forest even has a Rhododendron Trail.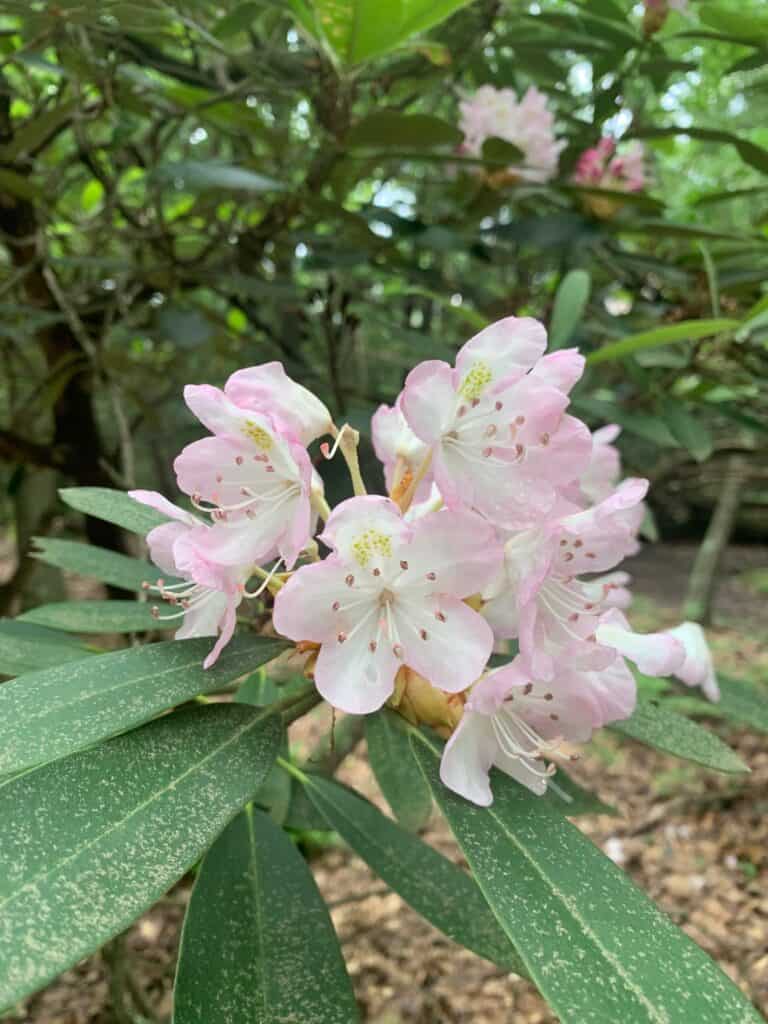 We spotted a few deer and chipmunks in the park, along with these excellent mushrooms and fungi: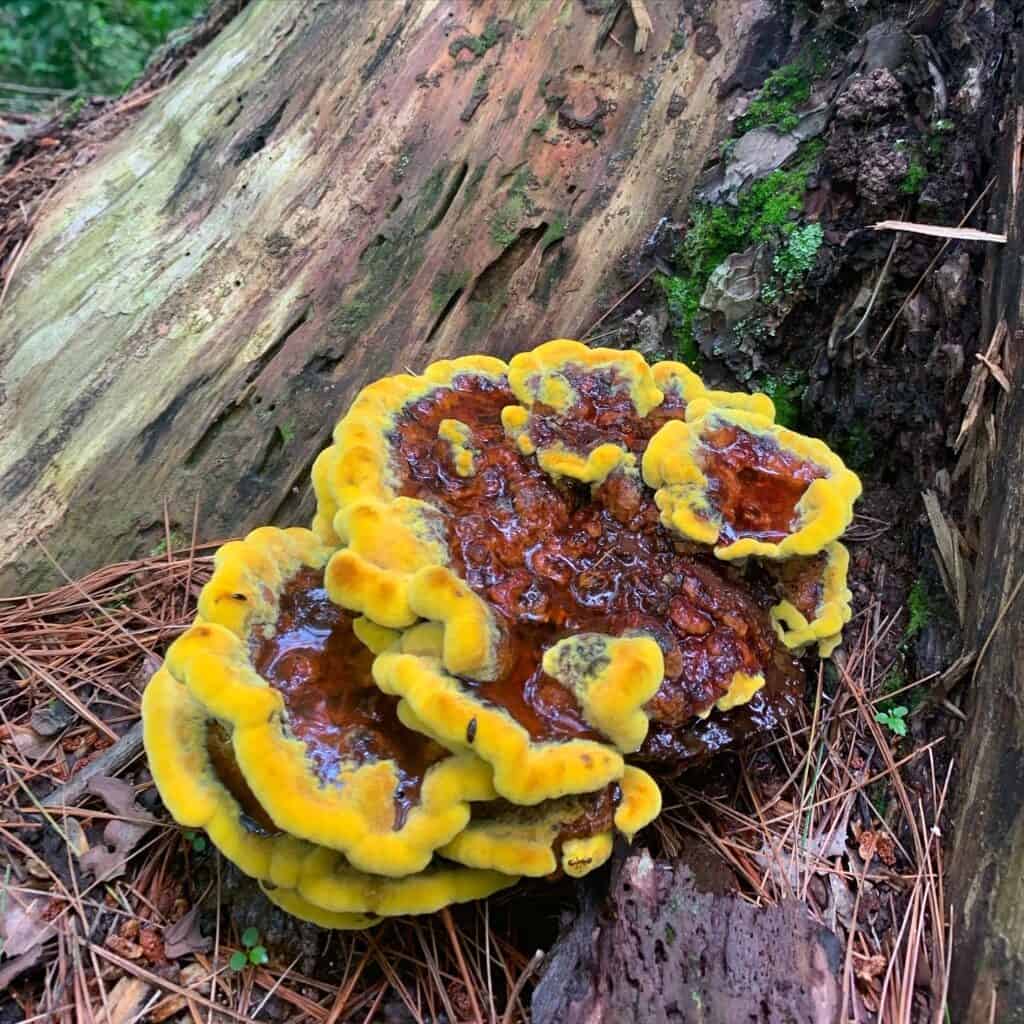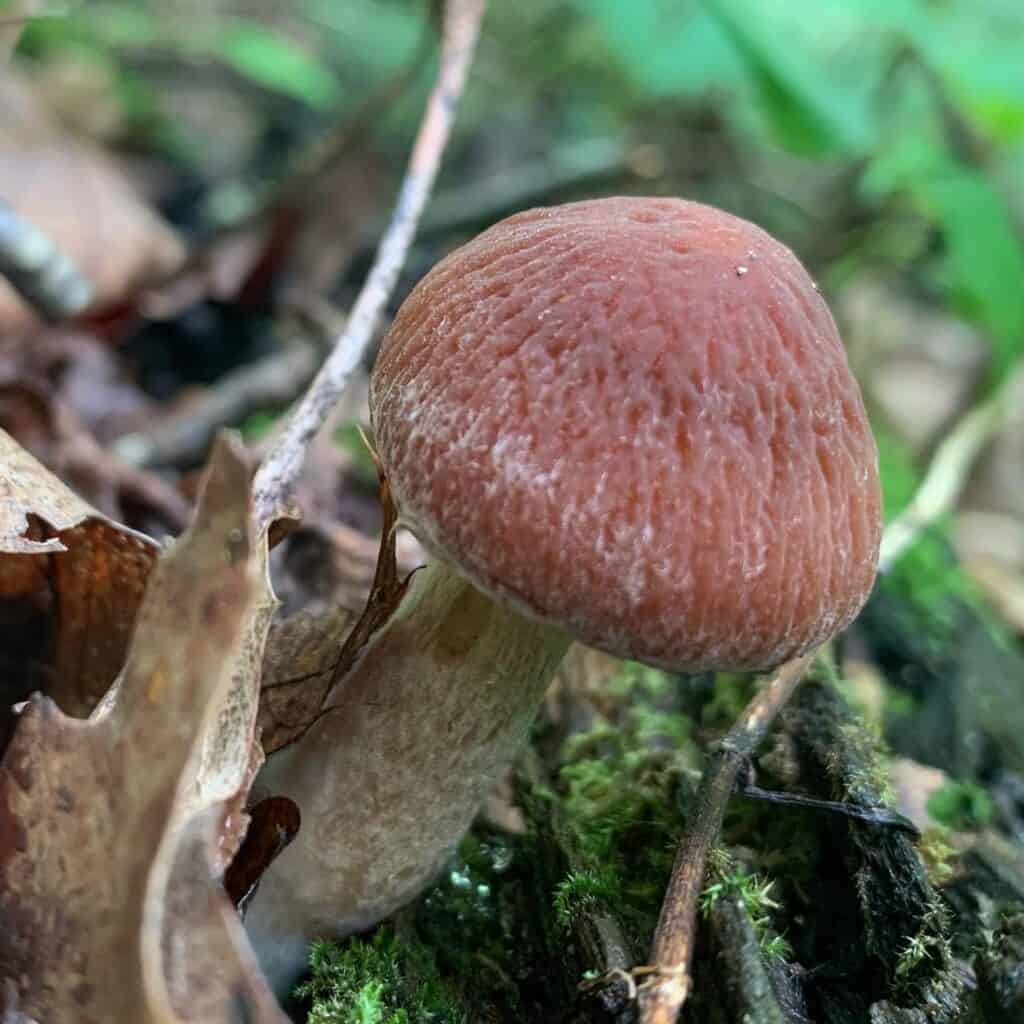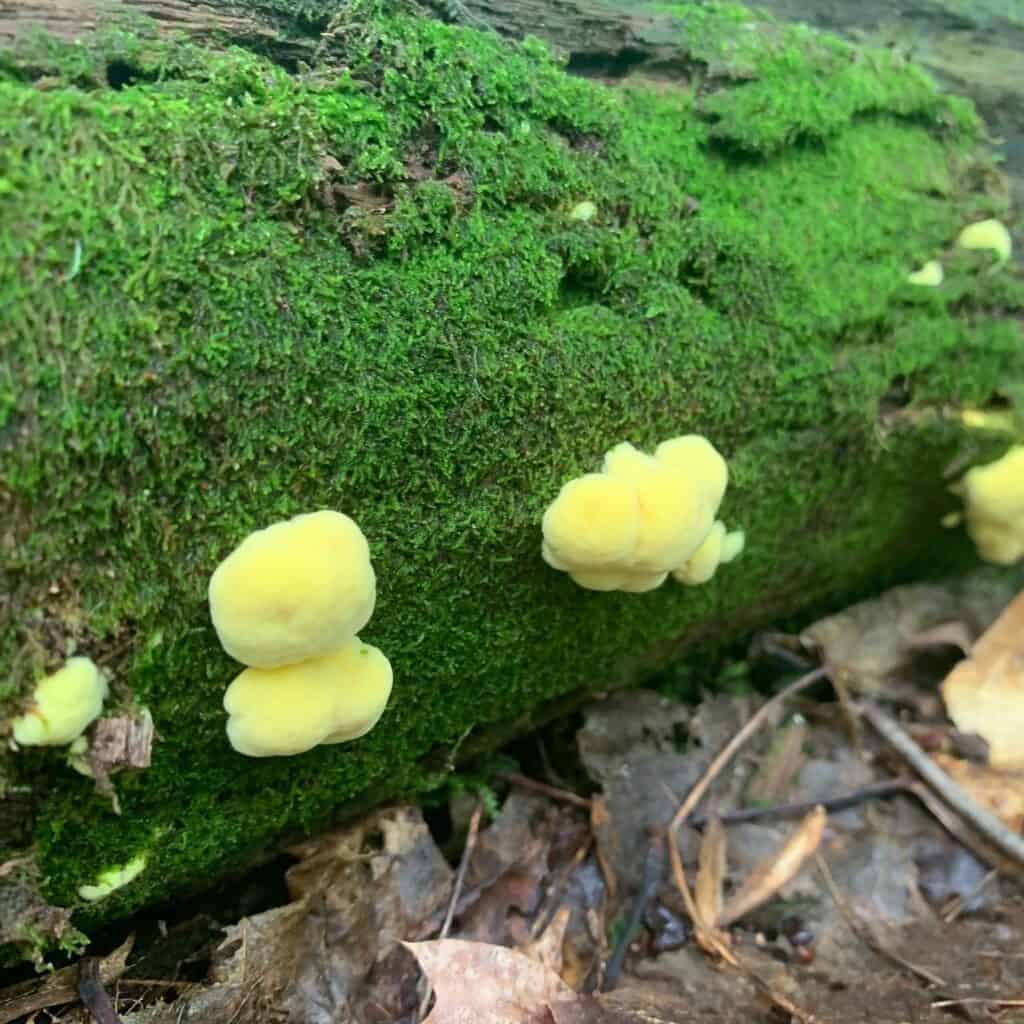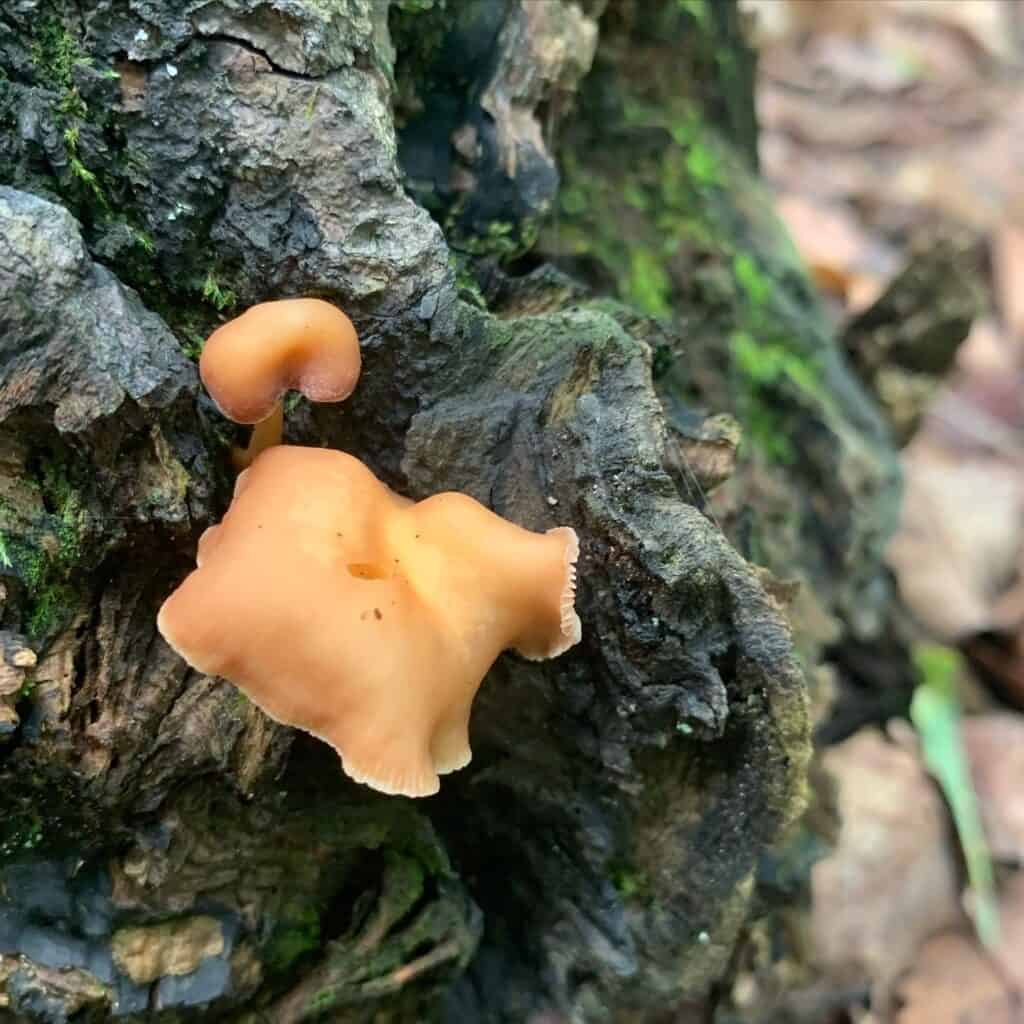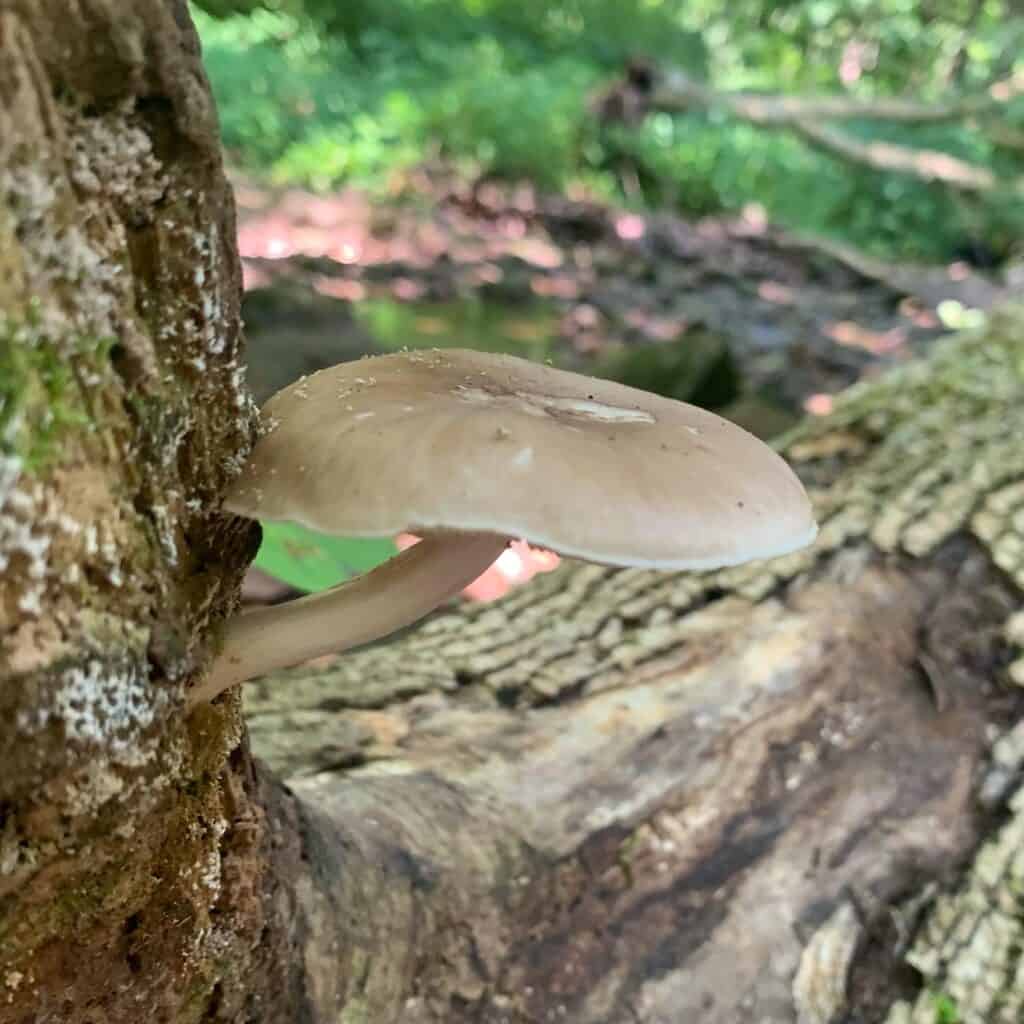 Also, if you do the Reservoir Loop, stop at the small dock to check out tons of spot fish swimming around!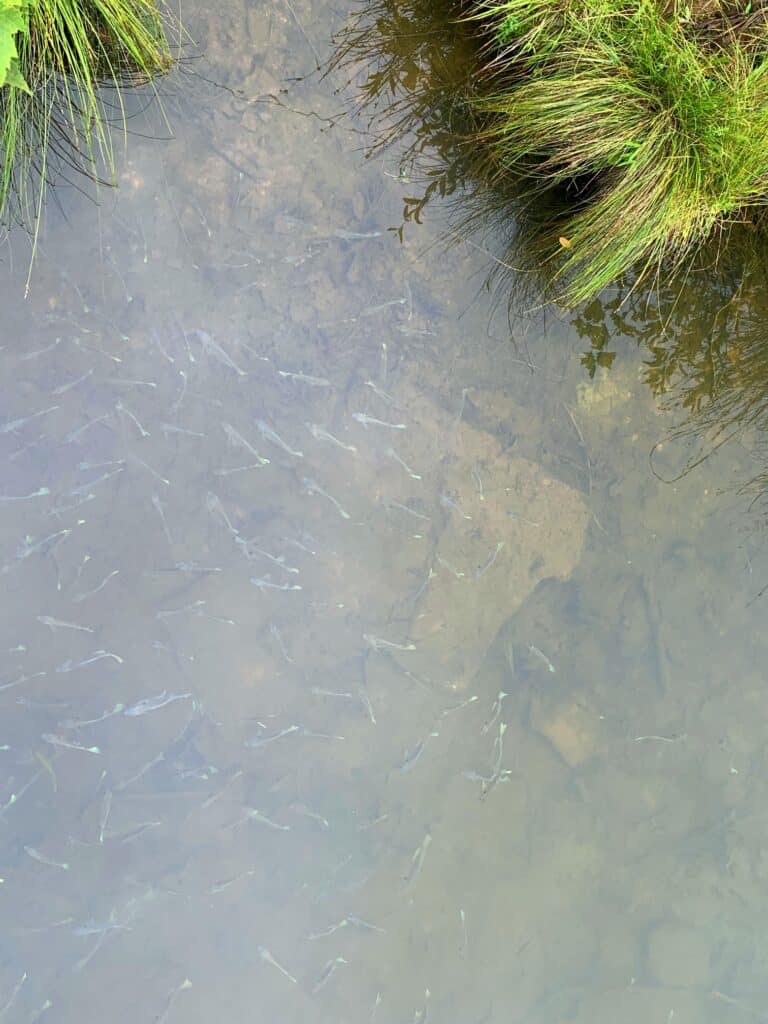 PIT STOP!
Almost Heaven Desserts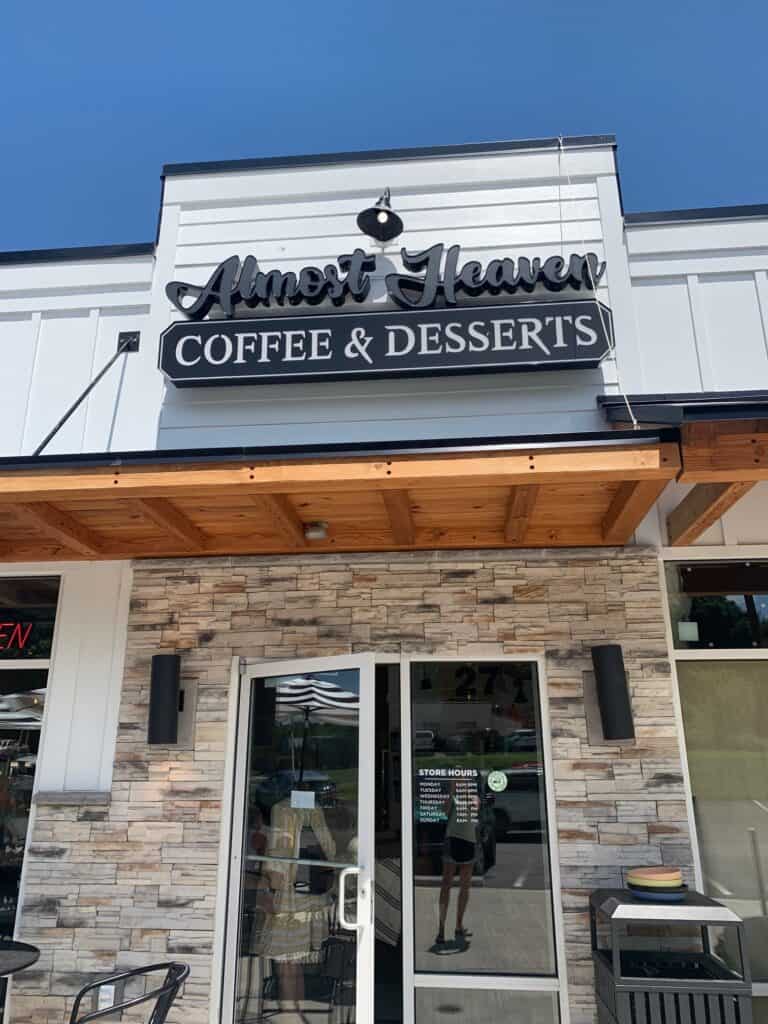 Guess what we found out was just 8 short miles from Coopers Rock?!
A Cheat Lake location for one of our favorites when we're in West Virginia – Almost Heaven Desserts and Coffee Shop. 
If you read our Cedar Creek State Park Trip Report or the North Bend State Park Trip Report, you might remember the Almost Heaven Desserts and Coffee Shop left quite a delicious impression on us.
We headed over to Cheat Lake to make sure this location measured up. 
Two Mountain Mama breakfast sandwiches and coffees later, we can assure you – it is a must stop. 
Plus- the large parking lot behind this location can easily accommodate an RV. 
Coopers Rock State Forest in West Virginia is surprisingly remote for being so close to Morgantown and a major university. Take advantage of the incredible views and rocky hikes on your camping weekend!