Blue Knob State Park in Imler, Pennsylvania, is a quiet weekend getaway that boasts the second highest peak in the state, along with close to 20 miles of hiking trails within its 6,100 acres of forest & recreation space.
Blue Knob State Park is just two hours from both Pittsburgh & Harrisburg, with Altoona, Johnstown & Bedford each only about half-hour away. 
Before it became a park, industries in the Blue Knob area included logging & distilling (cheers!). The National Park Service (NPS) opened Blue Knob in 1935 to provide a recreation area for the hard-working residents nearby and few years later, the Civilian Conservation Corps made improvements & added to the facilities. In 1945, the NPS handed it over to the State of Pennsylvania. 
You can hike, mountain bike, and horseback ride on the varied-terrain trails in the park- plus in the winter, you can ski out of Blue Knob Four Seasons Resort.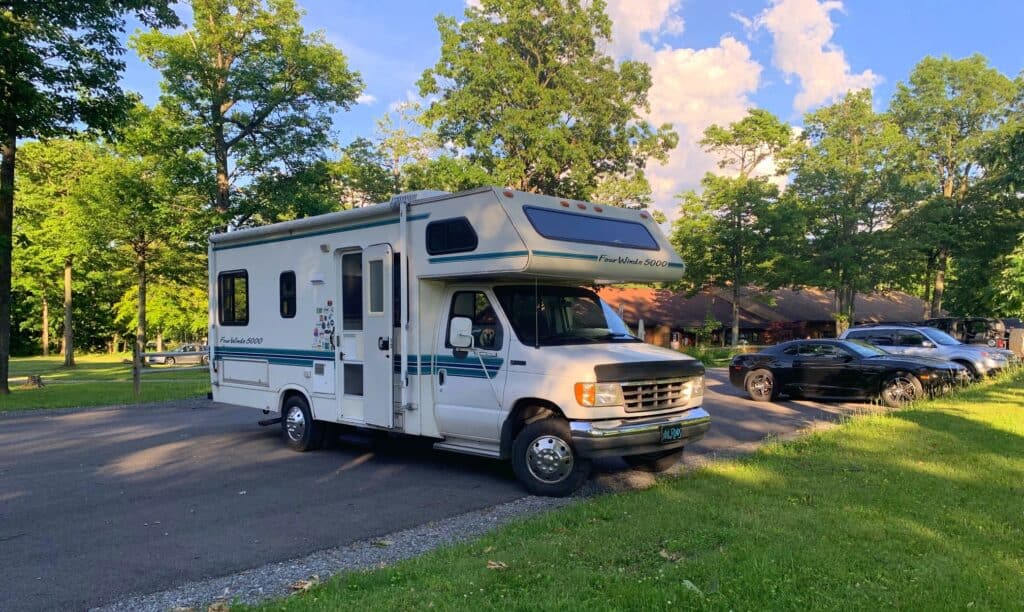 We even made a stop at Blue Knob Clubhouse Bar & Grille for sandwiches on our way to the campground.
There is ample parking for smaller RVs, plus some nice grassy areas for the dogs to play in while you wait for your to-go order.
We visited Blue Knob State Park twice: most recently in late-June at site #35 and previously in mid-September at site #21.
In summer, the campground was full with lots of activity in the open areas; however, in the fall, it was only about 1/4 full, so we seemed to have a lot of room. 
There is not much privacy if you're site is on the inside loop of the Pet Walking Area and Play Field. Sites 16 through 22 provide much more privacy, and back up to a thick forest.  
You can take a look at the entire park map here. In this snippet, our sites have been at the green star, sites #21 and #35: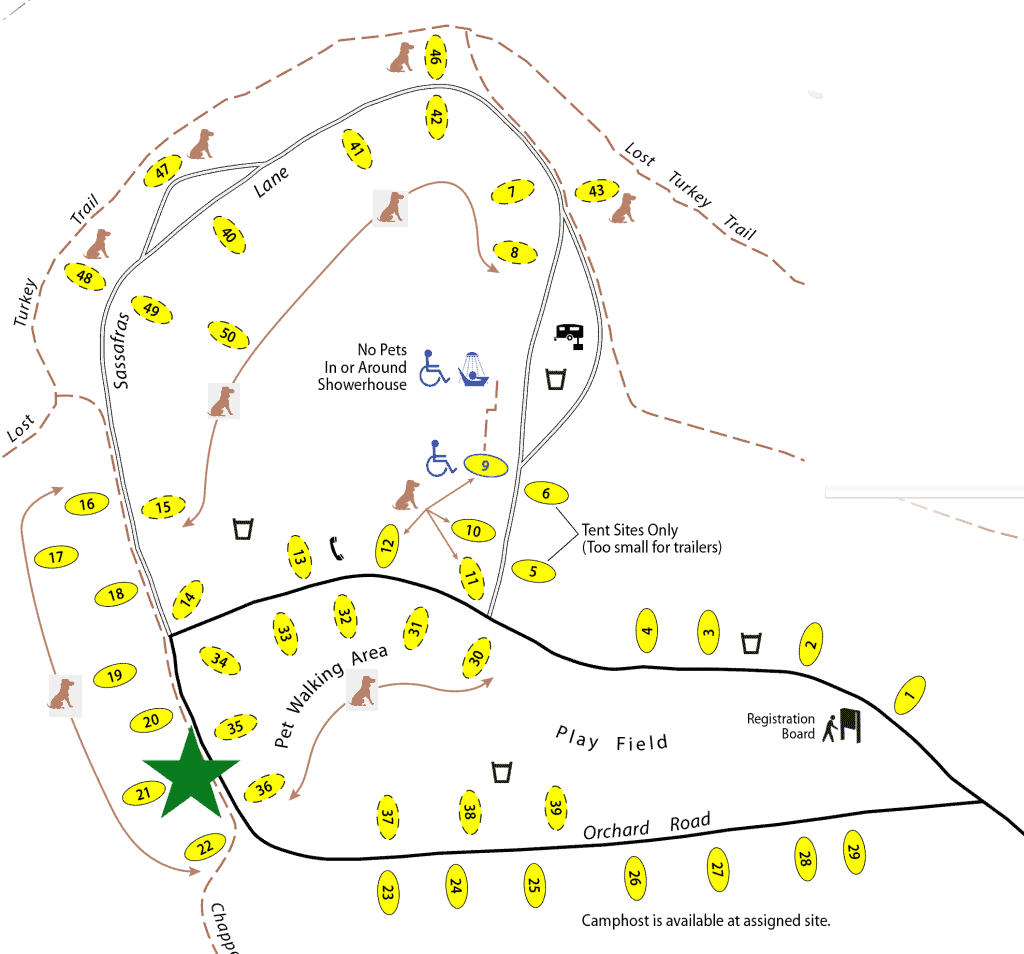 PRO TIP for the Campground
We really liked our spot at site #21 backed up against the forest, far superior to site #35. The cabin area looks pretty cozy, too, in case you don't have an RV, camper, or tent.
If you've read other Trip Reports, you know shower timers are my NEMESIS! No one who has hiked all dang day should have to suffer through a timer-button shower…and no one had to at Blue Knob!
The shower area in the bathhouse had two stalls with NO timers & complete temperature control. The water was hot and the pressure was fantastic!
Blue Knob State Park has about 20 miles of mixed-use hiking/ biking/ horseback riding trails. 
On both visits, we found Blue Knob to have one of the most confusing trail systems we've ever hiked- but that just meant I had to pay attention to our surroundings more (something I need to work on anyway).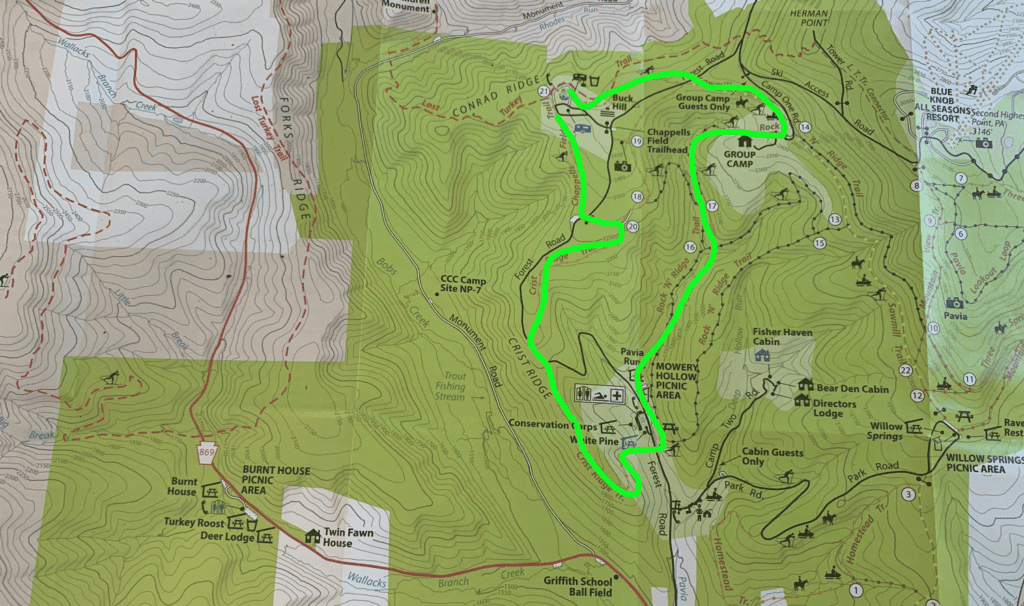 On our first visit, we connected four trails \to make a good 4-5 mile loop from our campground, starting on Chappell's Field Trail to Crist Ridge to meet Rock n' Ridge. We finally took Sawmill Trail back to the campground.
On the second visit, Franklin had a bum knee, so we had to plan for a little less hiking. 
Together, we all did the entire 2.5 mile loop of Chapell's Field Trail.
Alone, I tackled Lost Turkey Trail to see the Lost Children Monument (more on this in a minute)- I'd guess about 3 miles or so out and back.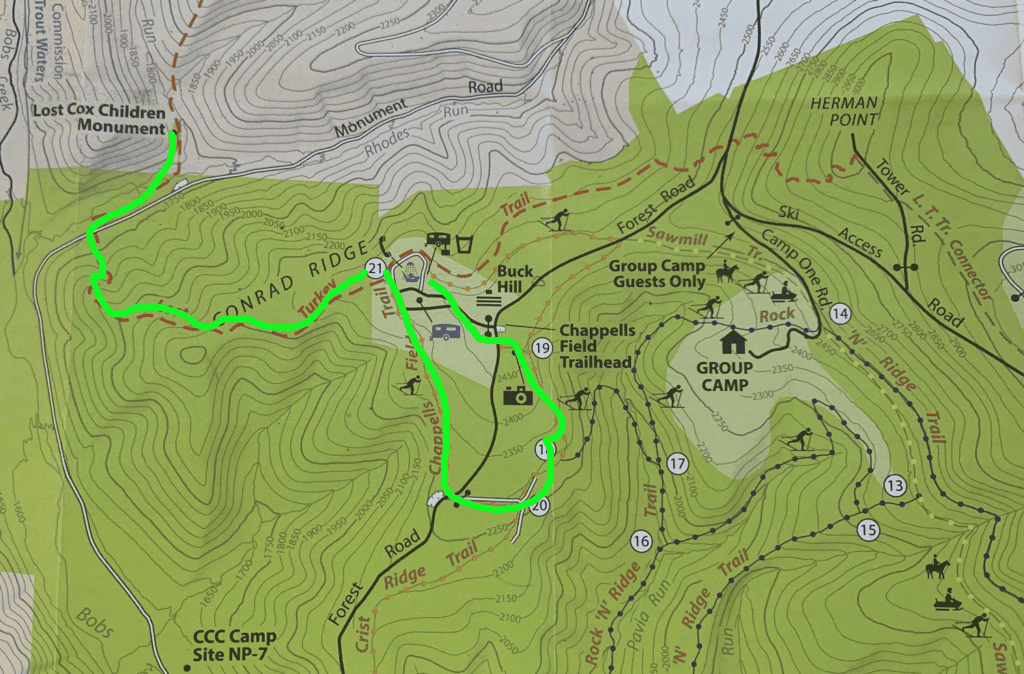 The hike from the campground along Lost Turkey Trail was slightly overgrown, and I had to navigate a downed tree, so be careful to wear long pants on this trail!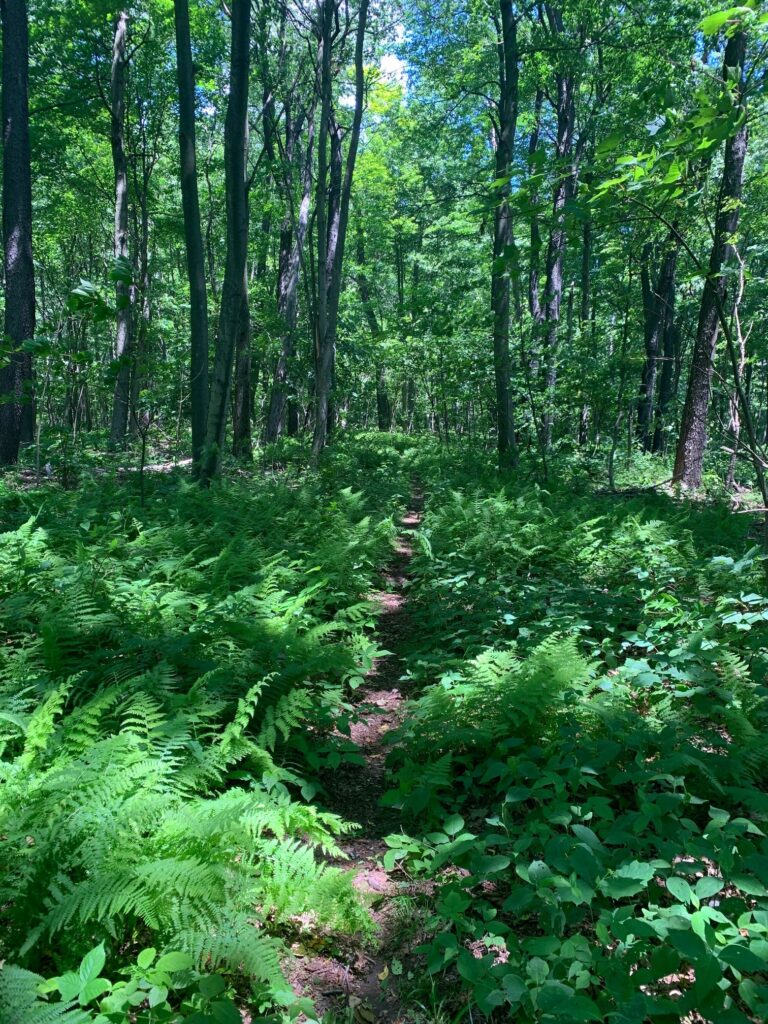 I was eager to see the Lost Cox Children Monument….until I got there! Spooooooky.
I didn't see a single other hiker along the way, and the second half of Lost Turkey Trail was a decent descent for at least half a mile. 
Once I got to Monument Road, I followed it along to the entrance for the short monument trail.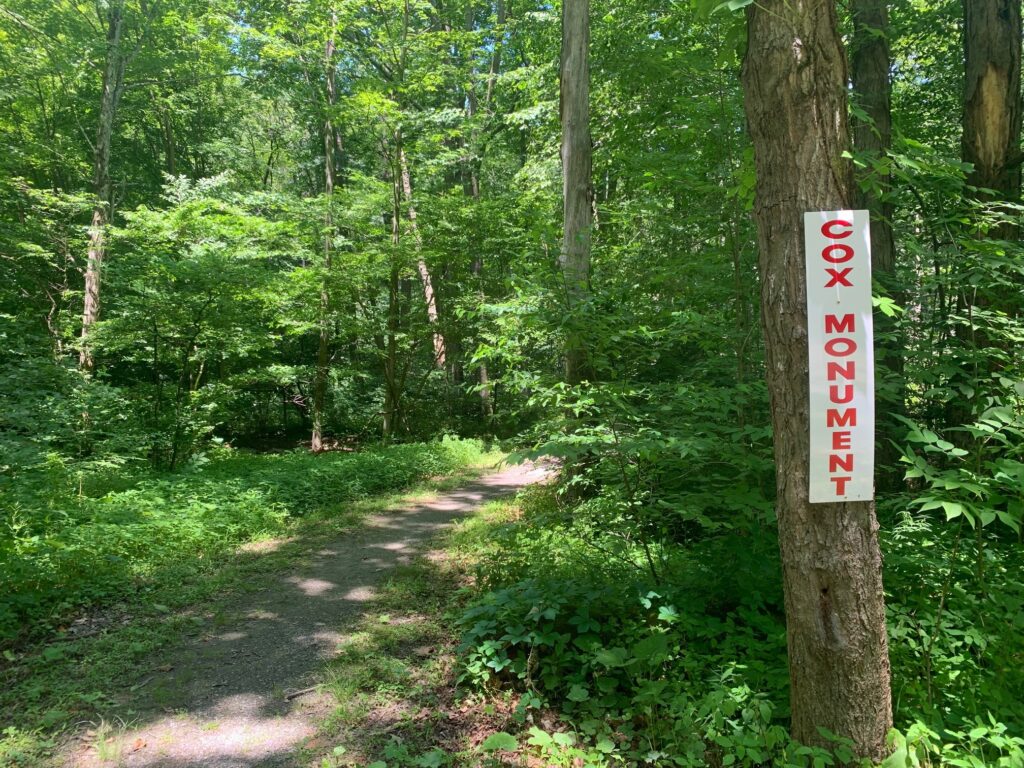 The sign near the monument explains what happened, and the enclosed monument has four sides of inscriptions.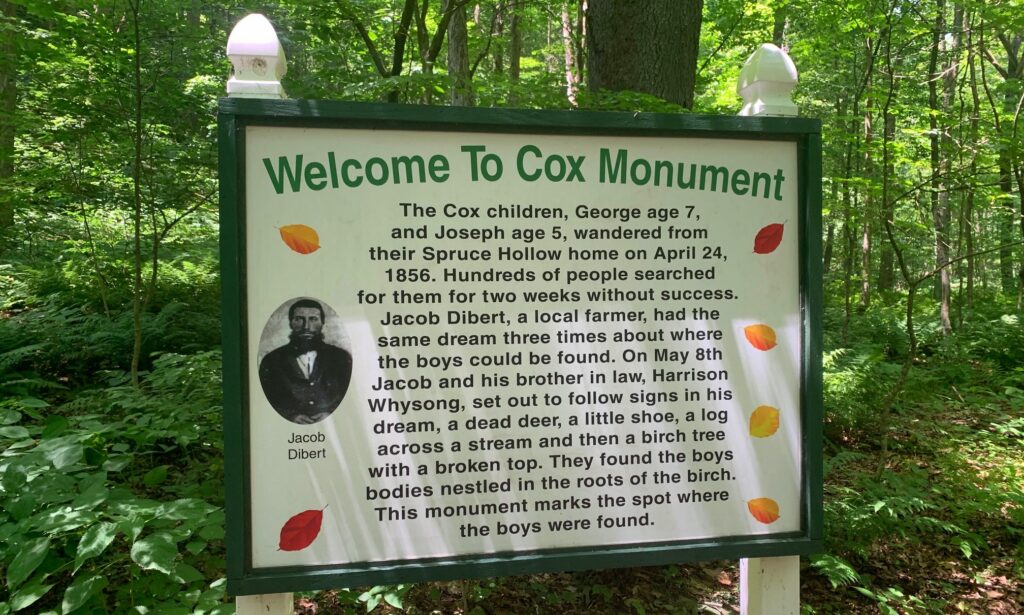 As if that wasn't spooky enough while hiking alone, I also saw this random dollar, which I assumed to be a booby trap and DID NOT TOUCH!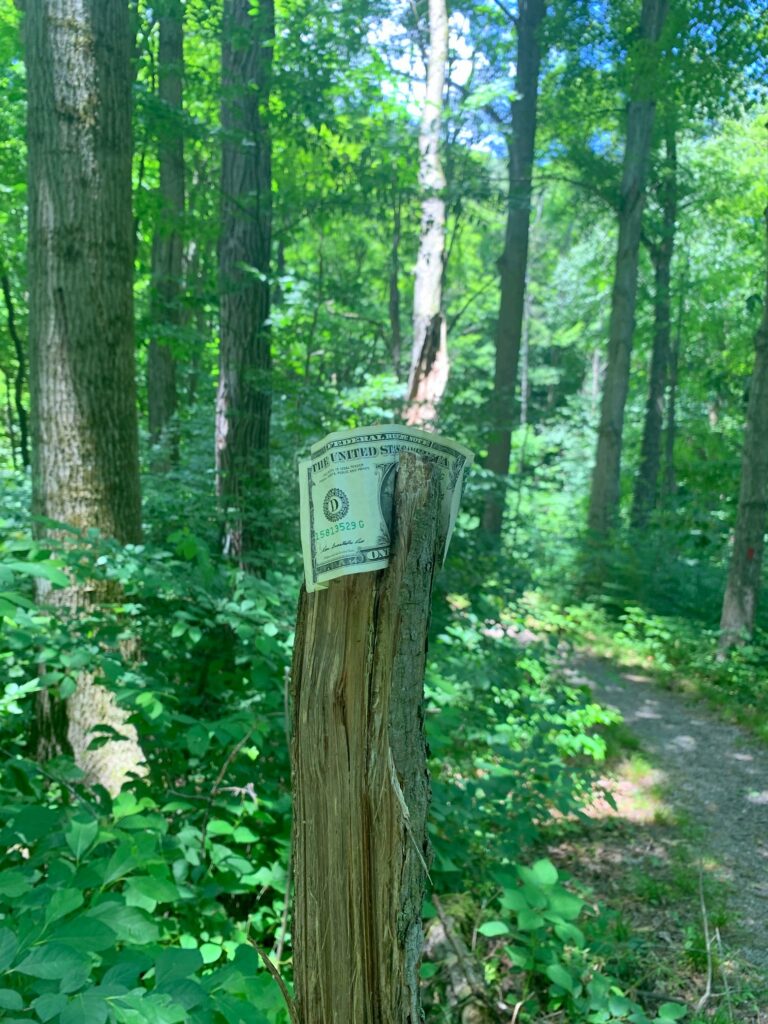 During the fall, we also parked at the Ski area & headed towards Lookout Loop.
We got confused at intersection #6 on the map, which wasn't drawn well. We came to a shortened trail marker with no trail names on it at intersection #5. Finally, different trail names on the park map vs. the markers – like Lookout Loop, Connector, Pavia Lookout and Mountain View – made us second guess our turns. 
We were just happy to get to the hazy Lookout (no matter what it was called)!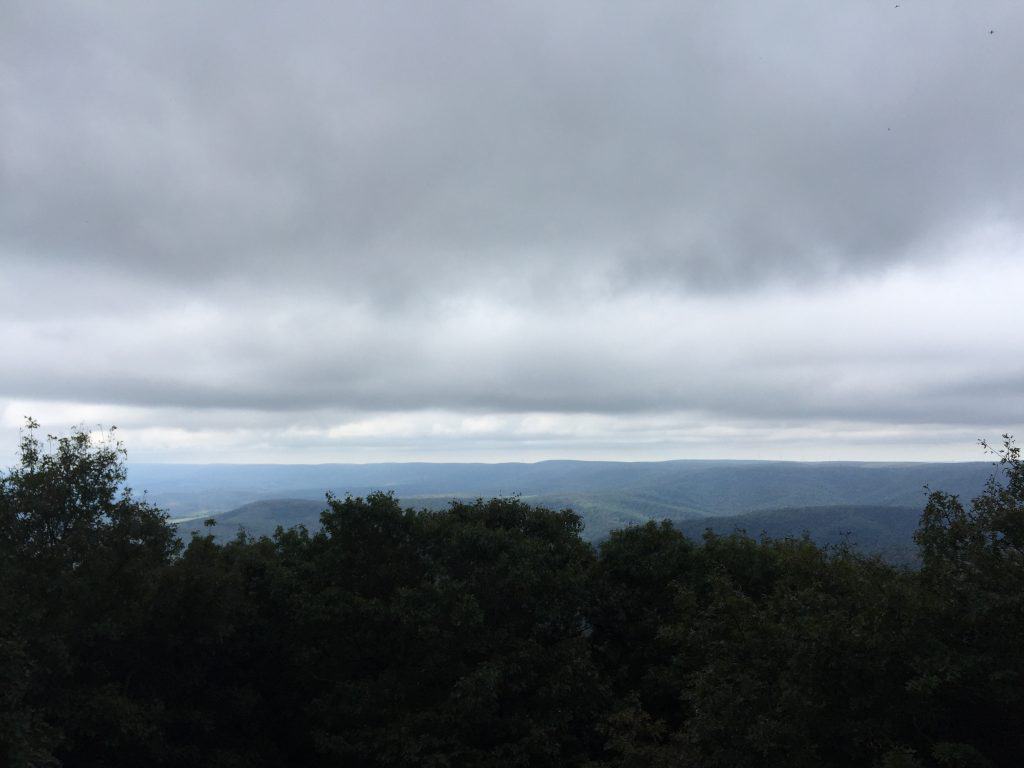 Franklin thoroughly enjoyed Lookout Loop because of its stepping stones, streams & rustic footbridge.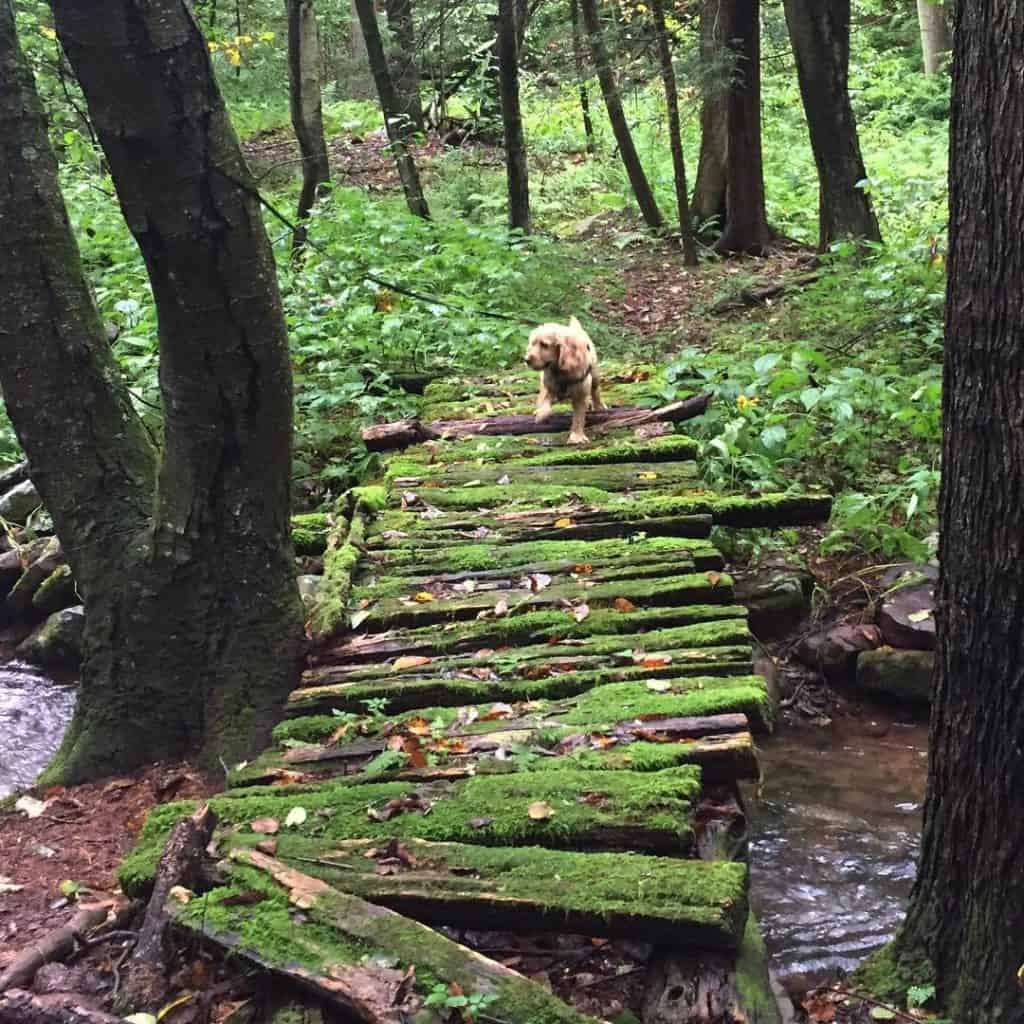 During the summer, Hazel also enjoyed the hikes, too…but she mostly enjoyed relaxing in the sun!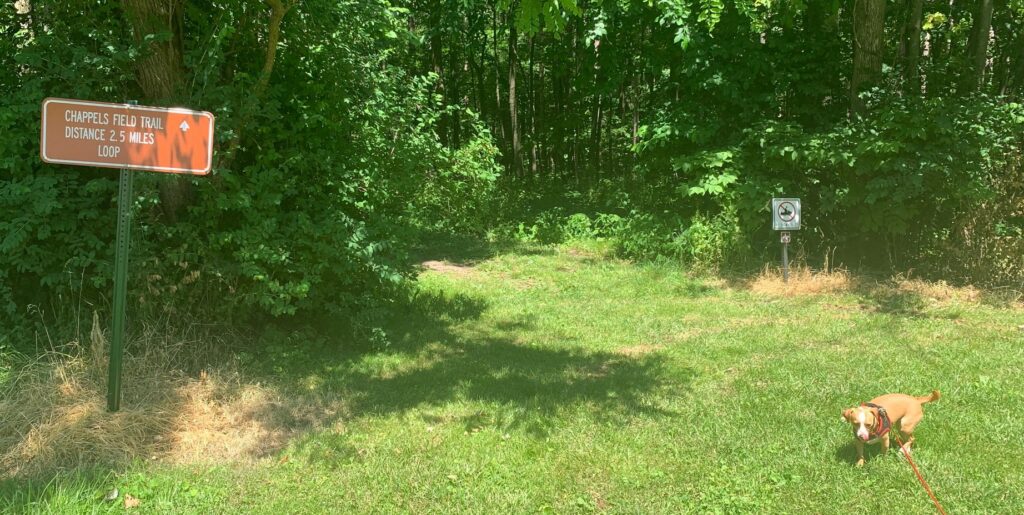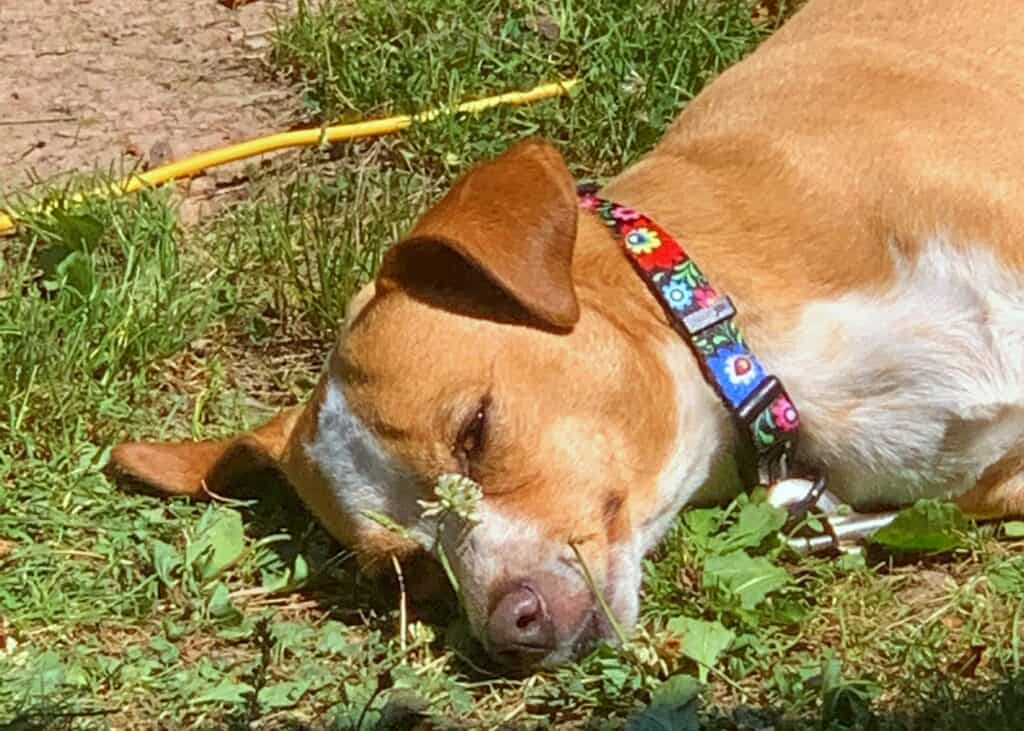 Wildlife, Fauna, and Fungi 
During the fall hike, we did catch these amazing mushrooms in bloom:
A composting & microbe-loving friend of mine recommended a mushroom ID book that has been a solid addition to the *NERD ALERT* RV field guide collection. 
The book is called Mushrooms of Northeast North America by George Barren, and it's really helpful if you want to know more about the 'shrooms you're spotting. 
For instance, I learned the brainy mass I saw on a tree trunk was actually a climacodon septentrionale that's found mainly on maple trees. 
As for wildlife, we saw a crazy moth & an eastern newt/red eft during the fall and a few deer and chipmunks in the summer, but not much much else.
In the wildlife's defense, it was damp, foggy weekend in the fall and hot and dry in the summer. They were probably somewhere keeping dry and cool. 
SIDE TRIP: Flight 93 National Memorial 
On the way home, we stopped to visit the Flight 93 National Memorial in Shanksville. 
The footprint of the park was larger then we expected, and it was quite crowded that day- so it was good to have that much space for everyone to spread out in. The park has a pet-friendly path, but it is admittedly (& responsibly & understandably) far from the displays, dedication areas, and monuments. 
We didn't mind at all! It was a beautiful day, and we took turns hanging out with Franklin to go look at the different parts of the Memorial. Seeing the Walls along the flight path, paying our respects at the Wall of Names, and looking at the Boulder at the Impact Site was a somber way to end our weekend RV trip, especially so close to September 11.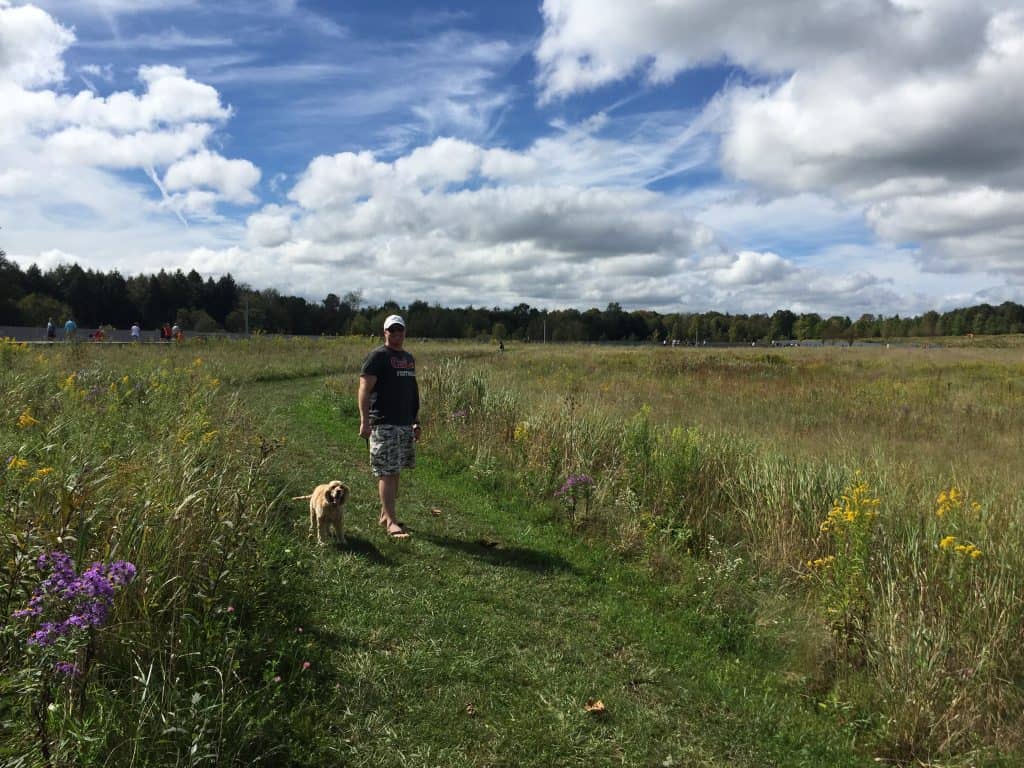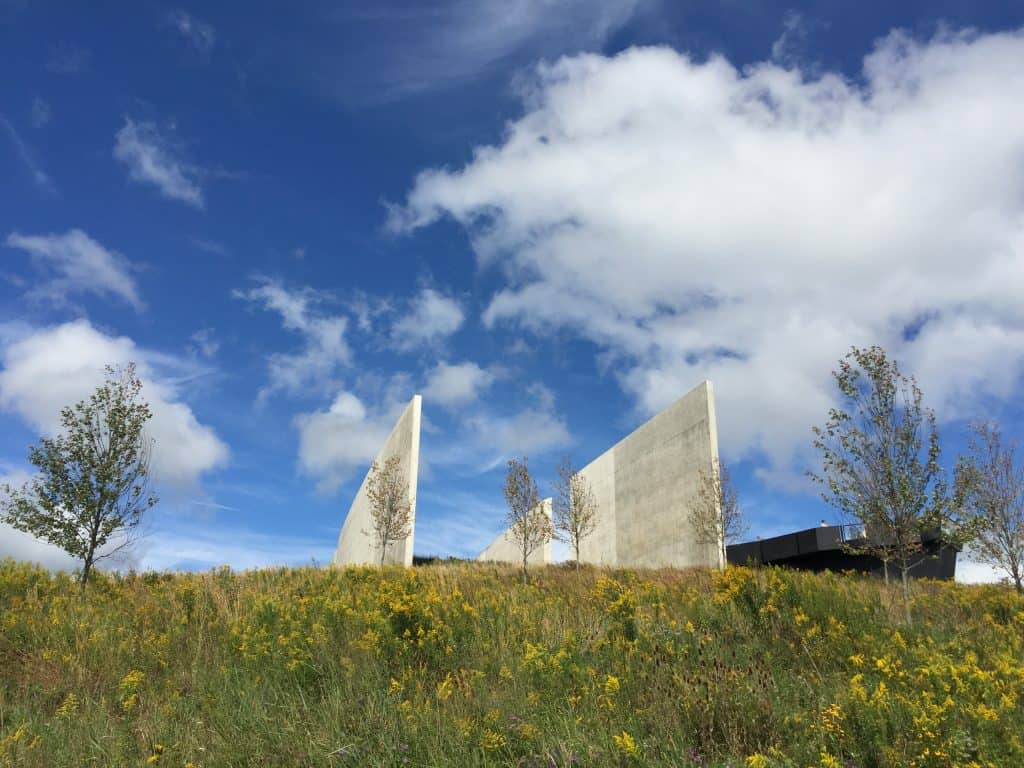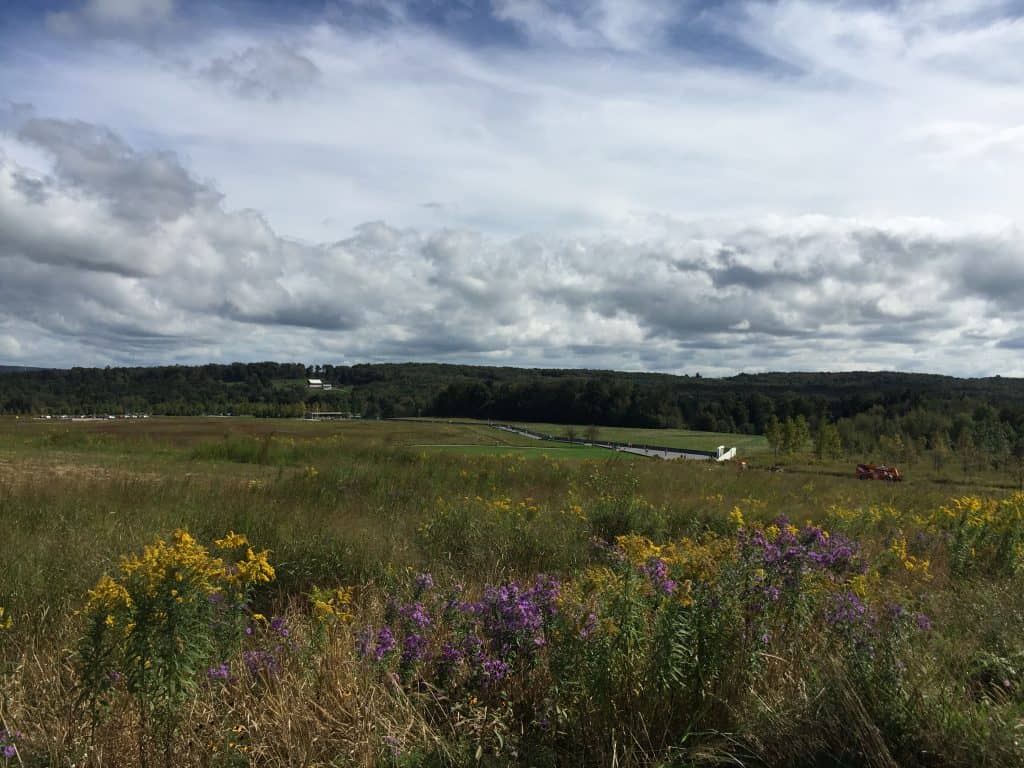 Even though the Flight 93 National Memorial is only about an hour from Blue Knob State Park, you could work up an appetite with a morning hike at the park and may need a snack. 
In that case, The Lincoln Cafe at 6869 Lincoln Highway in Stoystown is the perfect pit stop- and it's just a few miles from the Memorial.
The cafe's big gravel parking lot was large enough to handle 24-foot Axl Roads, and they were happy to pack up our stuff to go so we could eat with Franklin in the RV. 
Their menu has everything from soups, salads, & sandwiches to full dinners and desserts. 
You can visit their Facebook page for more info, and be sure to check out the giant Abraham Lincoln penny mural on the right when you walk in!

Hiking at Blue Knob State Park, pit stopping at Lincoln Cafe, and visiting the Flight 93 National Memorial made for a perfect RV weekend. 
Do you have any tips when visiting the area? Let us know below!