Please note that some of our links are affiliate links, which means at no additional cost to you, we will earn a commission if you click through & make a purchase. Happy clicking!
Caledonia State Park in south central Pennsylvania can provide a great camping weekend with a little bit of hiking and a whole lot of history!
Caledonia State Park is located in Fayetteville, Pennsylvania, around 3 hours from both Pittsburgh and Philadelphia. 
With just over 1,100 acres and close to 13 miles of hiking, Caledonia State Park sits between the peaches of Chambersburg and the Civil War history of Gettysburg.
And it certainly has some history of its own!
Thaddeus Stevens played a large role in shaping Caledonia – from starting its Iron Works to serving in the House of Representatives in the mid 1800s. He was an abolitionist, and the park sits near a stop along the Underground Railroad – making it a Path of Freedom site. 
The area was later mined for coal and harvested for lumber before the Civilian Conservation Corps moved in to build park roads and recreational structures in the 1930s. 
Today, Caledonia State Park boasts a public golf course, swimming pool, campground, playhouse, and a nondenominational Sunday school called Cathedral in the Pines that's been ongoing since 1917.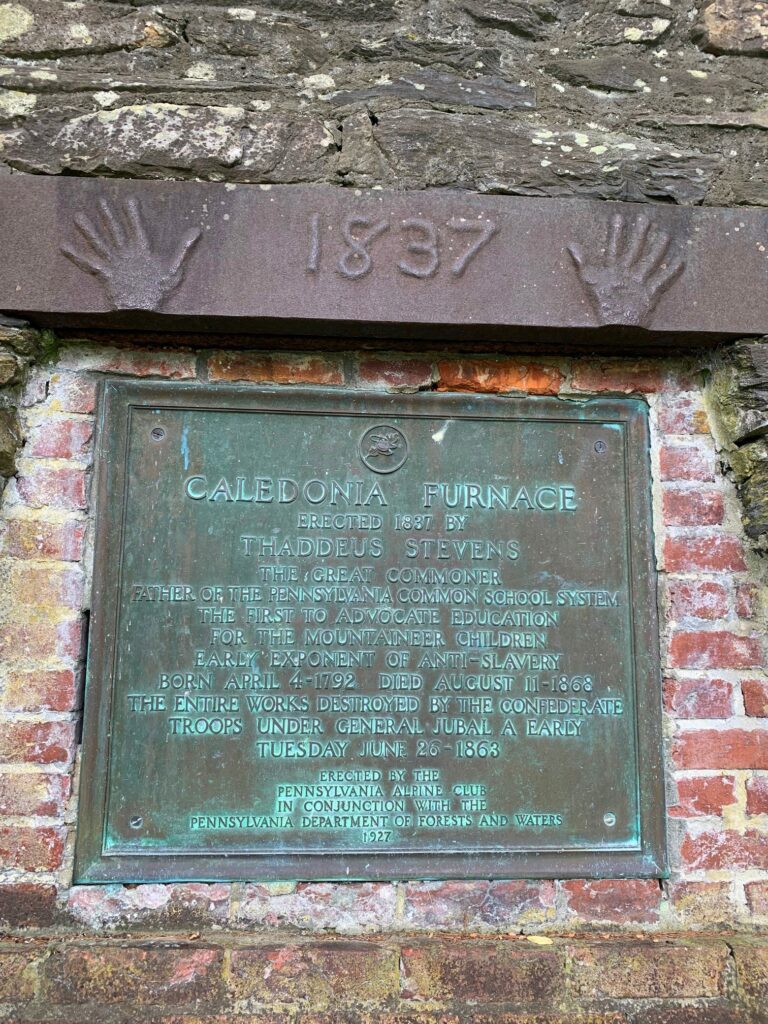 Caledonia State Park has two campgrounds located about a mile from each other: Chinquapin and Hosack Run.
Chinquapin is closer to the main park amenities, like the swimming pool, park office, and some historical structures. It has around 130 sites, with less than a quarter of those with electric service, and two bath houses with hot showers.
Hosack Run is pet-friendly with access to the main park via Chambersburg Water Line Trail.  It has about 50 sites, most with electric service, one bath house with hot showers, and a playground.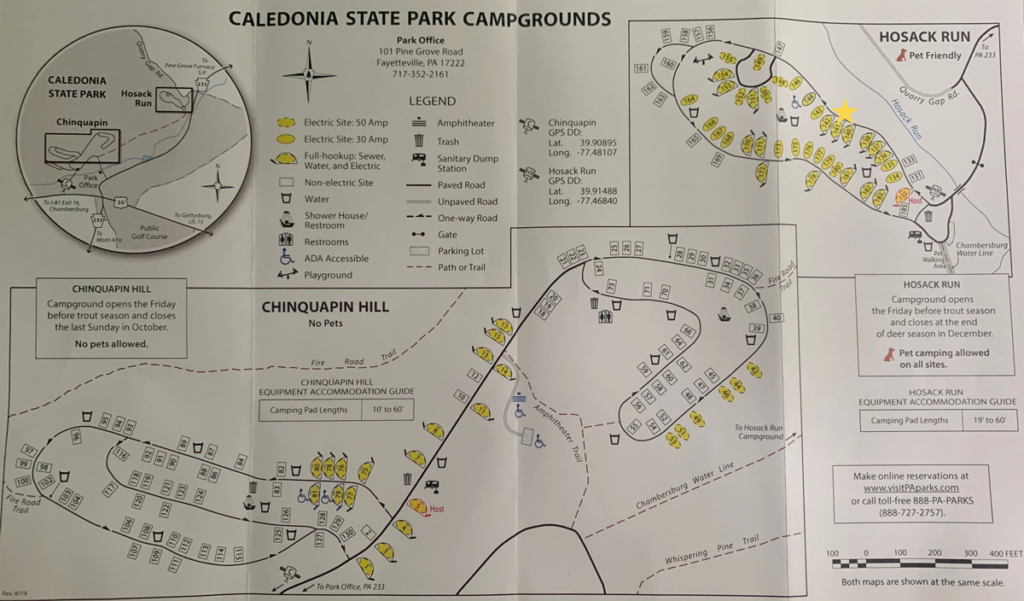 We stayed at Hosack Run Campground at site #141.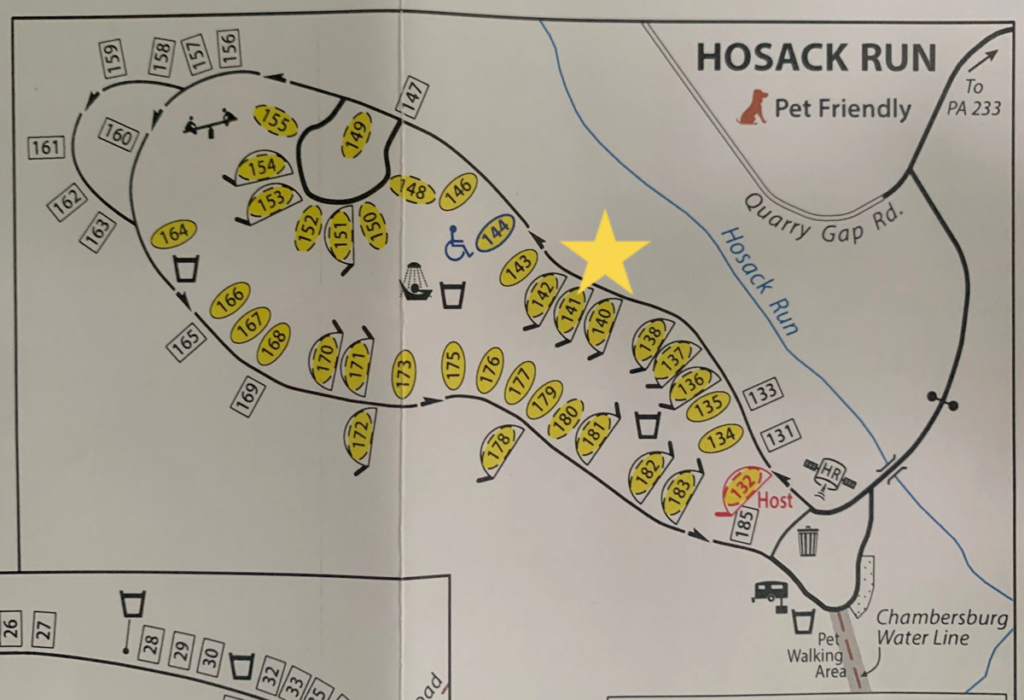 The campground is tight, so you'll be quite close to your neighbors.
We had a good view of the tents behind us out our back window, as there was little tree or plant cover between spaces.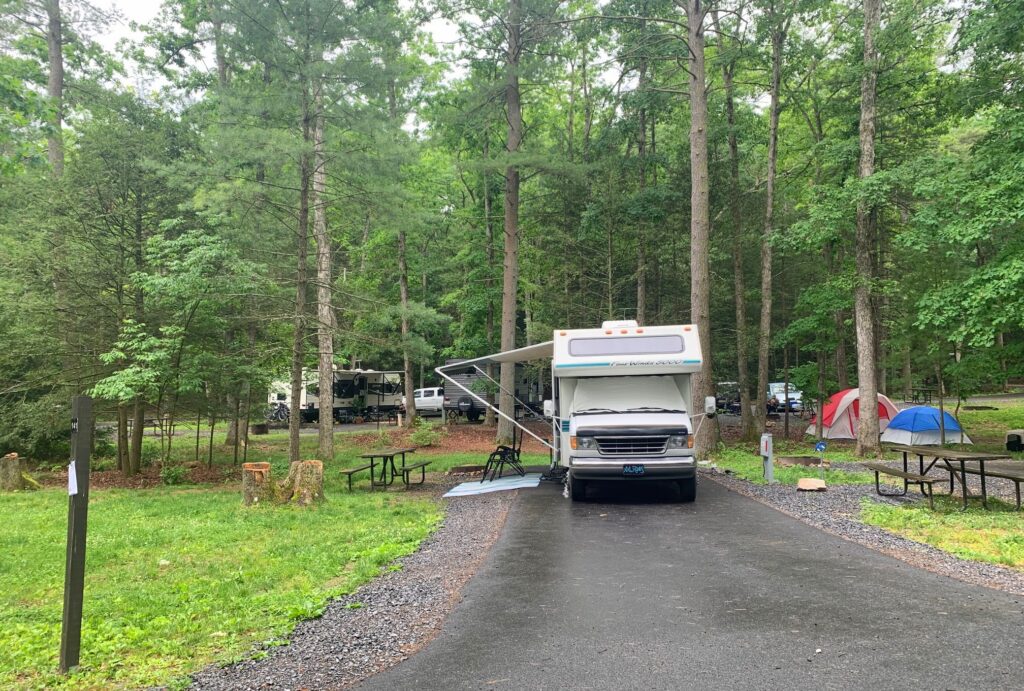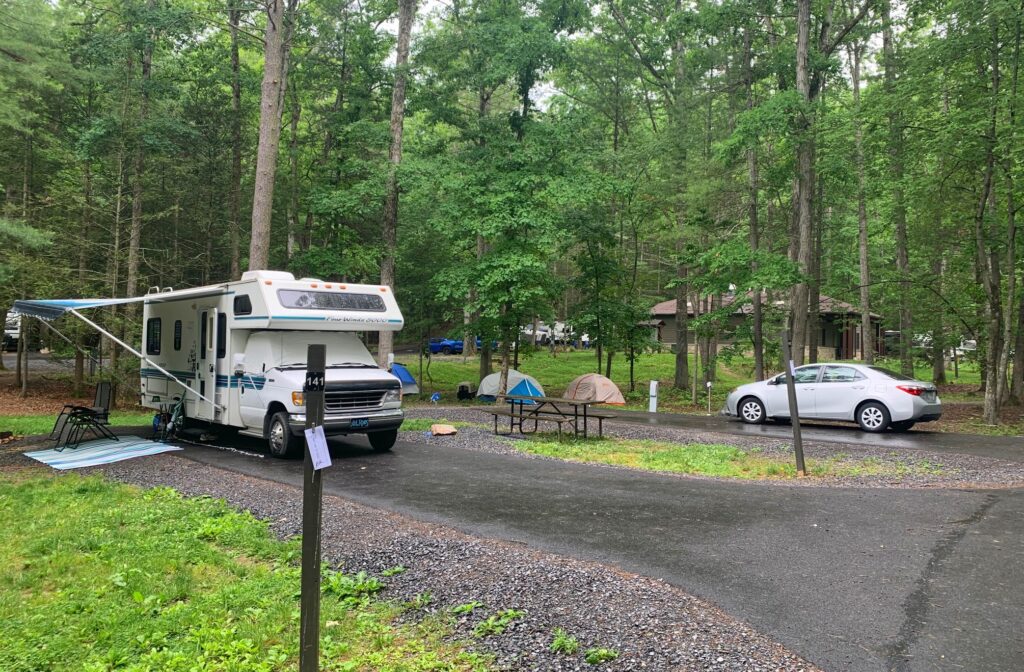 Now for the great news!
Do you see that building in the background on the second photo? 
That's the brand spankin' new bath house with brand spankin' new showers and shower heads and HOT HOT HOT water that you will love after a day of hiking! 
PRO TIP for the Campground
There are some "cluster" sites at this campground. If you are going with a bunch of tents or RVs, try to reserve your sites together in one of those areas. 
Caledonia State Park has almost 13 total miles of trails – including nearly 2 steep miles of the famous (or infamous!) 2,186-mile long Appalachian Trail that winds through the park on its way from Georgia to Maine!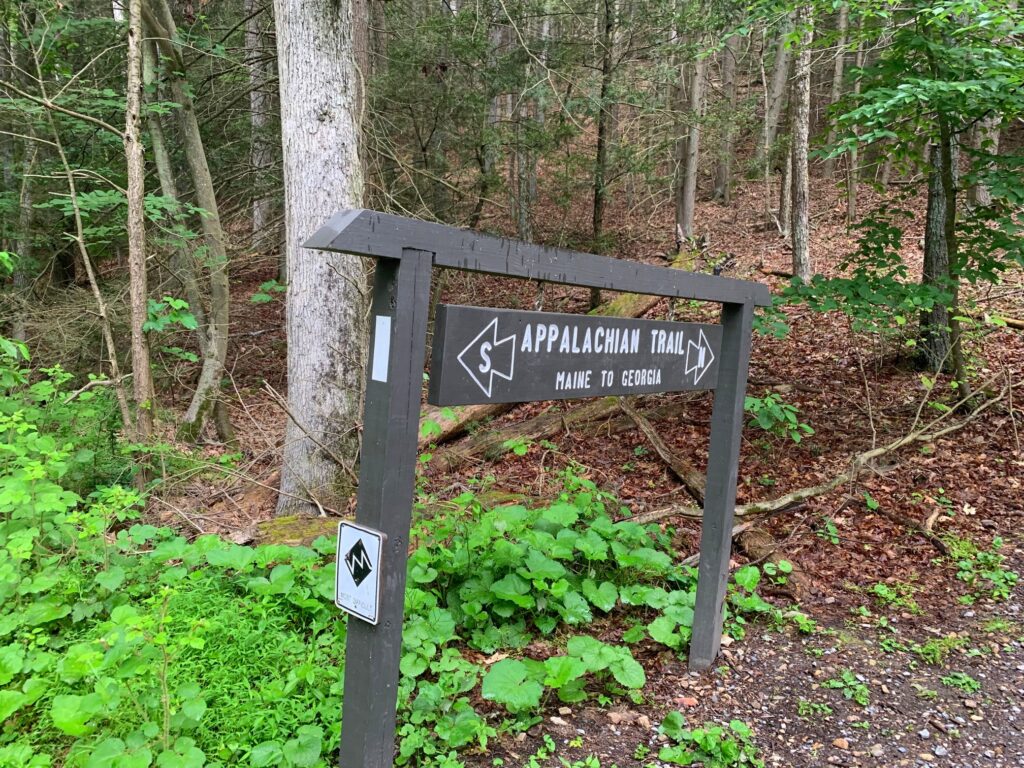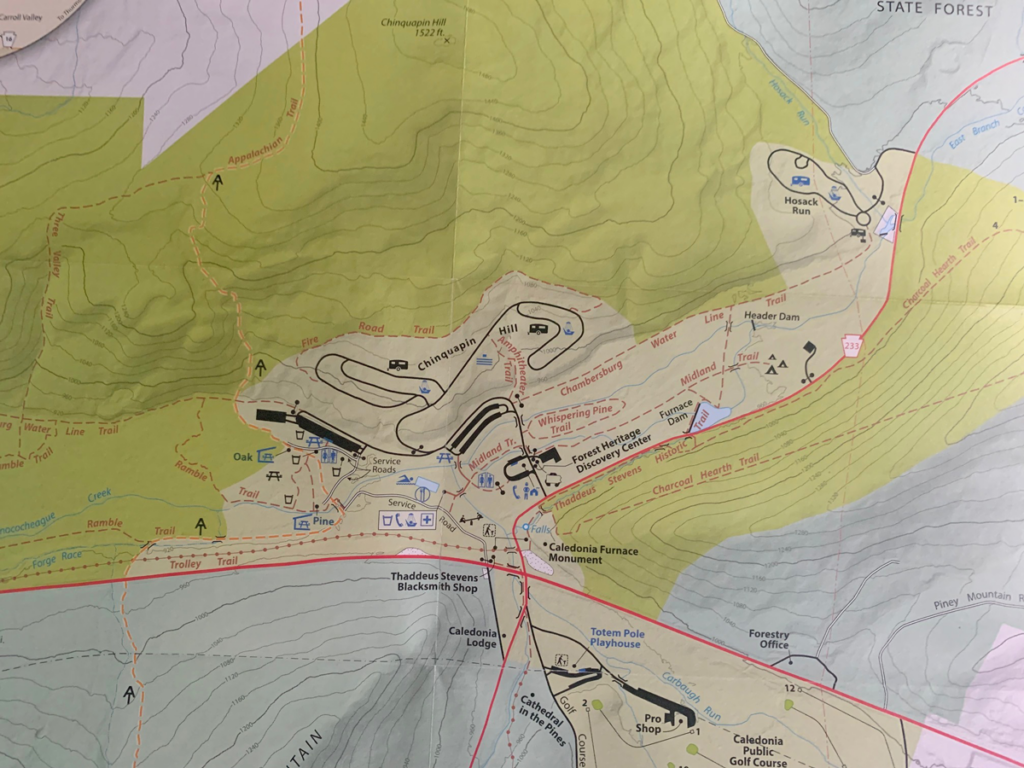 From Hosack Run Campground, we took Chambersburg Water Line Trail for about half a mile before crossing over a footbridge to head towards Midland Trail.
The creeks you will walk over and along are cold and clear – perfect for the pooches!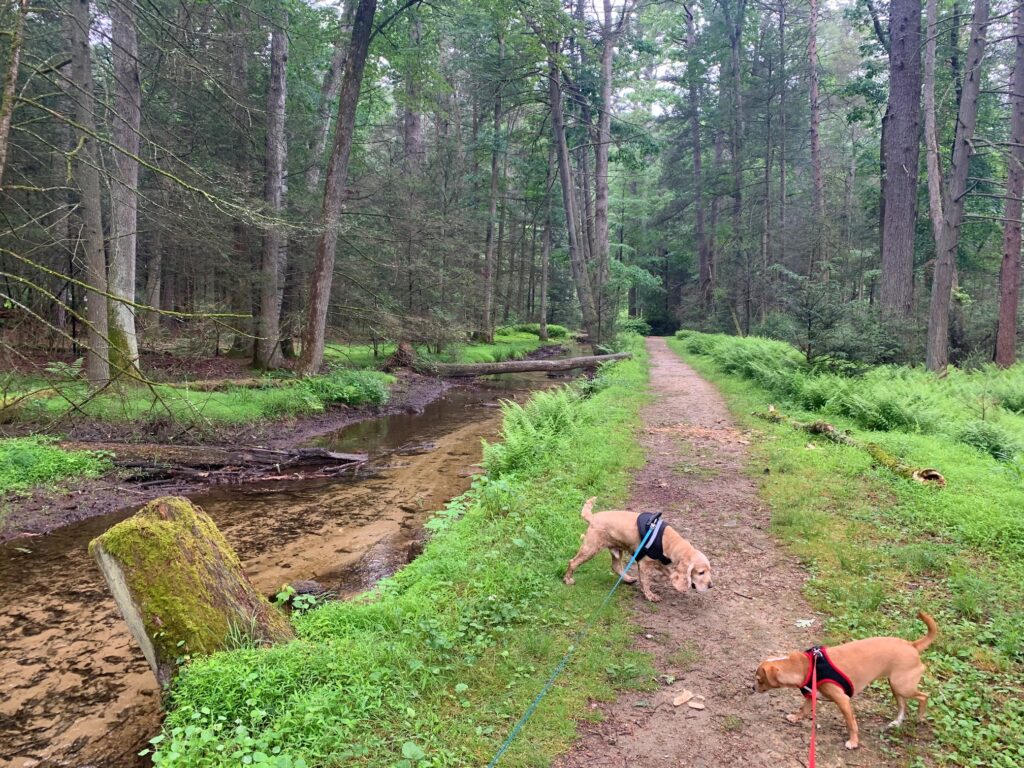 We came upon a small pond before proceeding further down Midland Trail and looping Whispering Pine Trail.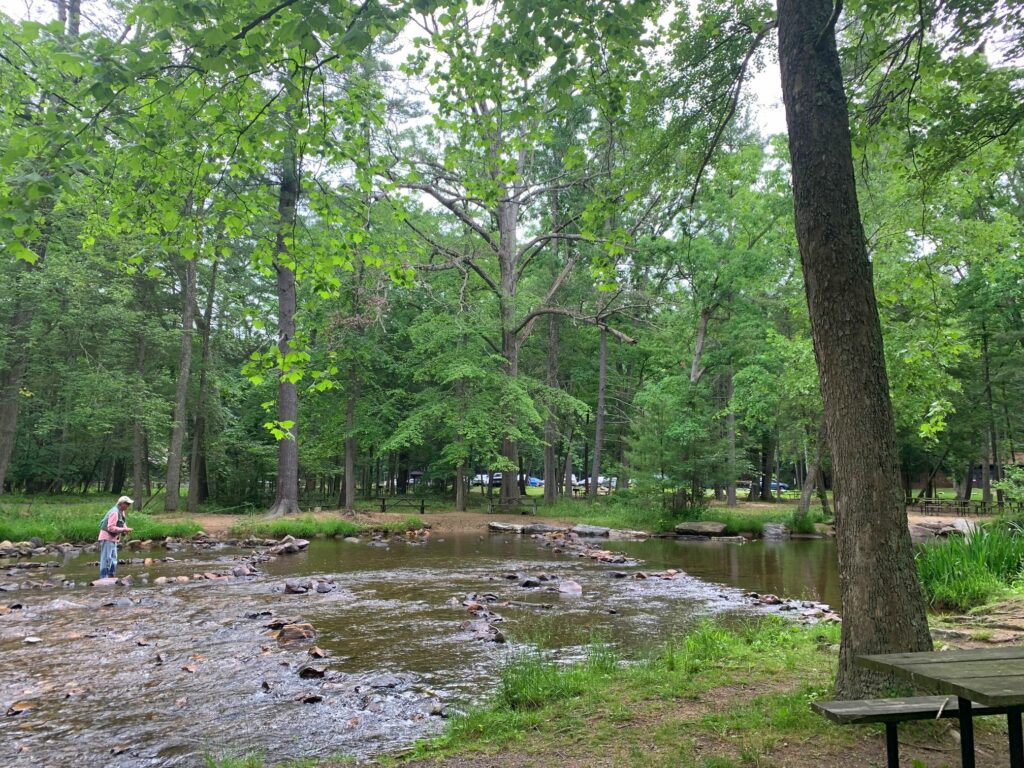 Did I mention the creeks in the park are very dog-friendly? While Hazel would barely dip the tips of her paws into the water, Franklin enjoyed the opportunity to slosh around throughout the park. 
Next, we made our way to the Appalachian Trail so we could complete the short section inside the park. 
I've always THOUGHT I wanted to complete the whole 2,186 miles until a few years ago when I spent a night in a tent. FORGET IT.
I've suggested Russ follow along in the RV so I can still hike the trail but overnight inside, but he is not receptive (yet). So until then, we'll be doing very short sections!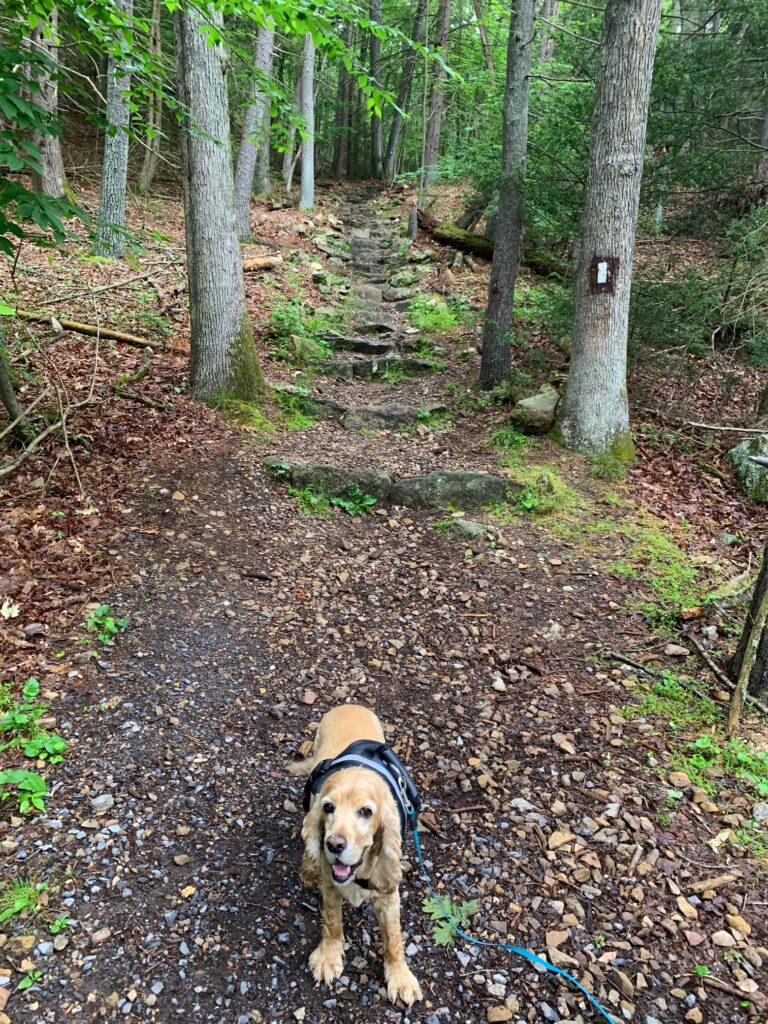 Finally, we completed a section of the Thaddeus Stevens Historic Trail and made a stop at the Caledonia Furnace Monument before heading back to the campground.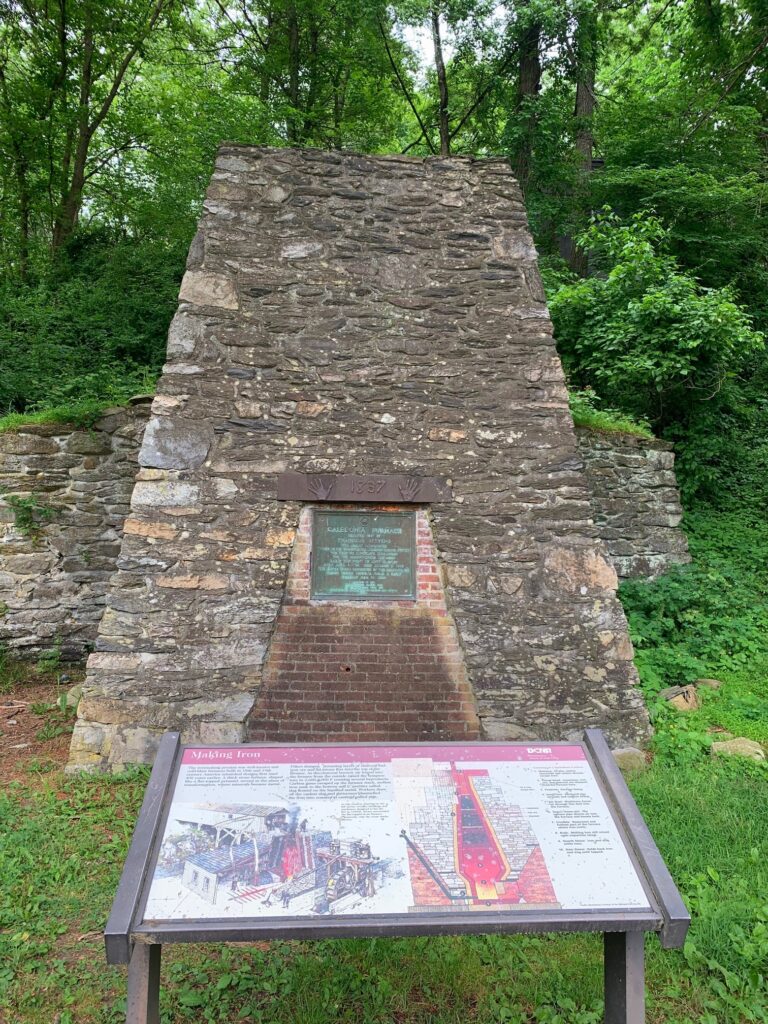 Our hiking route around the park, for a total of about 6-8 miles, looked like this: 
Wildlife, Fauna, and Fungi
At Caledonia State Park we spotted deer, chipmunks, wildflowers, and of course, some mushrooms.
This wildflower took the prize, though! I dubbed this the Mick Jagger of Wildflowers, because it appeared to have it's tongue sticking out.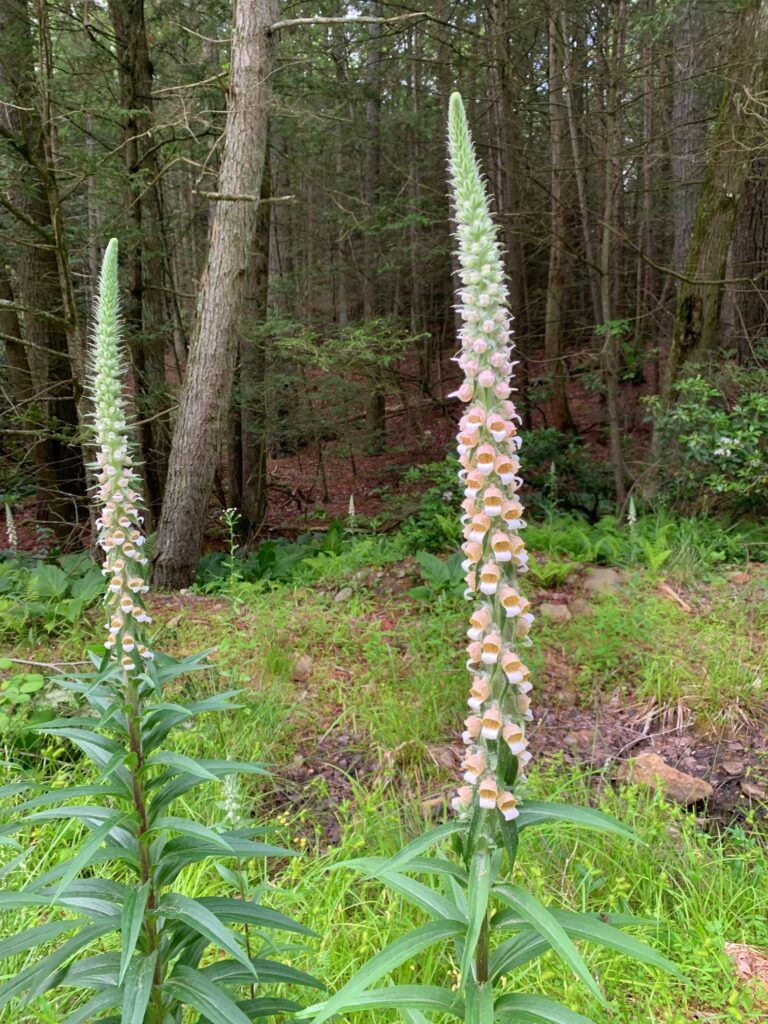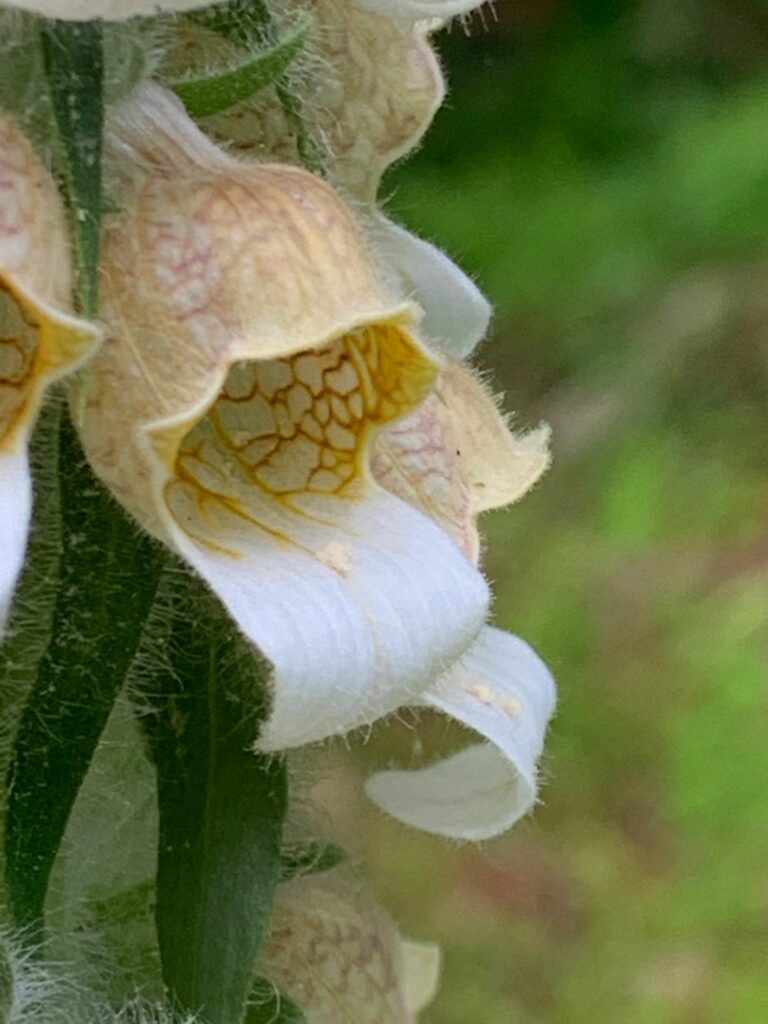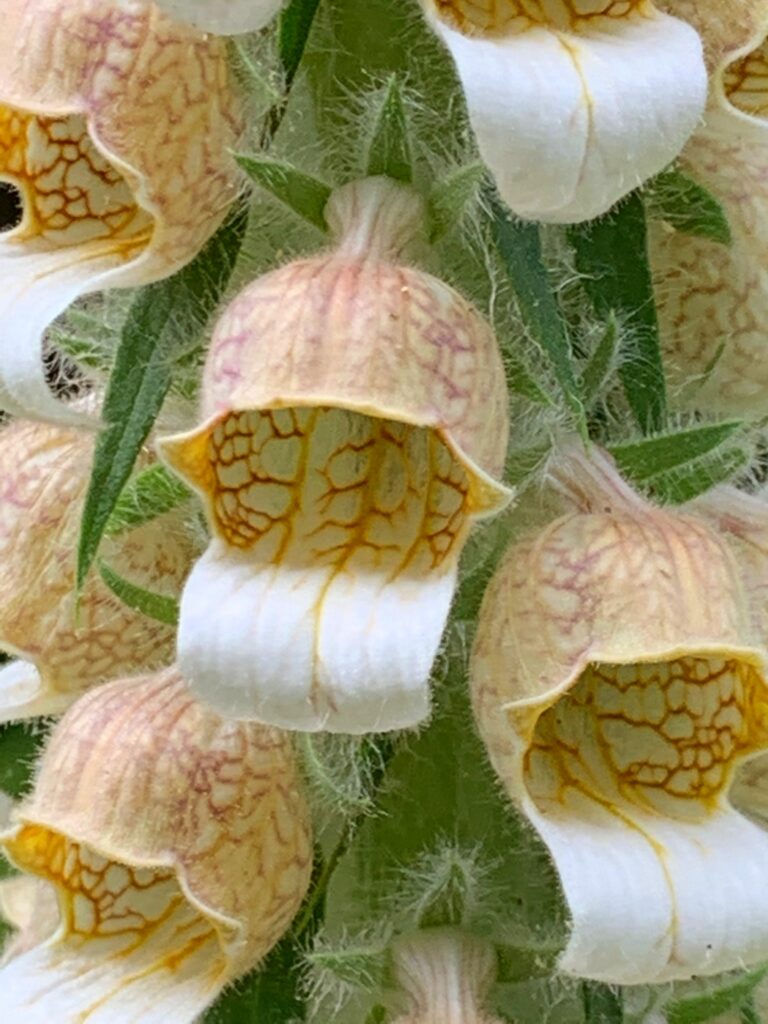 Thanks to iNaturalist, the helpful identification app, we learned this is a woolly foxglove and pretty common in this area.
We did spot a few interesting mushrooms, too.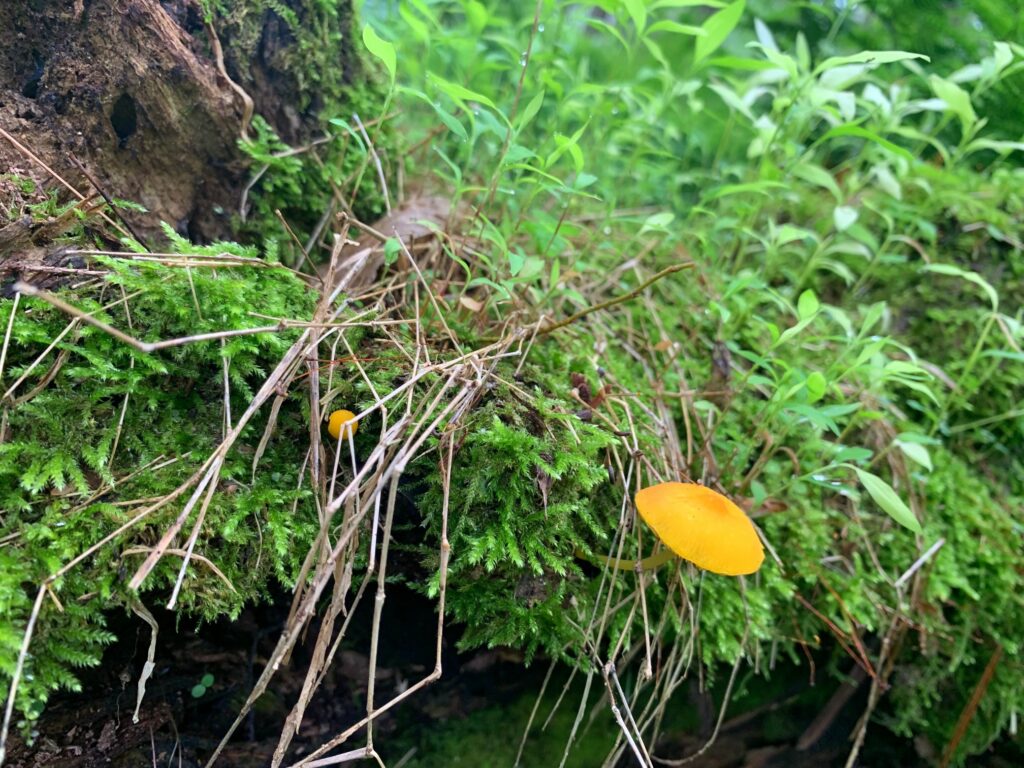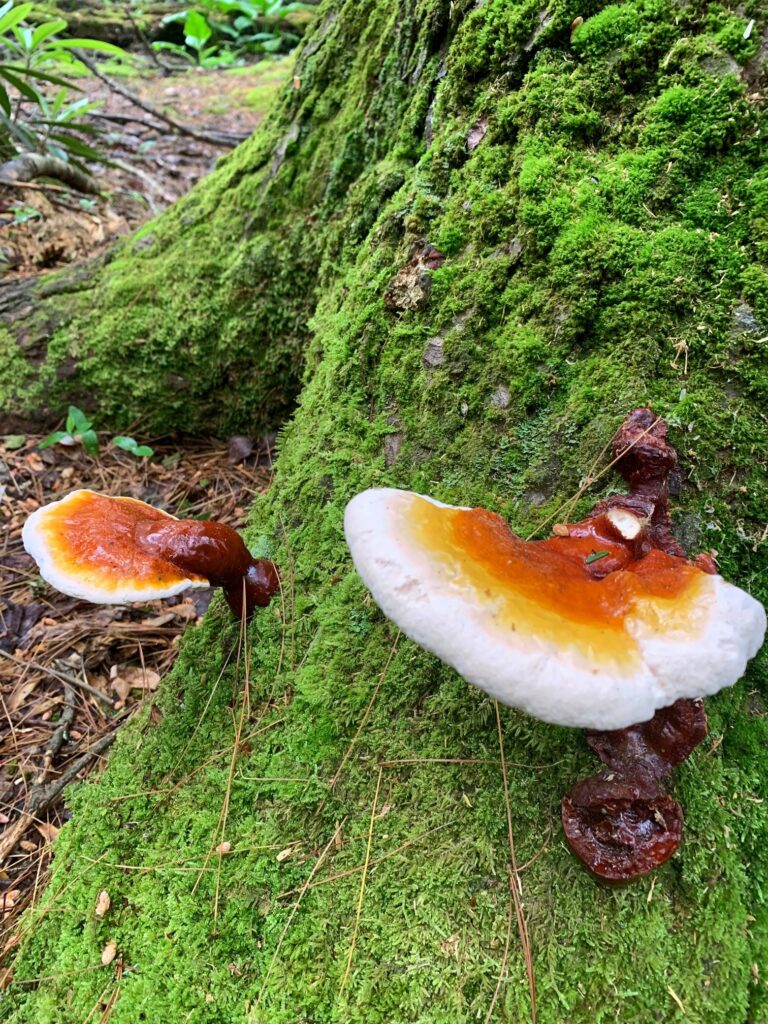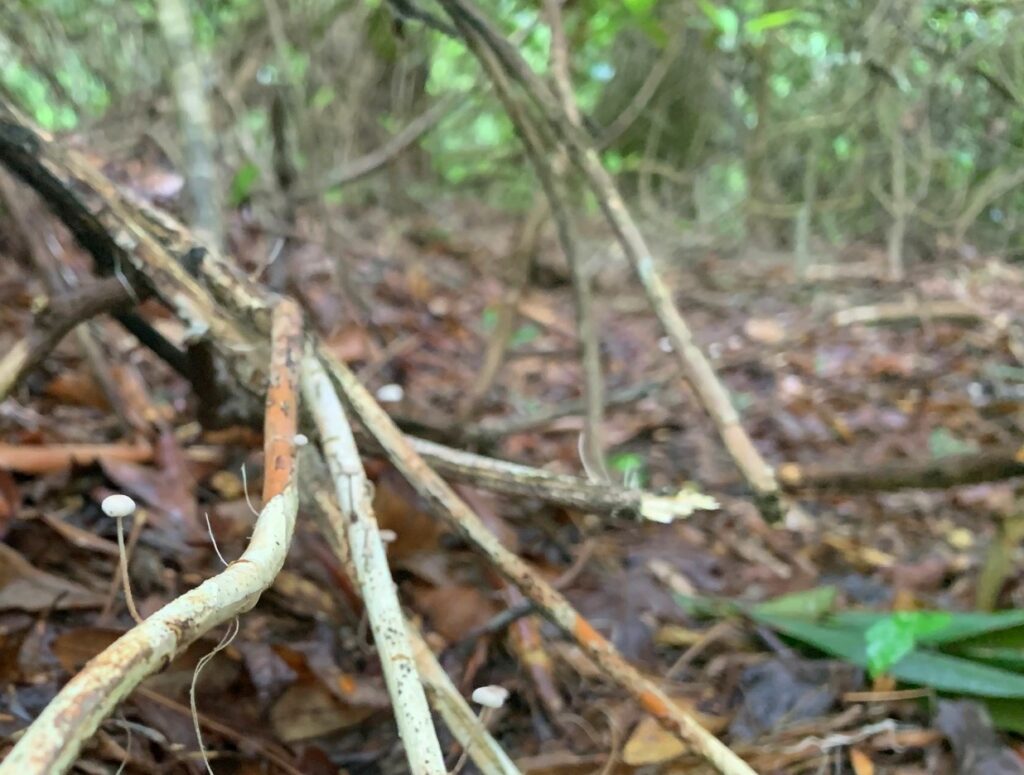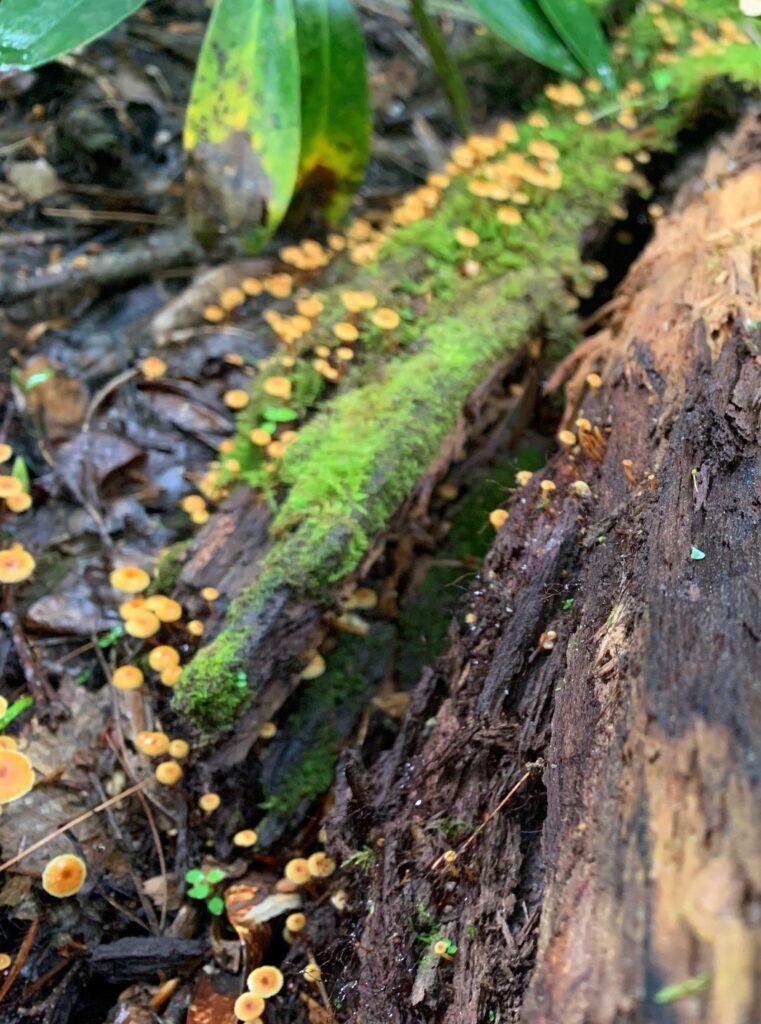 Just 20 minutes west of the park in Chambersburg, you'll want to make a stop at Brussel's Café. 
Fortunately, a smaller class C RV can use the street parking, and there was also a large parking lot across the street. 
Select from hot drinks, delicious crepes, and wild waffles at this small specialty shop – they even have macarons!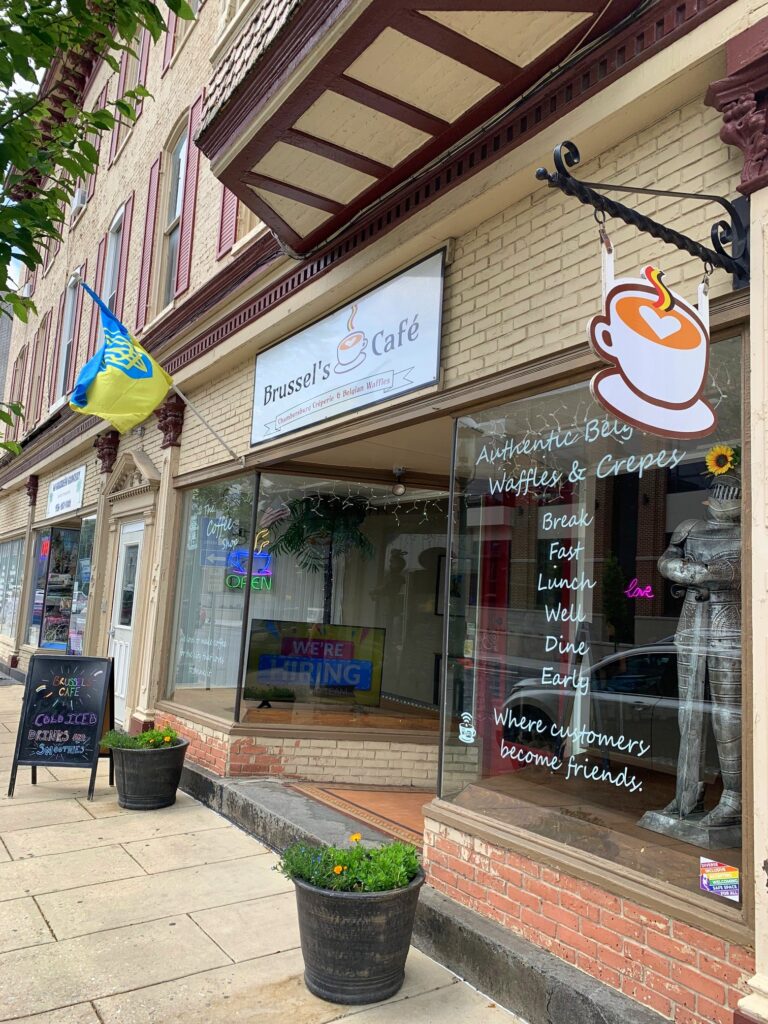 We took advantage of the day's special – a Reese's Belgian waffle conglomeration that included bits of Peanut Butter Cups, hot chocolate sauce, peanut butter sauce, and whipped cream. 
I'd share a photo…but, POOF! It was gone! You'll just have to go try for yourself! 
Despite the tight camping spaces, Caledonia Park still provides a fun camping weekend with just enough hiking and history to keep you busy.