If you are looking for a tucked away, wildlife-rich, spotless state park in south central Pennsylvania with gorgeous camping spots, Cowans Gap State Park is your place!
Note: I refresh Trip Reports each time we visit to add in new things we can share. So, if you've read through it before, check it out again!
Cowans Gap State Park is named for John Samuel Cowan. He and his wife were originally from Boston, but had settled near Chambersburg.
On their way to make a home in Kentucky in the late 1700s, their wagon broke down in the area of the park. They traded what they had with a Tuscarora Indian Chief for the peaceful rights to the land, which officially became Cowans Gap State Park in 1937.
Cowans Gap is yet another state park that was built up primarily by the hard-working Civilian Conservation Corps. This group was created by Franklin Roosevelt to put young men back to meaningful work after the Depression. You can learn more about their history at the PA DCNR page dedicated to them. 
Located just south of the Pennsylvania Turnpike near the town of Burnt Cabins, the park and its trails are situated around a beautiful small lake.
The park is easy to find, and the campground is easy to navigate.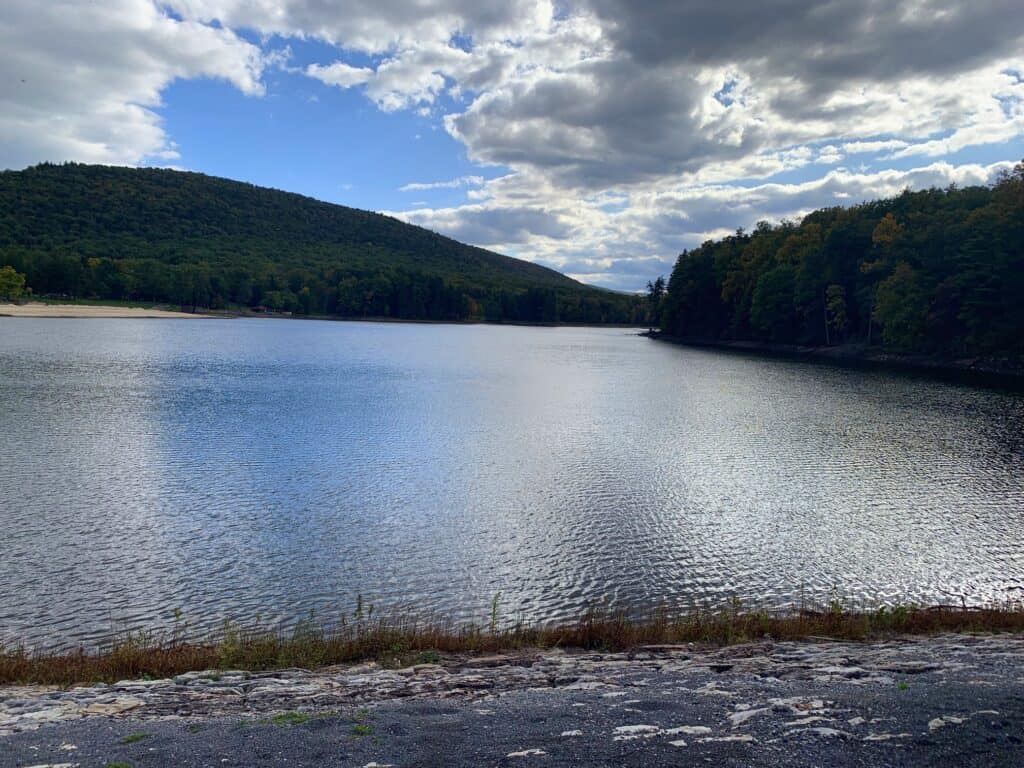 Cowans Gap State Park campground has two distinct loops, Area A and Area B, with 201 sites including RV spaces, tenting spots, and cabins. 
Area A is closely packed and only partially pet-friendly. Area B is much more spaced out, has amazing lake views, and allows pets. 
We've now visited the park three times, and have stayed in both Area A and Area B.  
In Area A, we reserved  Site #89, starred below. On the positive side for hiking, we could take a short (although quite weedy) path to meet Little Aughwick Creek and Plessinger Trail from our site. On the negative side, we were quite close to our neighbors.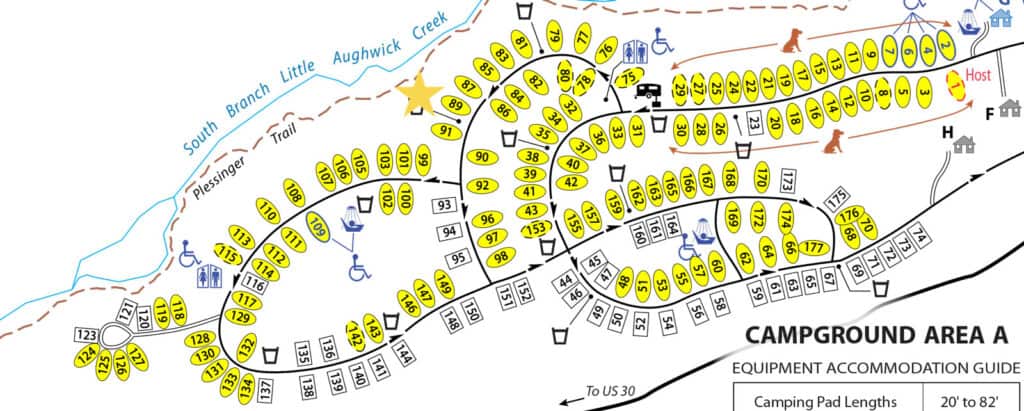 We've also stayed in Site #185 in Area B.
If you have a choice, Area B is definitely where you want to be! As you can see in the photo at the beginning of this Trip Report, the campground sites in Area B are more spacious and shaded – plus they have a lake view.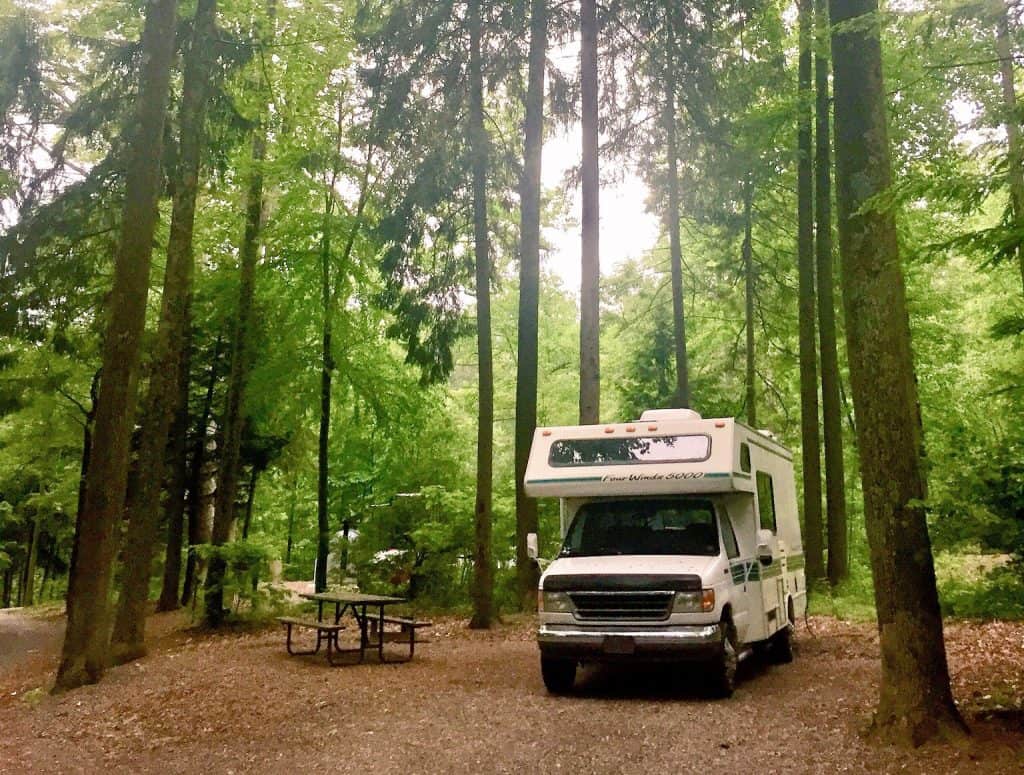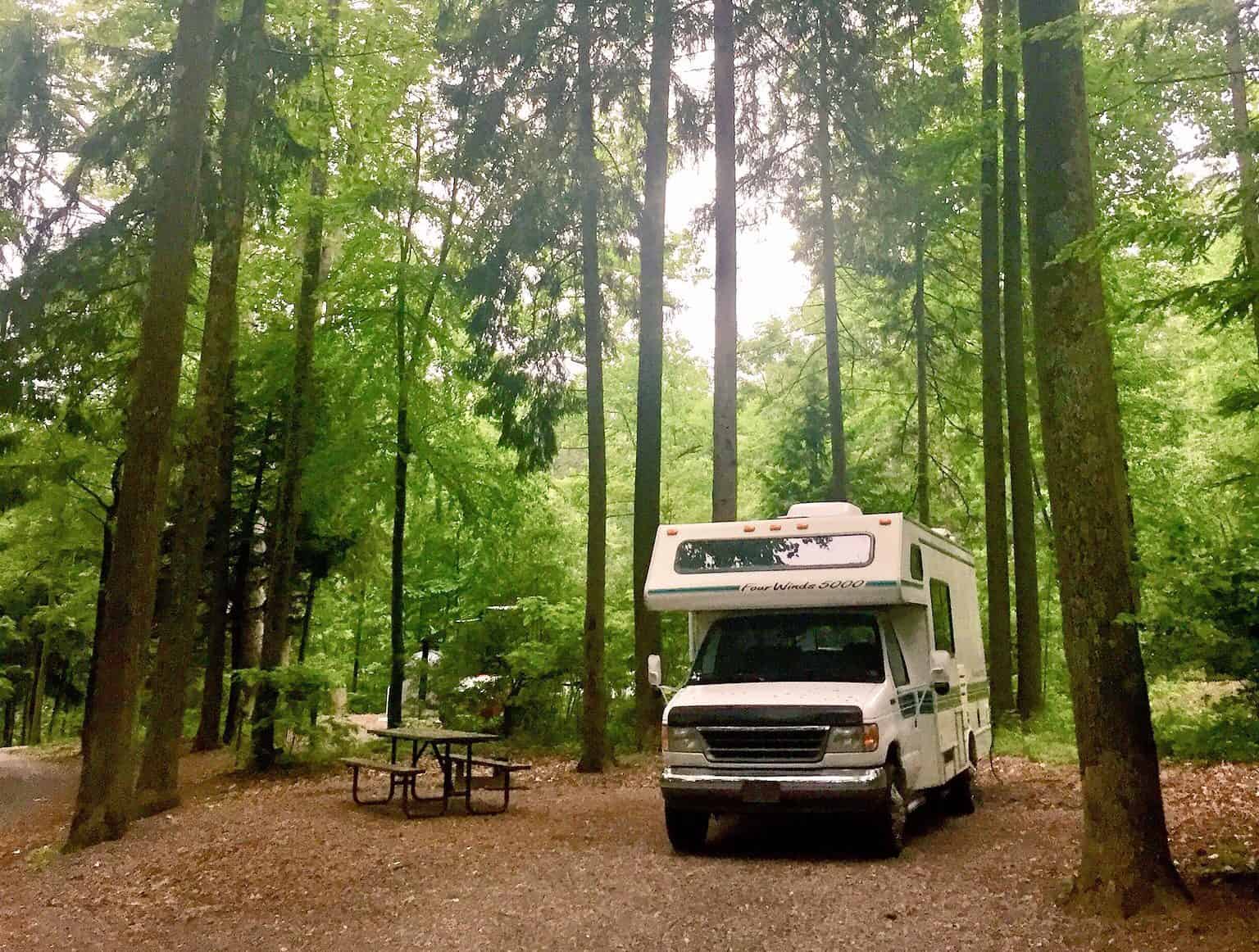 It only got better for our most recent visit in Area B, as we reserved site #186. 
This site is not only spacious, but also private and has its own path down to Lakeview Trail.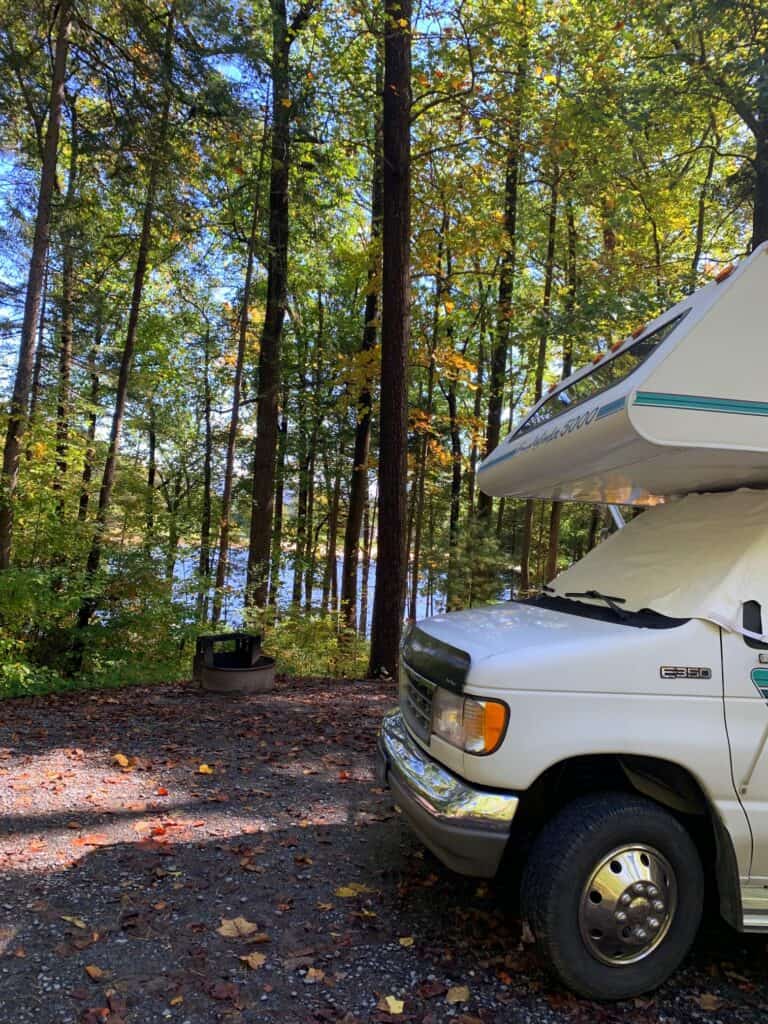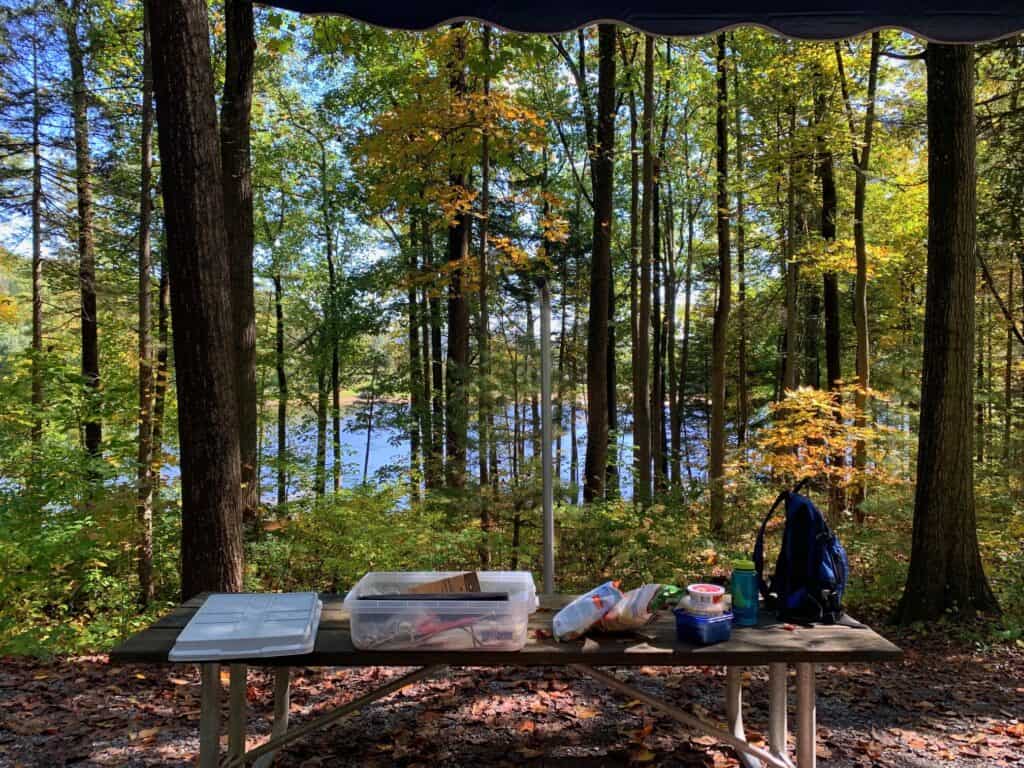 Hazel especially appreciated the morning views from site #186!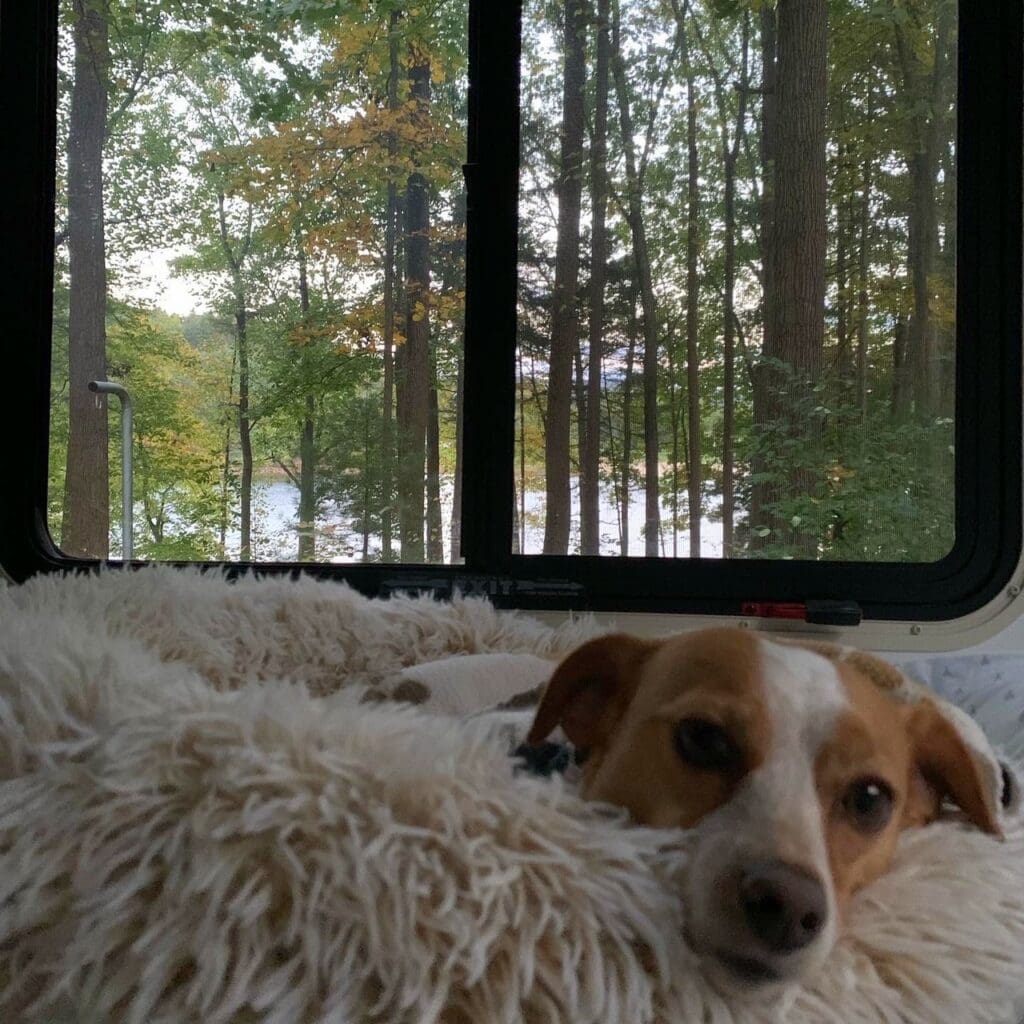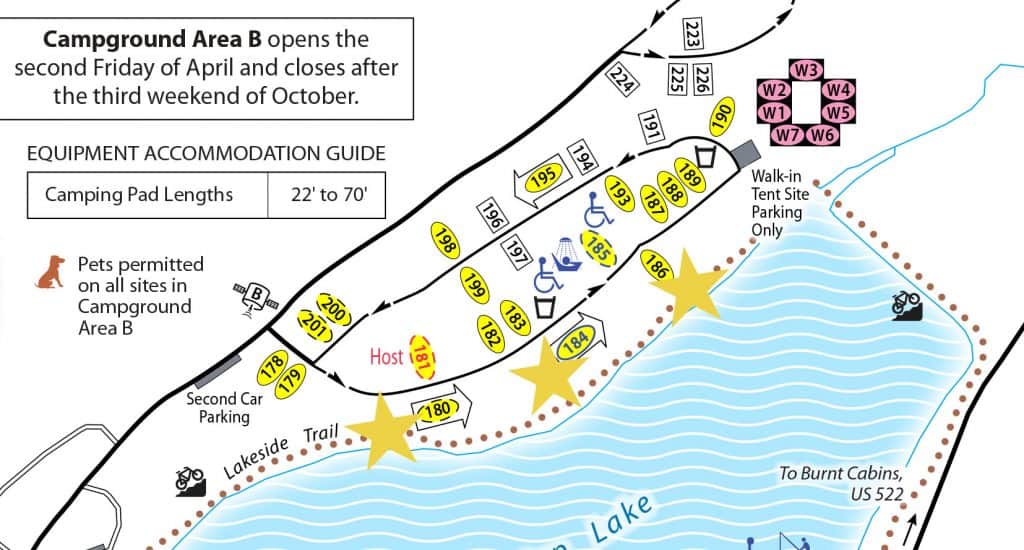 PRO TIP for the Campground
The starred pet-friendly RV sites above (180, 184 & 186) in Area B offer the best views and most privacy- and you can check their availability here. They each even have their own pathways to the Lakeside Trail that stretches around the entire lake!
While the park itself covers a little over 1,000 acres within Buchanan State Forest, some of the trails stretch beyond its boundaries- including one we tackled a piece of, Tuscarora Trail. 
Tuscarora Trail stretches about 110 miles long, and you can do two miles of it inside the park heading up the mountain on rocky terrain. 
From there, you can connect to Geyer Trail for part of the descent to meet Cameron Trail for the remainder of the steep downhill. Finally, meander along the creek on Plessinger Trail to create a challenging, wildlife-intense 4-5 mile loop. 
Plessinger meets Lakeside Trail to take you back to the campground. 
That might sound convoluted, but it was not hard to connect the trails to each other (even though the distances cited on the map seemed slightly off to us).
On our first visit to the park, we did the loop clockwise with our dog Franklin. We used his extendable leash so he could boulder at his own pace.
The first few miles on Tuscarora took us uphill over some interesting rock clusters.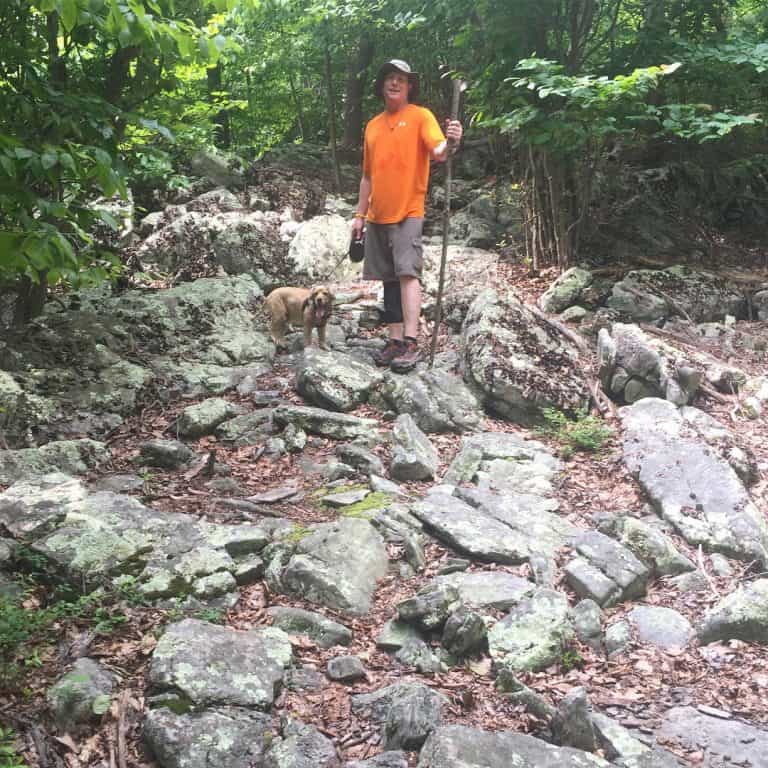 On the hike up, Franklin ran over top of a copperhead snake, which thankfully slinked away after the run in (run over?).
Copperheads are poisonous and very common in this area, so be alert! You can learn more about the region's snakes and how to recognize them at the park office or ranger's station. Or you can read up on them before you visit. 
We had been on the lookout, and I was able to get a partially-blocked shot of him in his hiding place: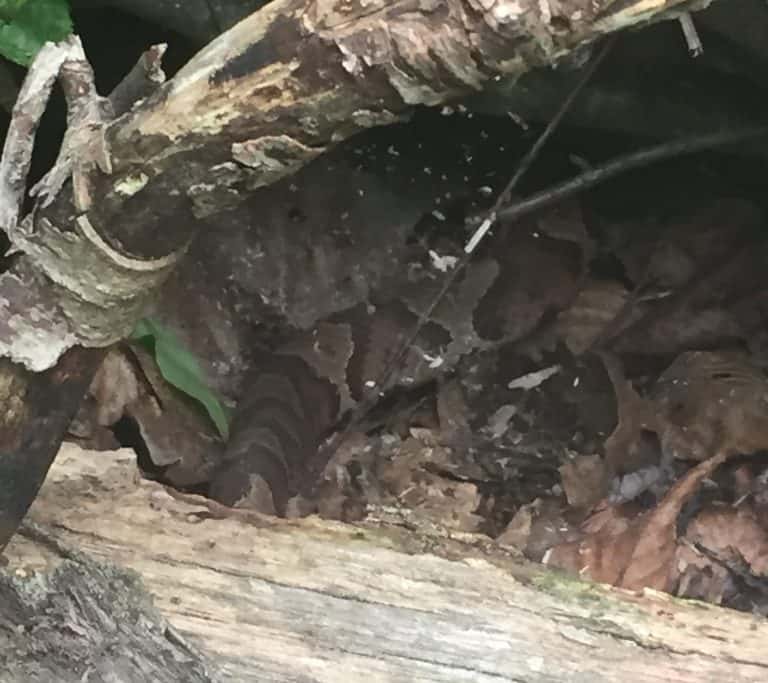 This is as close as I was willing to get!
Tuscarora Trail also has some nice rocky overlooks, which we enjoyed nervously after our encounter, believing our new snake friend could have relatives in the area.
This is also the section we thought was longer than the estimated 1.5-2 miles it shows on the map- my mileage counter already had us at 2.4 miles at the intersection with Geyer Trail. 
The walk downhill on Geyer and Cameron Trails was equally as edgy – and extremely steep!
By this time humidity had hit about 600%- can you tell?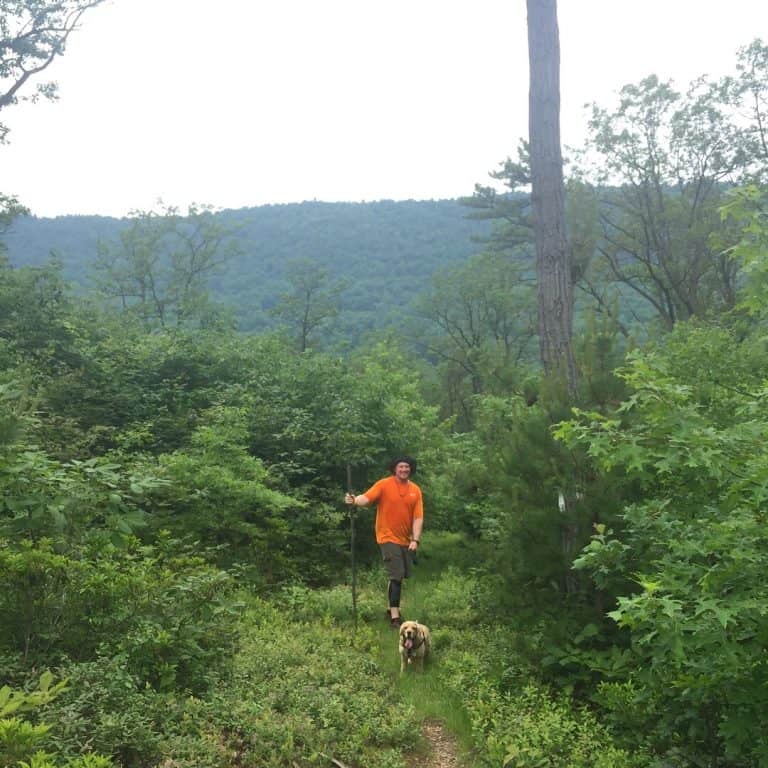 Along these trails, we encountered a giant snakeskin that had recently been shed AND a huge pile of bear poop!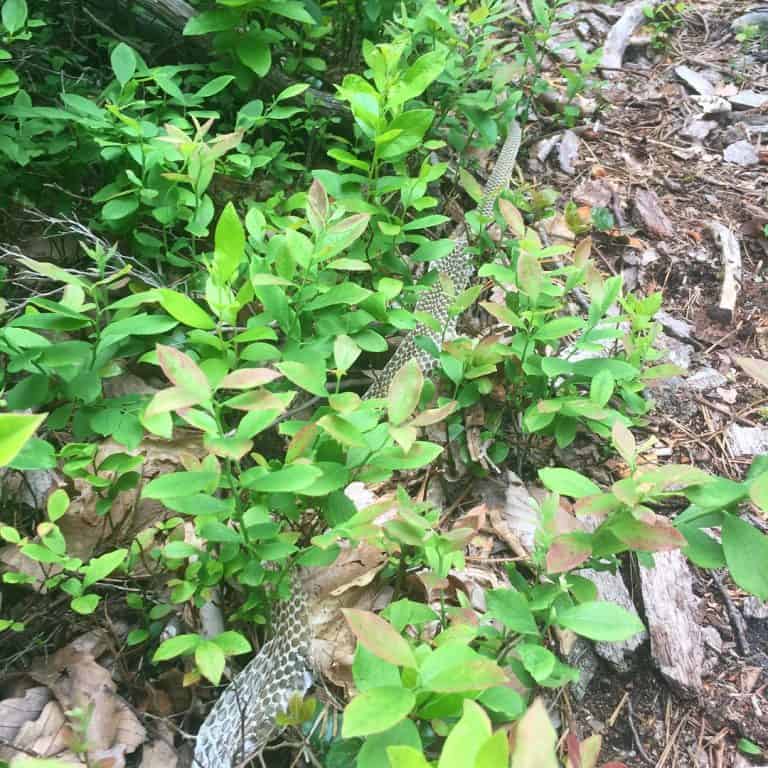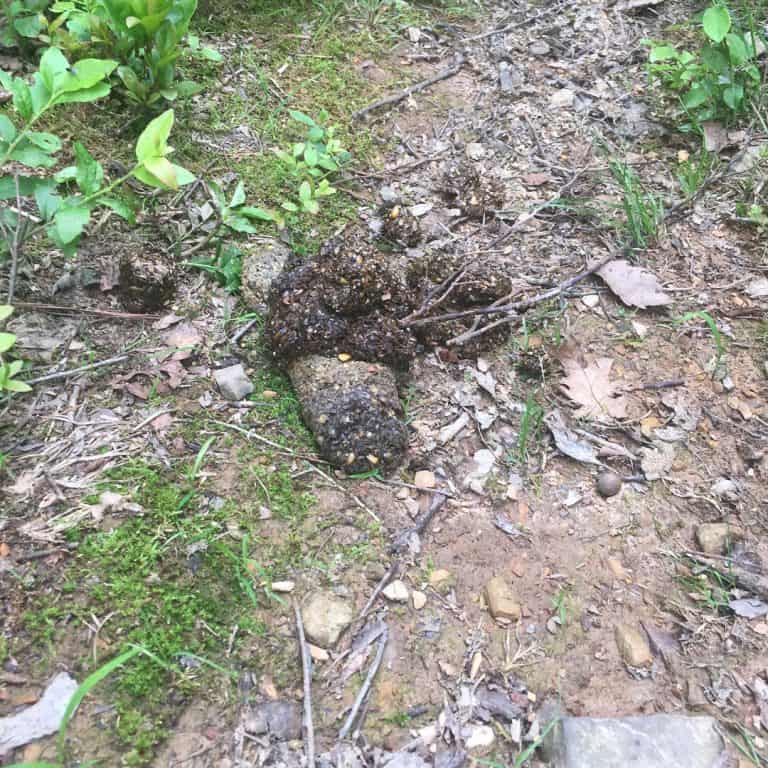 Needless to say, we had seen enough wildlife (and its evidence) for one day, but of course…
From the Plessinger Trail transition to the Lakeside Trail, we also encountered a few water snakes, including this one sunning himself: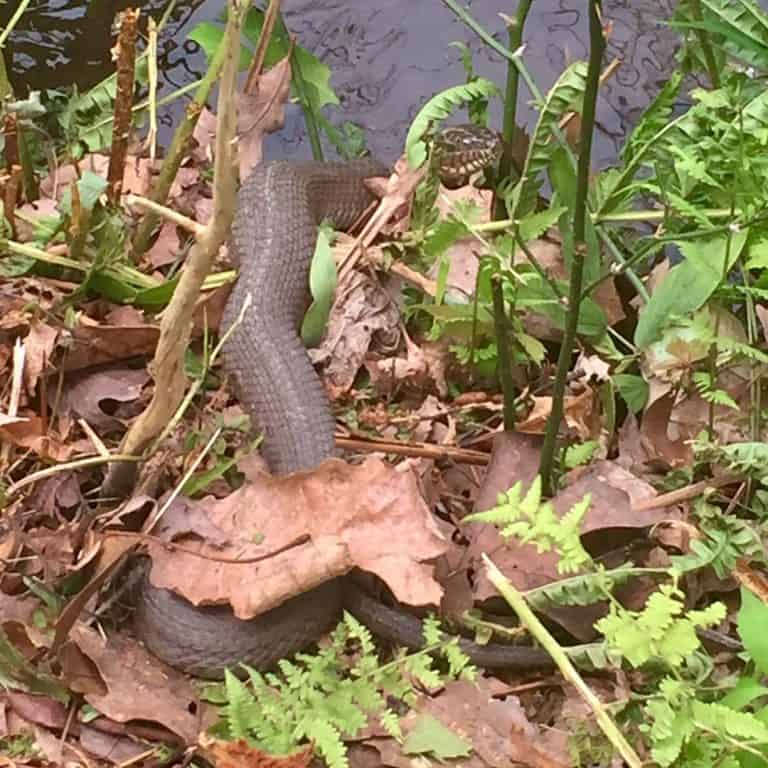 After an action-packed hike, we were happy to return to the peaceful campground…to review that snake book I mentioned earlier! 
On our second trip to the park, we decided to cover the opposite side of the trail network.
This time, we took Plessinger Trail out of the campground towards the lake to meet Knobsville Road and Standing Stone Trails. 
Knobsville Road Trail included some landslide history markers, as well as an old CCC incinerator site and a gorgeous lookout.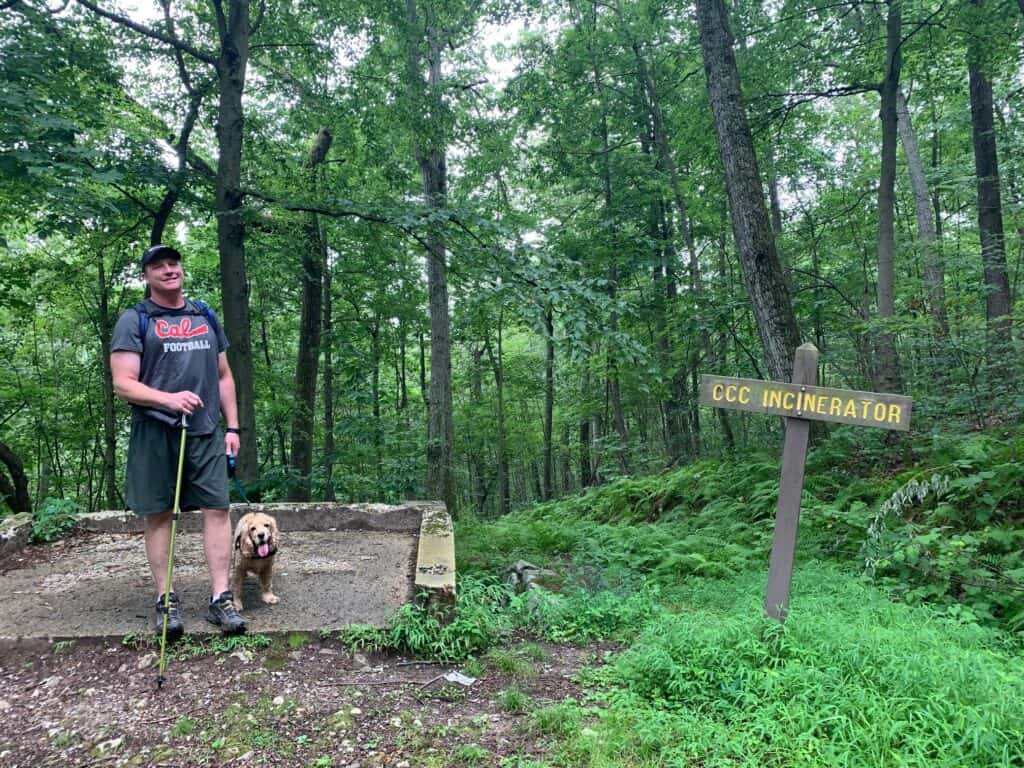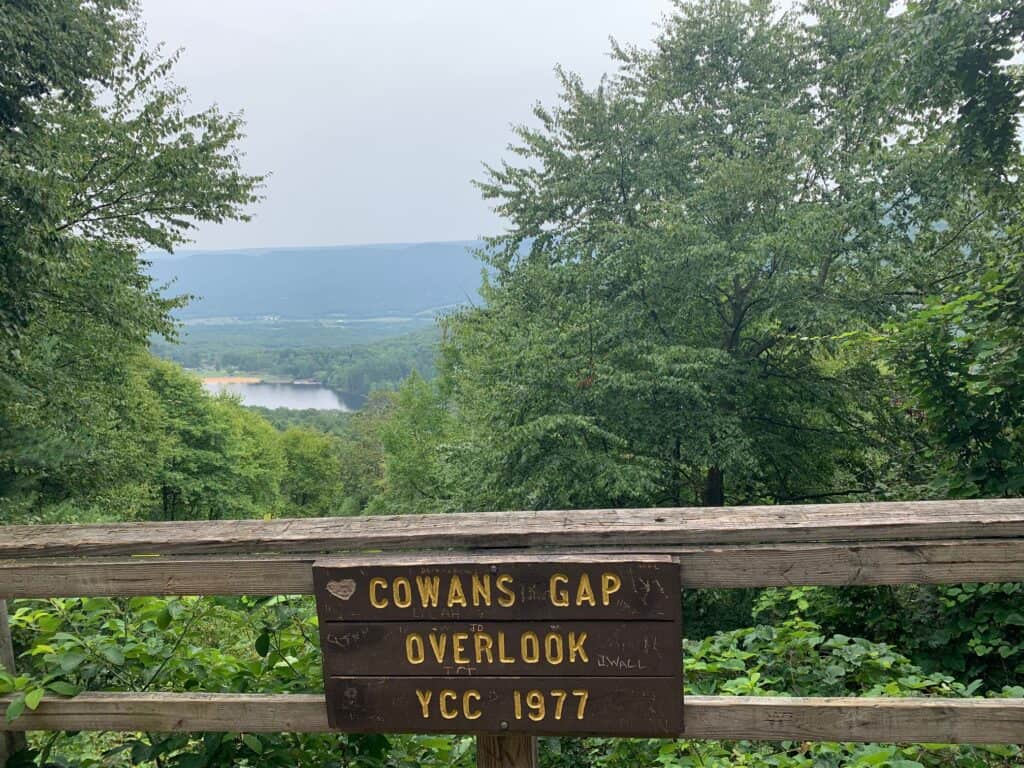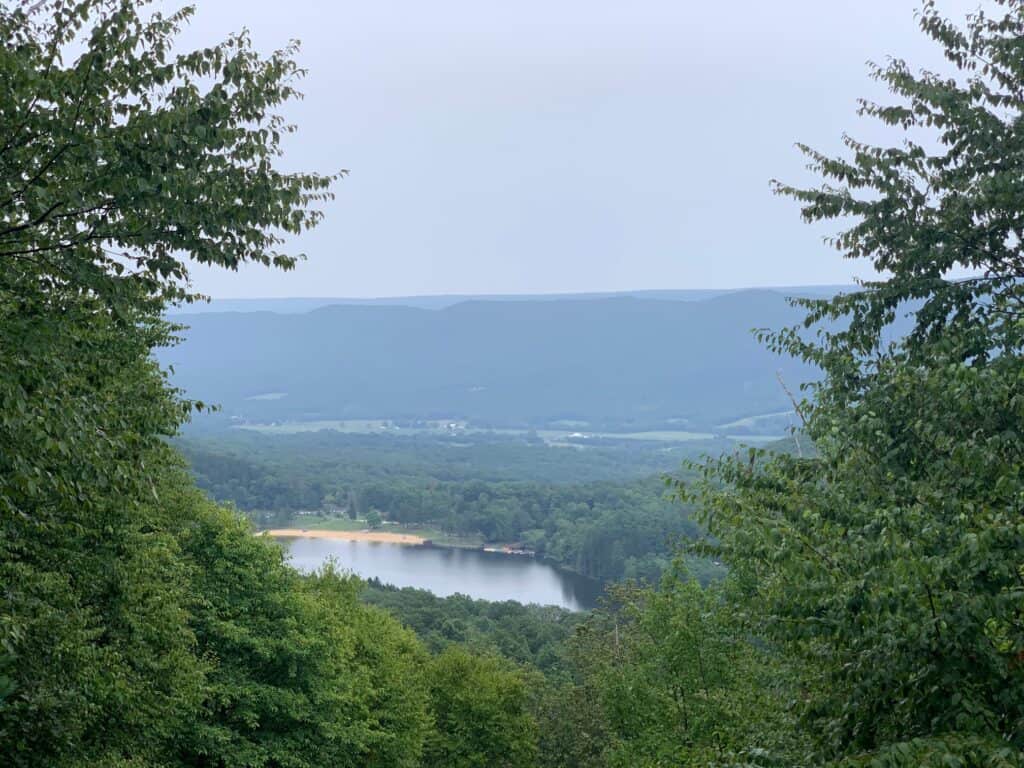 This trail is a long, steady incline before Standing Stone Trail continues the climb.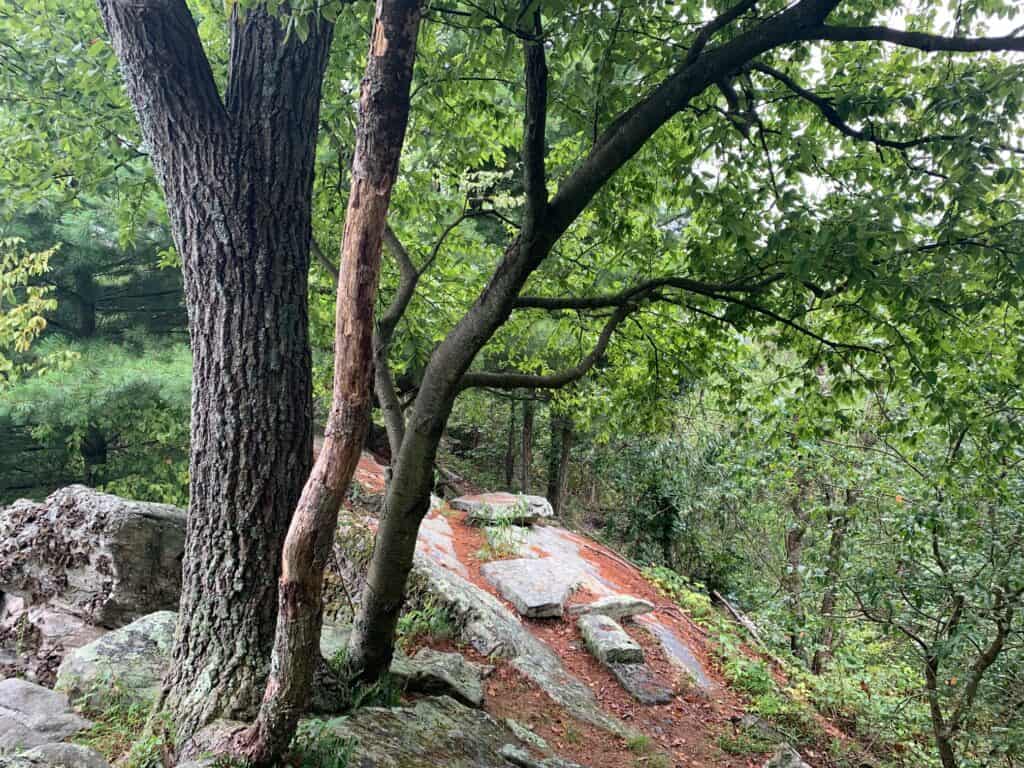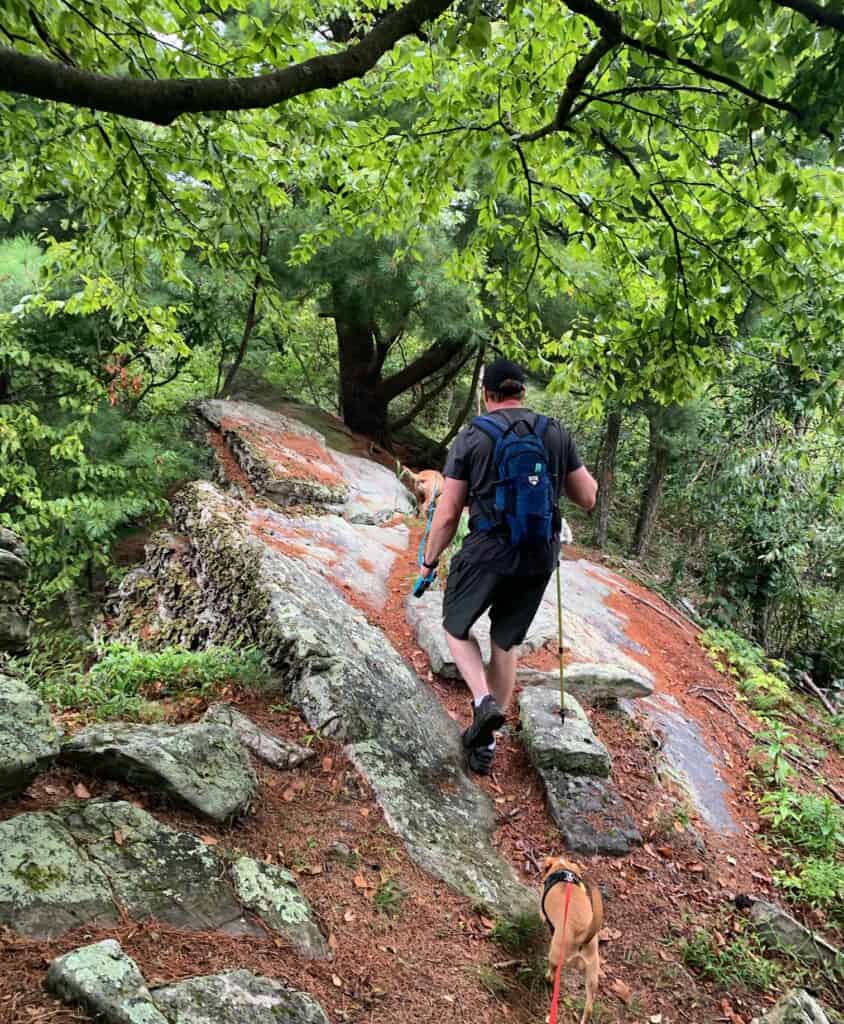 Our newest dog Hazel, who wasn't around the first time we visited the park, was able to get in on the rock scrambling fun this time.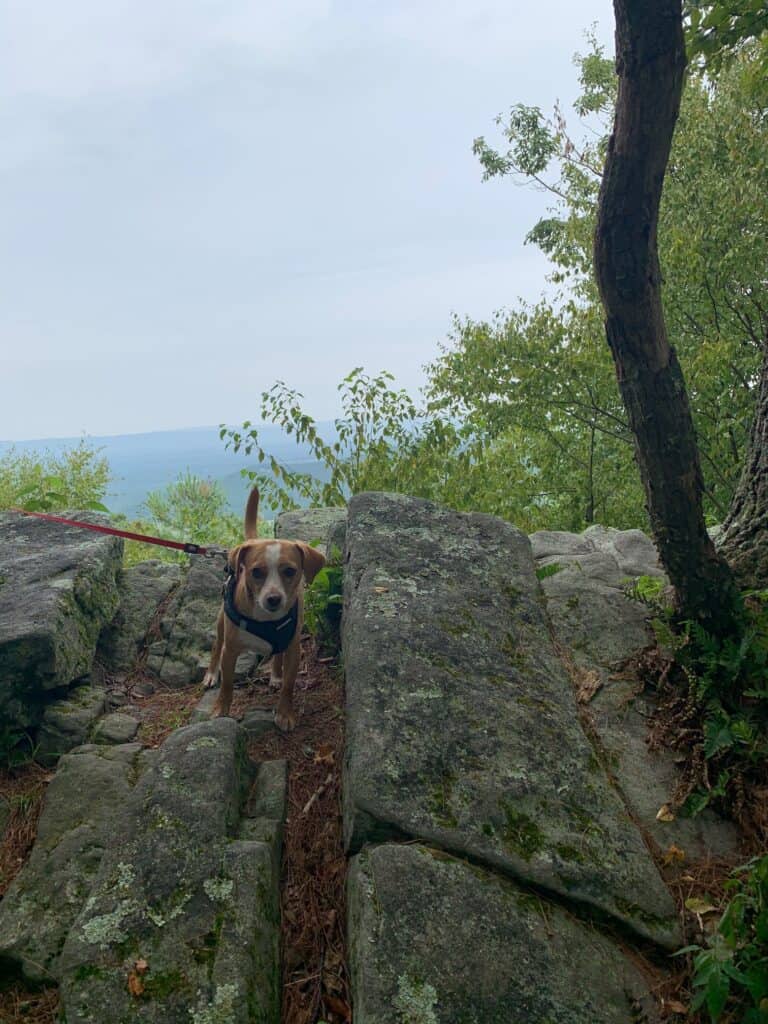 To return to the campground in this loop, you'll have to go down the absolutely precarious, straight-up-and-down Horseshoe Trail. 
When we visited in mid-August, Horseshoe Trail was extremely dry, rocky, and difficult to hike without causing small rock slides. In wetter weather, you might be hiking down a small runoff creek. 
Either way, you won't want to forget your hikers!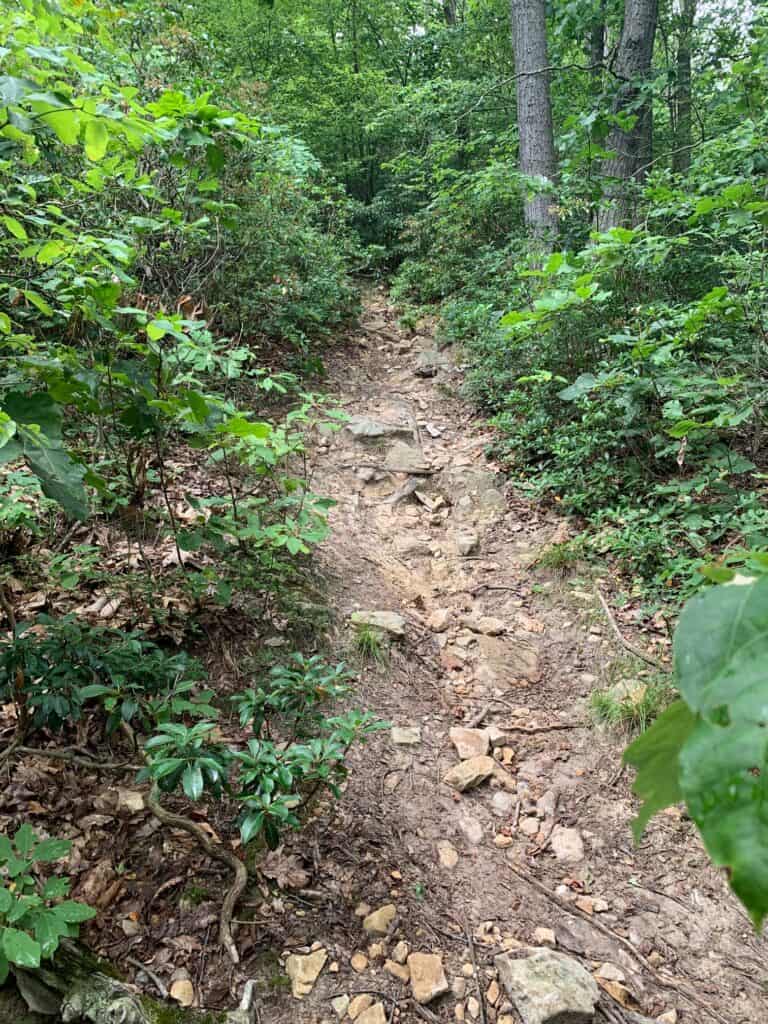 Once we made it down in one piece, we took Tuscarora and Lakeside Trails back to the campground, creating about a 4 1/2 to 5 mile total loop. 
During our most recent visit, we stayed a little more level so Franklin, our older cocker spaniel, could do more mileage. We took Tuscarora Trail the opposite way, and explored Plessinger Trail a little further.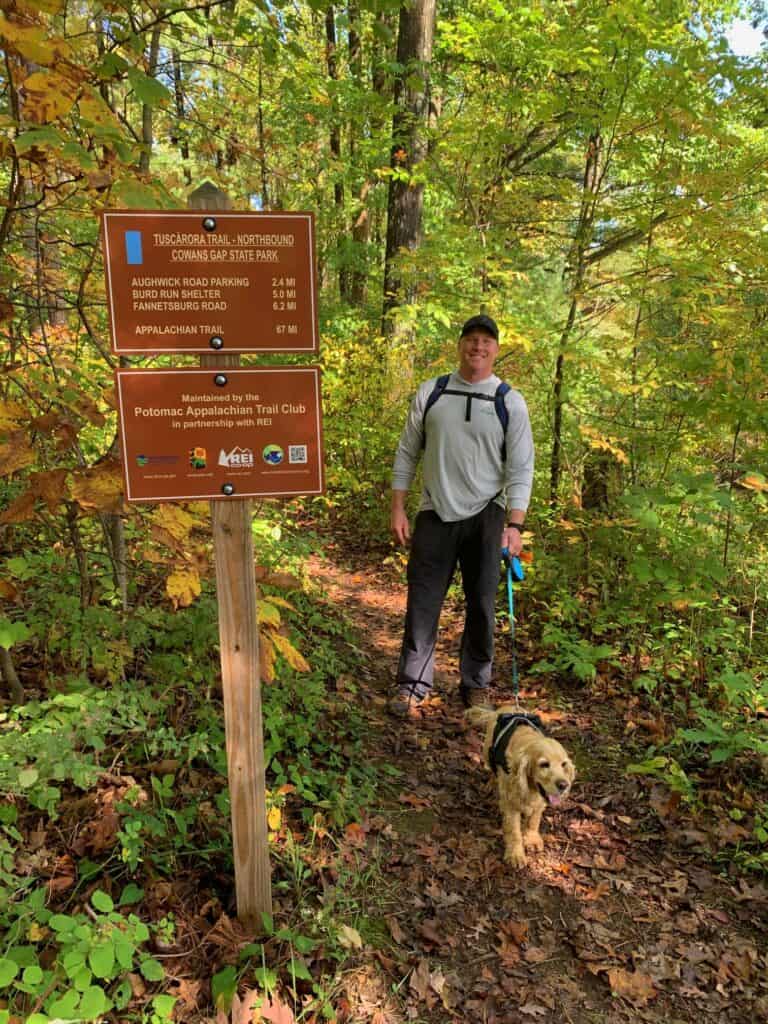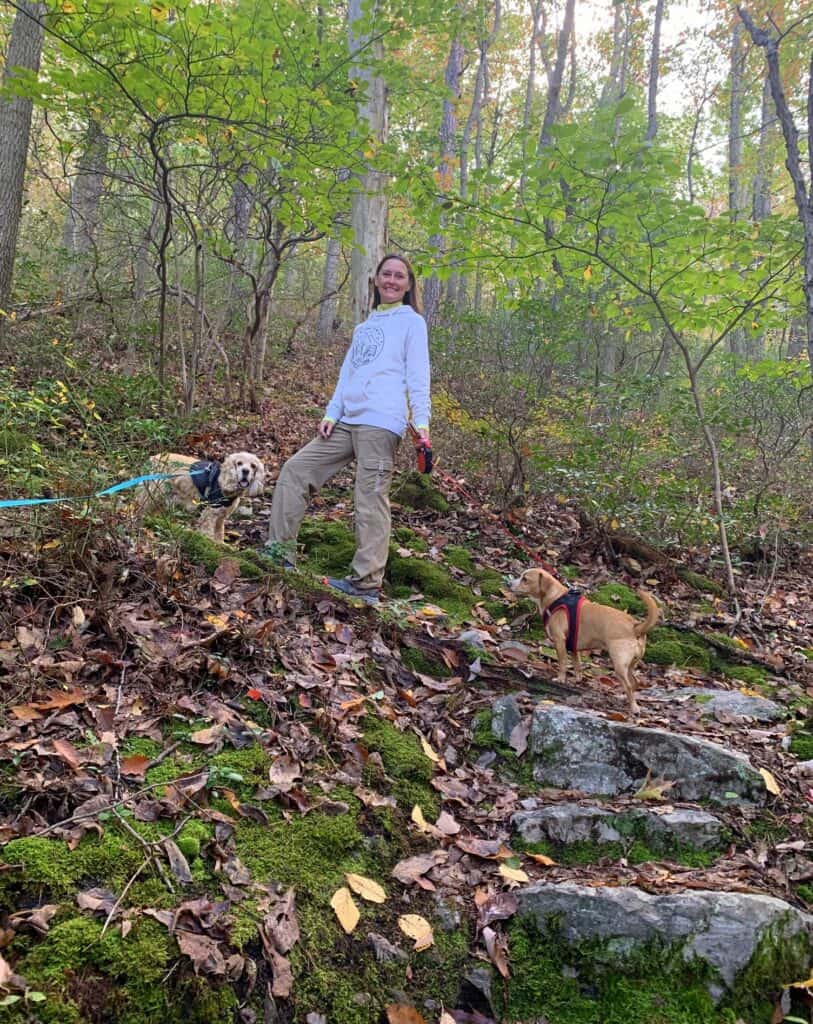 I've highlighted the hikes outlined above here: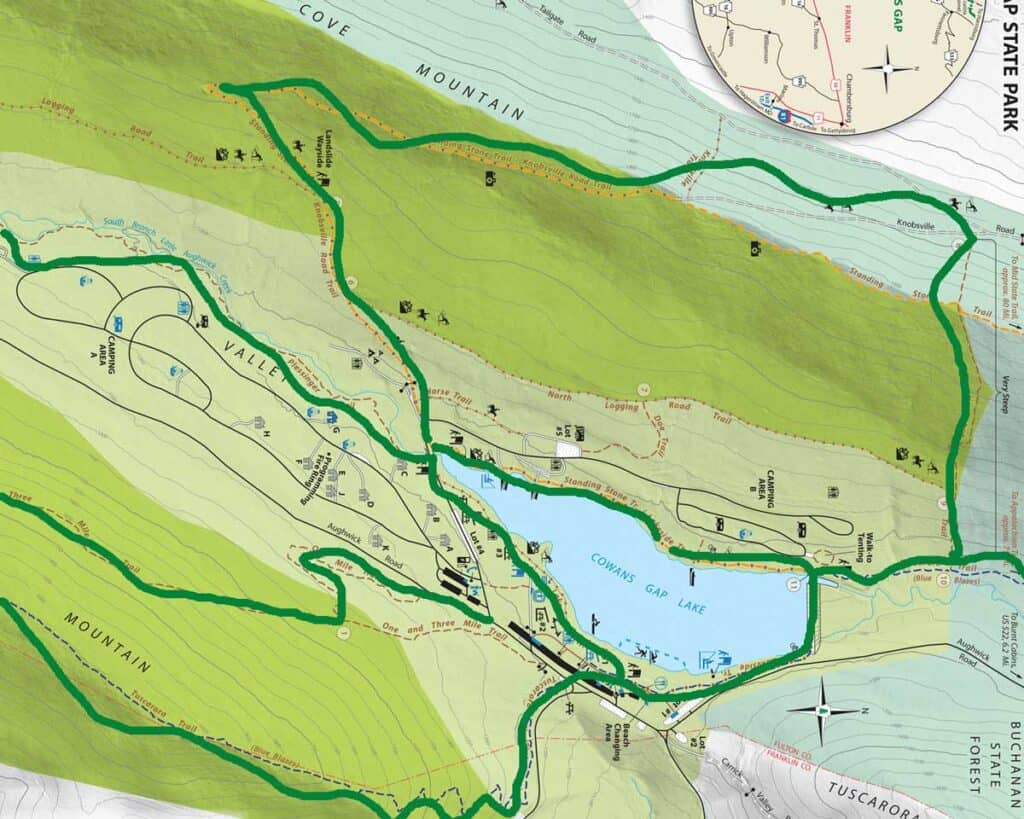 On our first visit, we enjoyed a free concert at the park. The Cowan's Gap State Park event schedule often includes things like arts, bats, music, and photography- so you and your crew will all be able to find something you like. 
If you're there during the summer, there's also a public sand beach along the lake (but no pets allowed- boo!). 

PIT STOP! Downtown Bedford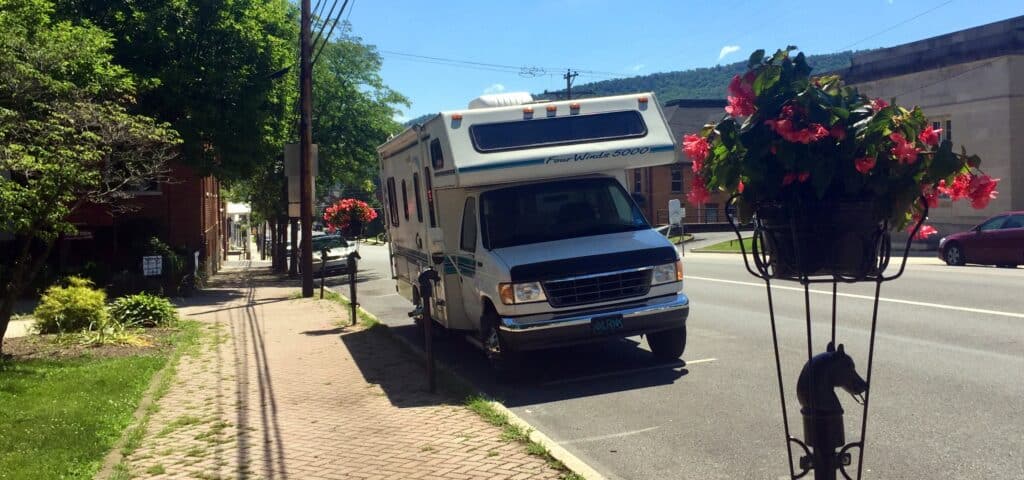 If you are headed west home from the park, you'll want to get off about an hour along on the PA Turnpike at Exit #146 to Bedford. 
This town has a little bit of everything, including boutiques, souvenirs, and coffee.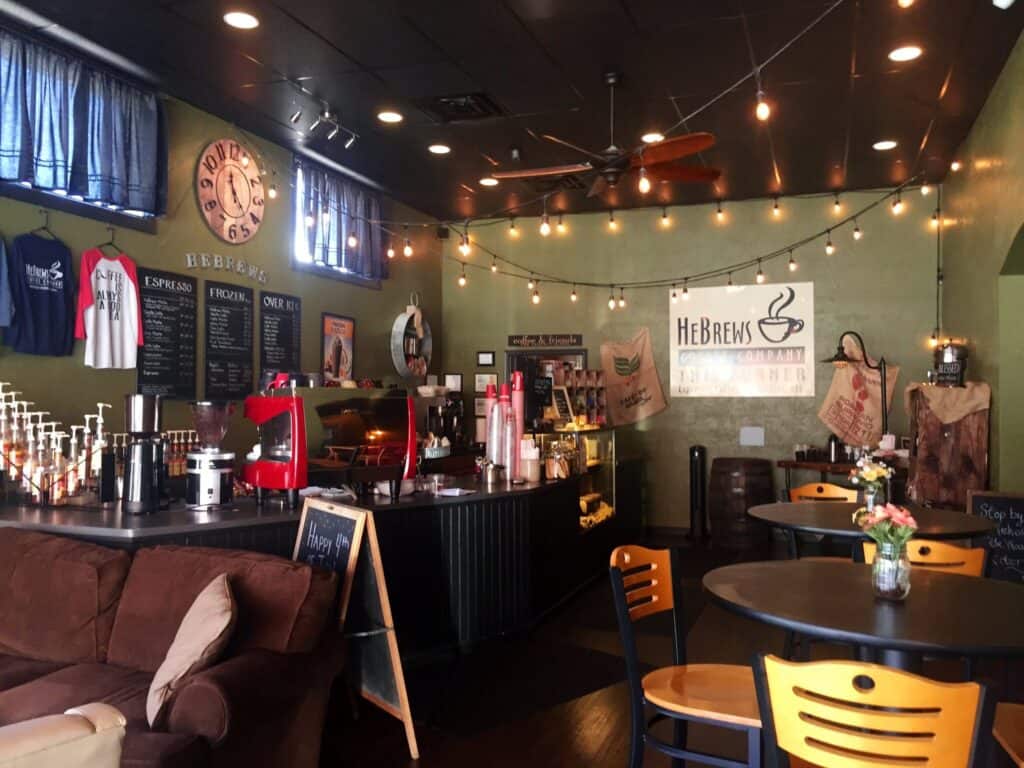 We enjoy Cowans Gap State Park so much, we've managed to visit three times! From the beautiful campground spots to the wild hiking, it's a complete RV weekend. 
Can you recommend a park or any places along the way we should stop? 
Hazel's all ears.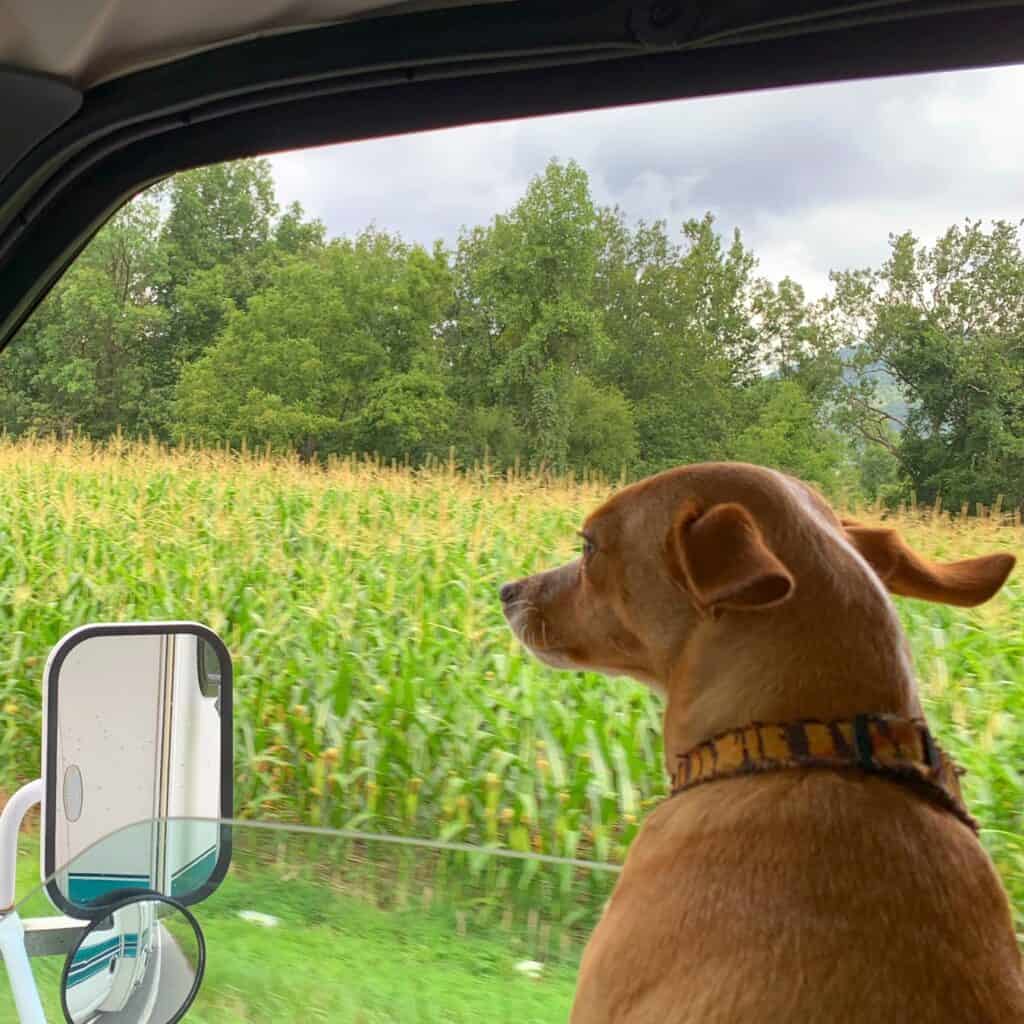 Traveling through north-central PA and looking for an interesting place to get out and stretch? Try Austin Dam.