Please note that some of our links are affiliate links, which means at no additional cost to you, we will earn a commission if you click through & make a purchase. Happy clicking!
After losing our 16 1/2 year old cockapoo Benjamin this past May, we let our English Cocker Spaniel Franklin have a summer & autumn as solo dog before we began the hunt for the next Road Trip Tail.
We were looking for a small to medium-size dog with high energy for hiking & road tripping who would get along famously with Franklin. 
The search wasn't easy. 
We applied through two rescue organizations and got denied twice! WHAT?!? 
The first time the dog went to another applicant (WHAT?!?) & the second time the dog wasn't doing well with other dogs (ok, I understood that one). 
Next, we trolled the local shelters. One dog we liked was gone the next day, and another had already been adopted. The next had to be adopted with his mother. Sigh. 
Finally, I saw a fantastic dog on Centre County Paws Instagram and called them immediately. Unfortunately, that dog was already really big & still growing- they estimated he'd be about 90 pounds! Too big for us, our small house and even smaller RV.
BUT, they told me to check the post right before the one I had called about – they had two puppies left from that litter named Chip & Hazelnut. 
Even though we weren't looking to train a new puppy, I couldn't resist this picture they sent me of Hazelnut: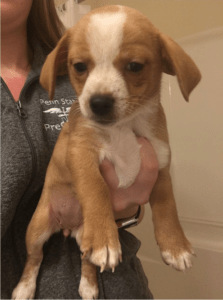 So that weekend, off we went with Franklin to visit a new puppy.
Centre County Paws is an independent shelter & rescue located in State College, PA- just a few hours drive from Pittsburgh. A wonderful woman named Tess helped us through the process and answered all of our questions. If you are in their vicinity & looking for a new pet, I highly recommend visiting their facility.
Turns out Hazelnut's mom had been left at the shelter pregnant. Her mom is a beagle-Jack Russell terrier mix, but they don't know what breed or mix the father is- so she may turn out to be a little surprise!
She weighed 4 pounds the day we picked her up, and she had already been spayed & had her first round of shots. All of her brothers & sisters were completing their adoptions on the same day, so she got to kiss everyone goodbye.
Once we got her home, we decided to call her Hazel. We almost went with Harriet, but she just seemed like such a Hazel!
She & Franklin hit it off immediately, and they have been playing like crazy ever since.
She wasn't afraid to make herself right at home at naptime, either.
You can see we are huge fans of crate training & treat toys & Casper dog beds. We are also lucky Benjamin left behind a lot of great hand-me-downs for Hazel!
She starts Puppy Kindergarten soon, and we have a few good months before RV season to fine tune house training & basic commands.
We're so excited to have a new Road Trip Tail, and we can't wait to see how she likes RV travel & outdoor adventure. 
Do you have any advice for traveling with a new puppy? We'd love to hear it- leave a comment below!