Helping Senior Dogs Rock the Road
Please note that some of our links are affiliate links, which means at no additional cost to you, we will earn a commission if you click through & make a purchase. Happy clicking!
Senior dogs rock!
They really do. They're more chill than their younger counterparts, and they know exactly what they like and don't like (read: lovingly set in their ways).
At 16, Benjamin is loving life. He thrives on two walks a day and combo of Wellness Raw Rev mixed with Nutrish…plus an ongoing experimental batch of vitamins & supplements (for another day!).
Traveling with Ben is a breeze, especially with these senior dog hacks to help him rock the road:
Elevated dog bed 
After a long day of hiking & swimming, it's great to be up off of the dirt & gravel when napping back at camp.
Ben's version is washable & breathable- plus stackable with his brother's in the overhead area.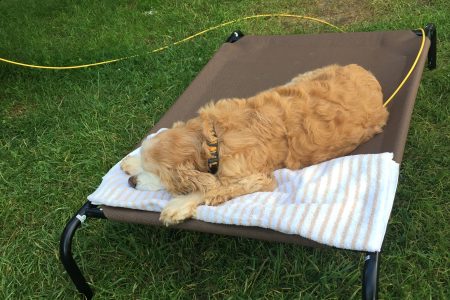 Dog backpack
This pack starts out carrying our water bottle, dog treats & phones for a long hike, but sometimes it ends up carrying a cockapoo! 
We learned on a 6-miler through beautiful Cook's Forest that Ben might be starting to need a lift on longer hikes. This K9 Sport Sack fits the bill.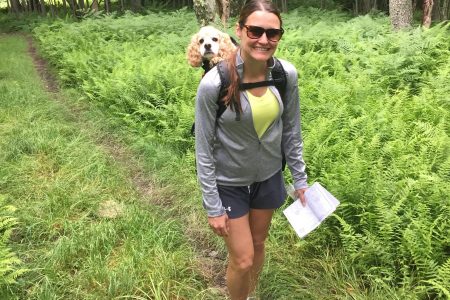 Tie out cable
Ben has always pretended he couldn't hear us- but now he pretty much can't! He also can't see as well as he used to, so if we left him on his own to wander around, who knows where he'd end up! 
The tie out cable has been fantastic around camp. You can make an overhead line, attach it to the leg of a picnic table, or use the stake-in-the-ground method.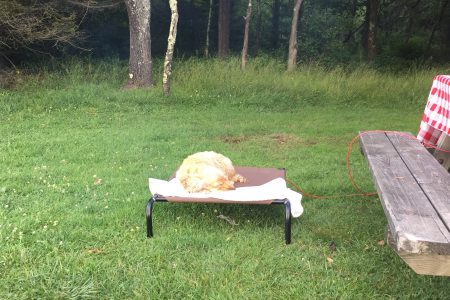 I can't resist! Here's ONE vitamin/supplement we discovered last year that has really upped Ben's game with NO side effects: 
Are you traveling with a senior dog?
Tell us how you're making their journey more comfortable in the comments below…Ben would love to know!

There are some great dogs hikes in Pennsylvania! Like here & here.