Canoe Creek State Park in central Pennsylvania makes a great day trip or cabin weekend, and offers hiking, birdwatching, and fishing- with a little industrial history! 
Canoe Creek State Park in Hollidaysburg, Pennsylvania, is about 2 hours east of Pittsburgh and 3 1/2 hours west of Philadelphia. 
At close to 1,000 acres, the park includes a lake and several different types of habitat that attract lots of birds. Visitors can enjoy hiking, fishing, kayaking, and swimming on the lake beach. 
You'll also find lots of limestone, indicative of why you'll also see quarries and kilns right inside the park!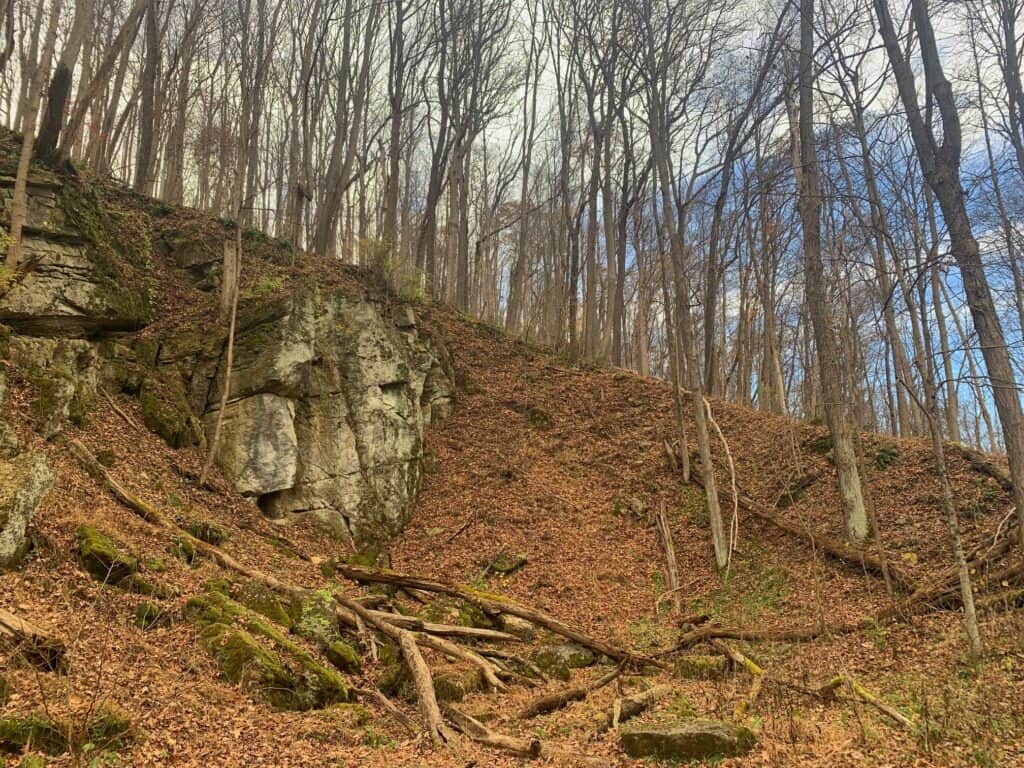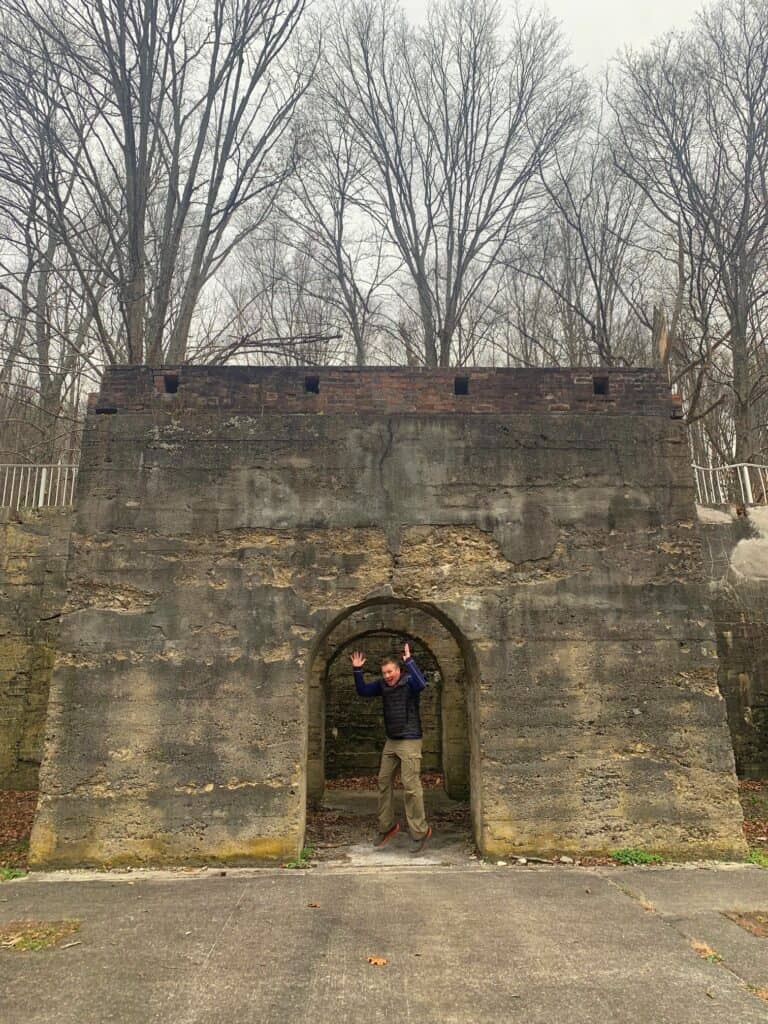 Canoe Creek State Park opened in 1979. 
Canoe Creek State Park does not have a campground, but they do have 8 modern cabins to pick from. The cabins have electric, water, small kitchen, bathroom, and 2 bedrooms. 
Cabins 7 and 8 at the end of the row do allow pets: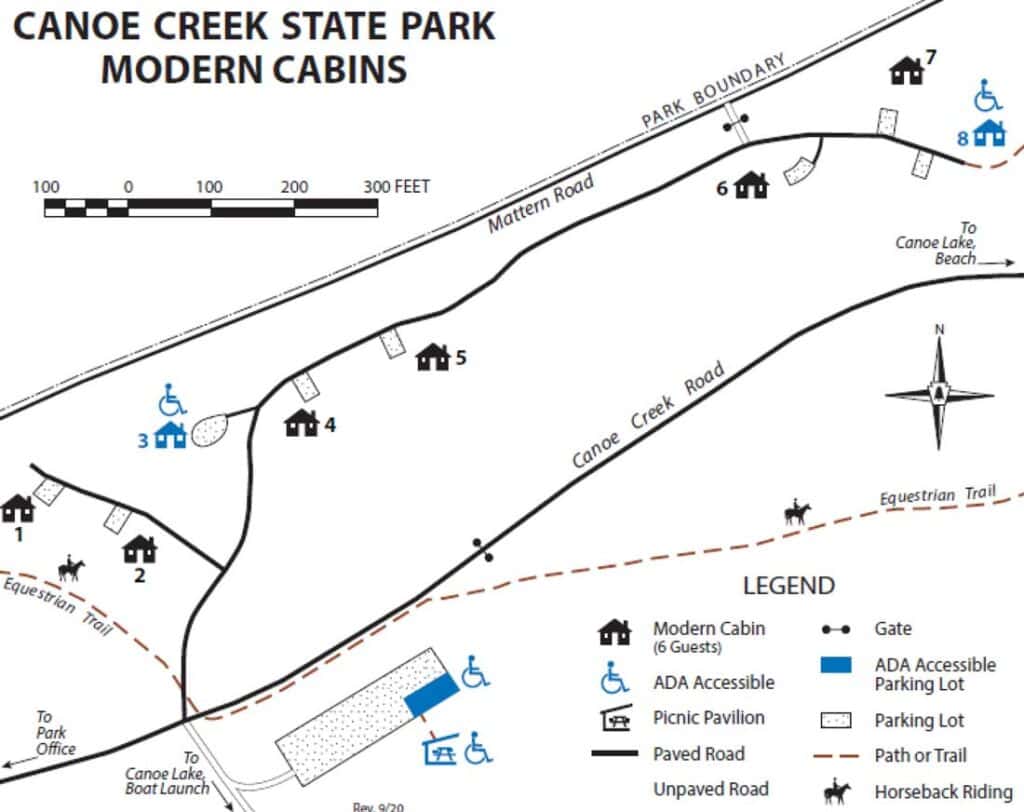 The cabins are located just above the lake in the park, giving you easy access to the boat launch and swimming beach. 
Since this was a day trip for us, we did not stay in the cabins. They looked quite clean and seemed far enough apart that you would have some privacy.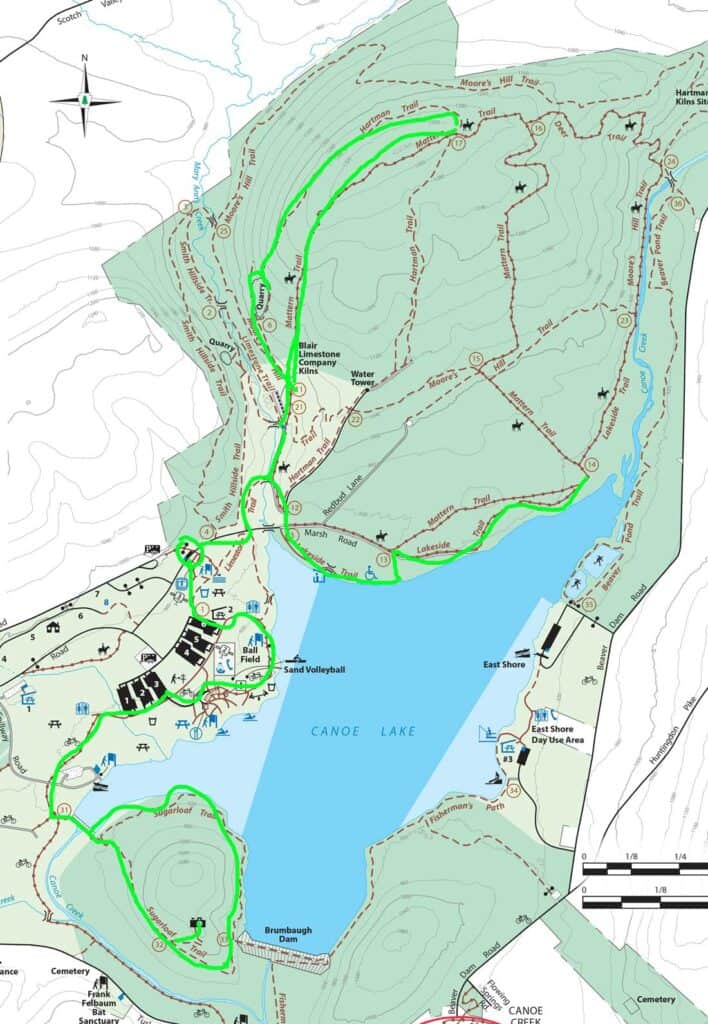 We started in the circled parking lot above and headed towards the Blair Limestone Company Kilns and Quarry first.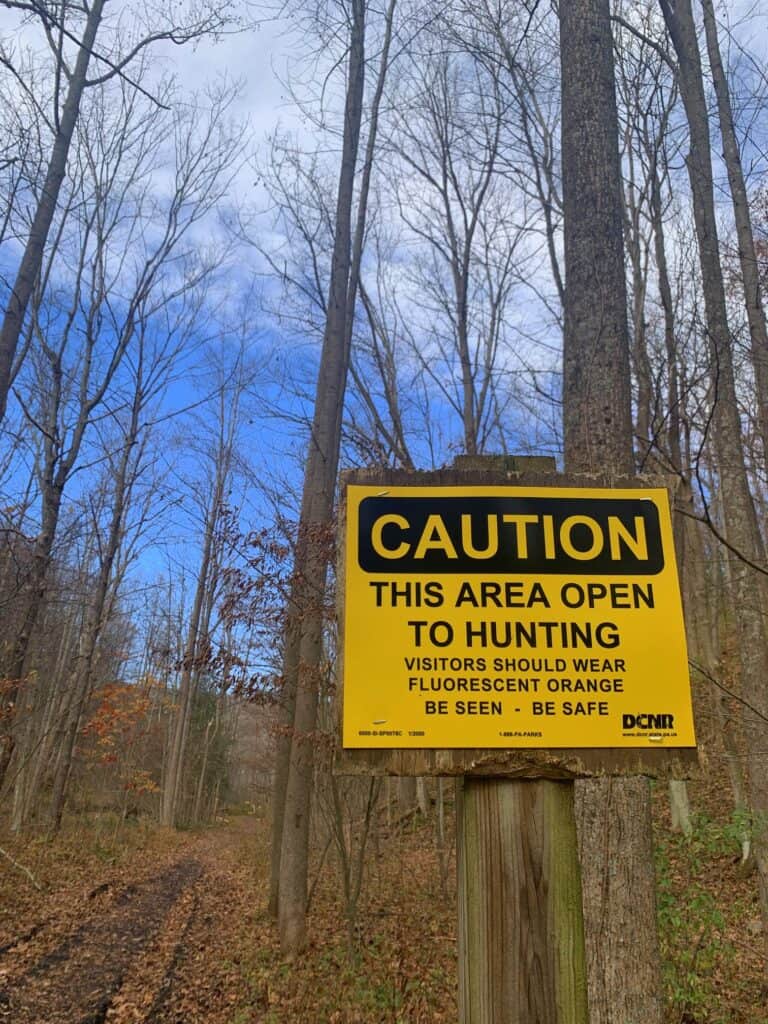 'Tis the season for fall hiking, so don't forget to wear your bright orange!
Since Russ was wearing navy (!!!) we opted to travel in a safer area the next trail over.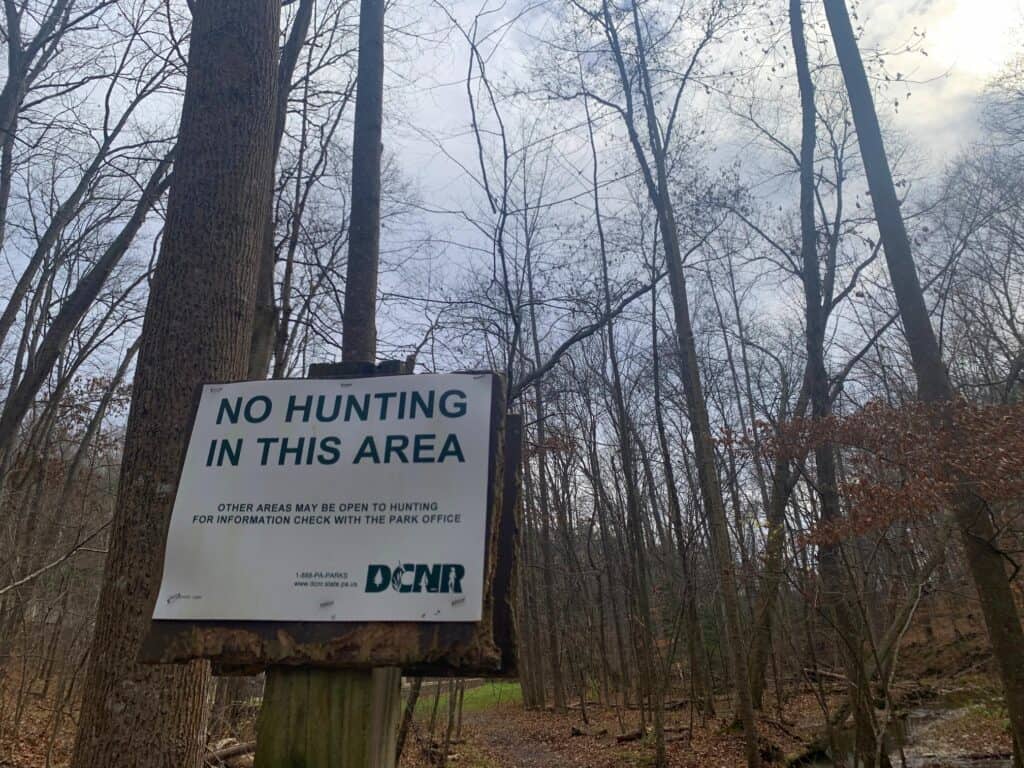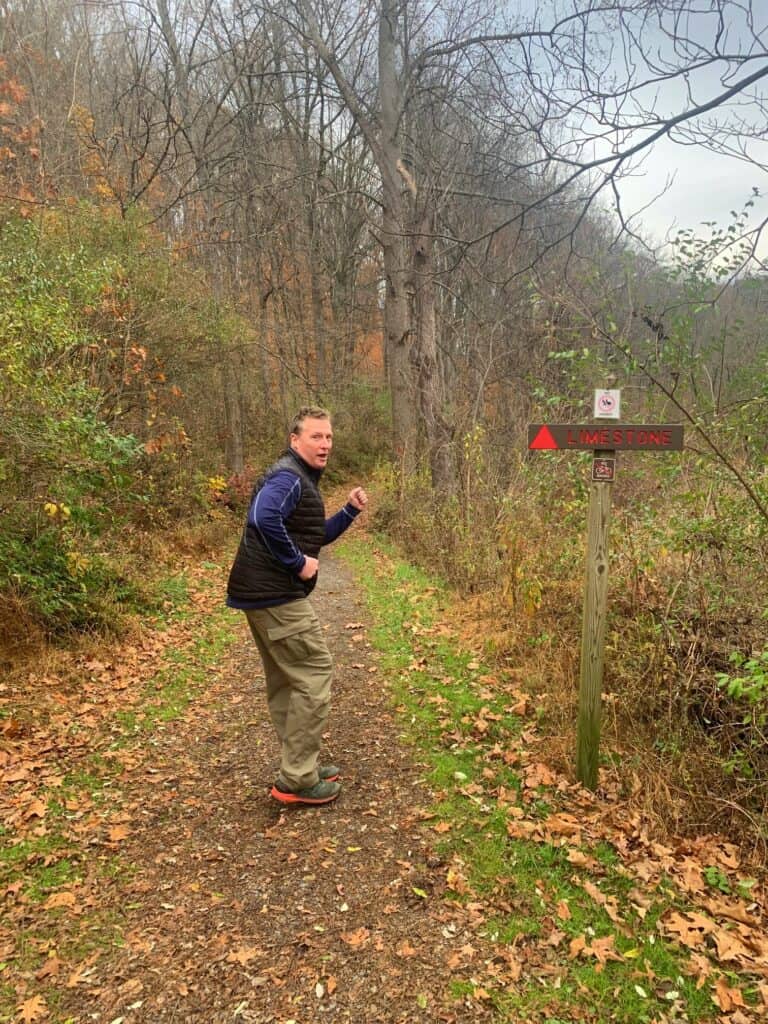 The quarry area and kilns are interesting to see close up. You can walk right among – and into – the kilns.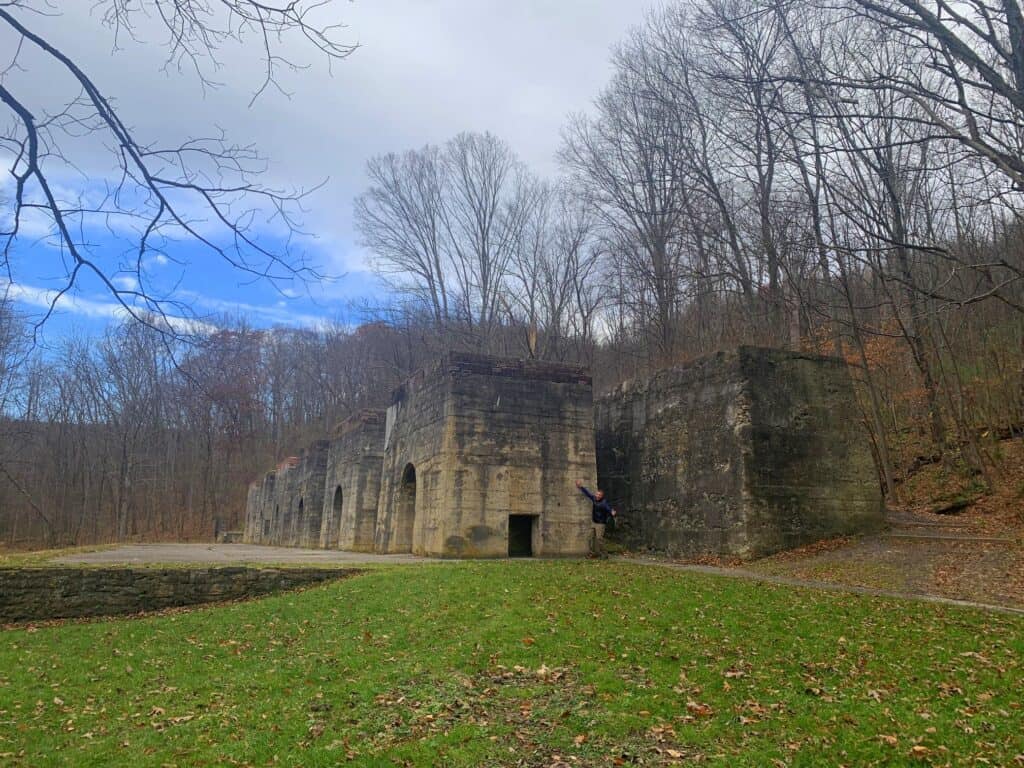 From there, you can walk on the Marsh Trail boardwalk around the north side of the lake.
You'll have some great lake and birdwatching views, especially if the sun is shining!
At the end of Marsh Trail we doubled back to the parking lot to then make our way to Sugarloaf Trail.  
To get to Sugarloaf Trail, you'll enjoy hopping across the spillway! Even though I had on my small daypack, I was still able to hop across easily.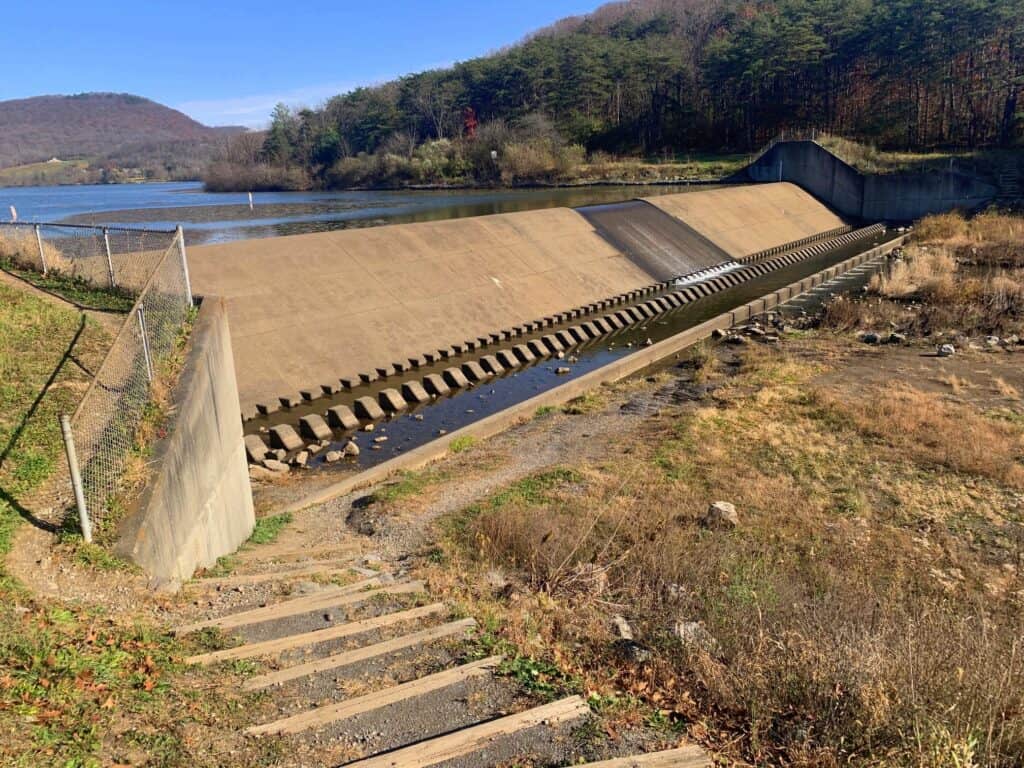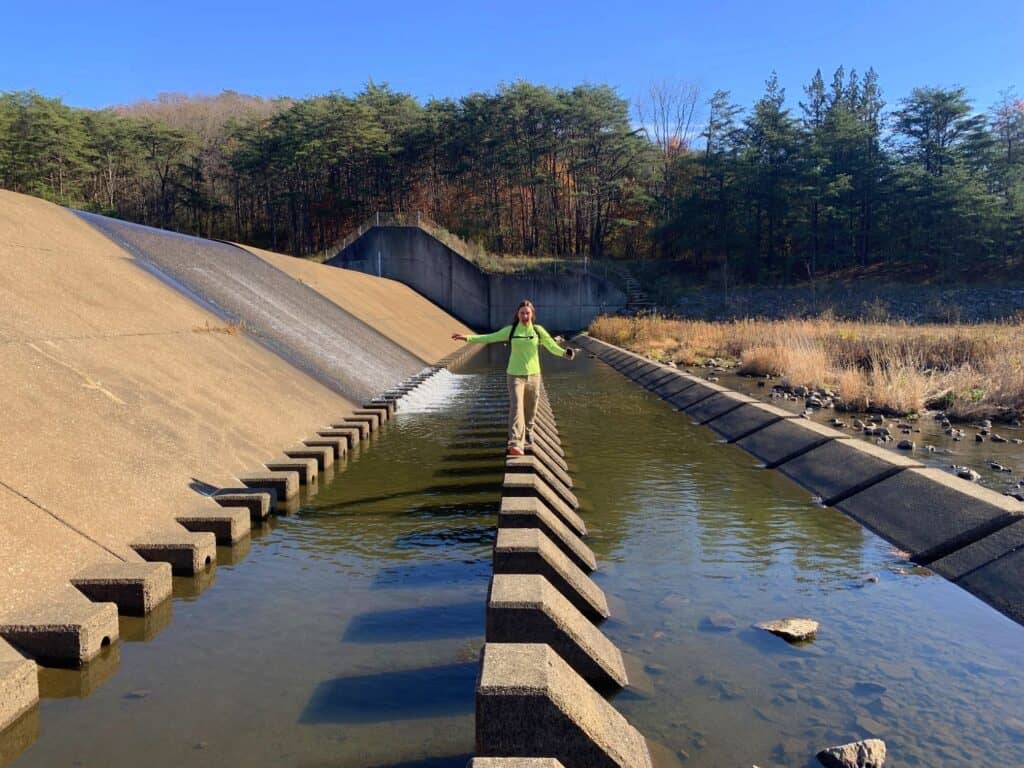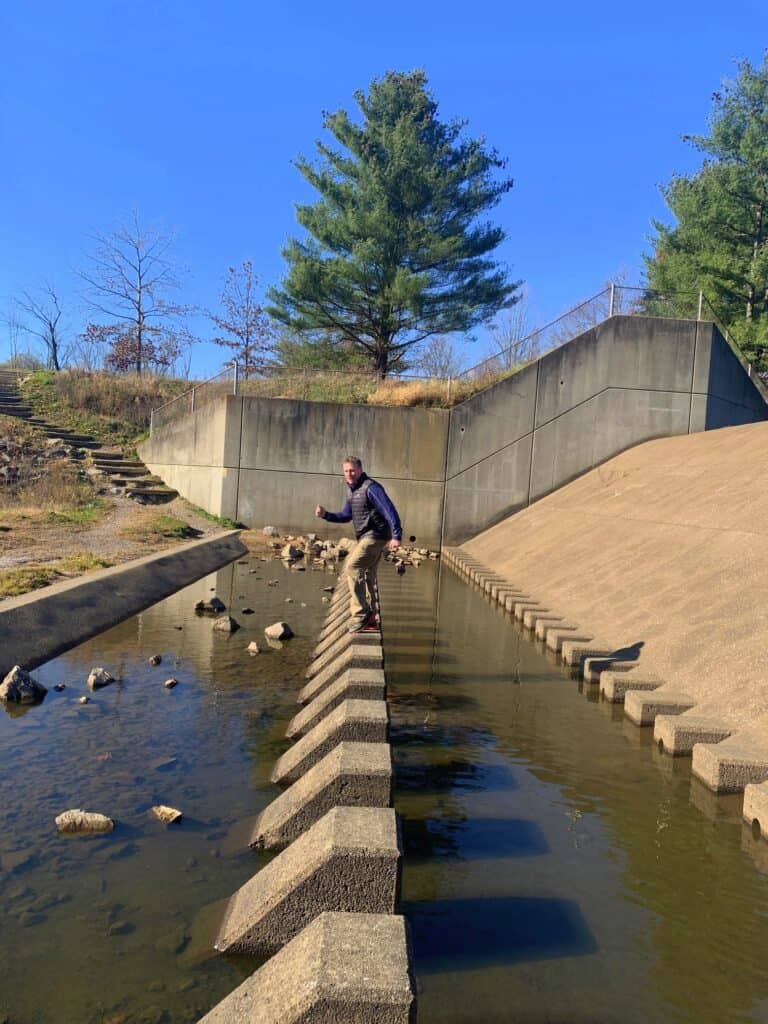 As the spillway was low, we could see tiny fish swimming away from us as we hopped across!
Once on Sugarloaf Trail, you'll have a sweet mile-long loop to enjoy some woodsy views, as well as some lake views.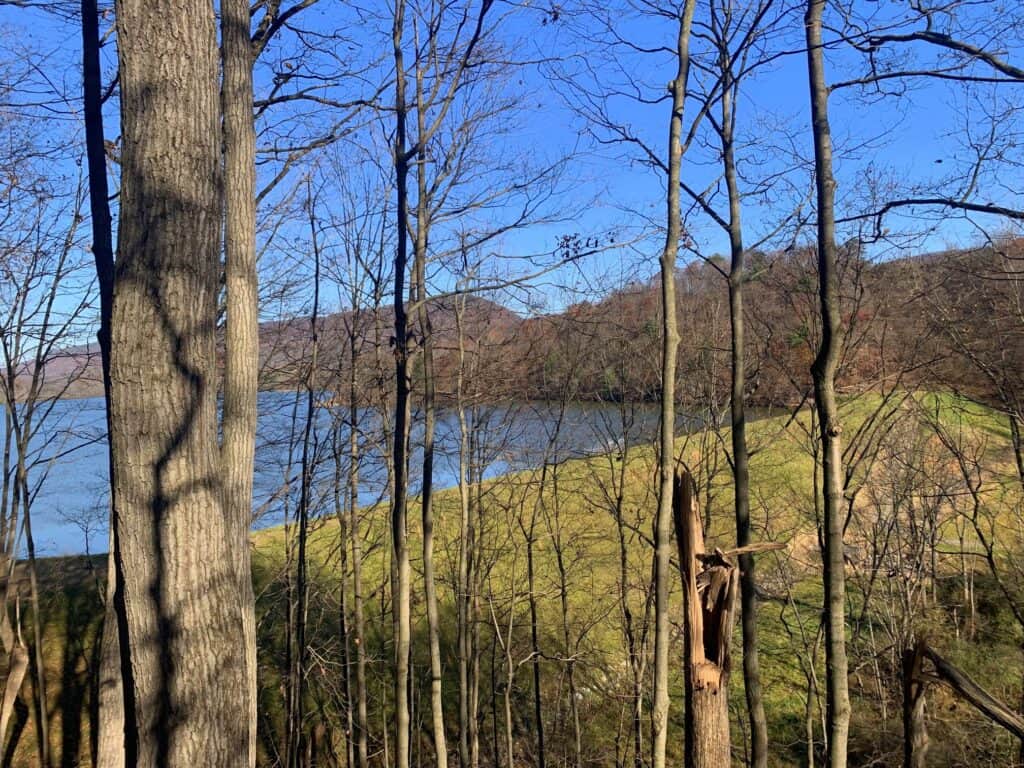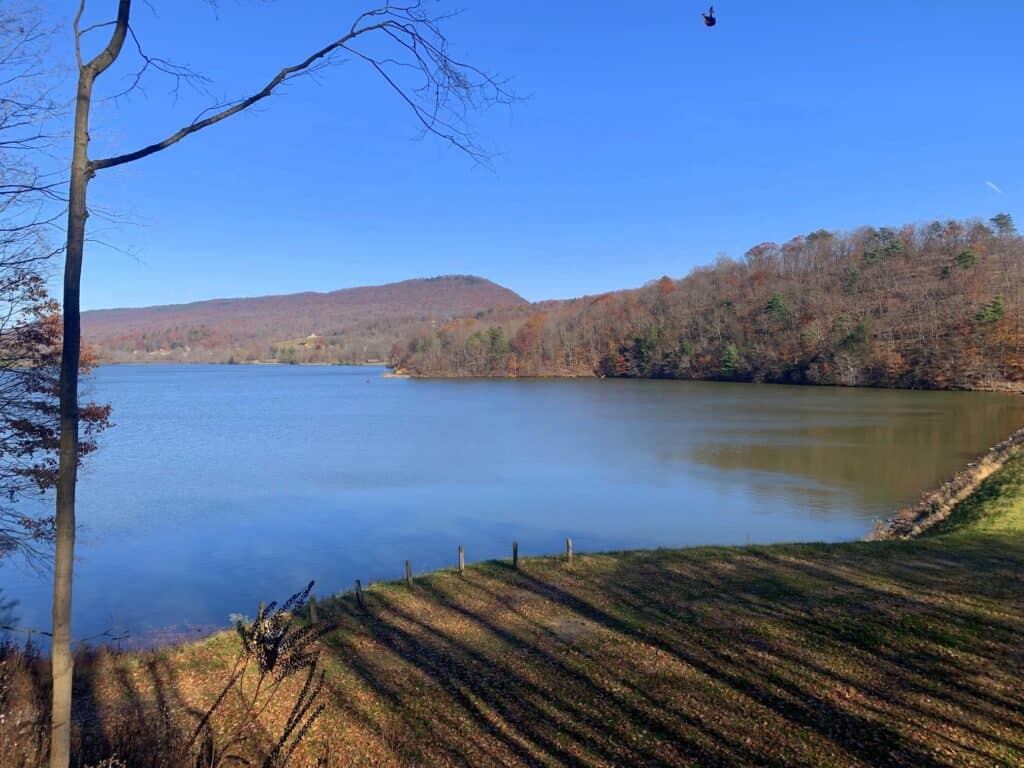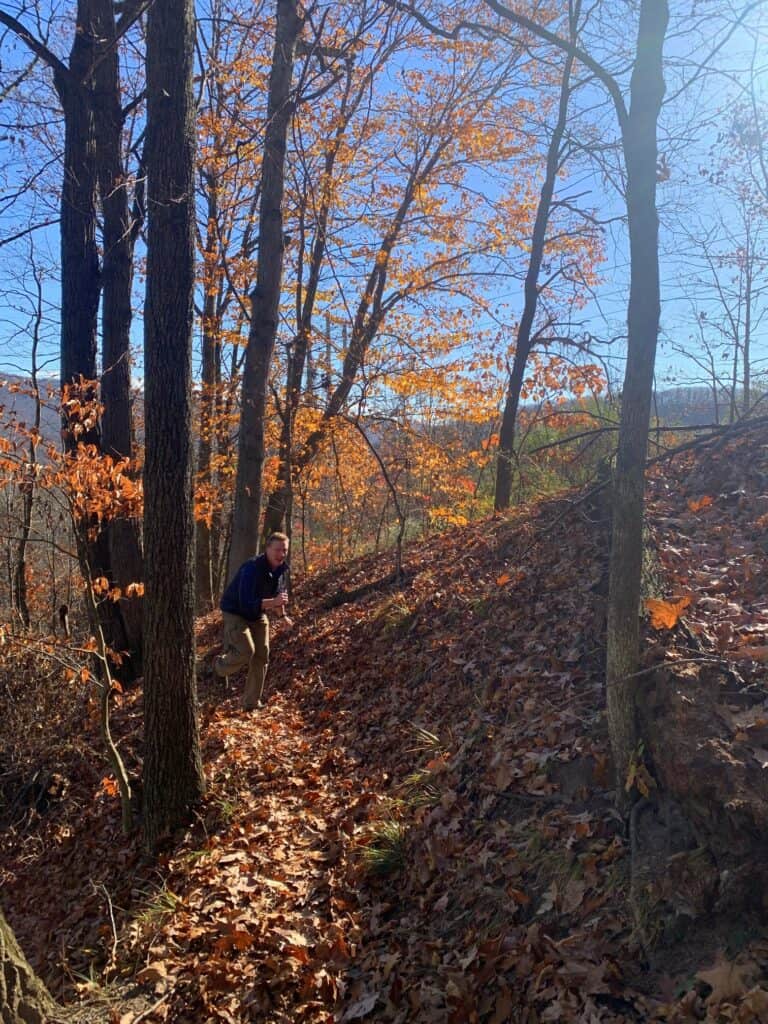 During our visit, we saw some squirrels and birds, and this one really nice bunch of mushrooms (but no other wildlife).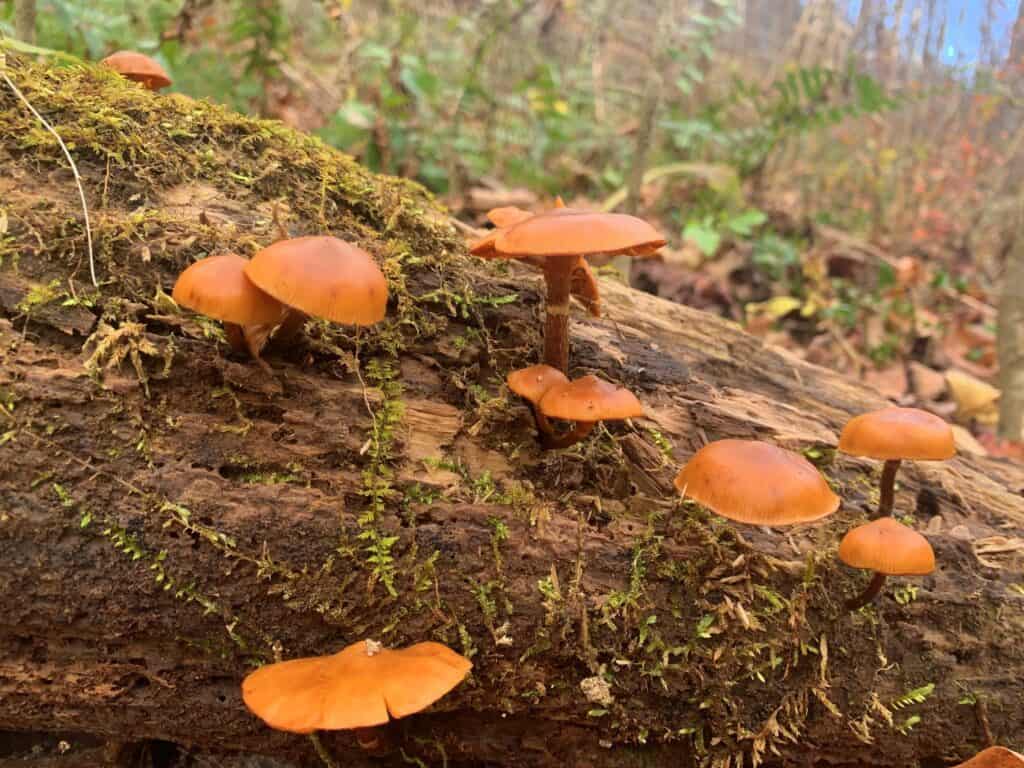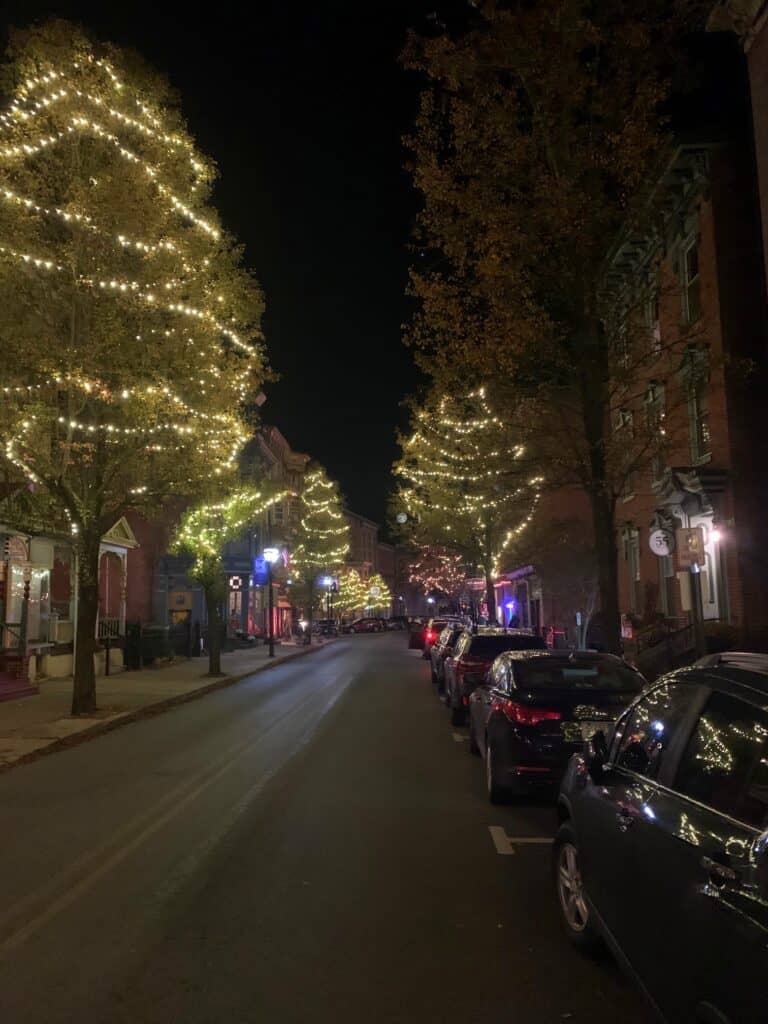 Because we were traveling to East Stroudsburg for an event without the Tails (sorry, Franklin and Hazel!), we used Canoe Creek Park as day stop. 
Making our way to our final destination, we stopped to visit Jim Thorpe, PA, about 3 hours east of the park. Jim Thorpe is named after the first Native American to win a gold medal for the USA in the Olympics – plus he played 3 professional sports!
The weird part of this story is that Jim Thorpe had never been to Jim Thorpe. His widow seems to have "sold" his remains to the town in exchange for a proper remembrance of him, including a monument, statues, and  tomb. The remainder of his family was not pleased and have fought through the courts to have his remains returned to his ancestral Oklahoma. 
That being said, Jim Thorpe is a cute little town, with a lot of good restaurants, fun shops, and a very old-fashioned feel to it. You'll find the easiest place to park at the lot near the beginning of town, and it is a short walk to the main street.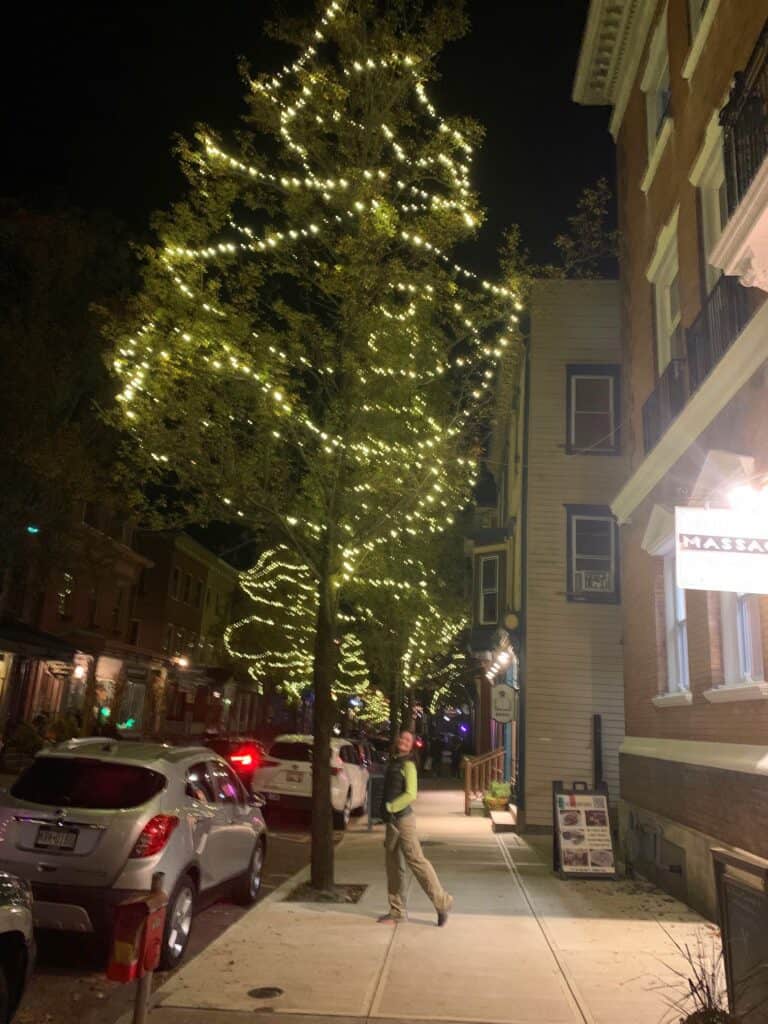 Canoe Creek State Park makes a great day trip or cabin weekend, with lots of scenic hiking and birdwatching. 
Shhhhh…don't tell the Tails we visited without them…