Please note that some of our links are affiliate links, which means at no additional cost to you, we will earn a commission if you click through & make a purchase. Happy clicking!
Raymond B. Winter State Park in central Pennsylvania's Bald Eagle State Forest has a small lake, campground, and multi-use recreation trails.
Raymond B. Winter State Park in Mifflinburg is in the middle of the state, just over three hours from both Pittsburgh and Philadelphia. 
While the park is almost 700 acres, it lies in Bald Eagle State Forest – which is a slightly over a whopping 193,000 acres!
The forest was tapped for lumber in the late 1800s. In the early 1900s, Raymond B. Winter was one of three rangers working in the area to restore the forest and establish the recreation trails.
The Civilian Conservation Corps eventually assisted with building the dam and other park amenities like the swimming beach. In 1955, the park was renamed for the hero that helped champion it's creation: Raymond B. Winter.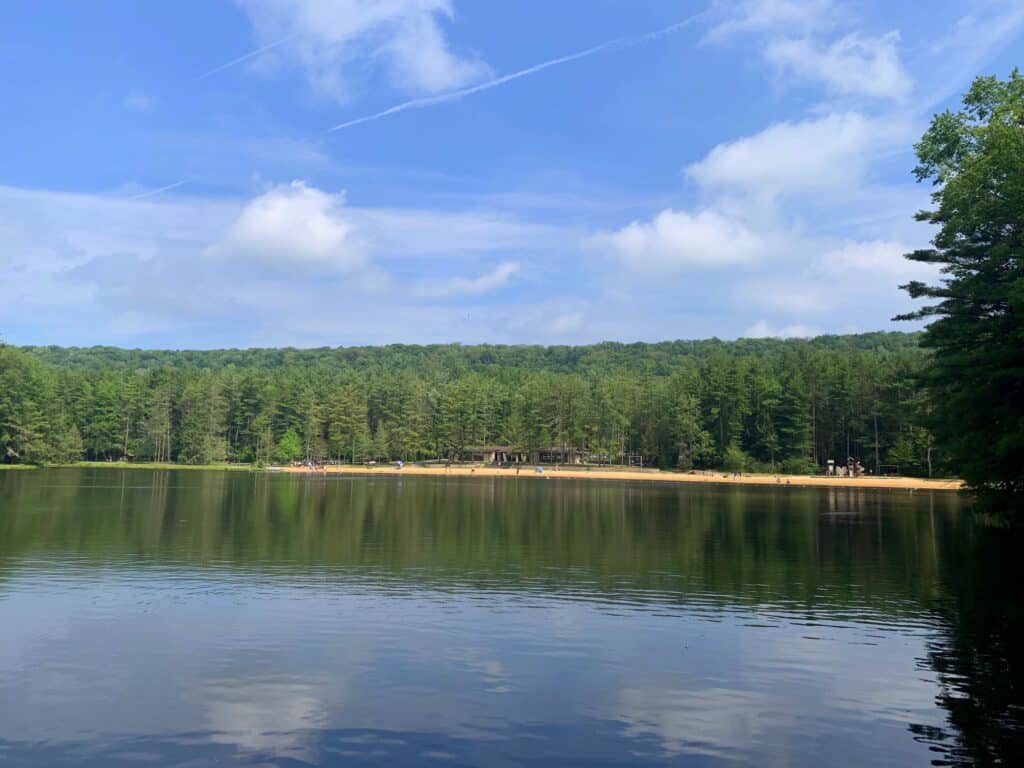 Raymond B. Winter State Park campground has 61 campsites (most with electric) and 3 camping cottages. The long and short loops are pet-friendly, while the upper loop is not. 
We stayed at site #16 in the long loop, extremely close to cabin A and diagonal from the bath house.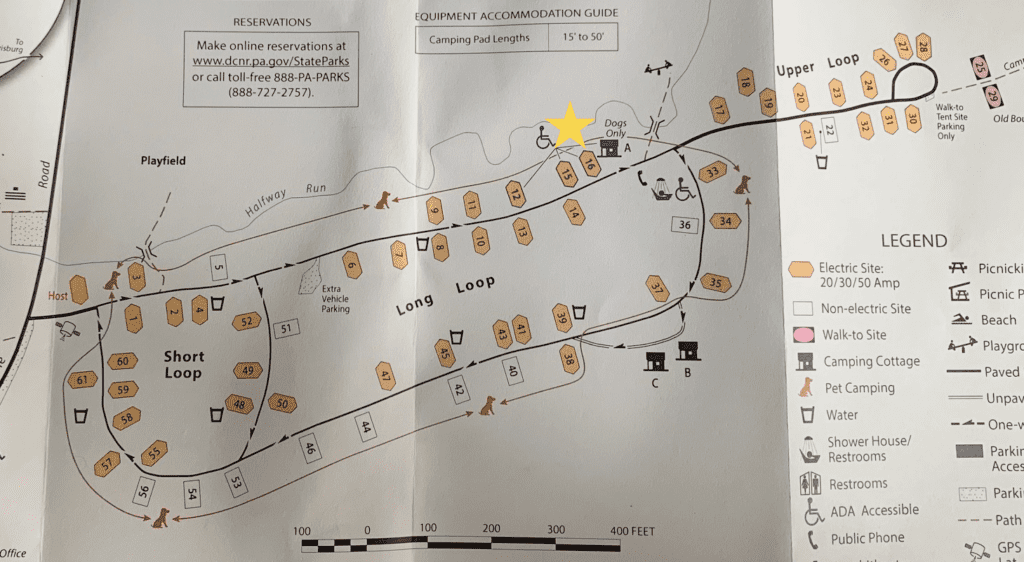 While the campground in general has nice forest cover, site #16 is very close to the cabin next door: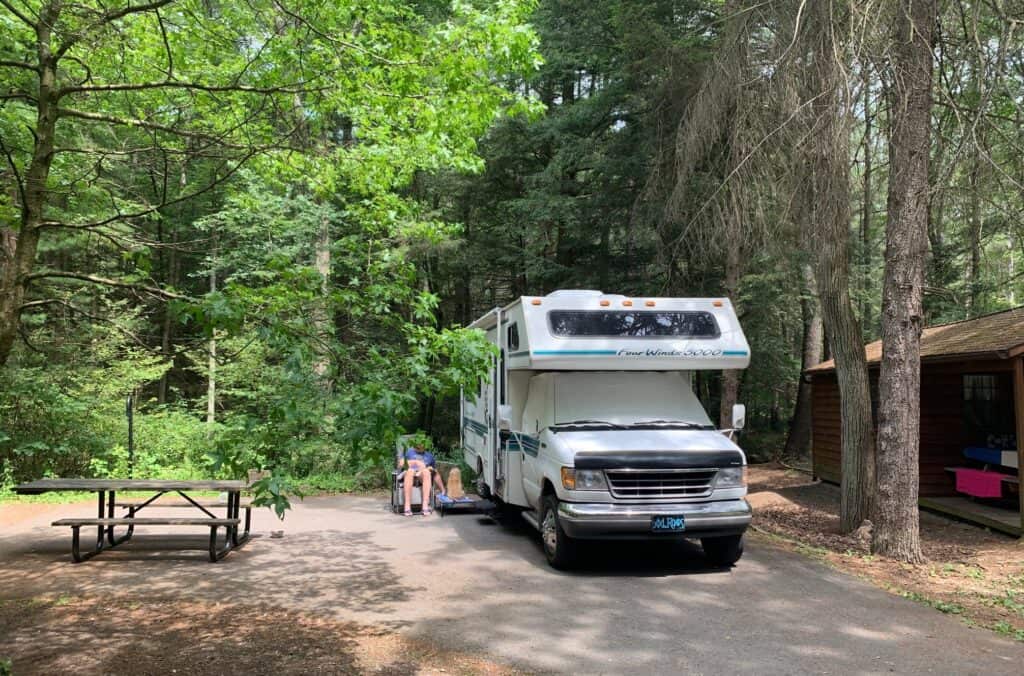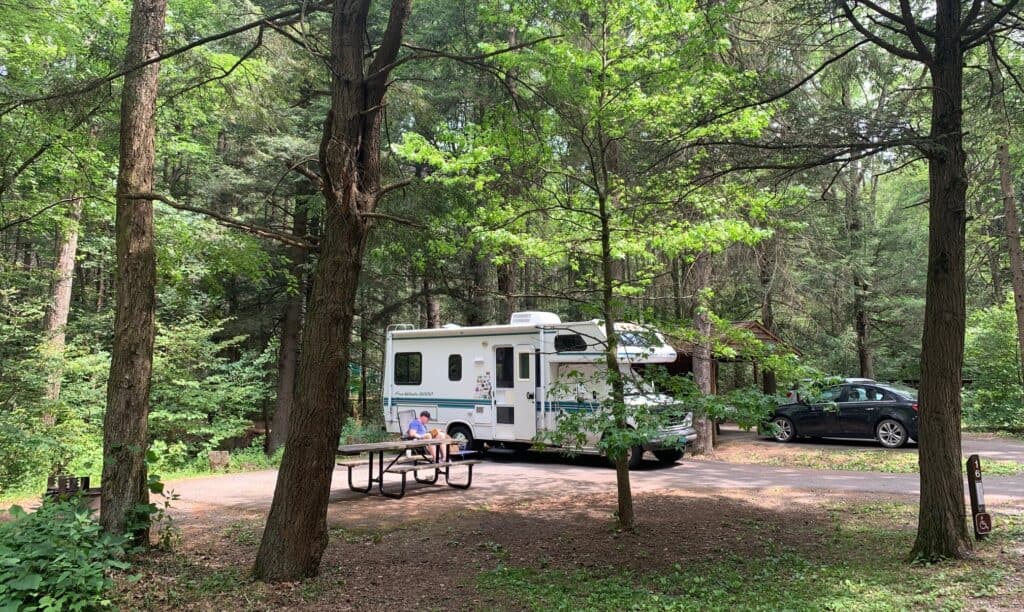 From site #16, the bath house is a short walk across the street.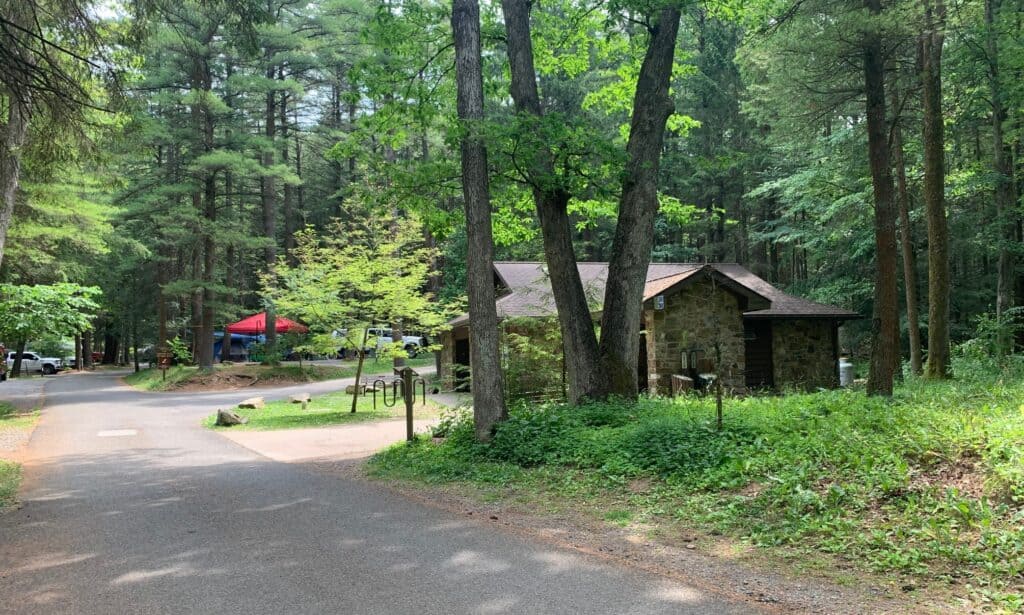 The bath house was newer and quite clean. The showers were incredibly hot (YAY!), and had no time buttons (double YAY!). 
Raymond B. Winter State Park features around 8 1/2 miles spread out between around 10 hiking trails – which means you could cover most of the park in one weekend easily.
Many of the trails in the park are multi-use- from everything like mountain biking and horse riding to snow-mobiling and cross-country skiing.
During our visit, our dog Franklin had torn the cranial cruciate ligament in his back leg (kind of like a doggy ACL). He was using a small leg brace while awaiting his surgery the following week. 
Because of his injury, Russ stayed back to hang out with him at the campground while Hazel and I hit the trails. 
Even though the Upper Loop was not pet-friendly for overnight stays, I did walk Hazel quickly through so we could access the Campground Trail.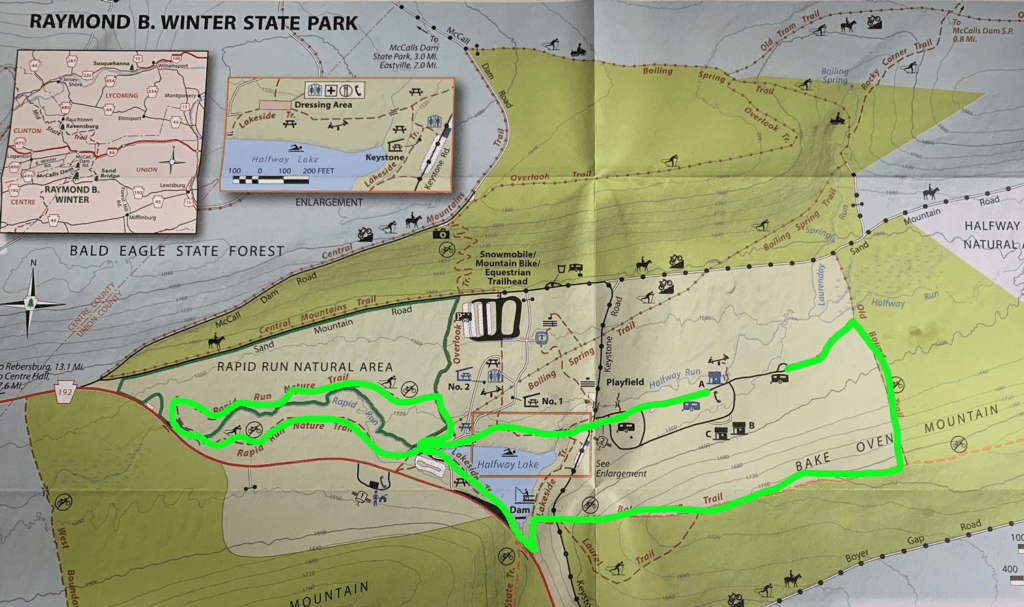 To create an approximate 4-mile loop shown above in bright green, Hazel and I headed used the Campground Trail to Old Boundary Trail.  
Old Boundary Trail started out a slight incline, but graduated quickly to a pretty serious climb for a short stint. 
At the top of Old Boundary Trail, we made a right onto Bake Oven Trail and traveled the ridge to head towards Halfway Lake.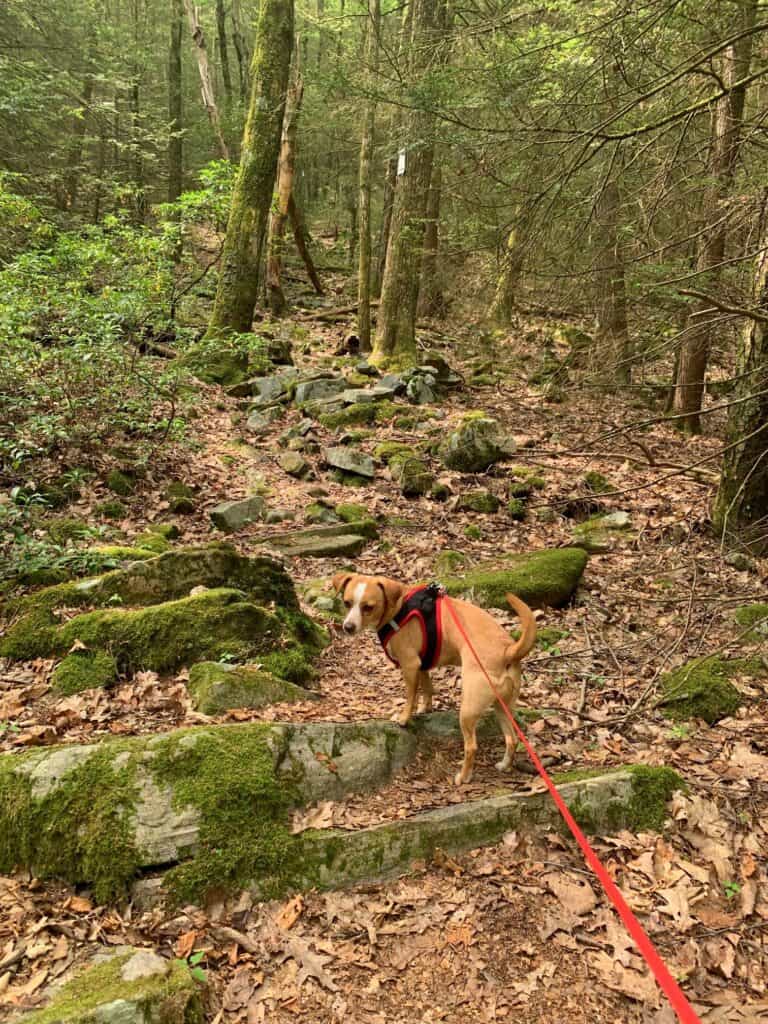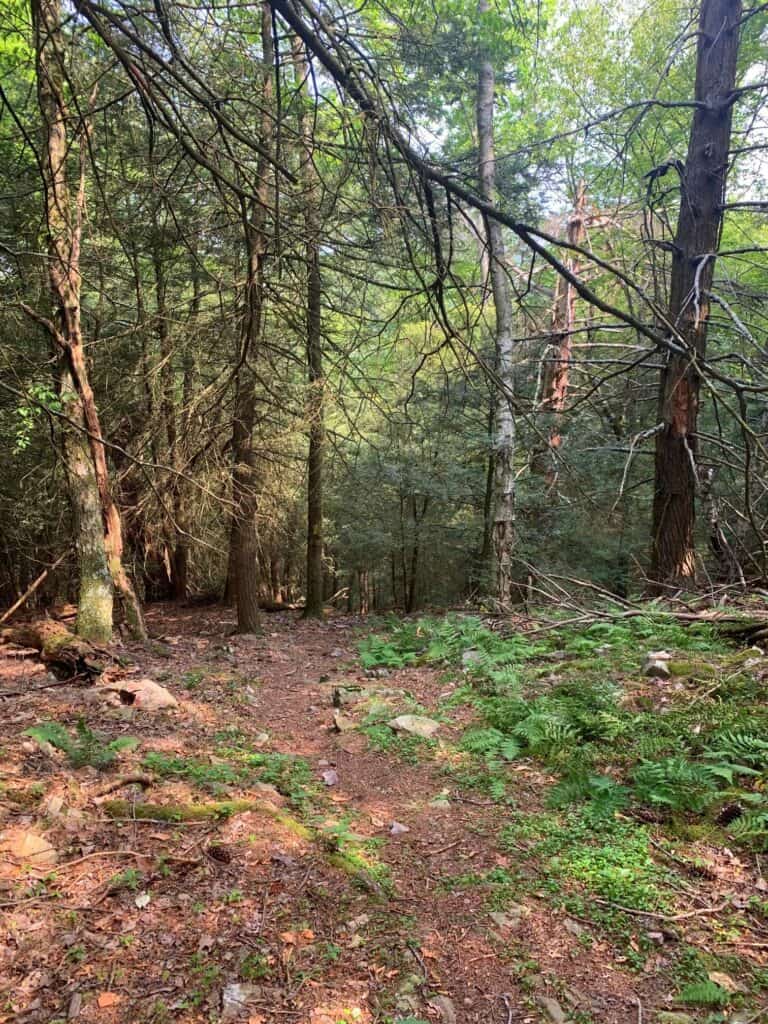 Once we came to the dam, I realized we could not walk across the top. We instead took the roadside to get to Lakeside Trail.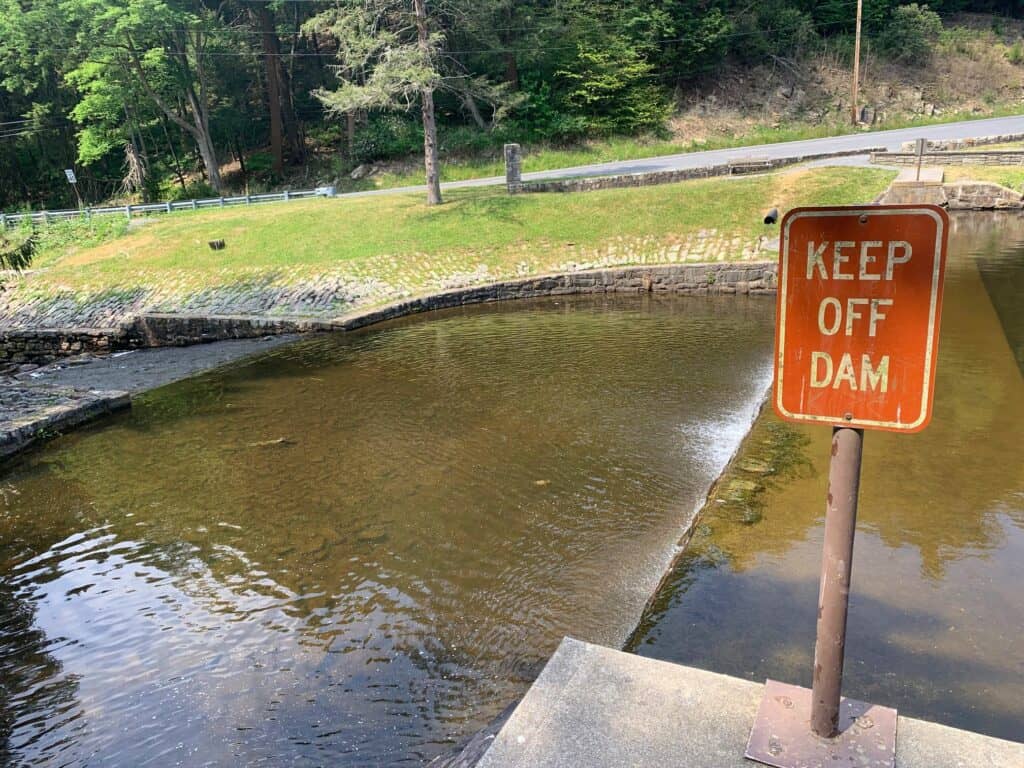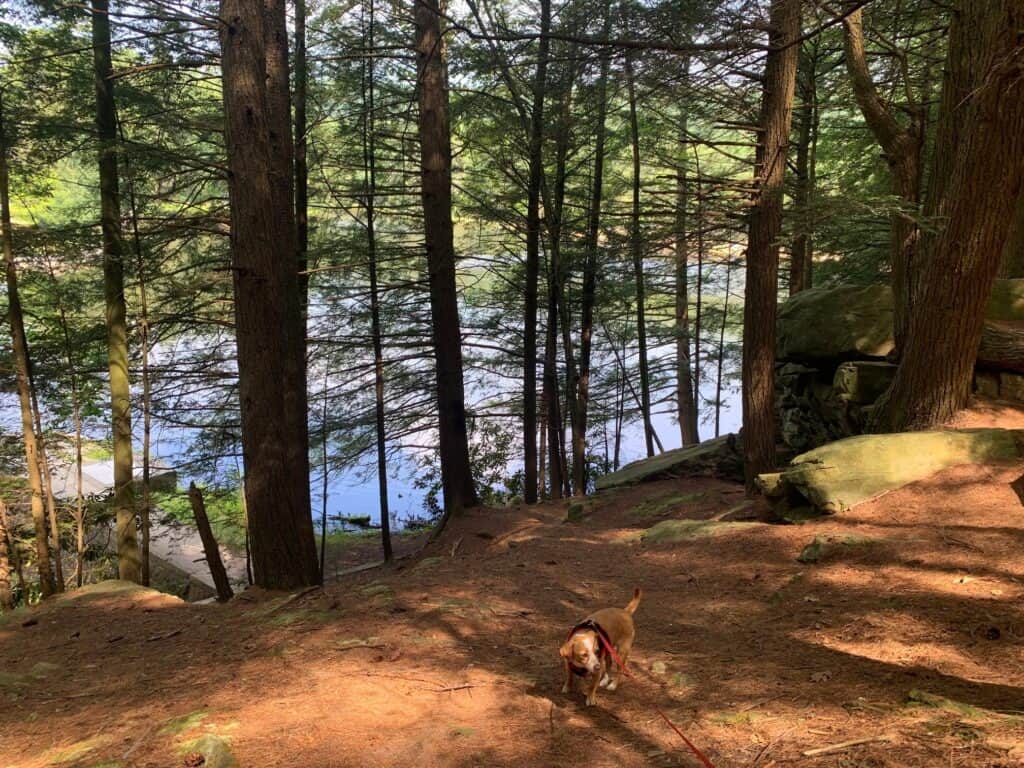 At the west end of Lakeside Trail, we made the 1-mile loop to see Rapid Run Natural Area (which appeared to still have some logging going on).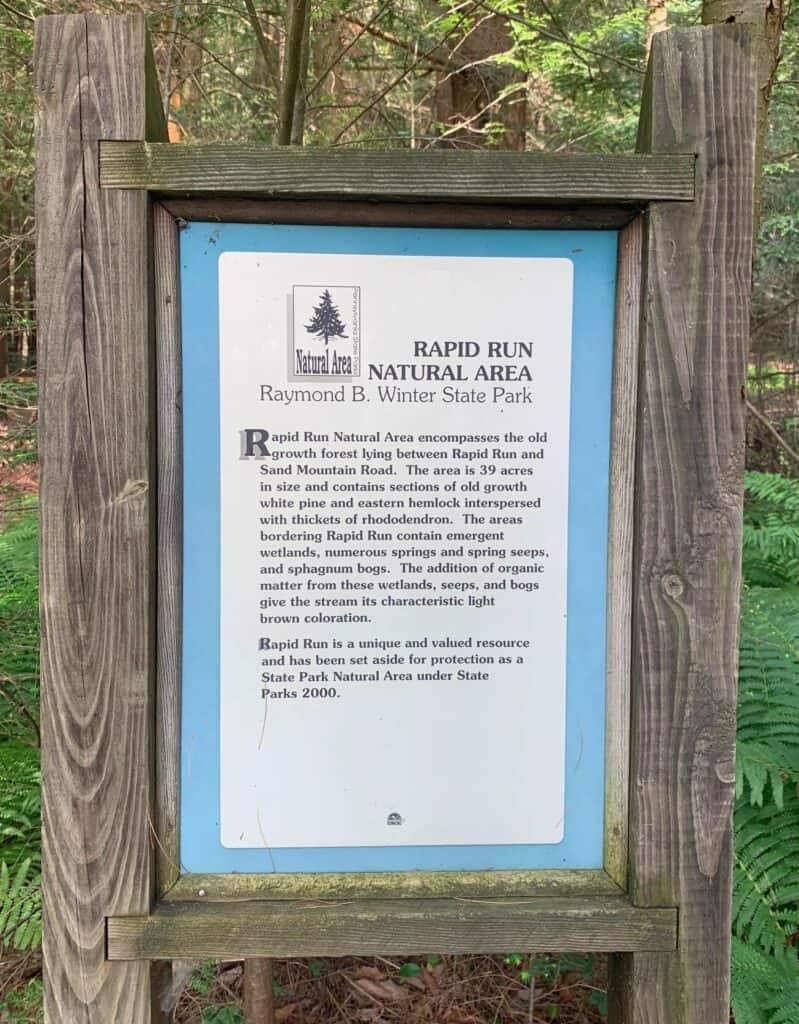 Once we completed the Rapid Run Nature Trail, we took the opposite side of Lakeside Trail back to the campground. 
Wildlife, Fauna, and Fungi
Because of Franklin's injury, we had a rather short stay and didn't get to see much wildlife. 
We did get a notice at the campground check in that bears were in the park again, and to be careful with our food and garbage- but unfortunately we didn't see any! 
I did snap this woodpecker going to town along Rapid Run Nature Trail: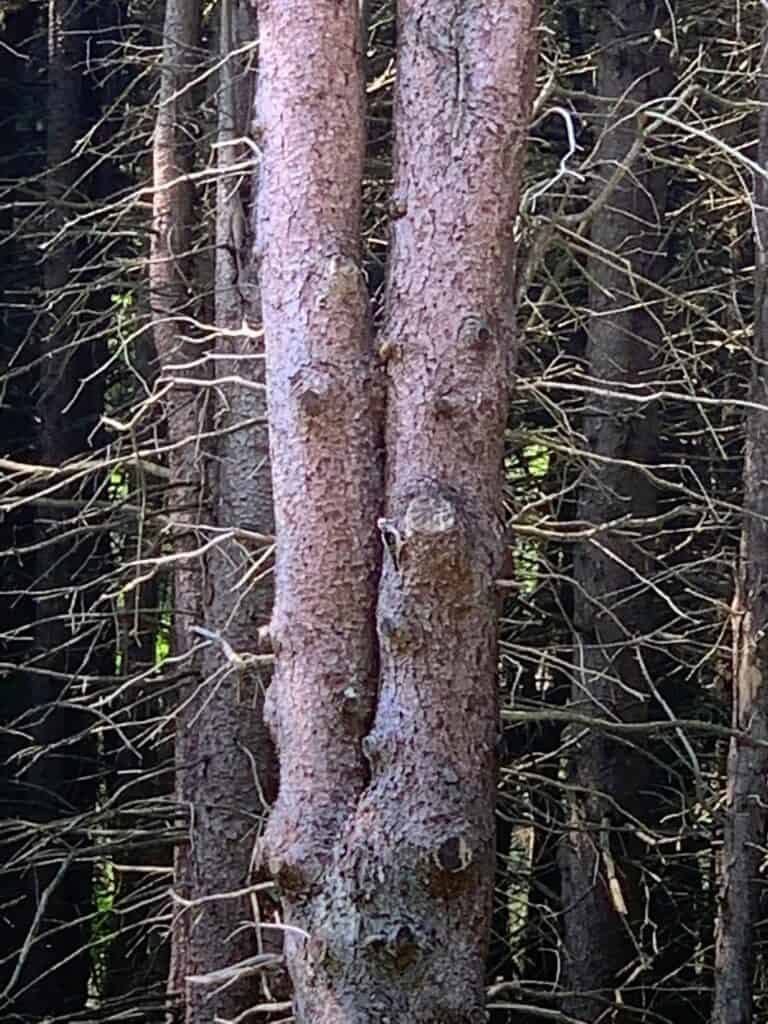 Apologies for this being one of the shortest Road Trip Tails Trip Reports ever! 
We did think that Raymond B. Winter State Park campground was quite comfortable and would have liked to spend more time exploring the trails. 
If you've had the pleasure of visiting and have more tips and things to see, please share below!
While he's in recovery mode from his surgery, Franklin wishes you many happy walks on all good knees!