Please note that some of our links are affiliate links, which means at no additional cost to you, we will earn a commission if you click through & make a purchase. Happy clicking!
Swallow Falls State Park in Maryland boasts the state's tallest free-falling waterfall at 53 feet, as well as its oldest hemlock trees. The park features a small campground and three more waterfalls along a scenic hike.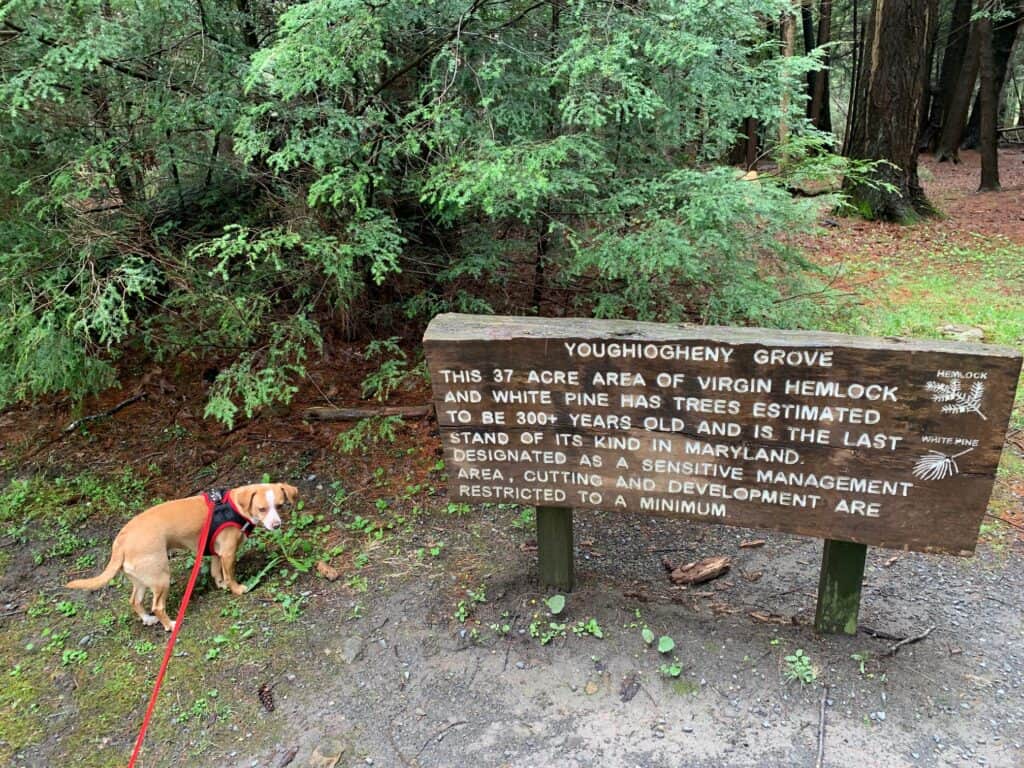 Swallow Falls State Park in Oakland, MD, sits along the Youghiogheny River and is just two hours from Pittsburgh and three and a half hours from Washington, D.C. Deep Creek State Park is only 10 miles away.
The land for the park was originally donated by two brothers from Baltimore for a state forest. The Civilian Conservation Corps developed the area the 1930s as two separate parks: Swallow Falls and Herrington Manor. A 5 1/2 mile hiking trail connects the two.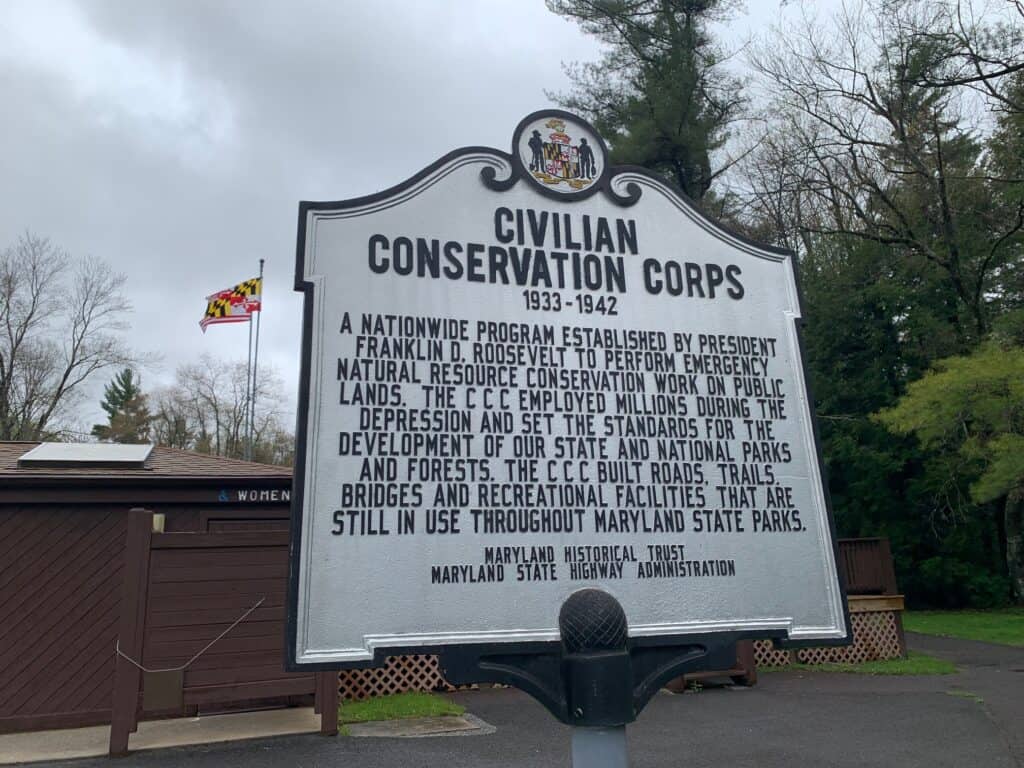 Swallow Falls State Park campground has 65 campsites. You'll want to book early for your visit if you're hoping to plug in, because only 6 of those sites have electric.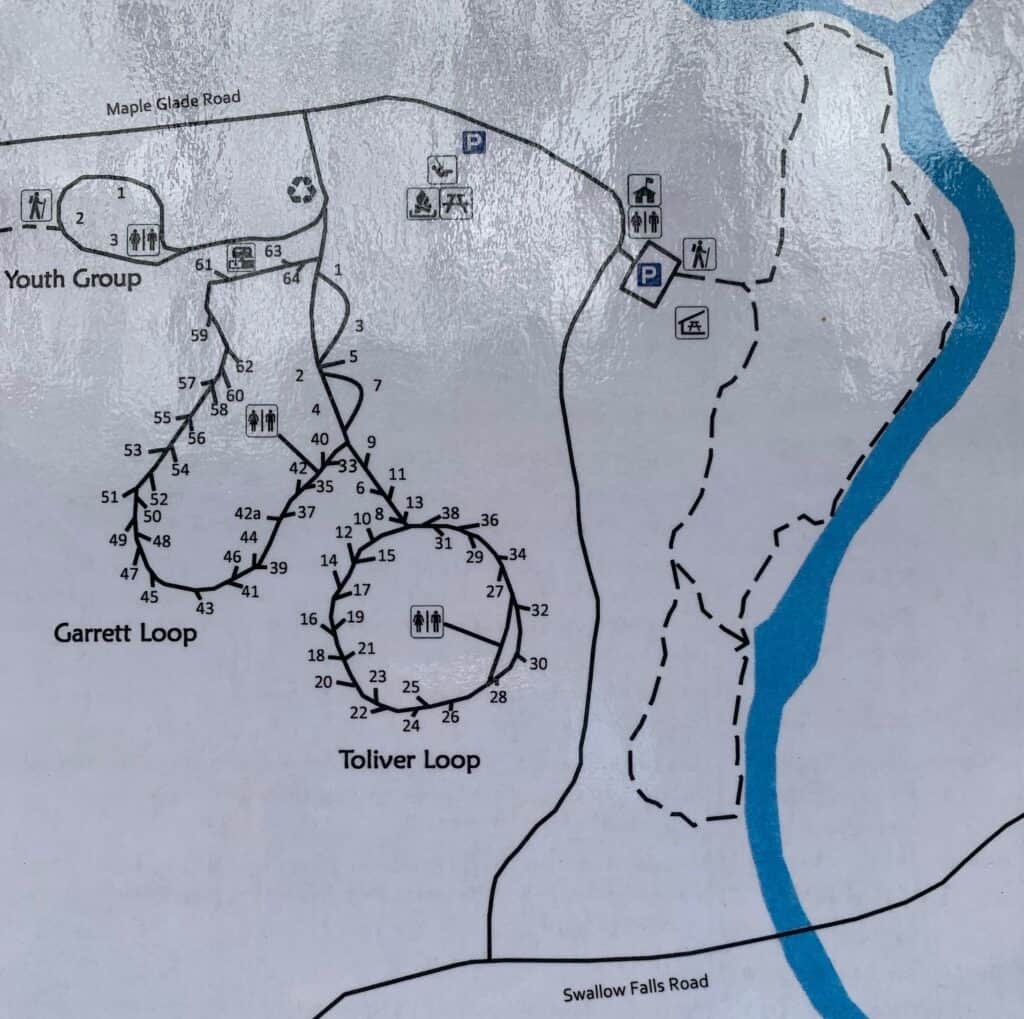 We reserved site #42 in the Garrett Loop, which has electric and water. The site is slightly tilted, so we used a few 2x4s to even us out.
Oddly enough, there were no other RVs in the campground that Friday night! We only saw one van that was at a cabin.
I found the situation to be peaceful, while Russ found it to be more like the beginning of a horror movie…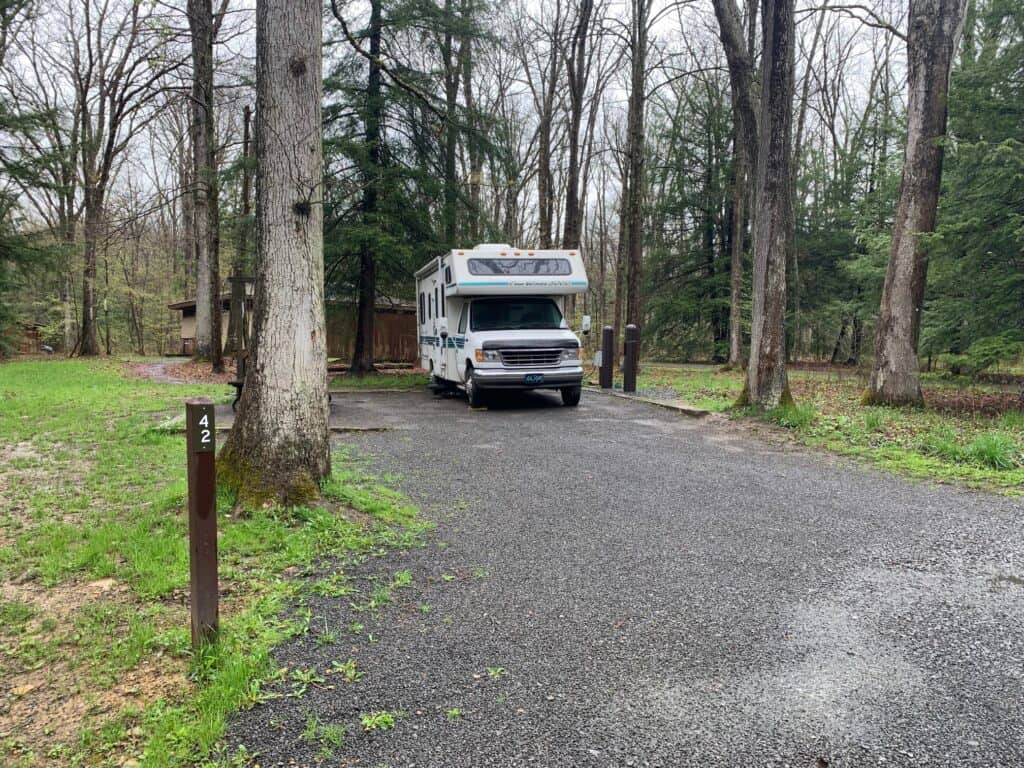 Empty to the right, empty to the left, but the campground was clean and seems to be well-laid out. Here were our views: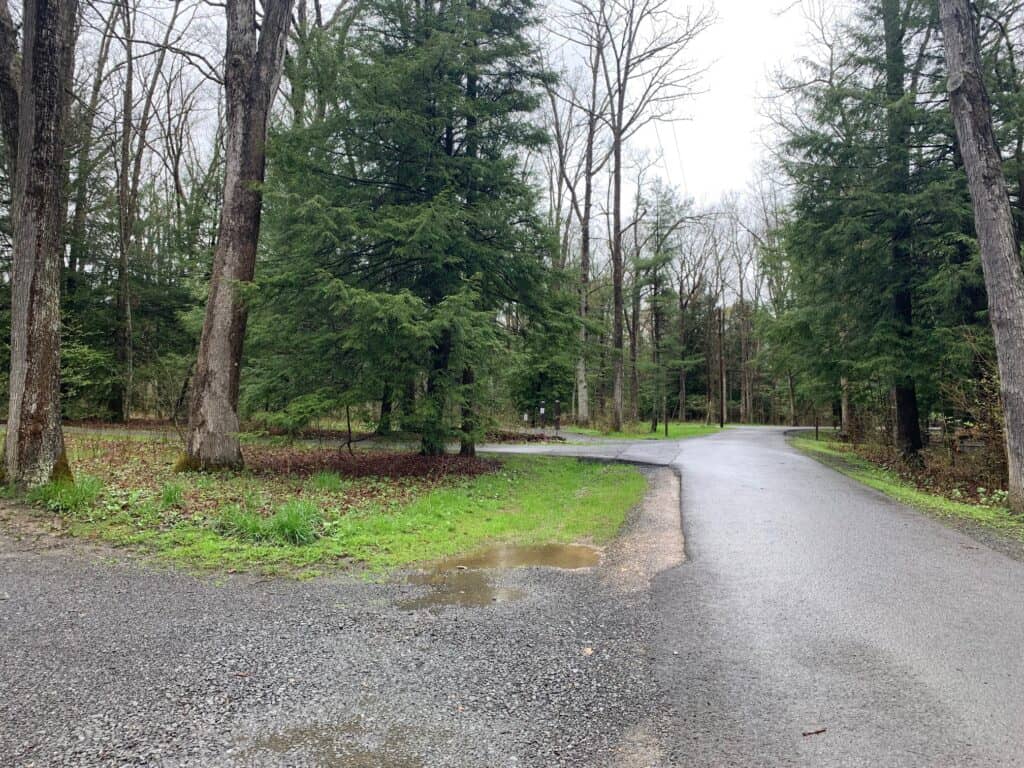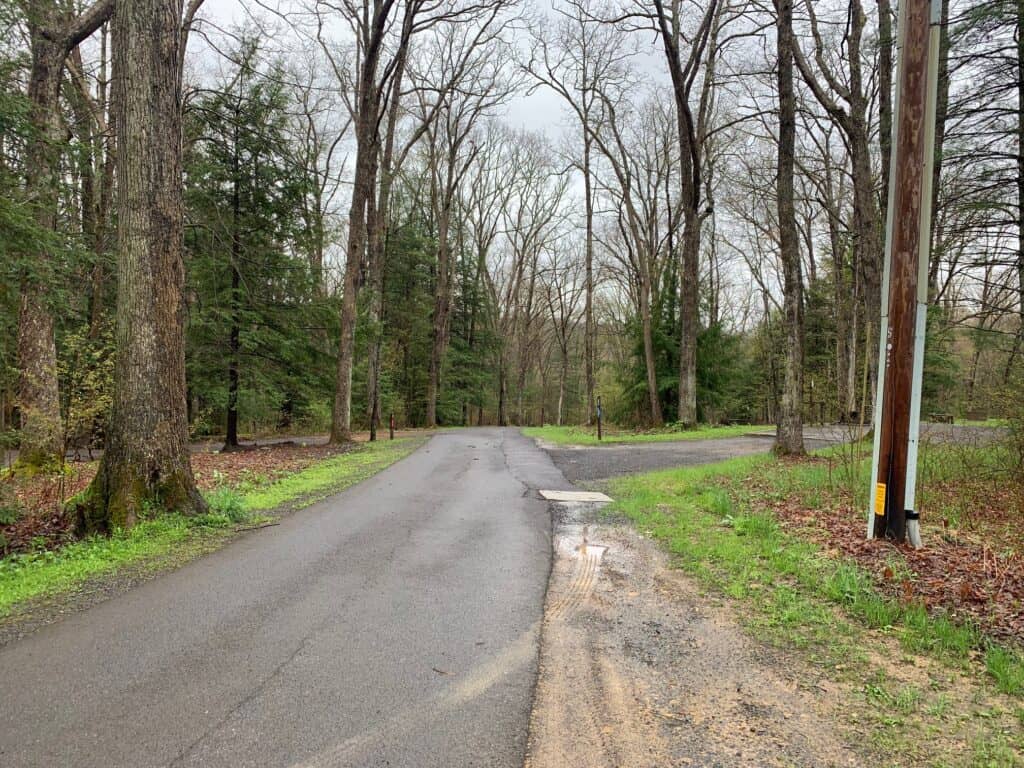 The small cabins (where we spotted the lone van during our weekend escape) have electric, a double bed, bunk beds, a small refrigerator, and a microwave.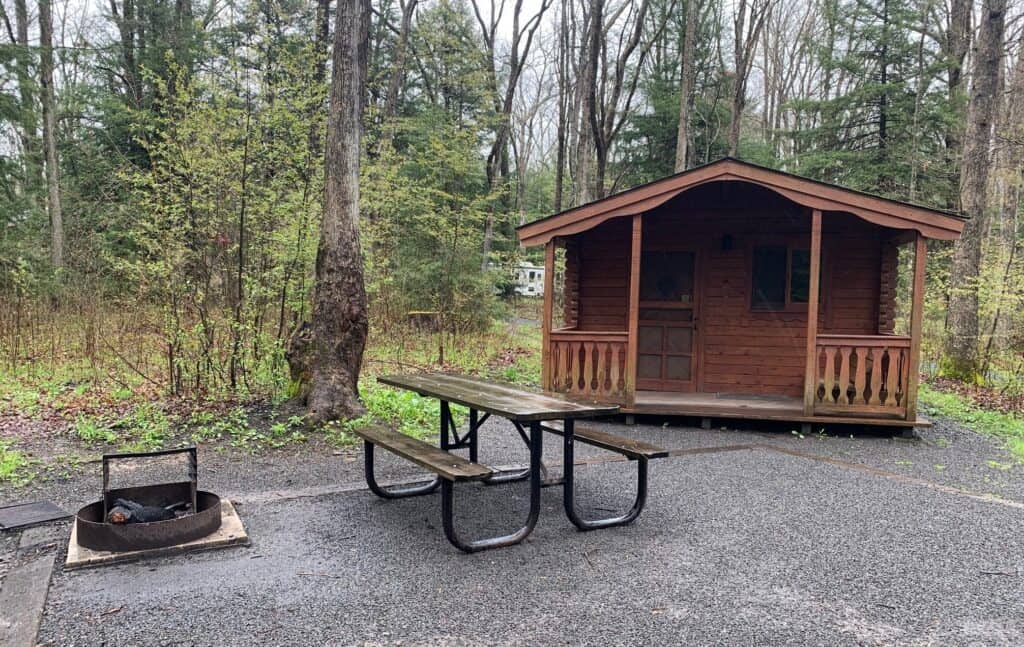 The bath house for the loop has several trails from all directions leading to it, and we found it to be quite clean.
Since I'm always concerned with clean showers, hot water, and timer buttons, I figured I better start documenting them a little better this season!
I am happy to report the showers at Swallow Falls State Park are clean and hot and THANKFULLY do NOT have timer buttons!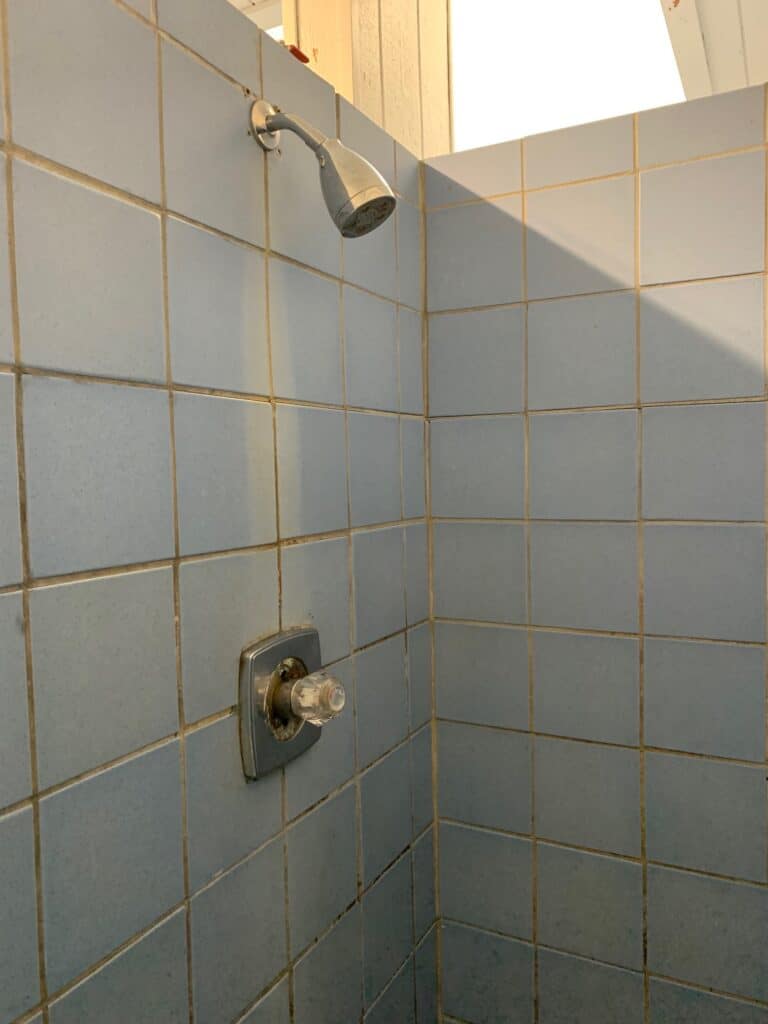 PRO TIP for the Campground
We visited on a very, very wet weekend. Drainage is not optimal in the campground. If you have an older, thicker outside rug to take on this RV trip, do it, and don't forget your shoe tray and super-absorbent dog towels!
Swallow Falls State Park does not have miles upon miles of hiking trails – but the ones it does have are spectacular! 
In addition to the 5 1/2 mile trail that connects Swallow Falls State Park to Herrington Manor State Park mentioned above, you will not want to miss Canyon Trail, coming in at a very manageable (even in the rain!)  1 1/2 miles long.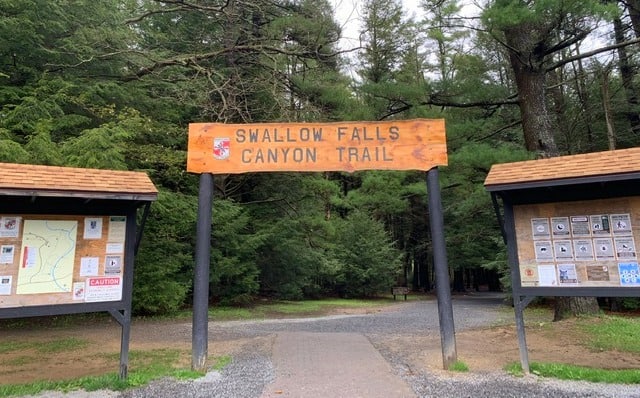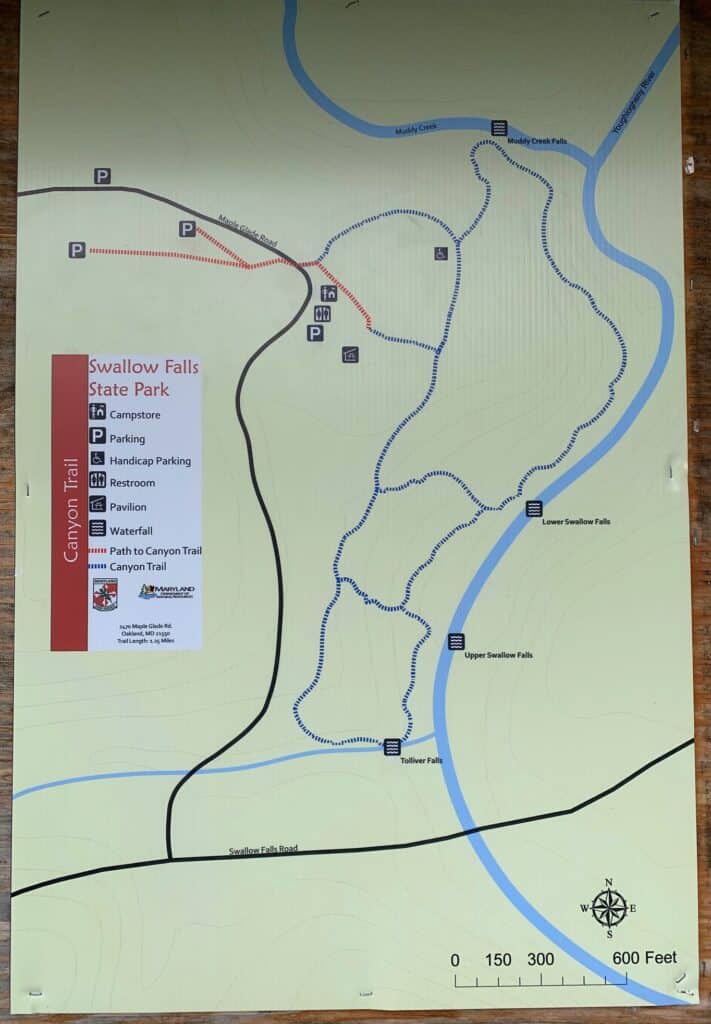 If you are coming with your furry friends (as we always are!), you'll want to time this visit well.
Turns out that even though pets are welcome in the campground any time, Canyon Trail only welcomes pets on the trail before Memorial Day and after Labor Day, like some beaches.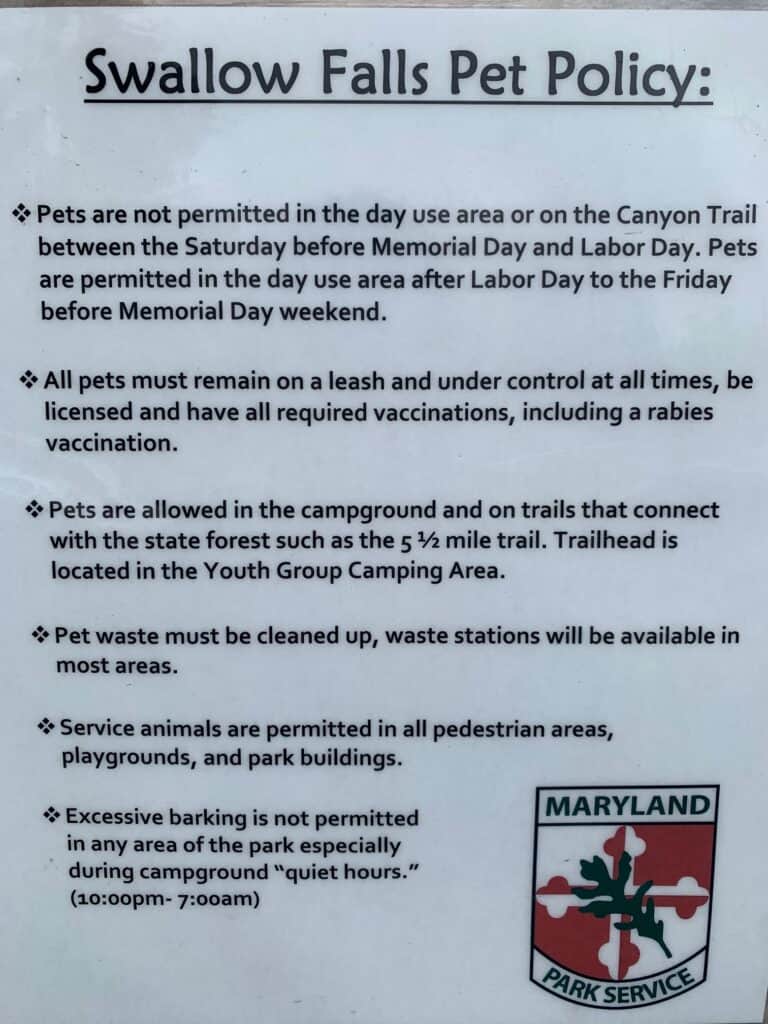 Fortunately, we timed our visit well, and Franklin and Hazel got to join in the hike this time!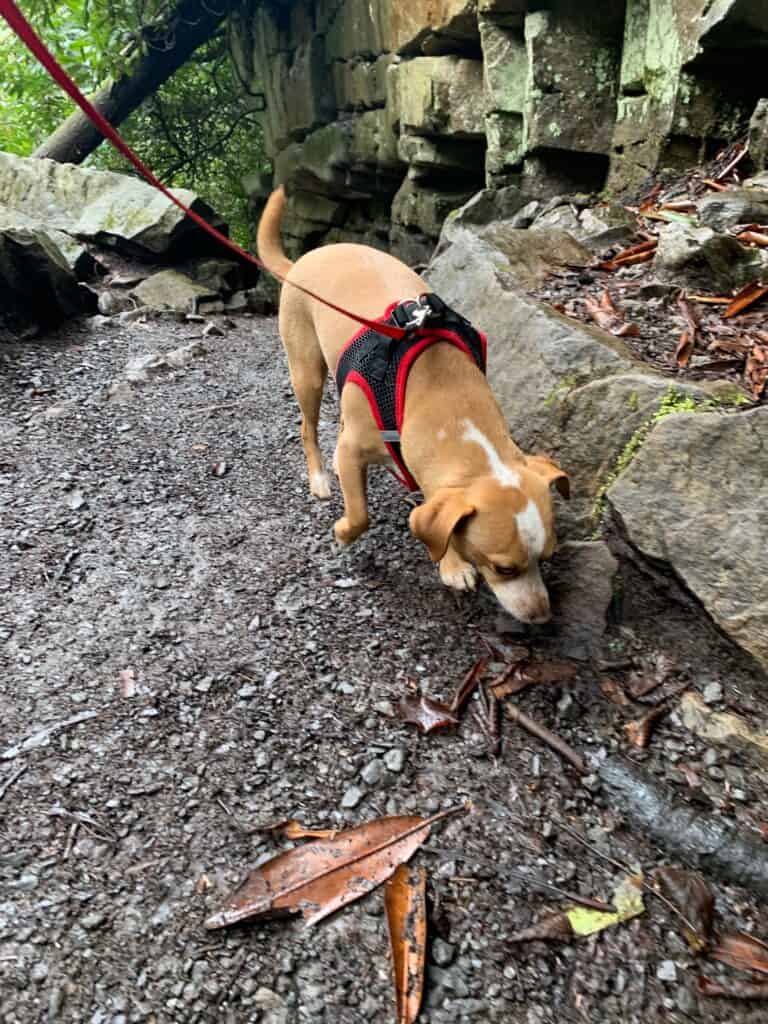 Be sure to wear some real hiking shoes that grip, because this trail can be slippery and muddy in spots. You'll be scrambling over rocks and climbing stairs to observation areas, so get a good hold on your leashes, too! 
If you are looking at the trail map, we started at Muddy Creek Falls. Due to some torrential rain for the previous 24 hours, it was in rare form.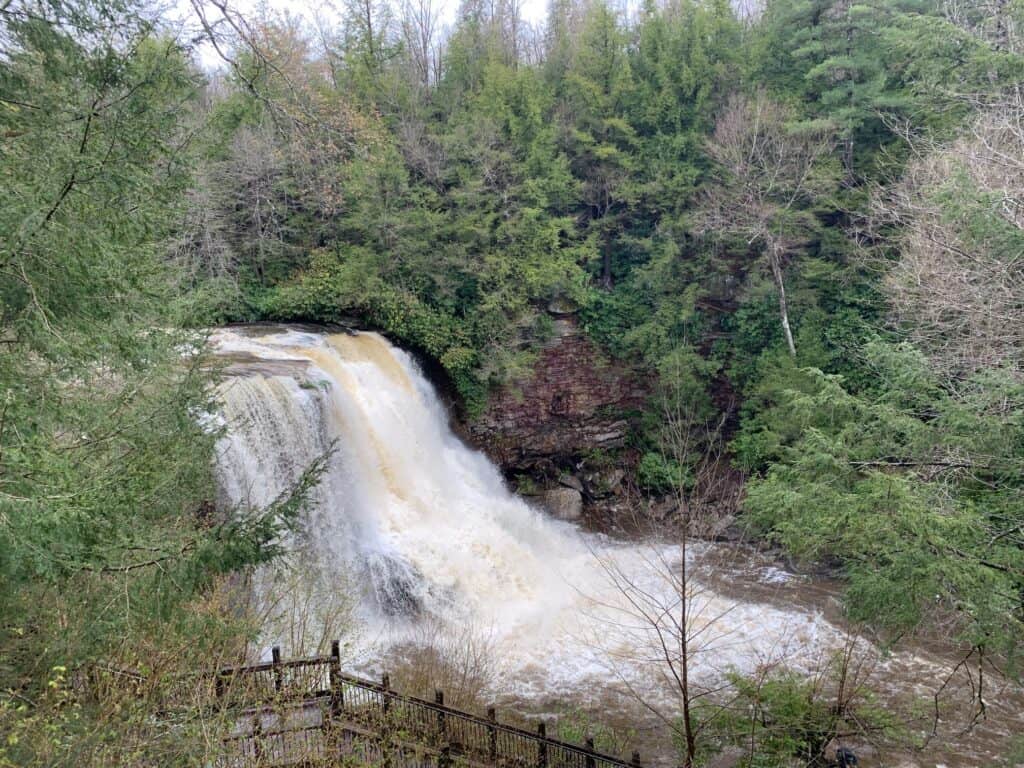 As I mentioned, the hike is rocky and can be slippery, but Franklin and Hazel took it in stride!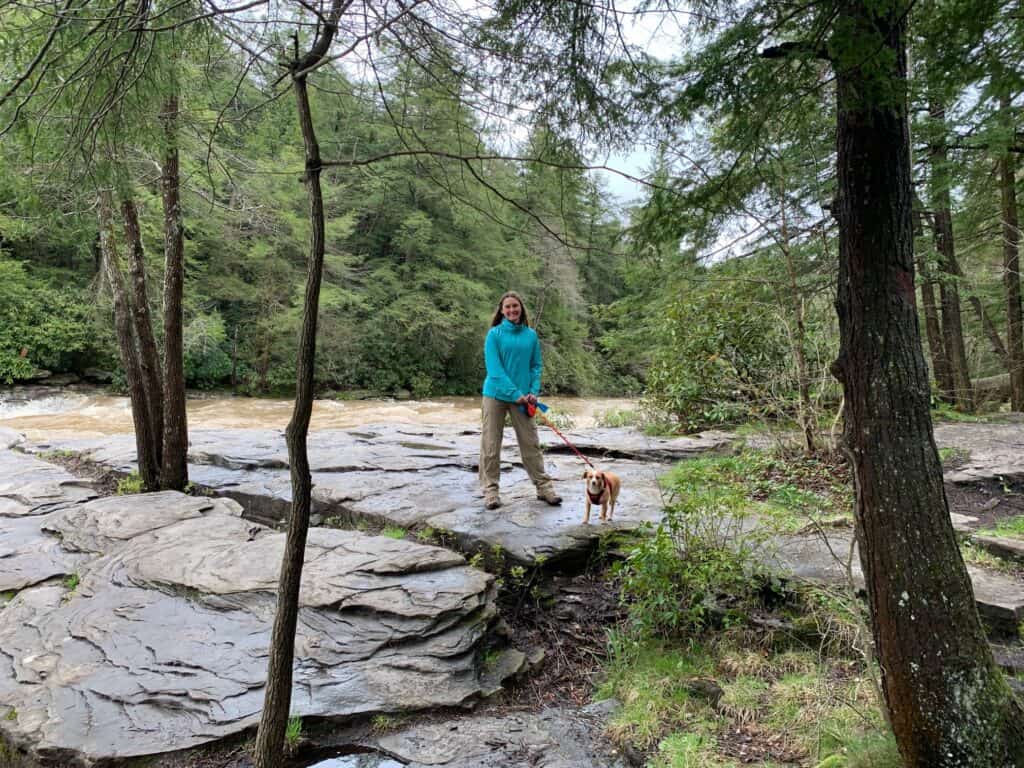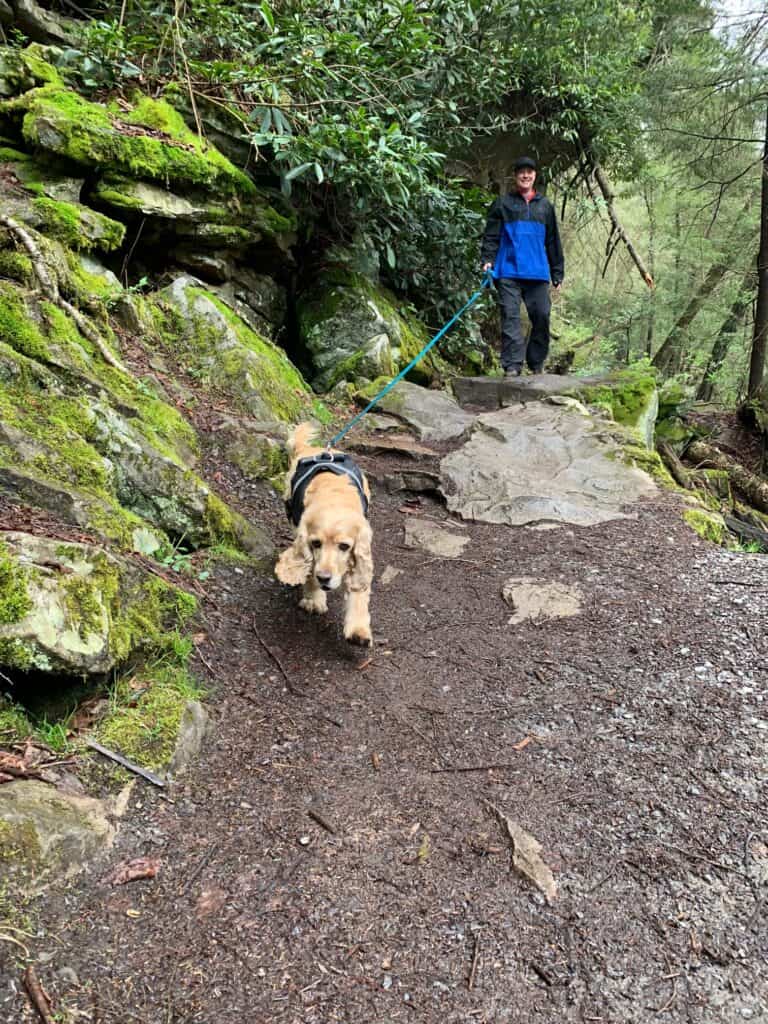 The trail is full of interesting rock formations and fantastic river views, including two more waterfalls along the Youghiogheny River.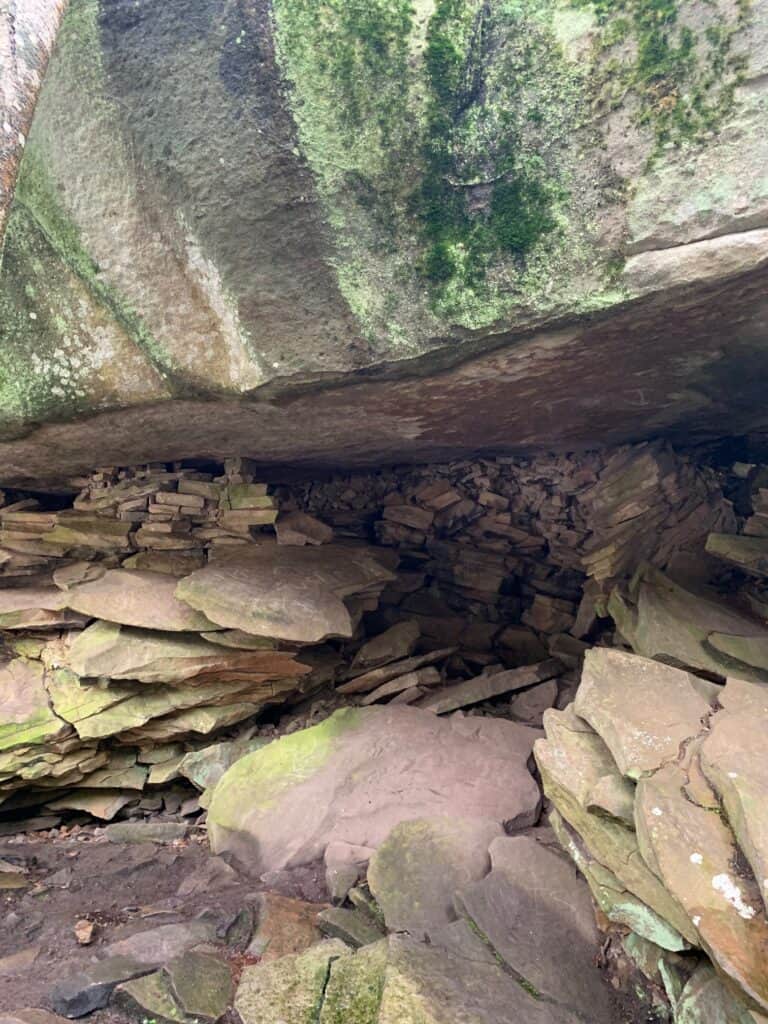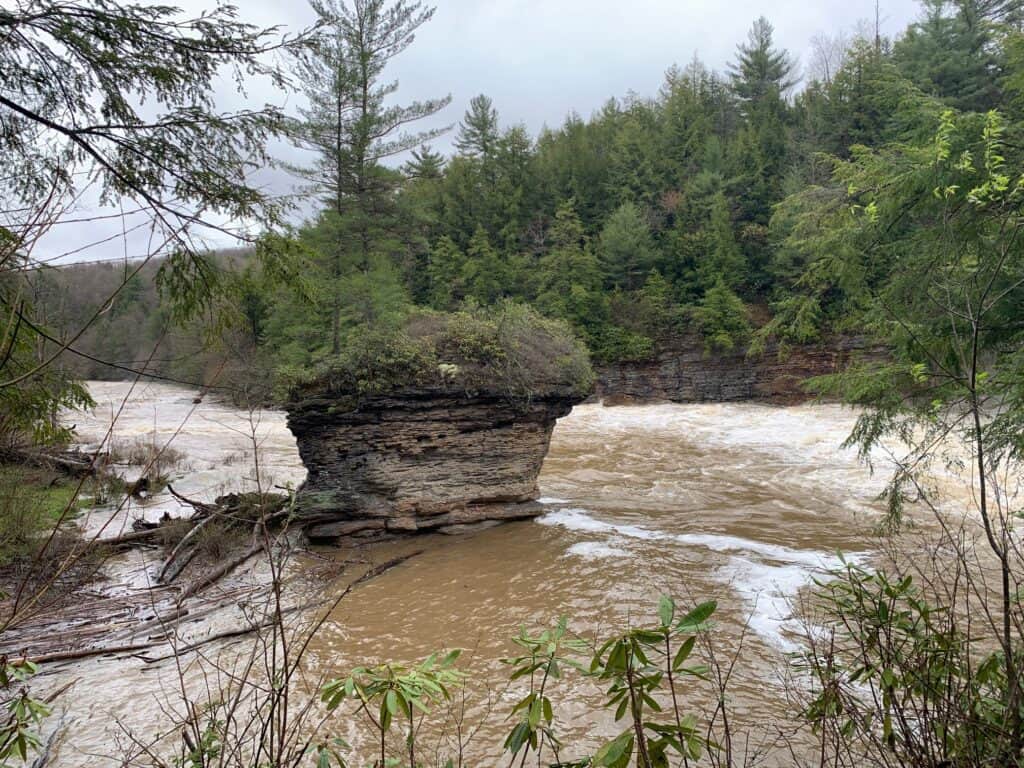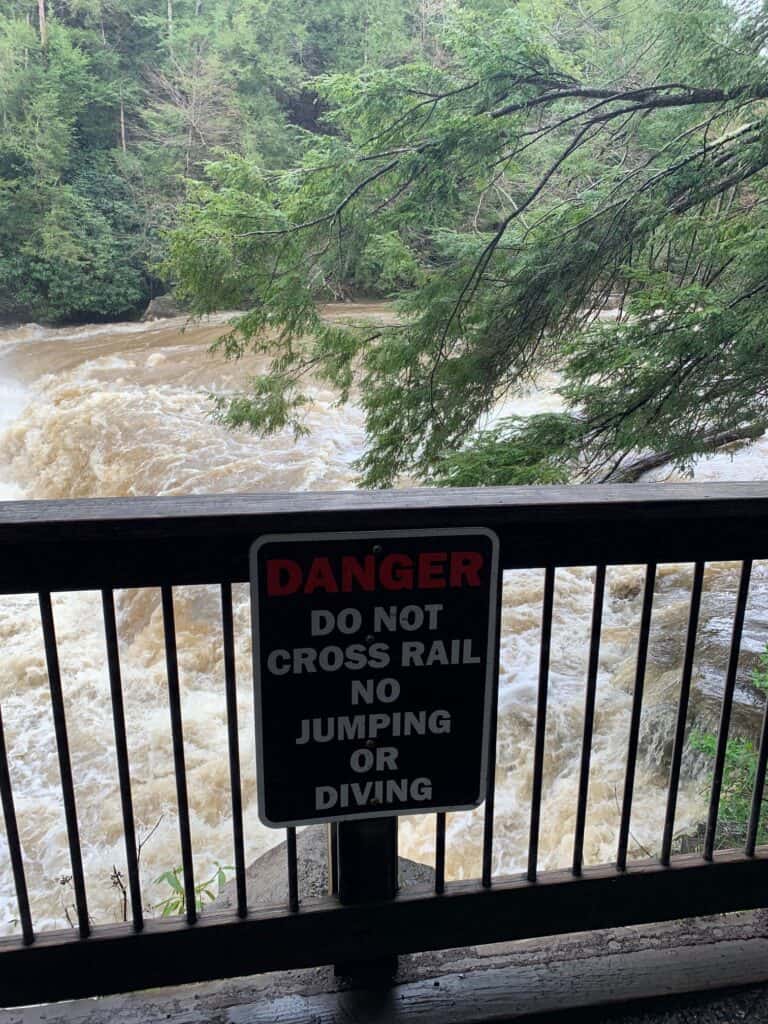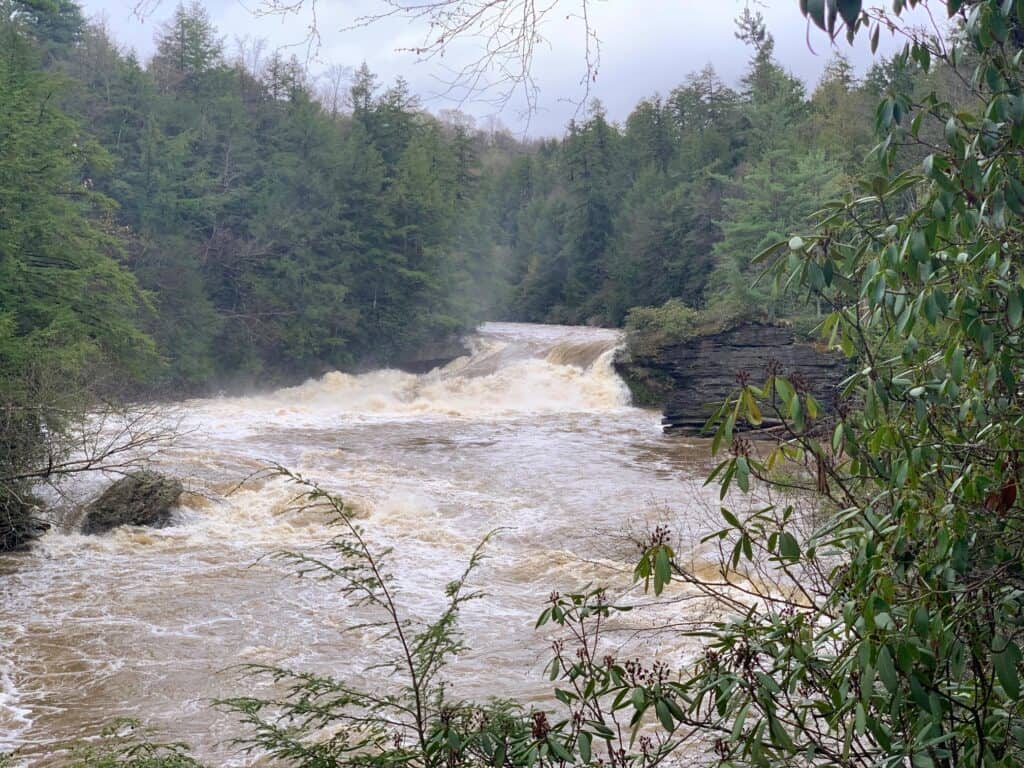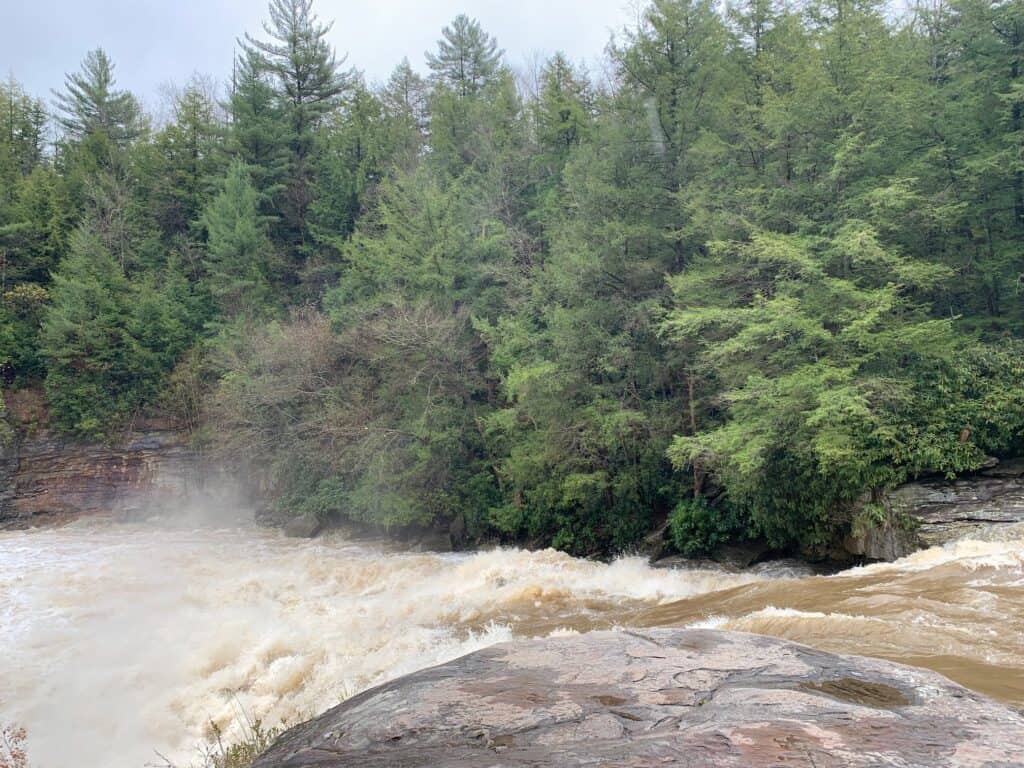 The last waterfall traveling south on Canyon Trail is Tolliver Falls. While it's the calmest of them all, it's overflow unfortunately blocked the rest of the trail that day.  
The underwater portion is to the right in this pic: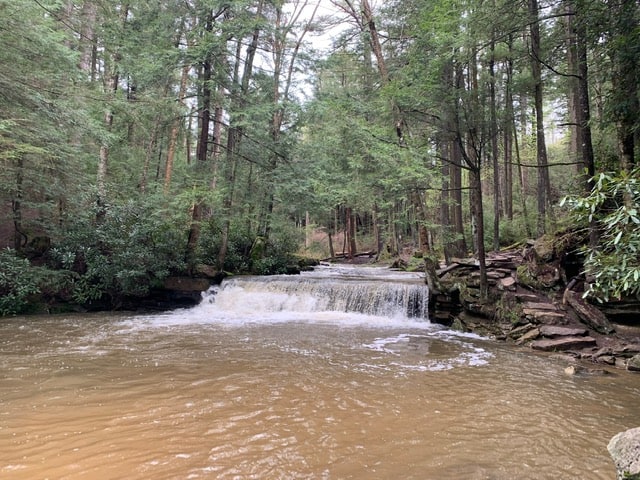 If the loop is blocked, you can take the staircase back to the parking lot area to complete your hike. 
Wildlife, Fauna, and Fungi
During our extremely wet weekend, we saw a few deer, many chipmunks, and heard a story at the gift shop about a bear sighting. 
Along the trail, you'll encounter some wild tree roots, and we even found one cool set of mushrooms.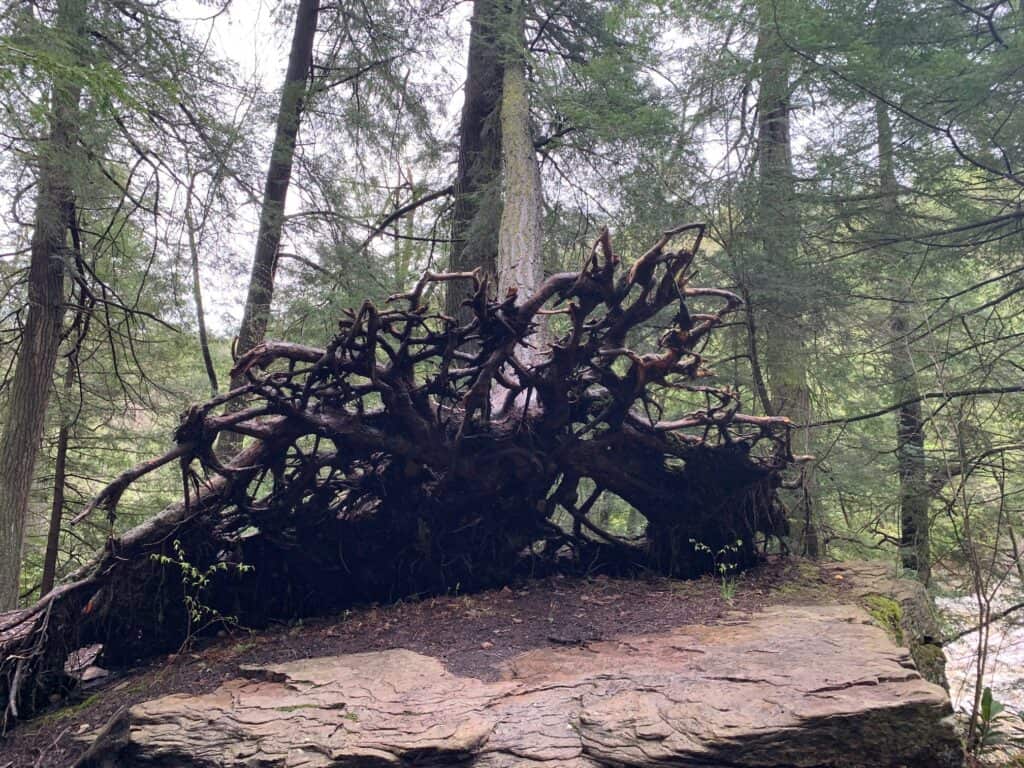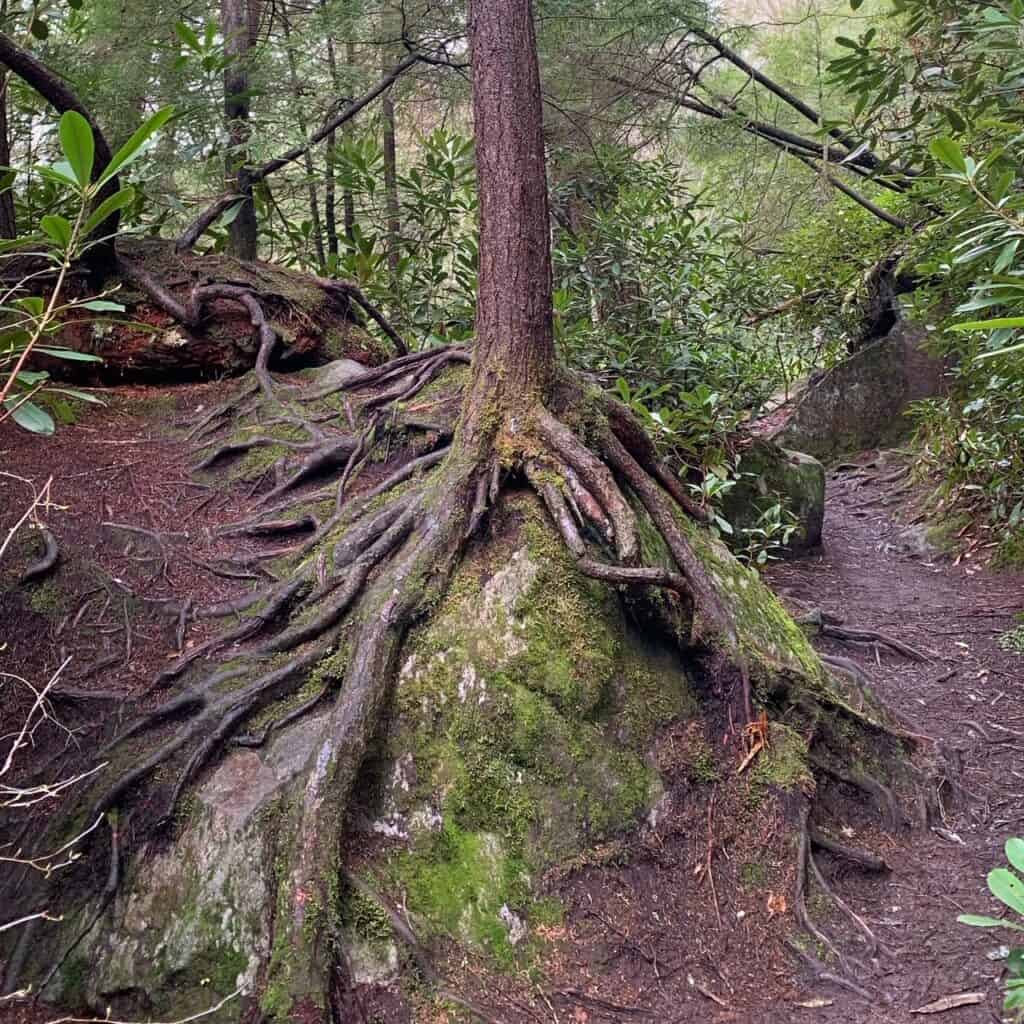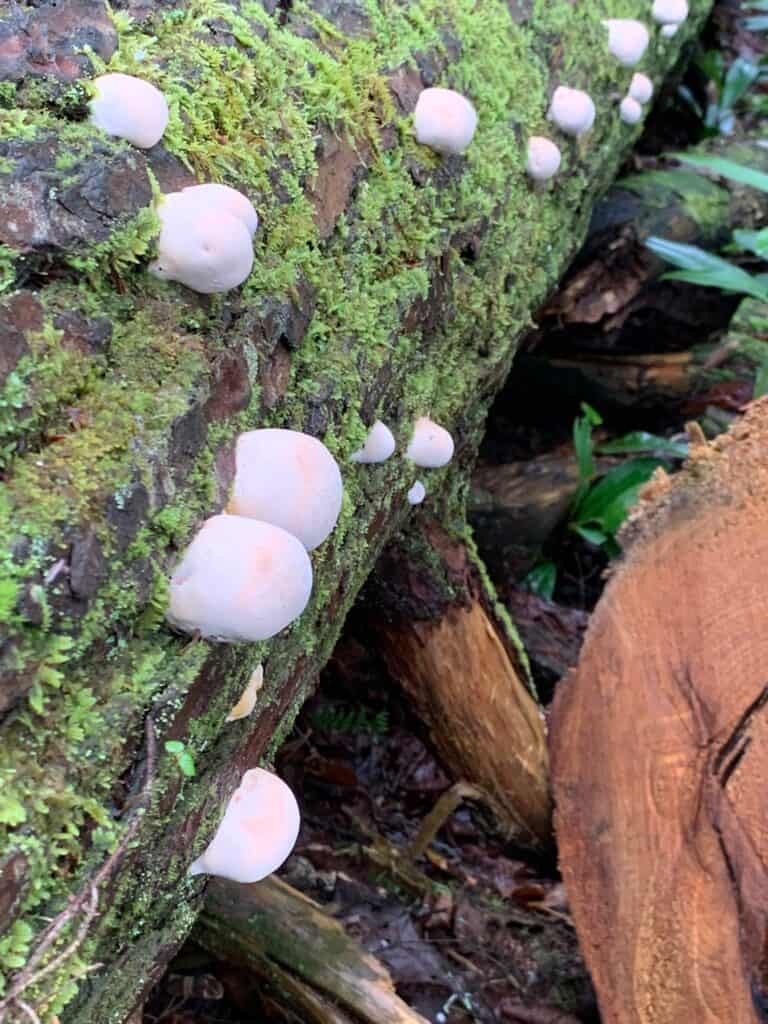 Swallow Falls State Park might be small, but its waterfall views and rocky hiking are mighty for a quick weekend trip! 
Take care to plan around the pet restrictions if you are traveling with your four-legged friends, and watch your step along those trails.