The Cost of Older RV Updates: Axl's New RV Brakes (and Rotors and More)
Please note that some of our links are affiliate links, which means at no additional cost to you, we will earn a commission if you click through & make a purchase. Happy clicking!
We've talked about the
price tag of owning an older RV before
– but the story of our recent RV brakes' replacement & repair job will
really
convince you to set aside some extra funds for older RV repairs now so they don't surprise you in the long run!
DISCLAIMER: This post doesn't include technical information or in-depth brake technology analysis – just our experience having our brake system replaced and repaired.
When we bought
Axl Roads
, our 1997 Ford Four Winds Class C RV, his previous owner had only racked up 16k miles of travel and had limited his exposure to the elements by lovingly (and thankfully!) stored him in a giant barn. The previous owner had also replaced the brake shoes before we picked Axl up- for which we were even more thankful. 
For the past three years, Axl has passed his yearly inspection with flying colors. Each time we asked how the RV brakes looked, we'd been given positive news- good to go!  
But all good things must come to an end!
Inevitably, our 22-year old RV was racking up some wear and tear- not only from sitting around & collecting years, but especially from braving the ups & downs of the rolling hills through Pennsylvania, Maryland, Ohio, and West Virginia for the last four years.
During the last two trips, we noticed the steering wheel starting to shake when we applied the brakes- not every time, but enough that we knew something wasn't right. We referred to
the RV Owner's Guide
we keep in the rig and had an idea it might be brake-related.
Since it was close to our annual inspection time, we figured we'd kill two birds with one stone.  
RV Brakes Replacement & Repair- Take 1
We dropped the RV off at C. Harper Commercial Truck Center in Belle Vernon, PA. They had done our inspections and a few other minor repairs in the past, so we had faith they knew what they were doing and had the space & equipment to do it.  
They called us the following day and said the total for the front brakes would be around $900.
YIKES! But OK, I get it. It's a huge, old RV with huge, old RV brakes.
So they got started.
RV Brakes Replacement & Repair- Take 2
Seems that once the wheels came off, the wheels really came off!
When they really got down to business, there were plenty of other things besides the brakes that needed to be replaced for this repair to be a success. 
<cue "the knee bone's connected to the leg bone, the leg bone's connected to the hip bone, the hip bone's connected to the…">
The new total that now included the RV brakes, rotors, calipers and wheel bearings climbed to $1,100. 
RV Brakes Replacement & Repair- Take 3
When everything had been replaced & repaired and Axl had been rolled out of the garage, they took him out for a little test drive…
Which he failed spectacularly by pulling in one direction when his brakes were applied. 
Sigh. Back to the garage!
After sitting for the weekend, the brake lines were then bled and some hoses were replaced. 
Finally, SUCCESS! Axl could now stop effectively with no pulling. 
The mechanic was even kind enough to take some photos for us: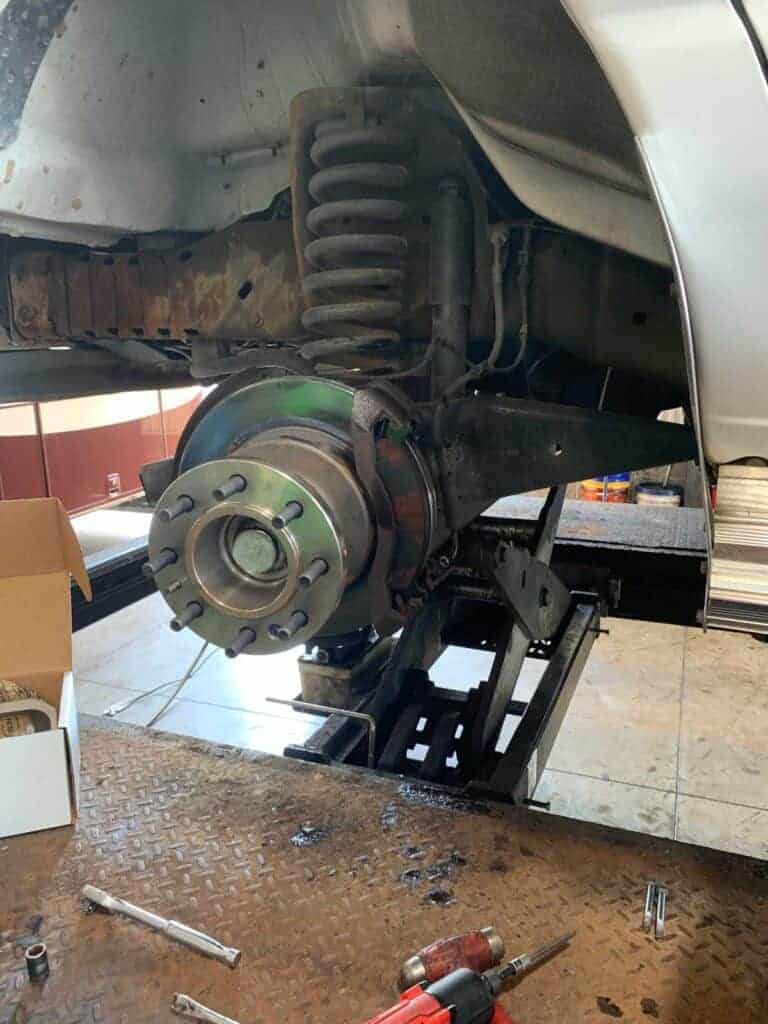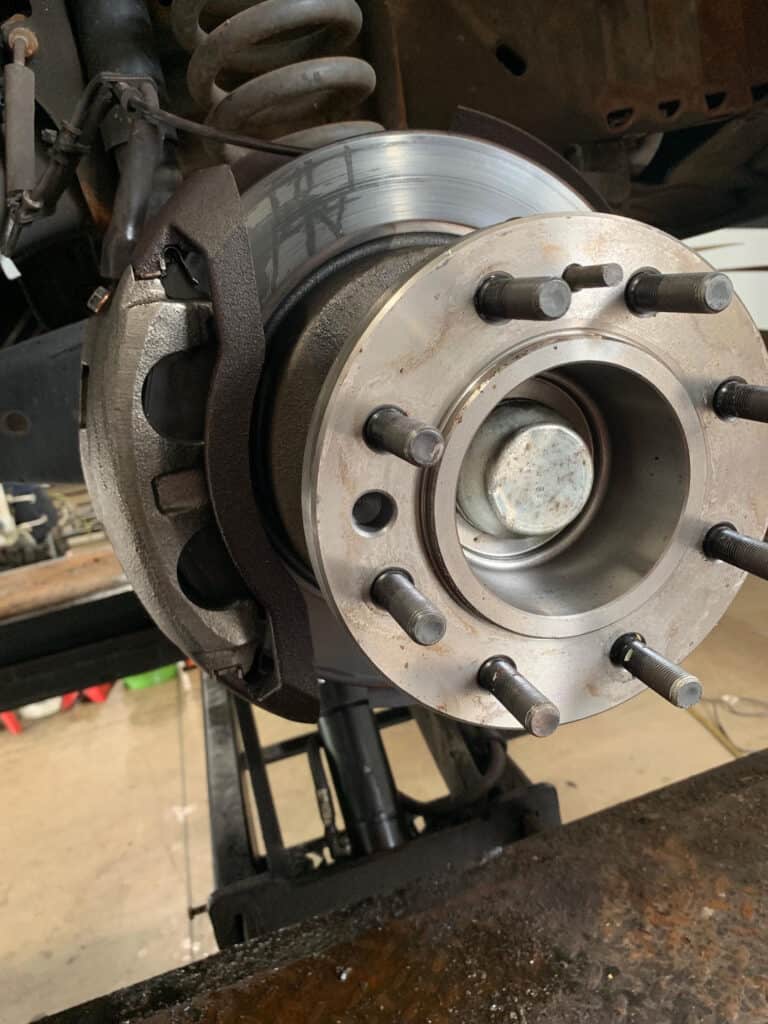 The final cost breakdown for the RV brakes replacement and repairs looked like this:
Bringing our final total to $1441.68, with the cost for labor almost equaling the cost of parts.
Based on my Google, chat forum, and social media research, I had expected to spend about $1,000, so this was bit higher; however, I hadn't priced some of the parts that ended up being replaced (parts I admittedly would not have known existed, i.e., calipers). 
I was thankful that C.Harper kept us in the loop during the repair, but we did have to cancel a weekend trip – and each time we spoke to them, the job got more expensive. 
I don't believe we got overcharged, but I do think we could have been given a better cost range at the beginning of the repair. 
Lessons Learned: Could This Have Been Easier? 
If you are taking your RV in for brake replacements or repairs, make sure to tell the mechanic and/or shop: 
-the exact problems you are experiencing, how long it's been happening, and if there are any noises, smells, or movements associated with it
-when the last replacement or repair related to the problem was, who performed it, and if they found anything unusual
-what your future travel schedule is, just in case they are able to work around it or schedule it so you don't have to cancel any plans
Based on our experience, we'd also advise you to request a complete cost range for the repairs.
Ask what could go wrong or what the repair might snowball into, so you have an honest idea what the final cost will be. 
If you have an RV brakes replacement or repair experience you'd like to share, we'd like to see how our costs compare. Share below!