Please note that some of our links are affiliate links, which means at no additional cost to you, we will earn a commission if you click through & make a purchase. Happy clicking!
Owning an older RV comes with a price tag – not only for any updates you want make and mechanical repairs you need to keep it moving along, but also for cosmetic repairs you might not expect!
A trio of unfortunate incidents recently left
Axl Roads
needing a few touch ups, giving us the chance to show how a few minor boo-boos can add up to a few hundred dollars. 
The total cost for Axl Roads' mini-makeover came in around $240. All the parts were researched & purchased through
Amazon.
I've been an Amazon Affiliate for years, and I find their product reviews to be very helpful in comparing product ratings, sizes, fits & features for older RV updates. 
We were unsure how to secure our
rv cover
completely last year, and it blew off in the middle of an ice storm. It was twisted & halfway off the RV when it should have looked like this: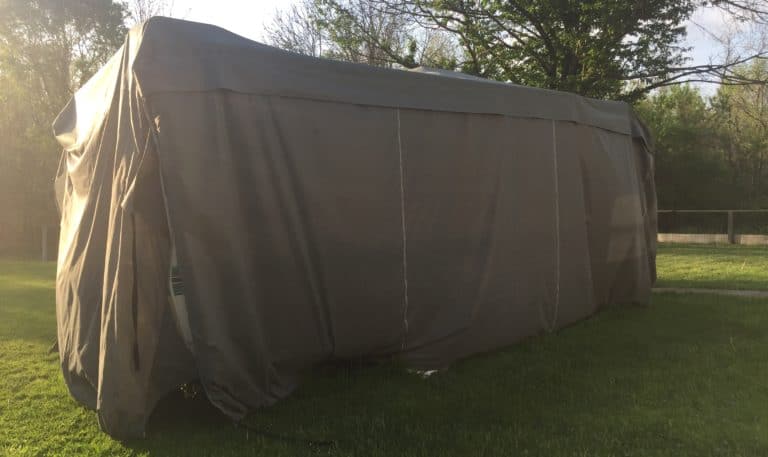 When I climbed on the RV roof to secure it like a ninja, I slipped a little on the icy roof (not at all like a ninja) and put all my weight on the plastic air conditioner cover (or as the professionals call it, shroud).
CRRAAACCCK went the 20+ year old plastic.
Figuring no one would ever see the top of my RV air conditioner, I did a (literal) bang up cover-up job with some caulking.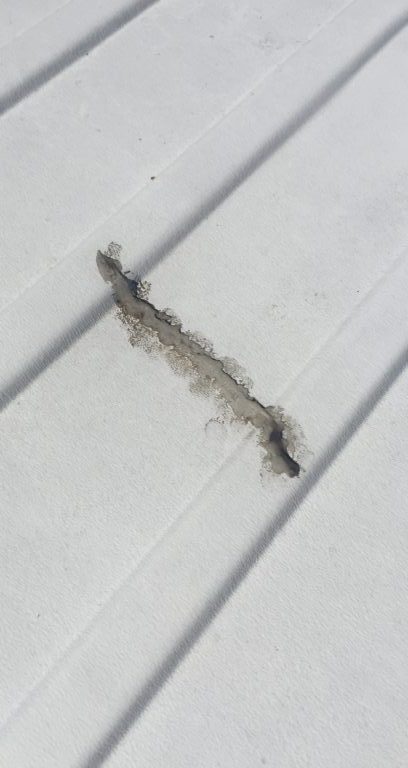 Then this year, I thought the air conditioner could use a cleaning (no real reason why),  plus I wanted to check out what really was underneath that shroud (probably more the real reason).
I unscrewed it from the roof and yanked it off…
CRRAAACCCK went the back edge of the shroud, which I promptly (and unevenly) fixed with black electrical tape.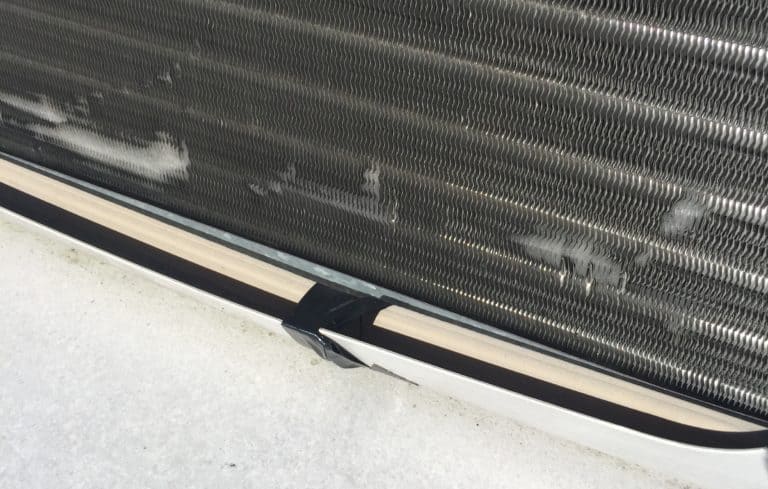 That left us with this look- and the feeling the RV air conditioner shroud was more delicate than we'd like to travel very far with this season: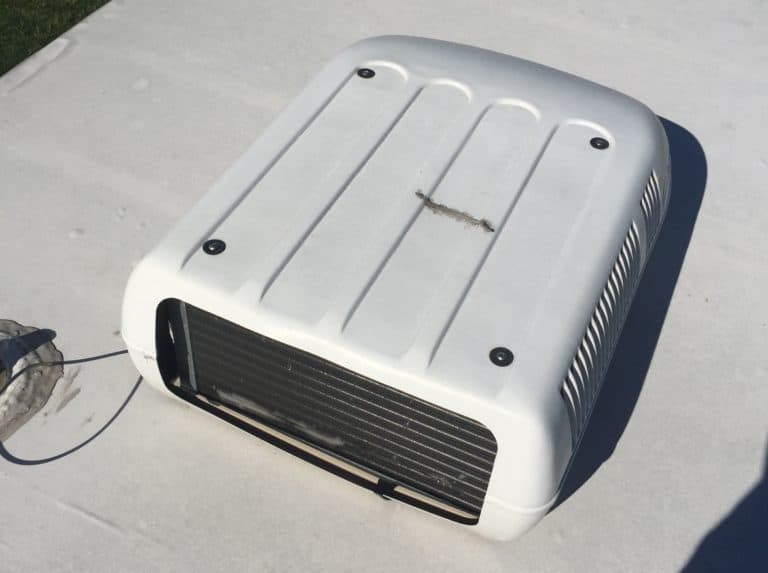 Side note: It did not need cleaned, contained only a few leaves & bugs, and looked like this underneath: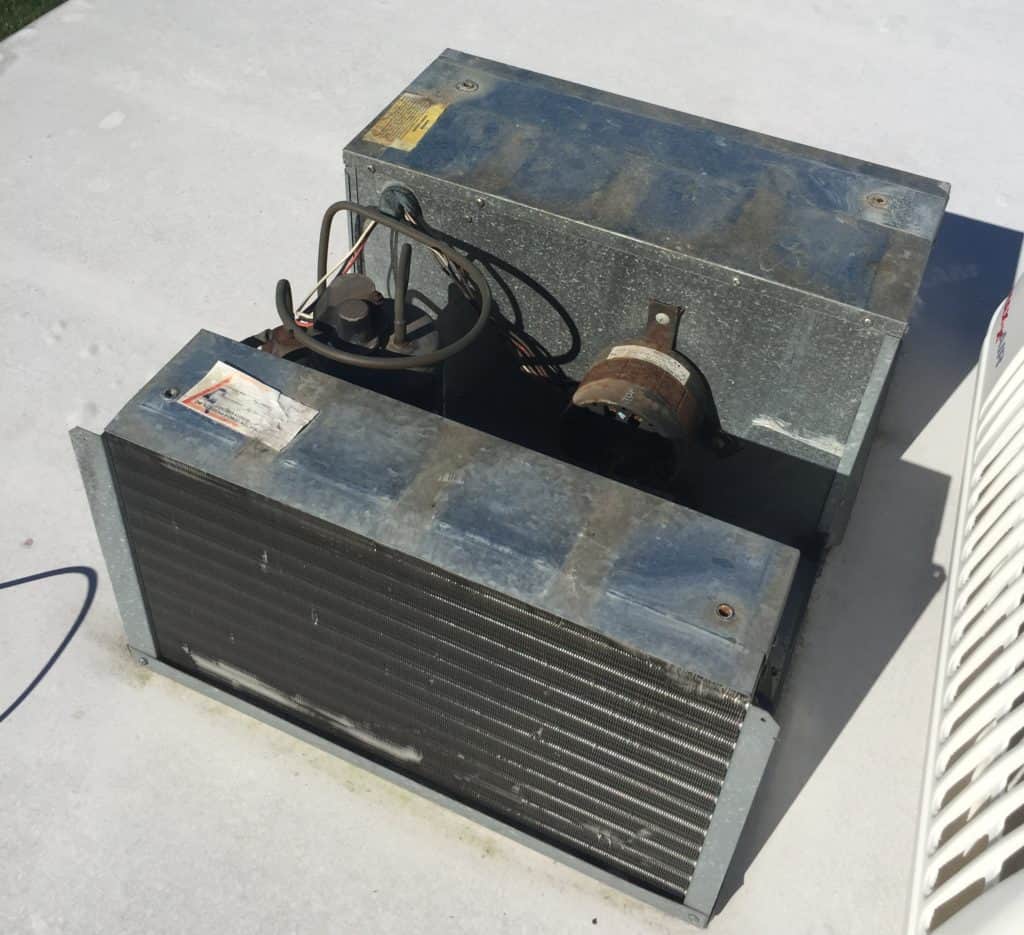 We carefully measured the height, width, and length of the old shroud and found a suitably-sized (and positively reviewed) replacement, 
The new shroud arrived with a claim we are behind 100%!
This side-by-side comparison gives you an idea of a 20+ year old RV air conditioning shroud next to a new one, as well as someone trying to take a serious photo next to someone trying to make shadow funnies.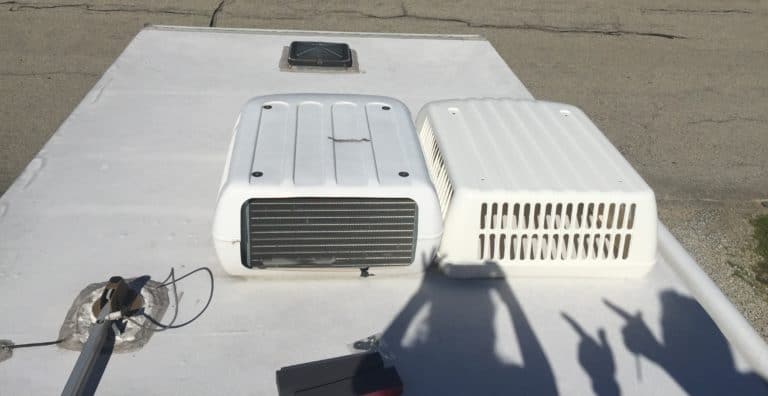 The new shroud slipped on easily, and the screw holes matched up perfectly- WIN!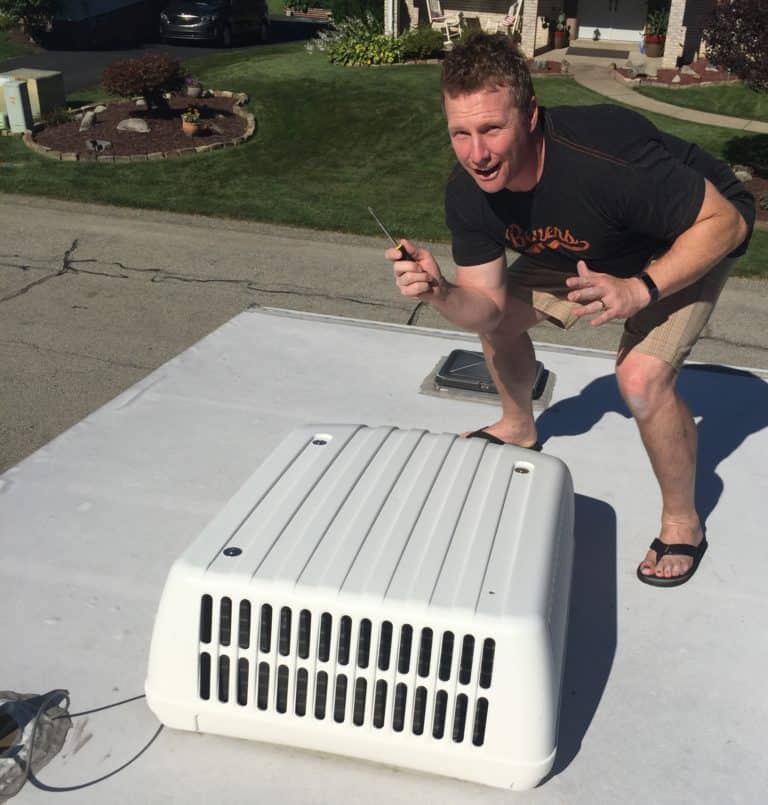 Thankfully, this repair was quick and painless once we got over spending the $140!
While driving through the super-convenient EZ-Pass lane on Route 66 in Pennsylvania, we grazed a curb and heard a sound straight out of Star Wars (imagine Millennium Falcon firing on the Death Star noise). 
When we arrived in Cowans Gap, we were missing a wheel cover.
Nothing makes an old RV look sadder than a missing wheel cover, so I immediately started looking for replacement.
Nothing makes an RV owner look sadder than not finding a perfect match in their price range (a single one under $100), but we came kind of close, minus the shine, bolt shape, and center circle. 
OK, not all that close, but passable for Axl Roads.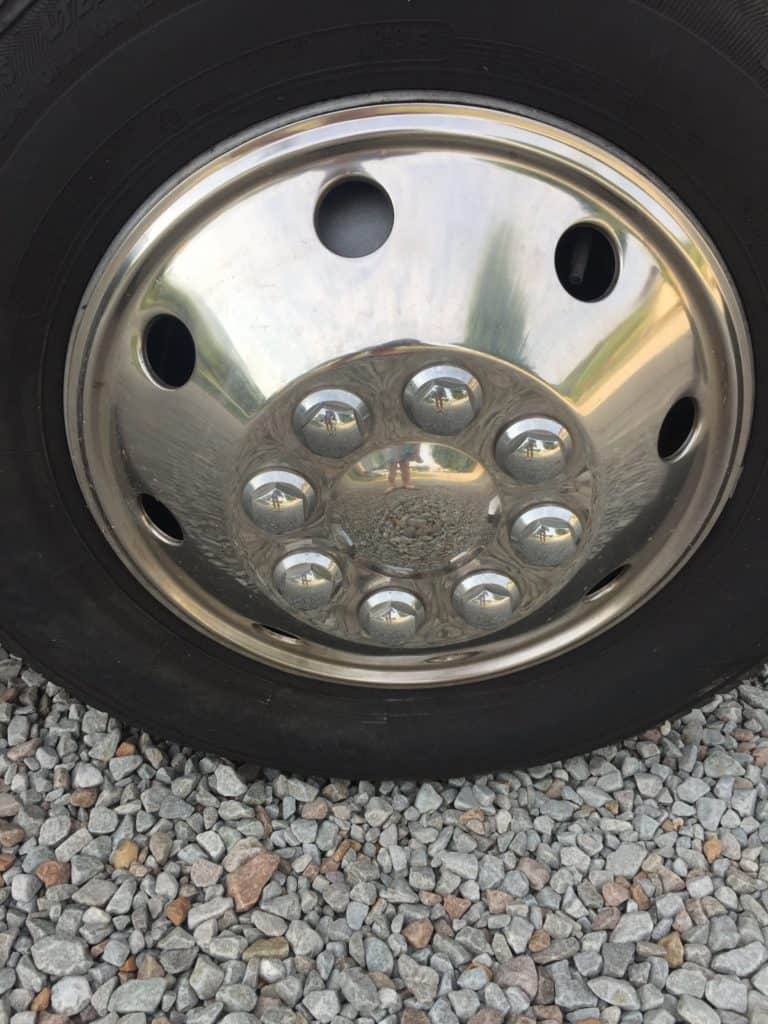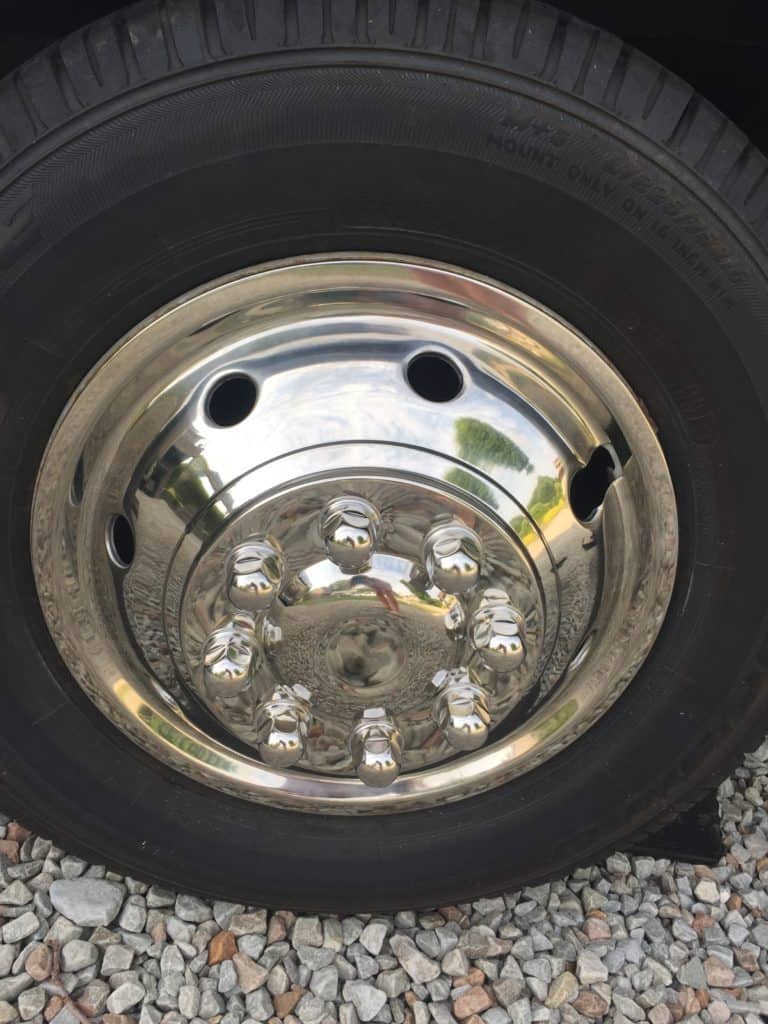 After arriving
Cowans Gap
and mourning our lost wheel cover, we lowered our awning for only the third time ever- and had to duck as a piece sprung off the interior arm into the air.
The little C-hook had broken on the support arm, and it was dangling in the main arm. We rigged it up with a bungee cord and went on with our trip. Once we got home,
I found the part on Amazon
. It seemed like it would be an easy fix- and it really was!
Upon closer inspection, the broken version of the arm was jammed in the main awning arm and no longer had a way to grasp the C-part.
The shiny new piece came already assembled with the arm tightly grasping the C-part, so it was just a matter of a few screws before everything was back together & sliding successfully: 
Within a half hour, we had replaced the dangling awning arm, and our shade was back in business!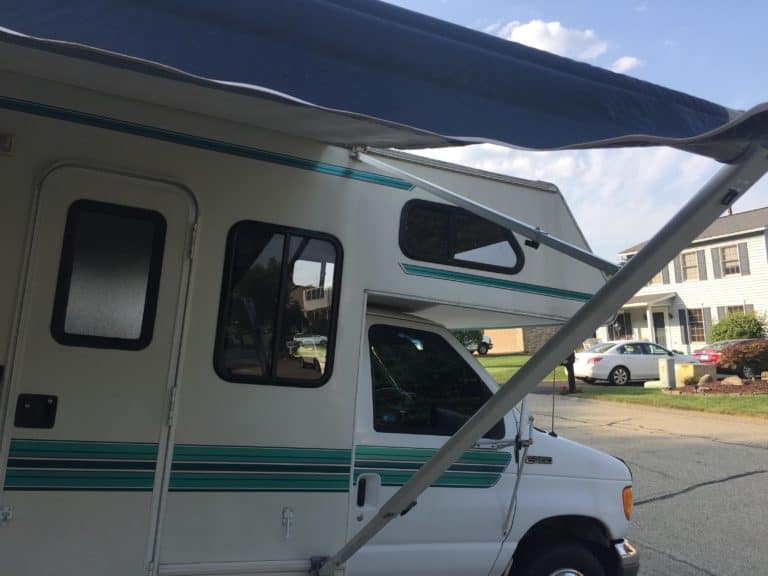 Total Cost of Touch Ups = $239
Sometimes you might feel like you are polishing a turd, but remember- at least it's your turd! If you are like us, the goal is for Axl Roads to be functional and mostly visually unoffensive.
The moral of this story is not to let small repairs and replacements on your older RV ruin your groove- even if they are just cosmetic!
Do what you can and get back to the adventure!