Rocky Gap State Park in Flintstone, Maryland, is a combination of rustic views alongside modern amenities. 
Case in point: one of the hiking trails winds through a forest overflowing with mushrooms & waterviews…before going right past a casino & golf course! 
Rocky Gap State Park is situated around 243-acre Lake Habeeb, named for Edward Habeeb, a florist who was just one of many people to sell their land at a steep discount to create the park. He was also the President of the Route 40 Association, which played a large part in getting the park officially opened in 1974. 
Fun fact: Maryland has no natural lakes! They were all created by dams. 
Other parts of this park were once farms, and the park property also includes a cemetery with some Civil War-era headstones. 
The park has two public beaches along the lake, and HOORAY! Both beaches have dog-friendly sections! 
Visitors can shop in the camp store, learn about plants & animals in the nature center, or go to the other side of the lake & take a chance in the casino or play a round of golf. 
The campground is ENORMOUS. 
Loop A (Ash) is the only one with 30-amp electric, pet-friendly sites. Loops B (Birch), C (Chestnut), D (Dogwood) & E (Elm) are also pet-friendly, but rustic, and Loops F (Fir), G (Gum), H (Hickory) and I (Ironwood) are rustic with no pets allowed. 
The shower houses are clean, with NO timers & complete temperature control. WIN after a long, hot day of hiking!
You can see the entire park map here, but here's a snippet of the campground courtesy of Maryland.gov- X marks our spot.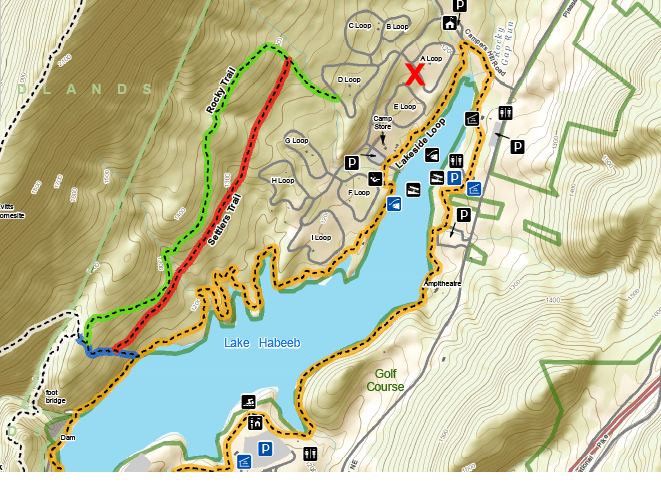 PRO TIP for the Campground
If you are up for a rustic stay with no pets, there are some really nice platform tent spaces like #215 & #211 in Loop H (Hickory). Check the photos on the reservation site to see what's available & click on the individual sites to see what the site looks like.
Rocky Gap State Park has about 15 miles of hiking trails. You can definitely hike this park in a weekend. 
One weird thing is that the free park map doesn't have trail descriptions or mileage guides on it, which isn't helpful for planning your hiking day. I used my FitBit to estimate below. 
We started with Rocky Trail on Saturday morning. There's very little elevation change on this approximately one-mile long trail, but it's a wide, nicely maintained ROCKY trail that lives up to its name!
It also had some of the most spectacular mushrooms we've seen all summer!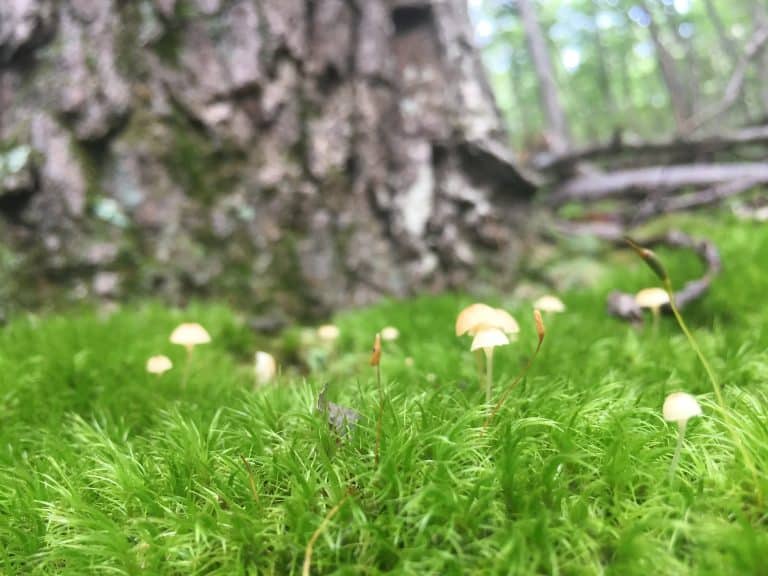 Rocky Trail met Lakeside Loop Trail, so we made our way around the lake next. This trail was about 2.5 miles long, mainly flat. 
The first quarter mile or so off the Rocky Trail included a Rocky Gap, and I hiked around to get a waterfall shot past the dam. Was this THE Rocky Gap? We say YES.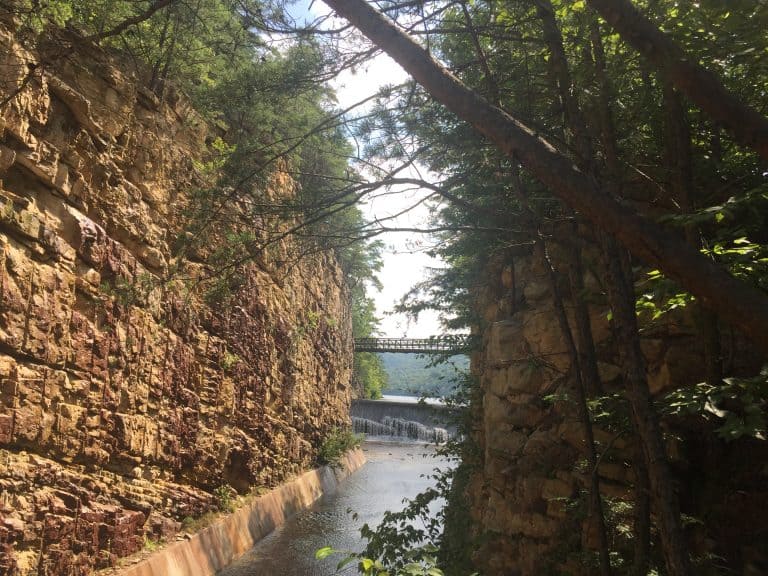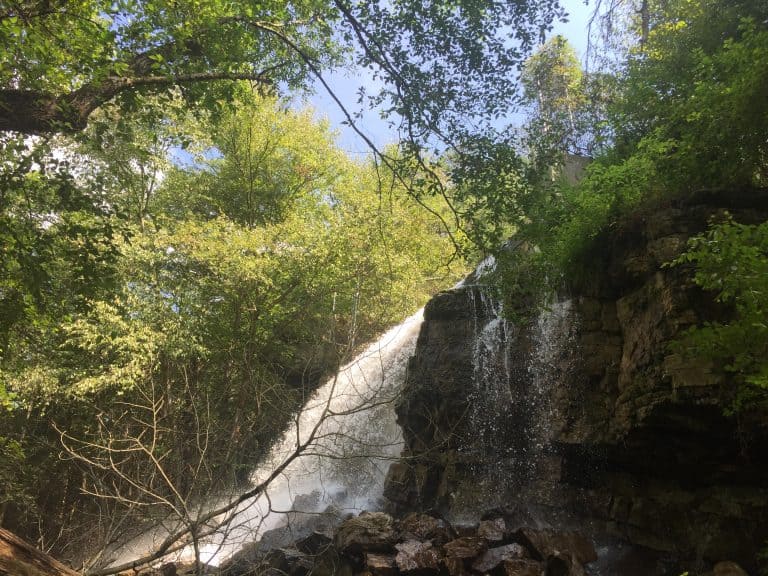 We saw a turtle & some fish, but no larger wildlife- which was understandable because of the golf course & casino pretty close by. 
Franklin insisted we take advantage of the modern amenities near the casino, so we stopped for some ice cream in their gazebo. The trail rolls right beside the golf course, too.  Non-member rates are $129 for 18 holes. 
Once we got past those more crowded areas, the Loop proceeded through a grassy area, then an older forest.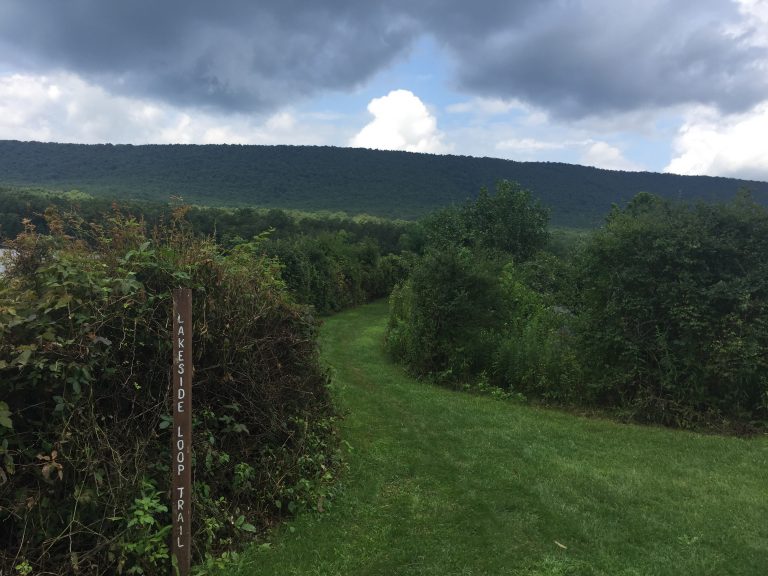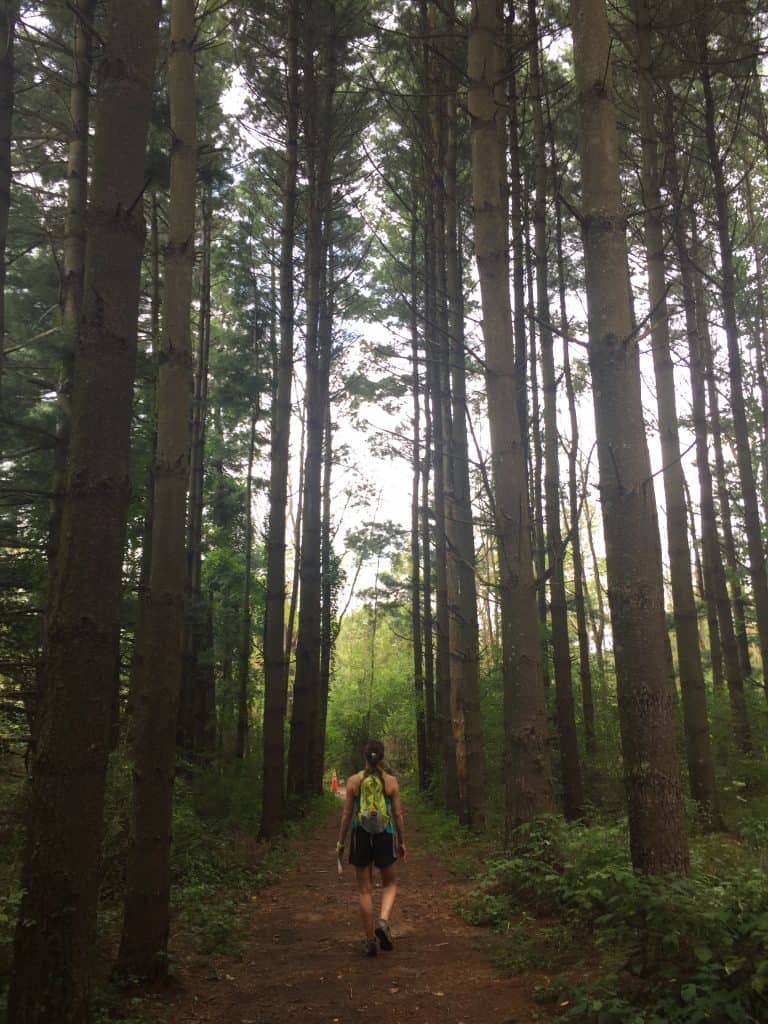 Finally, we got back to the Campground.
Later in the day we hiked the remainder of the Lakeside Loop out of the Campground & returned via Settlers Path. 
Sunday morning we decided to head out to a few historical stops before going home. 
SIDE TRIP: Historic Cumberland & GAP Trail Mile Marker 0
Less than 10 miles from Rocky Gap State Park lies the historic town of Cumberland, Maryland. It's rise in popularity (& population) in the mid-1800's to early 1900's was fueled by the coal industry & was made more accessible by B&O Railroad and the C&O Canal. You can read the whole history of Cumberland here.
During this side trip, the three things we'd recommend doing are: 
Coffee & snack at Cafe Mark on pedestrian-friendly (& dog-friendly!) & brick-paved Baltimore Street. 
Stroll around & check out the shops in & around the Western Maryland Scenic Railroad Station. Have more time? Book a ride on a train! (But not with a dog.)
See Mile Marker 0 of the Great Allegheny Passage (GAP) Trail. I run, walk & bike this trail all the time near our home, so we were excited to see this!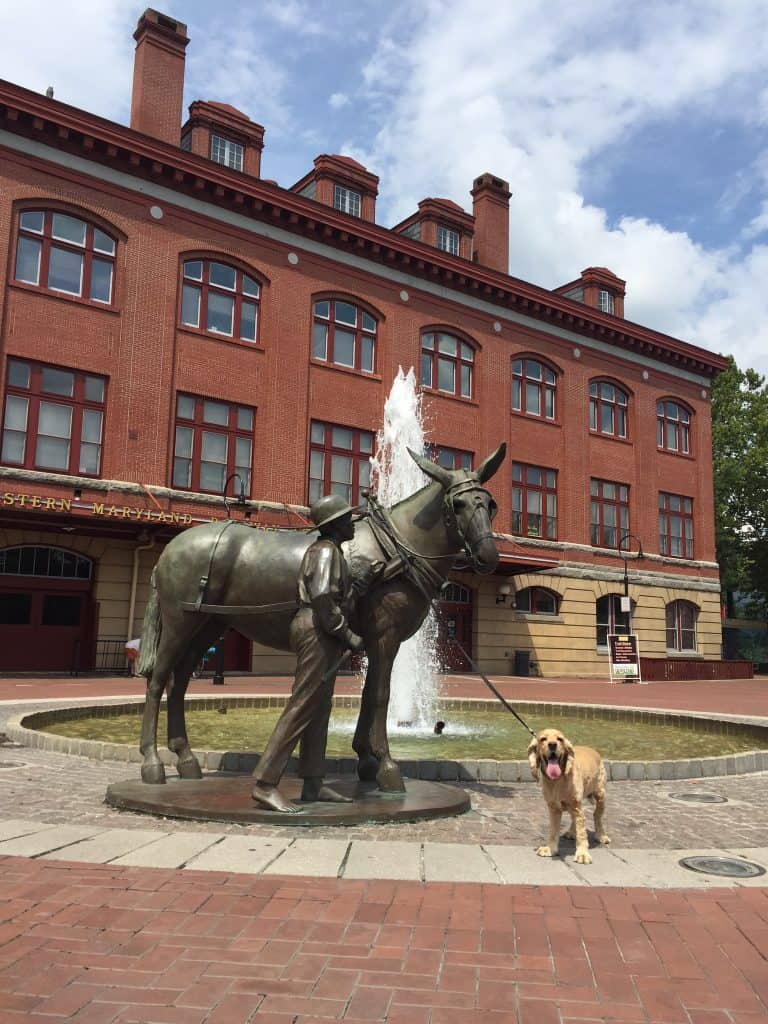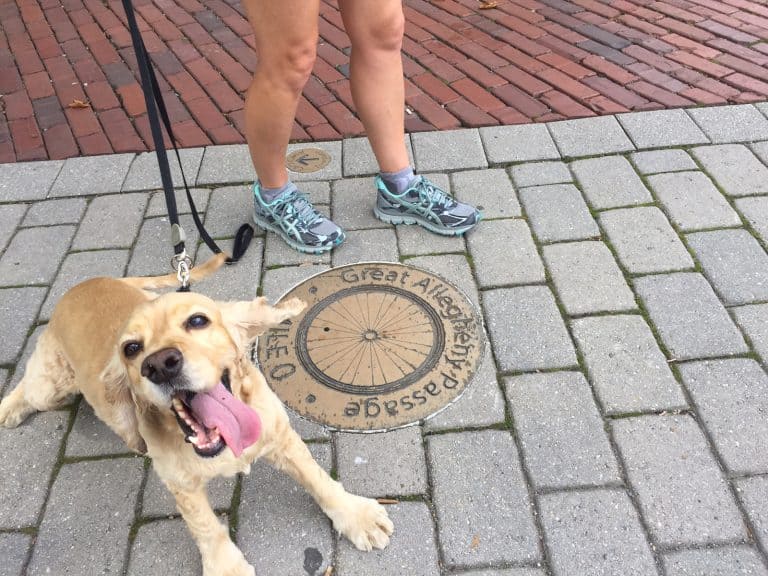 Did you read our Ark of Safety post? We'll wait a few while you finish…
We checked back in with the project, but we didn't notice any progress except the bulldozer parked in the gravel drive. 
Thoughts & prayers for progress, but it's still an interesting thing to see up close after driving past for so many years!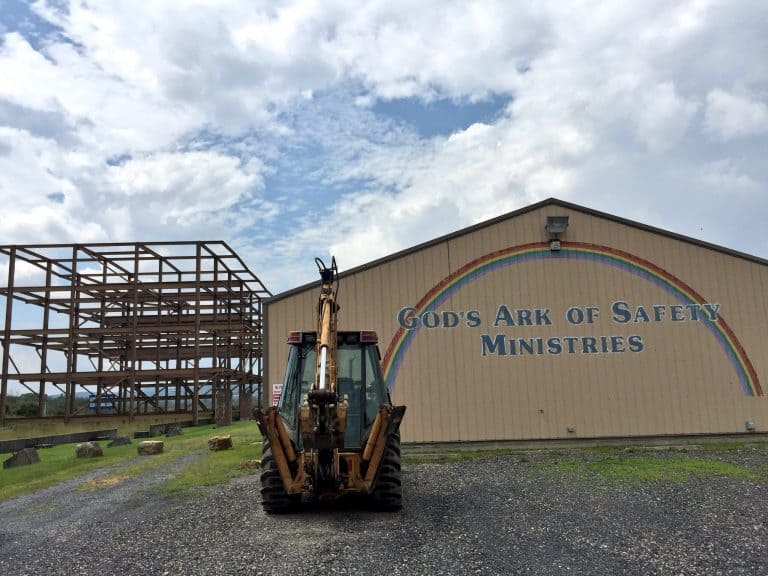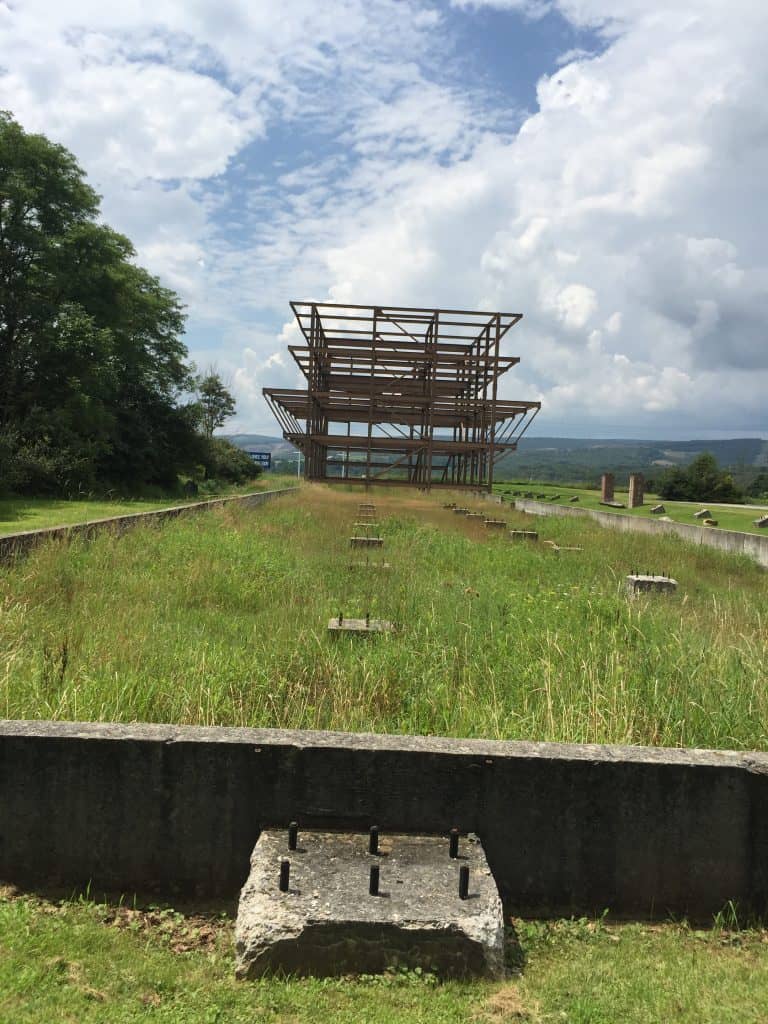 Rocky Gap State Park in Maryland works as an RV weekend – especially if you are interested in mixing the outdoors with some golf balls & slot machines! 
Do you have any tips or must-see stops in the Rocky Gap area? Share below!