Please note that some of our links are affiliate links, which means at no additional cost to you, we will earn a commission if you click through & make a purchase. Happy clicking!
Deep Creek Lake State Park in Maryland is a boater's paradise, complete with campground, mountain bike trails, hiking, and a resort town nearby. 
Deep Creek Lake State Park is located in northwest Maryland, about 2 hours southwest of Pittsburgh and 3 1/2 hours from Baltimore and Washington, D.C.
The 3,900-acre lake was originally created to serve as a hydroelectric power source, but is now the visual centerpiece to a small town, ski area, and state park. 
Deep Creek Lake State Park Campground has 112 total sites, and 26 of those have electric. The two end loops are pet-friendly, while the middle loop and cabin/yurt area are not.
Each site has a fire ring, wood composite picnic table (no splinters!), and bear box. As a bonus, every site also comes with overnight boat trailer parking and boat slip.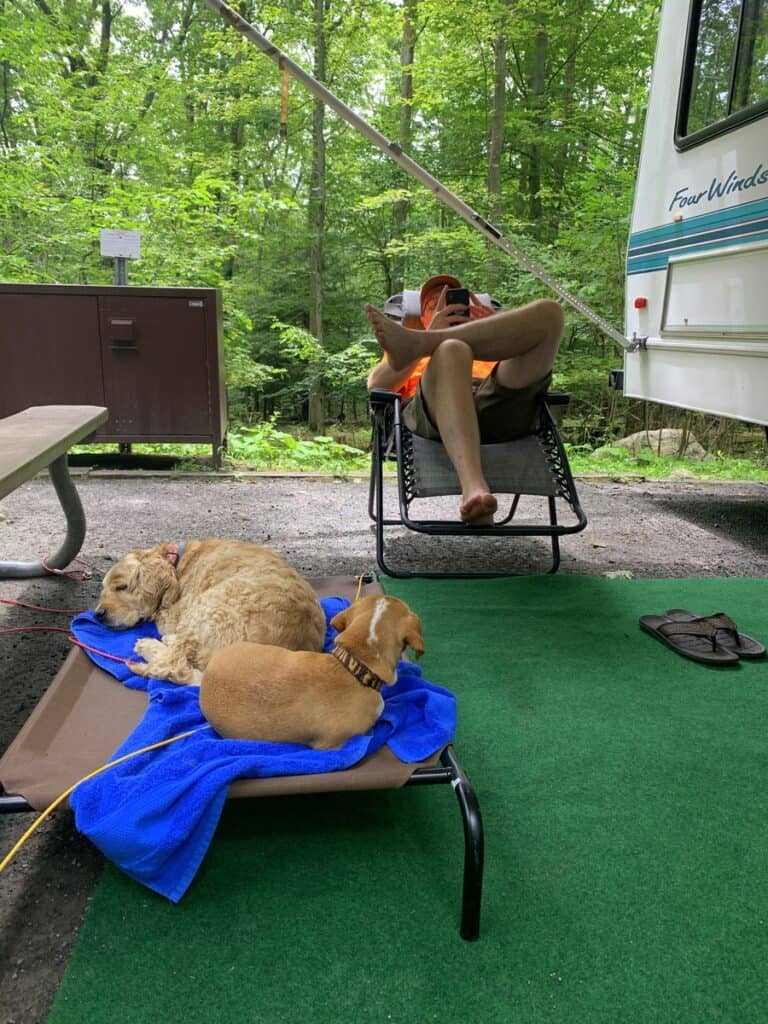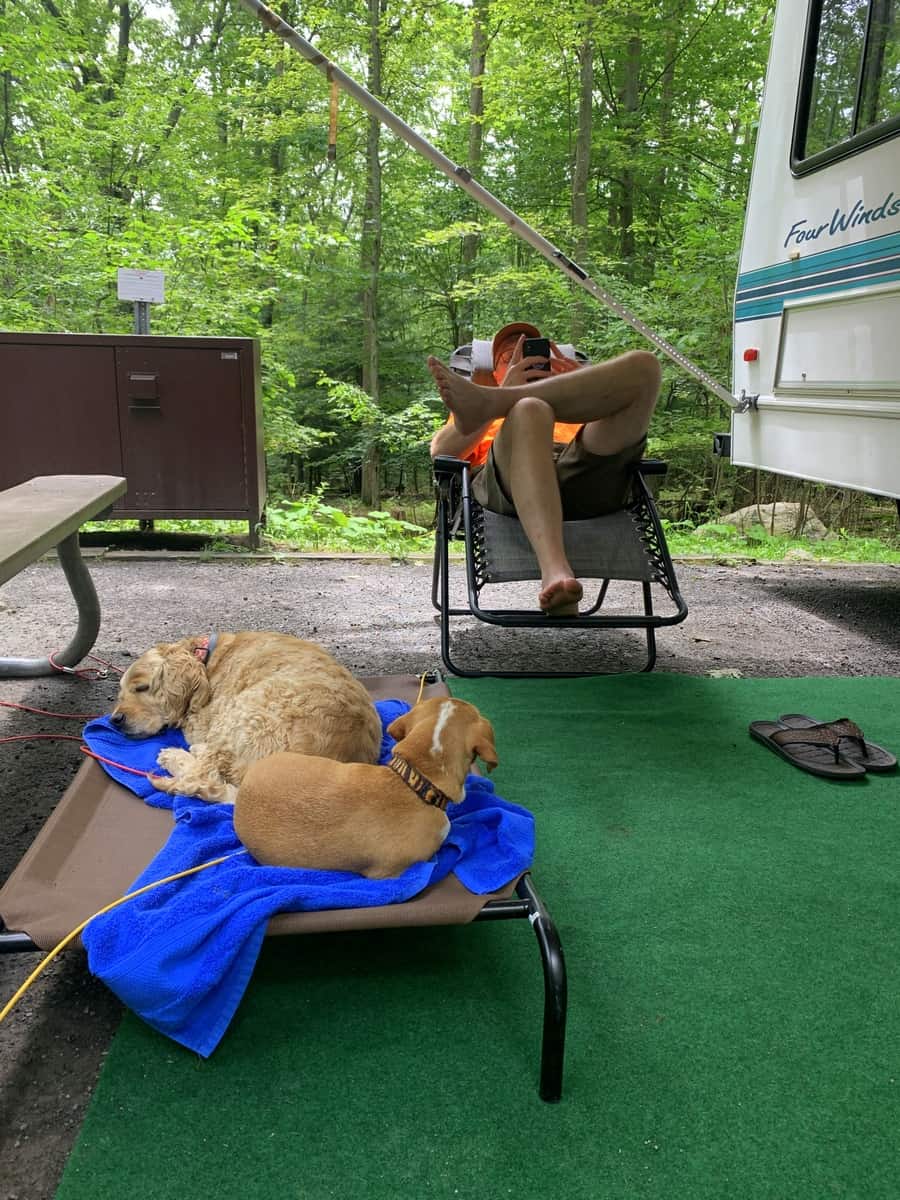 We were set up at Site #23 in the lower right of the map. The view behind this site is wooded, with a slight parking lot view to the left and a slight lake view to the right.
The sites were essentially the same size, and I didn't see any in particular I would recommend more than another in our loop. Sites #15-17 and #74-82 probably have the best shot at having a lake view, depending on the trees and leaf cover at the time you're visiting.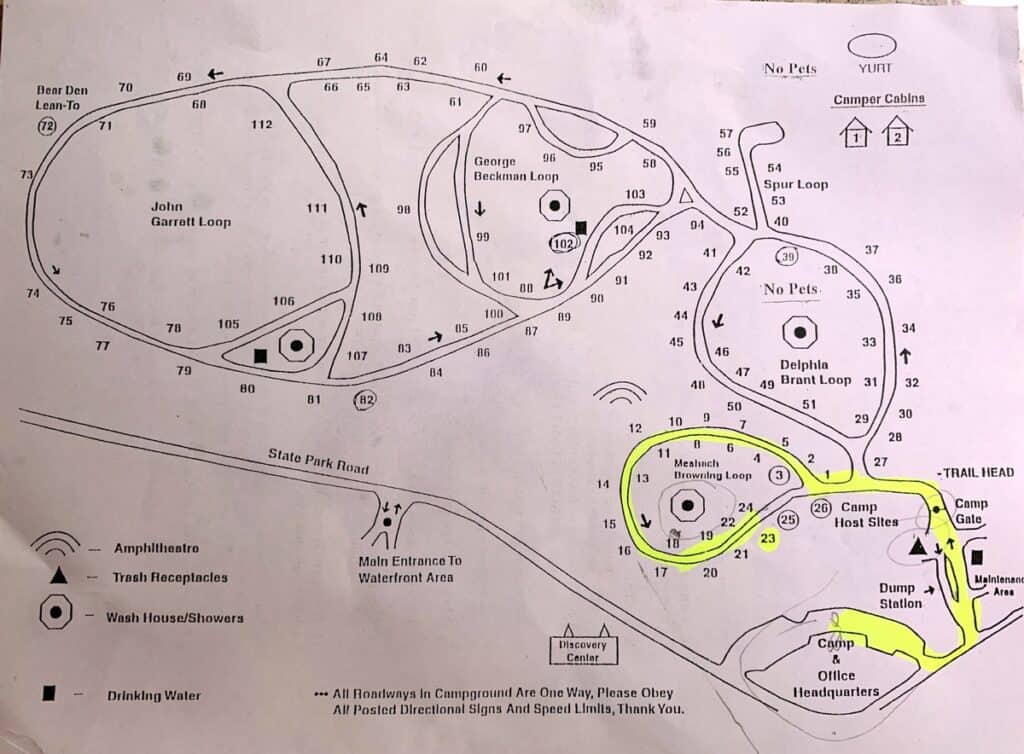 Each loop has its own bathroom with shower house, and I am happy to report that you are able to control the temperature, direction, and length of your shower…no timer buttons!
Hooray for Deep Creek Lake State Park Campground, home of reasonably water-pressured, hot, and not-timed showers!
PRO TIP for the Campground
One set of hiking trails is easily accessible from the campground, while the other few are about a mile or so away. Plan to do the closer set while you're overnighting, and the other on your way out of town.   
The Campground check-in materials prepared us for bears and we saw tent campers using bear boxes, but we didn't see any during our stay.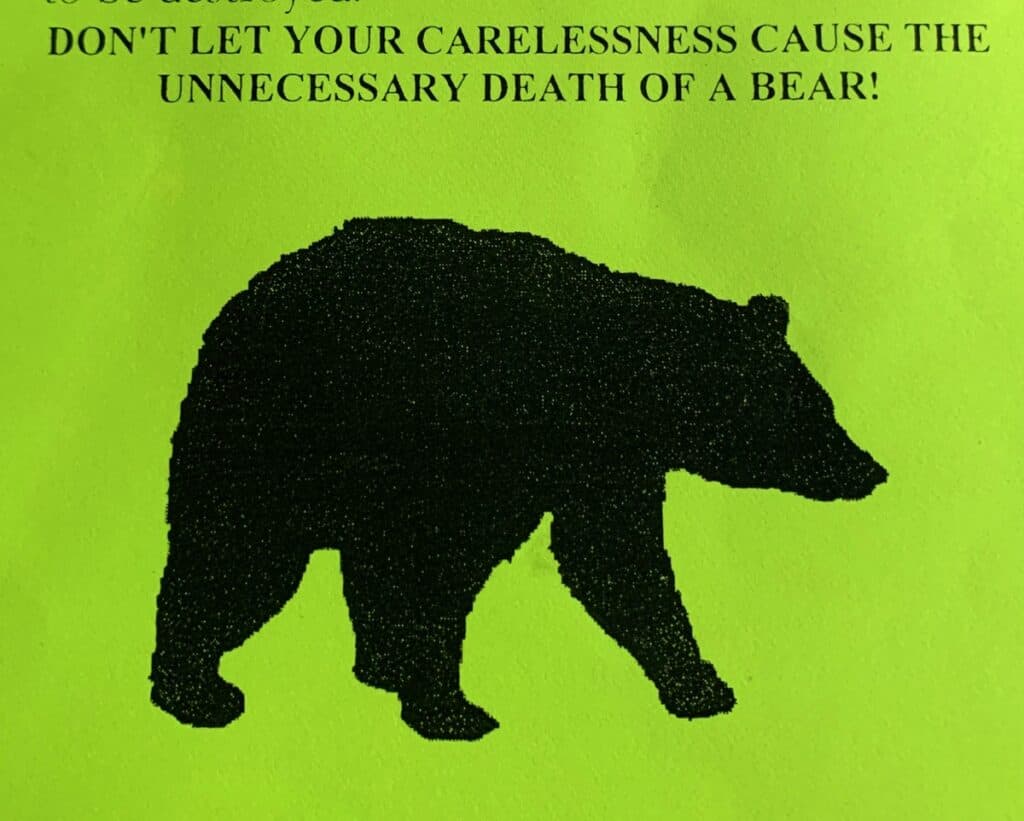 Deep Creek Lake State Park has two sets of trails – one that is closest to the campground, and the other that's a mile or so away. 
The trails are very well-marked and color-blazed, as are all of their intersections, making for nicely-directed and anxiety-free hiking!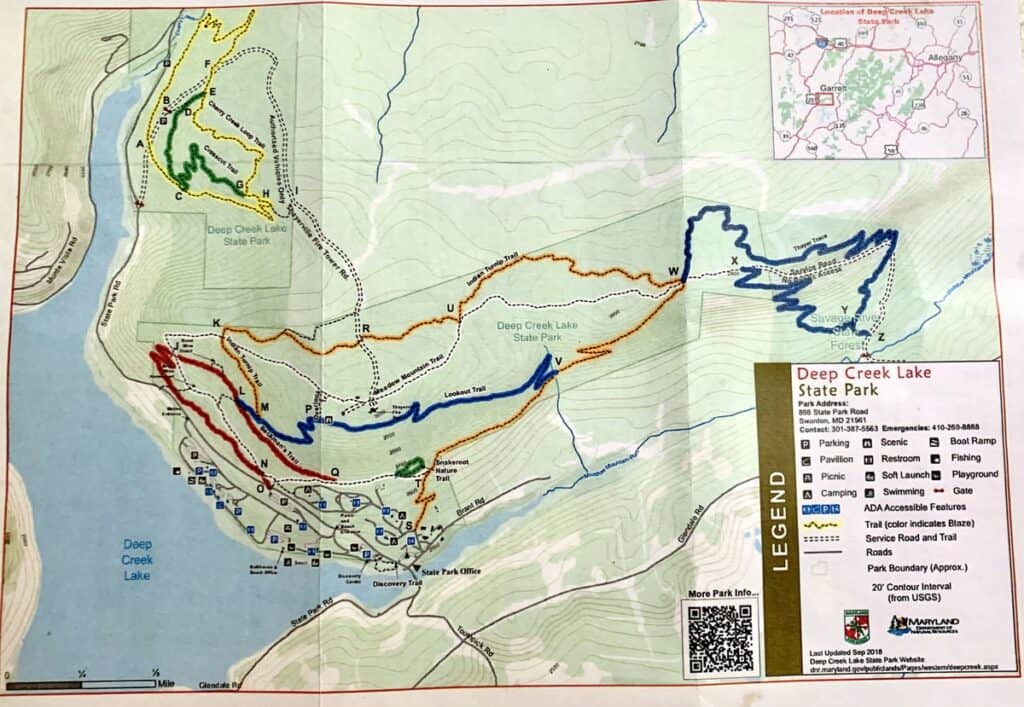 You can create a 3-4 mile OR 5-6 mile loop from the campground by heading to the Indian Turnip Trailhead (orange). 
Franklin clearly dug the trailhead. Or not.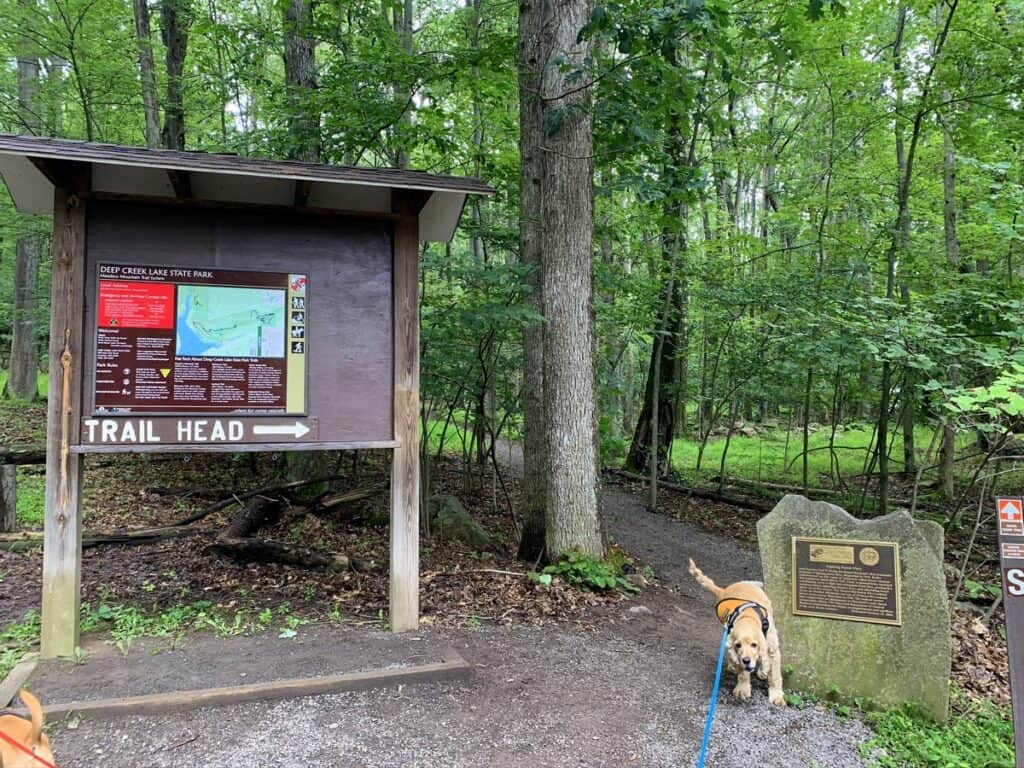 We took Indian Turnip Trail (orange) until it met Lookout Trail (blue). You could continue on Indian Turnip Trail to create an even longer loop, but we wanted to see the lookout. 
The lookout perch offered a nice view of the forest from above, as well as a sliver of lake. You could probably catch a much better view in fall or winter.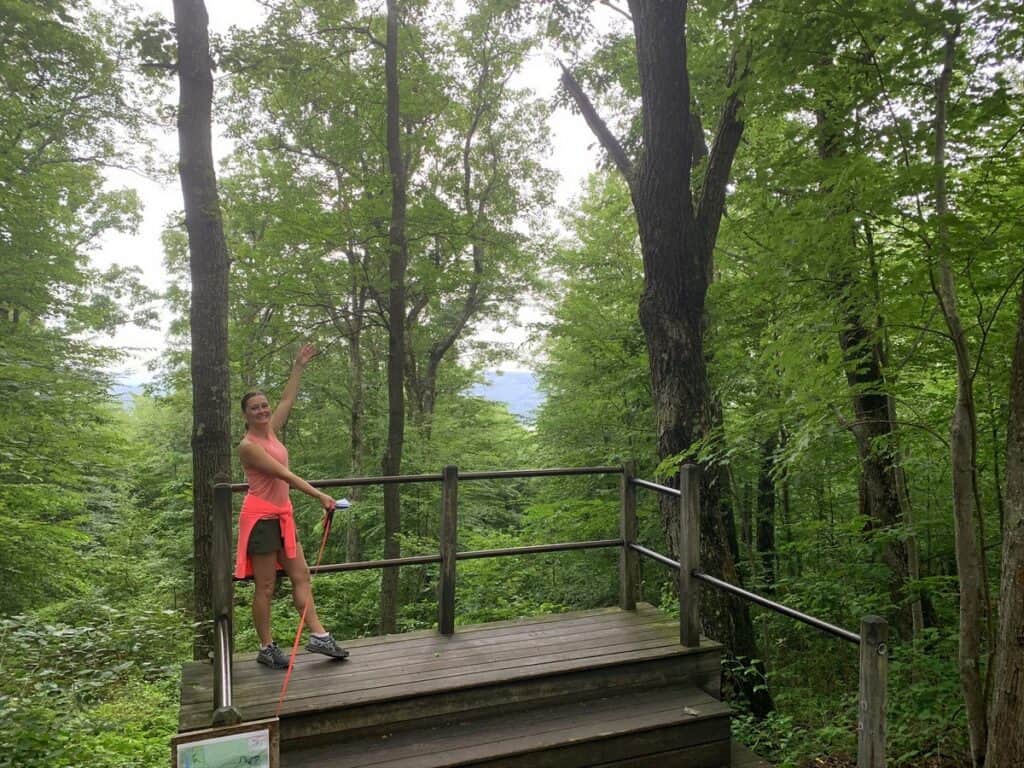 The trails are rocky, wide, and full of roots covered in sand and mud. If your dogs are healthy and spry, they will have a great time navigating the overs and unders the rocks create. By the end of the day, Franklin was feeling all that rock and root maneuvering!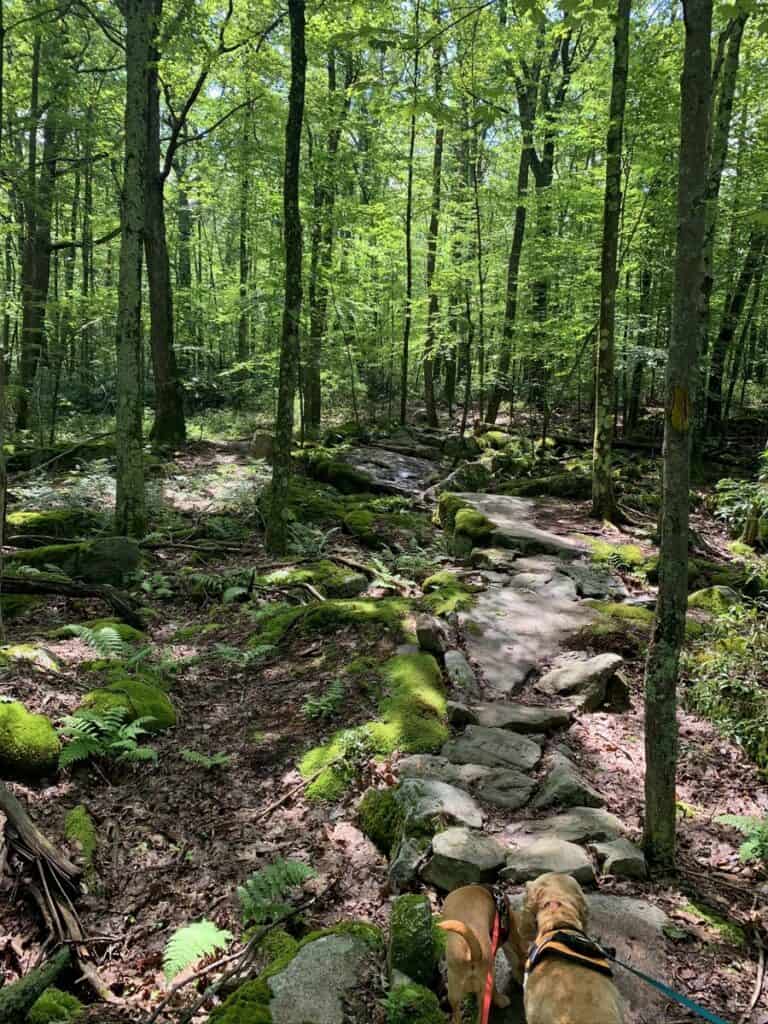 At the end of Lookout Trail (blue), you can make a right onto Beckman's Trail to visit the Brandt Mine site.
In the 1920's, two men mined coal from this area on their own and sold it to heat homes. The Maryland Department of Natural Resources has recreated it, sprinkling a little bit of history into your hike.
The site includes a fenced-out entrance, mine cart tracks, small storage structure, and a ready-to-tip mine cart.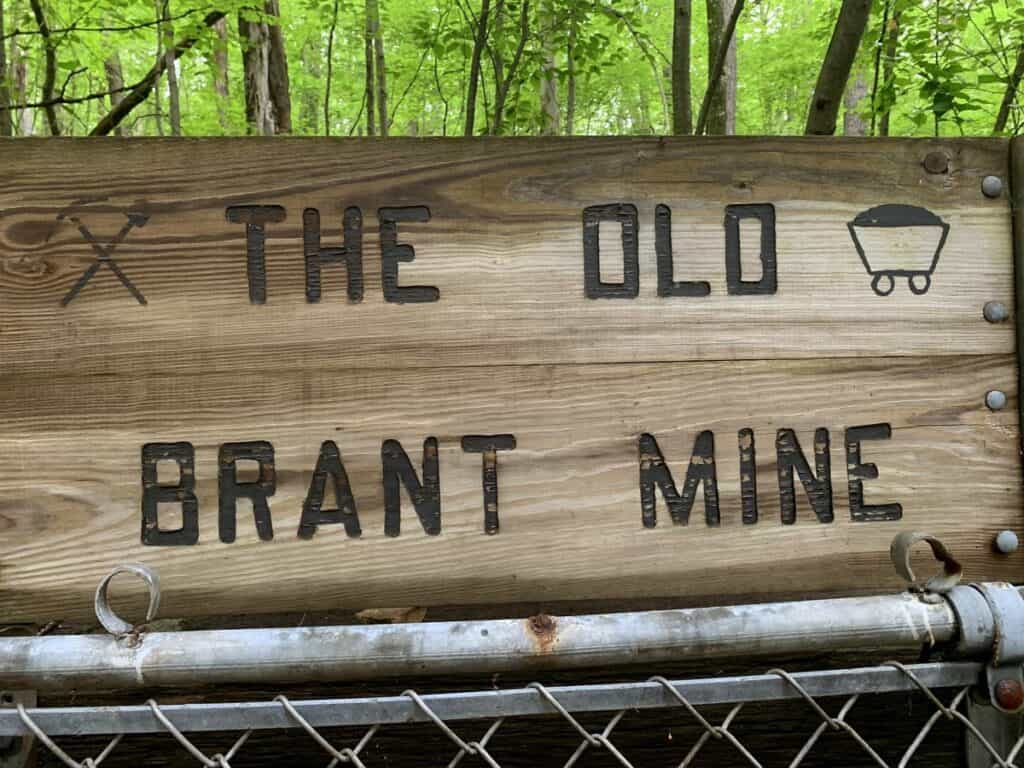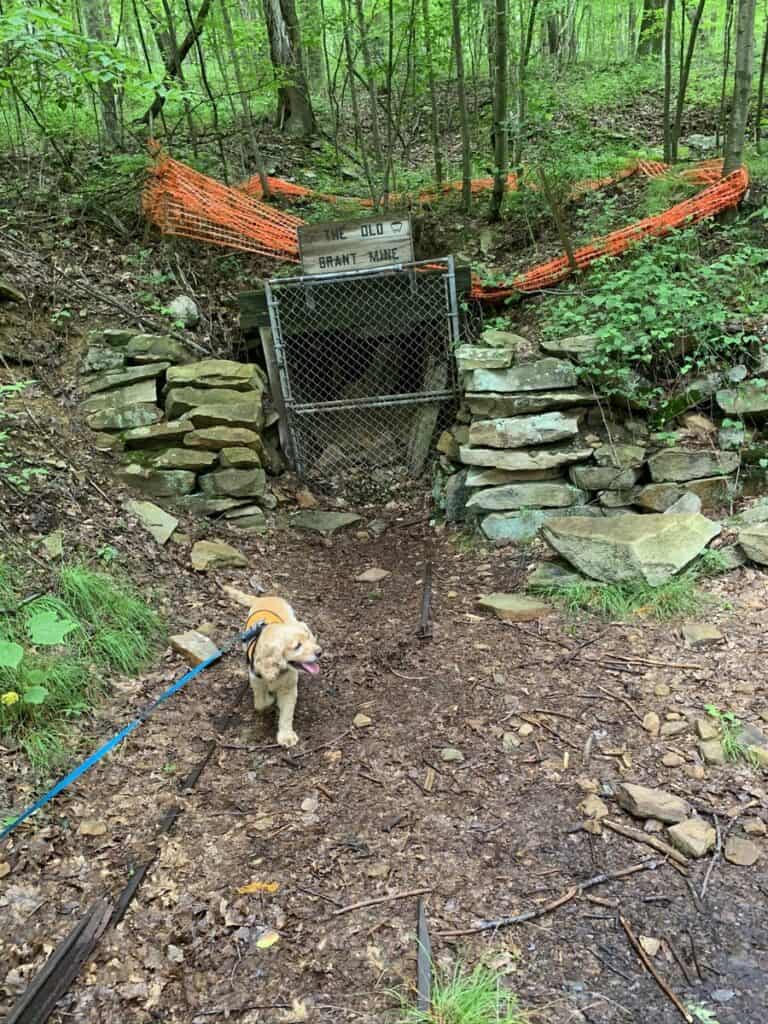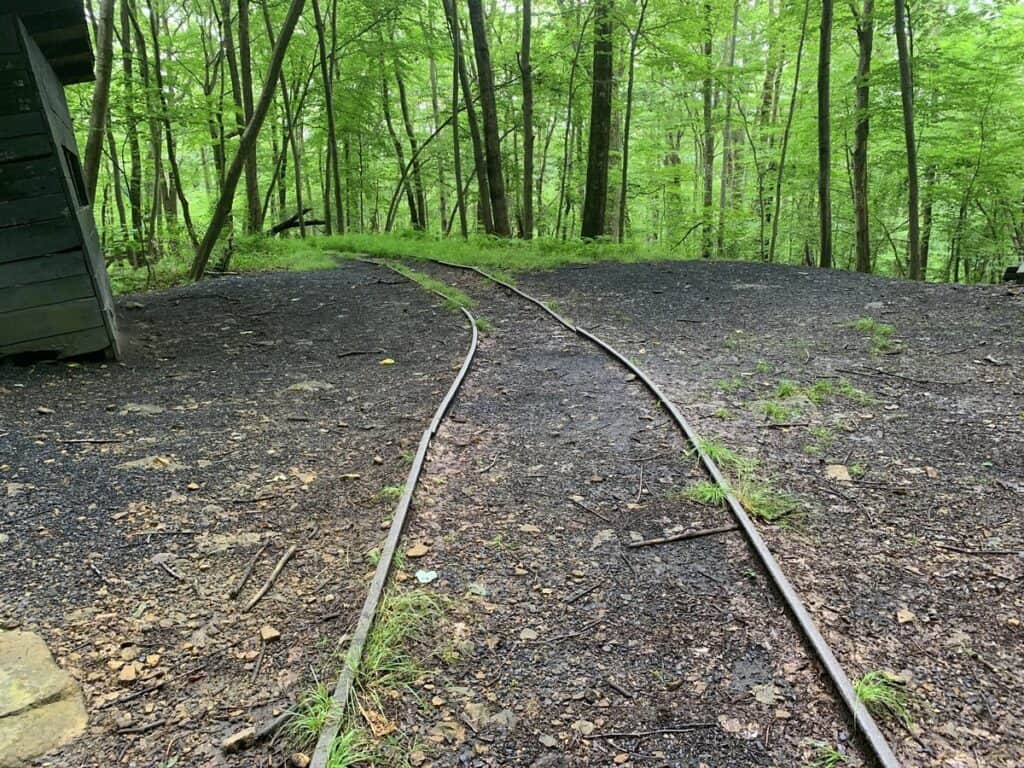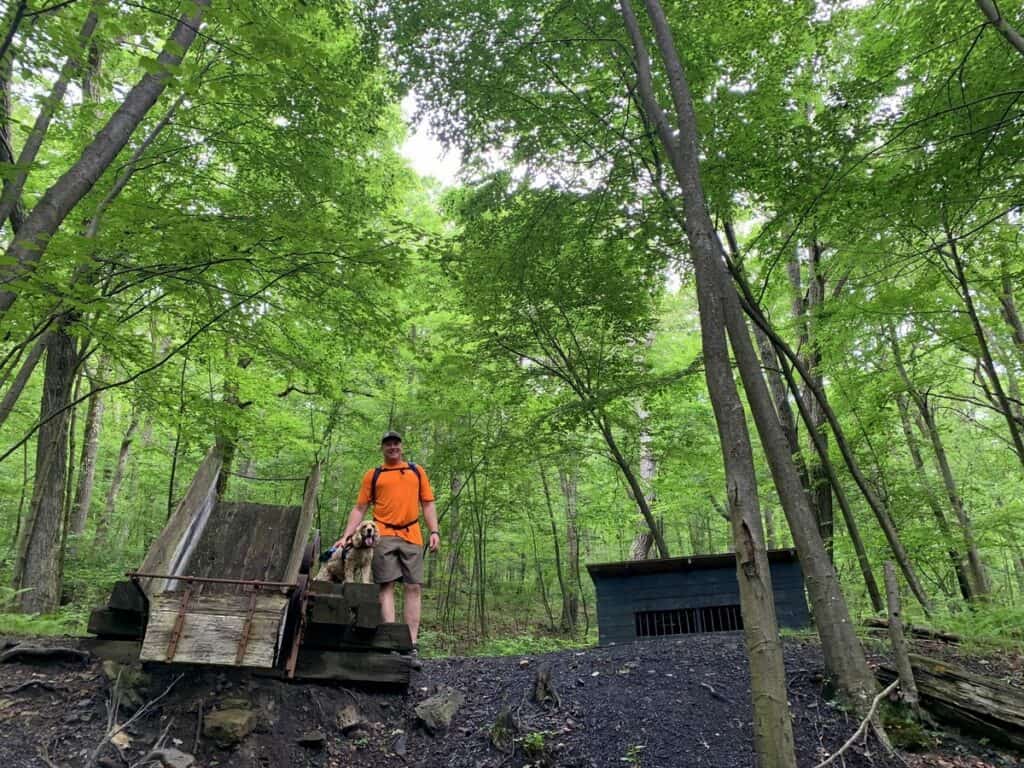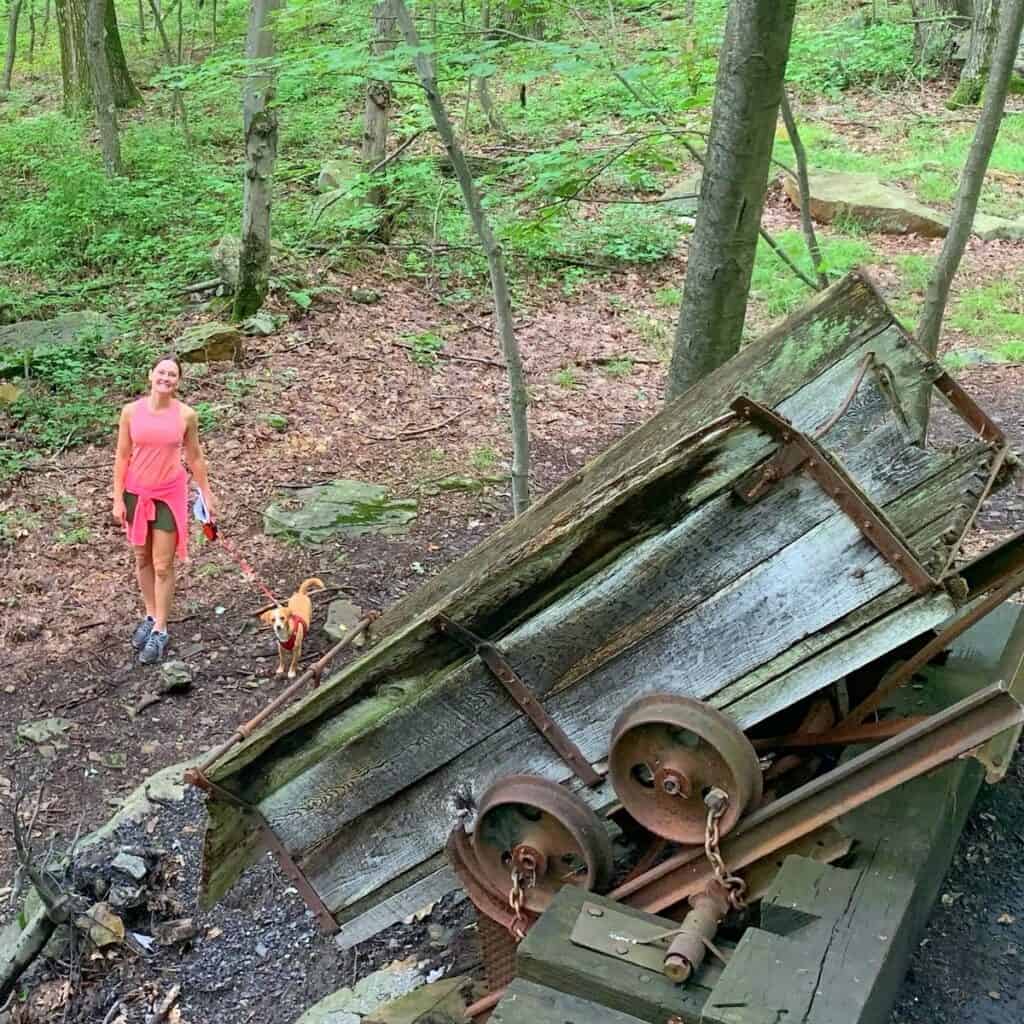 When you finish hiking Beckman's Trail, you can take the road back to the  campground. 
The next morning, we drove to the other side of the park to tackle Crosscut and Cherry Tree Loop Trails. 
Take note: if you are driving a bigger rig over to the trailhead parking lot, the cinder road headed up to it is a dippy doozy! We hit the hitch guards on the back of our RV several times, but not hard. Just be careful, and drive slow.
These two trails double as mountain biking paths, so you may need to step (or jump) aside during your hike. 
The terrain here was similar to the other trails, with many rock outcrops, stepping stones, and large roots to navigate. We made an approximately 2-mile loop by heading up the right side of Cherry Creek Loop. About a quarter mile up, we made a left onto Crosscut Trail then a right to finish back down Cherry Creek Loop. 
After the warning and materials we received at check-in, we were on the lookout for bear- but we only saw some chipmunks, squirrels, and deer.
We also smelled a skunk, but thankfully didn't see him. 
The real highlight of hiking at Deep Creek Lake State Park for me was the amazing amount of incredibly interesting mushrooms.
Mycophiles, get ready…because this park delivers some awesome fungi!
My fun guys might not love mushrooms as much as I do, but they are game for striking a pose with fungi when asked…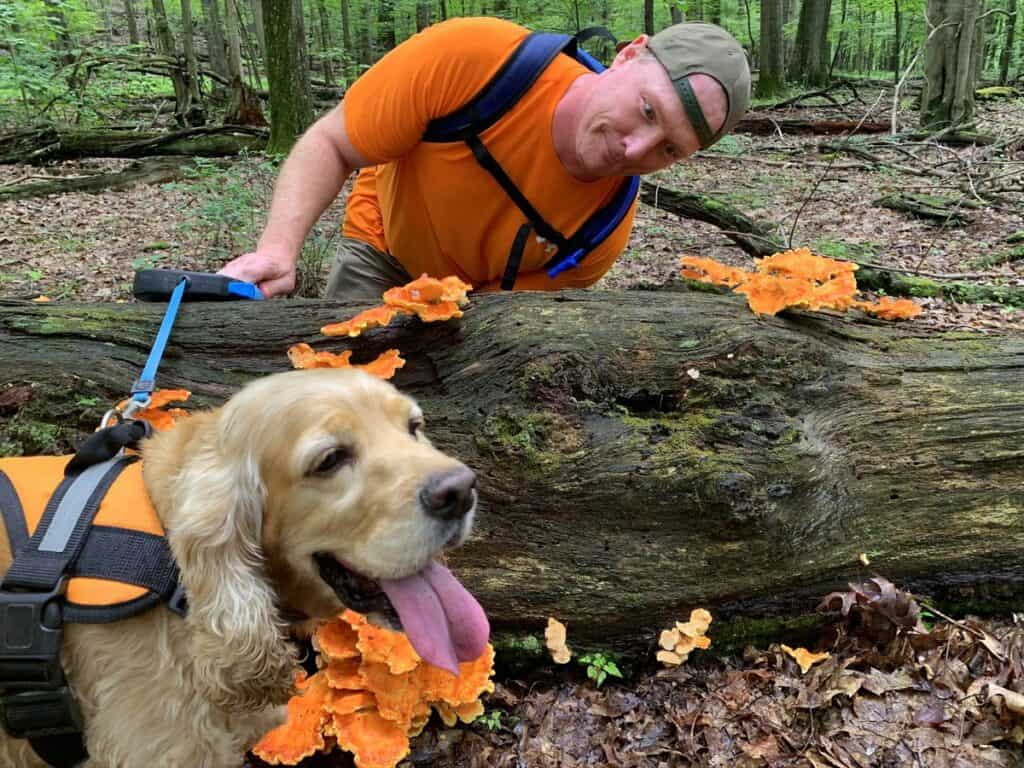 If you are looking for a souvenir to take home or an ice cream cone to wind down your trip, make a pit stop at Market Square Shopping Center. 
You'll find t-shirts, stickers, tote bags, inflatables, and crafty items at Bear Creek Traders, plus you can grab a cone or shake at Huey's Ice Cream. If you need to stock up on any groceries, you'll also find a Shop n' Save Fresh.
The center has a large parking lot, so you should easily be able to fit your RV or camper into a few spaces in the back. 
The Deep Creek Lake area has been built up in the last few years, and now boasts many million dollar vacation homes and a vibrant collection of retail establishments and restaurants.
Once you navigate through, you can still find a peaceful escape in the campground and on the park trails.
We would recommend Deep Creek Lake State Park for first time campers that want an outdoor experience alongside a resort-style lake.