FLASH REVIEW! Samsonite Lumbar Support Pillow
Please note that some of our links are affiliate links, which means at no additional cost to you, we will earn a commission if you click through & make a purchase. Happy clicking!
After driving for a few hours in your RV captain's chair, you feel like you are slouching uncontrollably. 
You know you're rounding your back and your posture is less than perfect. 
Your lower back is starting to get sore, yet there are miles & hours of hunching left to go.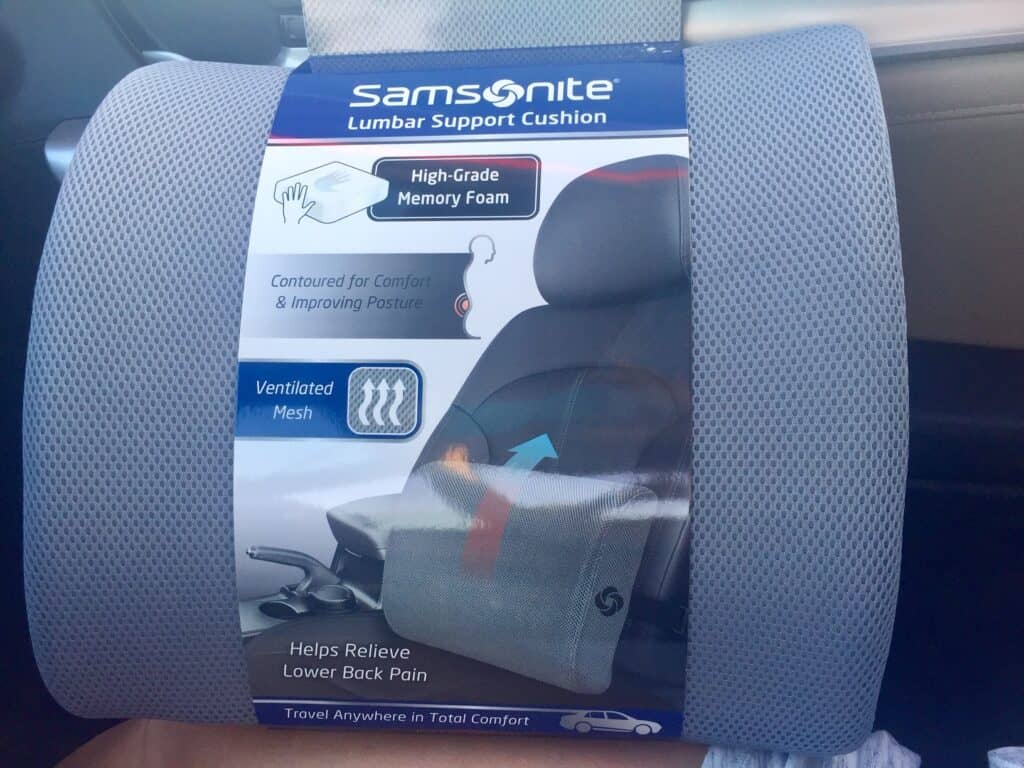 This little gem is made of memory foam with a breathable (and washable!) mesh cover, and attaches to your seat with an adjustable elastic clip-in strap. 
It sells on Amazon for under $20, and we picked one up at Ross's for only $15!
I always use a rolled-up sweatshirt behind my back for lumbar support to drive long distances, so I was very excited to try out the support pillow!
For me, at 5'4″ tall, the Samsonite Lumbar Support Pillow was amazing! Once I settled its straps under the armrests and clipped them together in the back,  I nestled the pillow into my lower back and was good to go. And go and go. 
However…
When Russ, at 6'4″ tall, tried it out, the scene was much different. The seat didn't go back far enough to accommodate both him AND the pillow, so it pushed him too far forward to be comfortable. 
If the pillow fits for you, it does improve your driving posture & provide lower back support on long drives.
Minus a half star for only being usable for half of our driving crew. 
And about that breathability…
Not so much.
It was comfortable at first, but once we turned the air conditioning off & had the windows open, the lumbar pillow got real warm and seemed to hold the heat. 
Minus another half star for being not quite as breathable as advertised. When you boast about your "Keep-Cool Design", I should be keeping cool! 
Overall, we would recommend the Samsonite Lumbar Support Pillow if your driver seat is able to go back far enough to accommodate both you & the pillow comfortably AND you keep the driving cabin at a cool temperature.