Please note that some of our links are affiliate links, which means at no additional cost to you, we will earn a commission if you click through & make a purchase. Happy clicking!
If you like waterfalls and rock scrambles, Ricketts Glen State Park's Falls Trail will easily be your favorite hike in Pennsylvania! 
Ricketts Glen State Park is located in northeast Pennsylvania near Wilkes-Barre. It's about a four-hour drive from Pittsburgh and a two-and-a-half hour drive from Philadelphia.  
The park is named for Robert Bruce Ricketts, a Civil War Colonel who once owned the property. He built trails to the many waterfalls and named each fall after a friend, family member, or Indian tribe.  His family eventually sold it to the state, and it was approved as a National Park site.
But then World War II broke out, and those plans were scrapped. More of the park's land changed hands to make it what it is today- and when it opened to the public in 1944.
Ricketts Glen still did manage to attain 'national' status when it became a National Natural Landmark in 1969, and finally became a State Park Natural area in 1993.
The park not only boasts the beautiful Falls Trail with its 21 waterfalls, it also includes Lake Jean for fishing and kayaking, a campground with tent sites and cabins, and a sandy beach for lounging and swimming. 
Ricketts Glen State Park Campground is partially closed and under construction, so please check the website before you visit to see what's open and available. 
While they would typically have 120 tent sites, 10 modern cabins, and 5 deluxe cottages, only one loop of the campground was fully open when we visited, shown here: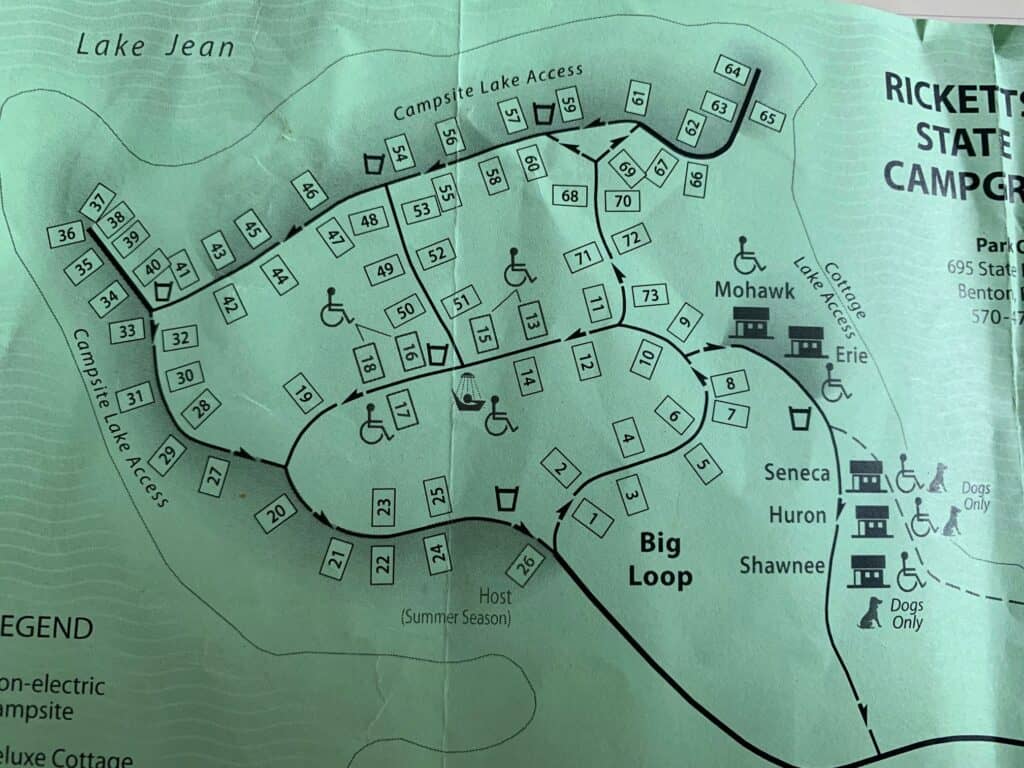 You can see a complete campground map here.
The Big Loop did not have electric service at the campsites, and the sites were NOT pet-friendly. Since we don't have a generator in our RV and would be taking the dogs along, we opted to stay in a deluxe cottage. 
The five deluxe cottages in the Big Loop are situated along Beach Trail with a nice view of Lake Jean. Our cottage was called Seneca.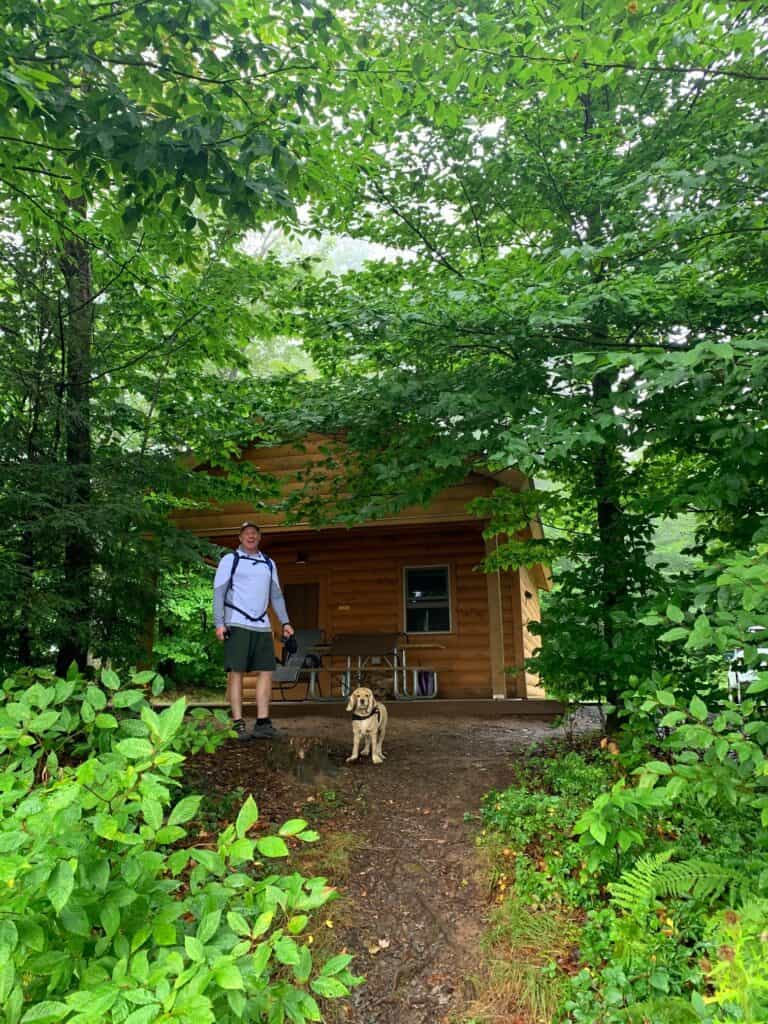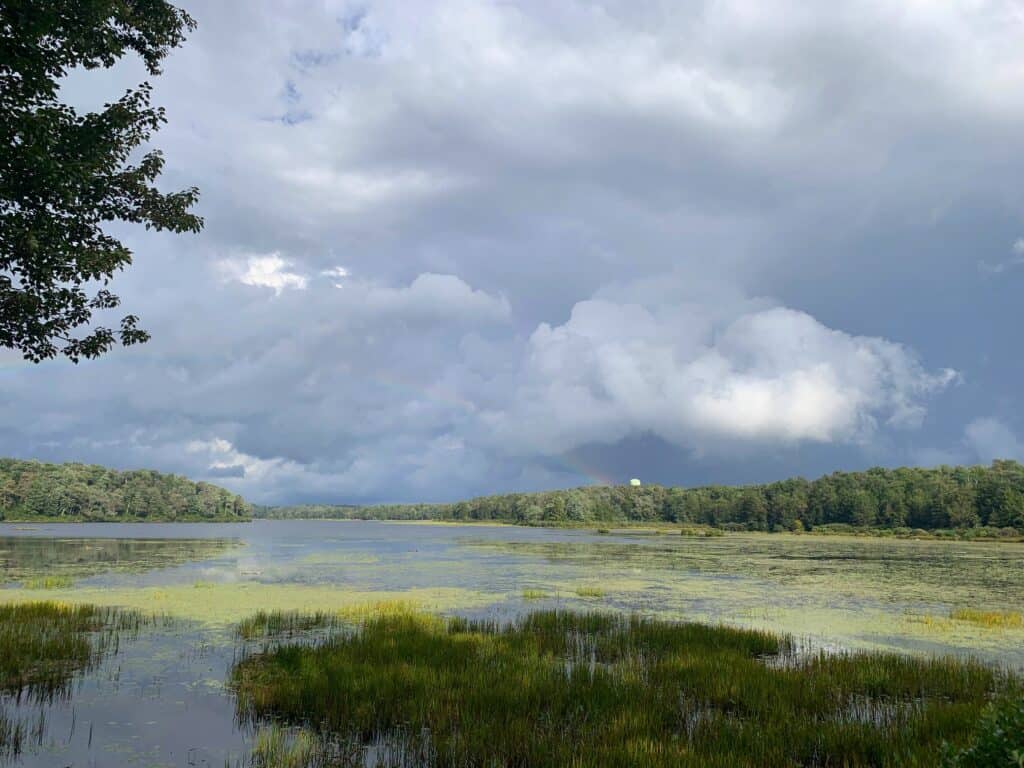 Important side note: a "deluxe" cottage may not be what you think! 
The cottage has two rooms: a kitchen and a bedroom. The kitchen is equipped with a refrigerator, ceiling fan, dining table, cook top, and microwave…but no sink! In the bedroom are two sets of bunk beds, a ceiling fan, and an end table. The outside porch has a picnic table and fire ring. 
So while "deluxe" does equal electricity, it does not equal running water! A water pump is right across the road, so you are able to fill up containers easily, but we definitely expected to have a sink inside the cottage! 
The cottages use the bathroom and shower house located between sites #15 and #17.
I wish I had good things to say about it, but…
The bathrooms were not clean and the showers weren't working well when we visited.
As if the timer buttons *UGH!* didn't make the shower awful enough, the water was quite cold despite the dial appearing to have a hot water option. 
While we found the bathroom and shower house disappointing, our cottage itself was quite clean. In addition, its location along Beach Trail is convenient to the main attraction, Falls Trail. 
Ricketts Glen State Park has 28 miles of trails, but most people come to the park to see the 21 waterfalls along Falls Trail.
You can hike 7.2 miles along Falls Trail to cover all 21 waterfalls, but you can also cut part out to do 3.2 miles and still see 18 of them.
On the day we hiked, a torrential downpour happened for a few hours in the morning – lucky for us (and our reactive dog, Franklin), that meant less hikers in the park and on the trails!
We began our day on Beach Trail, which was right outside our cottage door. The wildlife sightings started almost immediately when I spotted this guy right off the lake shore: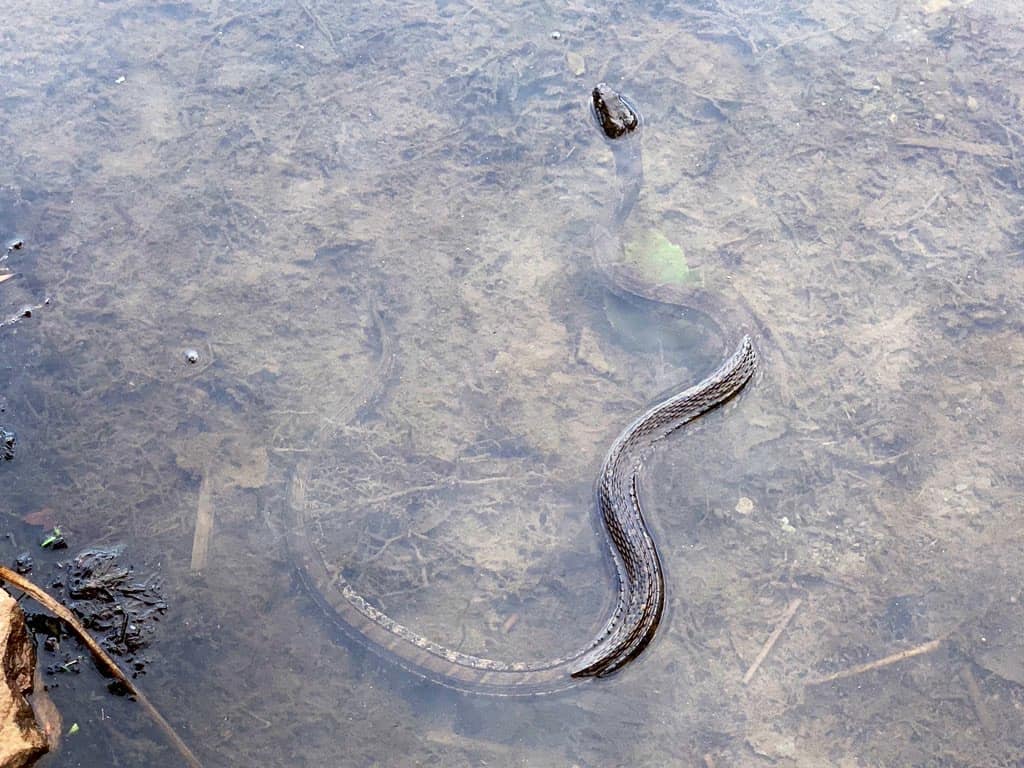 Ironically, I had been reading Secrets of Snakes, and knew he was a non-venomous water snake! 
Walking along Beach Trail, we also saw signs of wildlife – our first bear poop sighting of the year!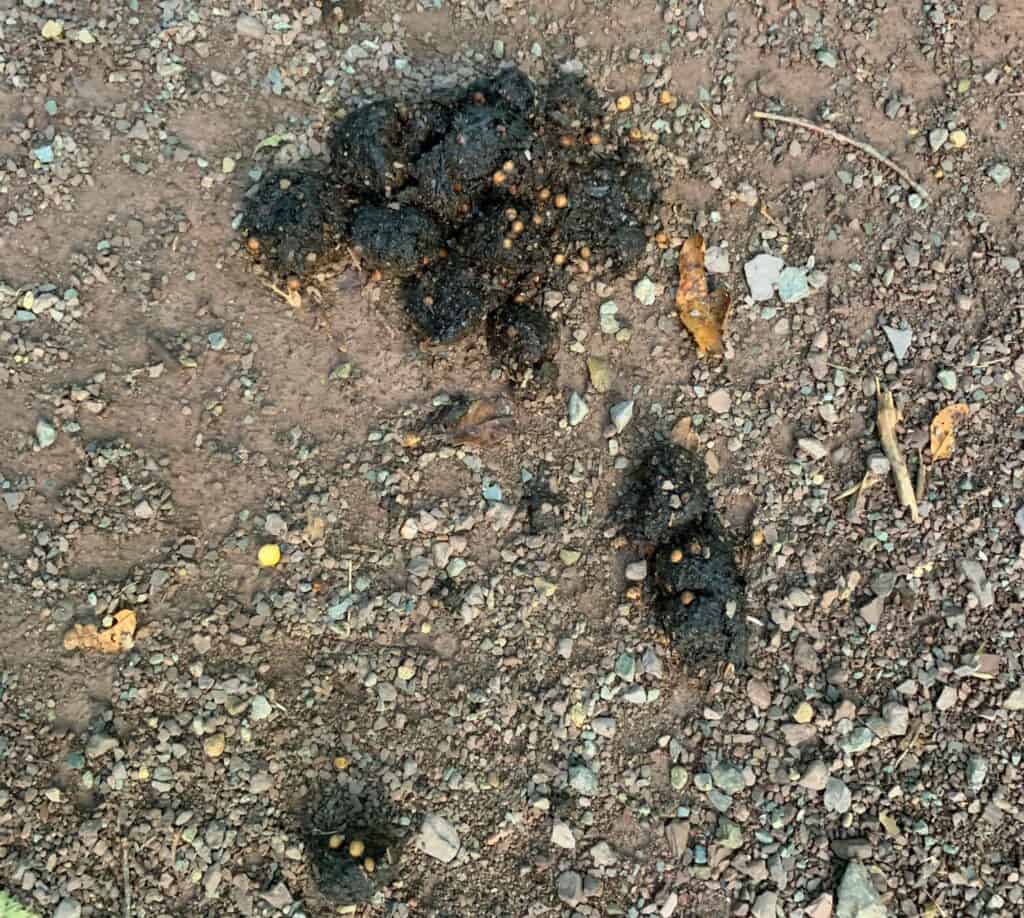 At the end of Beach Trail, we arrived at (surprise!) the beach – which was completely empty after the morning downpour – and Beach Lot #2 Trailhead.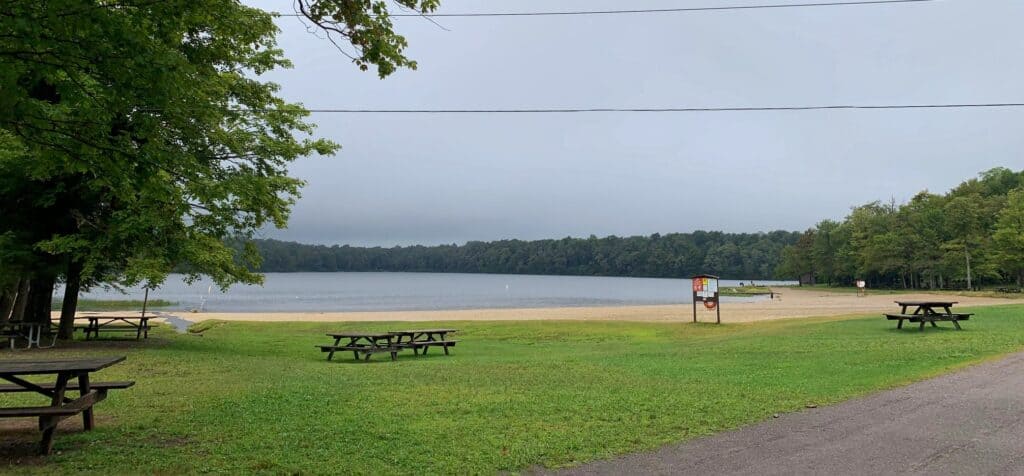 Once you're at Beach Lot #2 Trailhead, you'll see plenty of signs directing you to Falls Trail. 
More guide signs on the trail show you the hiking options, waterfall heights, and waterfall names.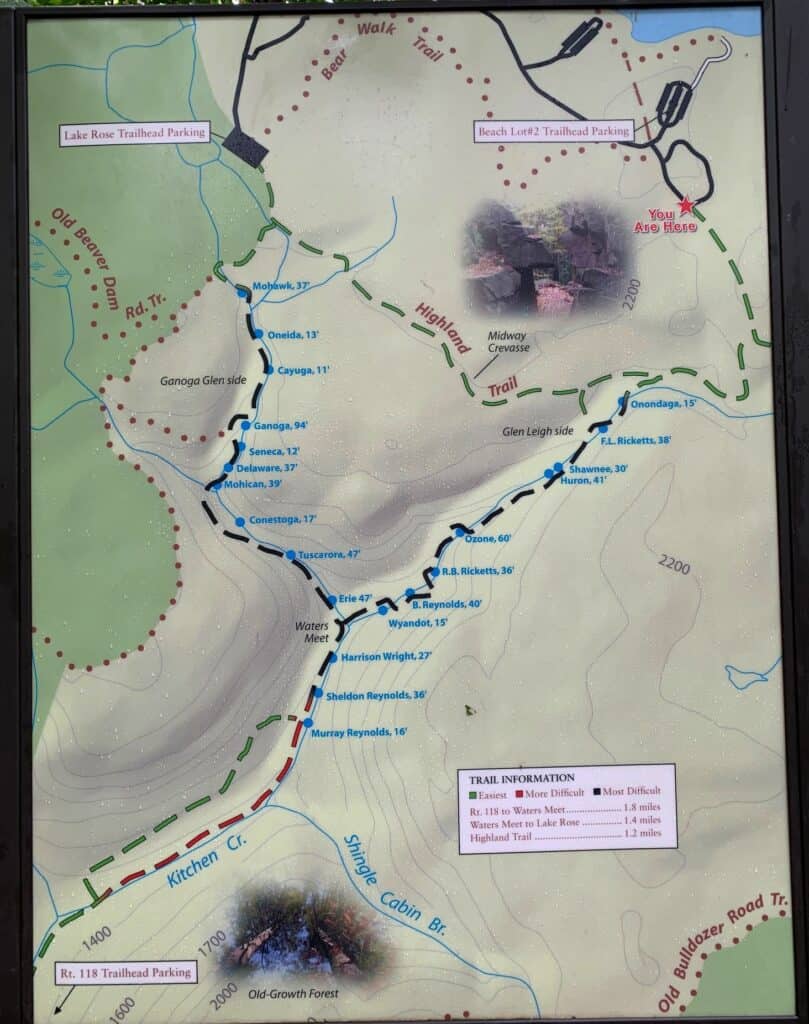 We decided to do the "V" to see 18 of the 21 waterfalls and end in Lake Rose Trailhead Parking. 
What an adventure! The earlier downpour made this one of the most precarious trails we've ever tackled – especially with two dogs! 
BUT WE LOVED IT! What an amazing network of stone stair cases, rock scrambles, and places to let the dogs take a dip. 
AND THE WATERFALLS! They ranged in height from 11 to 94 feet tall and looked straight out of storybooks.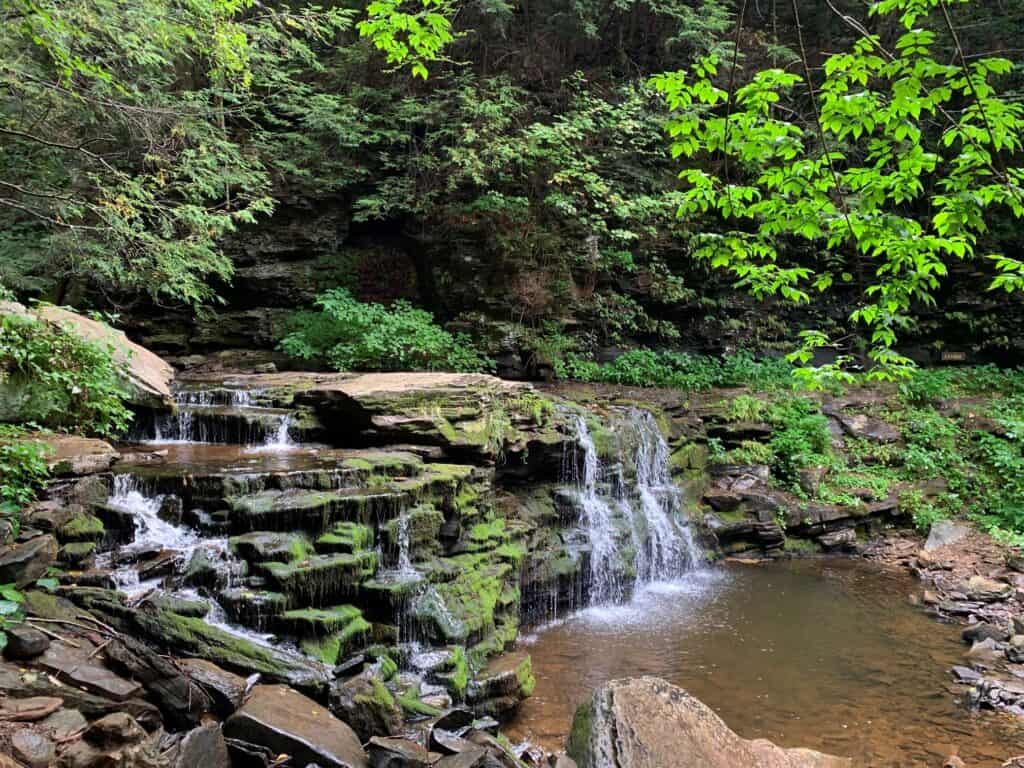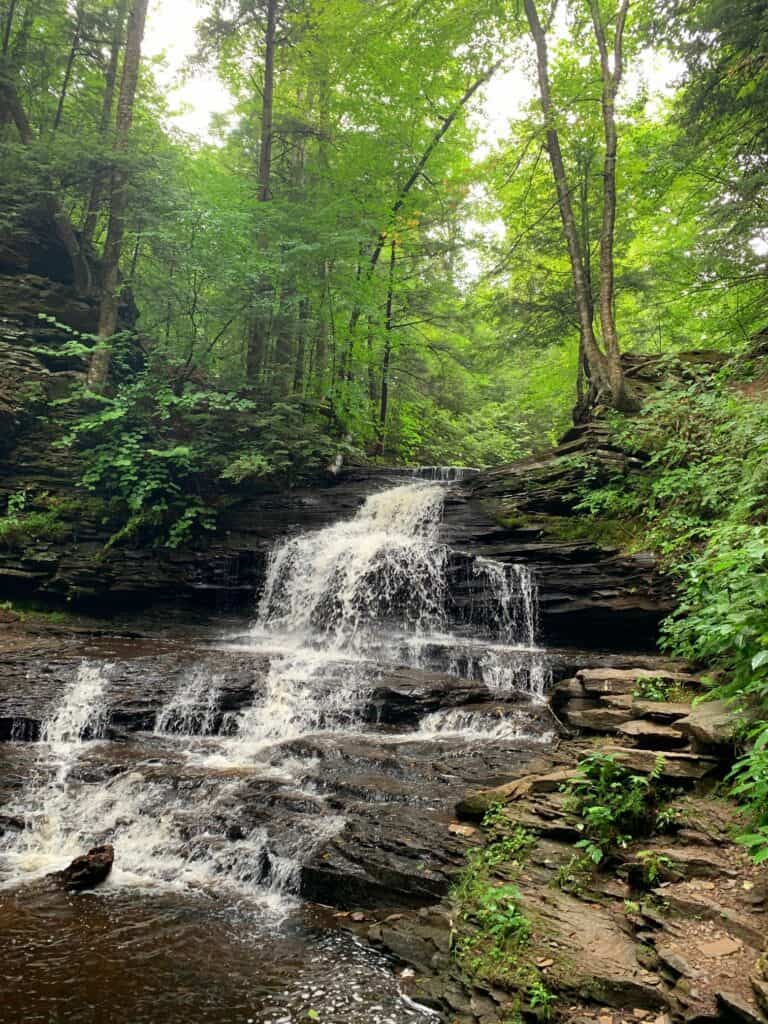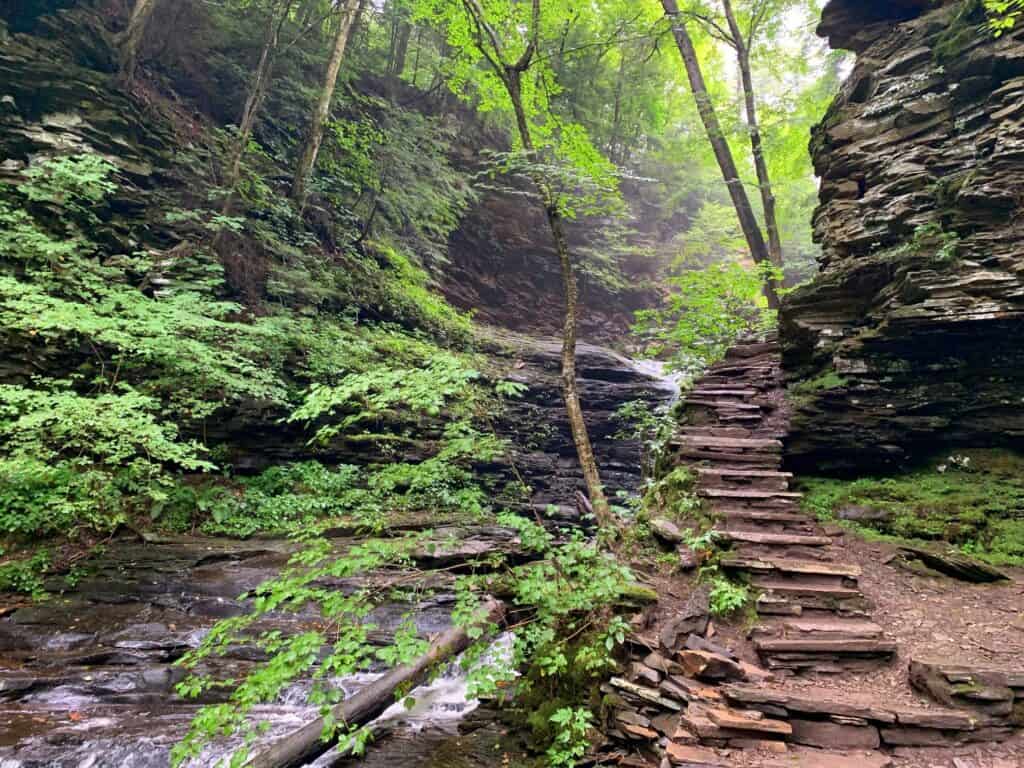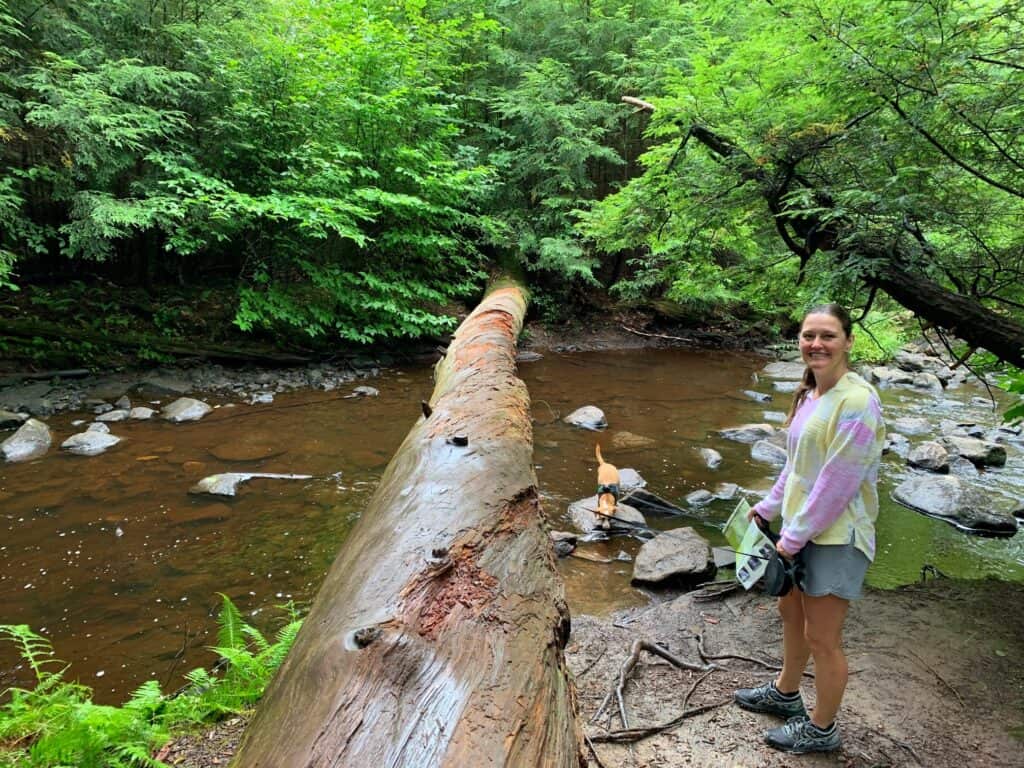 There were some really steep ascents and descents, as well as some biiiggggg rock steps, so be prepared to keep your dogs on a tight leash if they're along for the hike.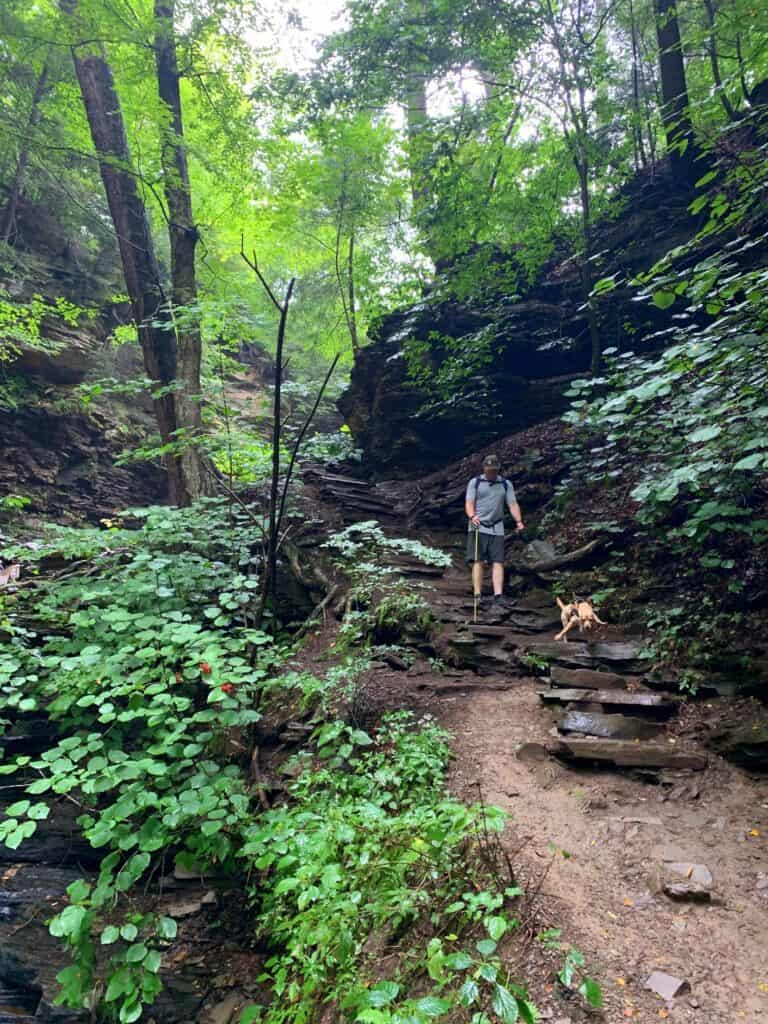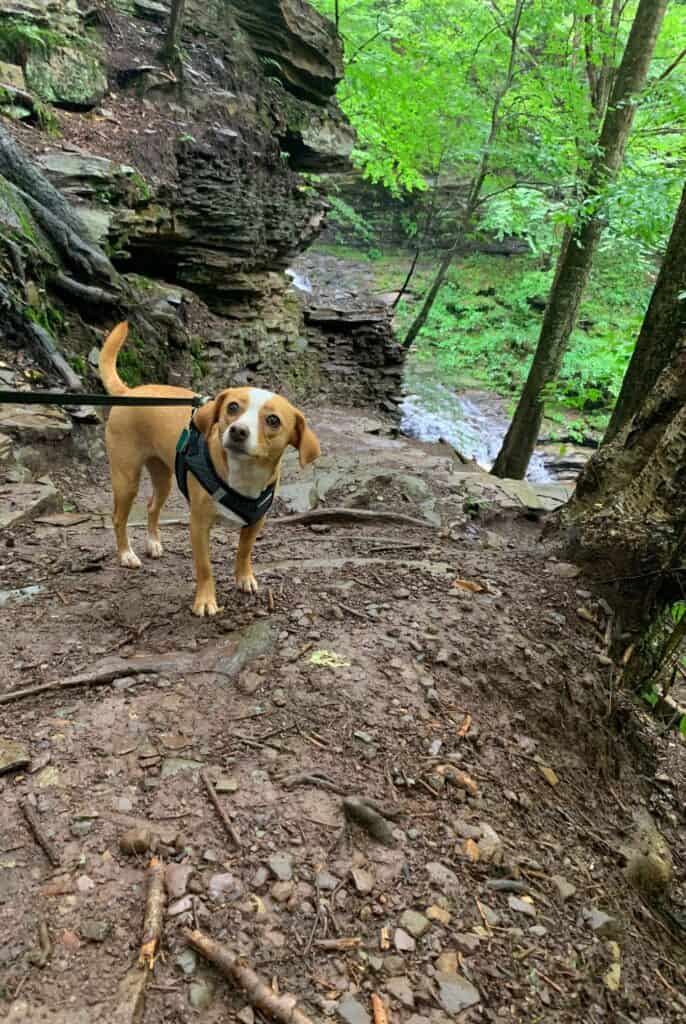 By the end of our hike, the crowds were beginning to pick up.
If you have reactive dogs or would like a less busy hike, we'd suggest visiting during the week rather than on the weekend. Franklin was losing his cool by the end of the day. We were glad to get off the busy trail.
On the walk back to the cottage,  we saw more wildlife, although really small wildlife. A bunch of red efts were crossing the trail and the road.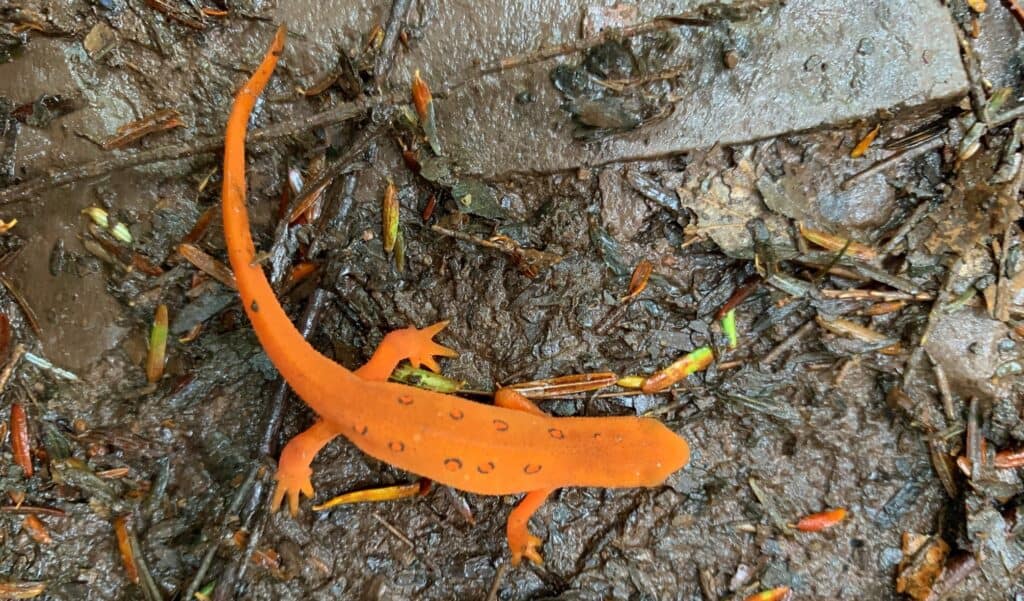 PIT STOP! The Sawhorse Cafe
If you are heading westbound home, you can stop for a quick snack & cup of joe at The Sawhorse Cafe in Williamsport.
Just 45 minutes from Ricketts Glen State Park, they have a nice selection of coffees, teas, pastries, and sandwiches to break up your drive – plus they source their selections from locals farms!
We highly recommend the half-caff cofee and cranberry-blueberry bars.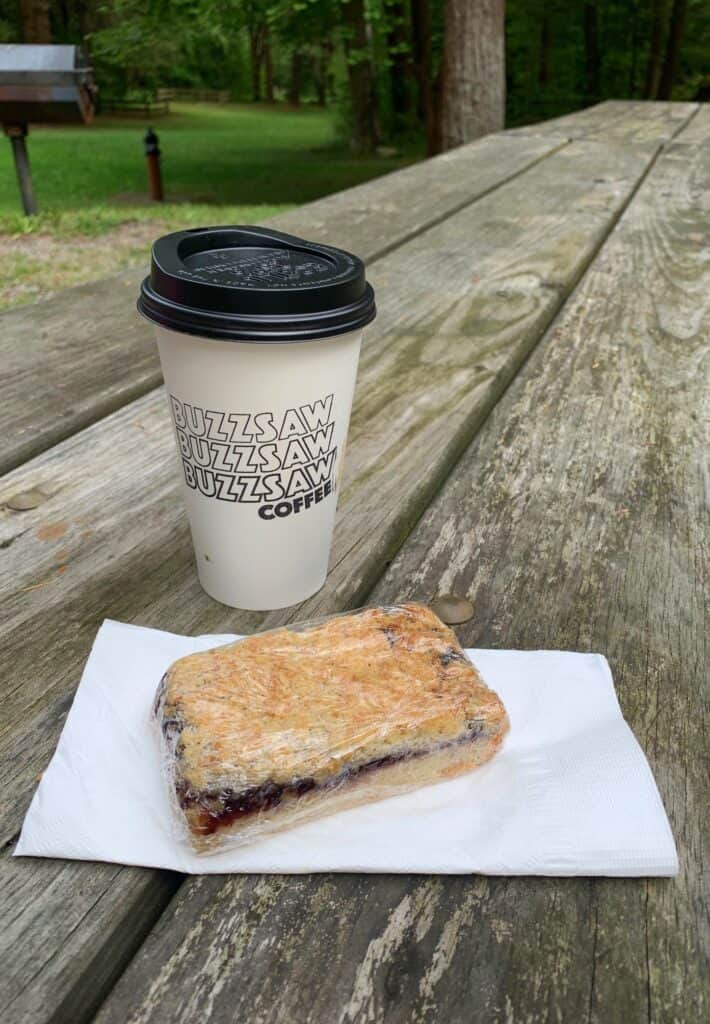 Side Trip: Ravensburg State Park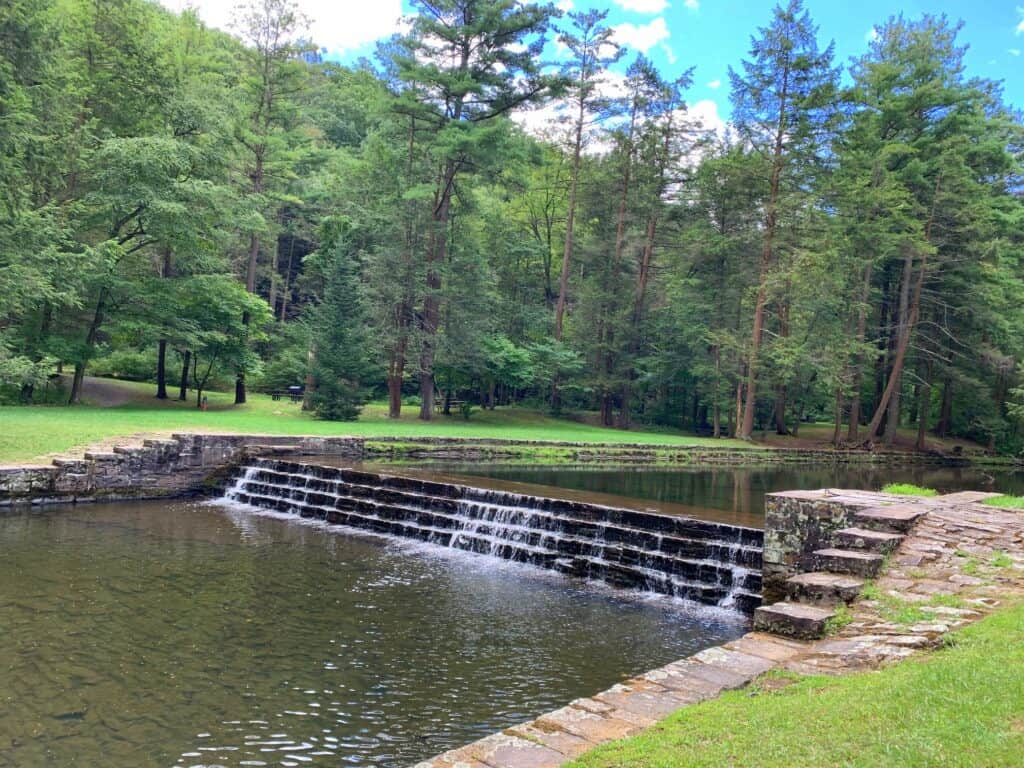 If you are still headed westbound after the cafe, you can stop for a quick hike about an hour away at Ravensburg State Park.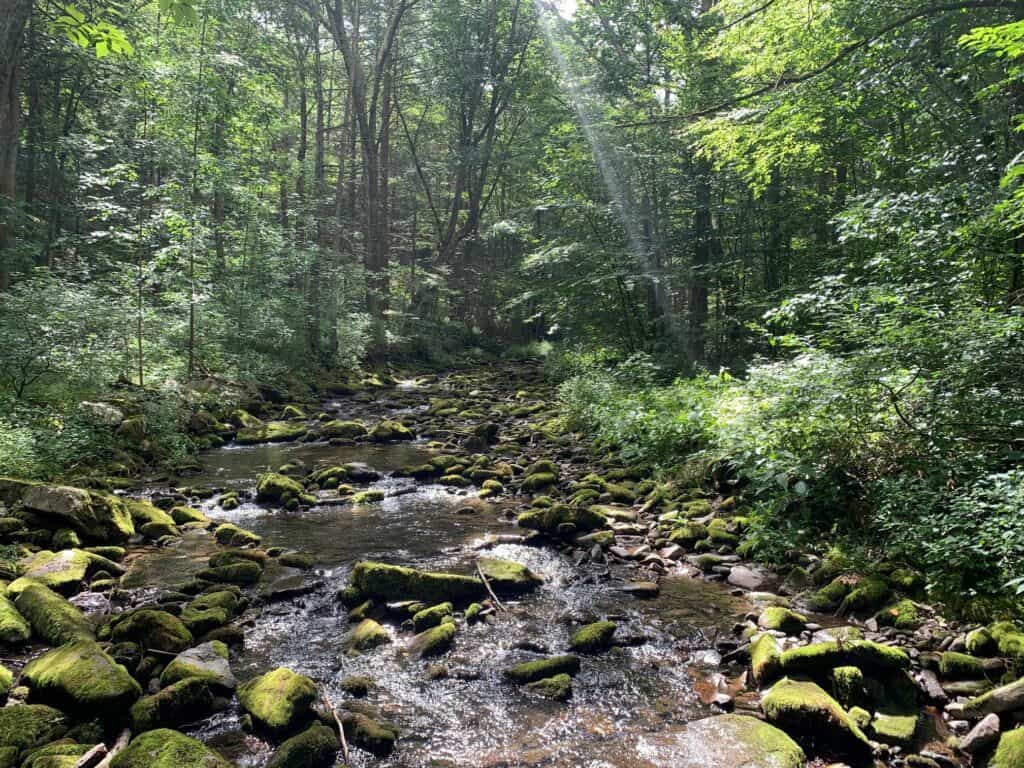 This smaller park encompasses just over 75 acres, and you can take a pleasant creek-side hike on Raven Trail to break up your driving.  It also has a small, rustic tent campground.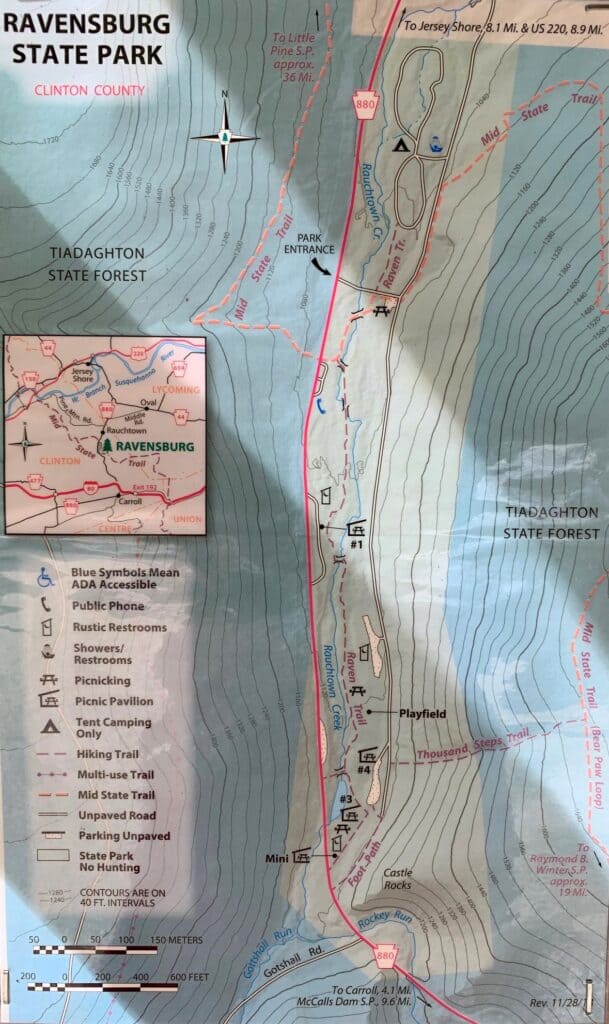 Franklin had a little dust-up with an unleashed canine camper, so we cut this visit a short. If you'd like to share about the other trails at Ravensburg State Park, please leave a comment below!
Rained Out Side Trip: Swatara State Park
On the way to Ricketts Glen State Park, we tried to make a brief stop at Swatara State Park to see the fossil field.
We only got a few pics in before the heavens opened up and washed out our side trip: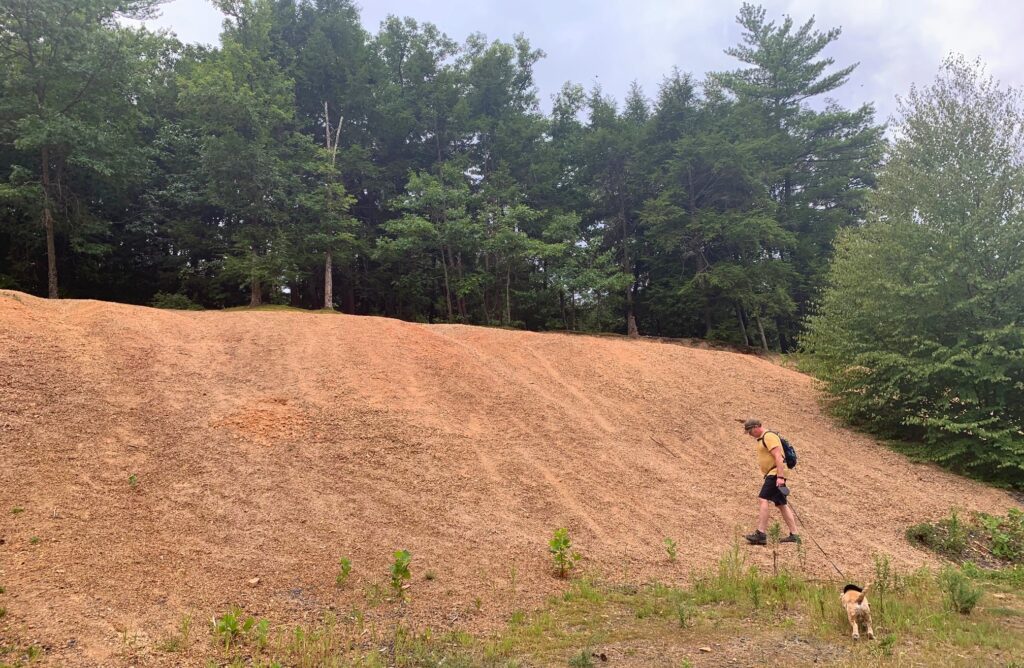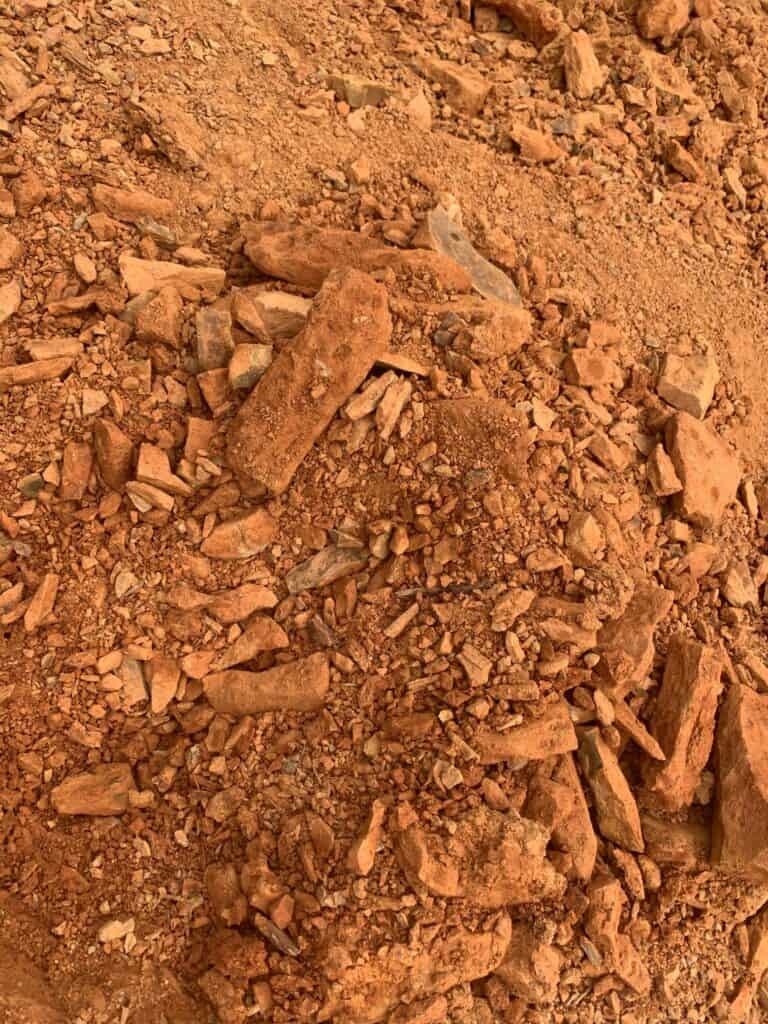 We hope to visit again in more favorable fossil-finding weather!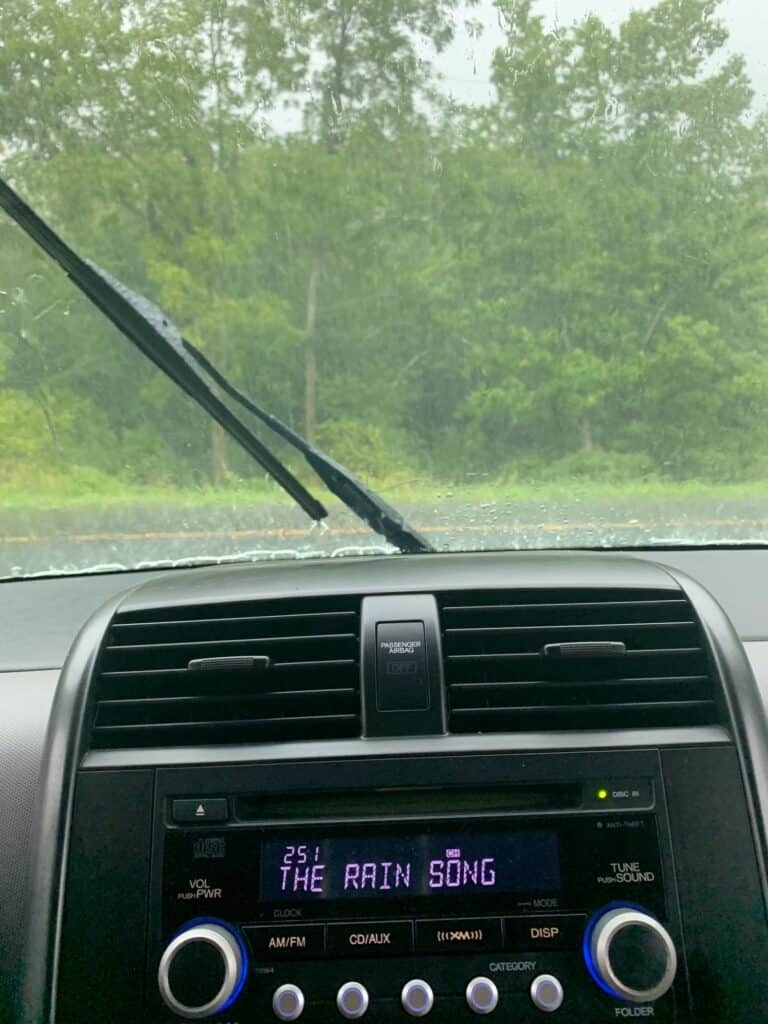 While we discovered we weren't "deluxe" cottage type travelers and really missed our RV on this trip, the scenery and hiking made up for it!
Ricketts Glen State Park is definitely worth a visit if you love waterfalls and steep-step hiking!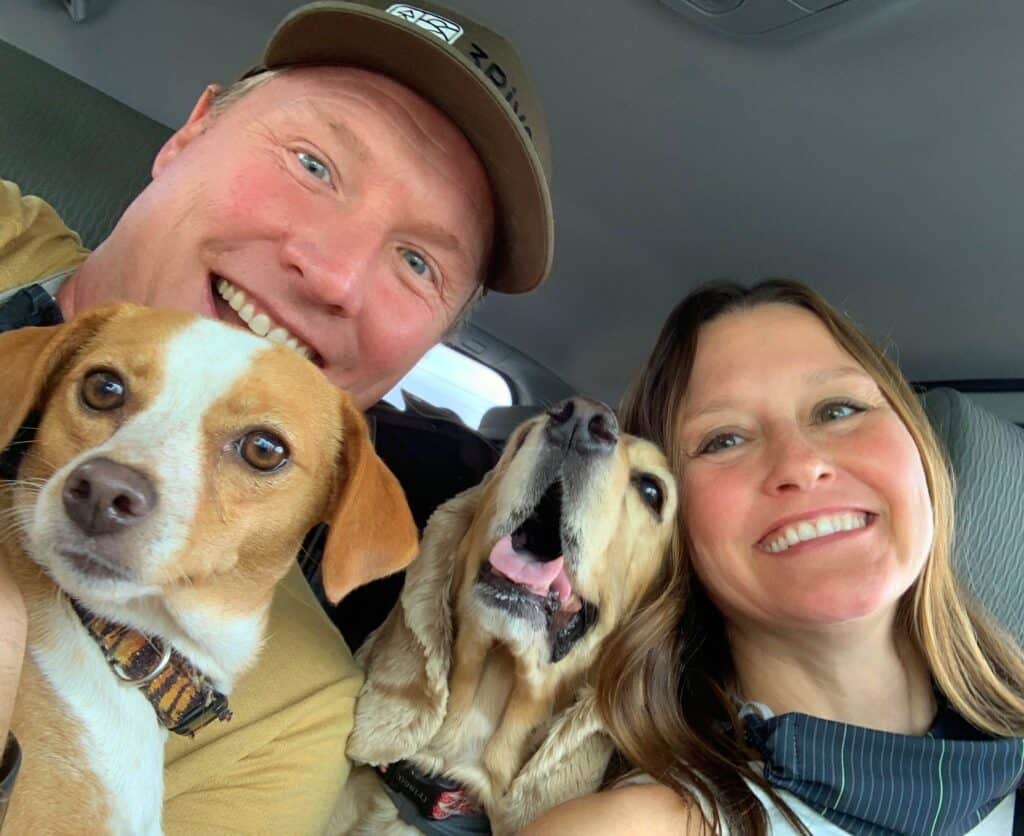 Traveling through north-central PA & need an interesting place to get out & stretch? Try Austin Dam.