Trip Report: Keystone State Park in Pennsylvania
Please note that some of our links are affiliate links, which means at no additional cost to you, we will earn a commission if you click through & make a purchase. Happy clicking!
Keystone State Park in southwestern Pennsylvania offers hiking, fishing, biking, kayaking, and swimming opportunities for day trippers or weekend campers.
Keystone State Park is located in Derry, Pennsylvania, about an hour east of Pittsburgh.
In the early 1900s, Keystone Lake provided the water flow for the Keystone Coal and Coke Company. They were in the business of washing and cooling coke and coal for steel-making activities in the area (Go Steelers!).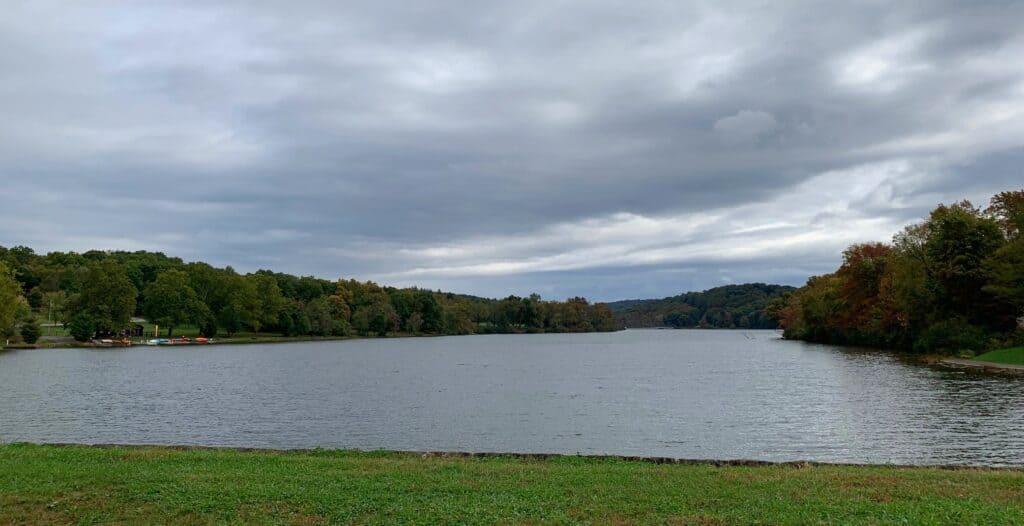 The company's leadership also used the lake for recreation, and even went so far as to build a small lodge that is now the James A. Kell Visitor's Center.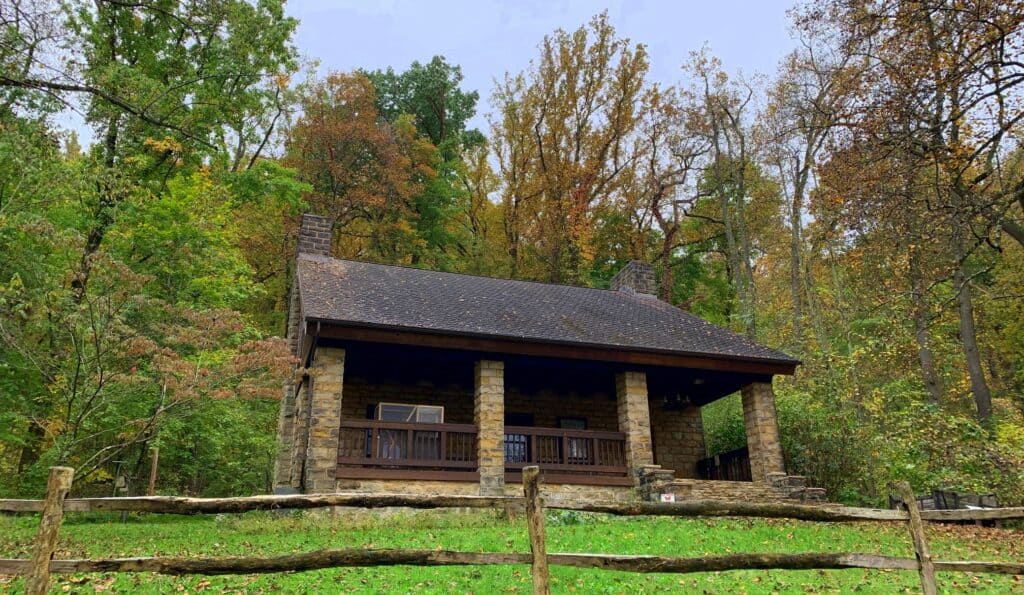 The area around and including Keystone Lake became a state park in 1945.
When the mine finally closed in the early 1950s, it left behind some footprints in the park – like a sealed mine entrance and some awful mine drainage (we'll get to that later!). 
Keystone State Park has two campgrounds for RVs and tents, plus 11 modern camping cabins, 3 camping cottages, and 2 yurts.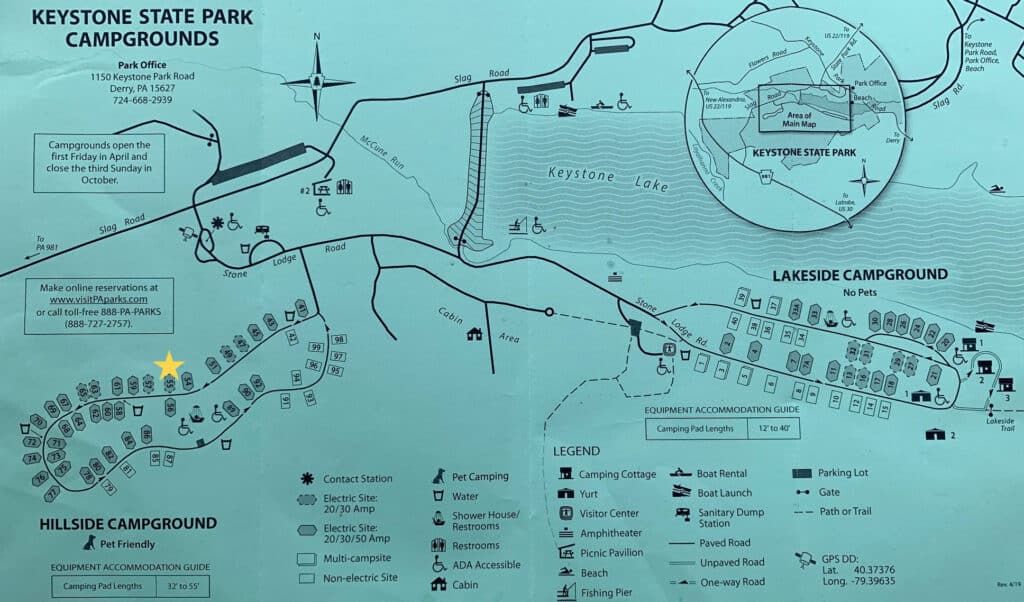 The most scenic RV spots looking out over the lake are in Lakeside Campground, but WOMP WOMP no pets are allowed!
We were at site #55 in the pet-friendly Hillside Campground.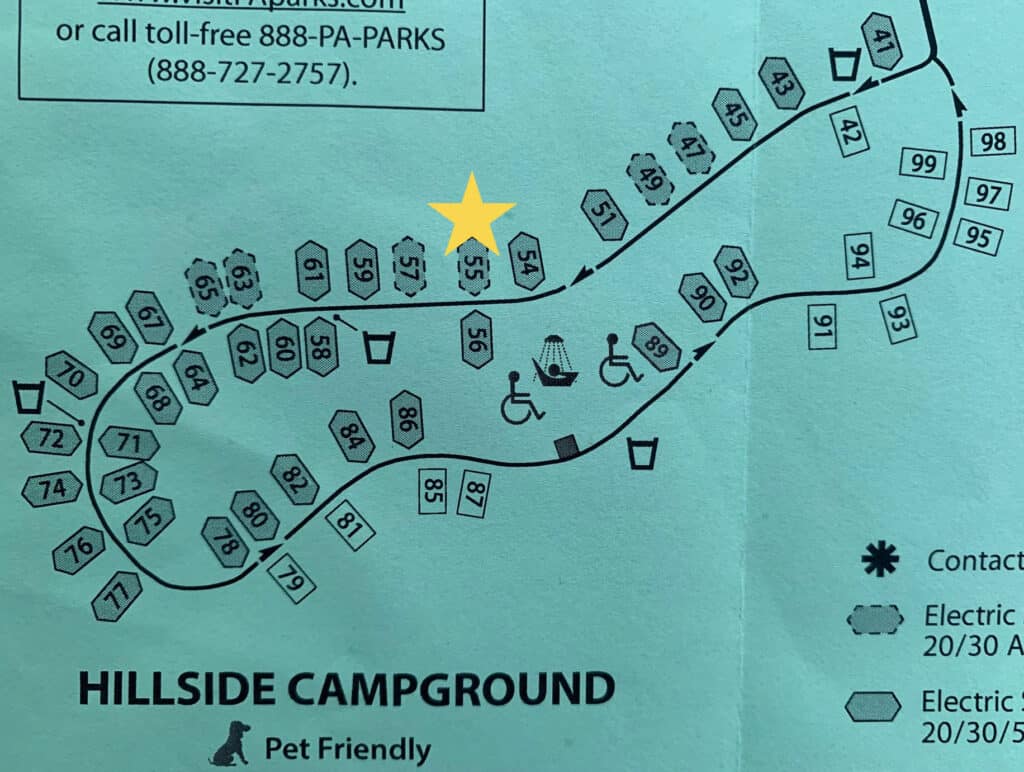 Site #55 is not shaded, but it is surrounded by trees and greenery for some privacy.  The other outer loop sites are similar. The sites on the inner loop around the bend, however, seem a little tight.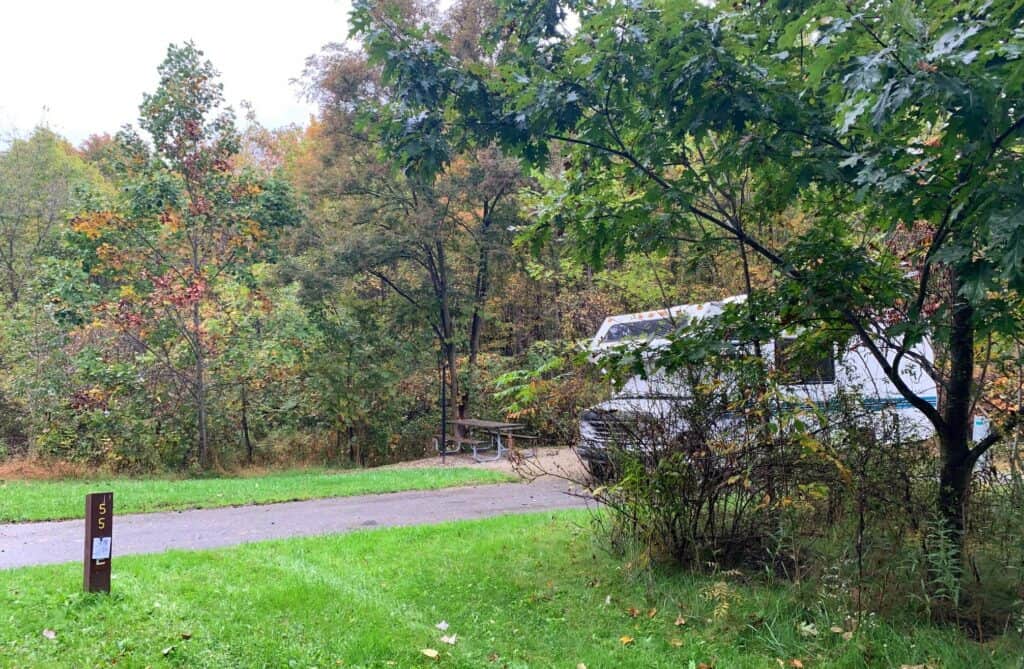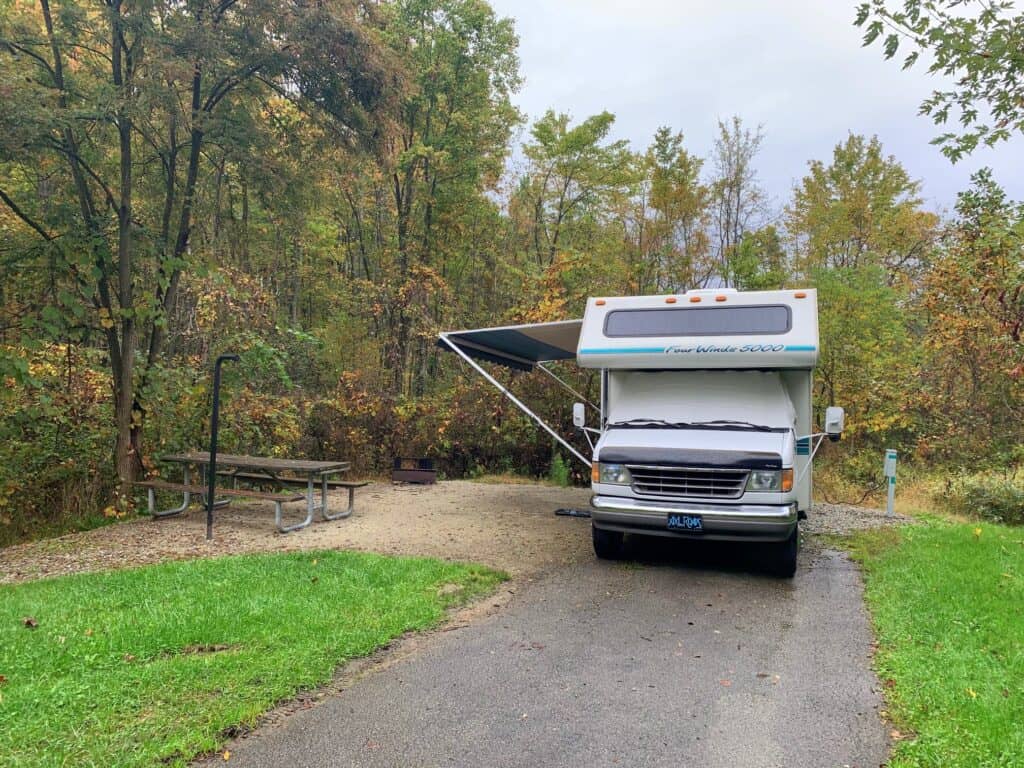 Site #55 is about three spots from the bath house, which sits up on a small hill. Here's what you can see of it from our spot: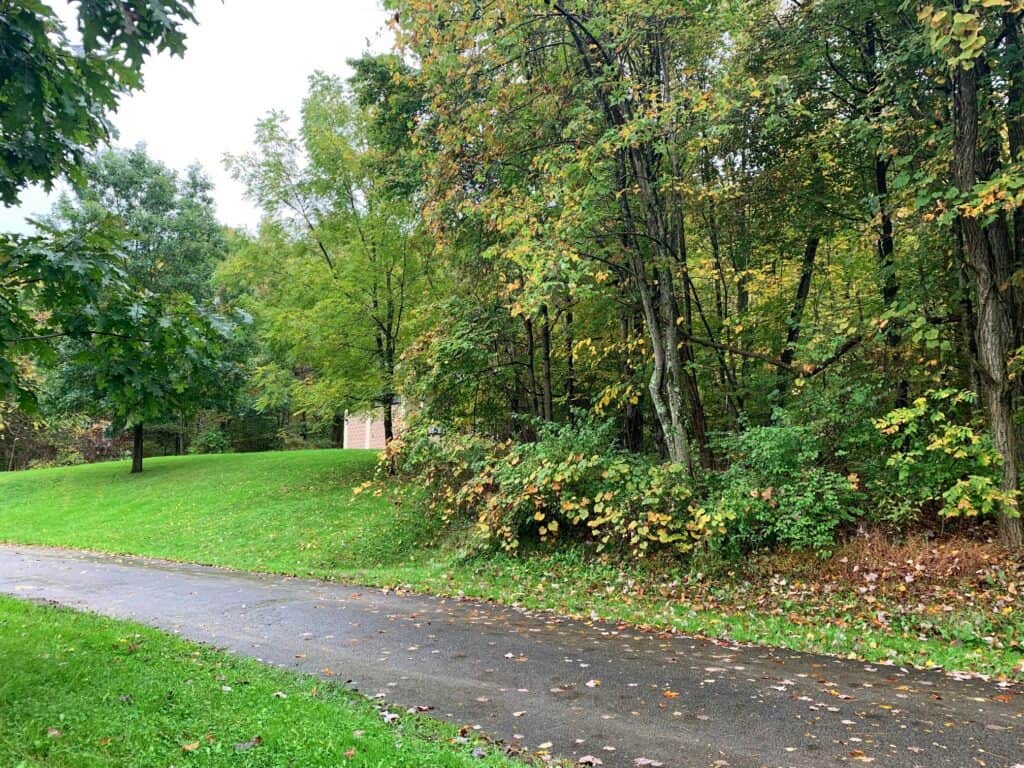 The bath house is quite clean, and the showers are thankfully very hot with NO timer buttons!
Who needs timer buttons on hot showers? NO ONE EVERRR. 
PRO TIP for the Campground
Drainage is not optimal in the campground. If you have an older, thicker outside rug to take on this RV trip, do it! Our site had some cinders, which were easily tracked inside – so the rug helped with that, too. 
Keystone State Park only has about 8 miles of hiking spread over 6 trails, making it easy to cover most, if not all, of the park in one day.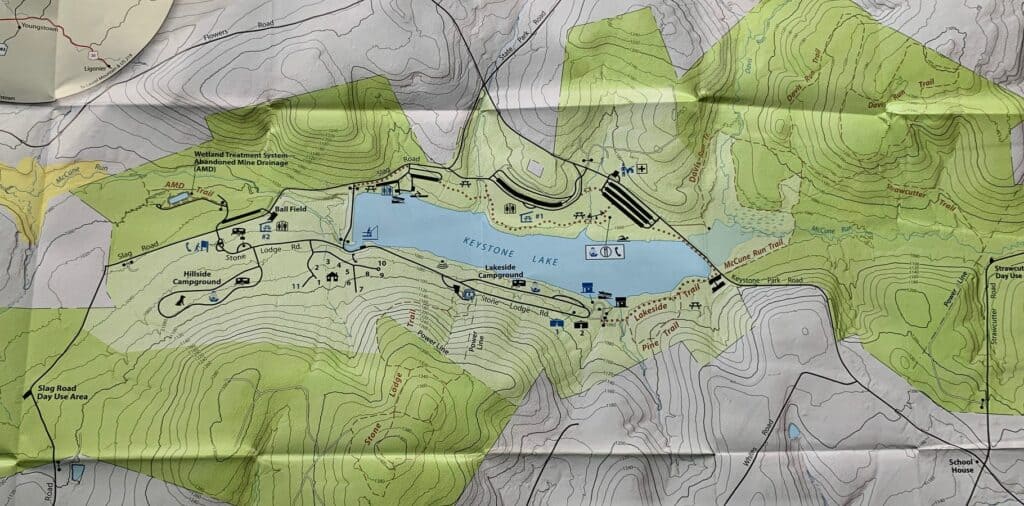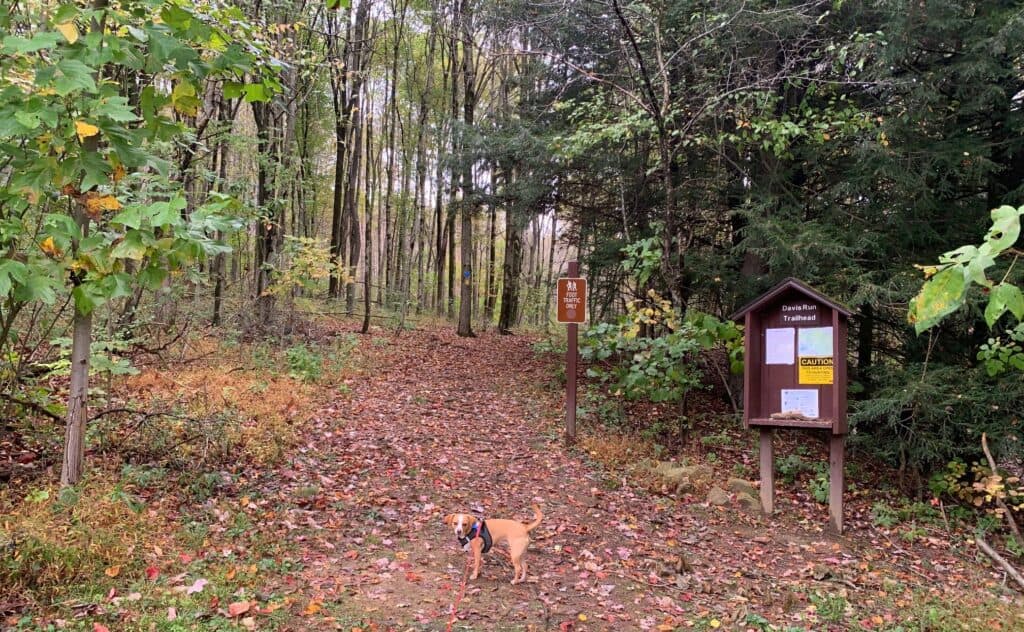 To make a 5- to 6-mile loop from Hillside Campground, you can take Stone Lodge Road and walk across the end of the lake.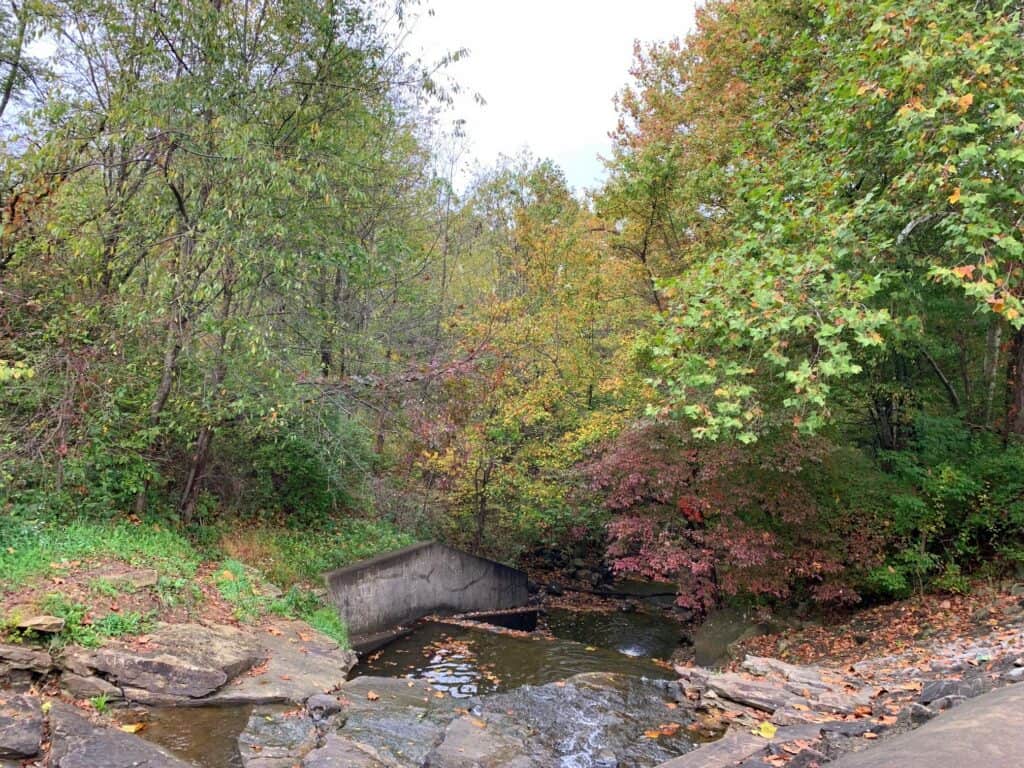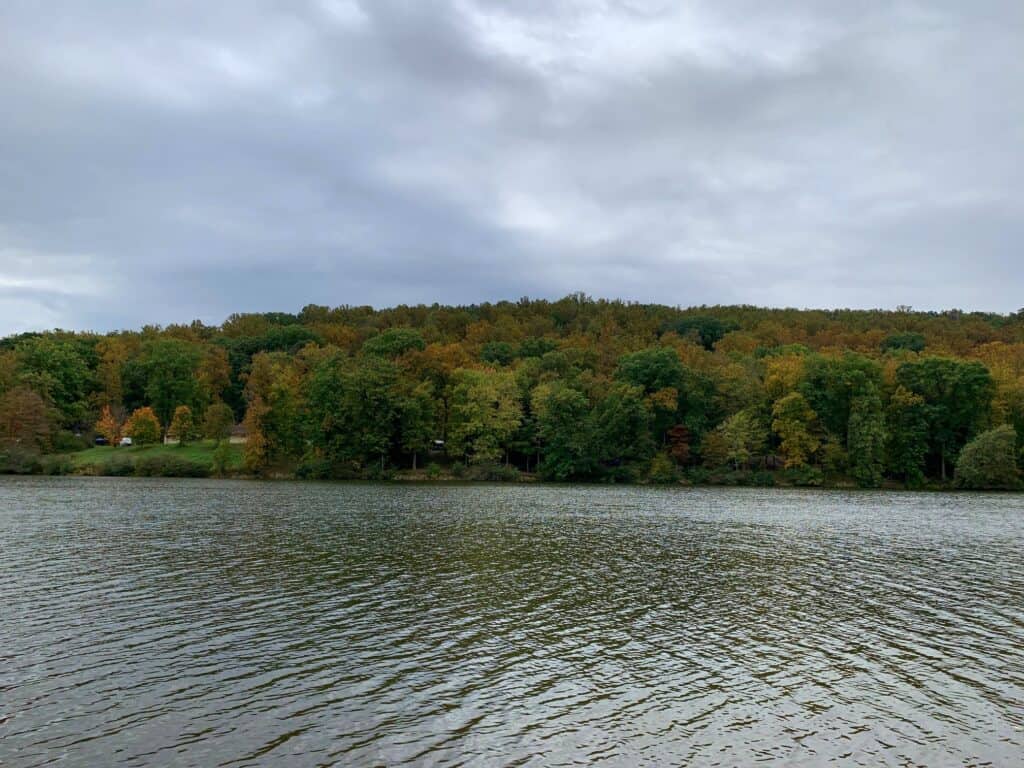 After following Lakeside Trail to the large parking lots, you loop David Run Trail with McCune Run Trail.
You'll end up on the other side of the lake back onto Lakeside Trail.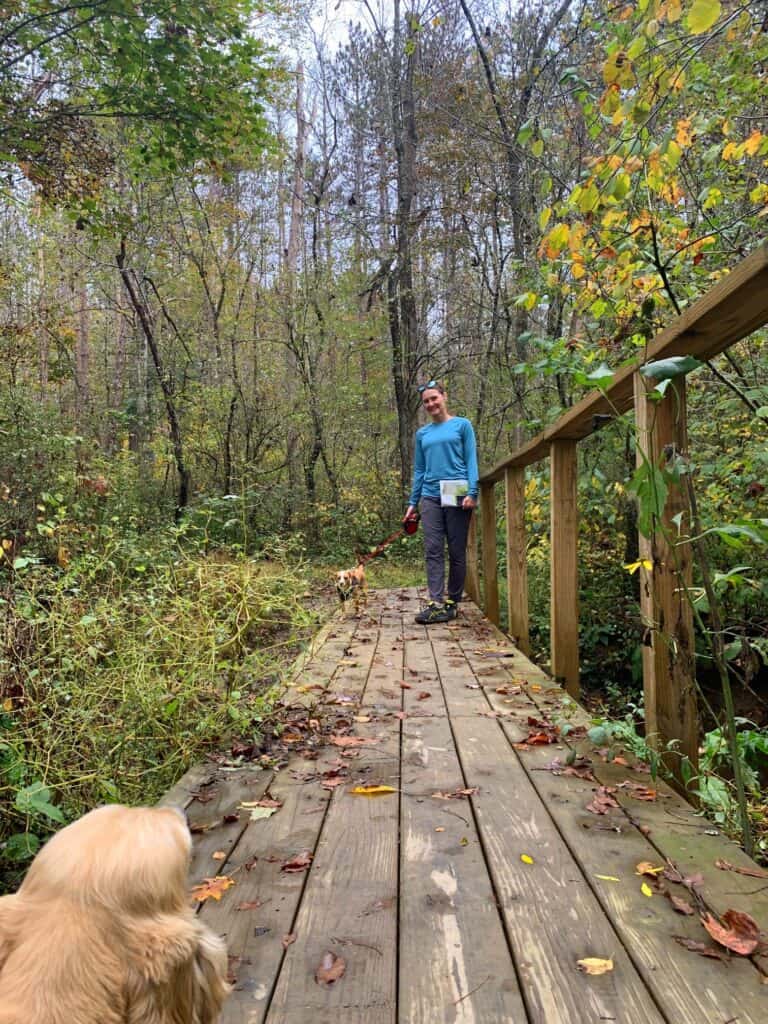 Do the quick 1/4 mile Pine Trail loop before continuing on Lakeside to hit a loop of Stone Lodge Trail. 
Why do I say "A" loop and not a specific loop? 
Mainly because the loop we completed looked like this: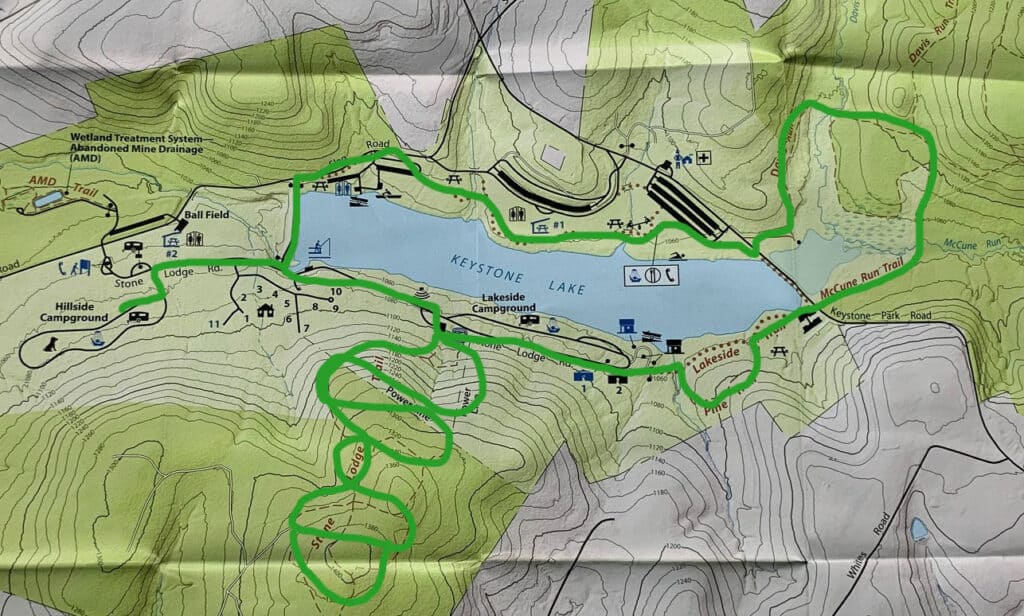 Right now you're asking yourself, WHAT THE HECK HAPPENED ON STONE LODGE TRAIL? 
And I'm answering, WOW, DID WE TAKE SOME WRONG TURNS.
When we entered the trail and I saw the loop options, I snapped a photo of the trailhead map just to keep it straight.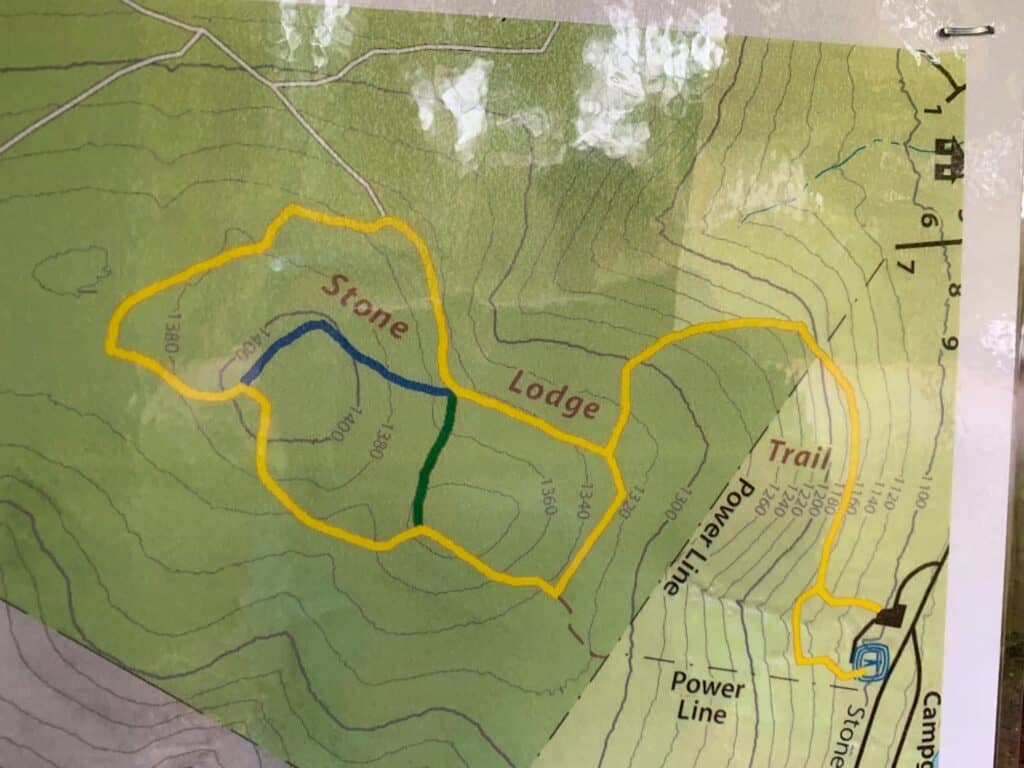 Fair warning! There are a lot of rogue trails that branch off and meet back up, and before you know it- BAM! Things are looking familiar, and you've looped the loop all wrong. 
We probably only retraced about half a mile in the end, so no big deal! We had a good time anyway.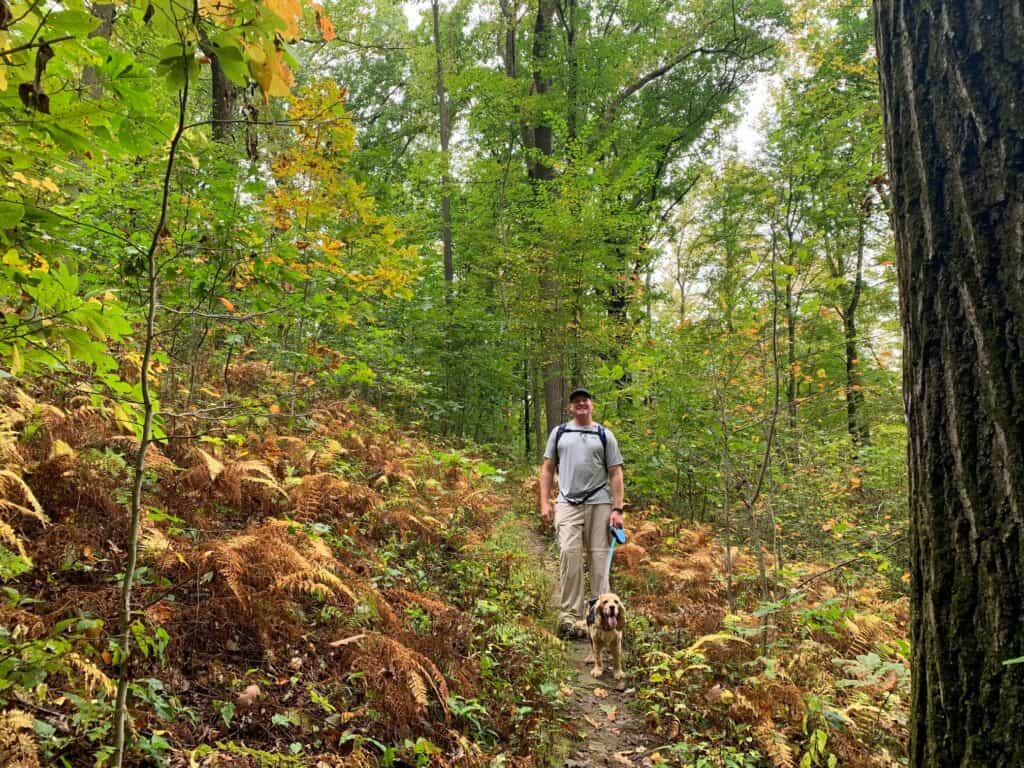 If you get back to the campground and still have some energy, take a quick walk down to the Abandoned Mine Drainage Trail to see the wetland treatment system in action. 
If you've ever seen what looks really rusty water in a rusty waterbed, you've probably seen mine drainage.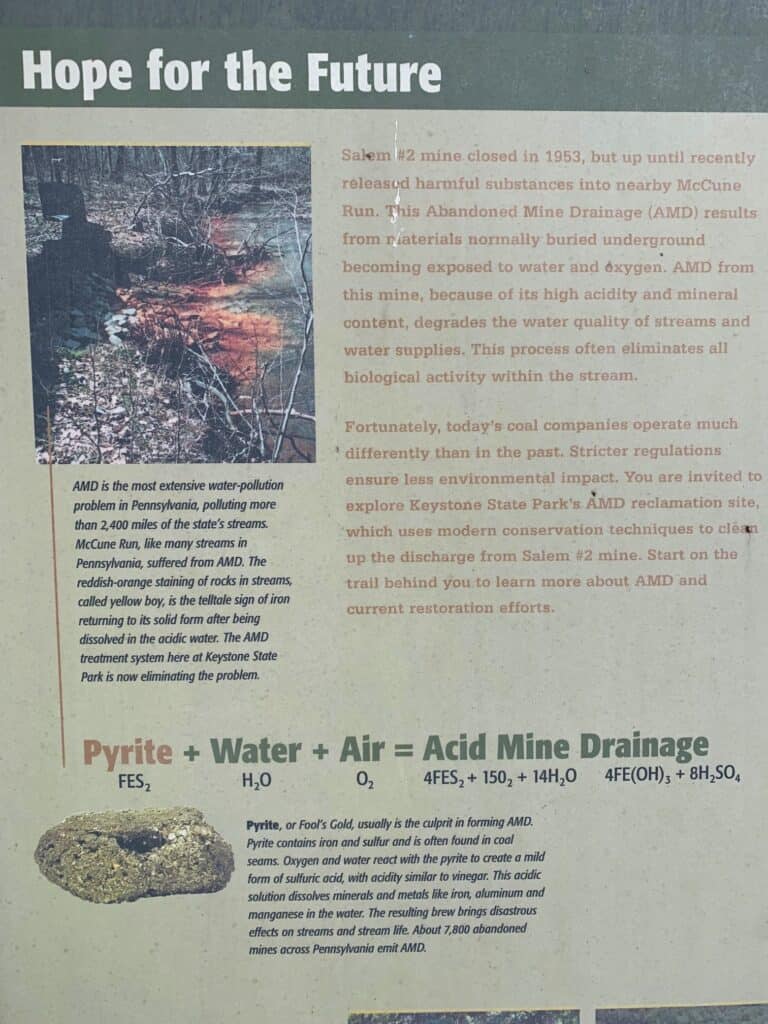 When that water is filtered through a series of limestone ponds, it eventually flows clear and clean enough to return to a creek or other waterway. 
Here's what I captured from end to end of the system at Keystone State Park.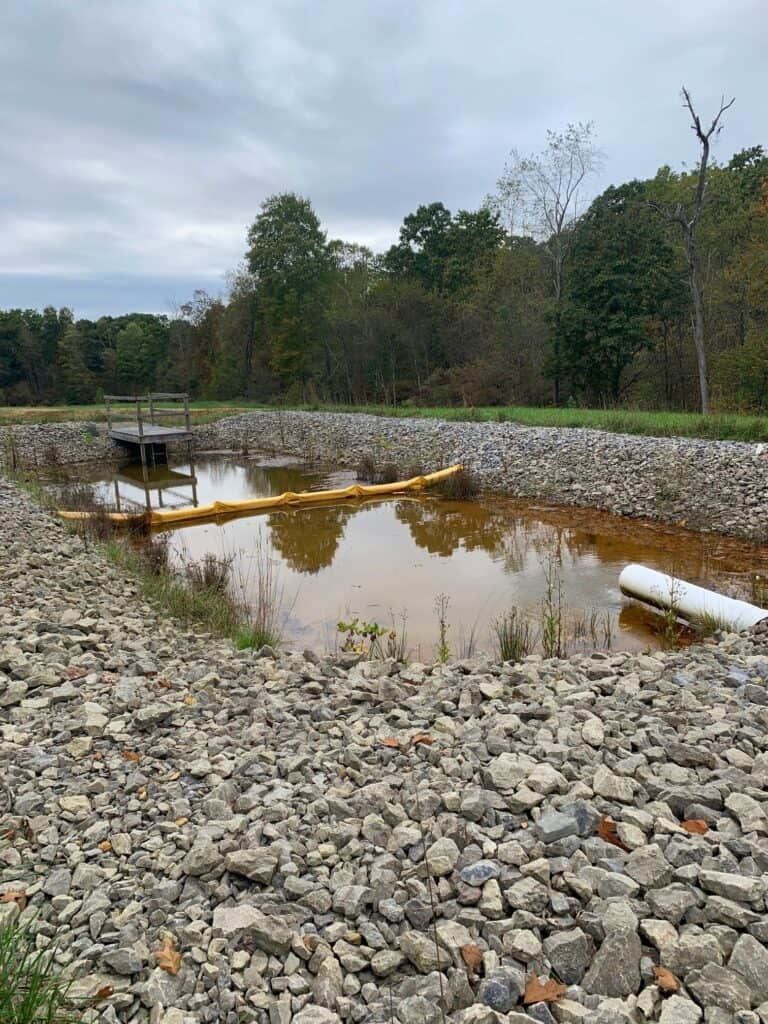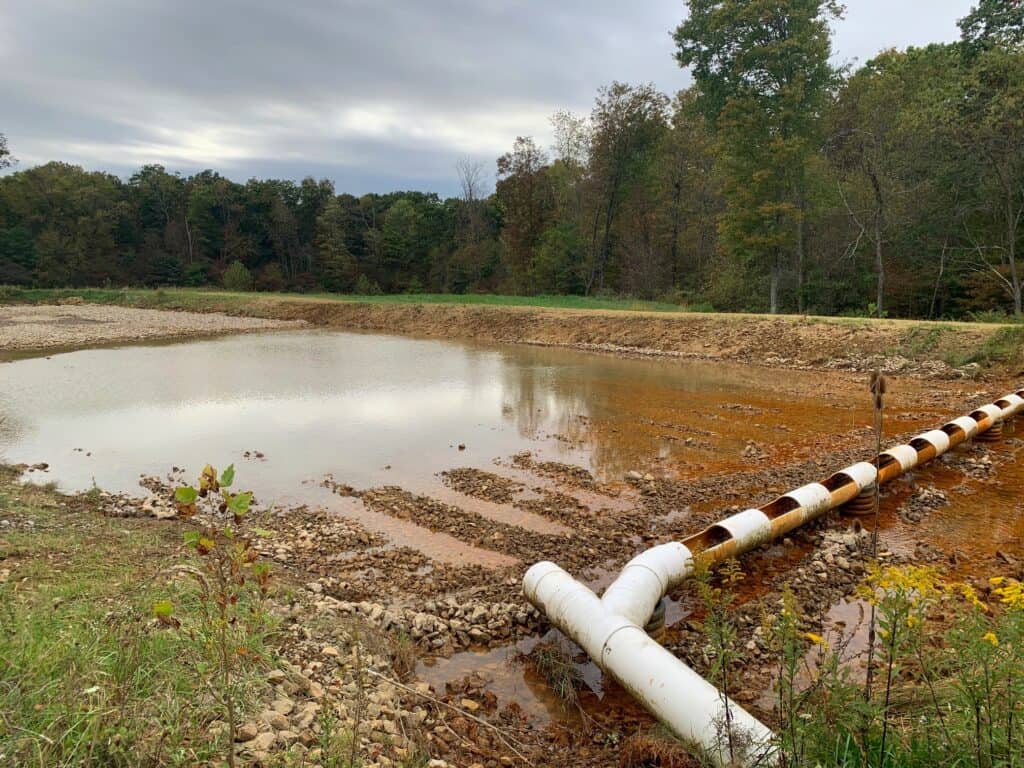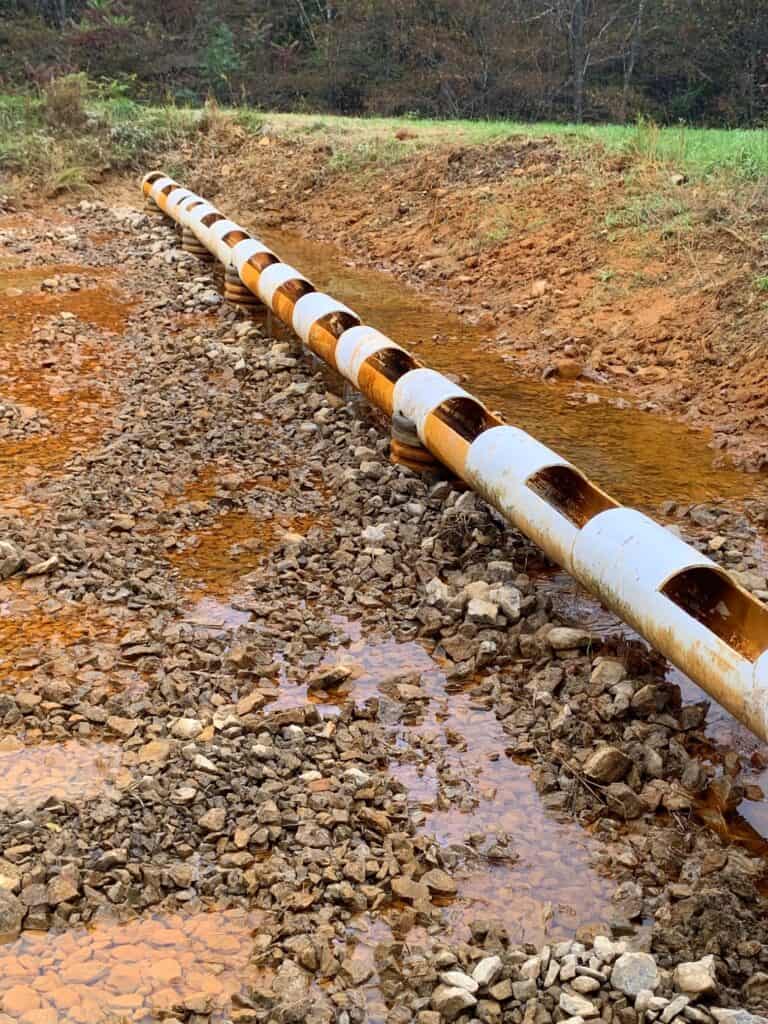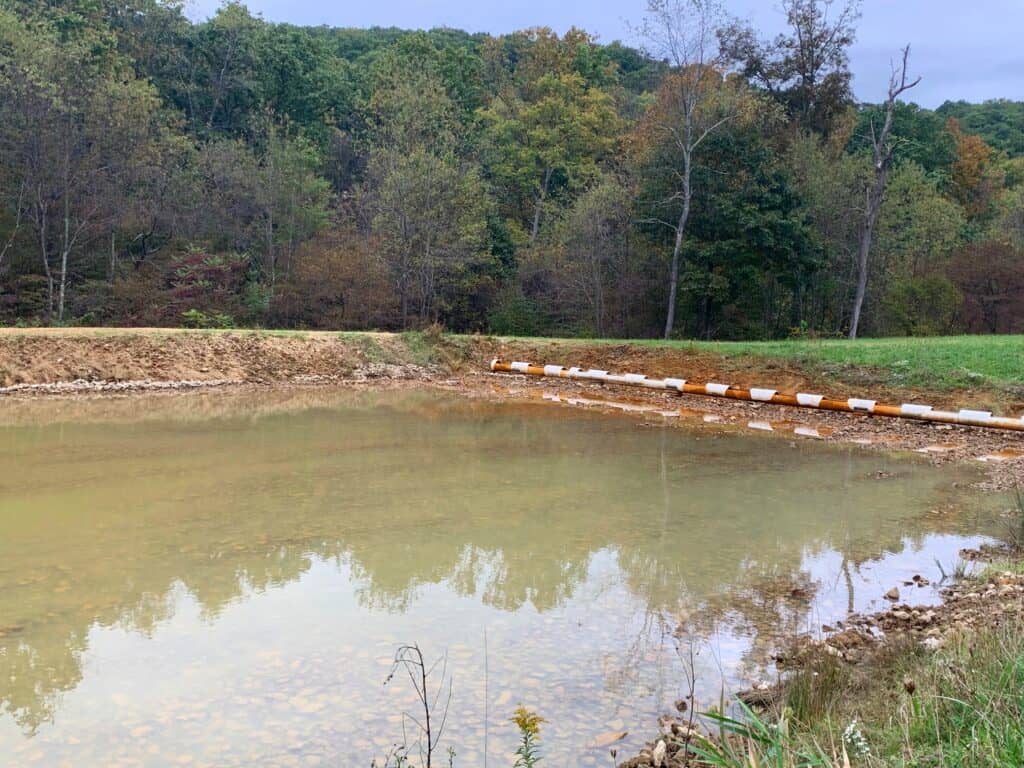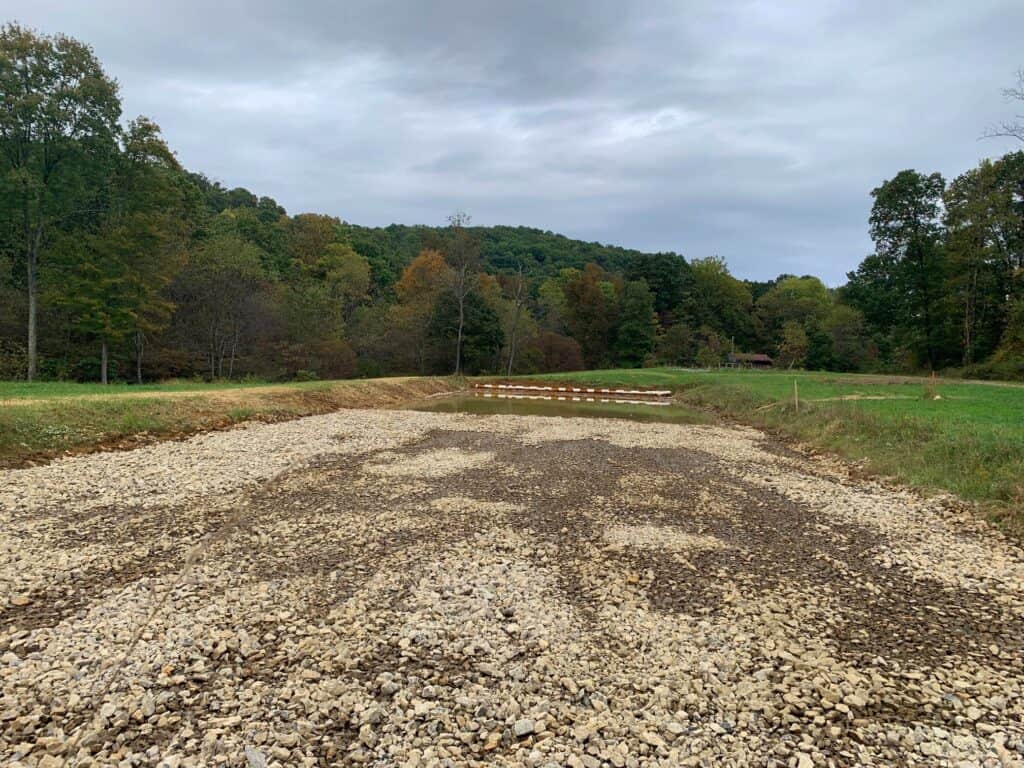 The first few ponds were so still, but I saw several large frogs jumping around in the last few.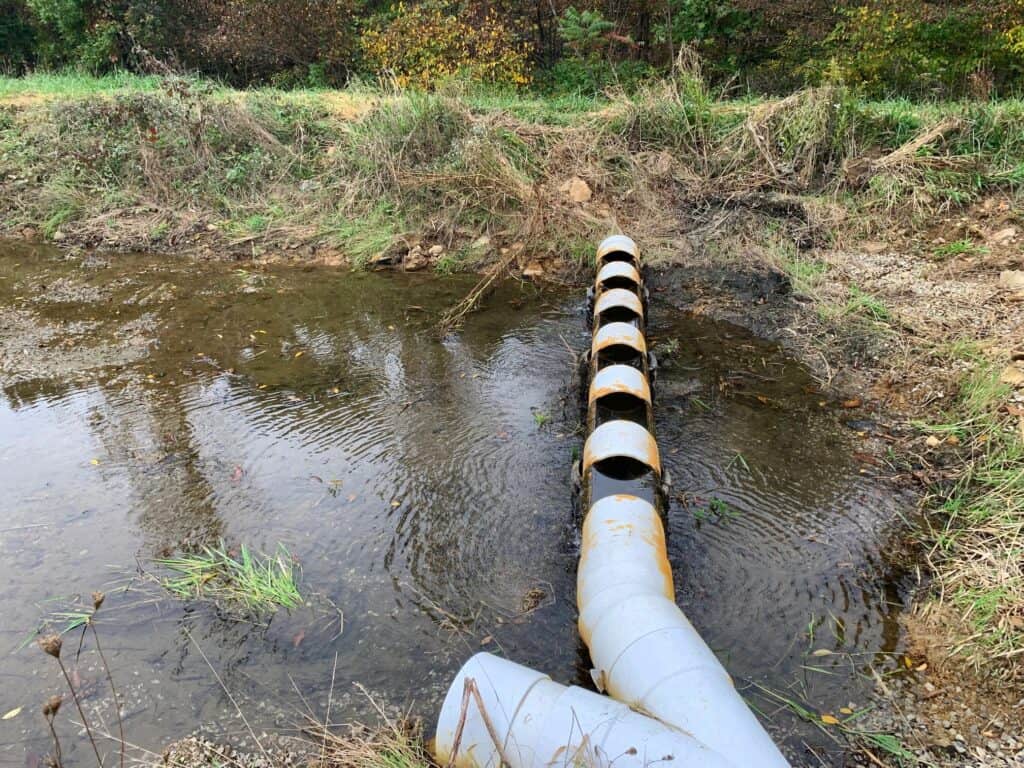 The water flows through all of the areas before being returned to the creek.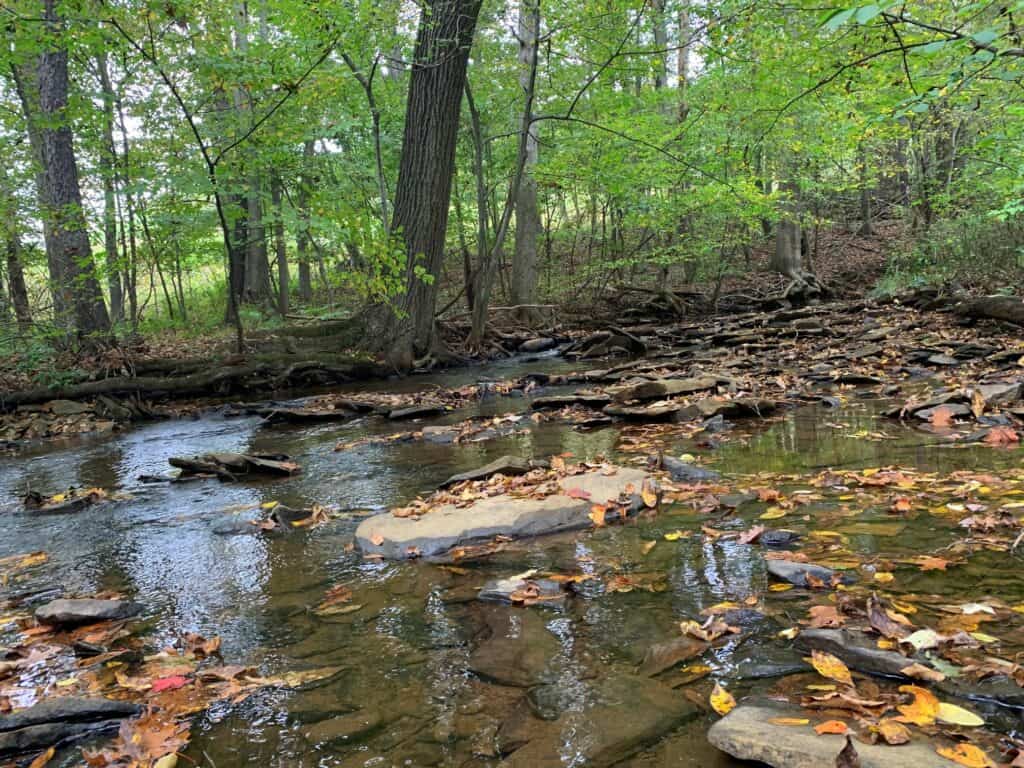 While I'm proud of the industrial success the Pittsburgh area has had, it's come at a serious environmental cost. 
I'm glad to see these remediation efforts happening in the park.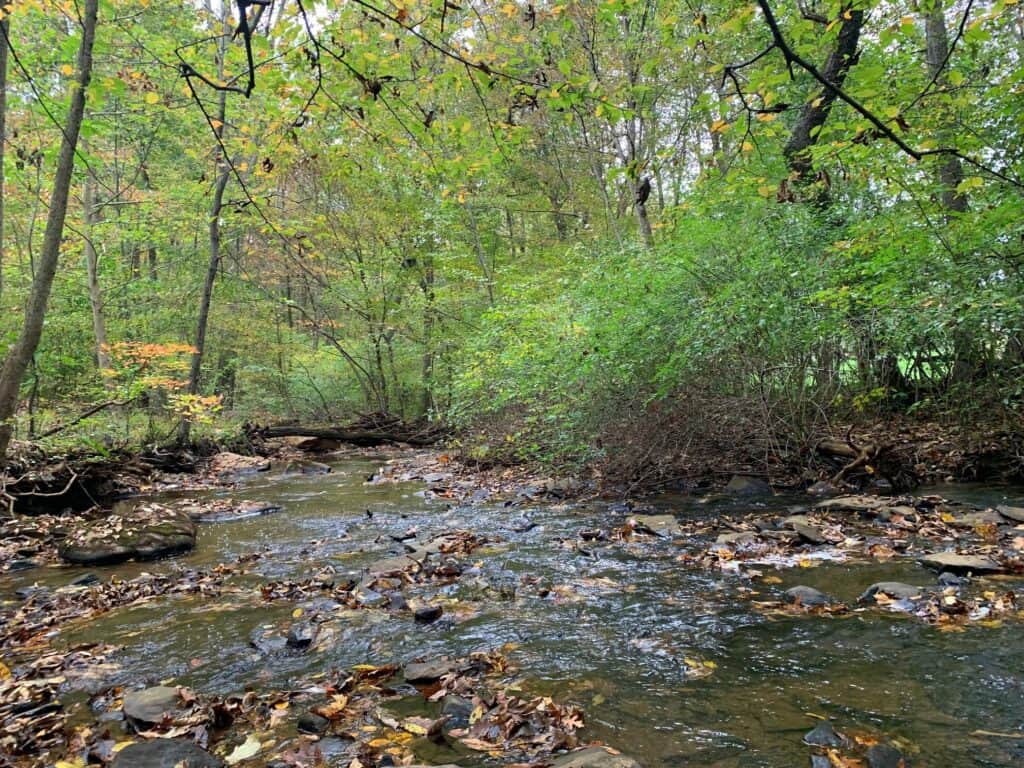 Wildlife, Fauna, and Fungi
We visited Keystone State Park on an early fall weekend, and it was quite wet.
As for wildlife, we saw fish and frogs in the lake and creek, plus chipmunks, squirrels, and many different bugs and birds (and an eagle, we think!).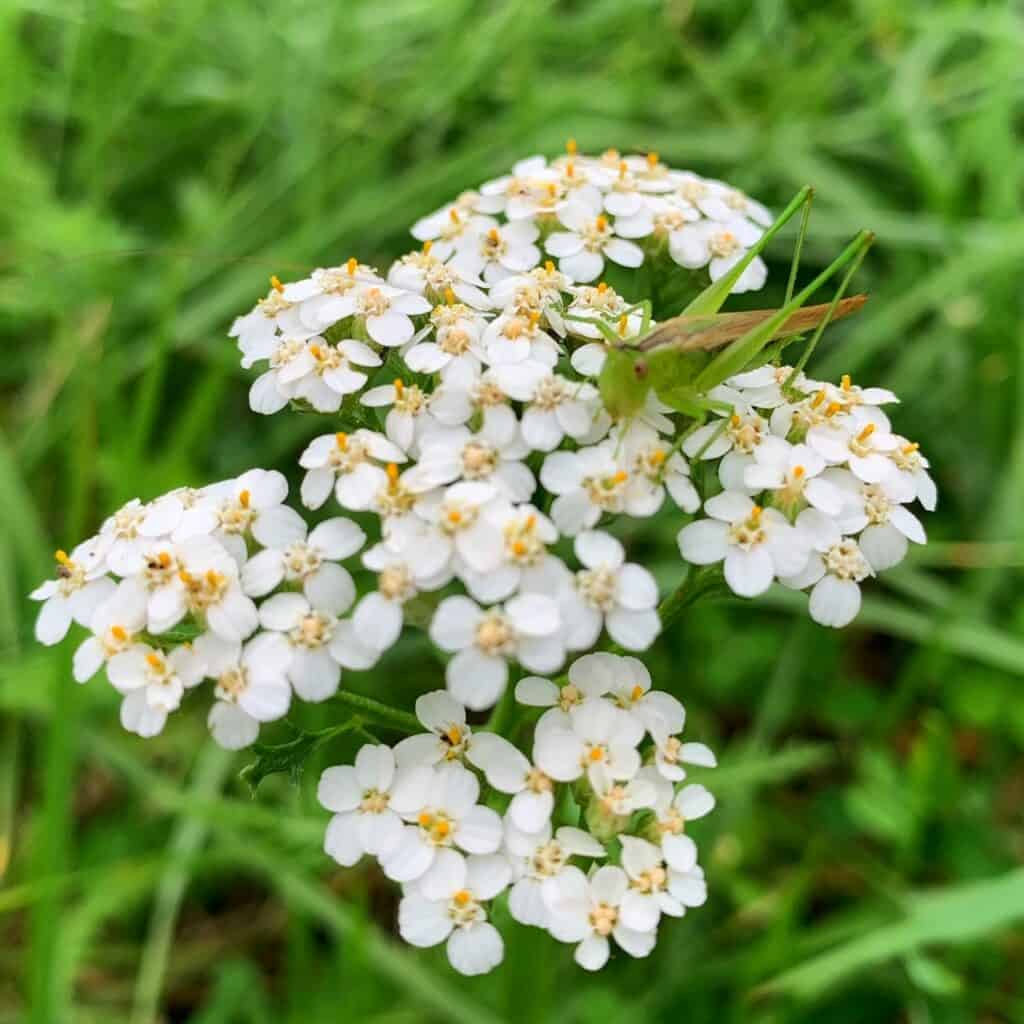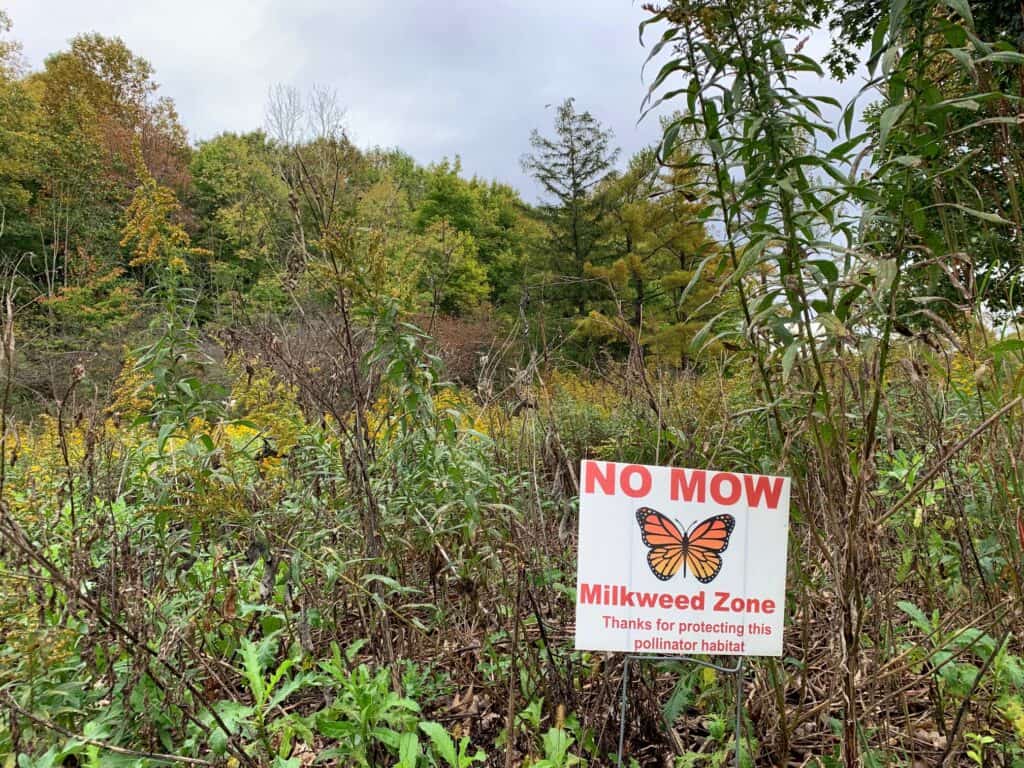 The leaves were just starting to change colors, and because of the damp weather, the mushrooms were in full effect!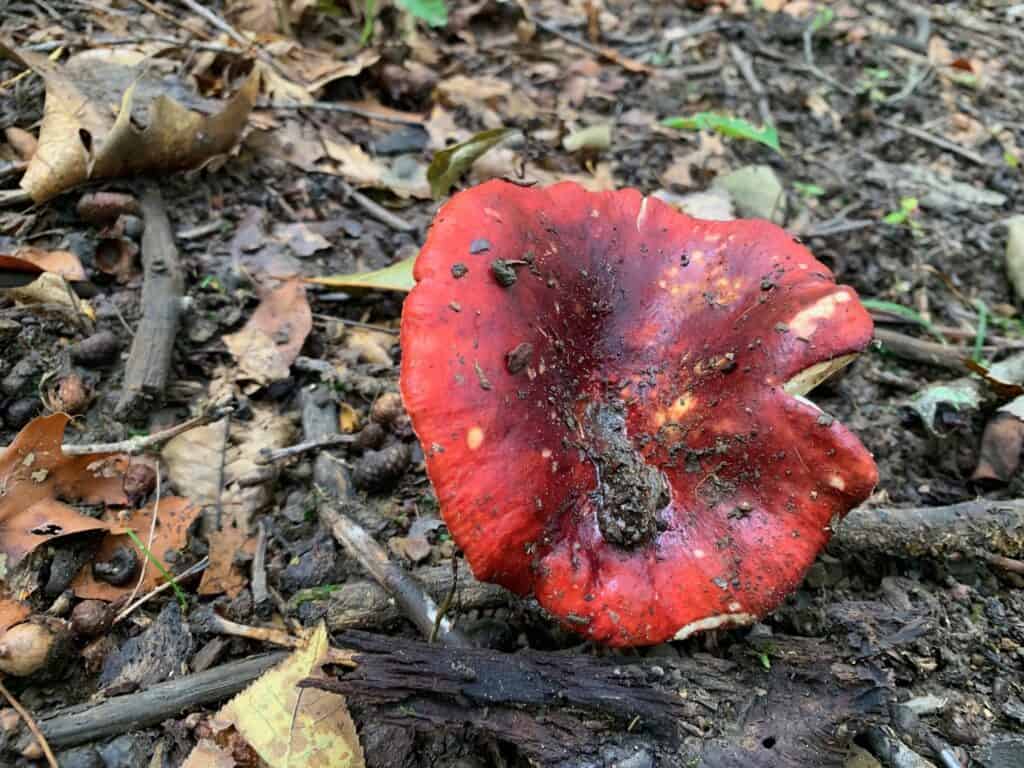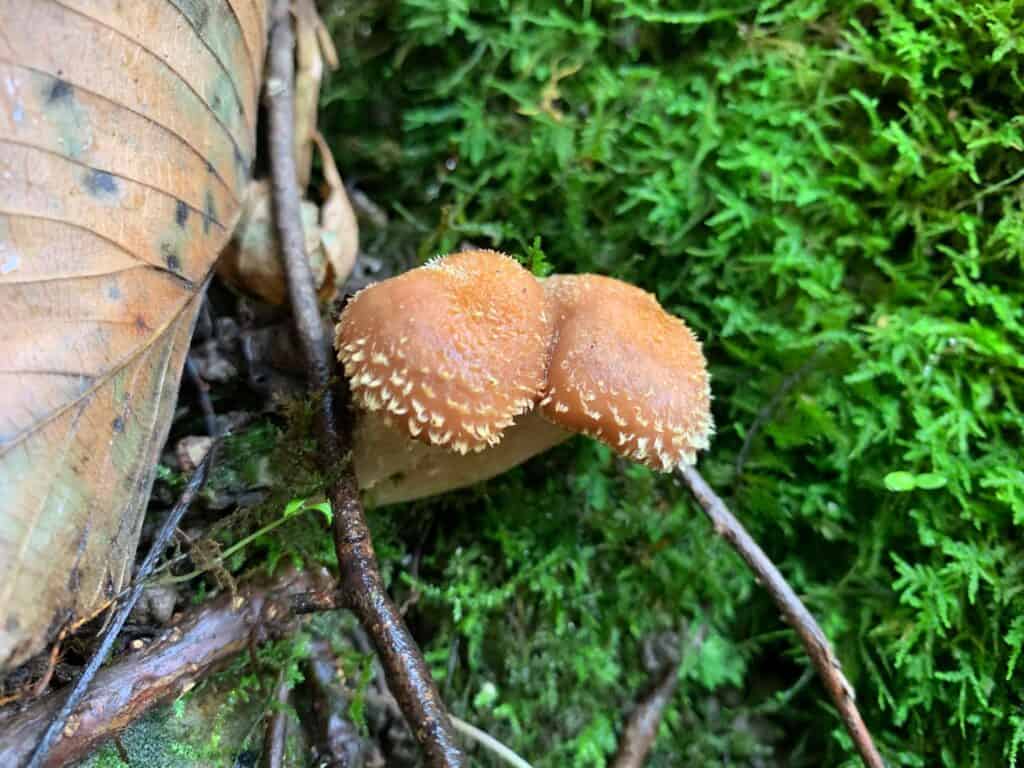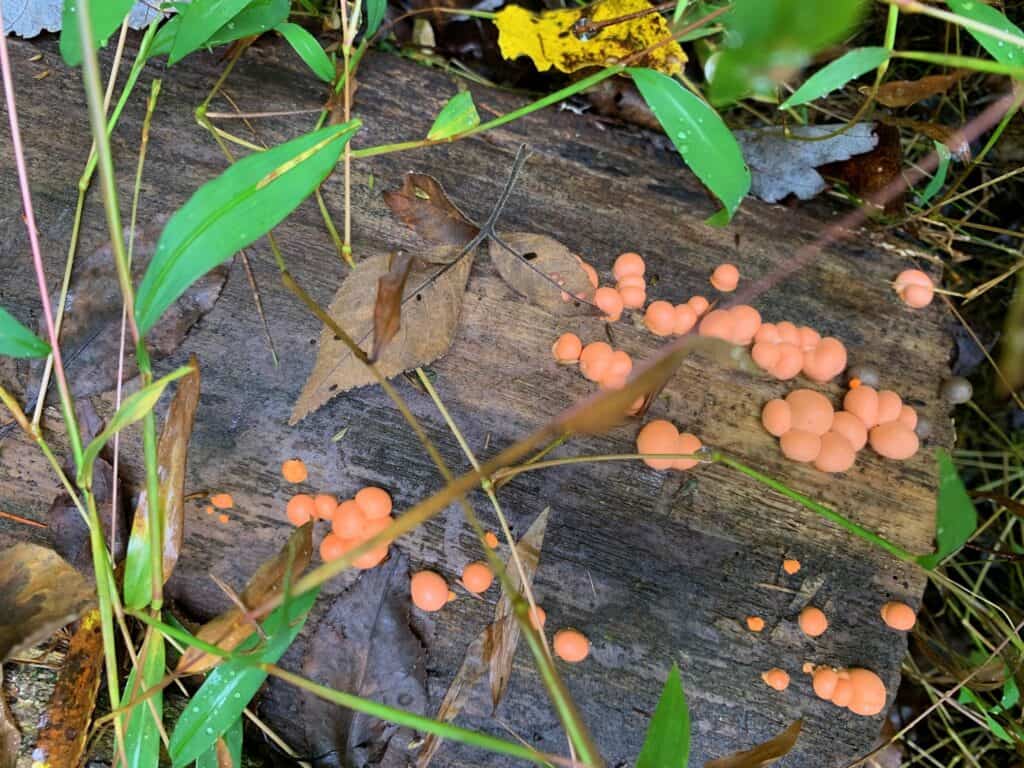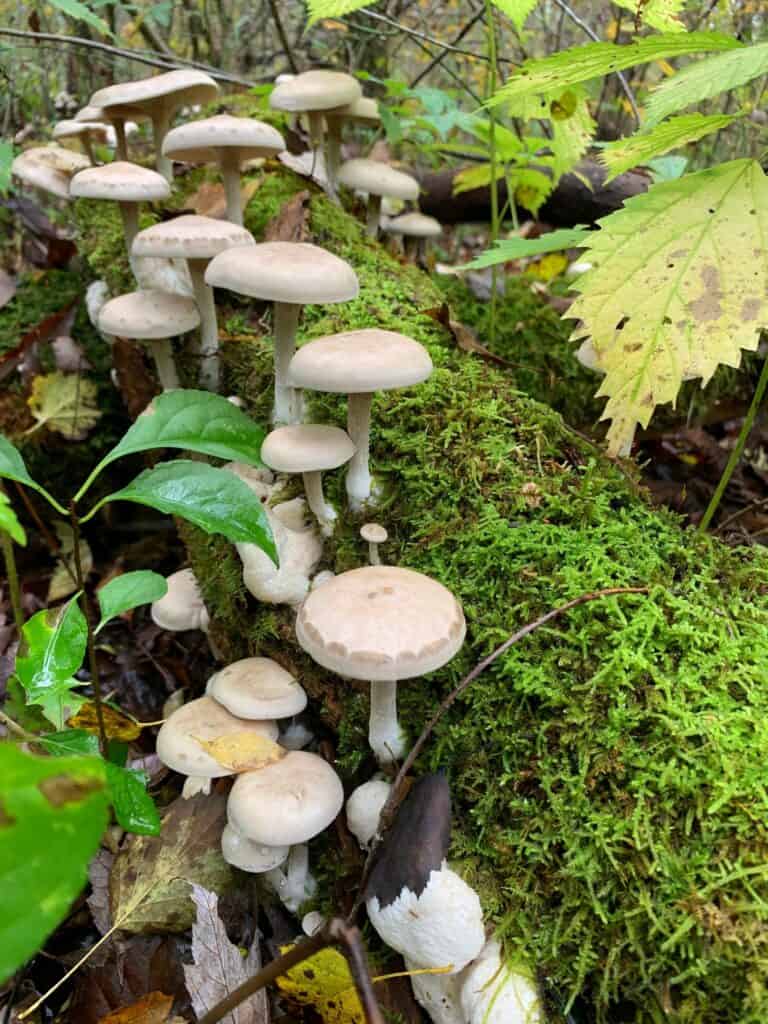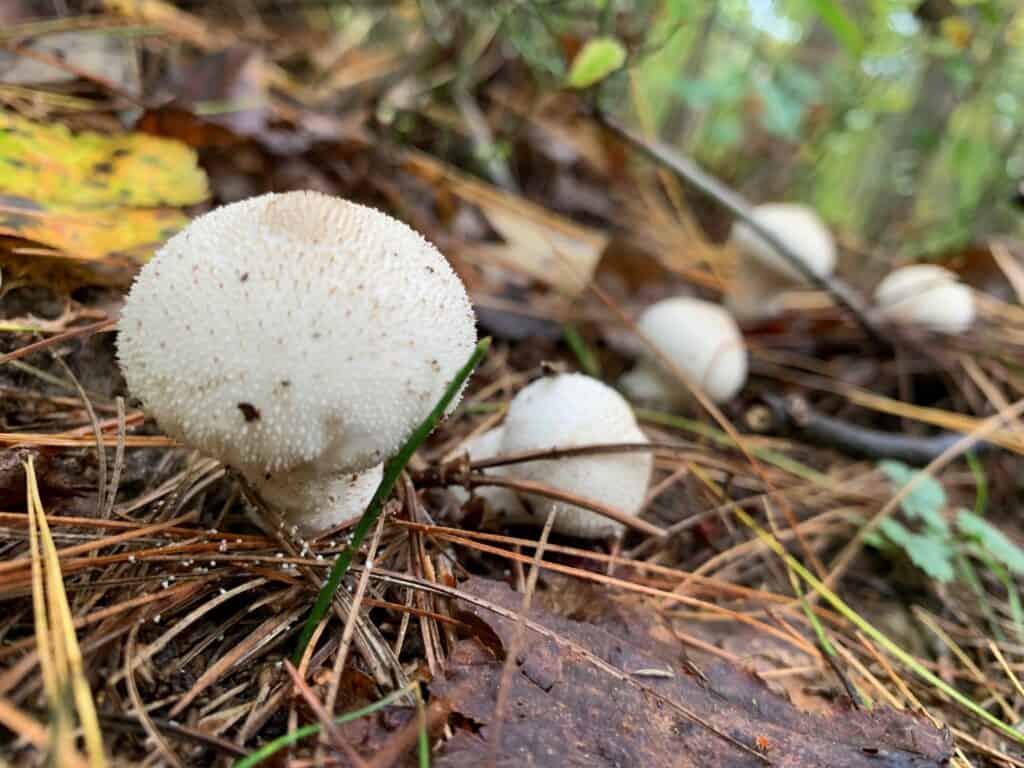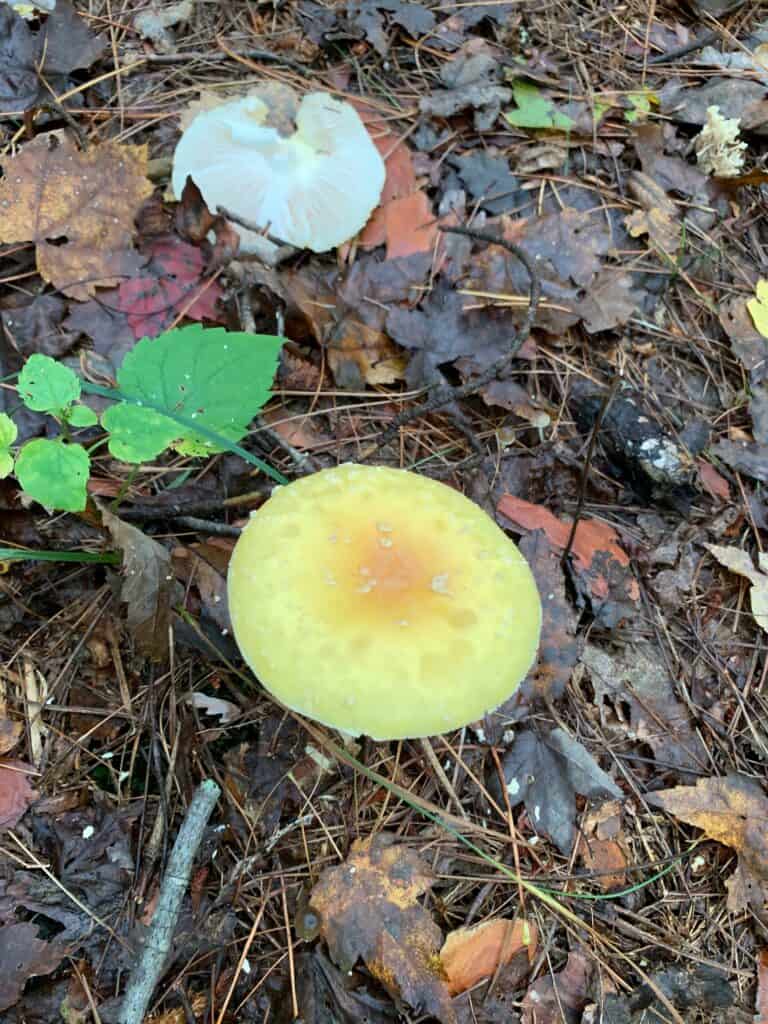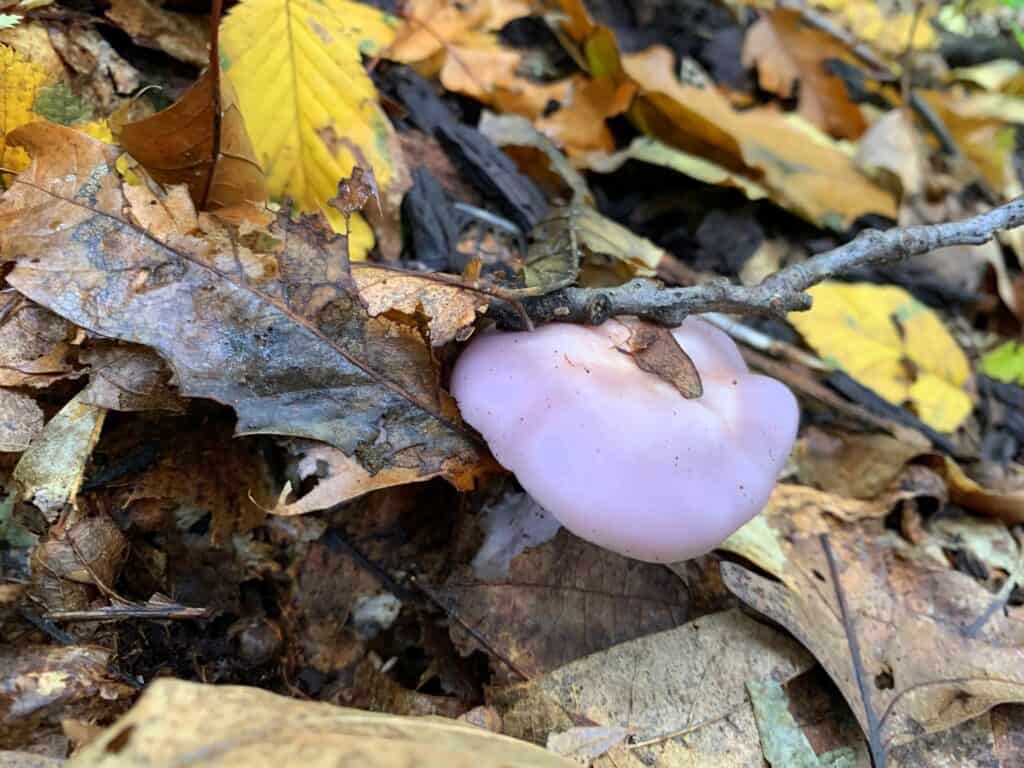 SIDE TRIP! Twin Lakes Park
If you hike all the hikes at Keystone State Park, hit up Twin Lakes Park in Latrobe the next day.
Twin Lakes Park is only 8 miles from Keystone State Park, and has a gorgeous 2 1/2 mile almost-flat, paved and stone path around (you guessed it!) twin lakes.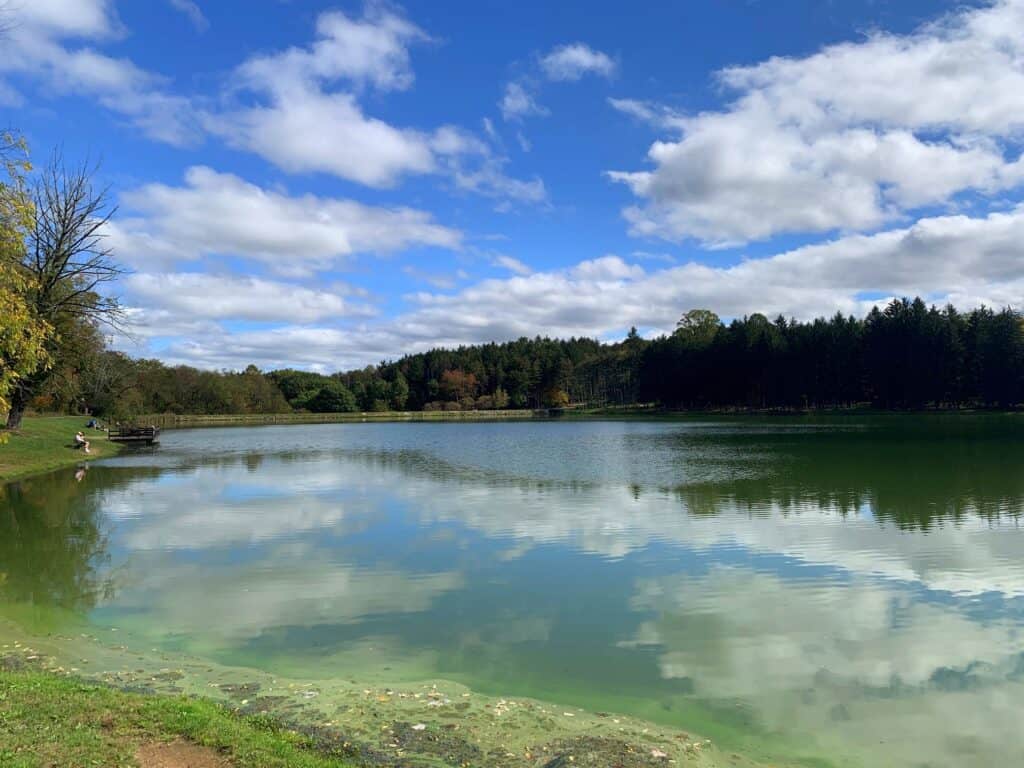 Not only can you get the rest of your dog-friendly walks in, you can also fish (but not on the boardwalk!) or go pedal-boating.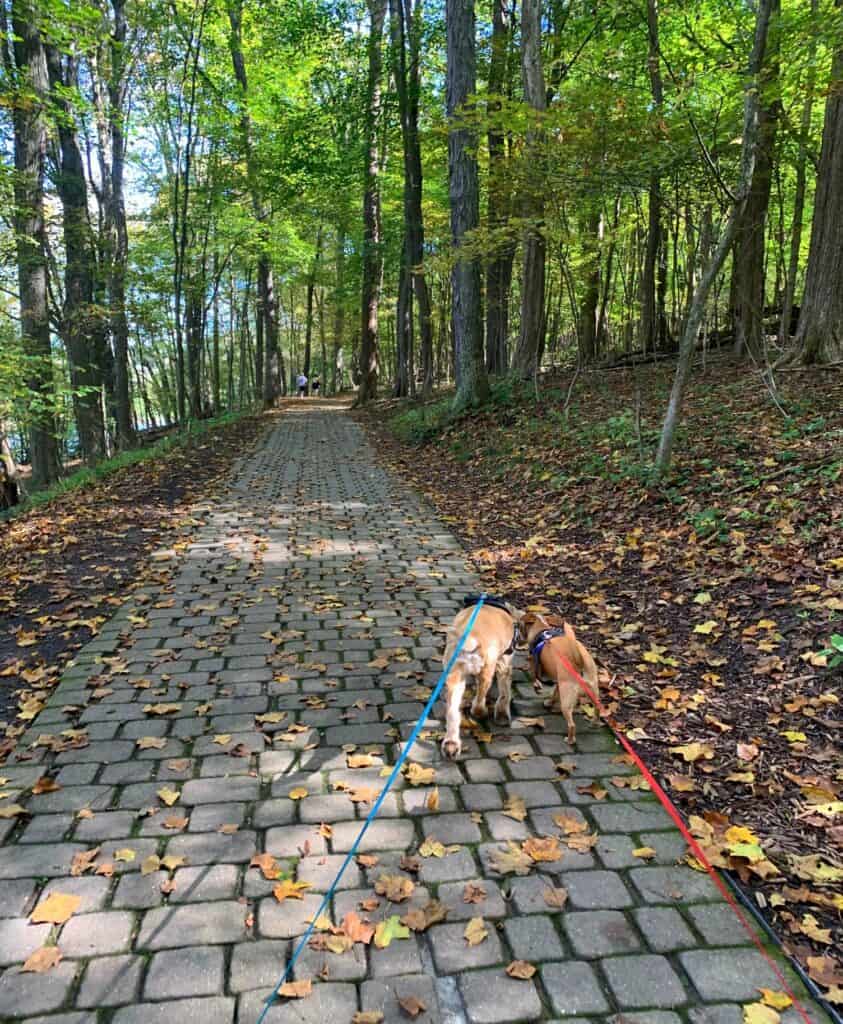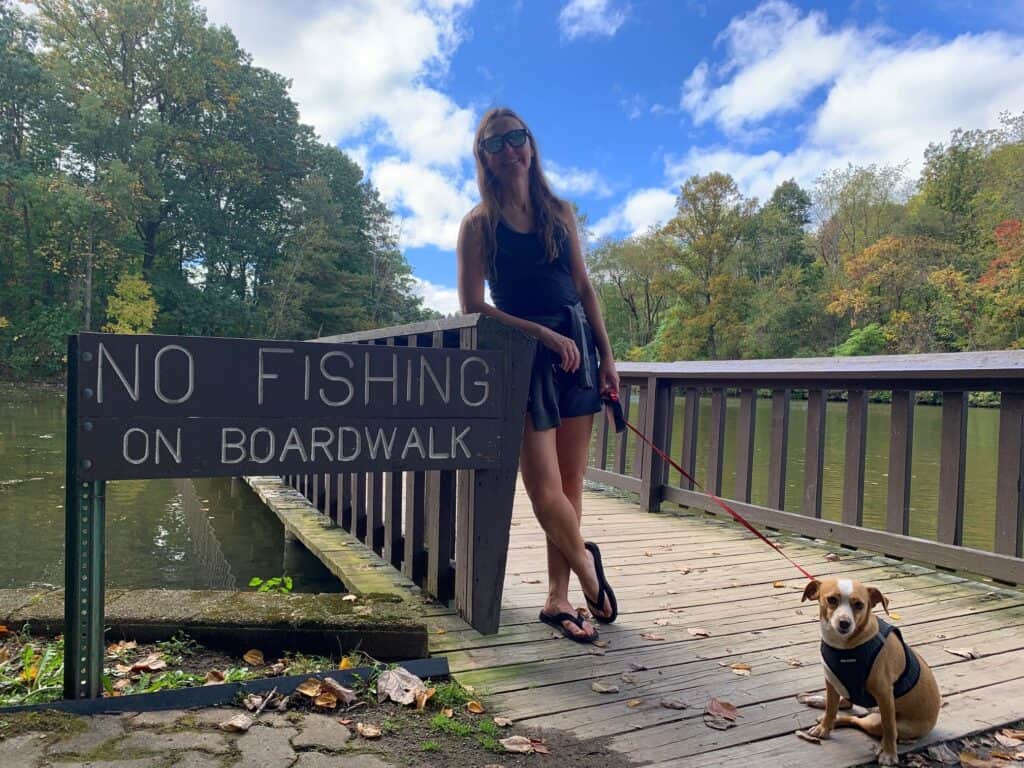 And don't worry about where to park your rig! There are plenty of spots along the road and in a few other parking lots.
Check out Axl Roads on the right: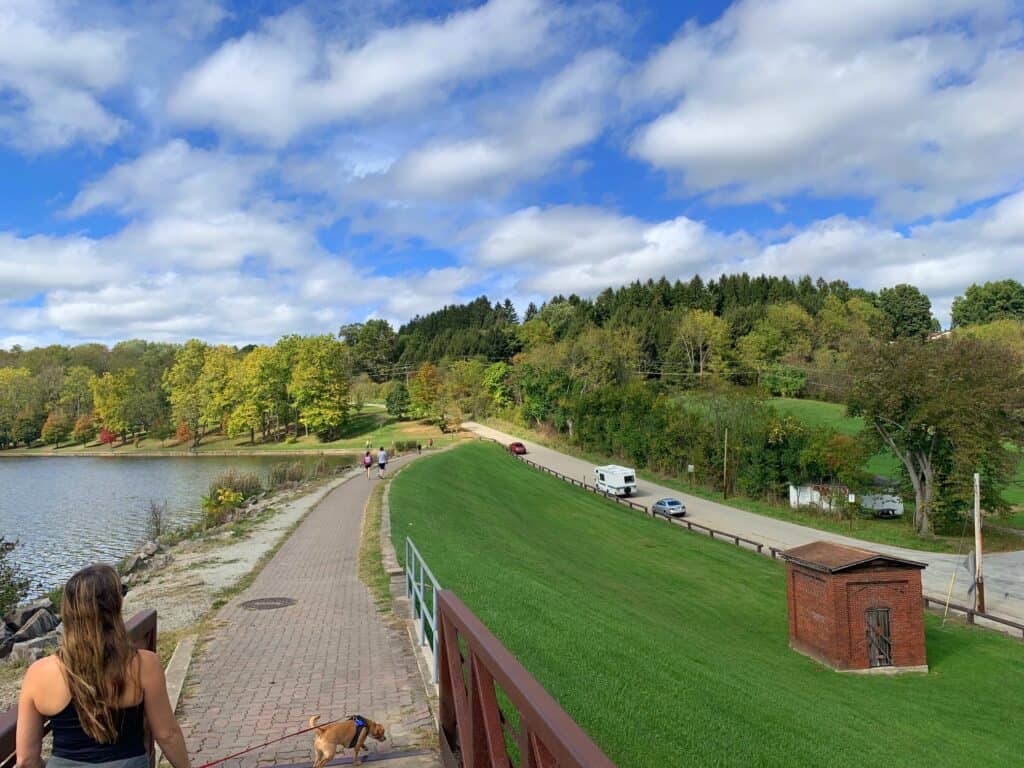 Twin Lakes Park also had a few good fungi!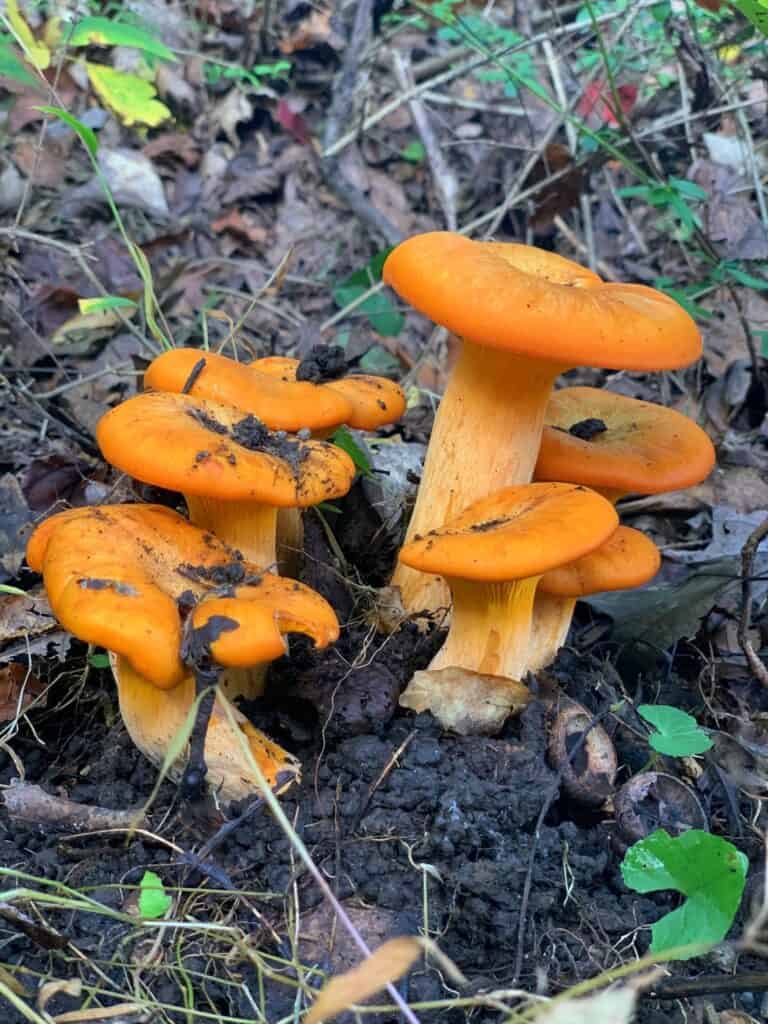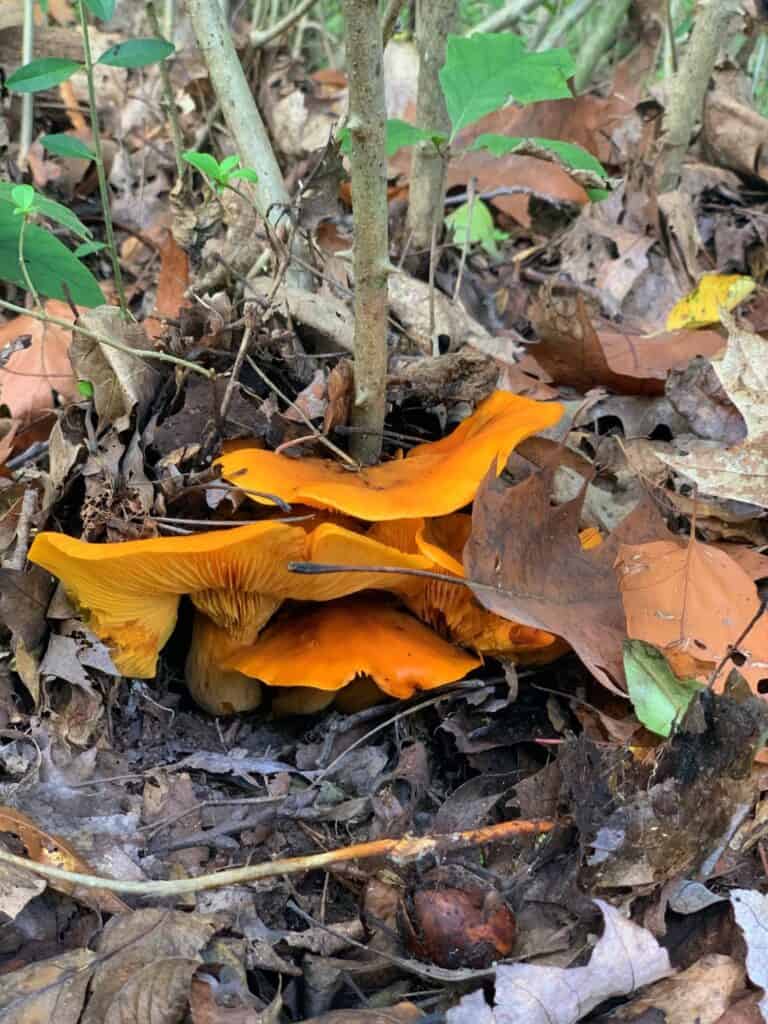 Even though they are smaller parks, you can still put together a great dog-hiking, lake-walking, camping weekend between Keystone State Park and Twin Lakes Park.