Please note that some of our links are affiliate links, which means at no additional cost to you, we will earn a commission if you click through & make a purchase. Happy clicking!
The Great Allegheny Passage (GAP) Trail is a 150-mile hiking and biking path winding all the way from Point State Park in Pittsburgh, Pennsylvania, to Cumberland, Maryland. The relatively flat, smooth trail has plenty of access points (some even large enough to park an RV) and the entire length is either paved or cindered. These conditions combine to make it perfect for walks (including dog walks!), runs, and bike rides.
No motorized vehicles are permitted. Horses are allowed on some sections to the side of the trail.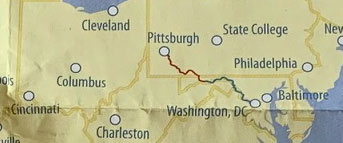 What happens when train lines stop and a set of railroad tracks is no longer in use? 
With a lot of hard work and perseverance, they become scenic, well-groomed rail trails!
Using defunct lines from the Western Maryland railroad and the Pittsburgh and Lake Erie lines, many organizations and volunteers came together to make the GAP Trail a reality. The rails were removed (in most cases), a wide path was flattened, and the safe, family-and-pet-friendly fun began! 
Starting at Mile 0 in Cumberland, Maryland, the trail winds all the way to Pittsburgh, Pennsylvania, passing through many small towns with plenty of scenery and history to enjoy along the way.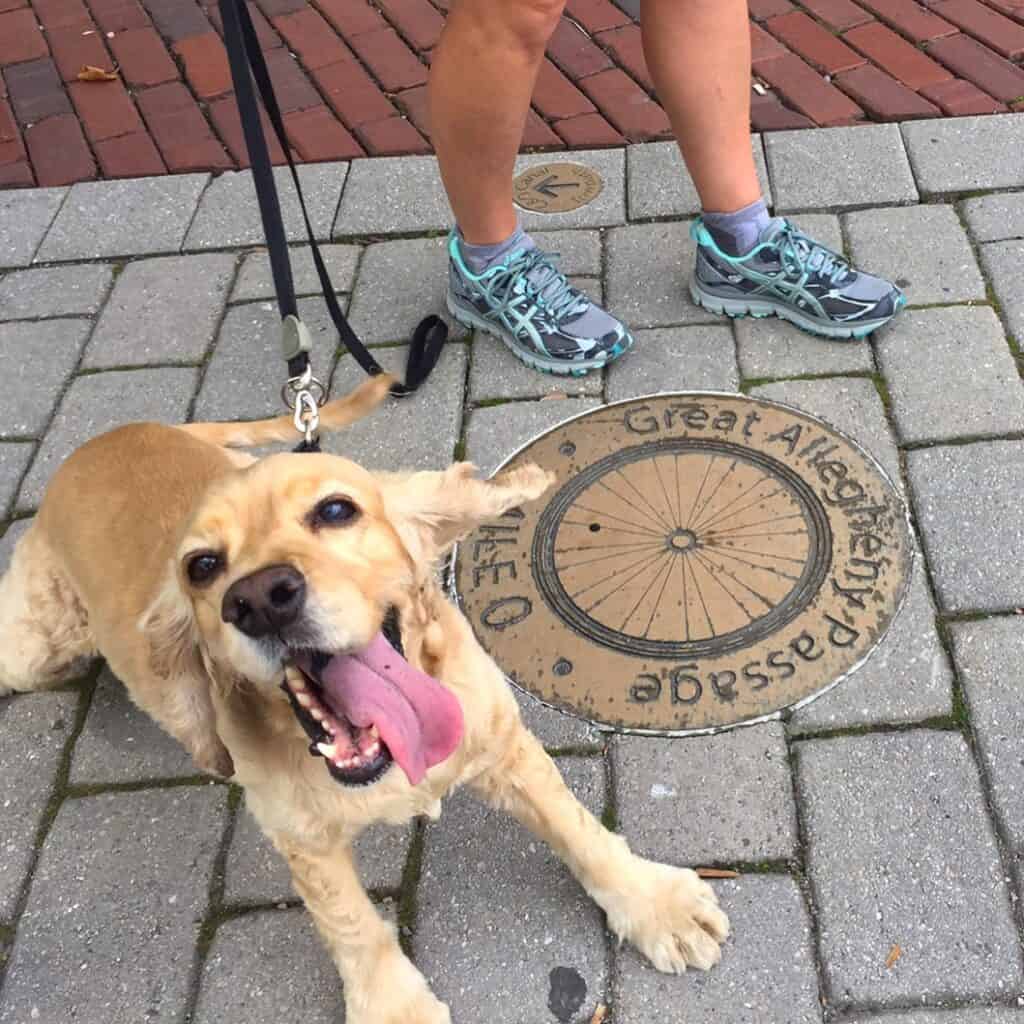 You'll find plenty of parking at trail access points and mile markers to keep track of your progress. Benches, picnic tables, and other places to take a break are scattered along the trail, too. 
Like on any other adventure, water and snacks make the GAP Trail more enjoyable! 
From Pittsburgh to Layton
While we haven't biked/walked/run all 150 miles of the GAP Trail, we've seen quite a bit!
The part that we know best is between Pittsburgh and Layton.
We've made some helpful notes on the map below to walk (ride?) you through it, sharing the points we have found most scenic and interesting along the way.  
We have lived near the Boston access point (our house is marked with a yellow star) for many years, and use most of the nearby access points, too.
We know this portion of the trail really, really well! This section of the GAP Trail is the most populated and has the most options for shopping, dining, and formal kayaking/canoe put-ins. 
First, the lay of the land – or, well, the water…
From Pittsburgh to McKeesport, you'll be riding along the wide and deep Monongahela River.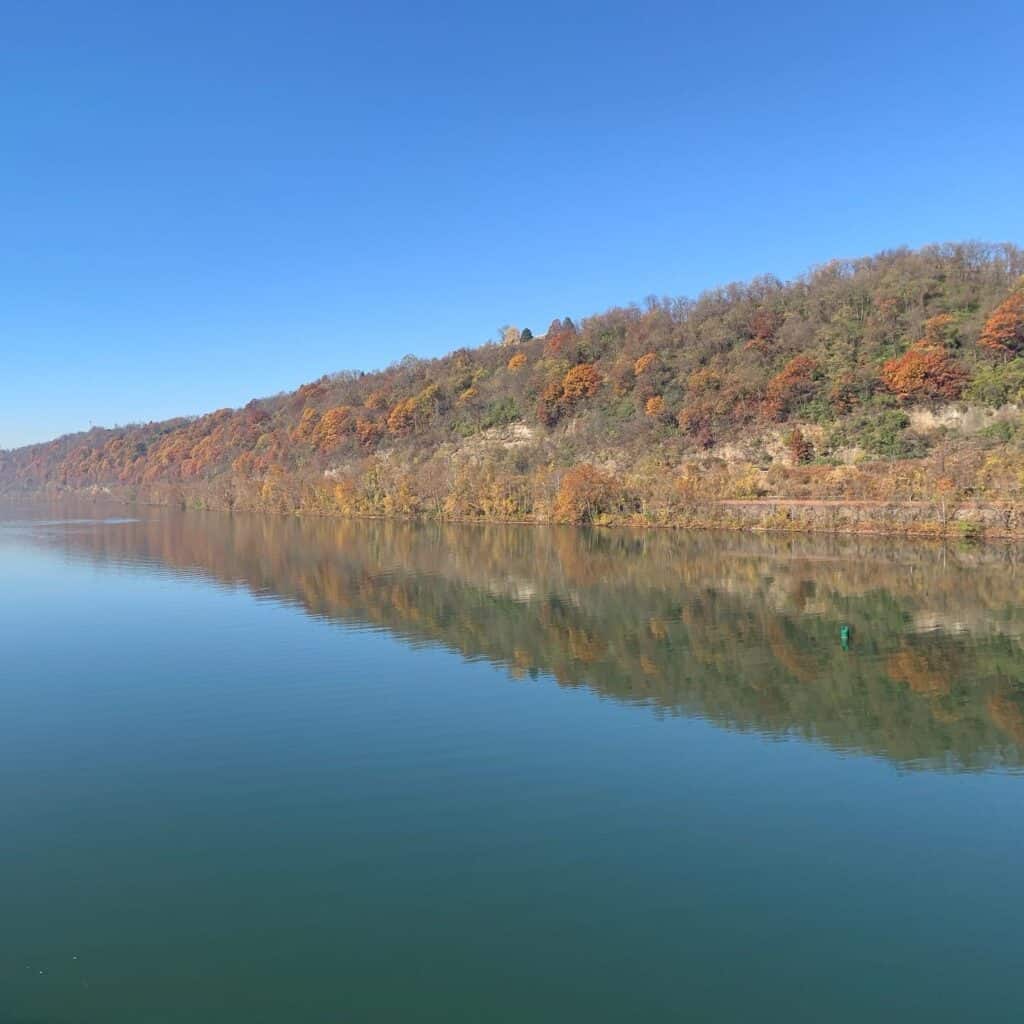 In McKeesport, you'll cross a bridge over the Monongahela River, travel the trail a bit, and end up along the more shallow and rural Youghiogheny River all the way to Layton.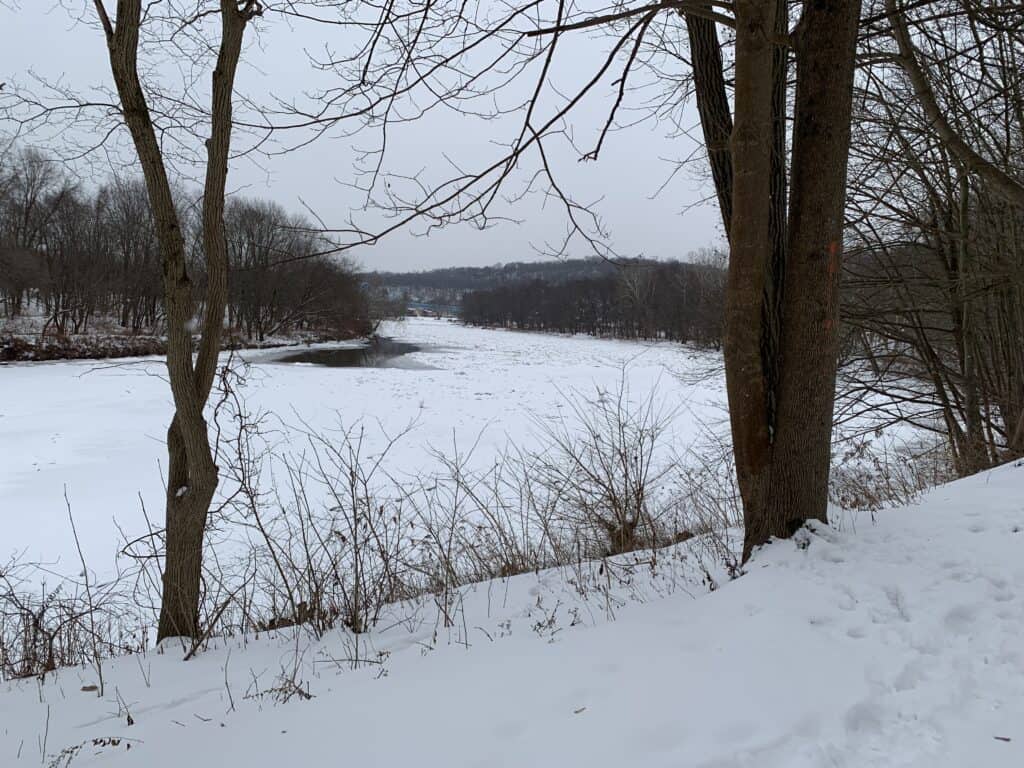 You're probably wondering why I'm mixing up photos from all seasons, and there's a great reason… 
You can visit the GAP Trail in any weather with the right gear– so let's get moving!
Here are some highlights you won't want to miss when traveling this section of the trail:
From Point State Park to the Waterfront
Point State Park – If you're starting in Pittsburgh, expect some great city views and historical landmarks at Point State Park.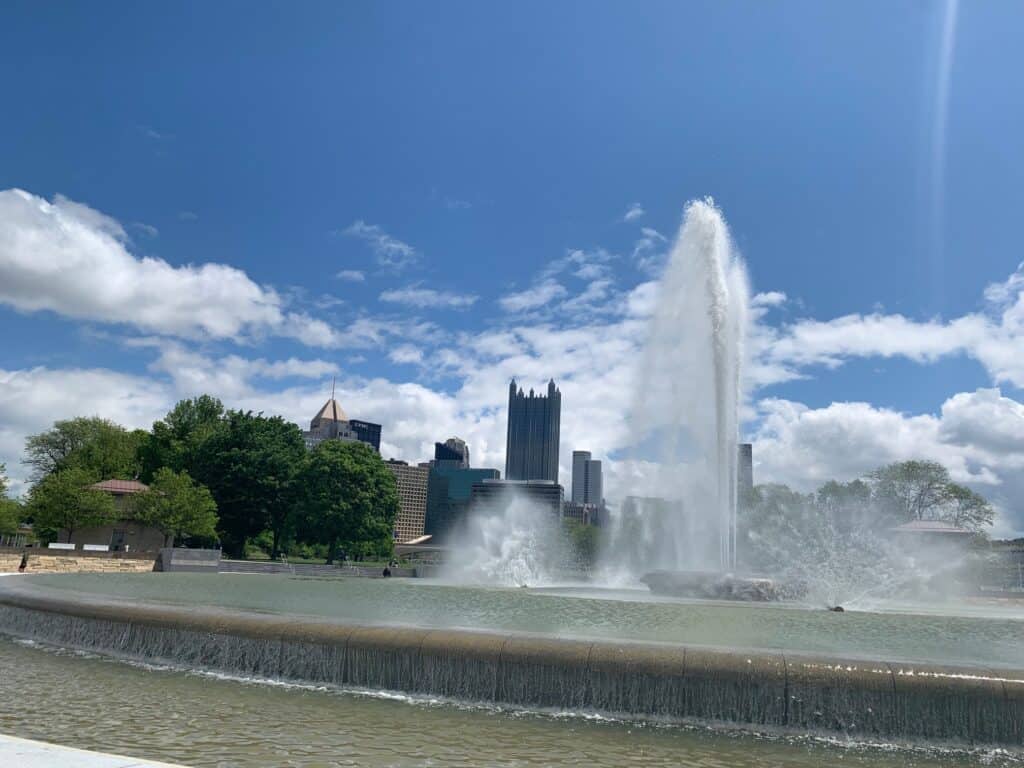 South Side – The South Side trail not only gives you access to the small businesses along Carson Street, but also the national chain shops and restaurants in SouthSide Works – including REI, Cheesecake Factory, and Haufbrau House. You'll also get a glimpse of the Pitt Panthers and Pittsburgh Steelers training field and facility.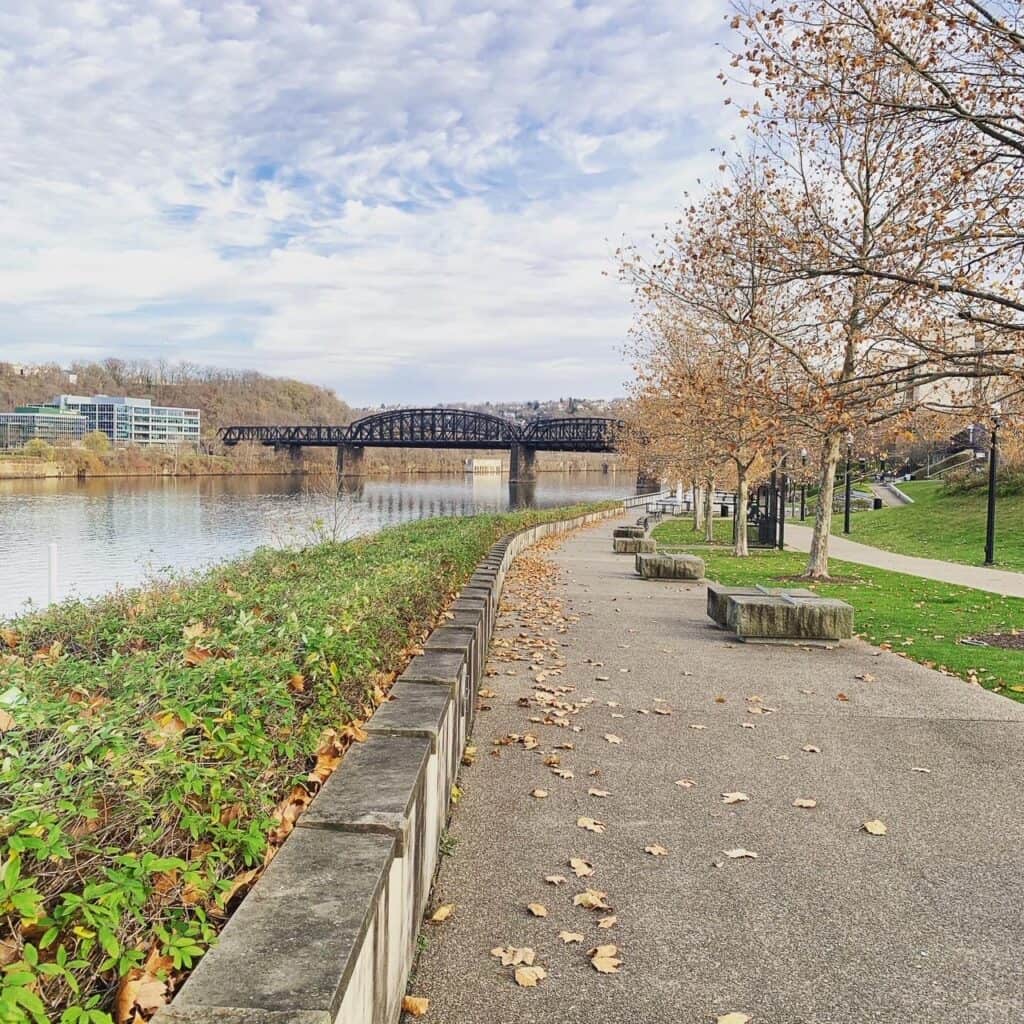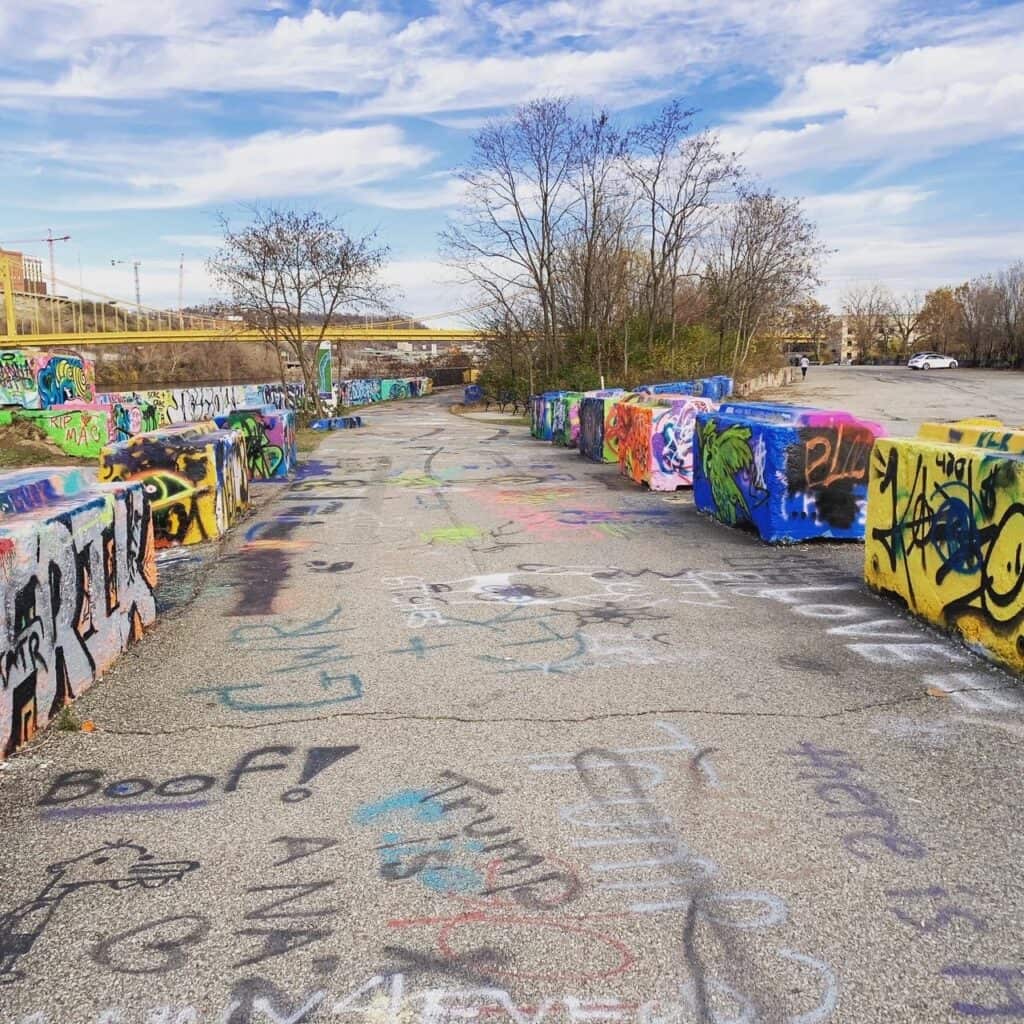 The Waterfront in Homestead – The trail winds the entire length of the Waterfront, a popular shopping and restaurant destination. Many of the restaurants offer outdoor seating, and several have bike racks. Occasionally, you can even catch the goats of Allegheny Goatscape eating up the hillside between the trail and the river! If you are looking for a place to park your RV on the trail, some of the parking lots in the Waterfront are large enough to accommodate you. 
From Kennywood to Dead Man's Hollow
Kennywood – The trail is paved in Whitaker/Duquesne/West Mifflin and winds behind America's Favorite Amusement Park, where you'll get a peek at the Thunderbolt and Phantom's Revenge roller coasters. You'll also see the steel mill across the river and can hopefully spot the osprey's nest before going through a short tunnel and crossing the bridge into McKeesport.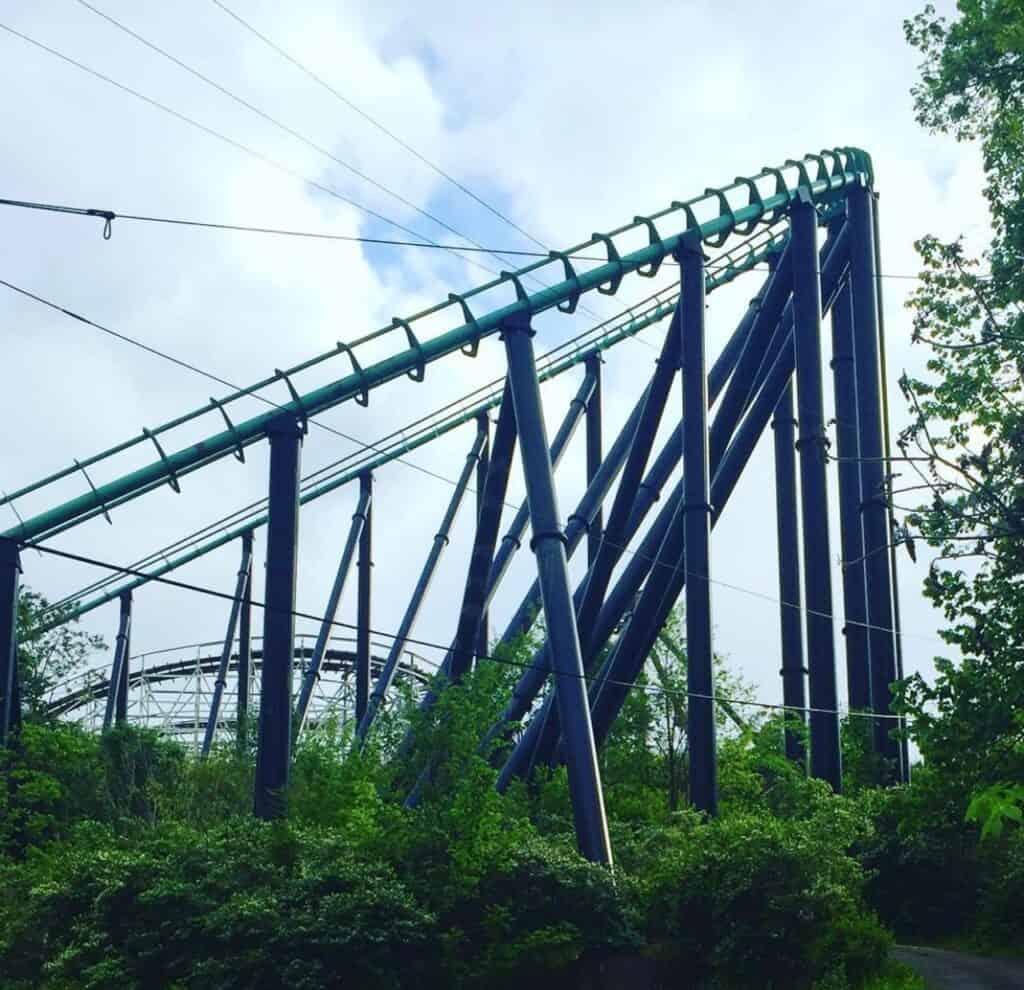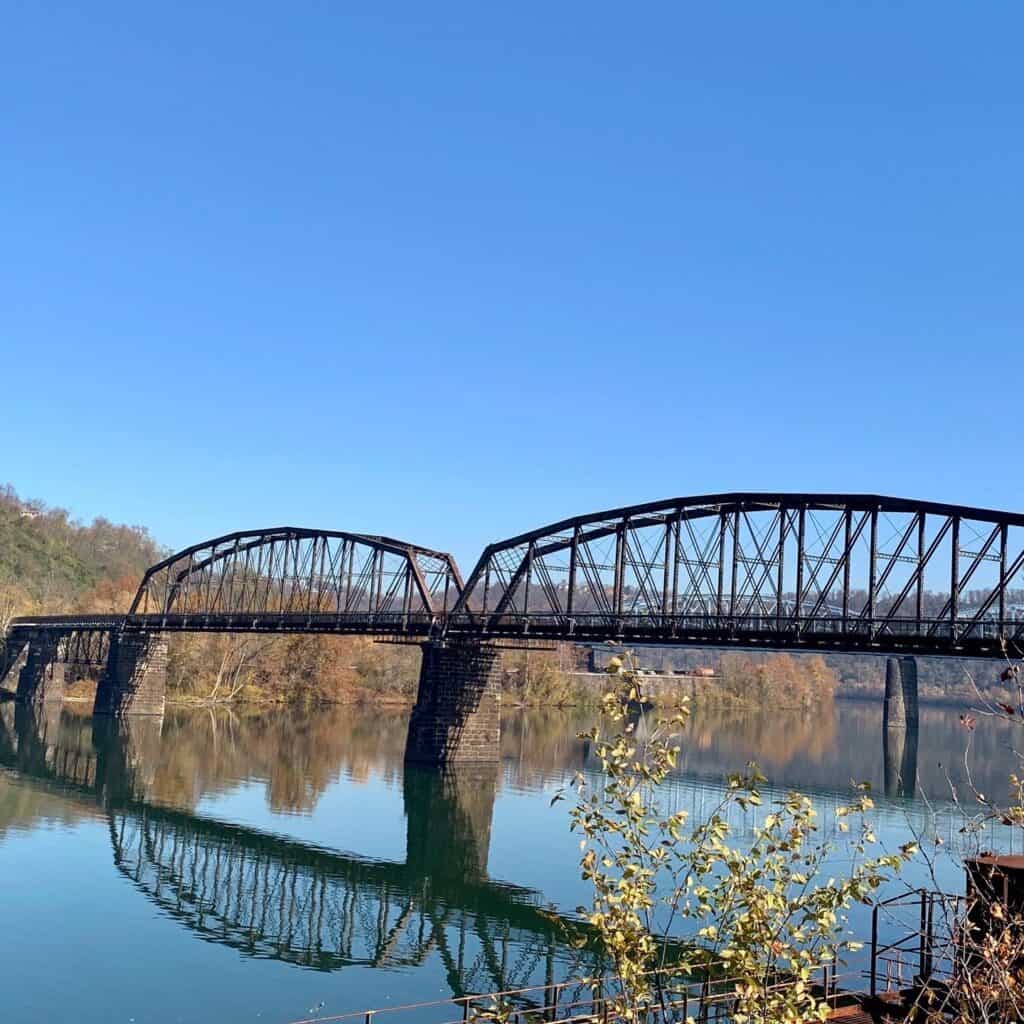 Dead Man's Hollow Conservation Area – Between McKeesport and Boston, you'll want to visit Dead Man's Hollow Conservation Area. Not only are there 8 miles of wooded trails, you'll also see the remains of a former terracotta pipe factory (repainted, lol), Tabletop Rock, and Catfish Pond.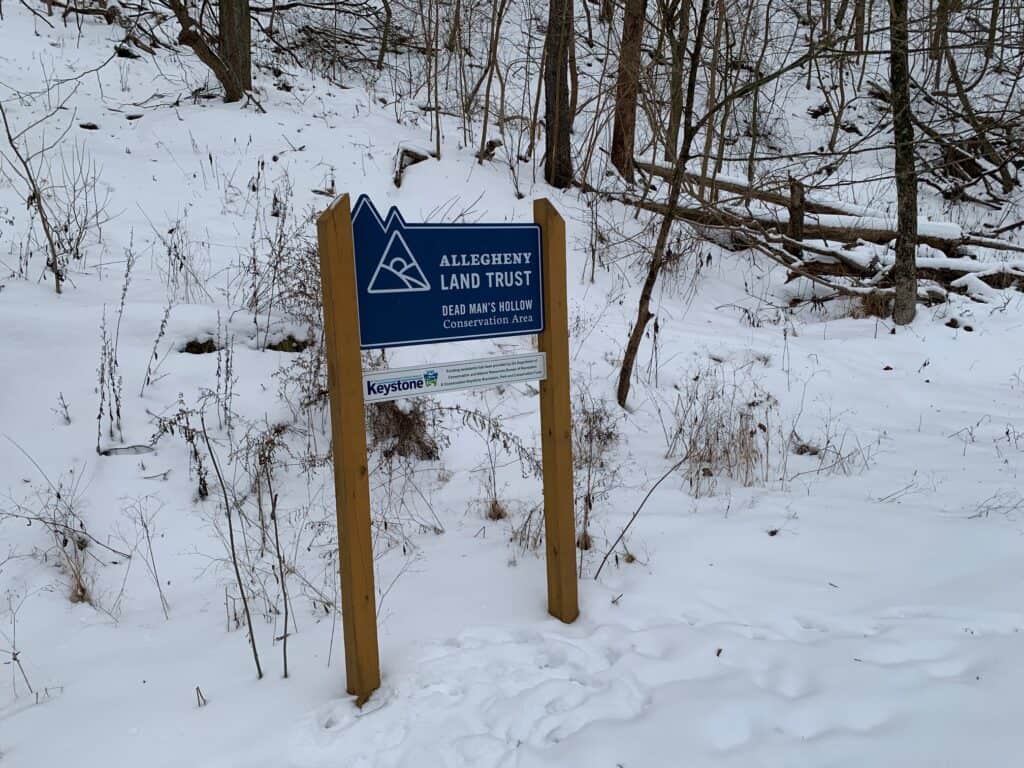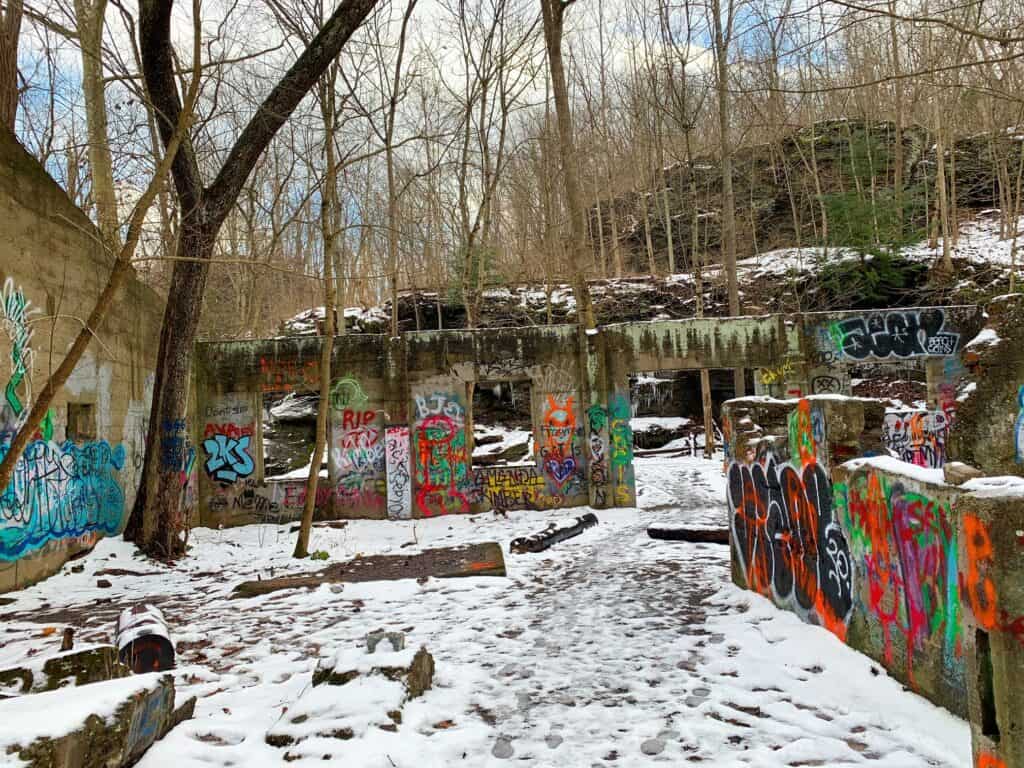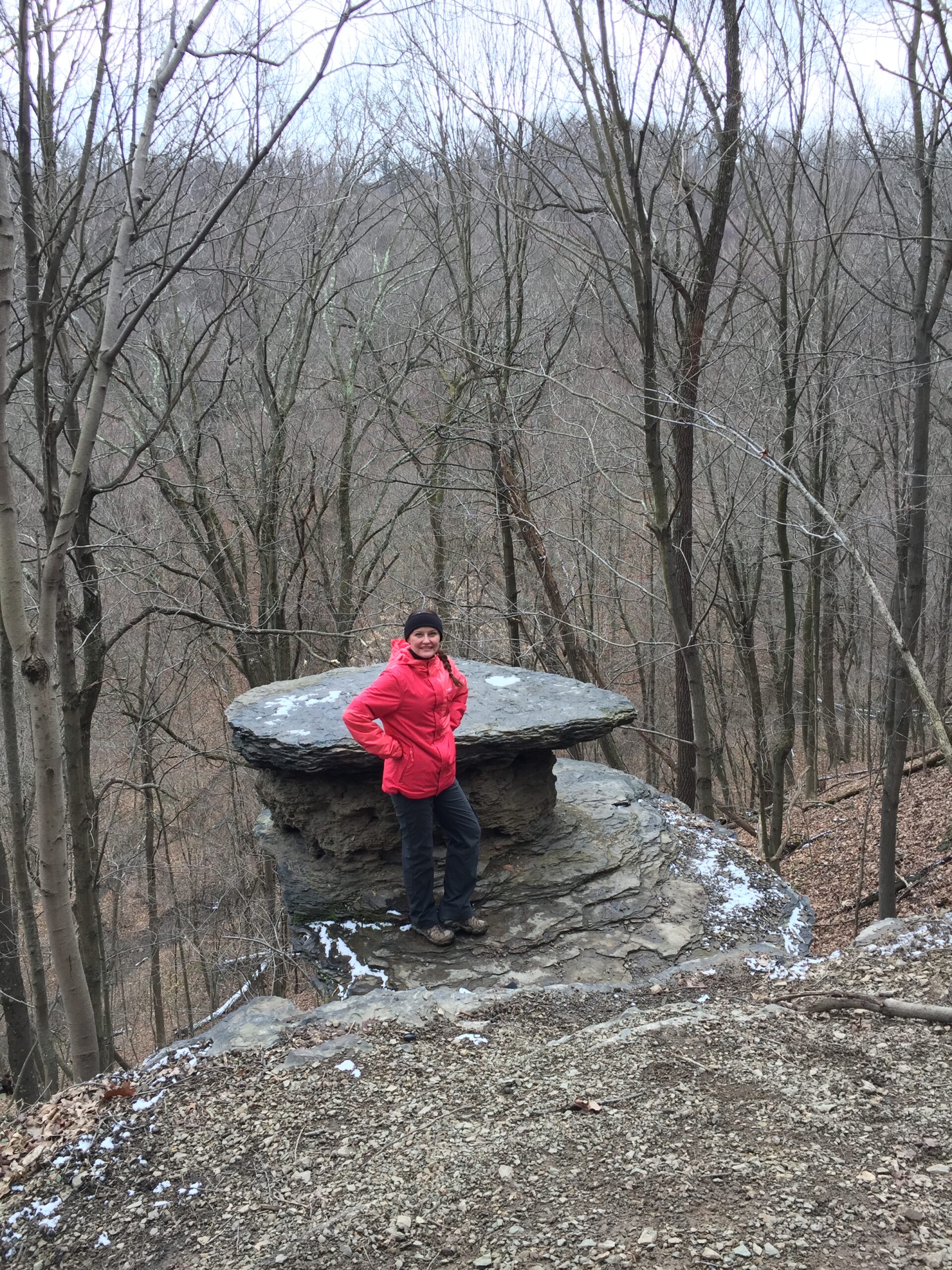 From Dravo Cemetary to Cedar Creek
Dravo Cemetery and Queen Aliquippa Camp – This is a slightly spooky stop, with graves in the cemetery dating back to 1812. The camp has two more recently-constructed lean-to shelters, bathrooms, and a water pump. 
Sutersville – I scream, you scream, we all scream for ICE CREAM, which you can find just off-trail at this parking lot. 
West Newton – Not only can you get your bike tuned up at the West Newton Bike Shop, you can also grab a beer and lunch at The Trailside. West Newton is a great example of a small town along the trail that hosts events throughout the year, including (our favorite) an annual Labor Day Poker Bike Run.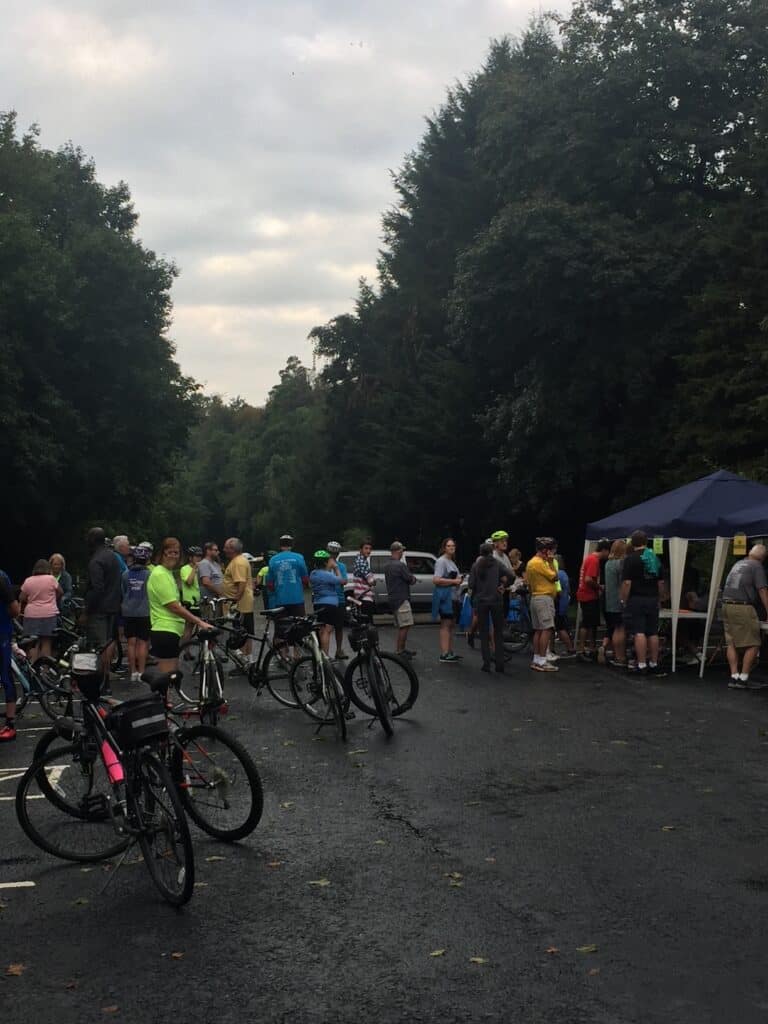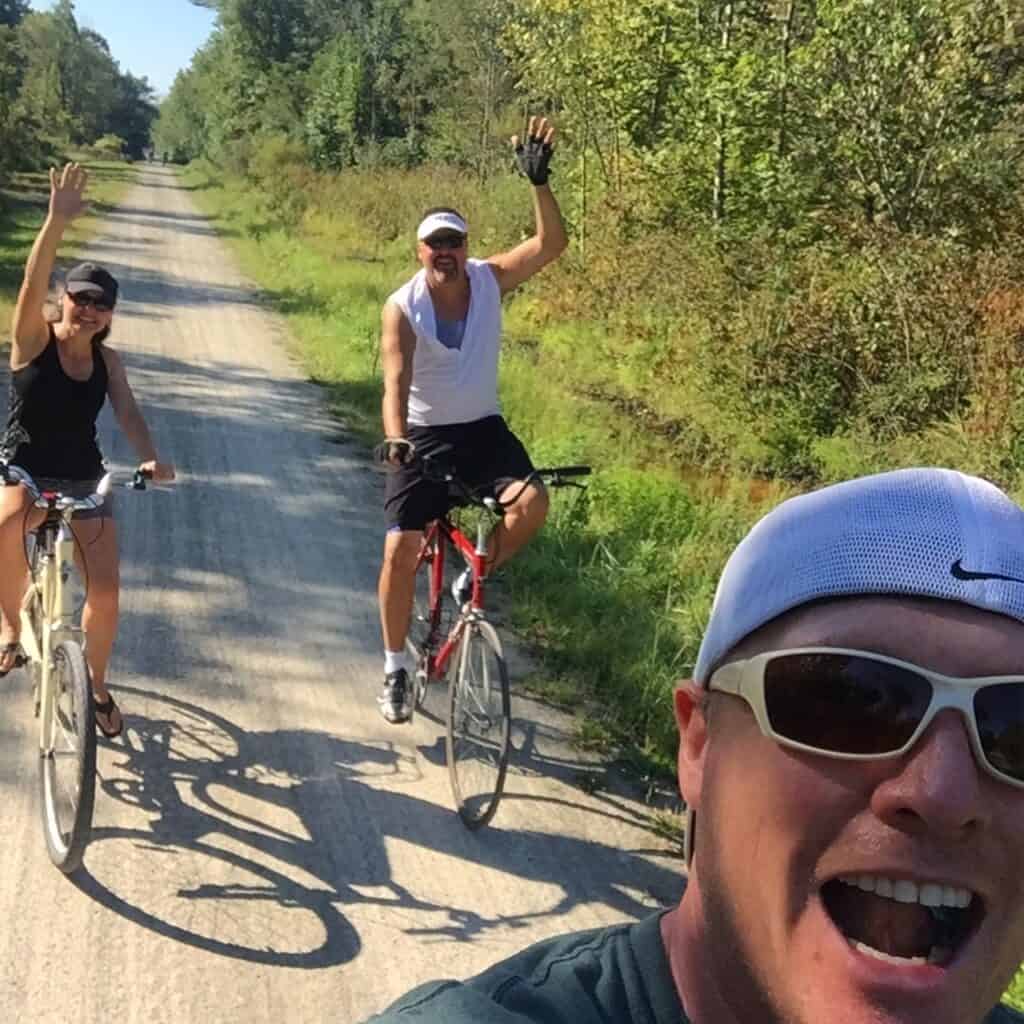 Between West Newton and Cedar Creek Park (as well as other spots along the trail), you'll be able to see rock formations, hillside creeks, and a variety of wildflowers and trees.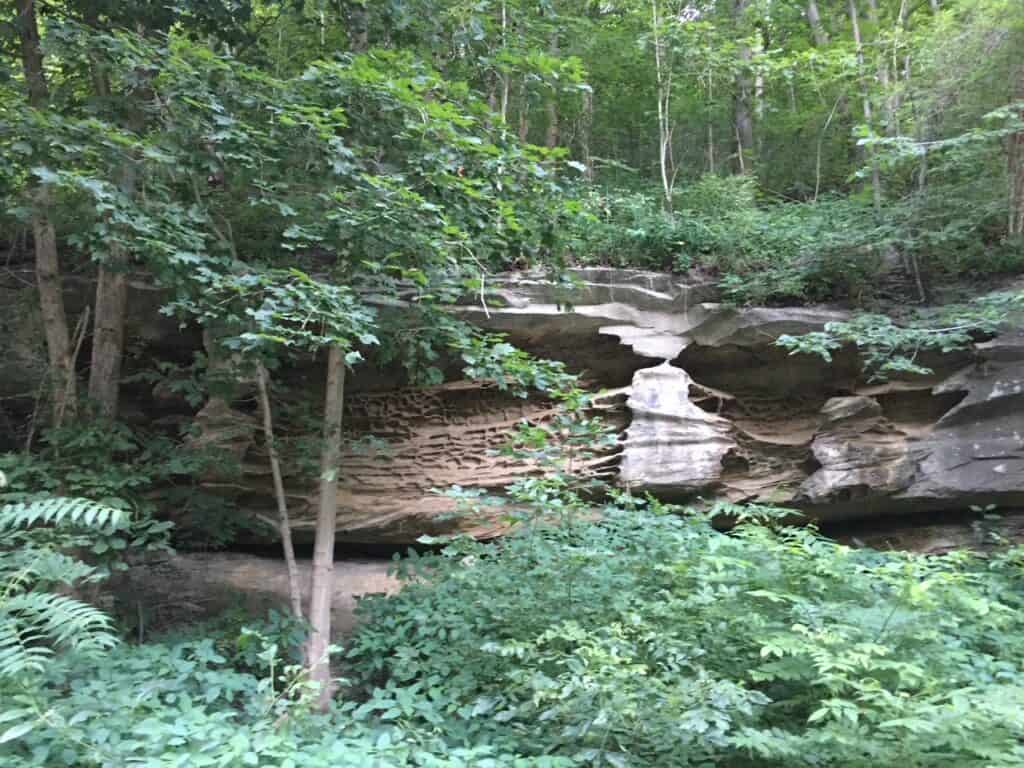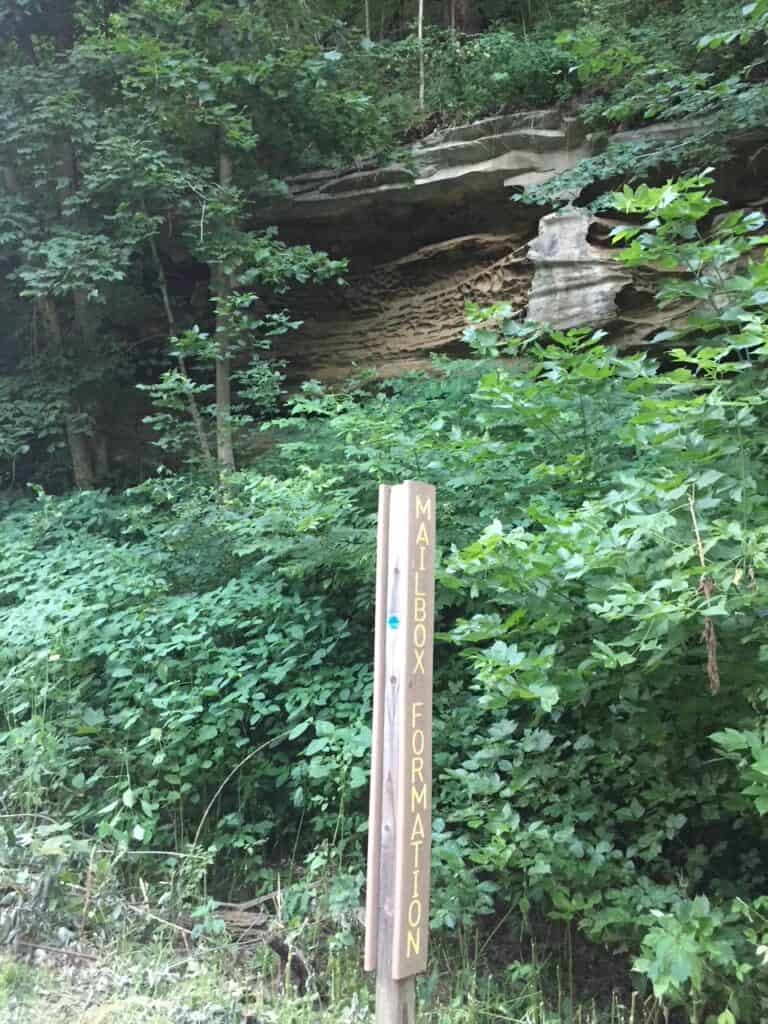 Cedar Creek Park – This county park boasts picnic pavilions, camping lean-to's, playgrounds, boat launch, a dog park, and wooded hiking trails. Our dogs love the creek and creek trail here, too! The parking lots are large enough to accommodate daytime parking for your RV.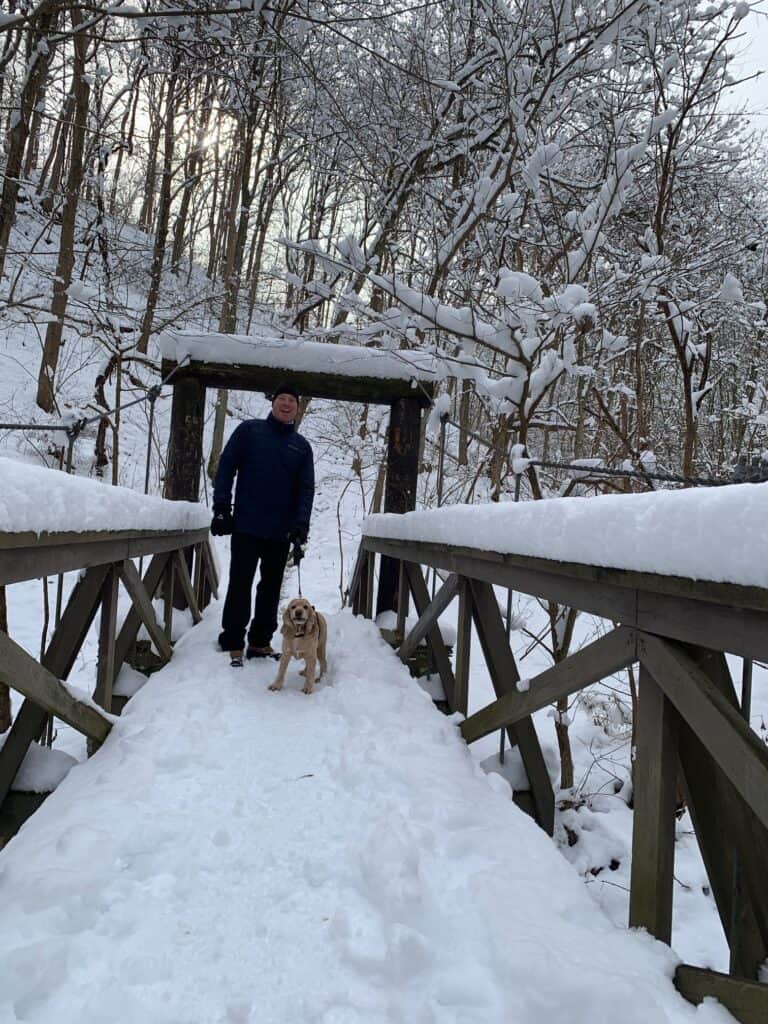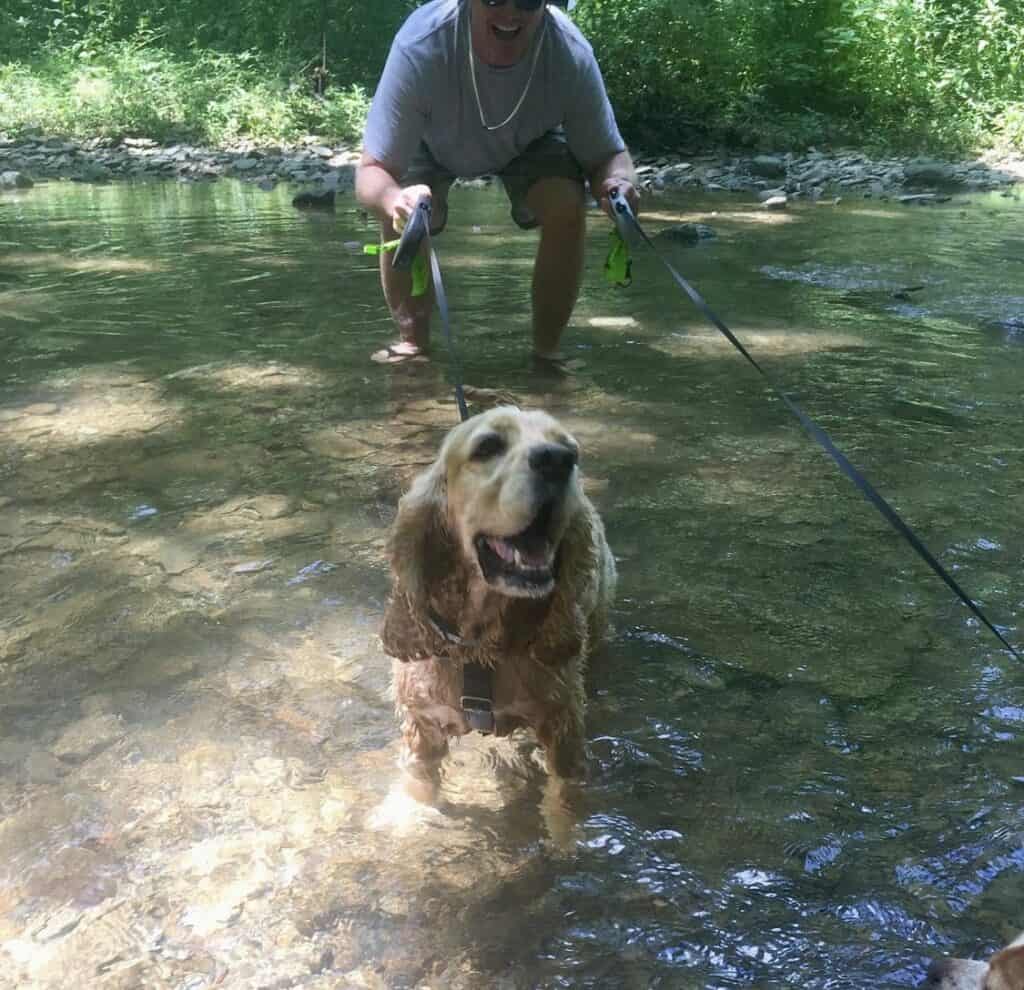 Whitsett – Sager Mosaics is a fun art studio stop where you can browse beautiful mosaic work, grab a homemade ice cream sandwich, and pose with a bear or rooster. You can also take a tour of The Ruins Project (by reservation only), a coal mine-inspired art installation.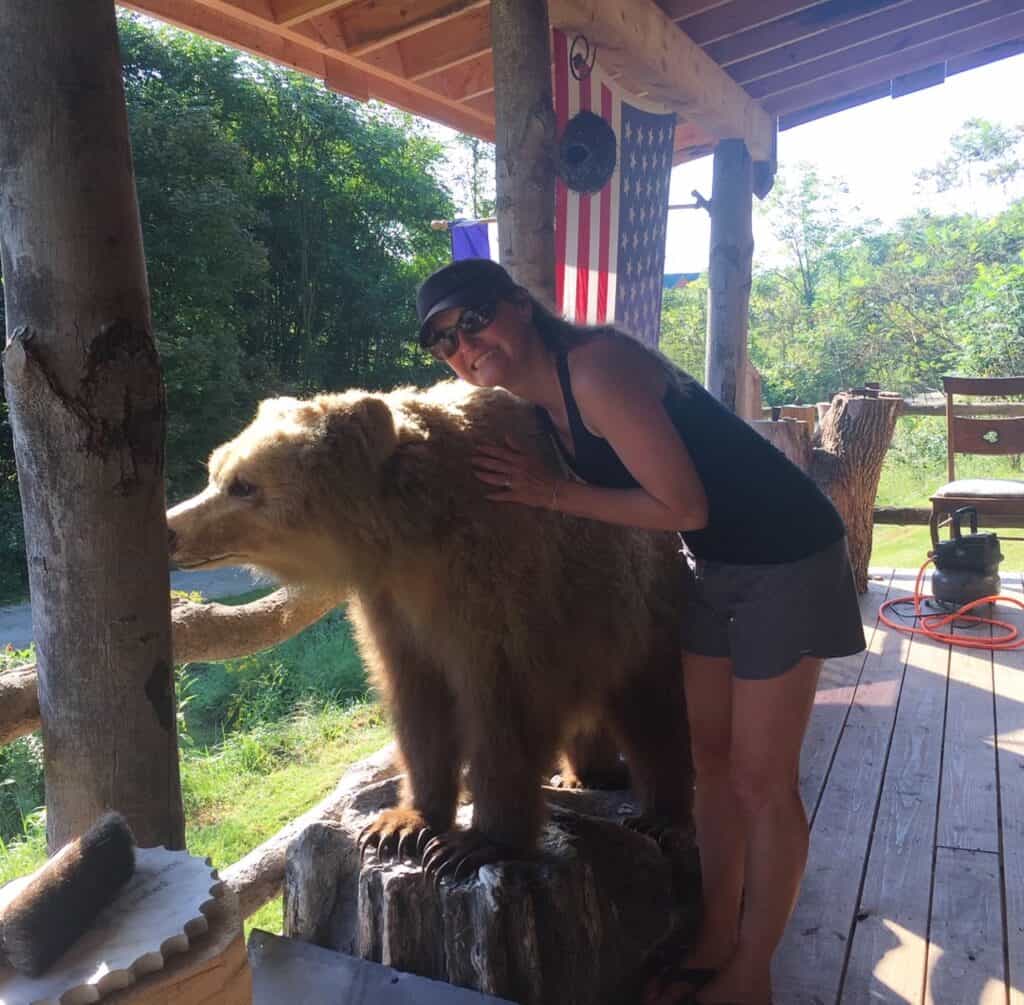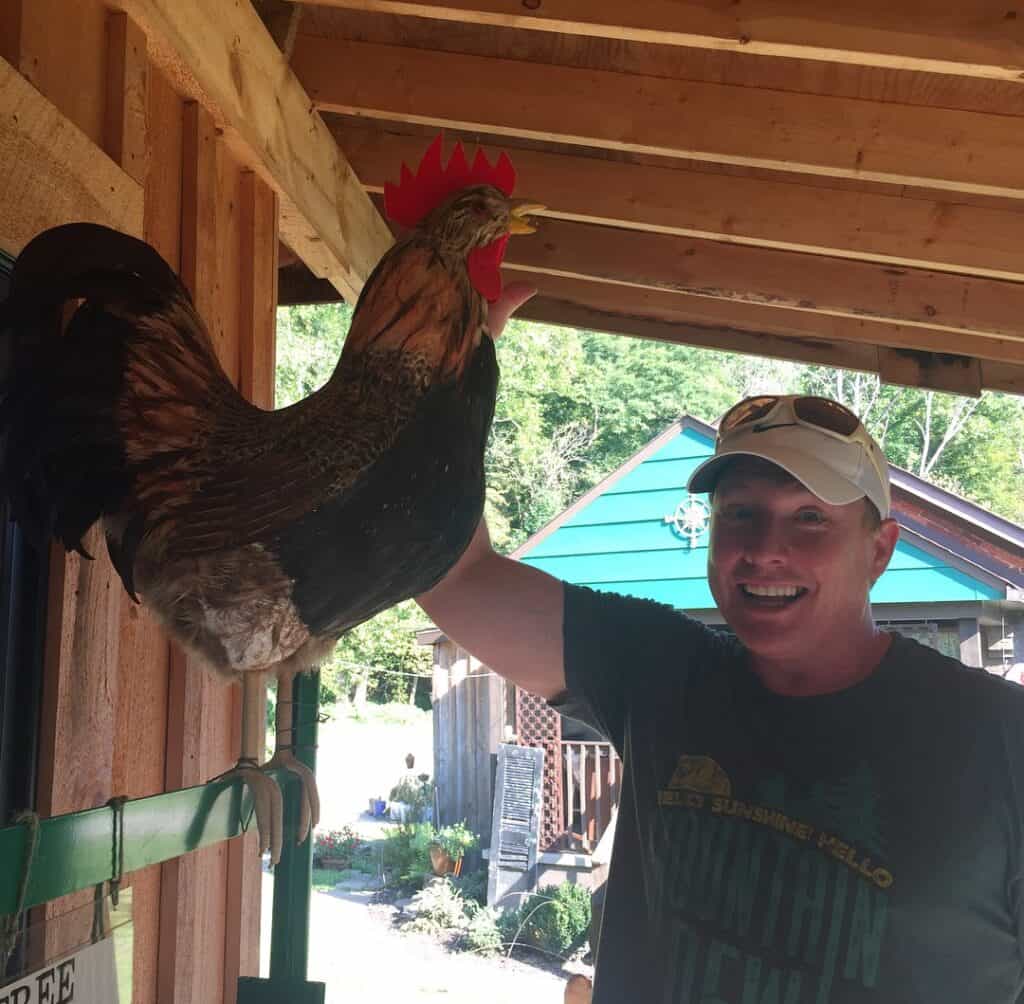 Layton – Right across the river from the GAP Trail, Hazelbakers River Trips offers canoe, kayak, and paddleboard rentals, plus shuttle service up the river for a scenic float back.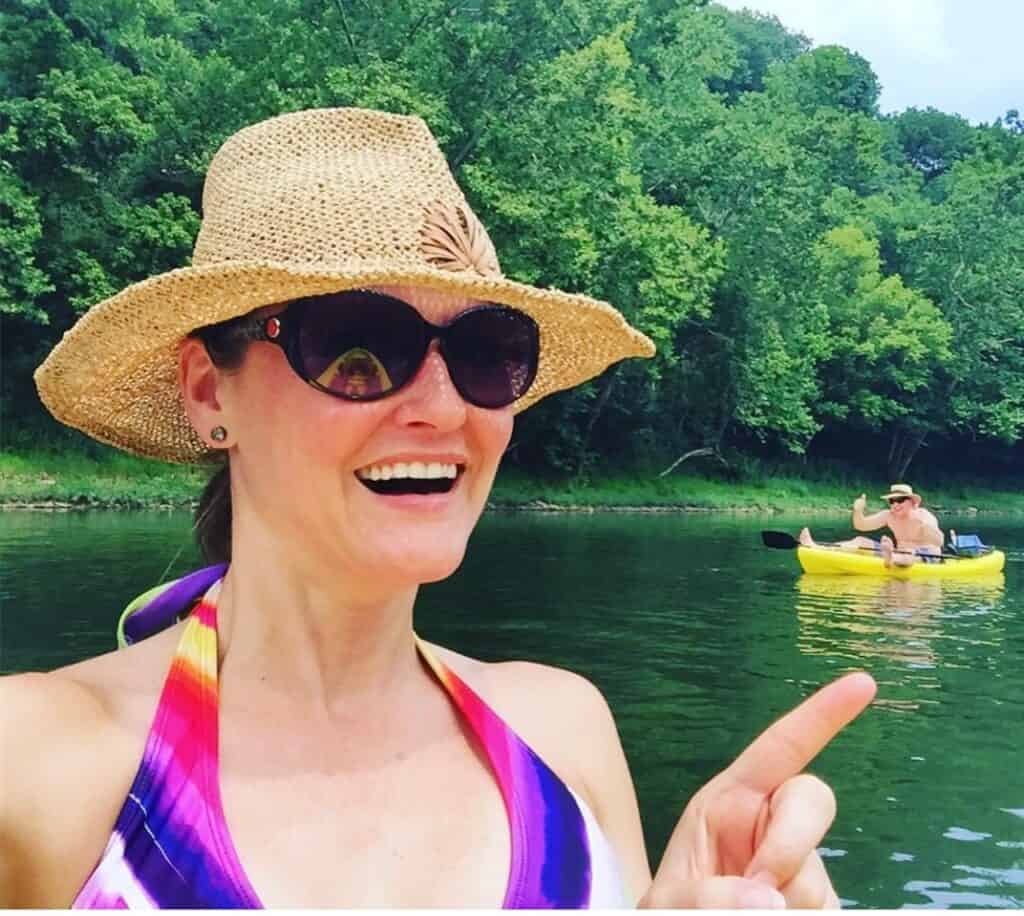 Wildlife, Fauna, and Fungi
A walk or ride along the GAP Trail has a lot to offer if you pay close attention.
We've seen many snakes sunning themselves – including garter, black, ring-necked, and even a baby copperhead!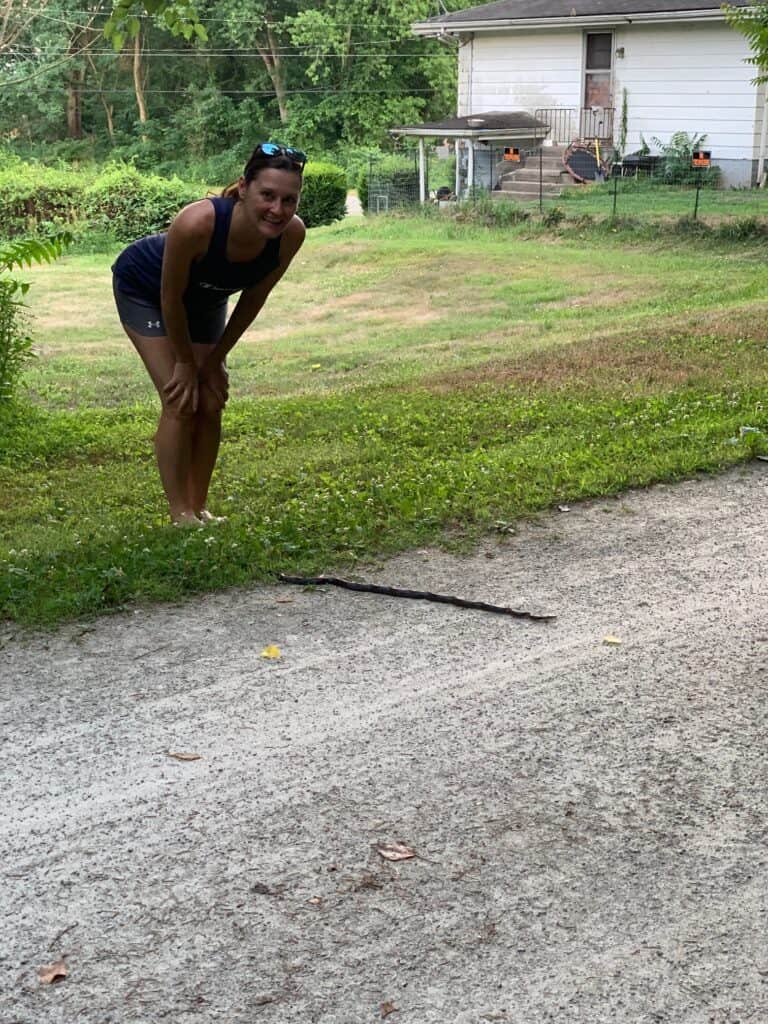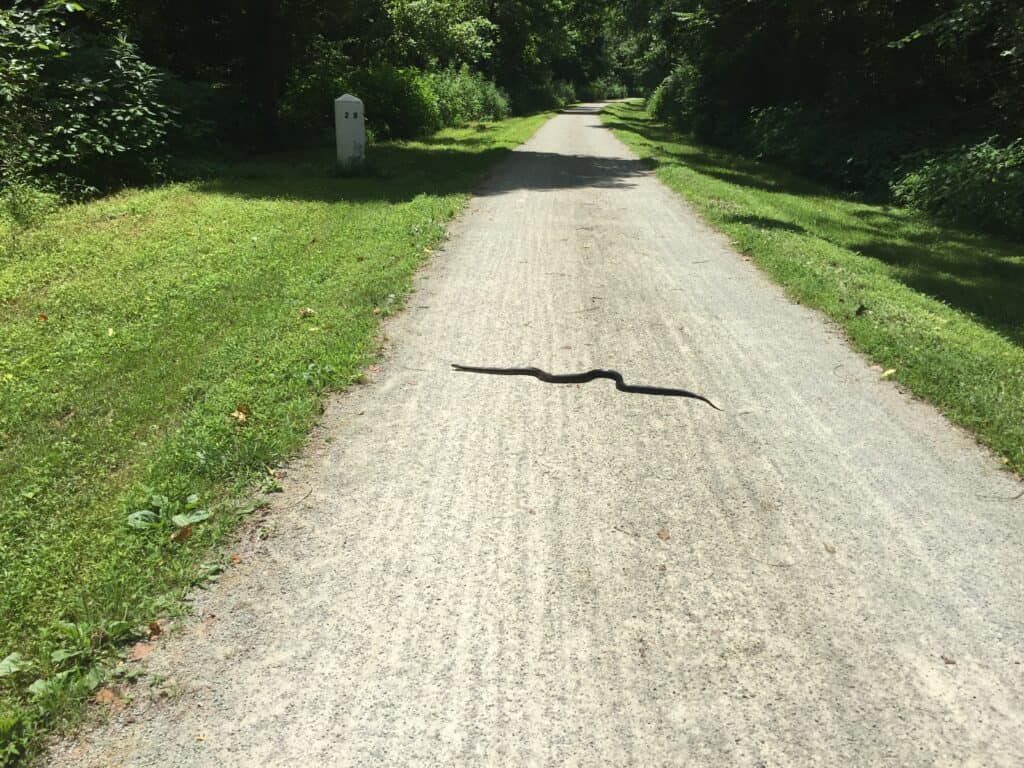 Rabbits and rabbits are common, and eagles and hawks are not unusual. More unusually, we've seen bats and dobsonflies. 
And deer. A lot of deer. Many many deer. 
The wildflowers are breathtaking in the spring and summer near Cedar Creek Park, and you can always spy some fungi in the more wooded sections. 
Winter, Spring, Summer, Fall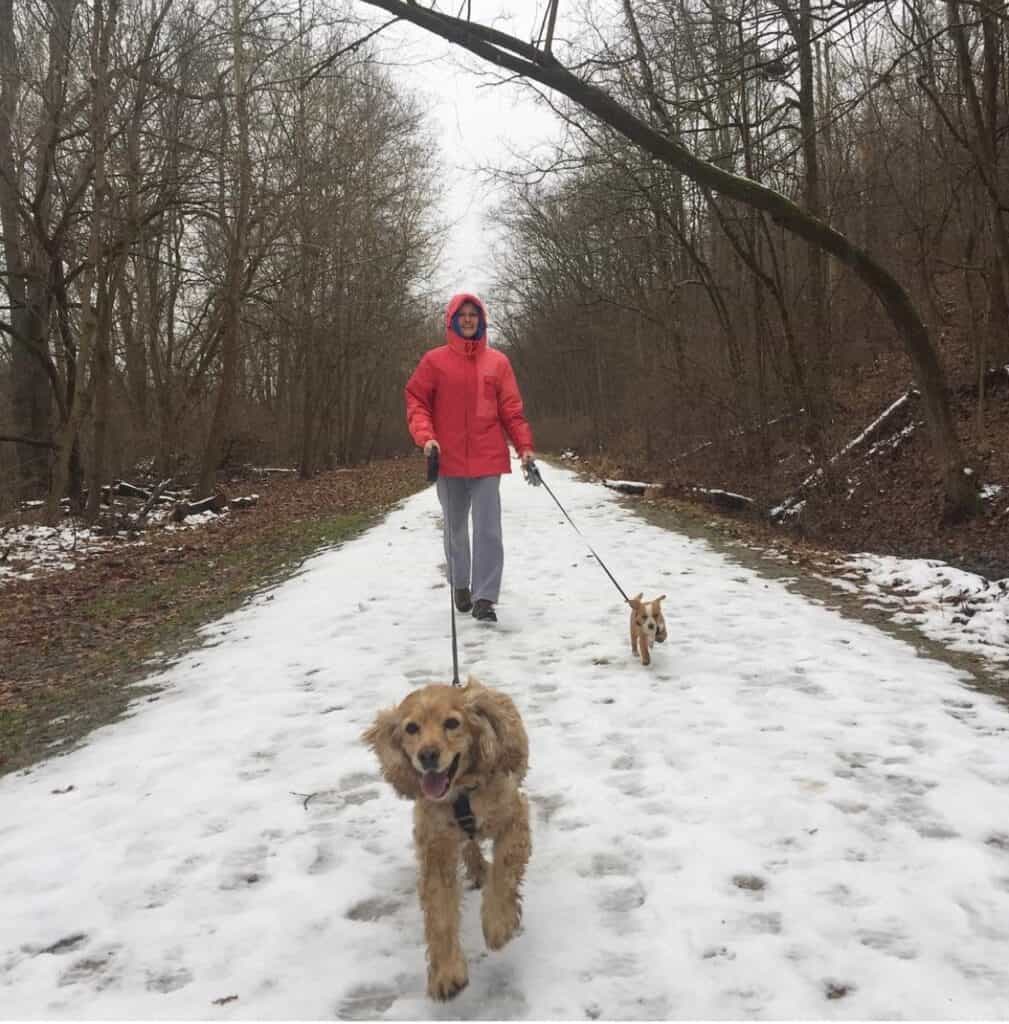 While the GAP Trail isn't necessarily a state park, it traverses through a few – and it is a worthwhile adventure, whether on bike or on foot.
Happy trails on the GAP Trail!