Please note that some of our links are affiliate links, which means at no additional cost to you, we will earn a commission if you click through & make a purchase. Happy clicking!
Ohiopyle State Park is our "home" state park- the one that is closest to us and that we visit the most- at least 10 times a year! 
So, yes, we have had many RV weekends here, but mostly, we visit for the day and try to do something a little different each time. 
Whether you have an afternoon or entire weekend, Ohiopyle State Park will not disappoint you!
Note: I refresh this post each time we visit to add in new things we can share- so if you've seen it before check it out again!
Ohiopyle State Park is about an hour and twenty minutes south-southeast of Pittsburgh in Fayette County. 
The famous (or infamous, if you've hiked the whole thing!) Laurel Highlands Hiking Trail ends (or begins, depending where you want to start) at Ohiopyle State Park, and the Great Allegheny Passage (GAP Trail) passes through it. 
This area was first inhabited by American Indians, and then was fought over during the French and Indian War. The British eventually won the valley, and next came the Whiskey Rebellion that found farmers taking their whiskey-tax frustrations out on tax collectors. 
Once General George Washington squashed that uprising, it took a few years before the railroads reached the valley. Once they did, the mountain lumber was harvested to feed the industries in the area. 
The same railroads that routed out the lumber, routed in visitors- but that only lasted as long as the lumber. Once visits slowed down, the site was purchased by the Western Pennsylvania Conservancy and eventually turned over the to state in 1965. 
All 20,500 acres of the park officially became Ohiopyle State Park in 1971.
The Kentuck Campground has 226 sites total, including 55 with electric. 
So far, we have stayed at Site #225, #234, and #190. All have adequate space and privacy, plus are close to the bathrooms and shower houses.
And, try to hold your applause- neither the upper nor lower shower houses have timer buttons!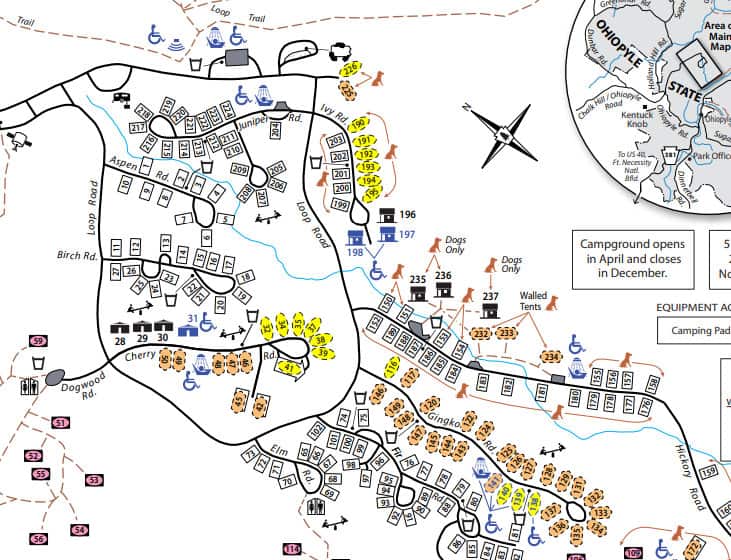 The tent sites at this campground are beautiful. If you are able to rough it, you will be rewarded!
You can hike or bike from the Campground on (appropriately named) Campground Trail down onto the GAP Biking Trail – but be prepared- this trail is NO JOKE! It seems to go downhill or uphill for miles depending on if you are coming or going. Keep this in mind if you are taking your bike down to the trail or are headed out for a long hike.
Once you are on the GAP Trail, it is only about a half-mile walk to town and the main amenities of the park- but save some energy for that hike back to the campground! 
If this is your first visit to Ohiopyle State Park, I highly recommend parking in the large cinder lot at the end of the park across the main street from Wilderness Voyagers Rafting & Bike Tours. On GoogleMaps, it shows up as Laurel Highlands Hiking Trail & Ferncliff Parking.
Most people will use the main visitor lot or park along the streets, so this is the best lot to avoid the crowd- and the earlier you can arrive, the less of a crowd you'll see, especially on the weekends. This lot is also better if you have a lot of gear, kids, or dogs, because you can spread out a little more. 
Parking in this lot will also give you easy access to another "highly recommended" item- Ferncliff Trail. You'll find the entrance to the trail well-marked along the GAP Trail right off the parking lot.
At just over a mile and half long, this loop trail circles Ferncliff Peninsula and gives you a taste of the rocky riverside and great views of the kayak & rafting take-outs. It also has some great forest canopies over the pine-needle-padded path.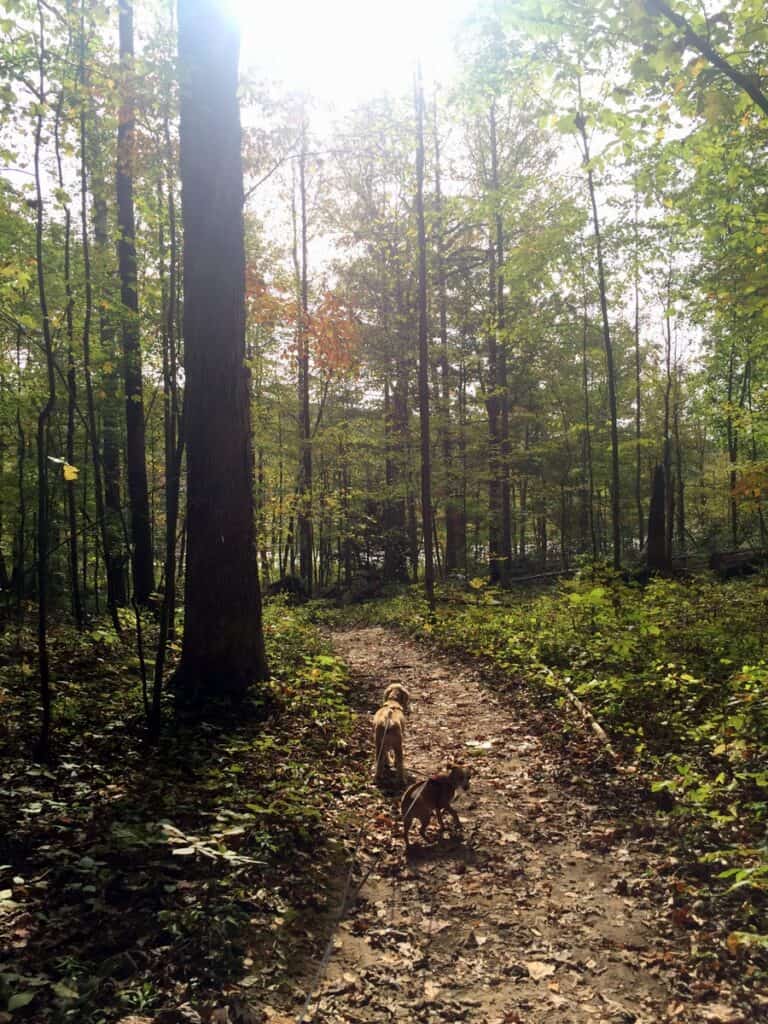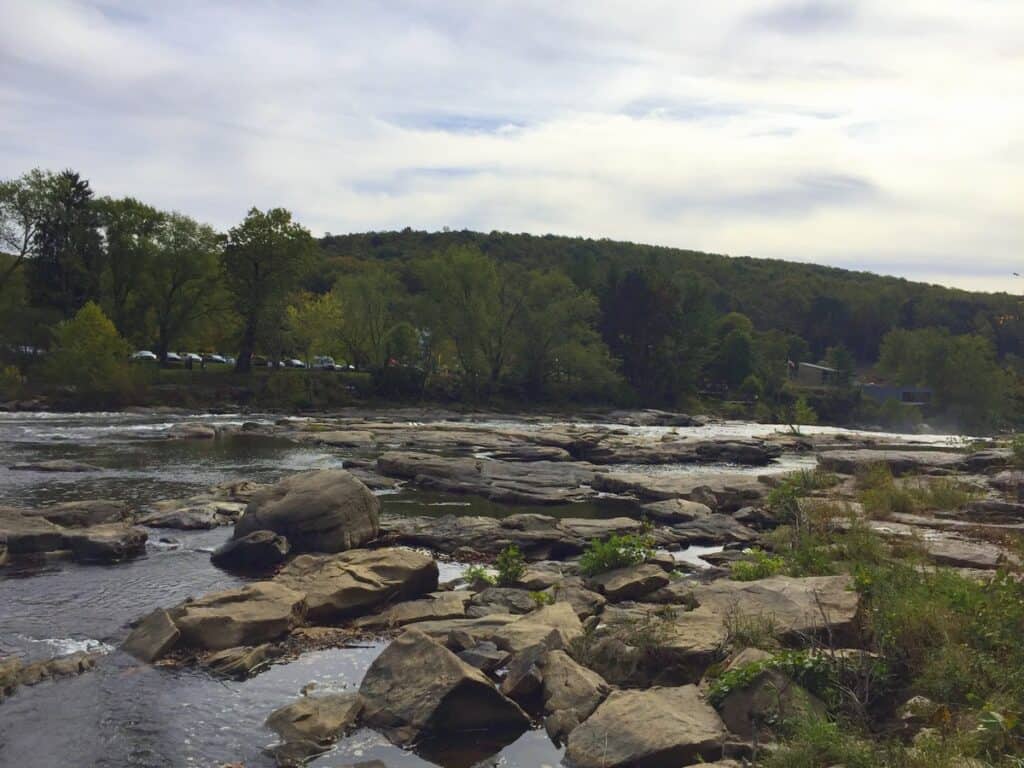 This is a very dog-friendly trail, but be sure to hold tight and stay alert if you have an active pup! The falls are right along the path, and the white water is pretty powerful. 
We felt safe letting Franklin and Hazel mosey through some side pools, but swimming along this trail was out of the question.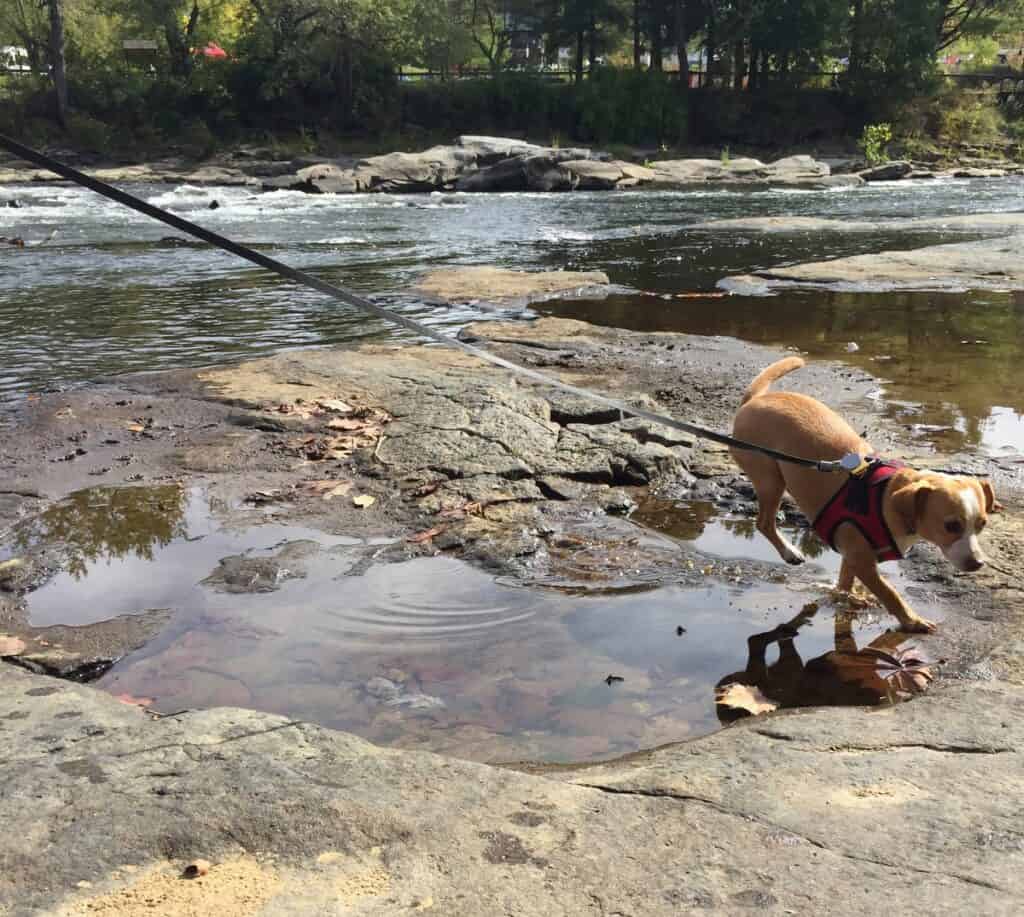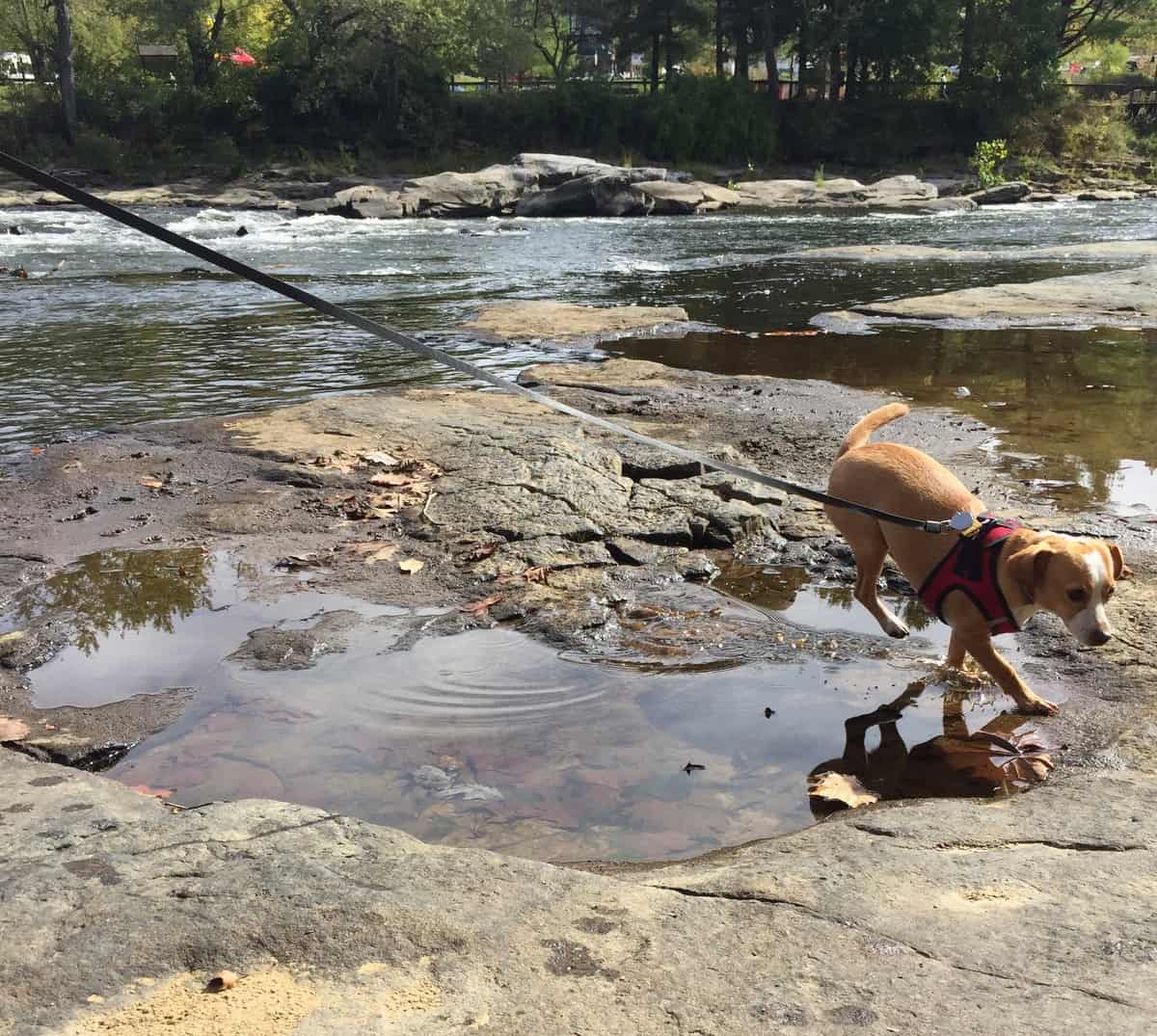 If you still have some energy when you finish the loop, head towards the second bridge on the GAP Trail out of town for some spectacular views of the river a little further downstream.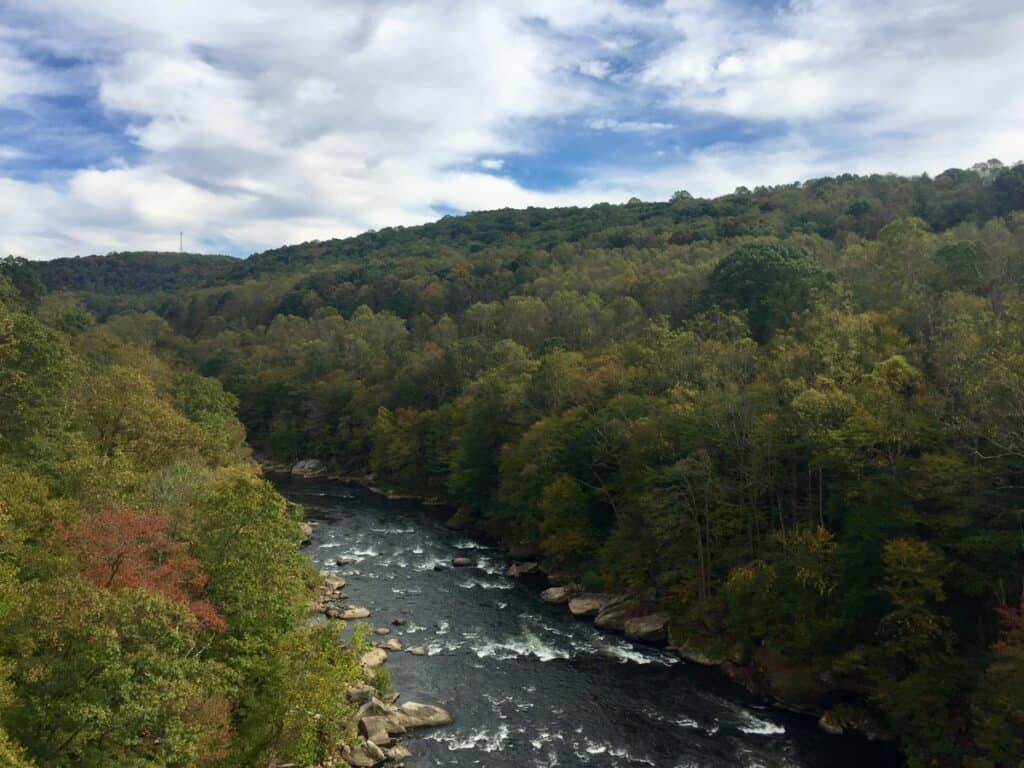 Once you're through watching the kayakers and rafters navigate the river on that bridge, keep walking until you come the to Campground Trail. 
Just a little way up the Campground Trail, make a right onto Beech Trail. 
This trail is great because it follows above the GAP Trail, so there are few places you can make an easy exit downhill at any time to a quicker walk back, creating a choose-your-own-length hike. 
The Beech Trail has a few foot bridges, a few around-the-rock scrambles, and just enough variety for your poochies. We exited this time about a mile back, and returned along the smooth, flat GAP Trail. 
As for wildlife, we've seen a lot of deer, a few harmless snakes, and some salamanders. 
3 Best Things About Ohiopyle State Park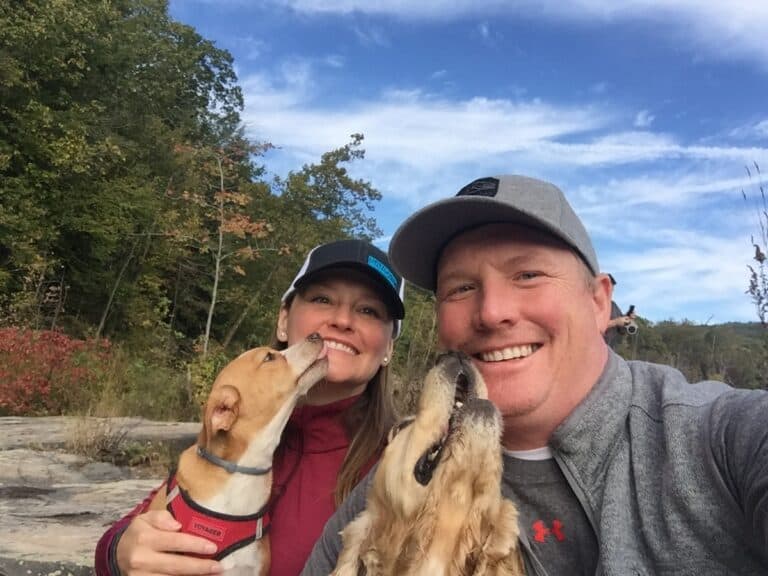 1. Close to home
It's so easy to explore and get to know all the nooks & crannies of parks near where you live. We're lucky to have this one so close by- especially during leaf-peeping season!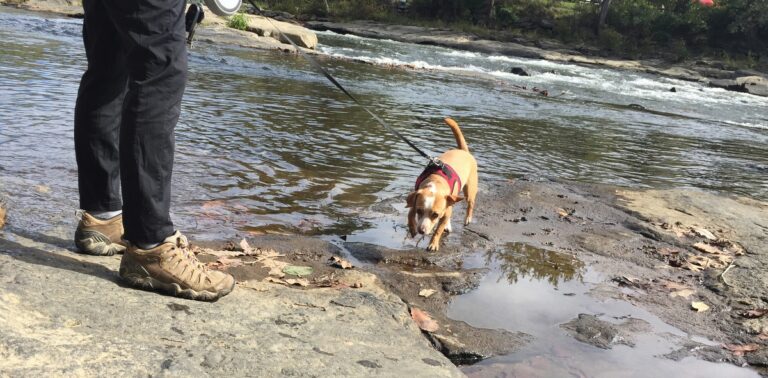 2. Dog-friendly trails
All of the trails here are winners to Franklin & Hazel. Be sure to grab a map at the Park Office/Train Station so you don't miss any!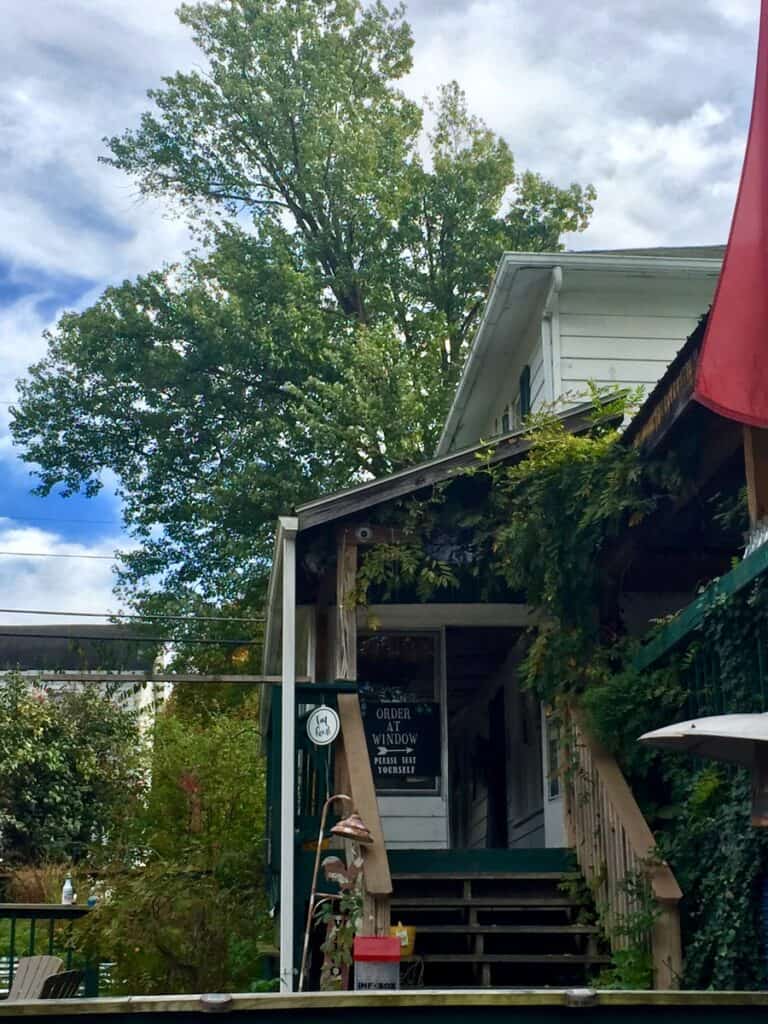 3. Plenty of grub!
From the brews at Falls City Pub to the original eateries around town like Falls Market Restaurant or the Kickstand Ice Cream Shop, Ohiopyle will not let you go home hungry - plus many of the places have outside, dog-friendly seating.
Pit Stop: Ohiopyle House Cafe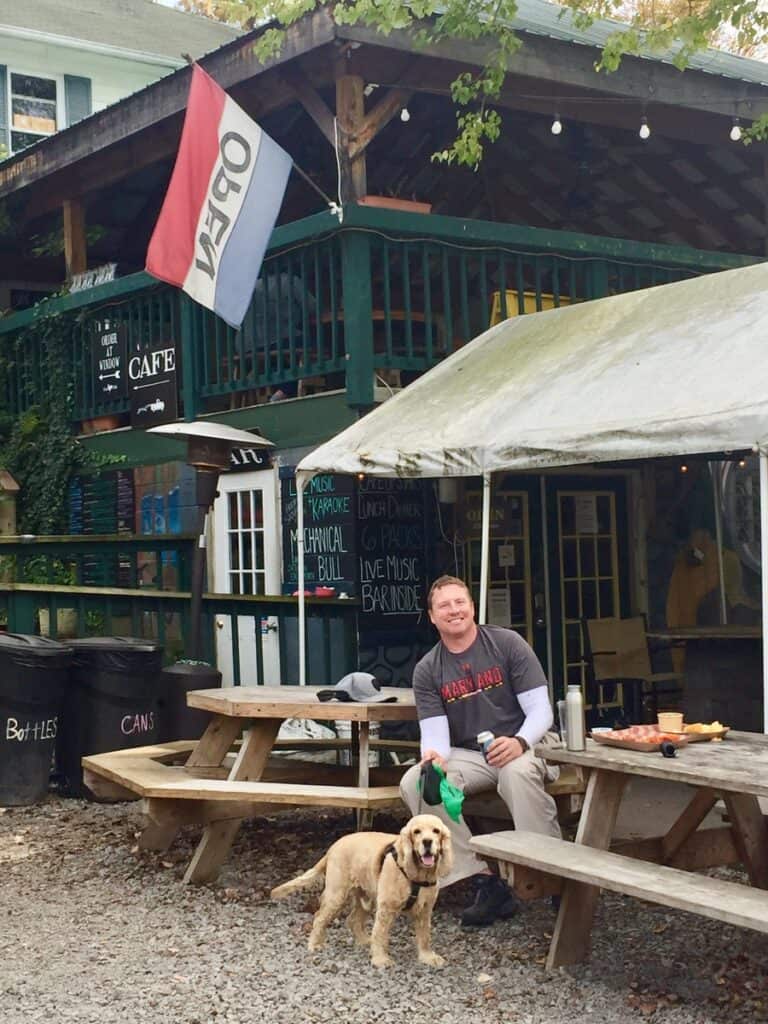 Our last stop of the day was in town at the Ohiopyle House Cafe. 
They won us over with outside picnic-table, dog-friendly seating. 
Their menu focuses on organic and locally-sourced options, including sandwiches, salads, sides, and creative drinks (plus plain old beer and wine). 
We opted for the guacamole & chips to start, and then downed the Shredder sandwich & sweet potato waffle fries. 
The Shredder sandwich was shredded (surprise!) grilled Italiany-spiced chicken topped with spinach, feta cheese, and tomato on grilled bread.
There were too many sweet potato waffle fries for us to finish, so Frankin & Hazel stepped up to help. 
One more thing to add to the "highly recommended" list at Ohiopyle!
Ohiopyle State Park is our home park, and we've watched it develop into a more popular destination throughout the years.
Even though the crowds might be bigger, it's nice to know this beautiful area is getting the attention (and ultimately the protection) it deserves.