Please note that some of our links are affiliate links, which means at no additional cost to you, we will earn a commission if you click through & make a purchase. Happy clicking!
DAY TRIP!
McConnells Mill State Park in Pennsylvania may be only 40 miles north of Pittsburgh, but you will feel like you are in a completely different world on its boulder-filled hikes along a rushing, whitewater stream!
McConnells Mill State Park is located in Portersville, Lawrence County, only about a half hour drive from Pittsburgh.
It includes the National Natural Landmark Slippery Rock Creek Gorge, a historic gristmill, covered bridge, and a little over 11 miles of hiking trails.
The park is named for Thomas McConnell, who purchased the mill that's in the park way back in 1875. The mill was one of the first in the US to process grain, but sadly closed in 1928. The mill & property were given to a land conservancy, which then passed it on to the state, and it became an official state park in 1957. 
The covered bridge is a National Historic Landmark, and you can even take a tour of the grist mill (start times are posted inside the mill). 
McConnells Mill State Park has just over 11 miles of hiking, most of which have some serious boulder scrambling! 
You can see a park map here with all of the trails.
Since we were only day-tripping, we started from the Point Parking area and took Alpha Pass to Kildoo Trail.
From our car and back again, this loop was a total of around 3 1/2 to 4 miles – perfect for dogs (and day-tripping people with other things to tackle in a day). 
If you take this route, at the end of Alpha Pass you'll find the grist mill and the covered bridge.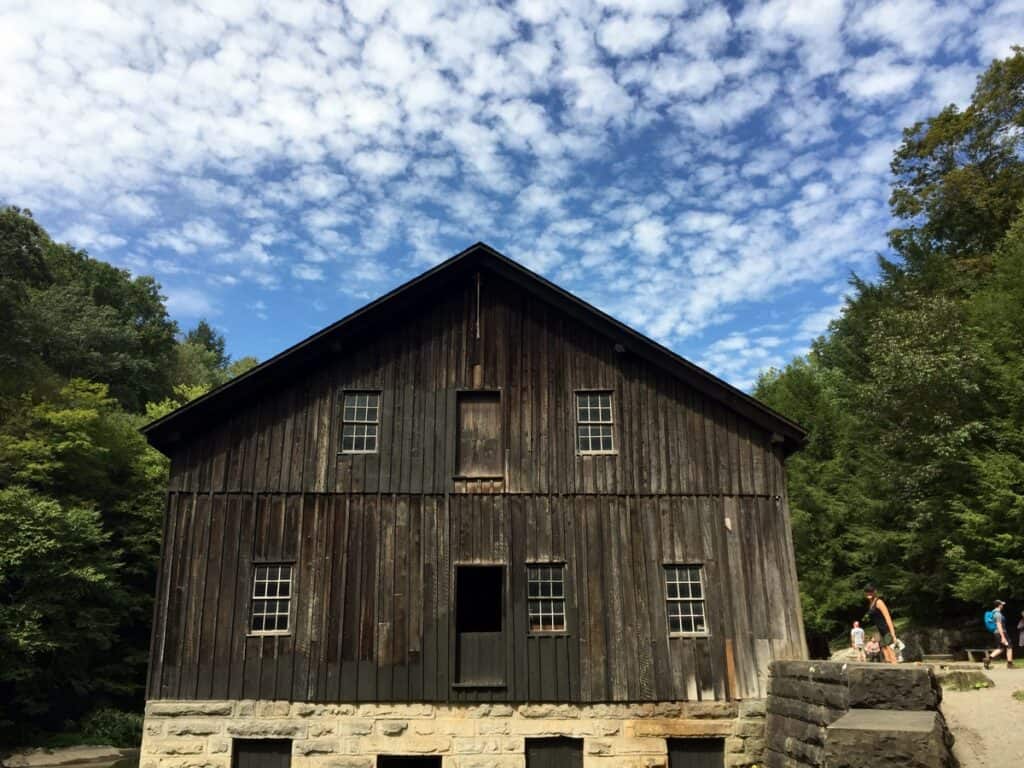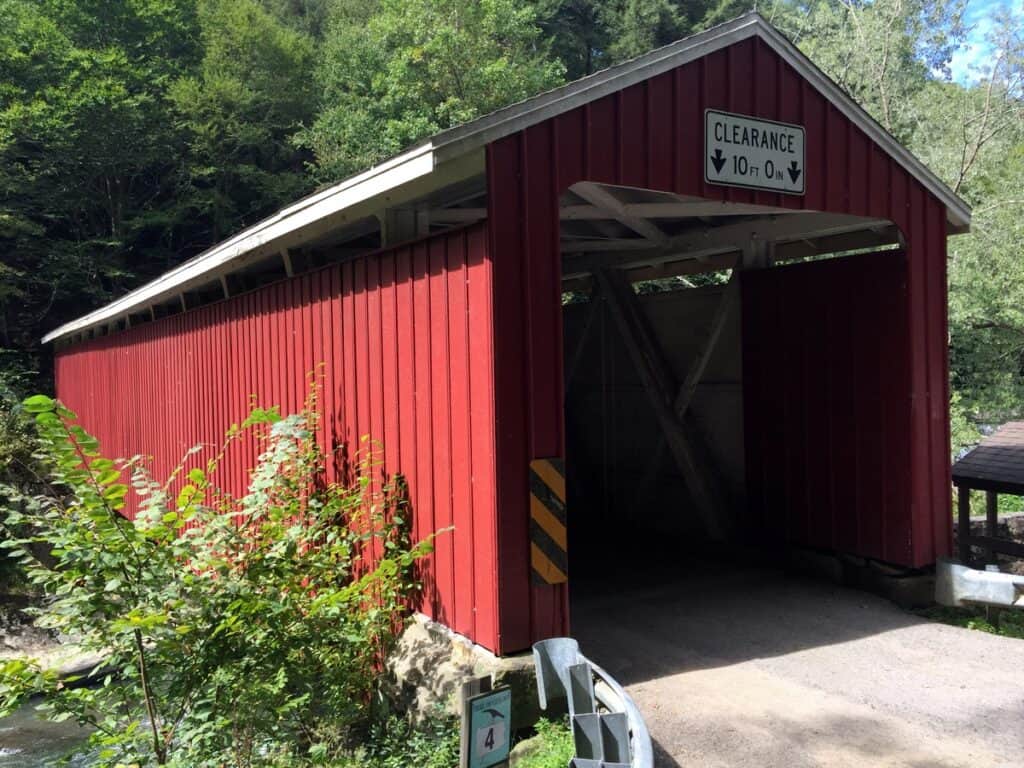 You can either take Kildoo Trail right before the covered bridge or venture through the covered bridge and start the loop on the other side. 
We walked through the bridge and started across the creek. 
Right away, we saw a Northern water snake with a giant salamander in his mouth.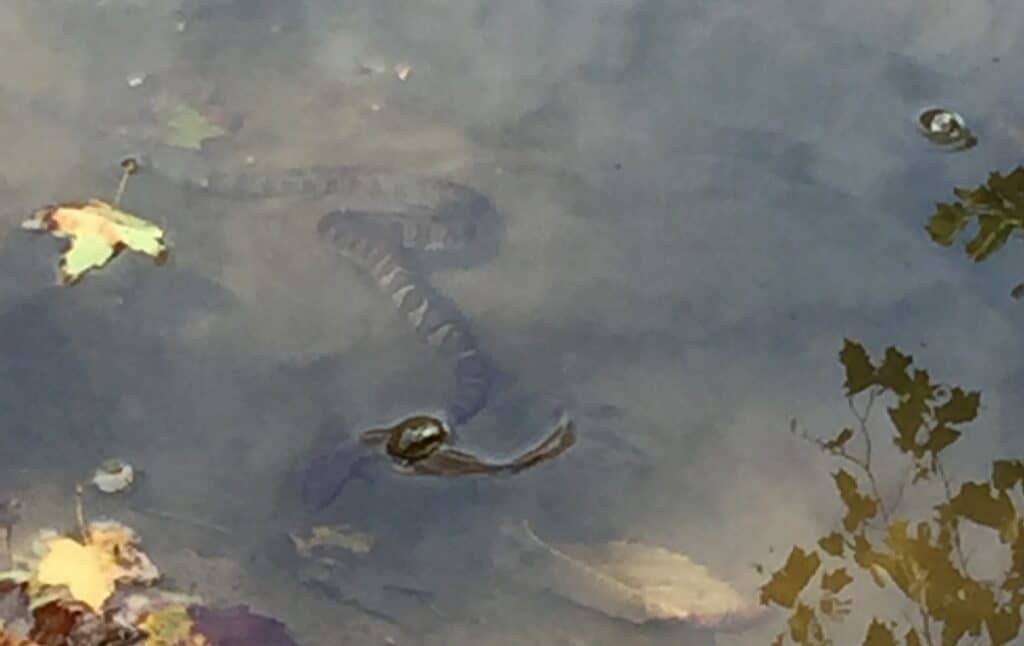 The gorge is…well, gorge!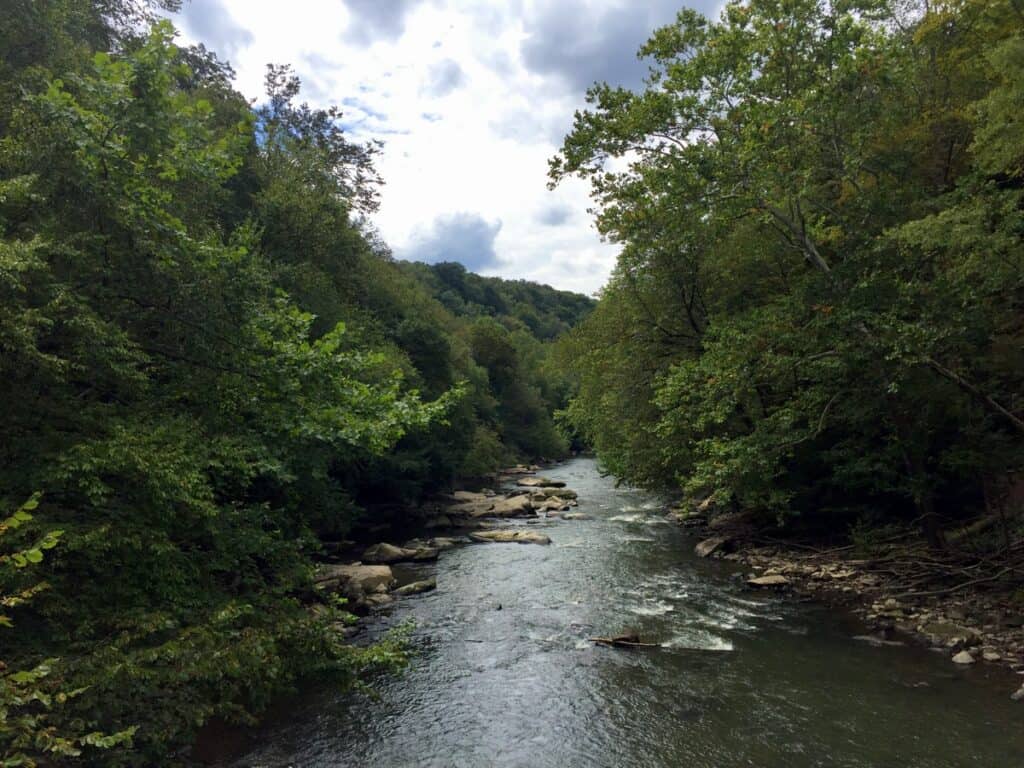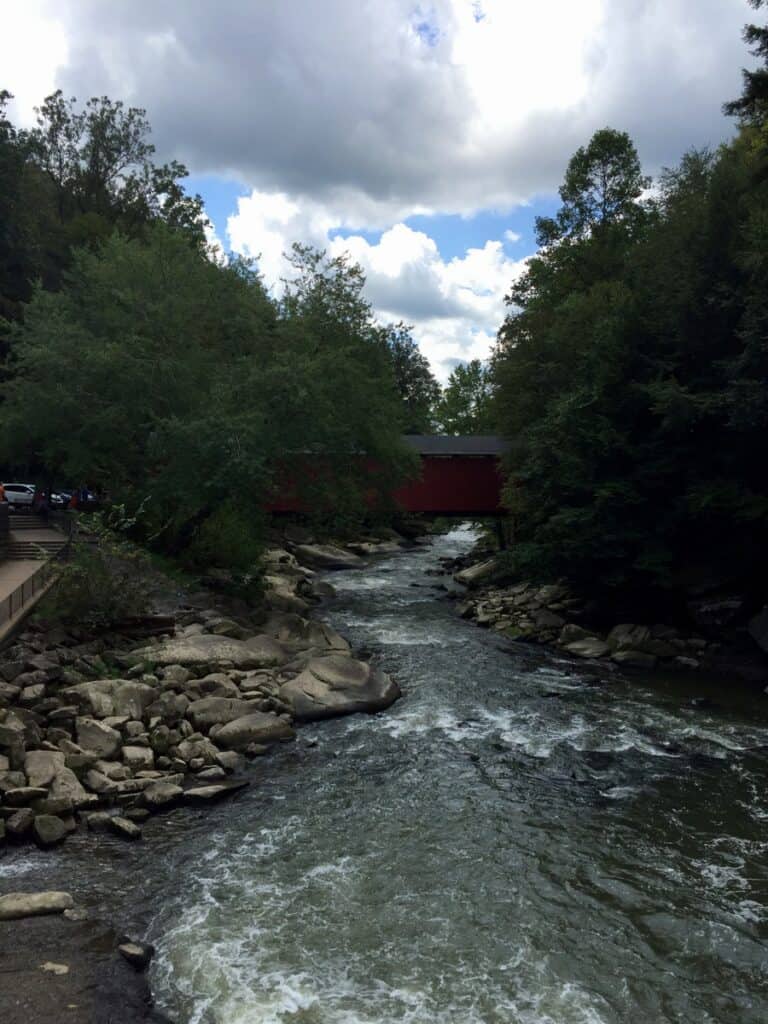 Make sure your dogs (and you and whoever else is hiking with you) is in good shape, because this trail has a lot of boulder scrambling, root navigating and slip sliding.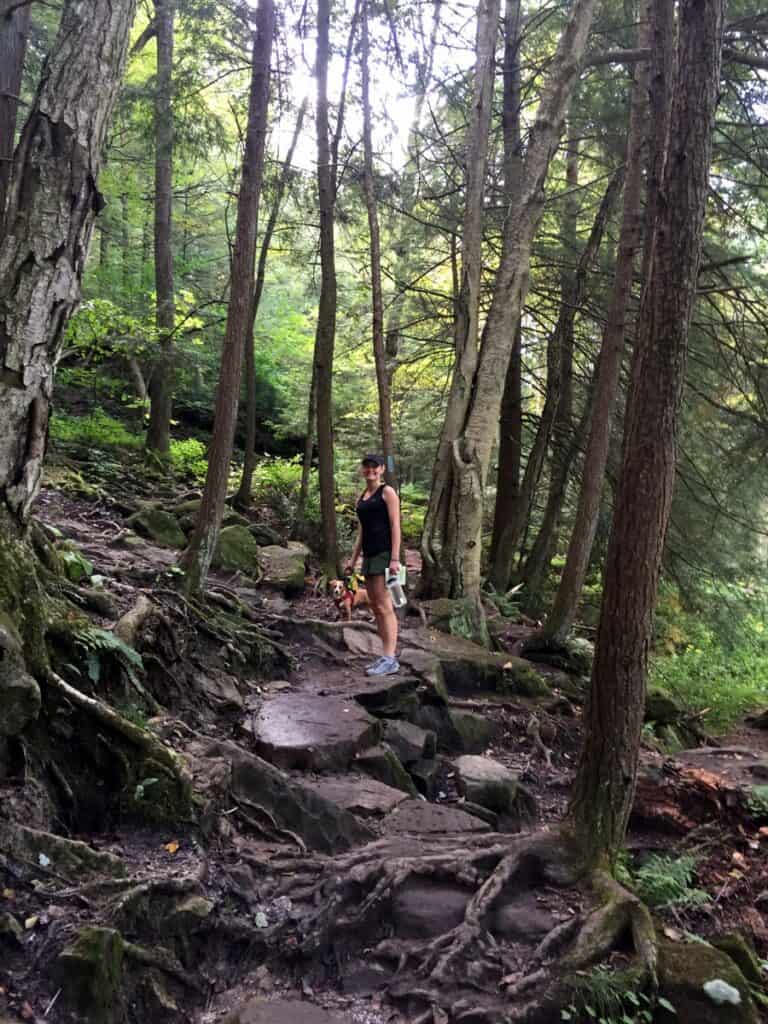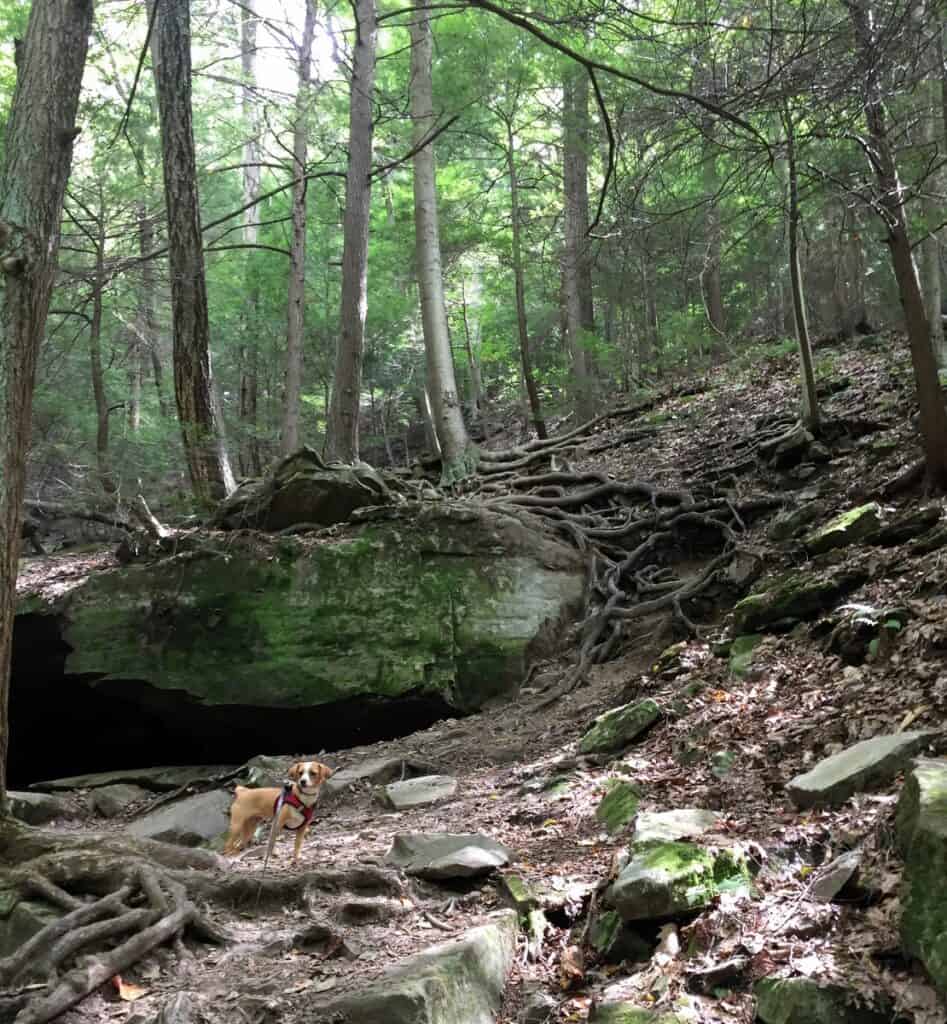 It is also has a bunch of interesting rock outcroppings & small waterfalls along the way.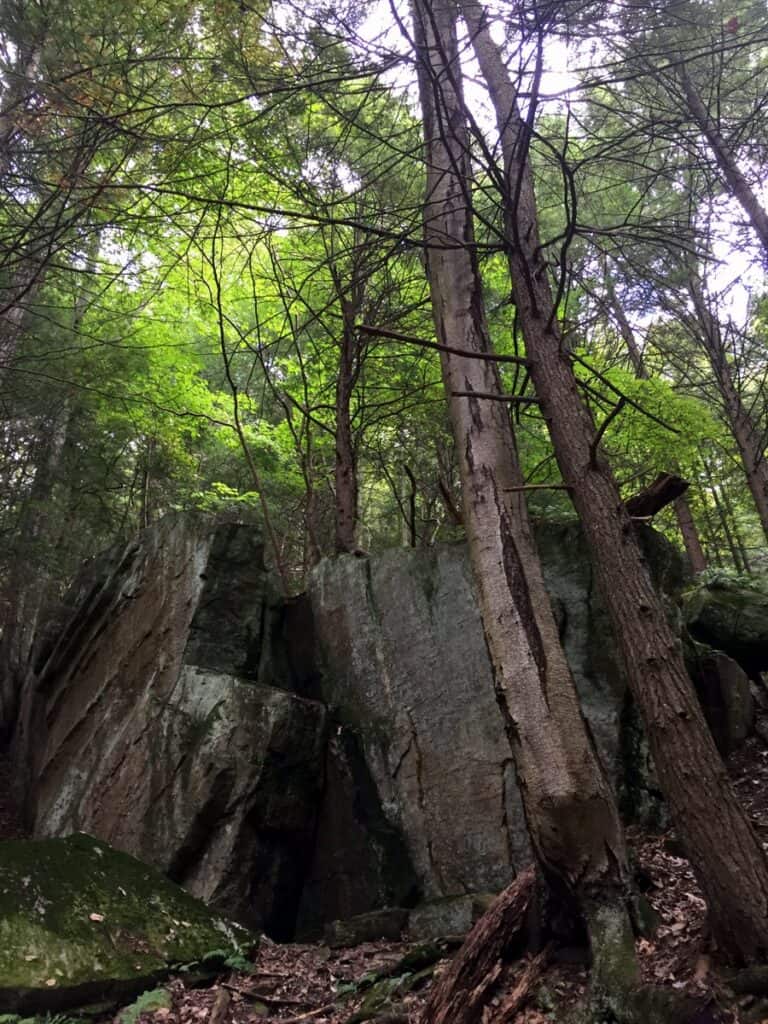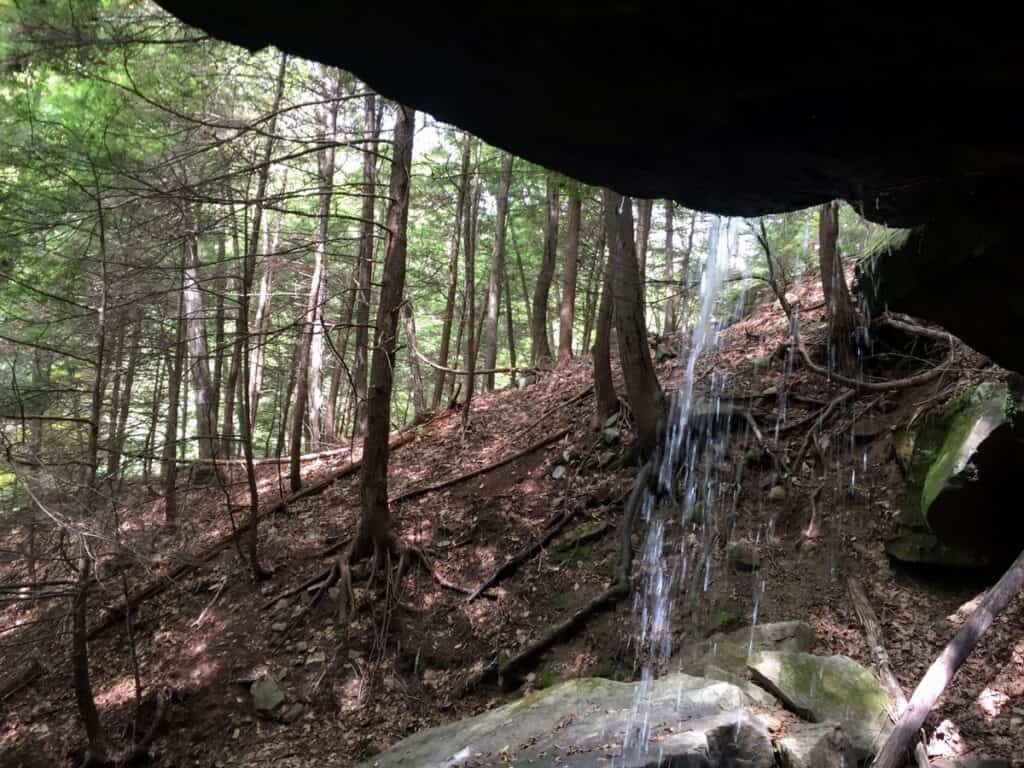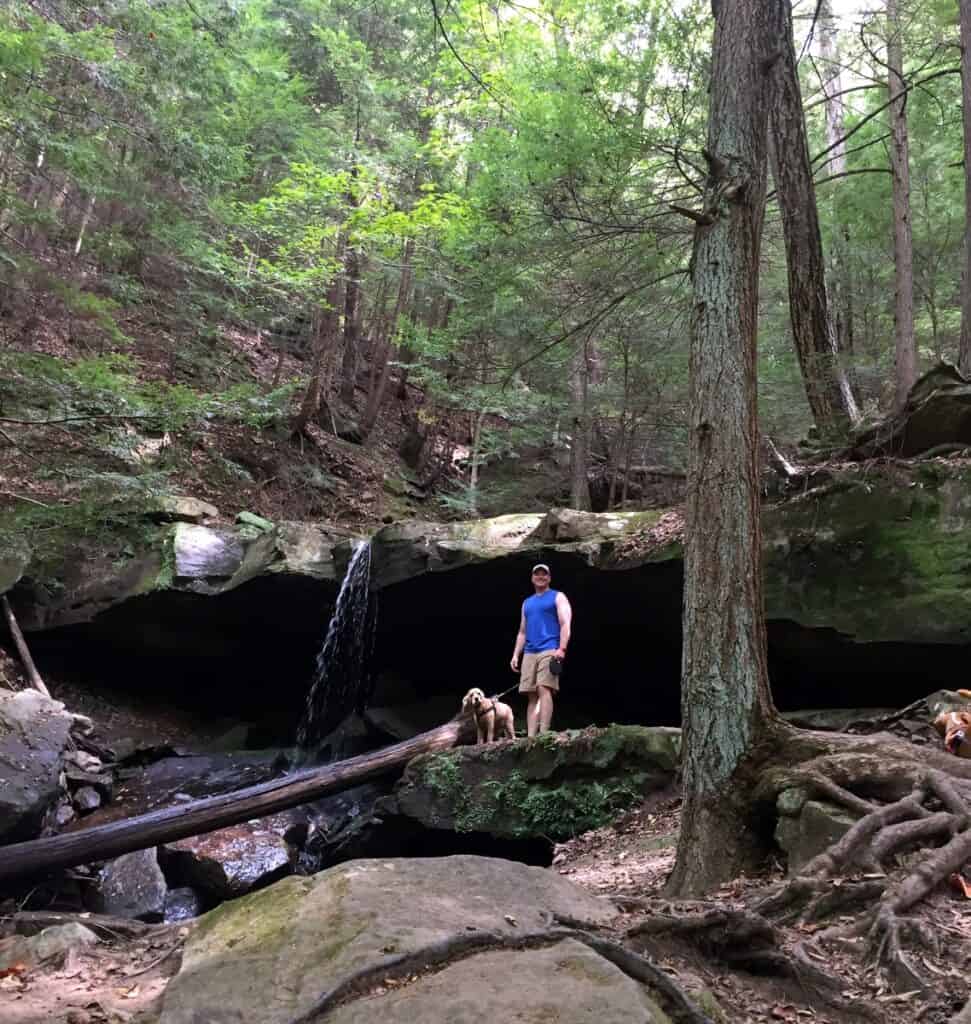 The trail even snuck in a few mushrooms!
When you finish the loop, you can stop for a last look at the grist mill dam.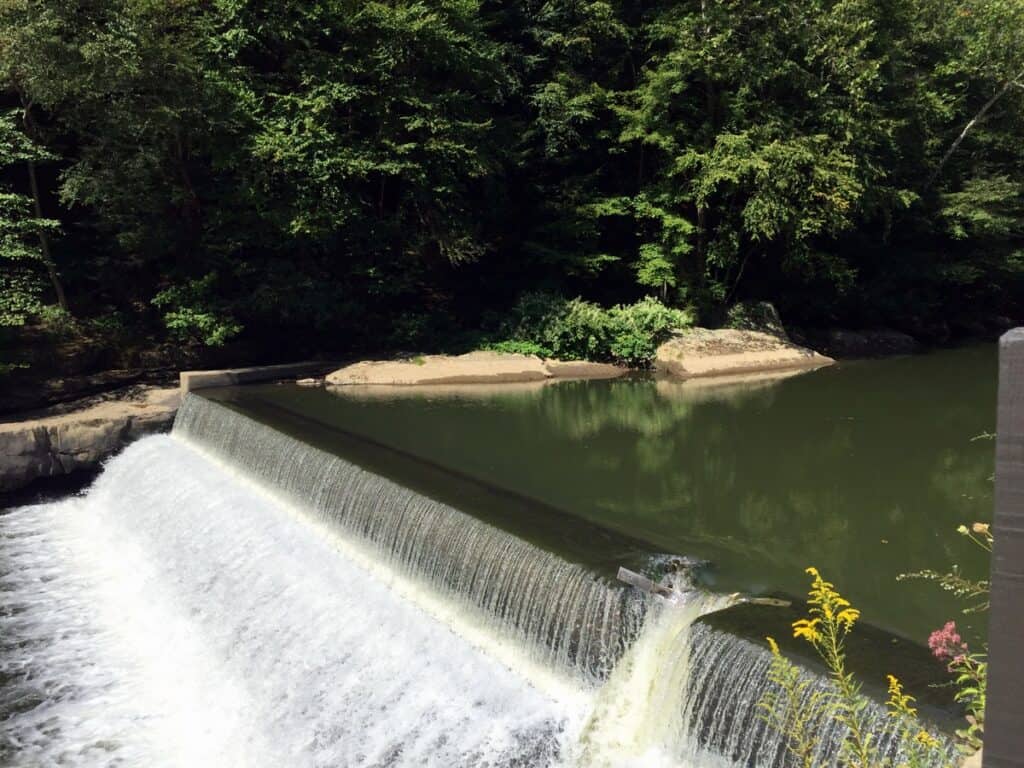 Although no swimming is allowed at the park because of the dangerous currents & rocks, there are a few calm side pools & small creeks where the dogs were able to cool off.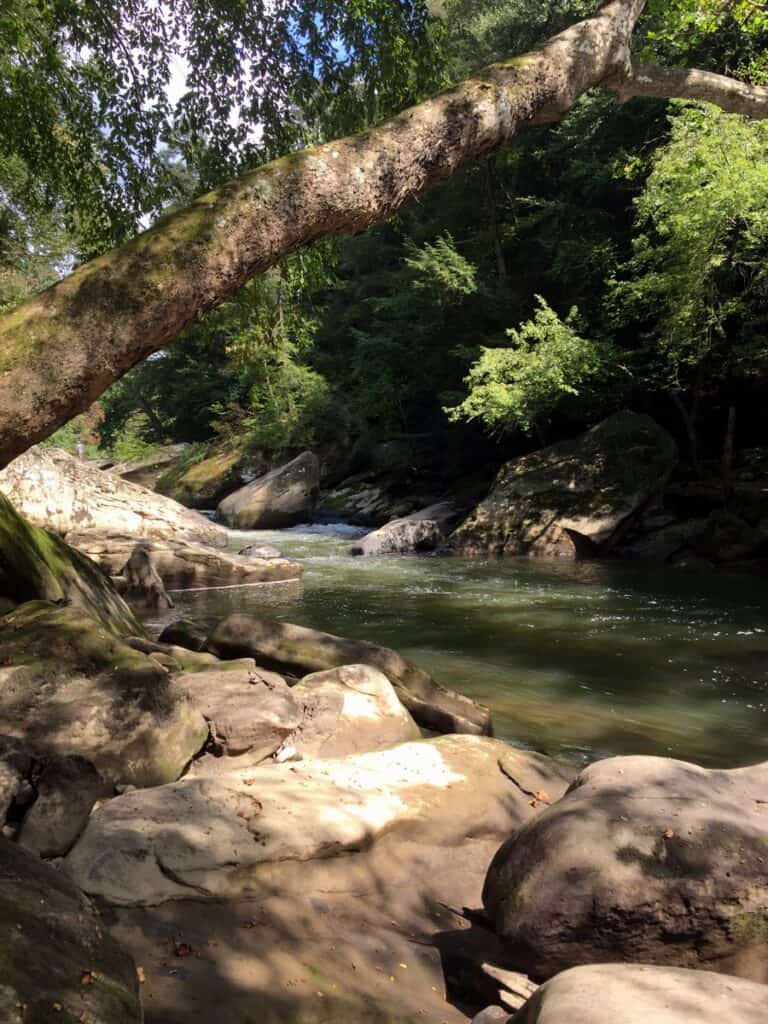 If you do take dogs (or kids!), make sure to bring a few extra towels – ours got extra wet & muddy on this hike…although you can barely tell on Hazel, check out Franklin's wet mug: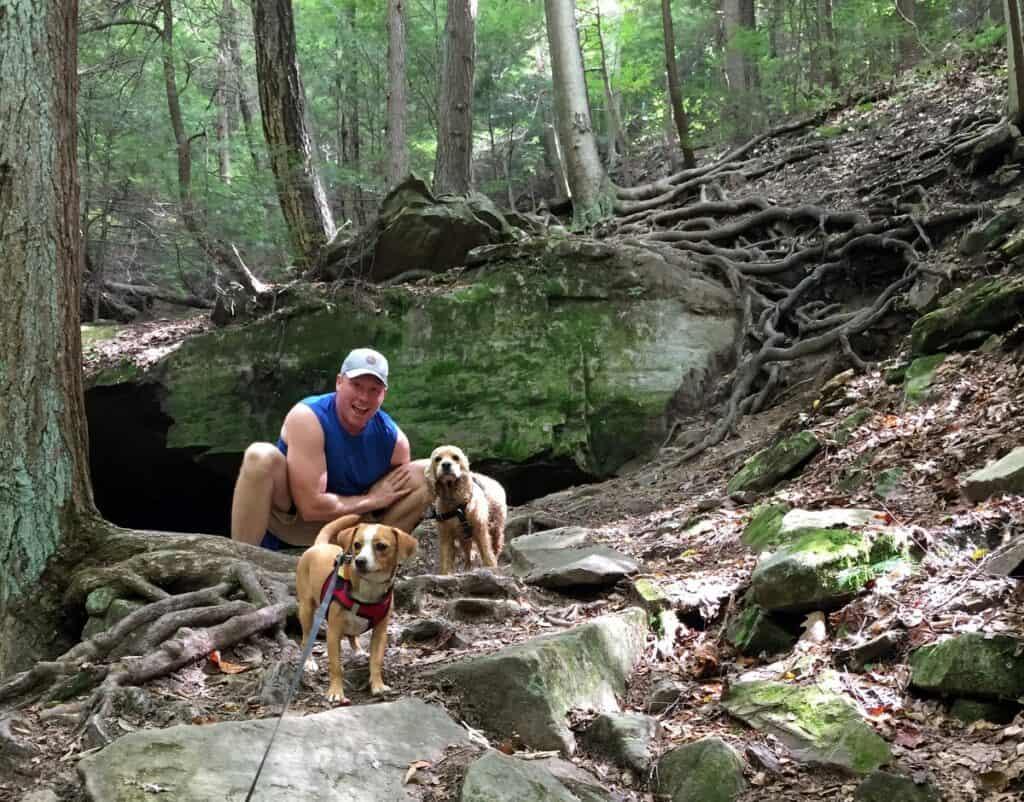 3 Best Things About McConnells Mill State Park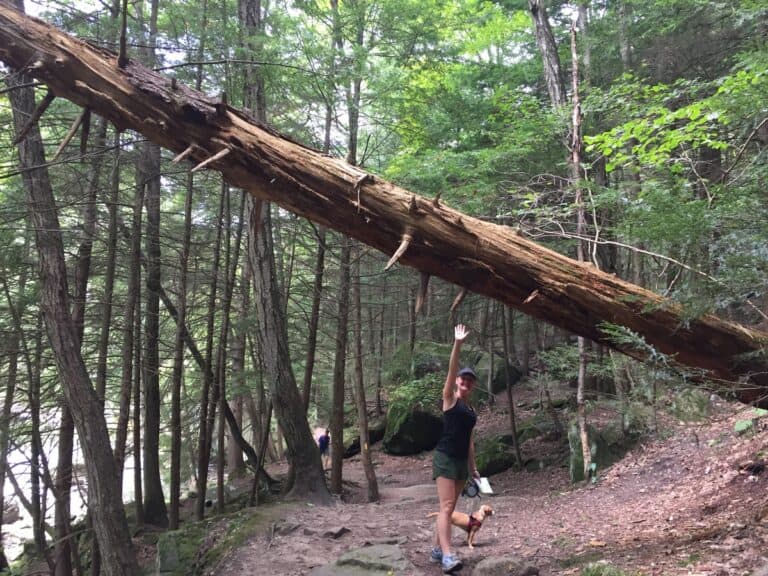 1. Close to the city
If you are visiting Pittsburgh and need a nature recharge, McConnells Mill State Park is only about a half hour drive.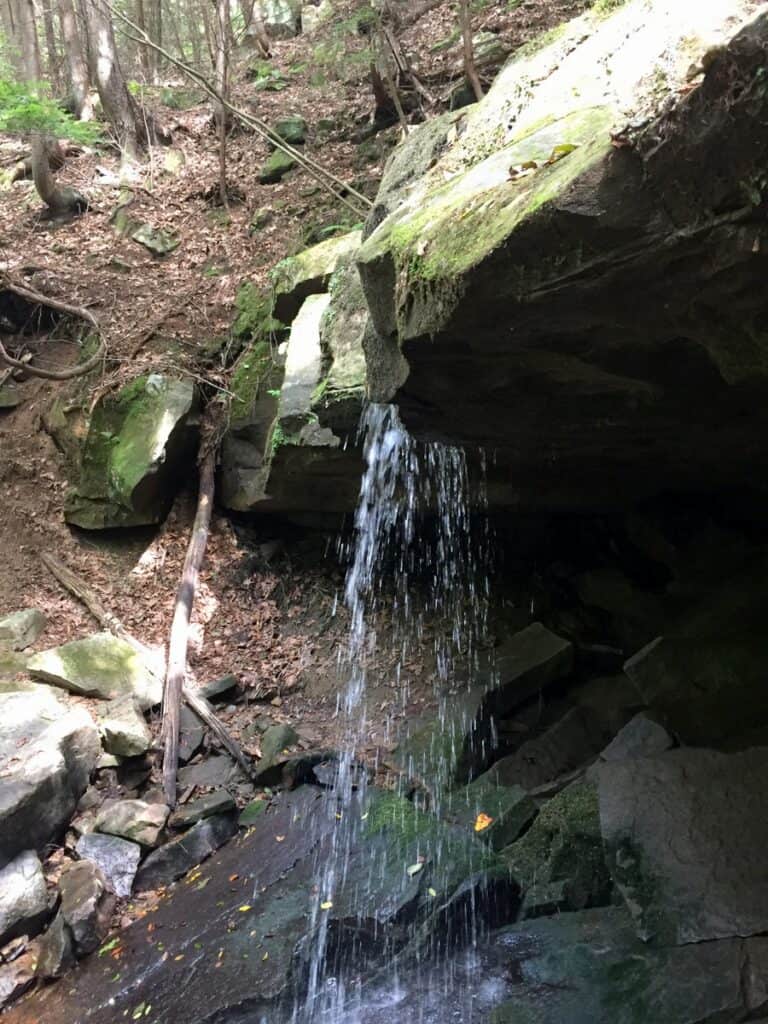 2. Boulder-filled hike with water features along the way
Boulder scrambling was fun for the dogs and great exercise for us. The scenery along the way made it worth the workout.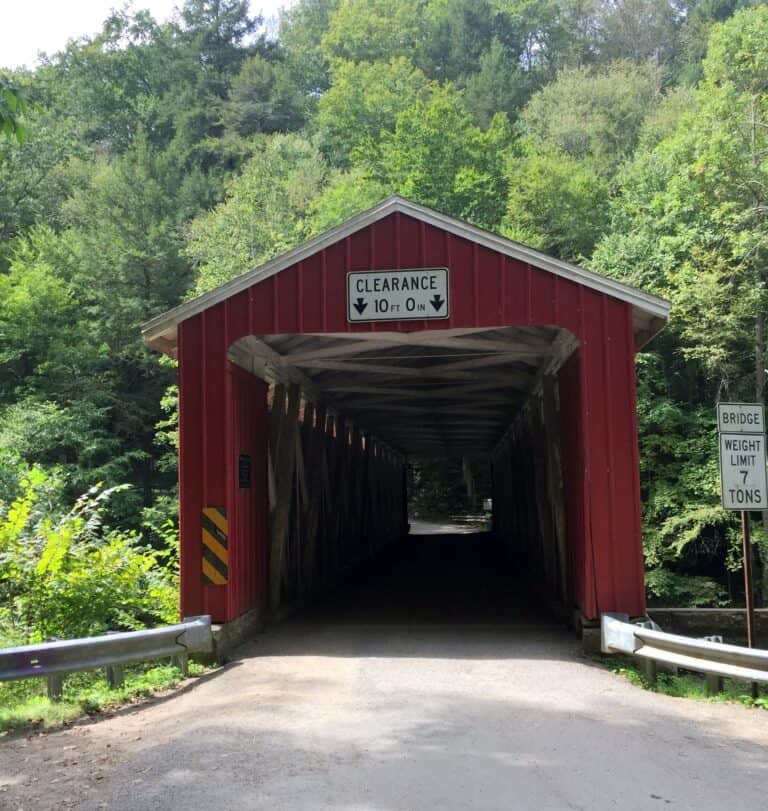 3. Local History
Grist mill tours + covered bridges + a geology self-guided tour = a lot of history packed into one small park.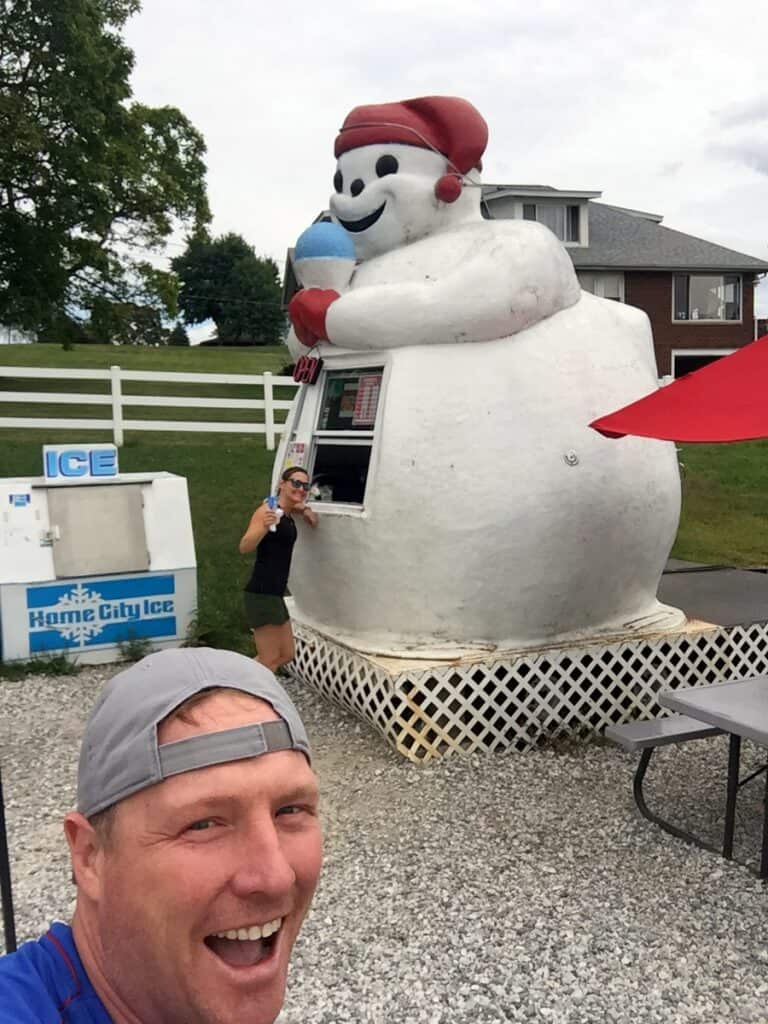 Because you will have worked up an appetite from that hike that can only be satisfied by ice cream (duh!), make sure to stop at The Snowman – a short 3 1/2 mile away in Portersville.
The dogs enjoyed the Doggy Cup while Russ tore up the Yeti Milkshake. 
McConnells Mill State Park is a great day trip from the Pittsburgh area that will have you climbing around boulders, admiring the Slippery Rock Creek Gorge, and stopping for ice cream afterwards.