Please note that some of our links are affiliate links, which means at no additional cost to you, we will earn a commission if you click through & make a purchase. Happy clicking!
If you are looking for a few quick hikes and an overnight stay complete with RV hookups & a view in northeast Ohio before heading to nearby Cuyahoga Valley National Park, West Branch State Park is your place!
West Branch State Park is located in Portage County in the northeast corner of Ohio, just east of Akron.
The park encompasses close to 5,400 acres of forests, meadows and shoreline around the Michael J. Kirwan Reservoir. The Reservoir was completed in 1965, and the park officially opened in 1966. 
West Branch is almost completely flat due to glacier activity from way back when. The glaciers smoothed out the land and then settled to create the bogs and swampy areas common here. 
The park is well laid out for boaters, kayakers & fishermen, plus it has a disc golf course and trails specifically for hiking, horseback riding, mountain biking & snowmobiling. There's also a small beach that OF COURSE doesn't allow pets. 
West Branch State Park has a large campground with 155 electric (29 full-service) and 14 non-electric sites that are all pet-friendly- hooray!
We stayed in the first loop right past the Camp Office in Site #21.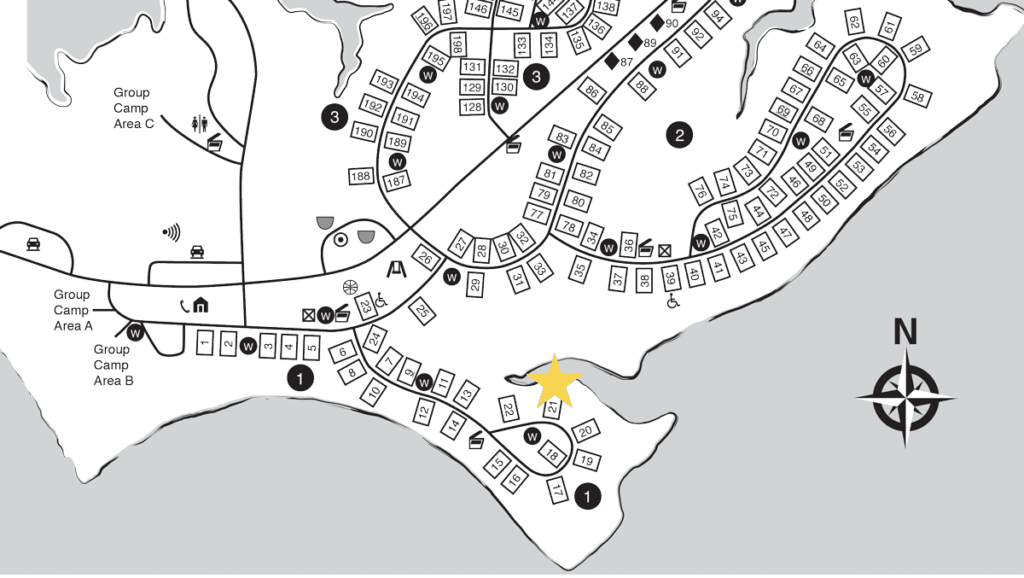 We had some great water views overall, but the small inlet we were on was muddy-colored and not great for dog swimming, unfortunately- maybe due to recent rains or just the natural churning of the lake.
On the flip side, mornings were sunny & bright!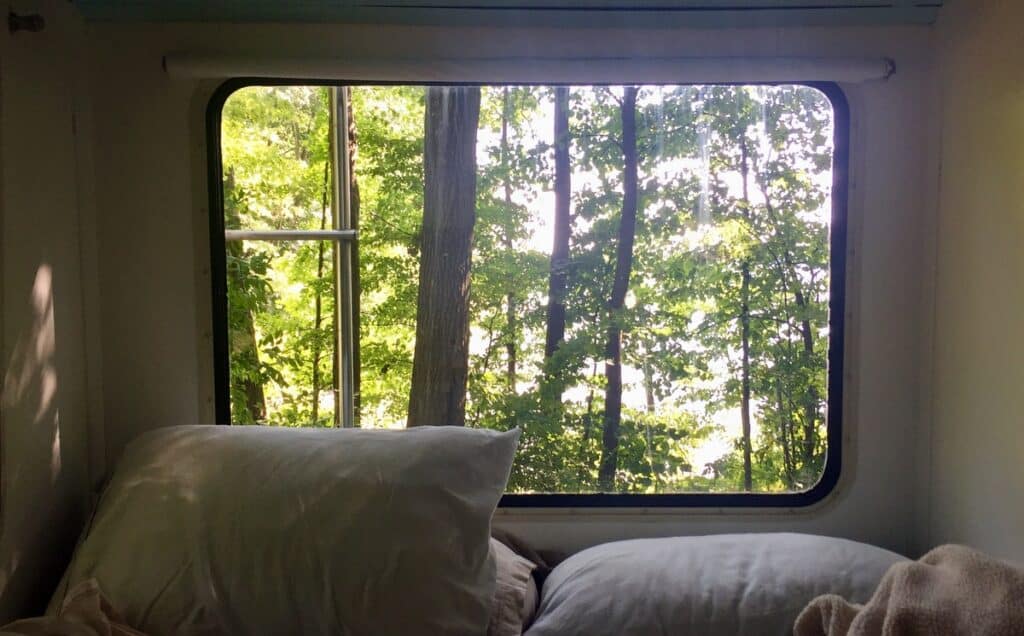 Our site was a bit secluded from the other sites with trees and had plenty of room for our chairs, picnic table, and campground cooking area.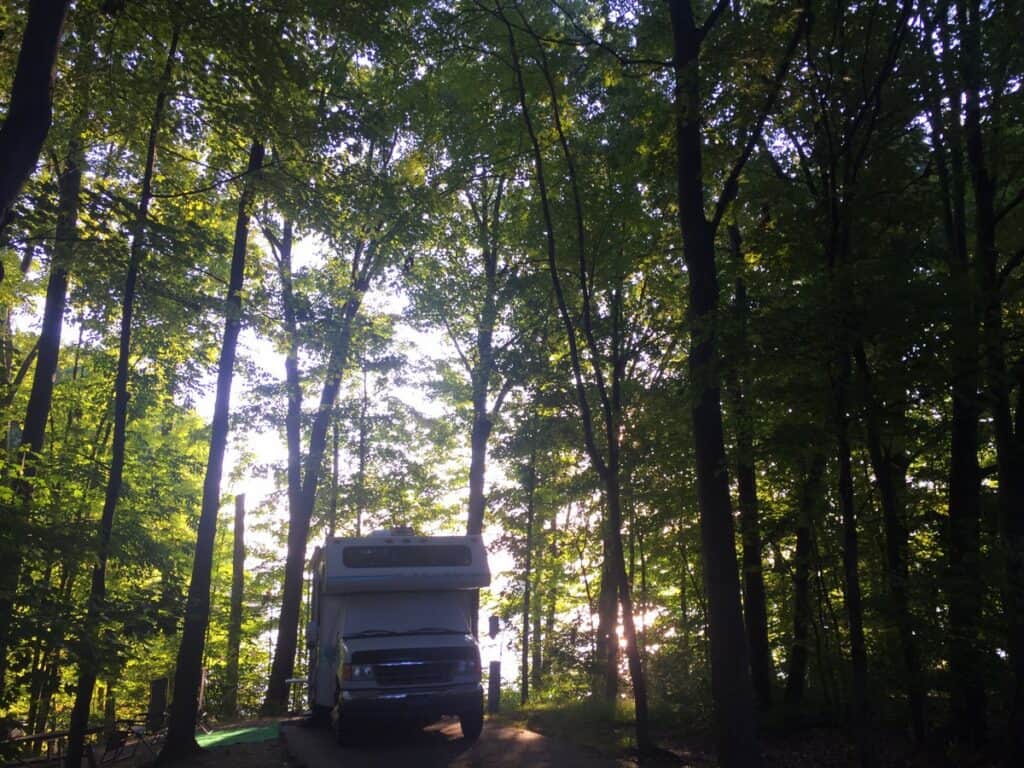 Other sites we'd recommend are Sites #15-19 in the first loop because of their clear water views and access, but admittedly, we only saw the first few loops on our walks.
The campground was huuuuge!
Check out the whole West Branch State Park campground map here. 
Their shower houses were quite clean, although the first night there was no hot water (GASP). 
The second night, we were advised to use the shower house the next loop over, and the water was much warmer, thank goodness – and…drumroll, please…
No timer buttons! Thank you, Ohio State Parks! 
The shower houses also had coin-operated washers & dryers, along with three deep wash sinks for camp dish cleaning.
PRO TIP for the Campground
The campground's fire rings & grill tops leave a lot to be desired. The rings are high off the ground, and the grill tops are tiny & tilted. If you have a campfire grill top, be sure to take it along on this trip! 
Trails & Wildlife in West Branch State Park 
All of the trails in West Branch State Park are flat, flat, flat and generally follow the shape of the Reservoir shore. After a few weekends of what felt like mostly uphill hiking, we didn't complain! 
You can create an approximately 3-mile long loop by connected Jay Lake to Deer Run Trail, then crossing the street to link the Wild Black Cherry to Club Moss Trail. 
The hike has a many water overlooks and a few distinctly different forest types.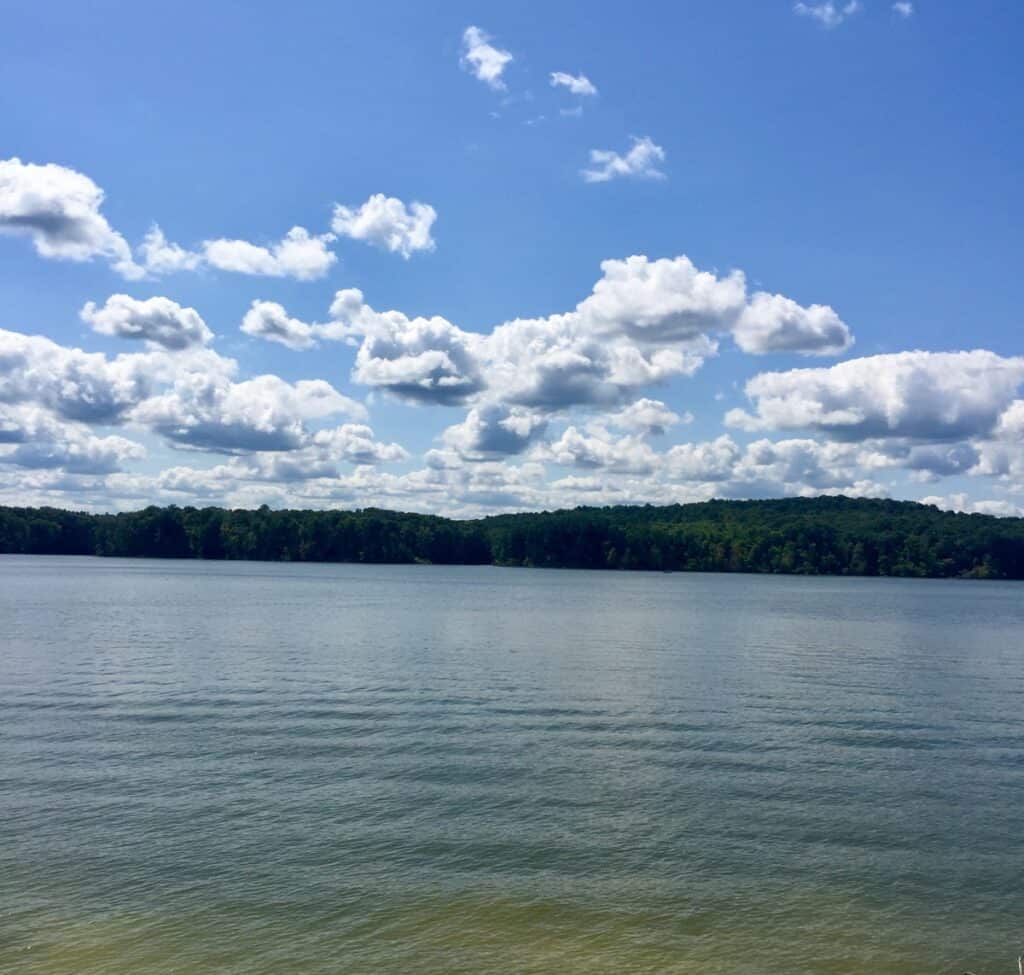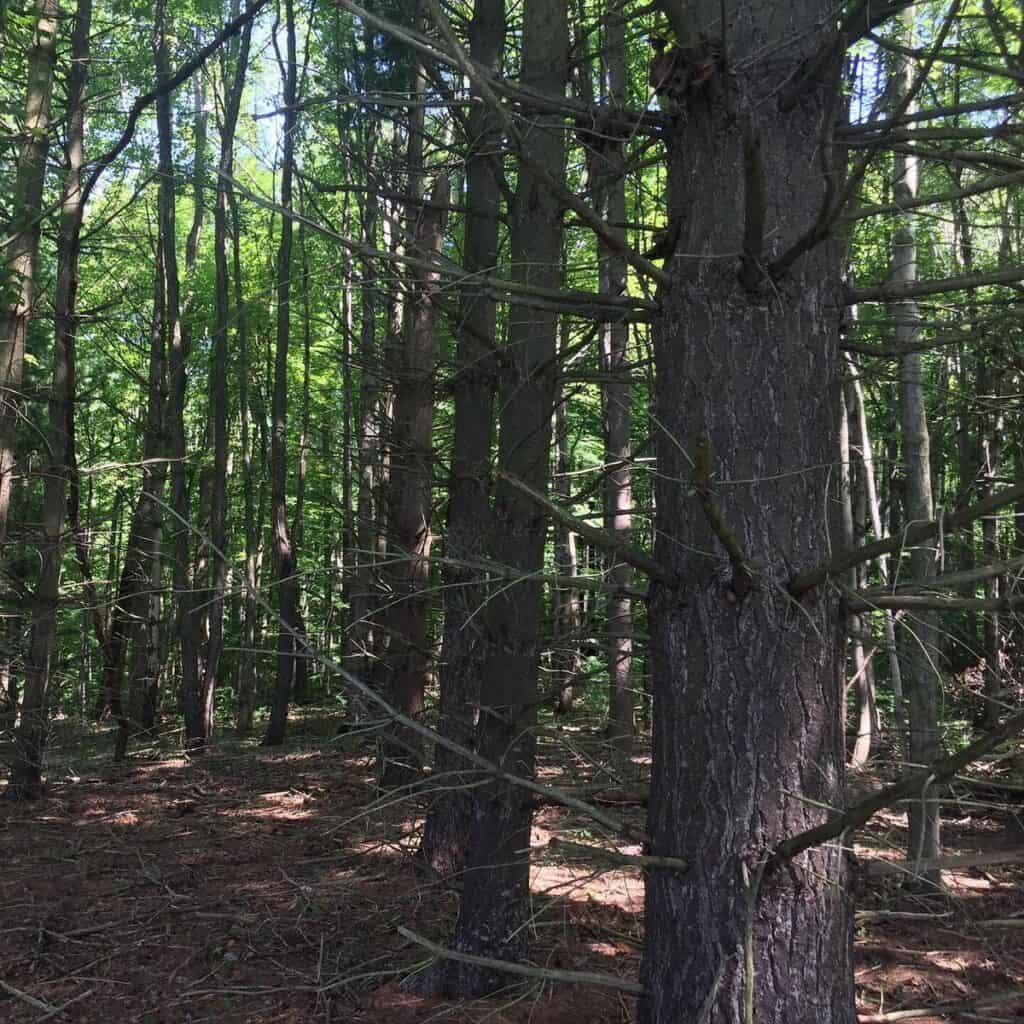 The flat trails had a few interesting mushrooms, too. 
As for wildlife spotted in the park, aside from the WORLD'S LARGEST raccoon I saw up close & personal as I was leaving the shower house late the first night, the sightings were meager. 
A few turkey vultures perched in a dead tree and an interesting caterpillar were the wildest things we saw. 
Sunday Side Trip: Cuyahoga Valley National Park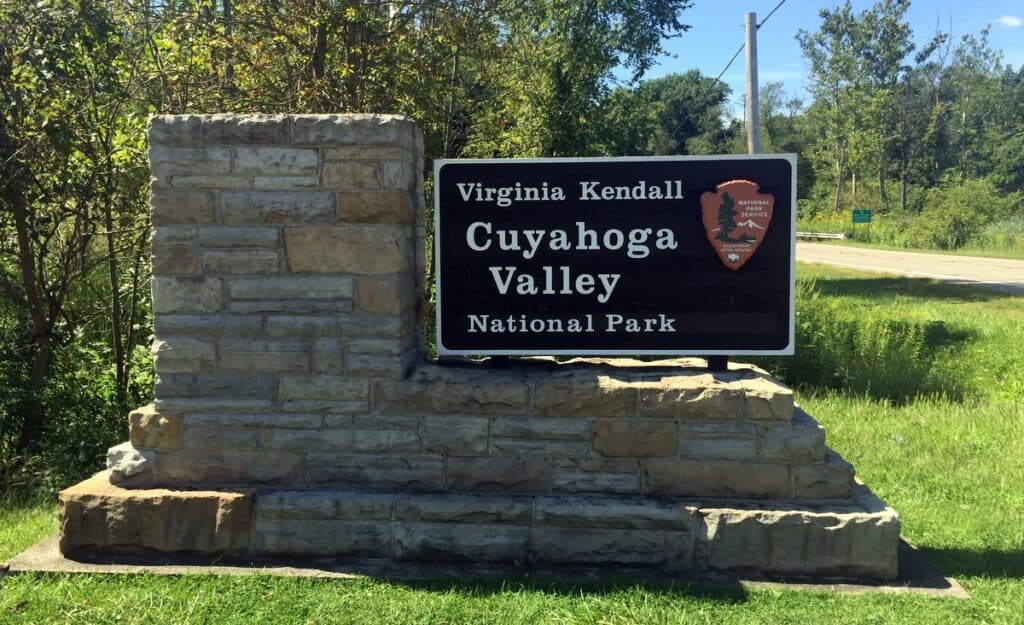 Once you've hiked & overnighted at West Branch State Park, Cuyahoga Valley National Park is only a 40-minute drive away. 
Cuyahoga Valley only recently became a National Park in 2000 and includes 33,000 acres of protected land, forests, and waterways. 
There's plenty to do & see at the park; you can walk the historical Ohio & Erie Canal Towpath Trail, ride the Scenic Railway, and drive the Scenic Byway- plus take quite a few scenic hikes. 
On our visit, we wanted to hike Brandywine Falls and the Ledges area.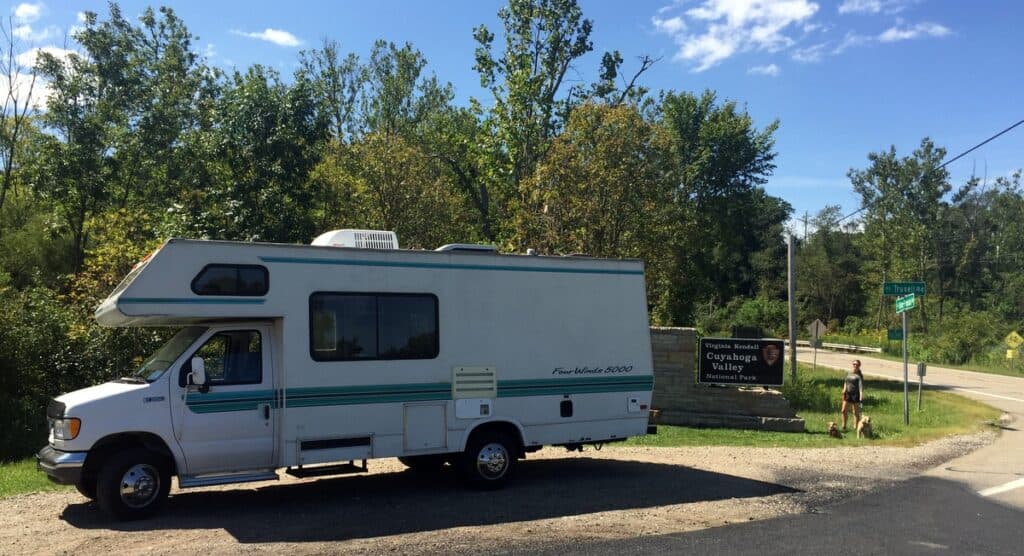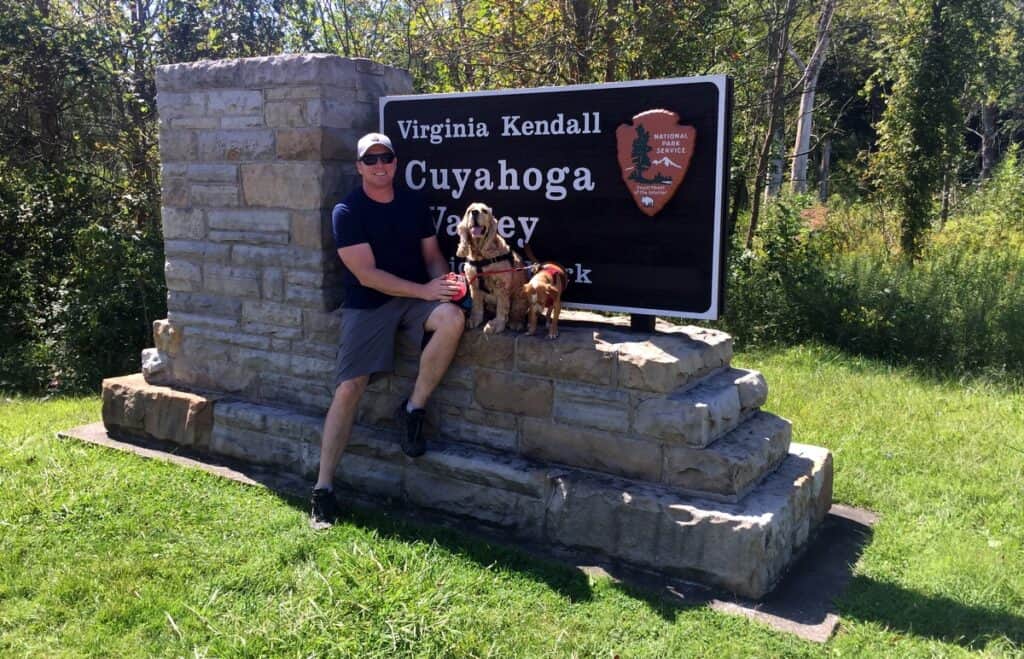 Trails & Wildlife in Cuyahoga Valley National Park
The Brandywine Falls area has a large parking lot, and we were able to back our 24-foot long RV into an end spot easily.
You can take the walkway to a boardwalk with a few sets of stairs that will give you different vantage points of the Falls. 
The trail is a 1 1/2 mile loop, but quite crowded on weekends. 
So crowded, in fact, that it freaked Franklin out- we turned around after about a half mile. 
Even in that half mile, we still were able to snag a few sweet views and learn a little history.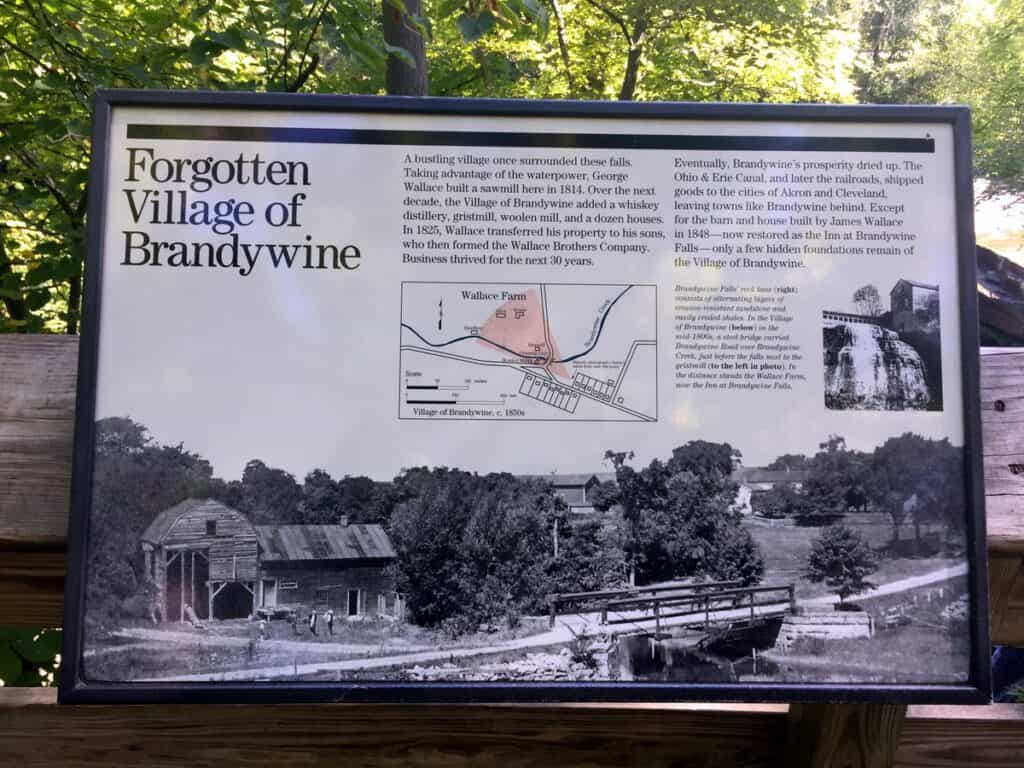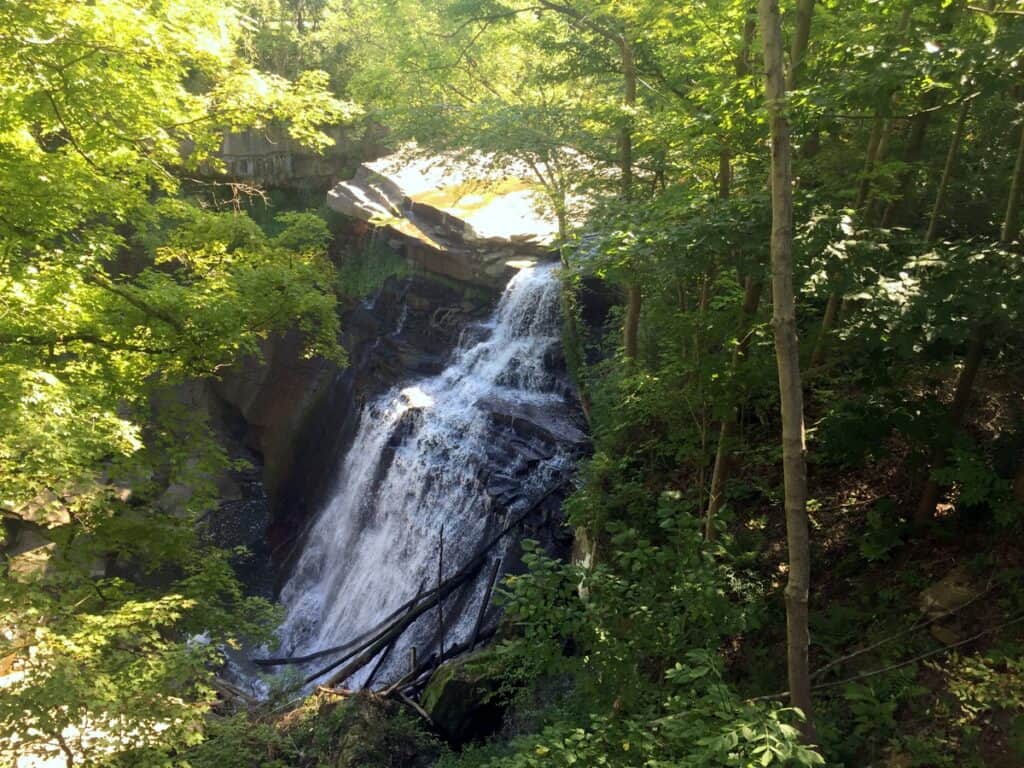 The Ledges section of the park is just a few miles away from Brandywine Falls, with much less-busy hiking through an intricate set of rock outcroppings. 
The Ledges Trail is about 2 1/2 miles long with a lot of climbing over & around rocks and tons of scenic places to snap photos – including a few overlooks. 
We highly recommend this section of the park if your pooches are in good shape!
We saw a lot of dogs on this trail, and Hazel & Franklin enjoyed the challenge of all the rock scrambles.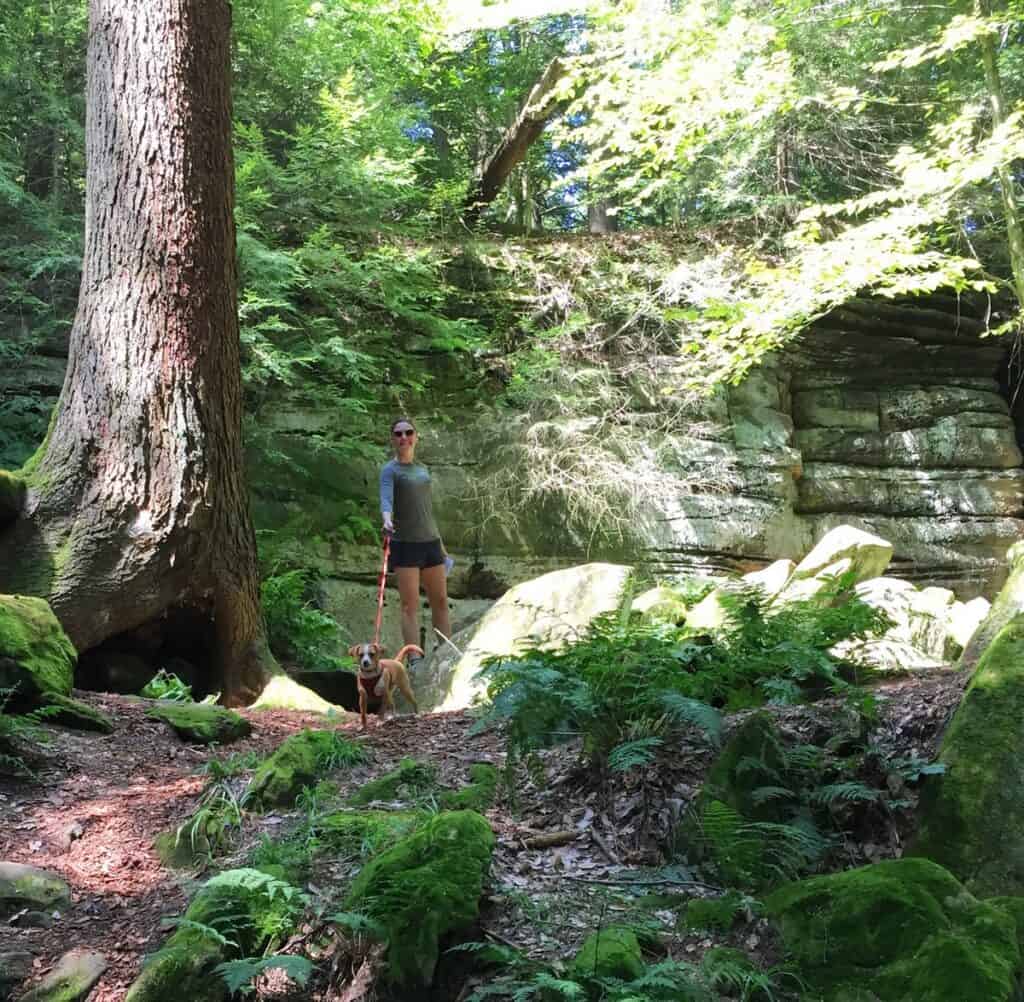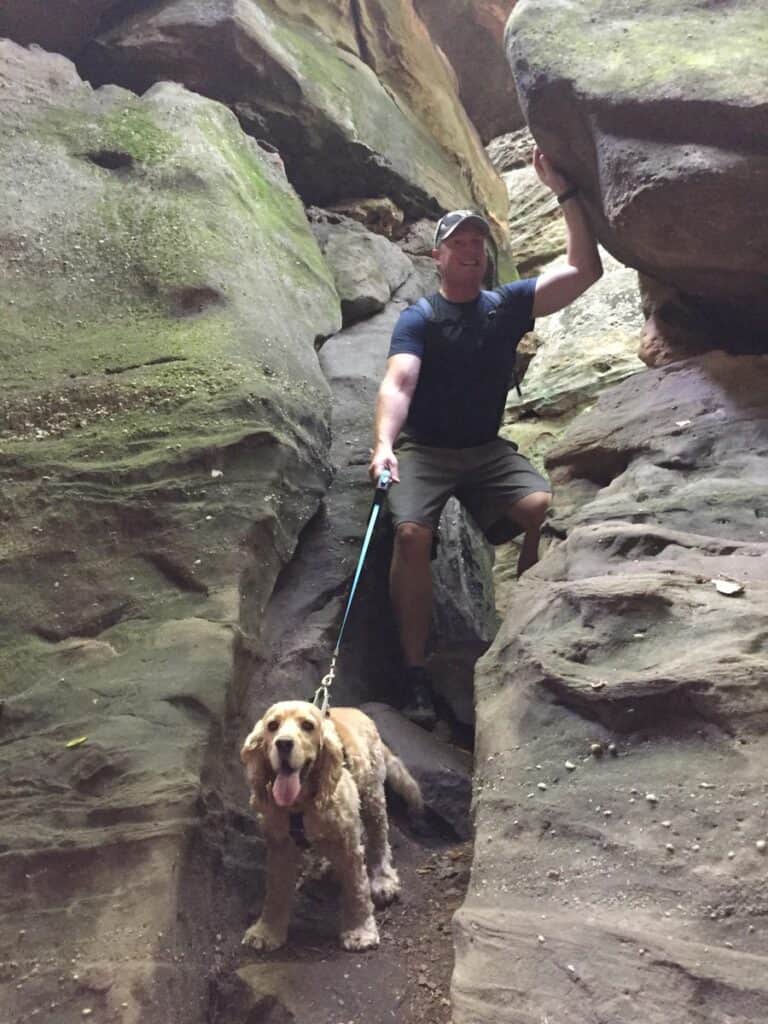 At the main Ledges Overlook, there was a line to get photos.
You can tell Franklin did NOT approve of this at all.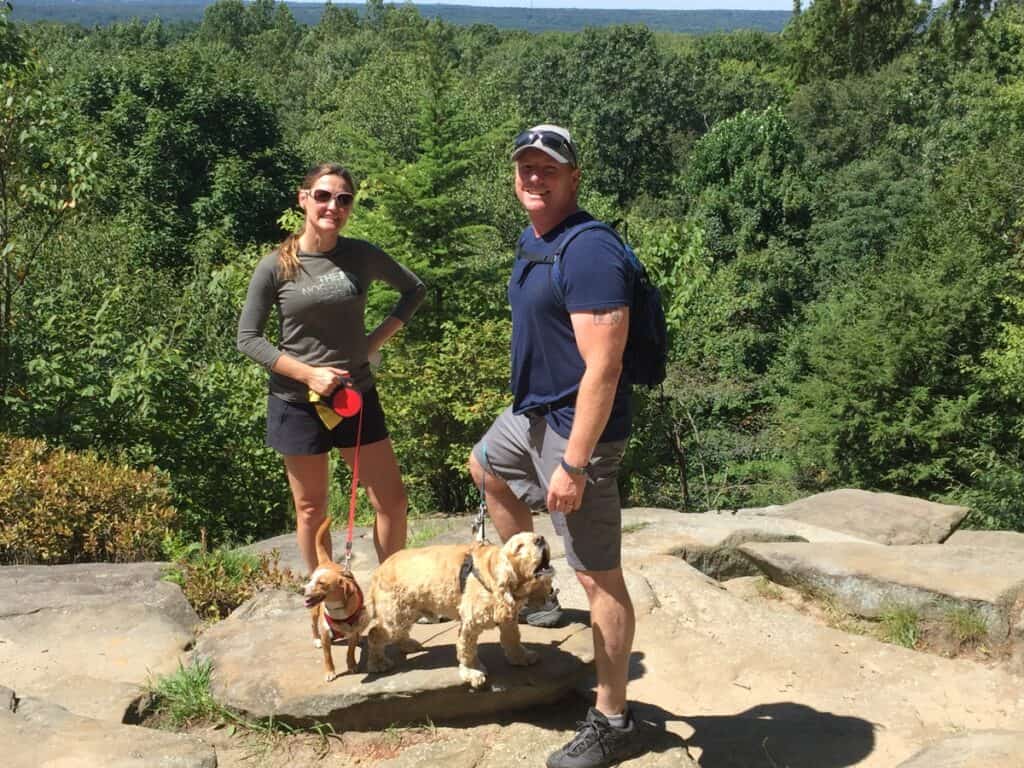 The Ledges Trail ended in a large field, which was the perfect place for Franklin & Hazel to let loose any extra energy with a run back to the RV!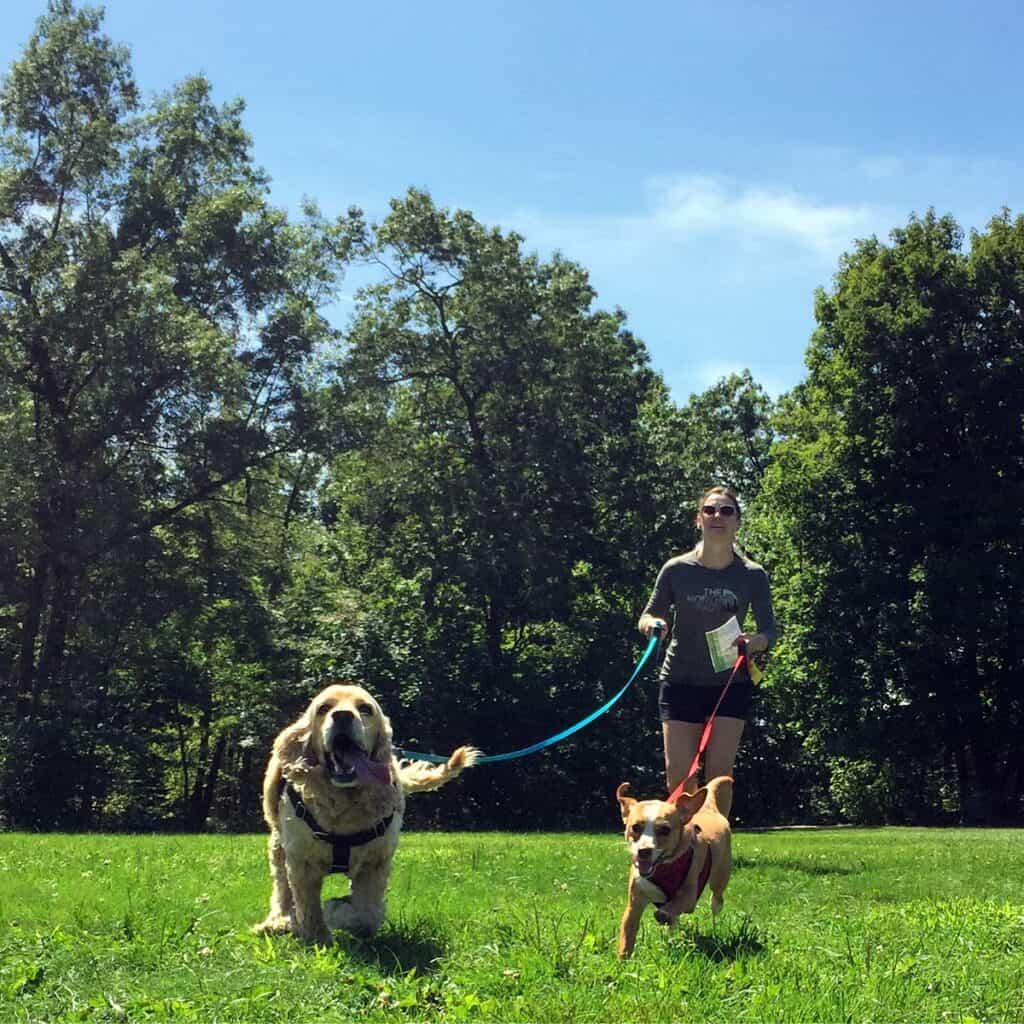 We saw a few deer within Cuyahoga Valley National Park, but no other wildlife, unfortunately!
3 Best Things About West Branch State Park & Cuyahoga Valley National Park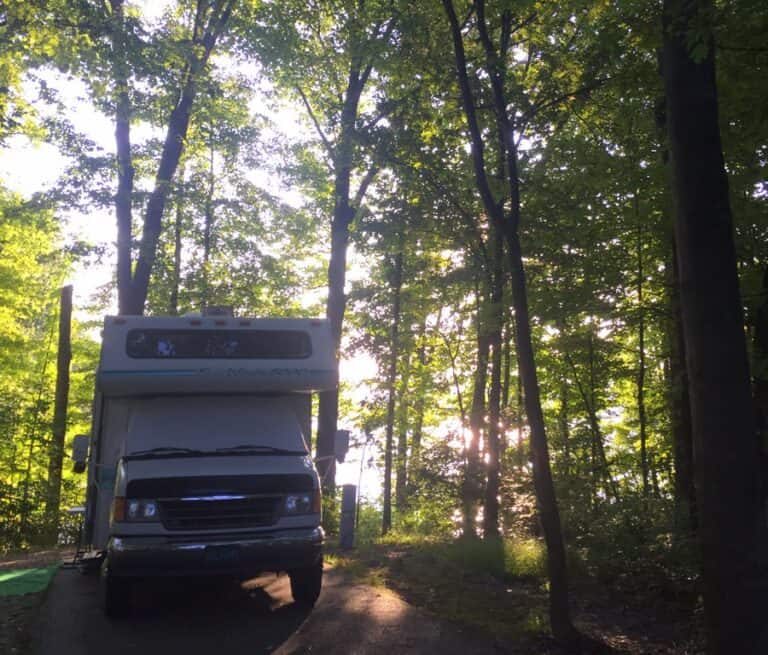 1. Scenic, private camp site
Our site at West Branch State Park, surrounded by trees with a water view, did not suck.

Showers without timers, well marked trails, and all pet-friendly spots completed the tri-fecta of camping wins.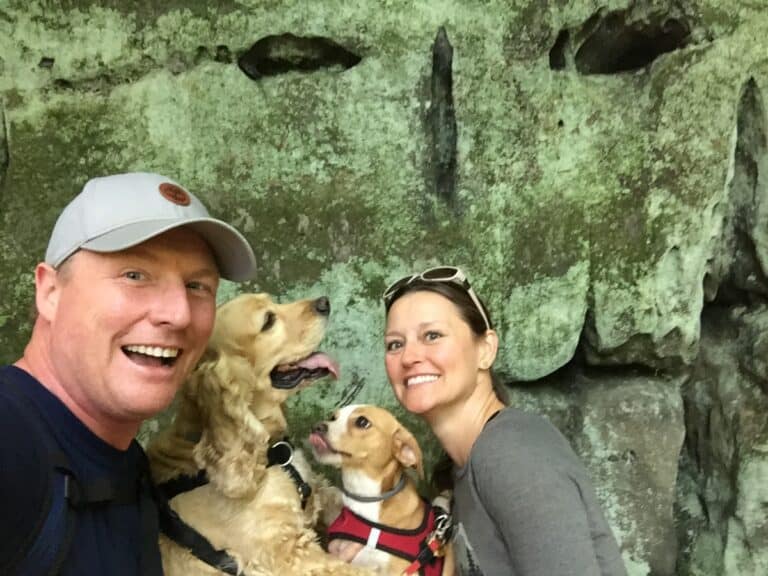 2. Ledges, ledges, ledges
The Ledges Trail area in Cuyahoga Valley National Park was epic for us. Highly recommended. Bonus points for a selfie with the face on the rock wall!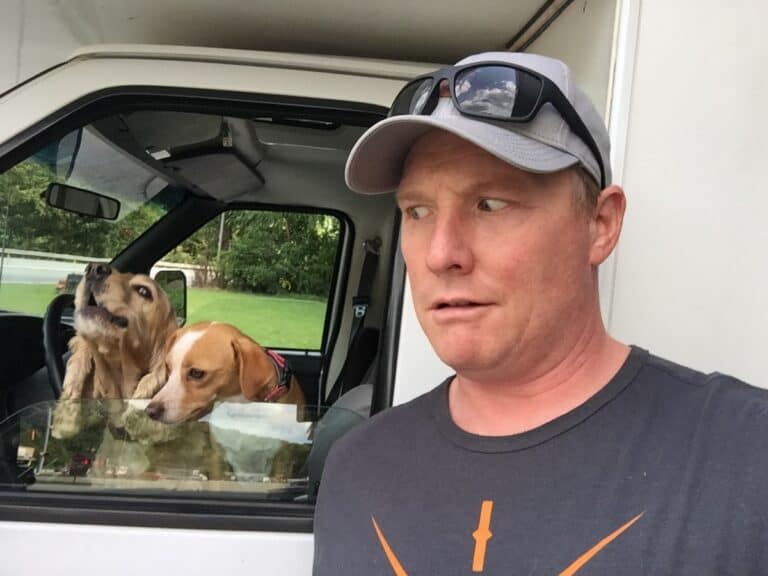 3. Flat driving in the RV
Score one for our RV, Axl Roads!
We're so accustomed to the hilly, windy, potholey roads of Pennsylvania, we didn't realize how much we would appreciate driving the smooth, flat, well-maintained highways of Ohio!
PIT STOP: Windy Ridge Dairy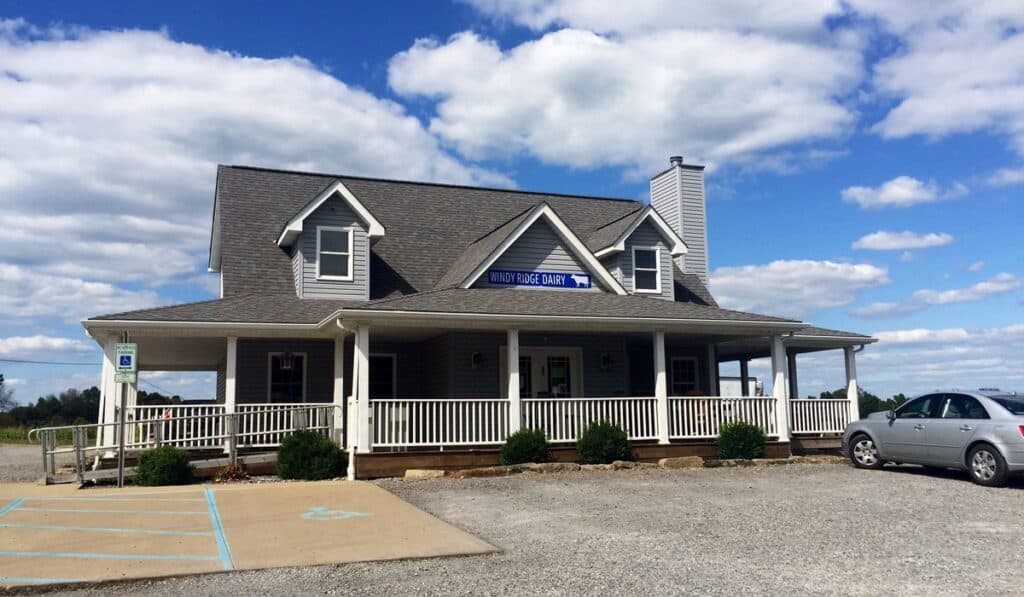 On our way back to the Pittsburgh area, we exited the PA Turnpike about halfway home to make a pit stop at the Windy Ridge Dairy in Fombell to work on the #PursueYourScoops Ice Cream Trail challenge from Visit PA. 
Not only does the Windy Ridge Dairy carry a variety of milks, cheeses, and meats, it also has a cooler full of eggs, dips, and frozen treats. 
We split the large hot fudge sundae and grabbed some pepperoni pizza dip for later. 
The ice cream was deeeeelicious (what ice cream isn't?!), and even came with whipped cream we could share with the dogs.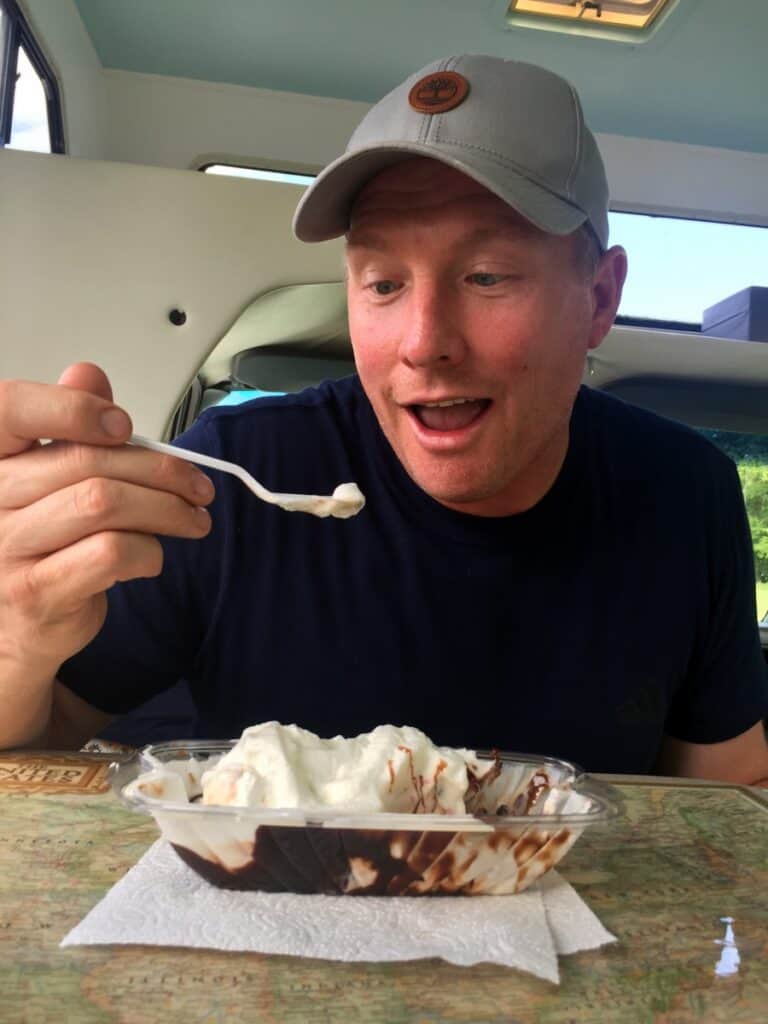 This was the third of five stamps we need to complete the #PursueYourScoops challenge for the free t-shirt.
The deadline is September 2, so we'll be having ice cream for dinner two more times this week!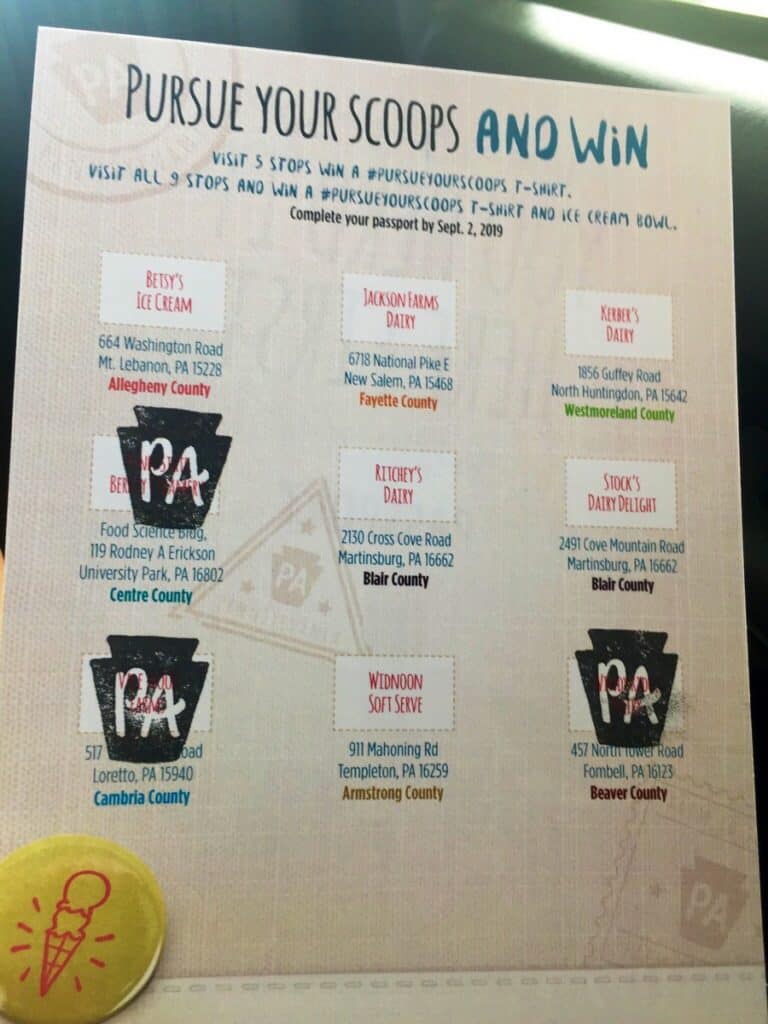 West Branch State Park was the perfect starting point to camp & hike before heading to Cuyahoga Valley National Park. While we didn't see much wildlife, the weather & scenic hiking more than made up for it!
Do you have parks that you've piggy-backed to create a fantastic camping weekend? Let us know in the comments!