Just because the warm-weather RV season is over & Axl Roads has been winterized doesn't mean we aren't still looking for interesting places to hike! 
Altrimenti mio fratello!
We were excited to visit Italy this fall, but I wasn't interested in spending every day looking at historical churches & museums or admiring Italian architecture.
I wanted to see their outdoors! 
What kind of trees did they grow? What kind of insects flew about? What sort of animals lived there? If I was going all the way to Italy, that's what I wanted to see!
After some research, I found a hike high in the mountains that looked AMAZEBALLS: Strada delle 52 Gallerie, or the Road of 52 Tunnels. It was located in the region we would be visiting, and the weather was predicted to be in the mid 50-60 degrees Fahrenheit- perfect!
The Road of 52 Tunnels (Strada delle 52 Gallerie in Italian) is a very rocky road that traverses several mountains while winding through 52 man-made tunnels. 
Originally built by the 33rd Miners Company of the Italian Army to defend against the Austro-Hungarians during World War I, the road served as an important communication & supply route that was strategically outside the range of the enemy's artillery. 
Now, the road is a well-marked & frequently visited historic hiking trail. Along the hike, the historical signs & displays are in a few different languages – including English, hooray! 
There is a large parking lot at the starting point, and a mountain lodge called Refugio Generale Achille Papa is a short way after the final tunnel at the top (unfortunately it was closed when we were there in November). 
If you are able to, we recommend finding a guide for the day, so you can incorporate some other area sights & experiences without wasting any time. 
We were very lucky to have a wonderful local guide for the day named Alex, who was familiar with the hike & conditions. He also knew the history of the area & lived close by. He took us to a quaint coffee shop to refuel after our hike & a family winery for a few signature sips afterwards! 
Even though it is only a four mile hike up & about three back down, make sure you take a small pack with water, snacks, poncho, socks & extra sweatshirt or jacket, a headlamp, and small first aid kit.
There aren't any short-cuts back down from the tunnels once you're on the path headed up, and weather conditions change very rapidly along the trail! 
Once you are parked and have all your gear, the entrance is easy to spot.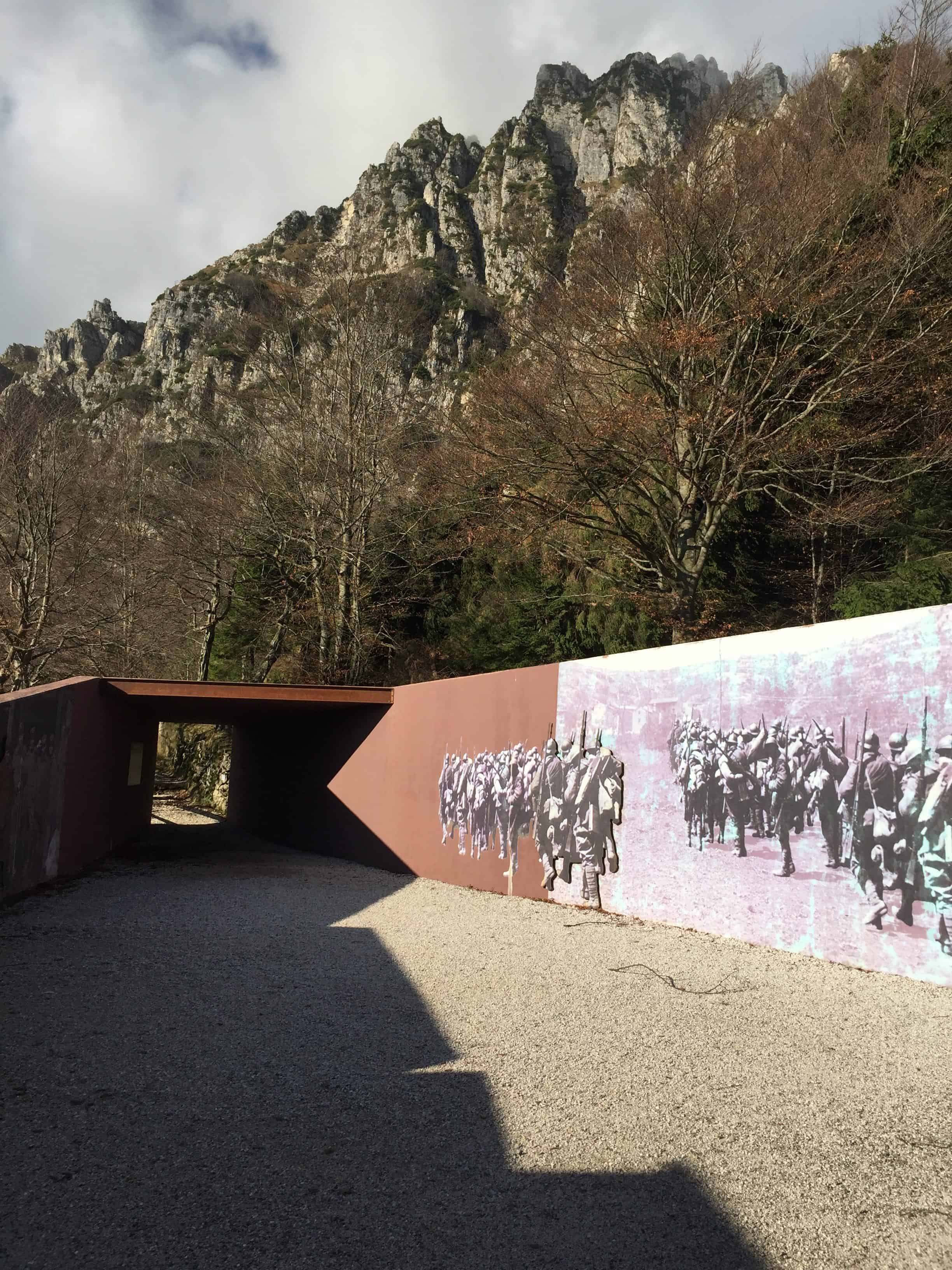 Of course I had Russ & our guide & our guide's dog (Lilla, who I insisted he bring!) pose for photos.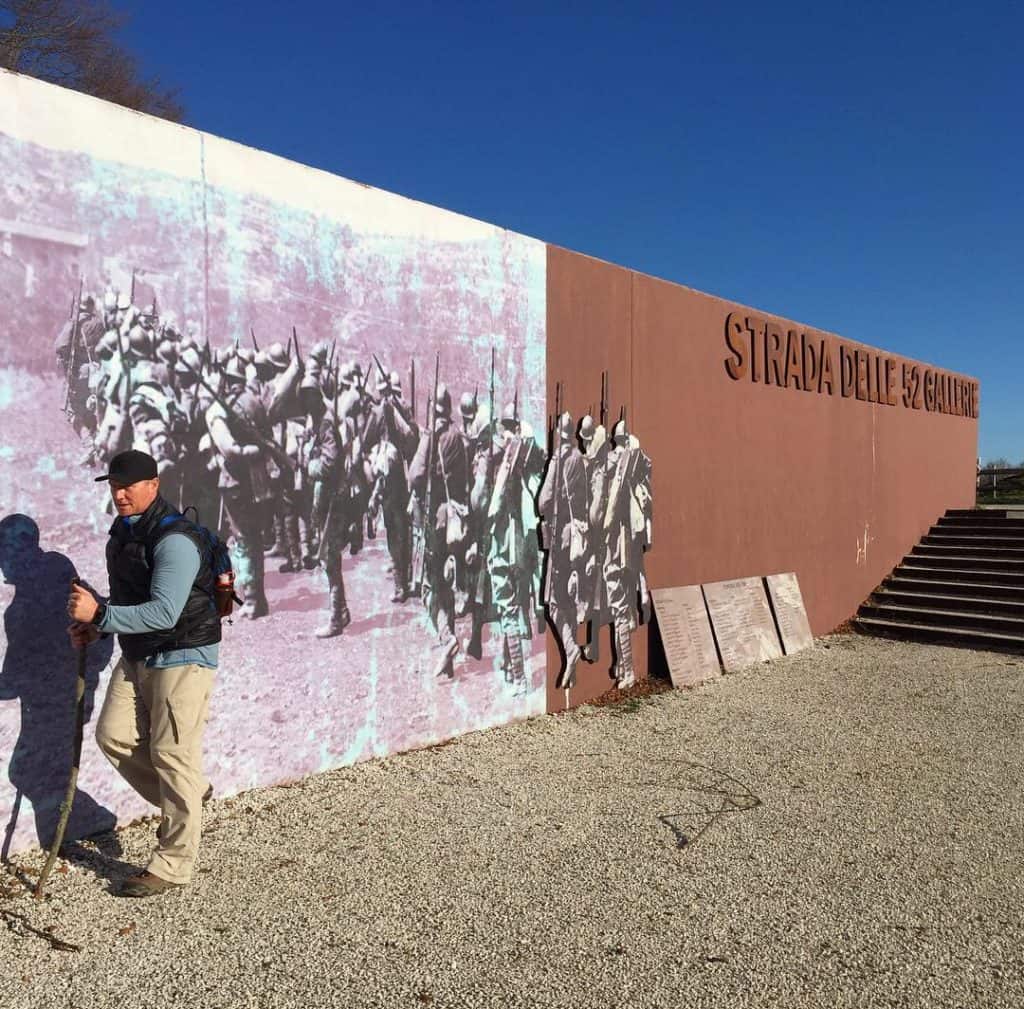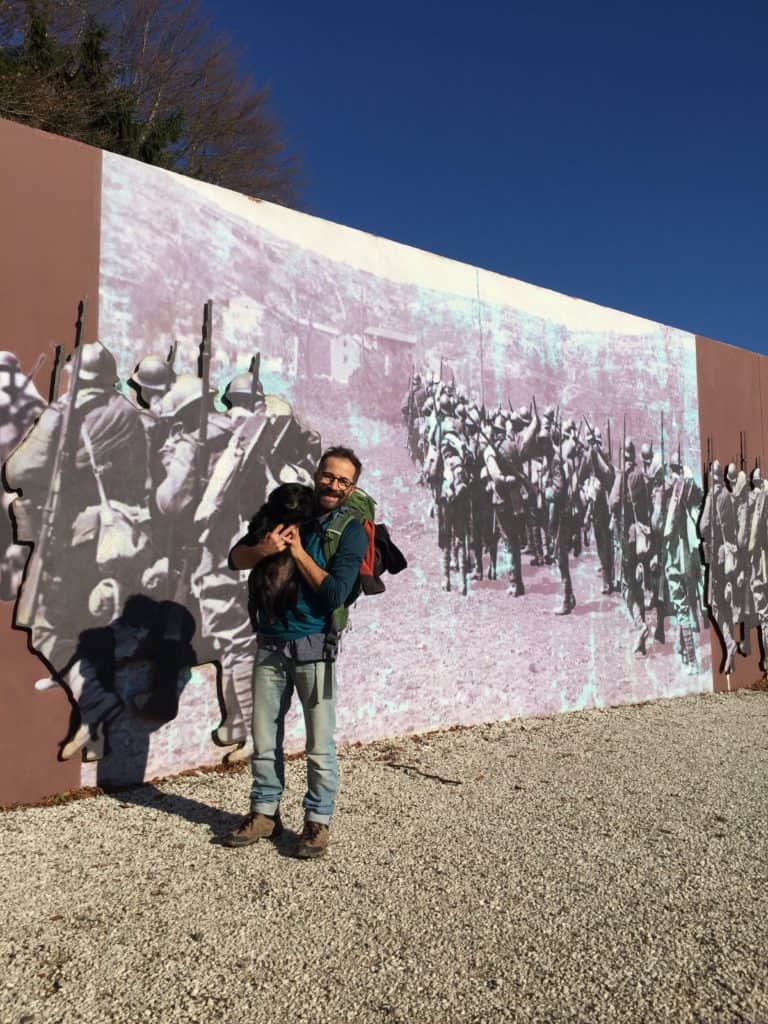 The first tunnel isn't too far along the road, and is an excellent photo op, too!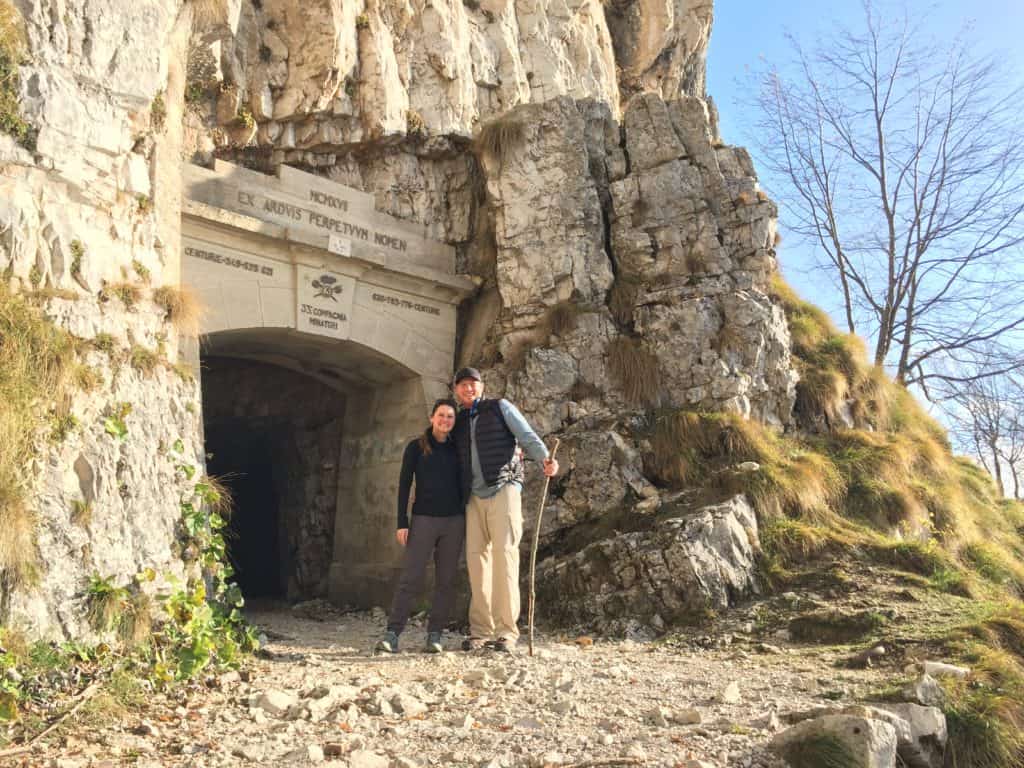 As you can see, the trail is pretty rocky, and the inside of the tunnels are, too.  Make sure you wear very durable & dependable shoes, and preferably water resistant since some tunnels also have puddles inside. 
Most of the tunnels are short, and you'll be able to see light from the other side to keep your footing; however, a few are quite long (#19 is almost a quarter mile!) and will require a flashlight or headlamp. 
The trail overall has spectacular views around every corner that come with dizzying drop-offs at unbelievable heights- so be very careful! At over 6,000 feet in elevation, some sections even have cables along the rock wall to hold onto!  
Be aware: the first 49 tunnels are UPHILL!
No joke!
Some are steep & we had to scramble over a few rock slides. 
On our hiking day, the temperature started out at 60 degrees Fahrenheit, as predicted, but gradually decreased to about 35 degrees at the summit- very cold & damp!  We had basically hiked up into the clouds. 
As for animals or insects, we didn't see many! We did see a group of mountain goats peering down at us about halfway up, so that was very mountainy! I was surprised to find out that the part of Italy we were in didn't have any bears, deer, elk, moose, or poisonous snakes- all things we look out for on our American hikes! They do have smaller version of deer called roe deer, but unfortunately we didn't run into any. 

We were really happy to see Tunnel #52!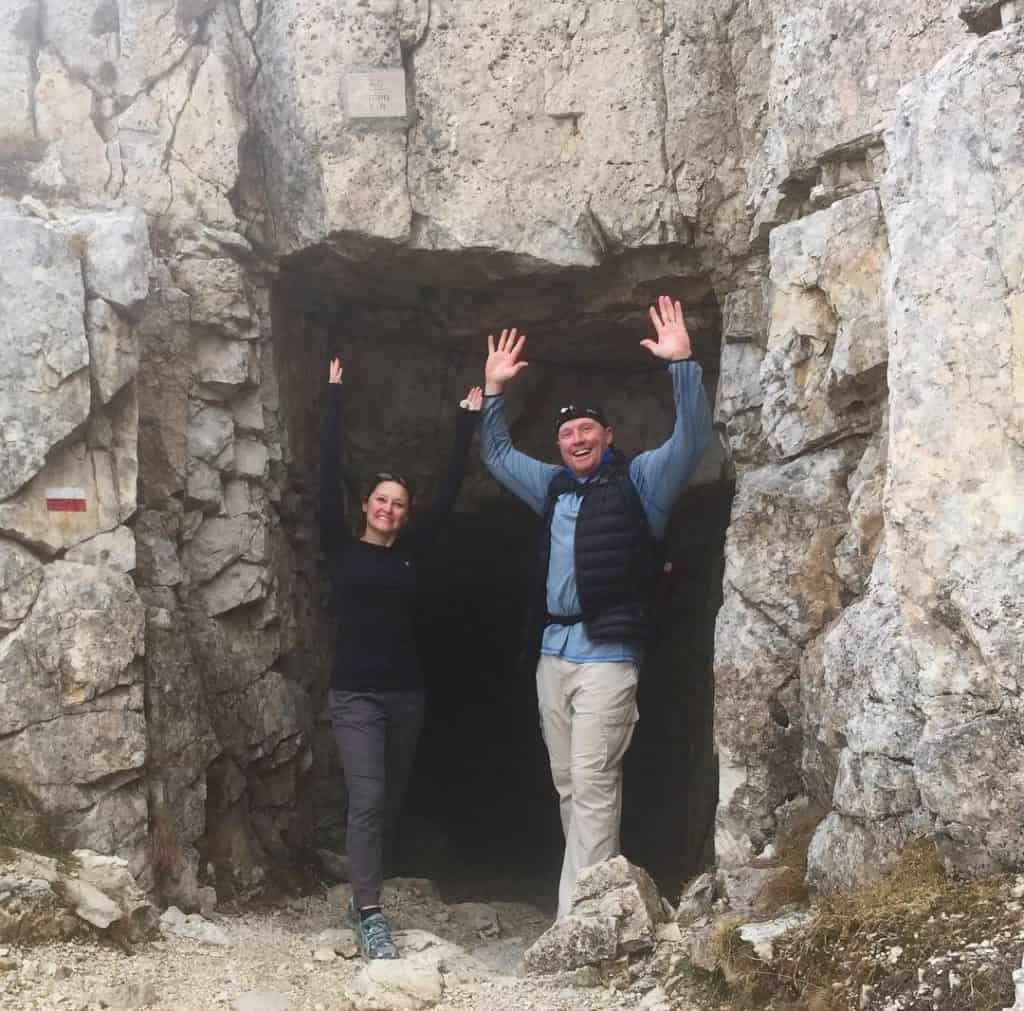 Thankfully, for the last three tunnels are on a gradual decline until you reach the mountain lodge, Refugio Generale Achille Papa. Unfortunately, it closes in the fall for the season, so we only got to walk past it. 
The road back down to the parking lot is an easy downhill stroll! You can even take a few steeper shortcuts (you'll see signs).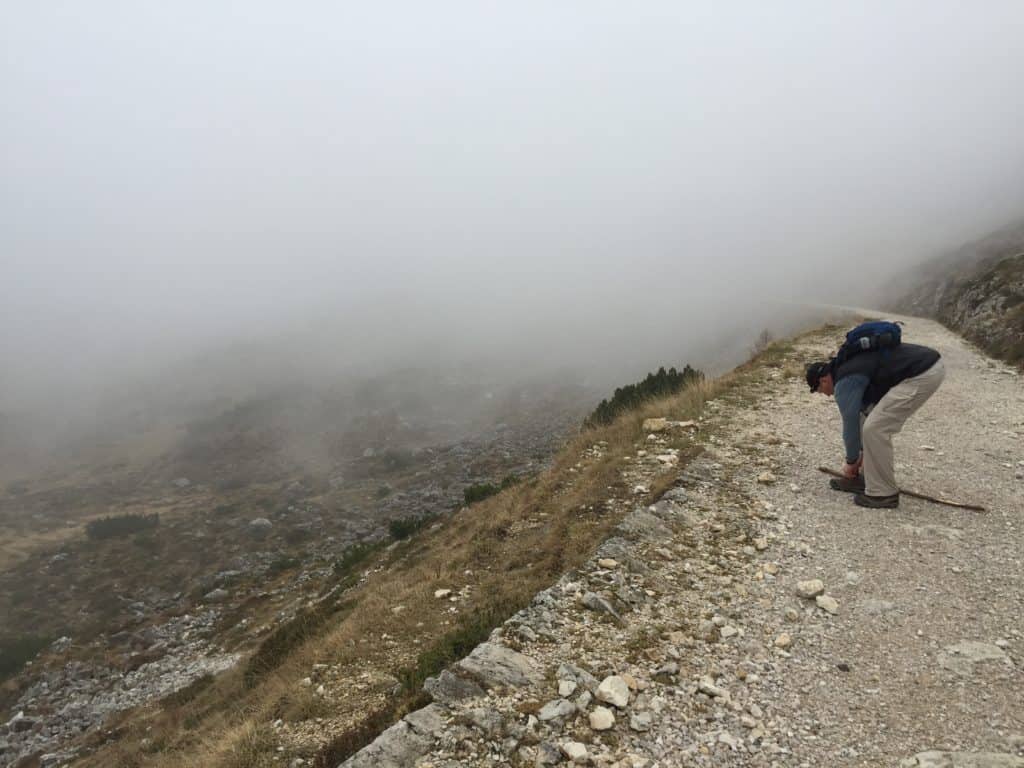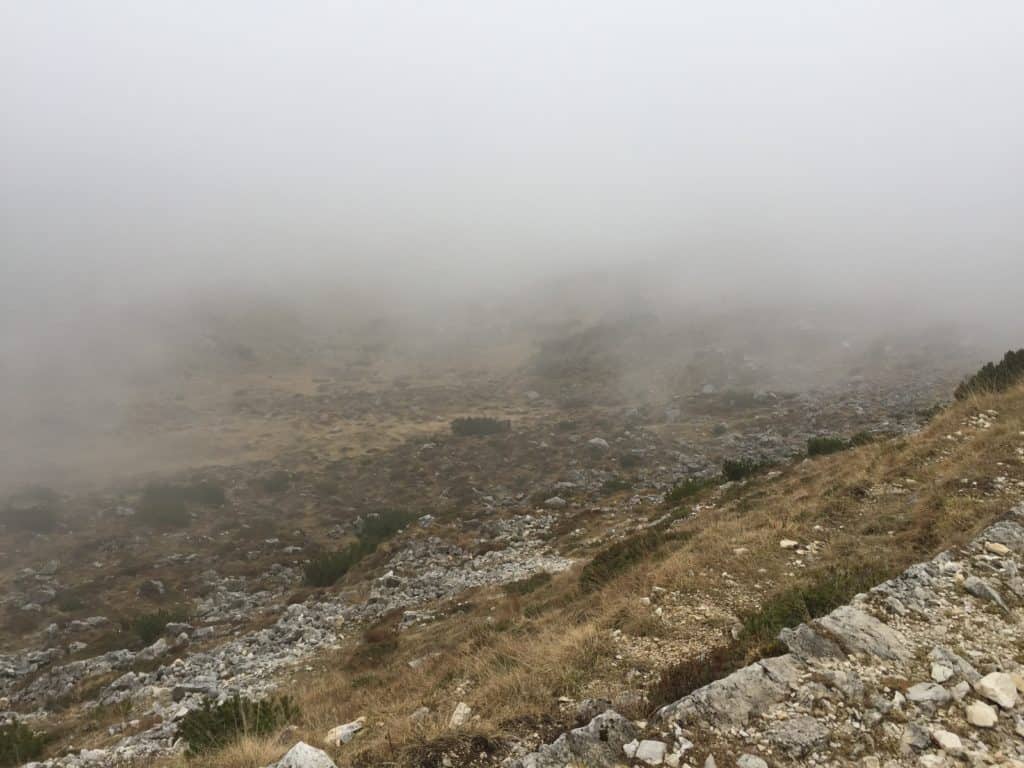 Even though we were nervous hiking into unfamiliar, rough terrain in a new country, we thoroughly enjoyed this  during our Italian adventure! 
If you are traveling to Italy in the Venice/Vicenza/Verona area in Veneto, make plans to hike the Road of 52 Tunnels – a very challenging, incredibly scenic trek through some very rocky mountains!