Worlds End State Park in Forksville is located along Loyalsock Creek in Loyalsock State Forest, surrounded by what is called the Endless Mountains area of Pennsylvania. And they sure do seem endless!
And the Loyalsock Creek isn't just any creek- as a matter of fact, it isn't a creek at all! The Loyalsock Creek is a river,  a very special river that holds the 2018 Pennsylvania River of the Year title.
We've visited Worlds End State Park twice, so I've updated this post to include both great experiences!
Worlds End? Whirls End? Whirl's Glen? At the onset of its development in the late 1800s & early 1900s, the park went by quite a few different (although really similar!) names. The state finally settled on Worlds End in 1943, and the name has stuck. 
Two of the current trails are old horse trails from the late 1800s (including the part with the gorgeous lookout, Worlds End Vista), but the area was used & abused for logging from around 1900-1930. Once the forest was decimated, the state began to make plans to revive it as a state forest park. 
As in our other state park histories, you can probably guess what happened next…
The Civilian Conservation Corps moved in & got to work! They built the park up – including replacing trees & putting in roads & trails – and left a fantastically rustic, tucked-in-the-woods place to enjoy!
Worlds End State Park has lots of riverbank for fishing and a really odd beach (no pets, as usual!) for swimming, plus a small gift shop, concession stand, pavilions and a campground.
The beach is built into the bend of the river, with built up walls around it so you enter it like a swimming pool. Buoy ropes prevent you from going down-river. Seemed unusual, but the area gets very crowded on the weekend.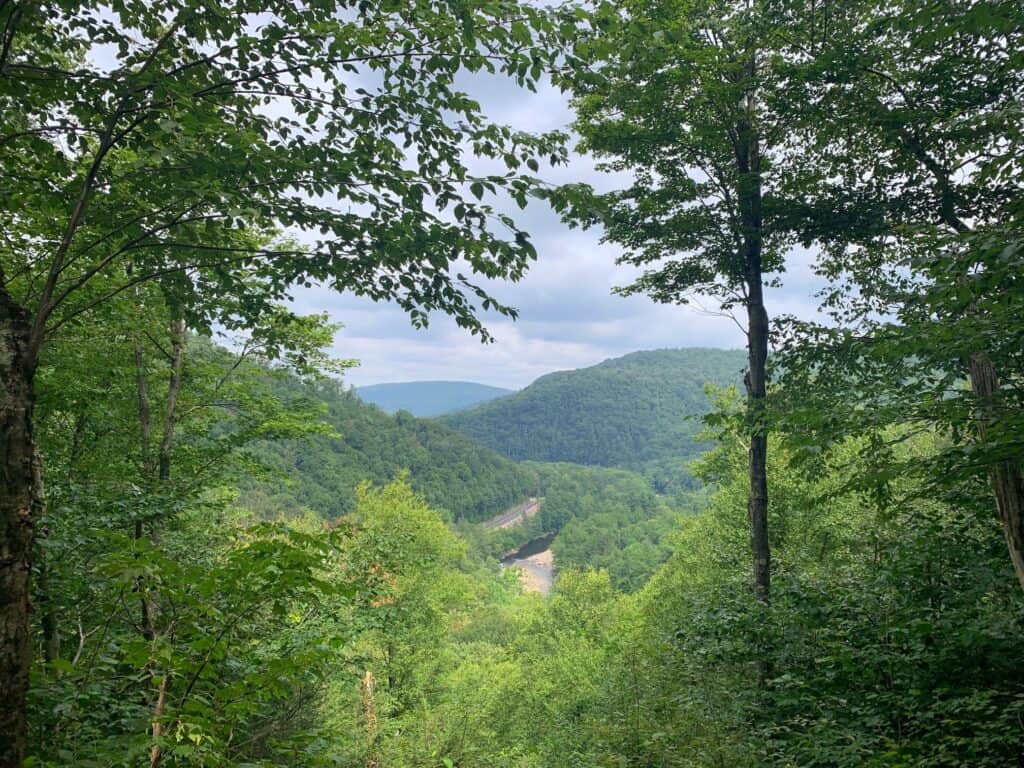 Worlds End State Park Campground has tent camping, RV spots with electric only, and cabins for rent, plus clean shower houses.
During our two visits, we stayed at sites #18 and #19, starred below.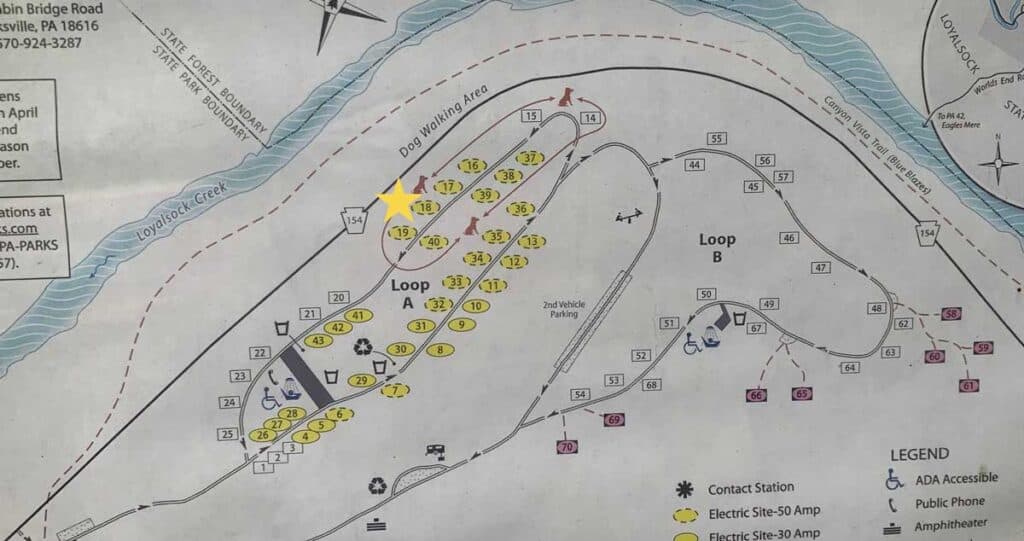 Both sites back up to the road with some greenery in between, but traffic is quite minimal overnight. You can also hear the rush of the creek from both spots, which makes for some outdoorsy background noise! 
Site #18 was our most recent spot and looked like this: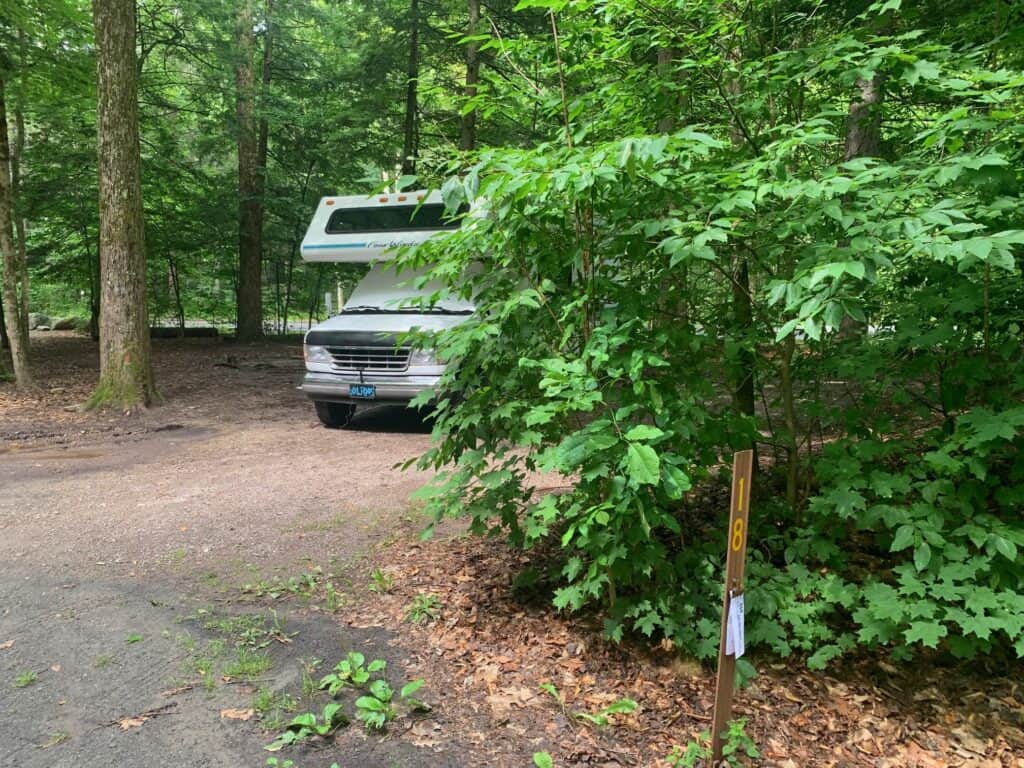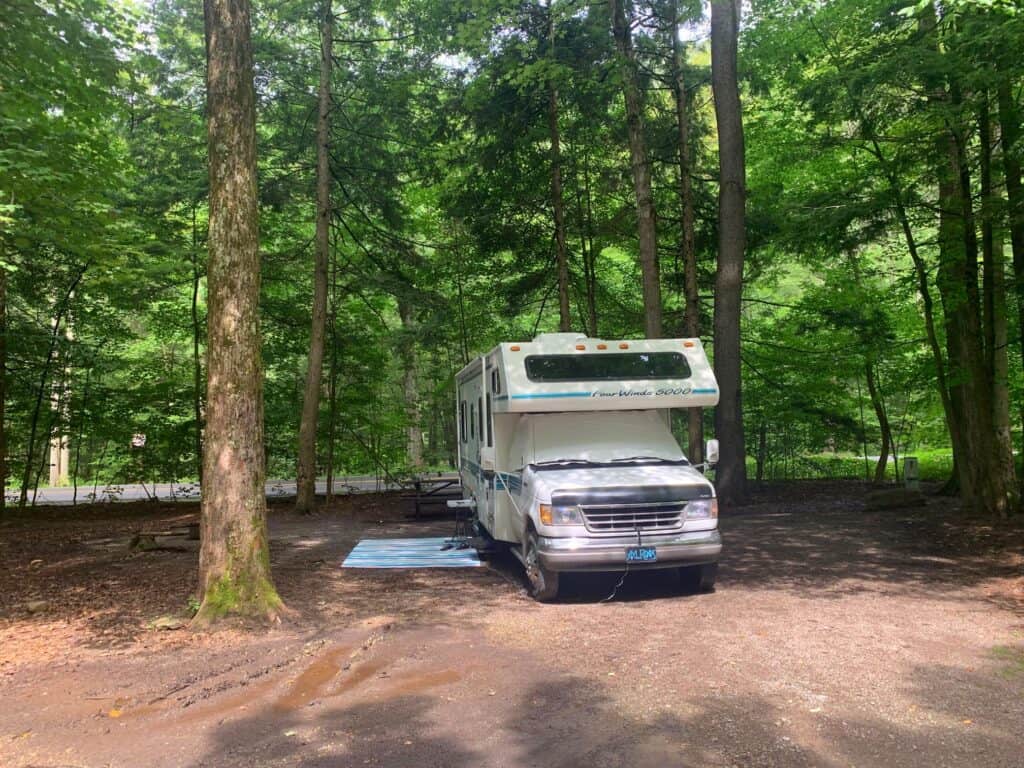 Right across the street is a pet walking area, which is really part of Canyon Vista Trail. That trail give you lots of access to the shallow river, which is perfect for dog (and human) swimming. 
If you're a tent camper, site #14 looks gorgeous!
As for the shower houses, they are quite clean, BUT do have timer buttons. Thankfully, these timer buttons seem to last a little longer than most, and the water is reasonably hot. 
Shower timer buttons are my nemesis. It's hard to believe you can forget in 30 seconds that you have to push a button to keep the lukewarm water flowing, but I forget. Every. Single. Time.
Worlds End State Park is over 750 acres with seven AWESOME hiking trails. 
Did I mention AWESOME? This is easily one of my favorite hiking parks of all time!  
Only one thing was missing from our hiking adventures at this park.
BEAR POOP! This was the first trip in a long time that we didn't see any bear poop!
To get started, you can create a 4-mile loop on Canyon Vista Trail, a hike that -SURPRISE!- includes a scenic vista!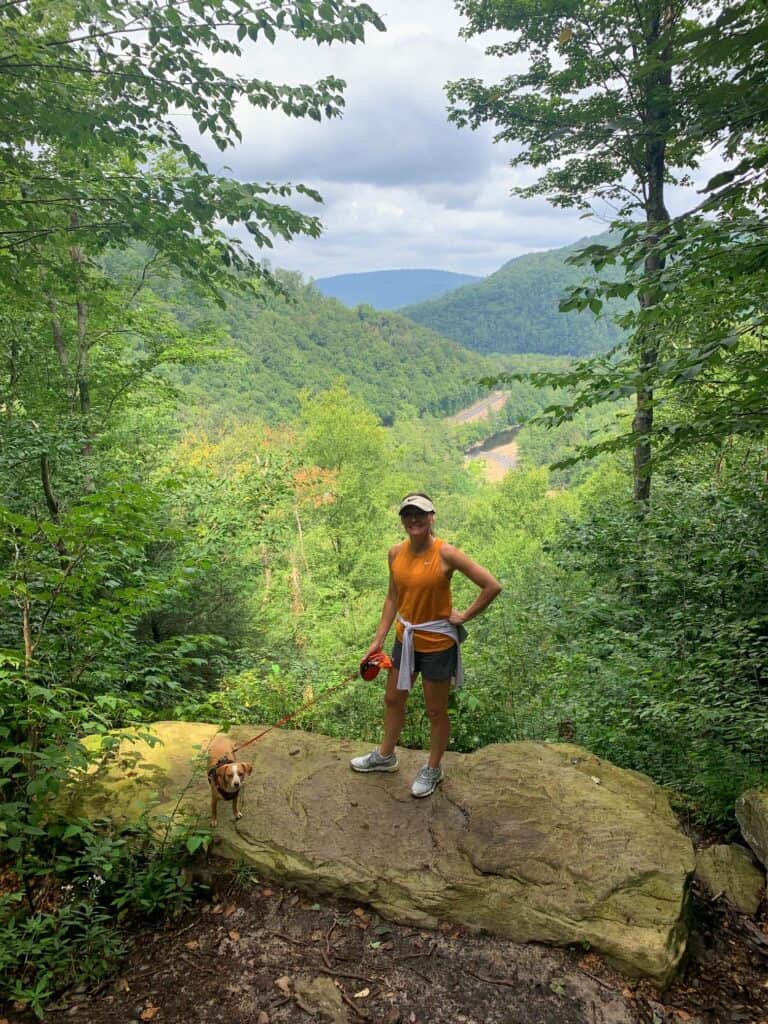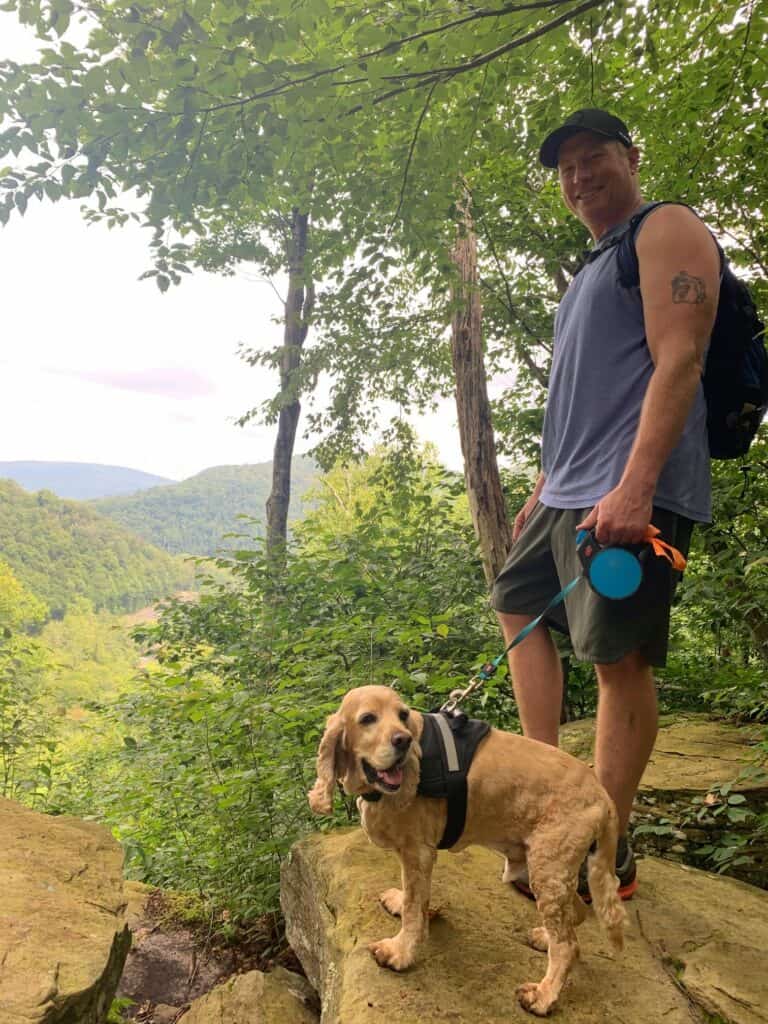 You'll also encounter some steep climbs, a rock garden, and plenty of little spring-fed streams for quick dog drinks (I know, giardiasis, but we can't stop them).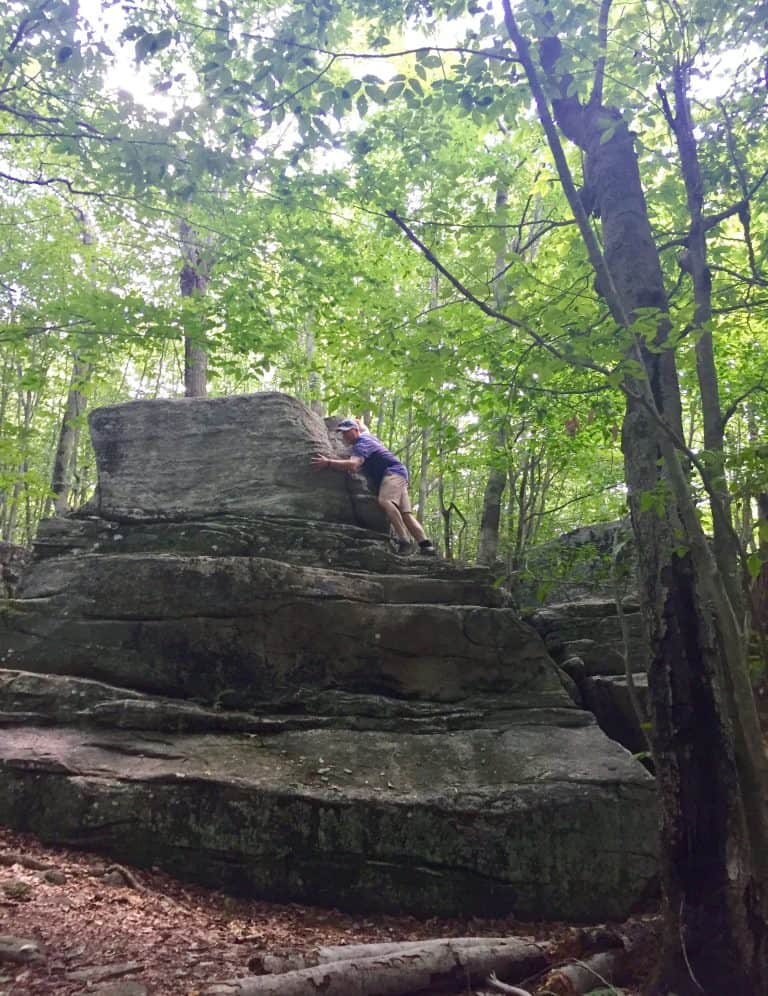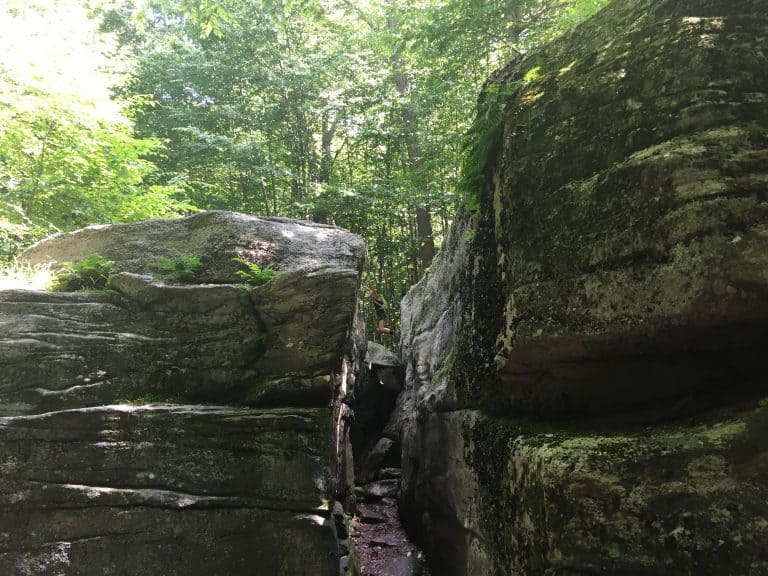 From Canyon Vista, you'll want to make your way to Double Run Nature Trail. 
At a little over a mile, this trail is not to be missed!
While it has a few steep climbs and slippery rocky and rooty sections, the amazing stream runs, waterfalls, and foot bridges make it all worthwhile.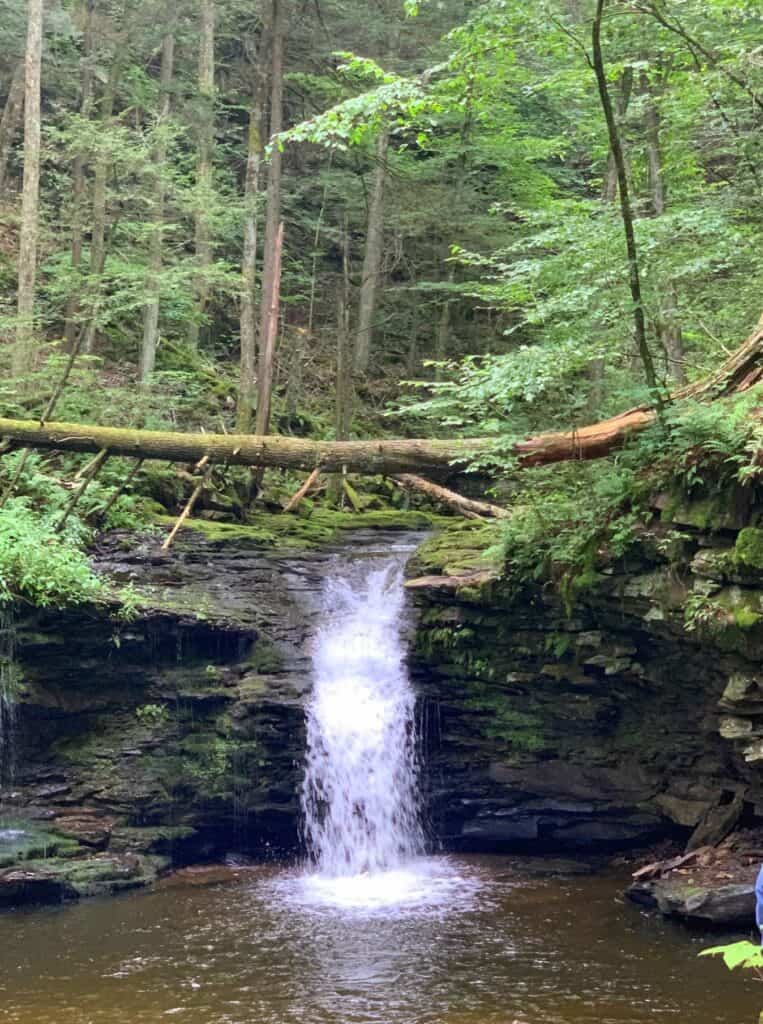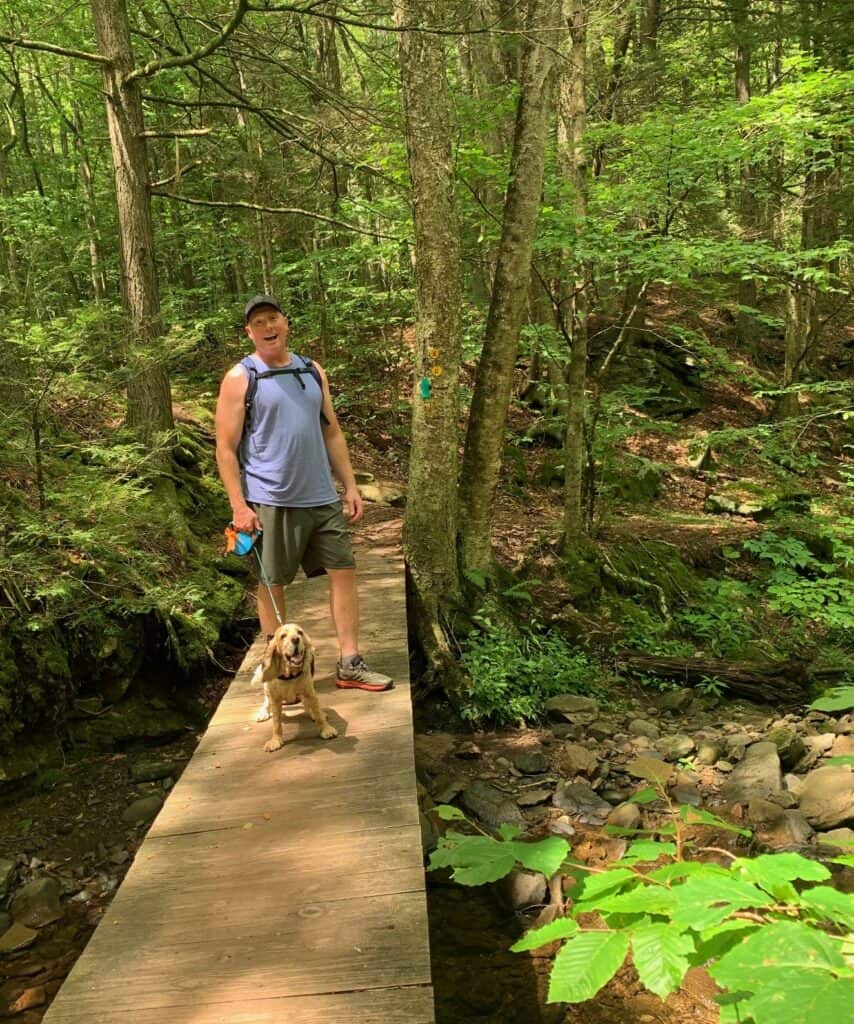 Franklin and Hazel took advantage of the many swimming opportunities along this trail.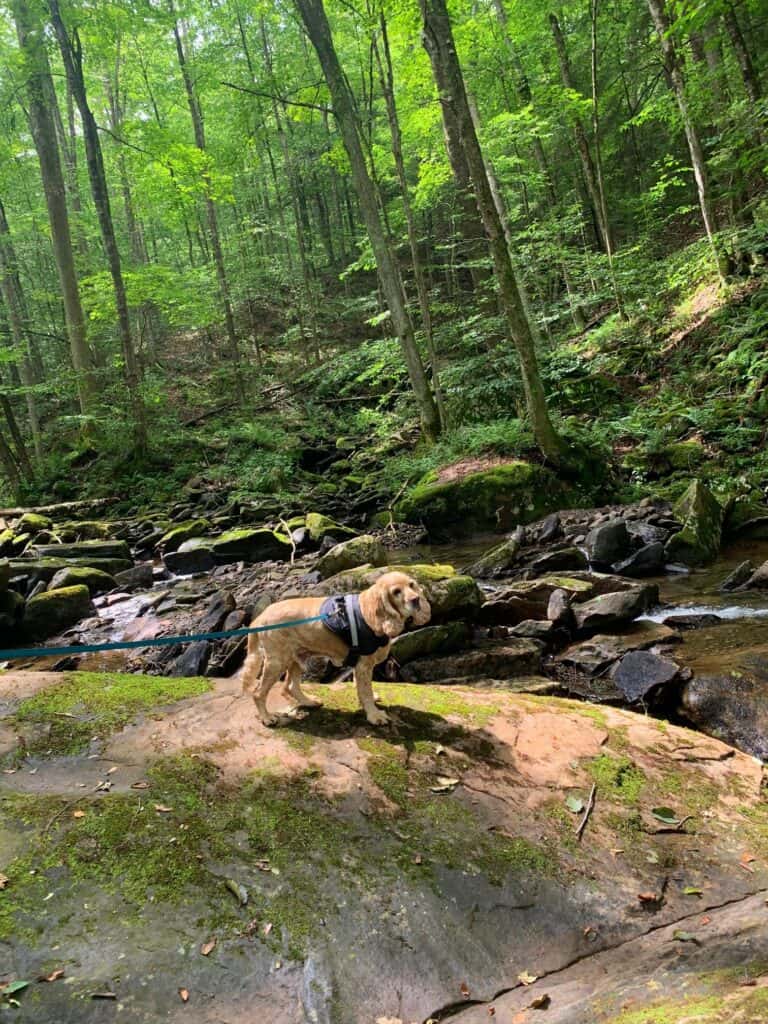 Russ even attempted a log crossing, but changed his mind. 
You can wrap up your visit before you leave by parking at the beach parking lot and tackling 1-mile long High Rock Trail. 
It is AH-MAZ-ING!
If you are looking at the mountain side from across the river, we recommend starting on the really steep ascent to the left, hit the lookout, then descend on the rocks to the right. We found the rocky descent to be easier than a rock ascent would have been!
Our dogs navigated the rock scramble like champs, but don't let the fact you may need to Heismann carry a smaller dog deter you!
This hike was challenging for all of us, but so worth it… the perfect hike to take on before saying goodbye to Worlds End State Park.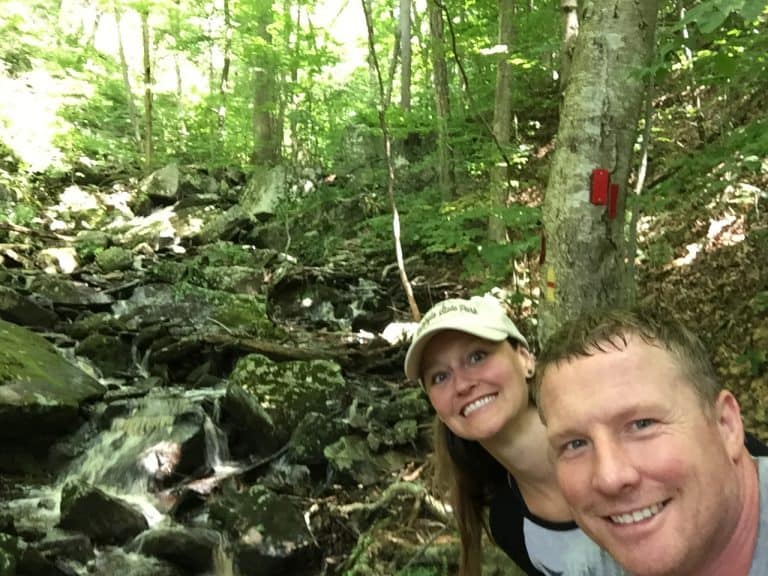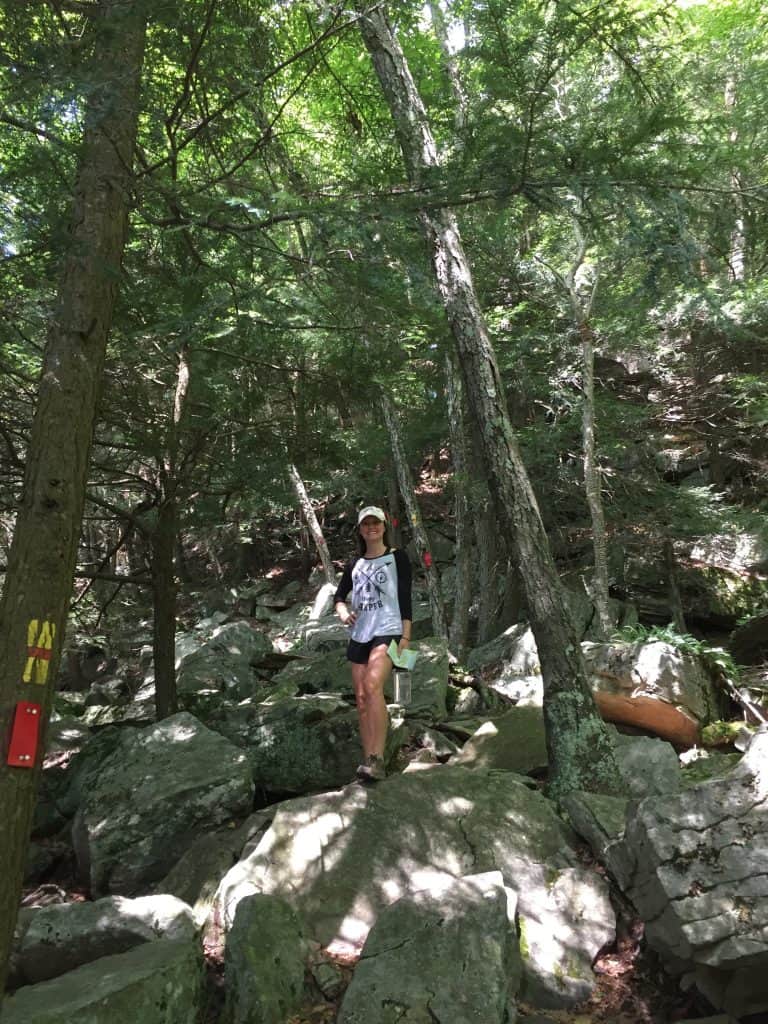 We even got this shot of lonely Axl Roads from the lookout! Can you see him?!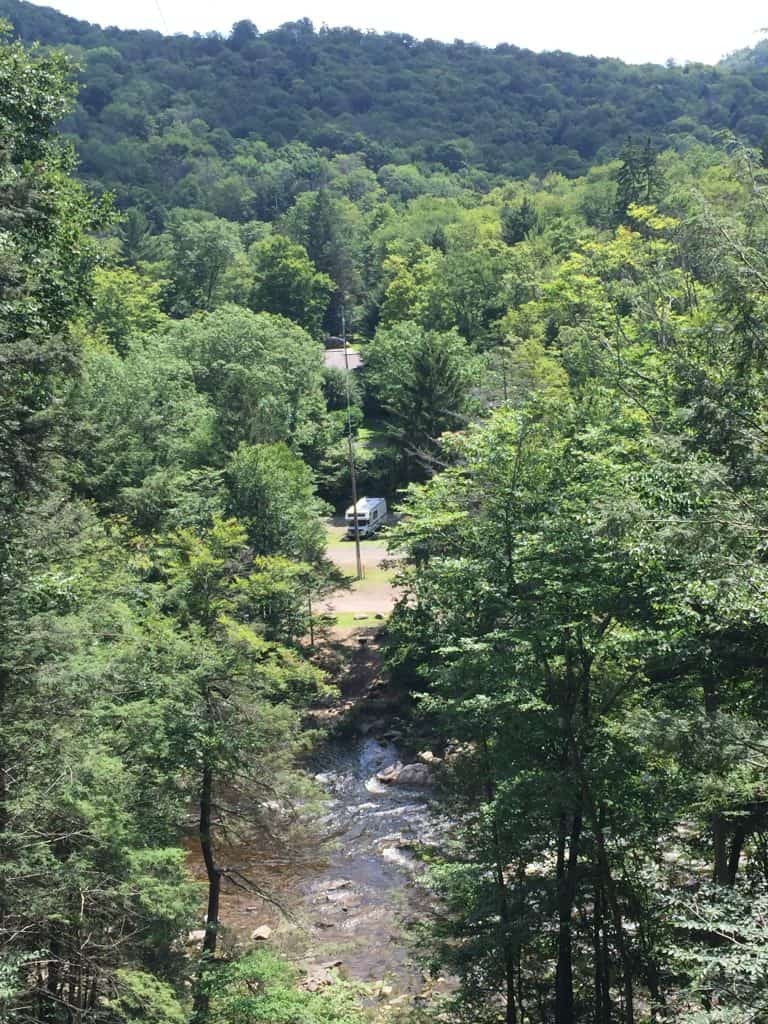 Worlds End State Park has a lot of other trails to explore. Here's the trail map showing what we hiked in green: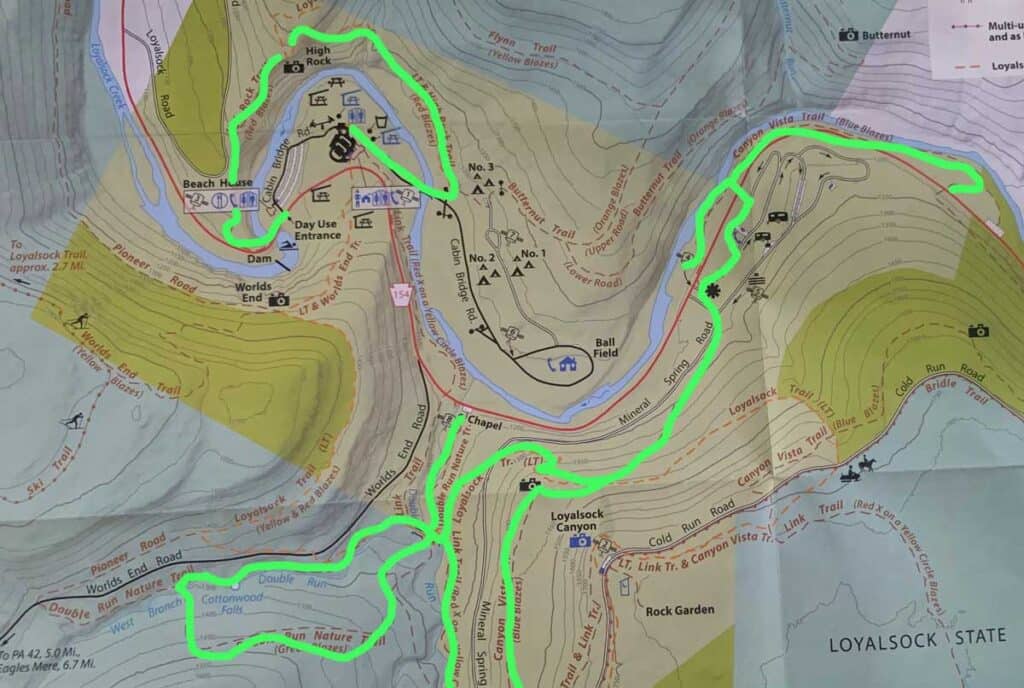 As far as wildlife….well, that's where Worlds End State Park came up a little short for us. Other people did tell us they had seen wildlife, but most of it eluded us. 
We saw a few deer, but no snakes, no elk, and no bears. 
We did see some funky fungi, like these: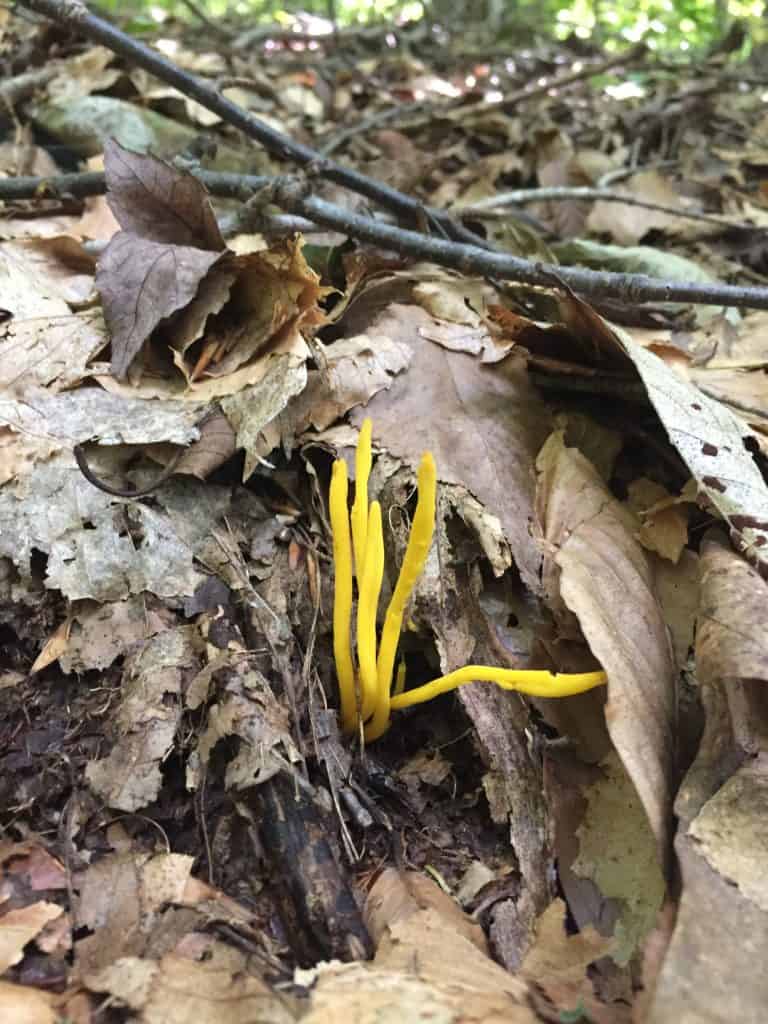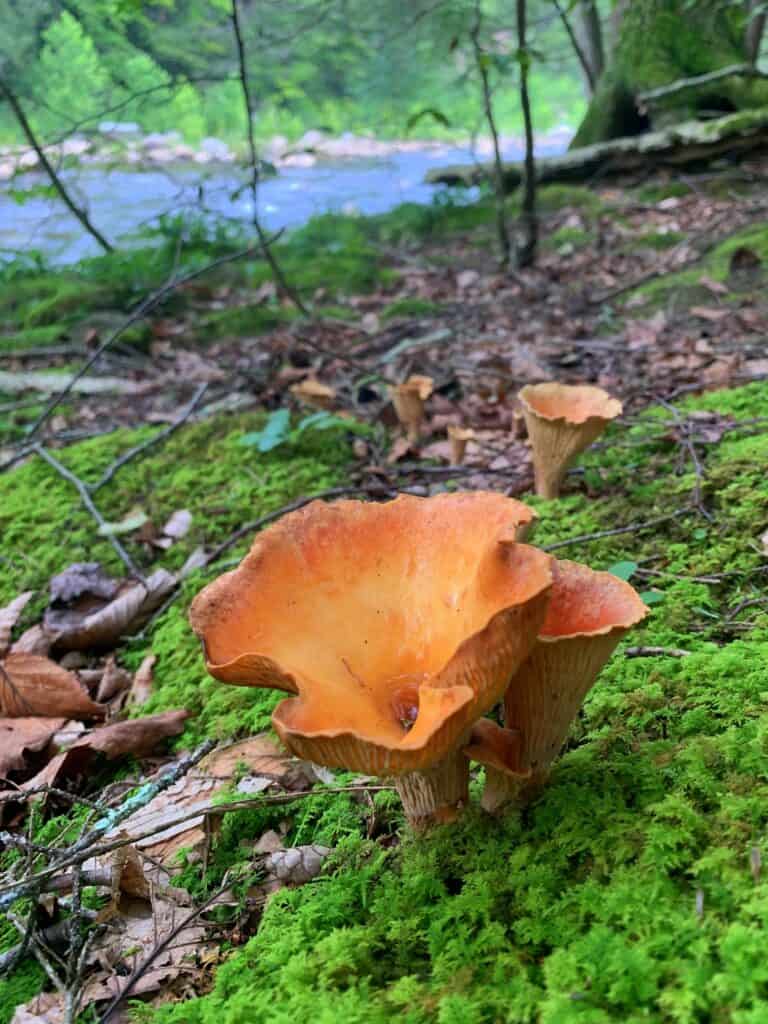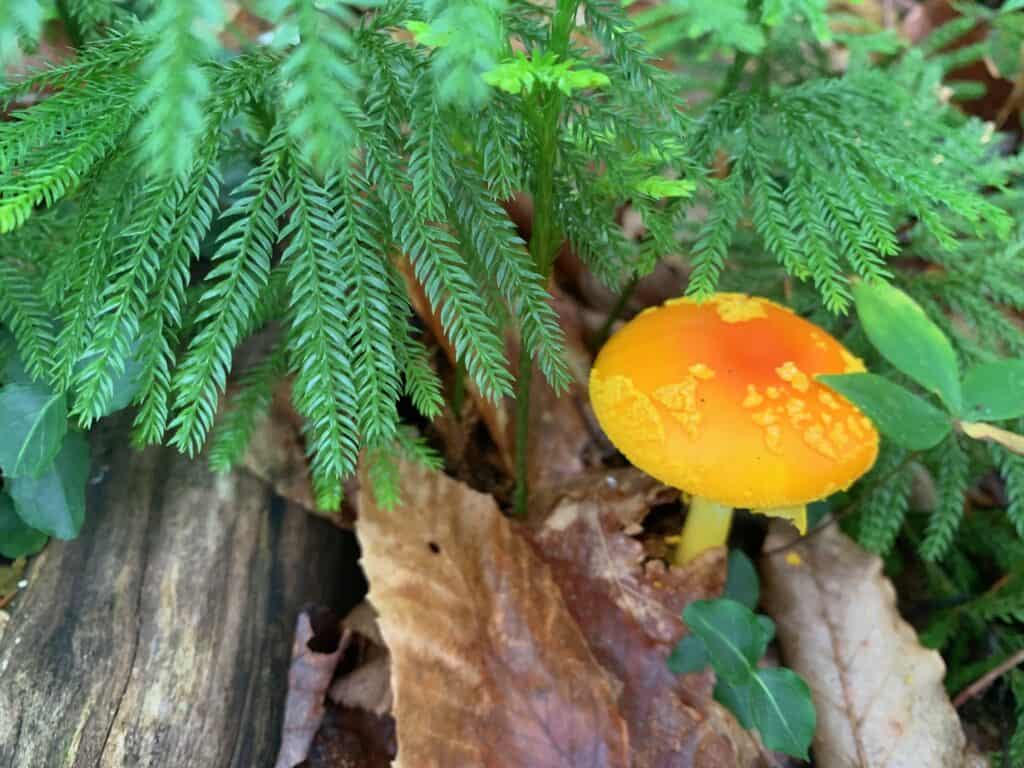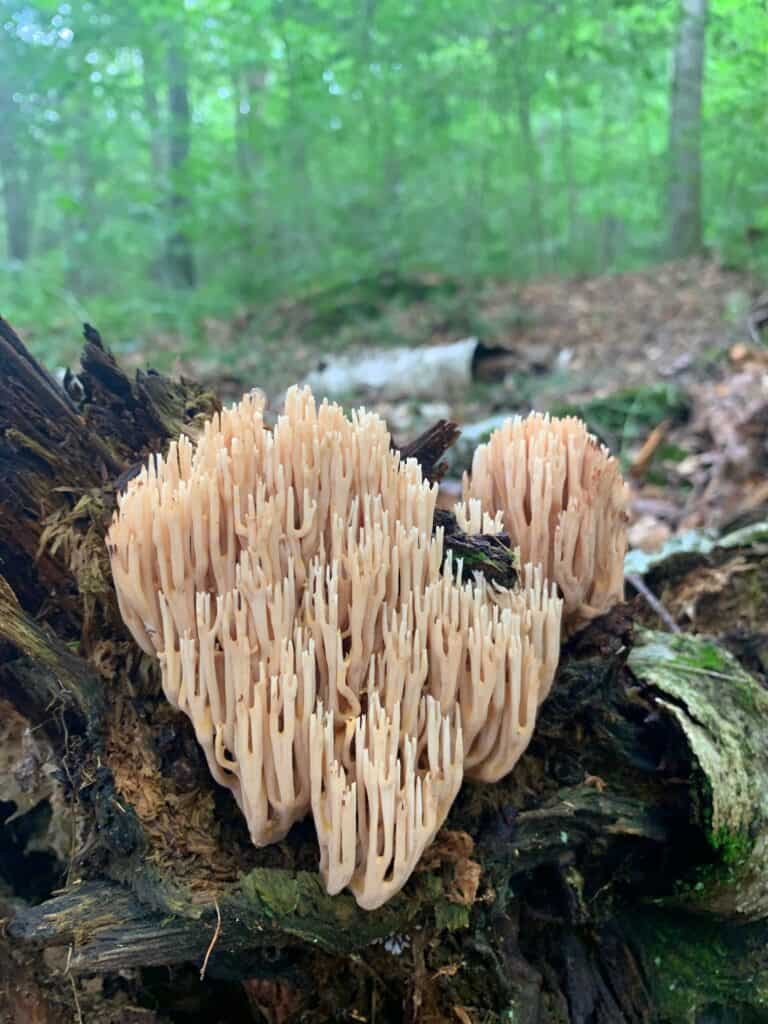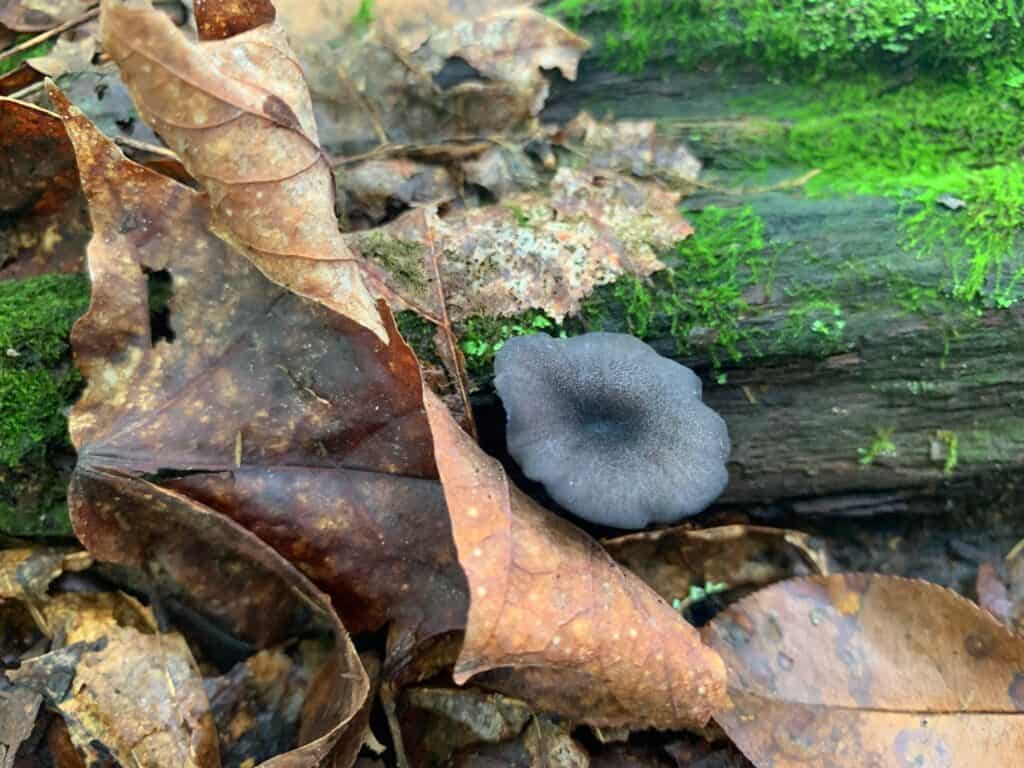 If you love a good mushroom photo as much as me, you can catch more Worlds End fungi shots on our Instagram.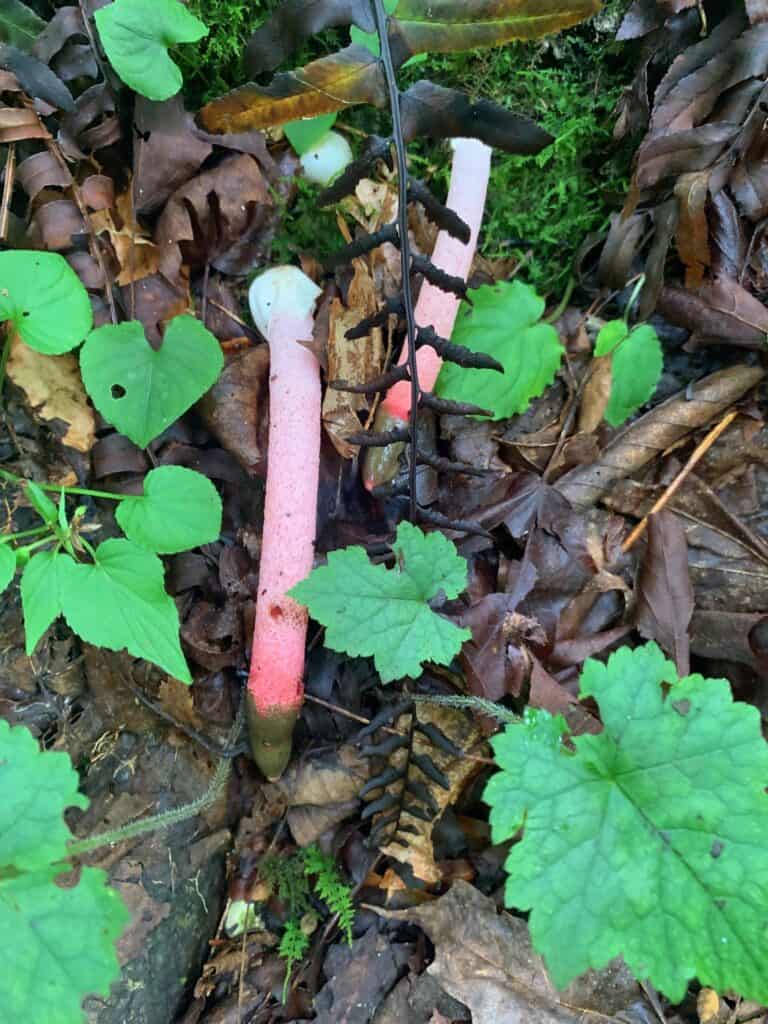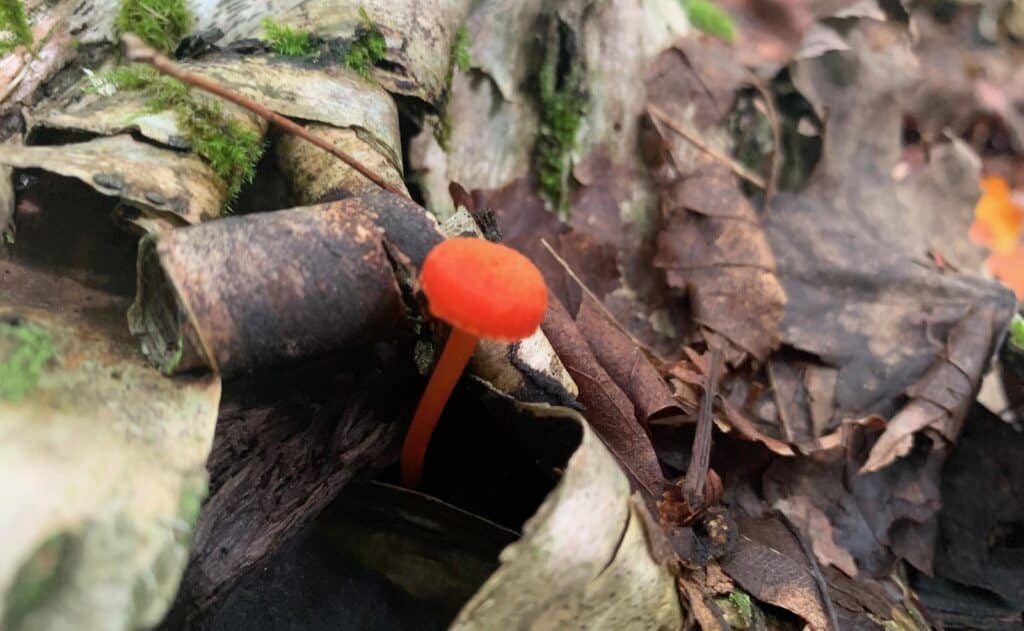 On your way home from Worlds End State Park, take a quick detour 7 miles from the park to see Eagles Mere Historic Village. 
This quaint little town used to be a resort community to escape nearby Sonestown, a booming lumber hub in the late 1800s to early 1900s.
Now Eagles Mere is on the National Register of Historic Places and is home to a few interesting museums, a nifty railroad display, and a lake full of little sailboats. 
Also, the Jolly Trolley Side Car Deli makes a mean grilled cheese!
PIT STOP! Forksville General Store and Big Mike's Hoagies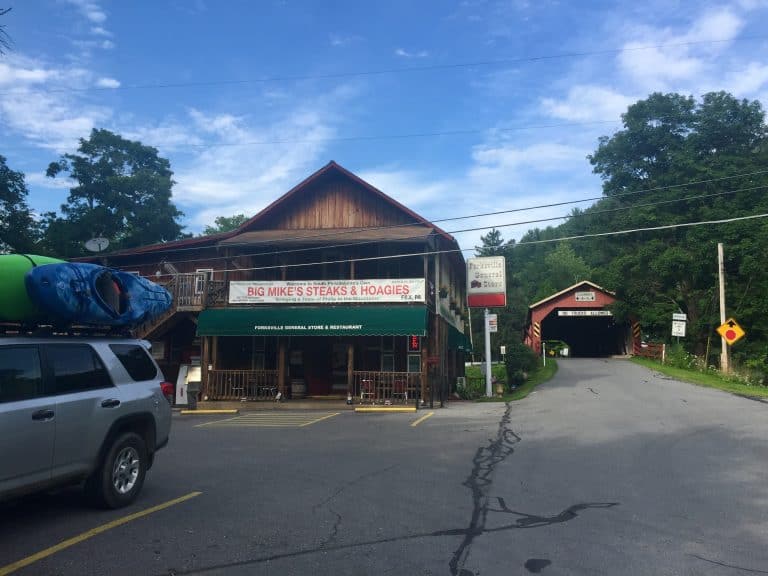 About a mile or so from the entrance to Worlds End State Park, stop at Forksville General Store to see the covered bridge close up! You can also snag yourself some penny candy and order up a few of Big Mike's Hoagies for the road! 
If you're bringing the RV, unfortunately you can't roll through the covered bridge (8 foot limit). Take the turn before the bridges rather than the one in between to avoid having to turn around.  You can park in the street headed from that direction. We used the spot in front of the Post Office. 
Russ gives the Godfather Cheesesteak two thumbs up, and I loved the garlic sweet potato fries. It's so close to the park, your food will still be warm when you pull into the campground!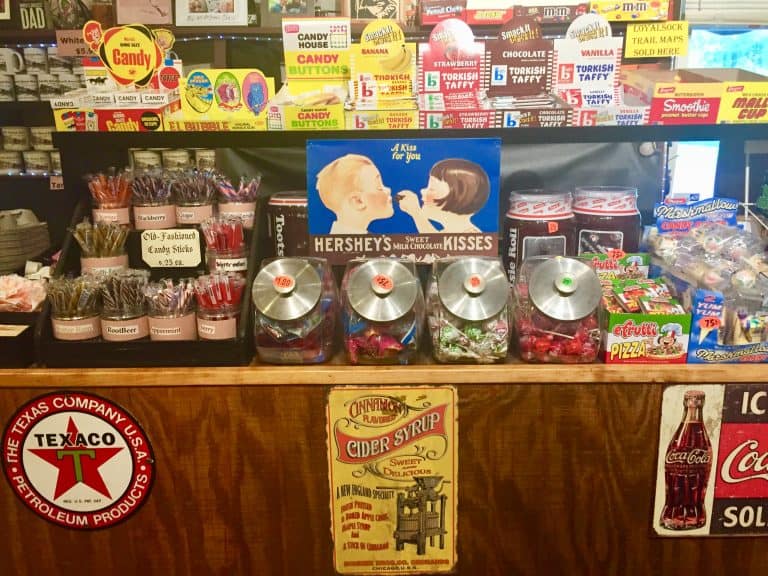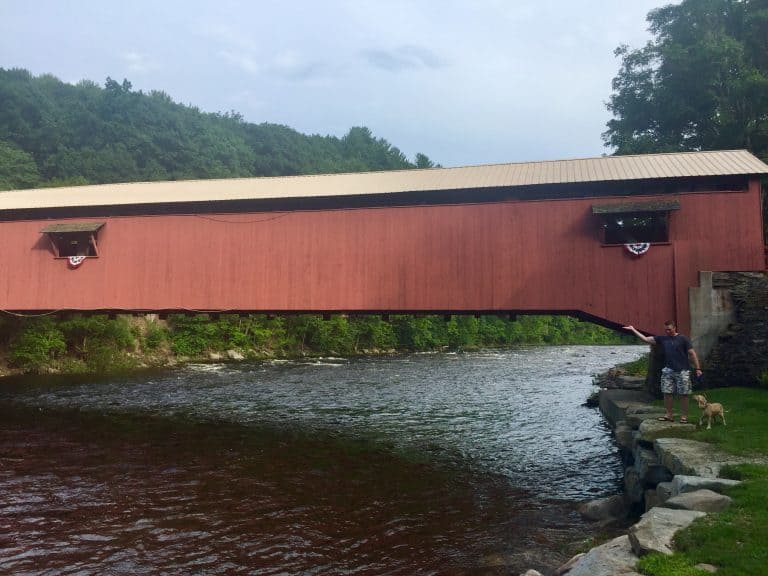 PIT STOP! Penn State Berkey Creamery
If you are headed home through State College, plan another stop at Penn State's Berkey Creamery!
Luckily, the Creamery is near a loading dock where we were able to park our RV on the weekend.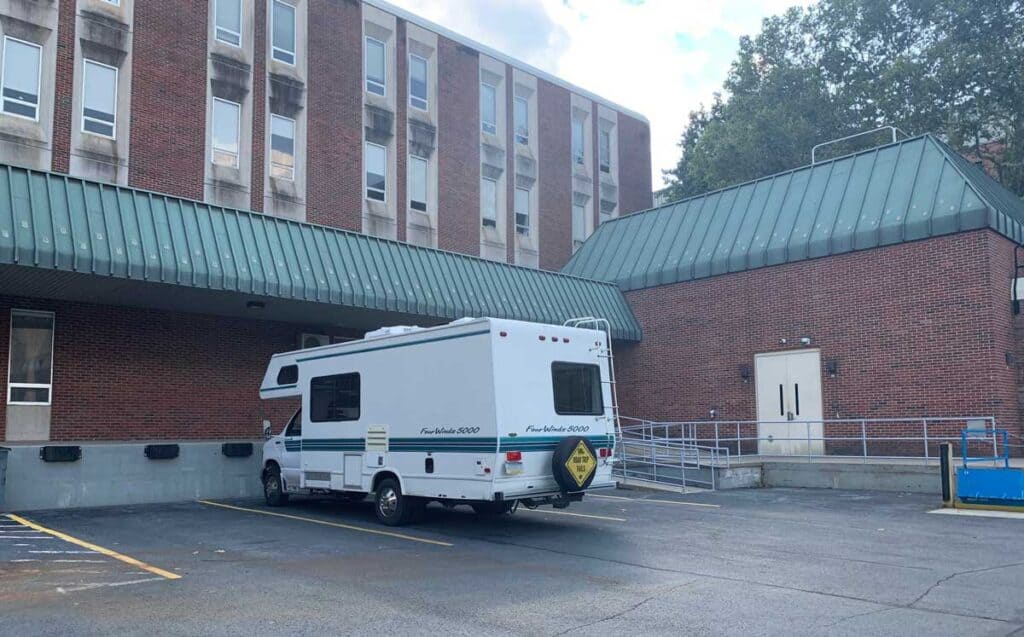 For $6, you can have a cone or bowl with your choice from their amazing selection of ice cream flavors. In the past, I've tried the cookie dough, and this time, I got the Anniversary Celebration.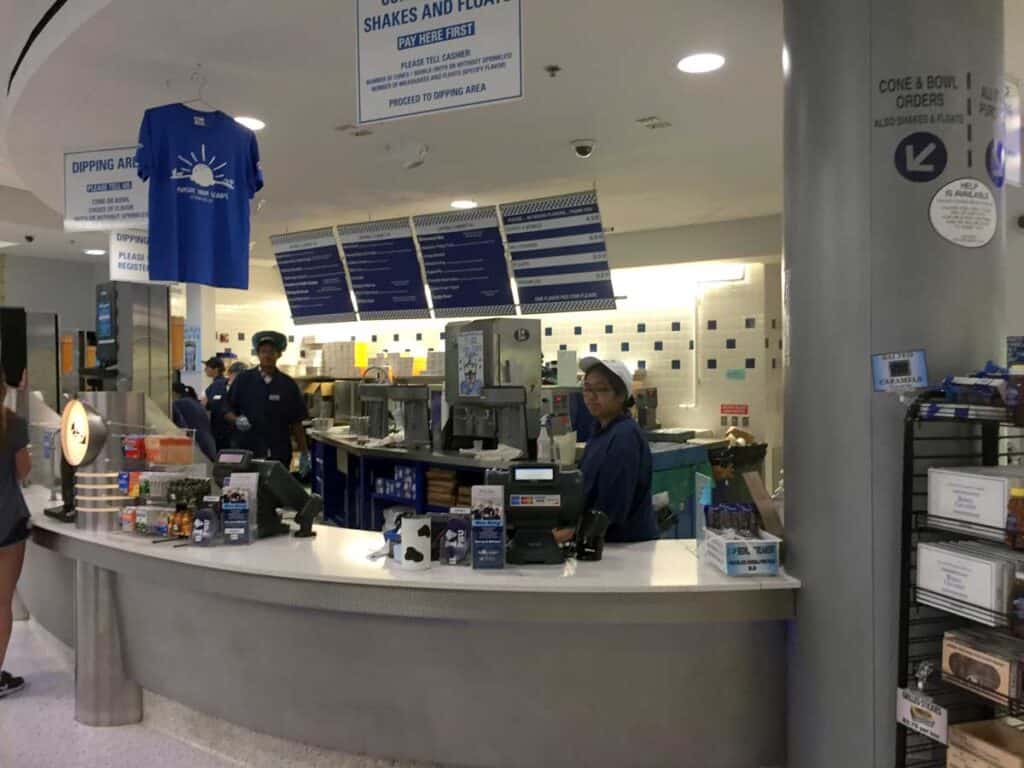 You get a ridiculous amount of ice cream in one order, so there's plenty to share! And if you really like a flavor, they have pints and gallons you can take home. 
And sprinkles. They have lots of sprinkles. 
World's End State Park is a fantastic scenic-hike-filled weekend RV trip with no cell service for miles.
It is also destined for my Top PA State Parks of all time- just for Double Run Nature Trail and High Rock Trail alone!
Have any tips for visiting Worlds End State Park or other pit stops along the way? Share below!