Please note that some of our links are affiliate links, which means at no additional cost to you, we will earn a commission if you click through & make a purchase. Happy clicking!
Cedar Creek State Park offers a camping weekend full of leaf-peeping and well-marked hiking trails in the beautiful hills of West Virginia!
Cedar Creek State Park is located in Glenville, WV, about 2 1/2 hours southwest of Pittsburgh just off Route 79. 
From the park office located inside a restored log cabin, to a historic one-room school house from the early 1900s moved to the park in the late 80s, you'll find history sprinkled throughout the park.  
Cedar Creek became a state park in 1955. With close to 2,500 total acres, it includes three fishing ponds, swimming pool, campground, miniature golf, and around 10 miles of hiking trails.
Cedar Creek State Park Campground has 65 campsites with electric service and 4 without. Most of the electric sites also have water.
Restrooms and showers are at each end of the campground, with restrooms and laundry facilities in the middle.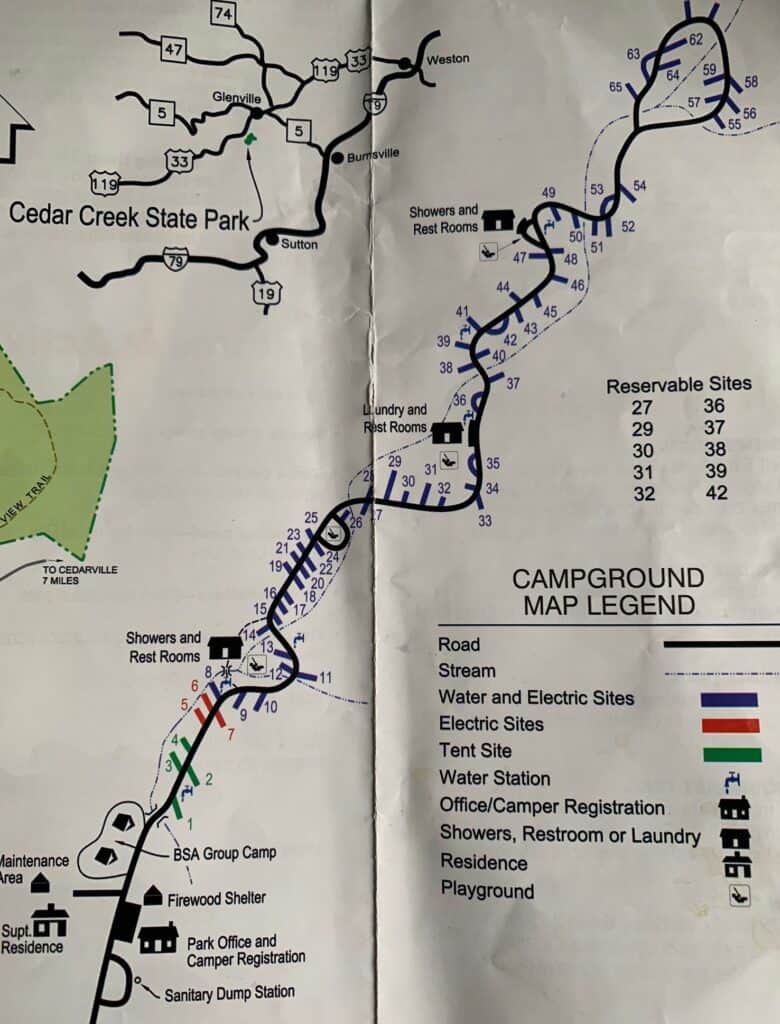 We camped at Site #7, which is a little uneven, but bearable.
The showers and restrooms are a short walk over a footbridge away. 
I'd also recommend sites #6 and 8, which backed against the woods and a small creek. 
While West Virginia State Parks might not always have the newest shower houses, they absolutely steal my heart with their extremely HOT and high-pressure water! Bonus points for NO timer button! Go, West Virginia! 
PRO TIP for the Campground
The park's Foundation hosts some great events at the park! When we visited, they did campground trick-or-treating for the camp guests and the community. Be sure to check their schedule of events before your trip. 
Cedar Creek State Park has about 10 miles of hiking trails, mainly distributed in loops on either side of the creek.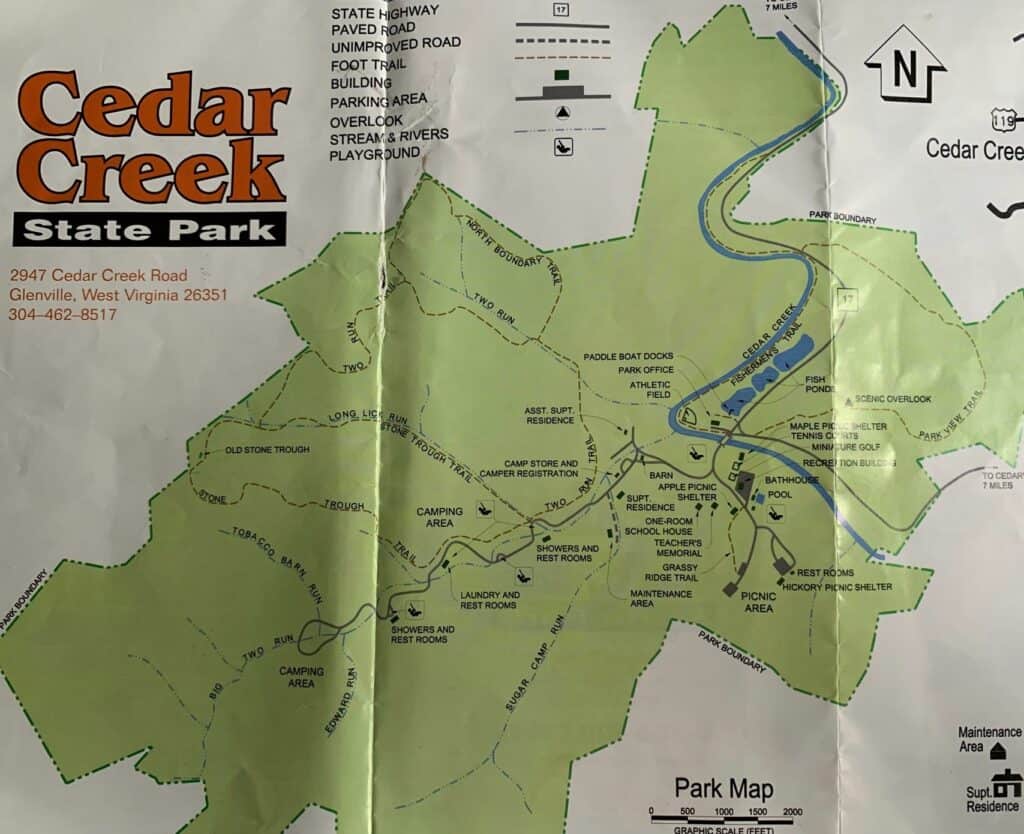 We set out to create an approximately 3-4 mile-long loop starting from the campground near site #11 on Stone Trough Trail. 
From there, we made a right onto Two Run and then another onto North Boundary. 
We finished on Two Run at the Assistant Superintendent's Residence. 
The trails are mostly wide and clear, and for about a mile, we were along a damp creek bed.
A ton of leaves had fallen, and the dogs enjoyed romping through them.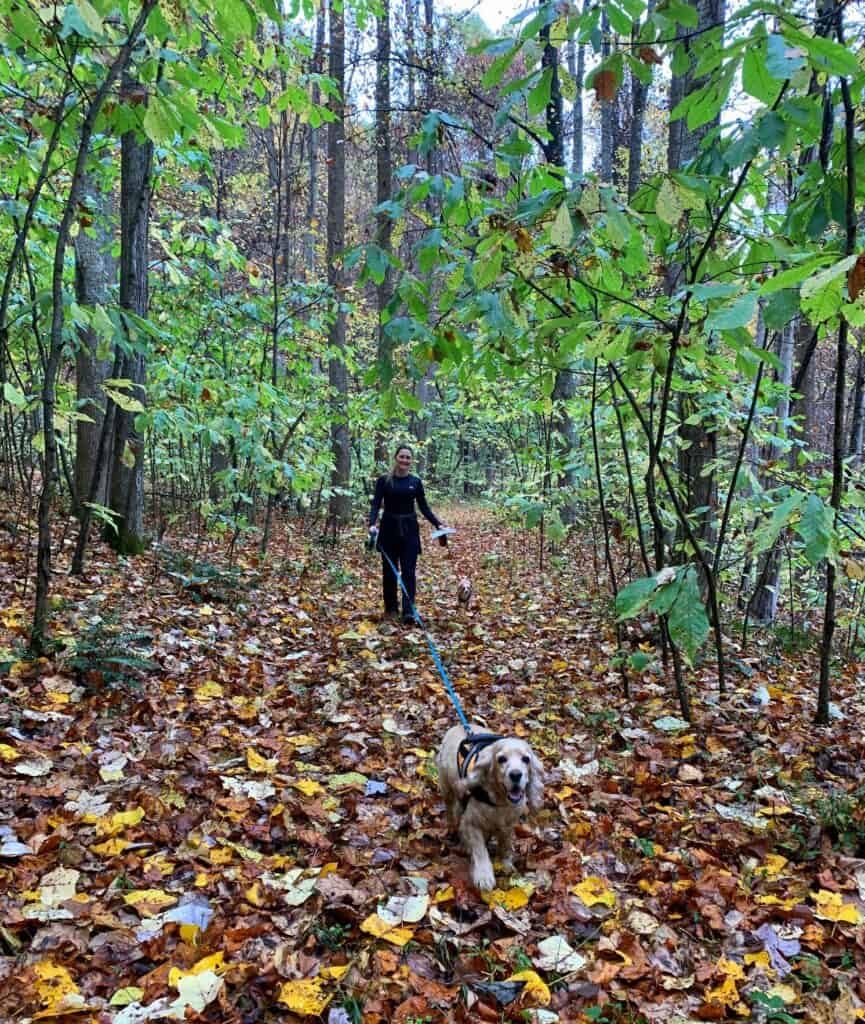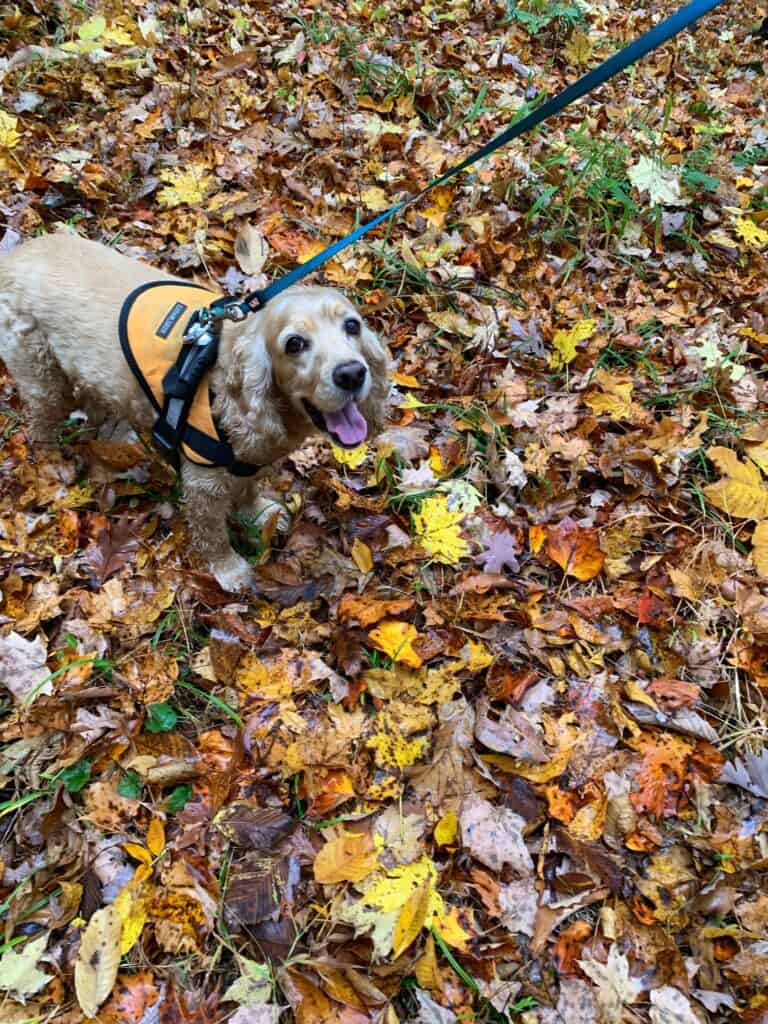 Towards the second half of the loop, there were more large boulders along the trail, giving Hazel a Queen of the Forest complex.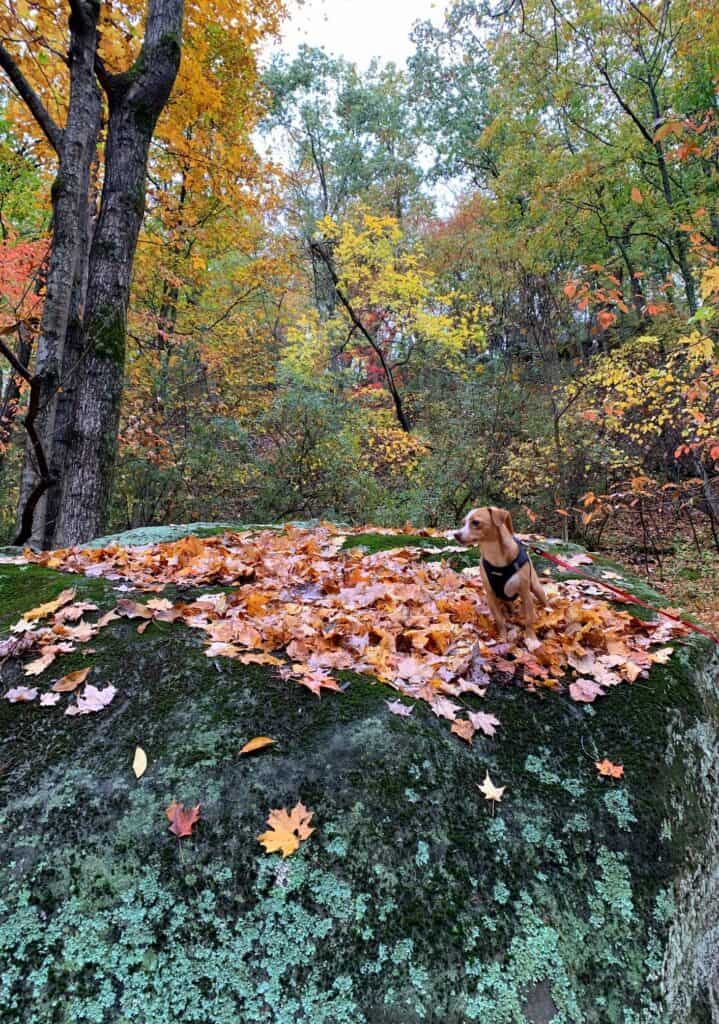 There is a gradual incline at the beginning of this loop and gradual decline at the end, but the remainder is relatively flat – making it a good beginner to intermediate hike, and especially dog-friendly. 
Once we reached the Assistant Superintendent's Residence, we crossed the street to see the old school house and Teacher's Memorial. 
Although it is closed to tours during the pandemic, you can peek in the side windows to see the recreated classroom – complete with old-fashioned chalkboards, desks, and school supplies.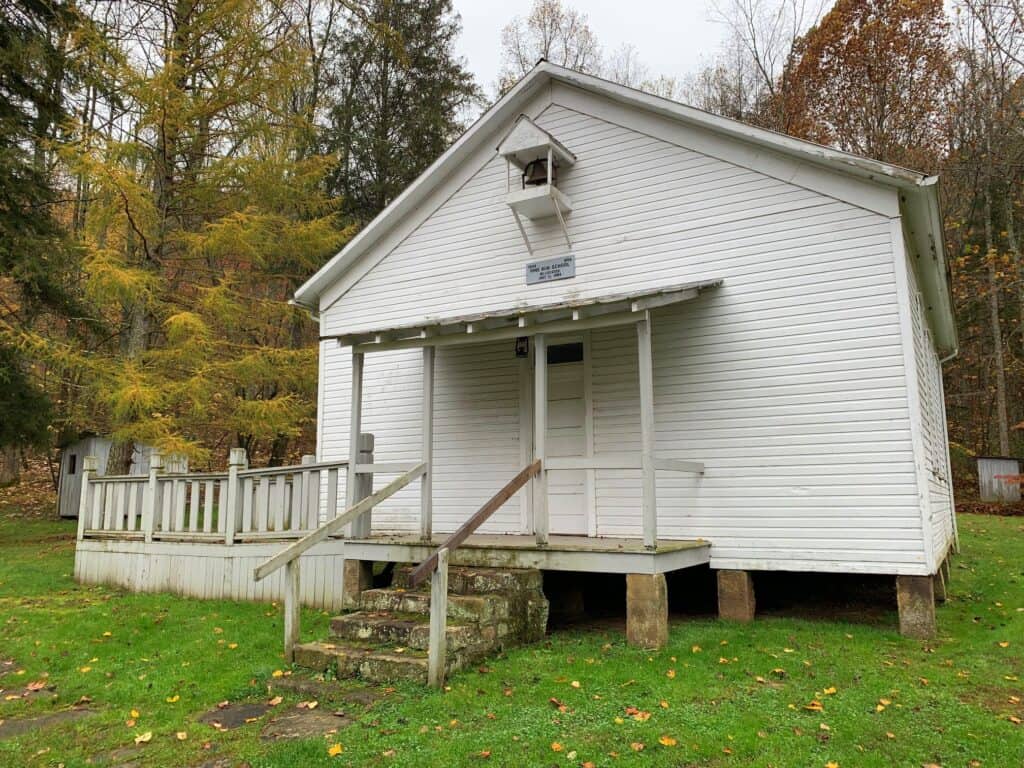 Just a few steps away, you can also see the Teacher's Memorial with the names of those who taught in one-room schoolhouses across the state of West Virginia.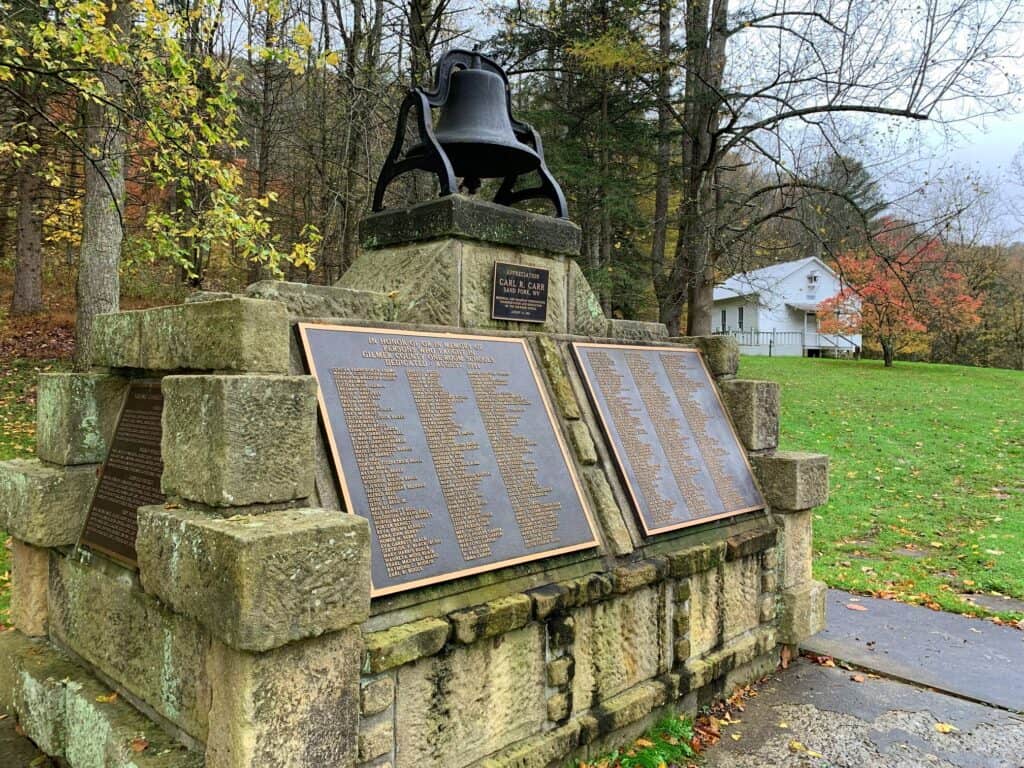 Wildlife, Fauna, and Fungi
The day we hiked was quite chilly and wet for mid-autumn, and we unfortunately did not encounter any wildlife outside of the tiny fish we could see swimming in the creek. 
We did come across a few interesting fungi, which according to my handy-dandy mushroom book, are of the jelly variety.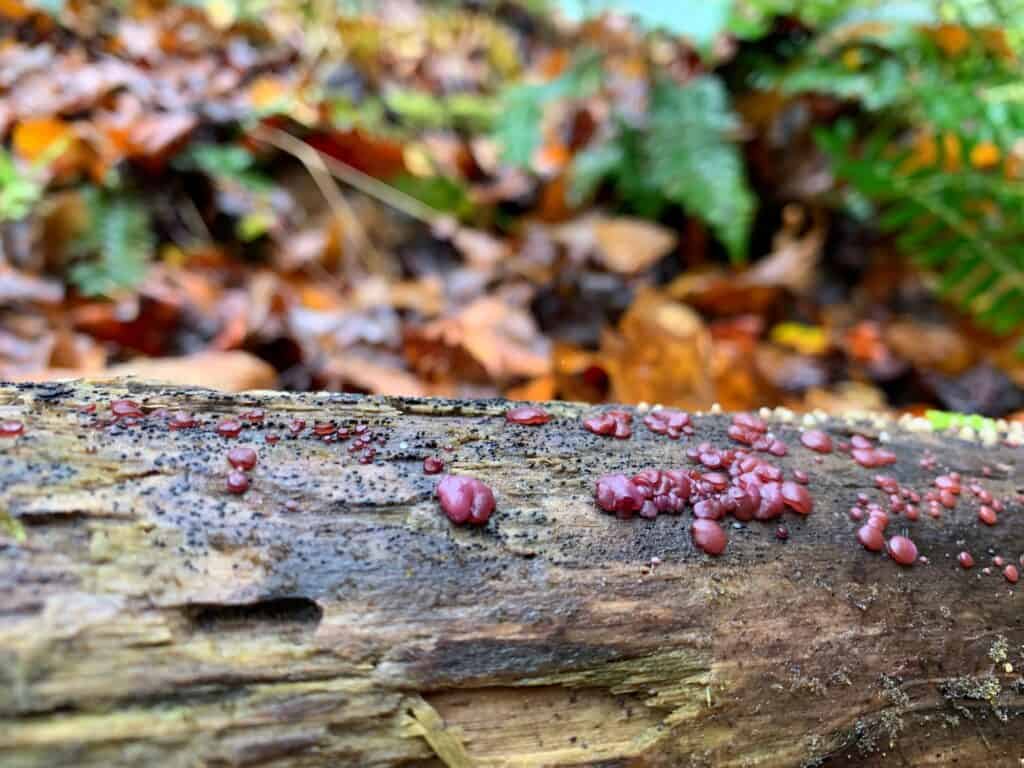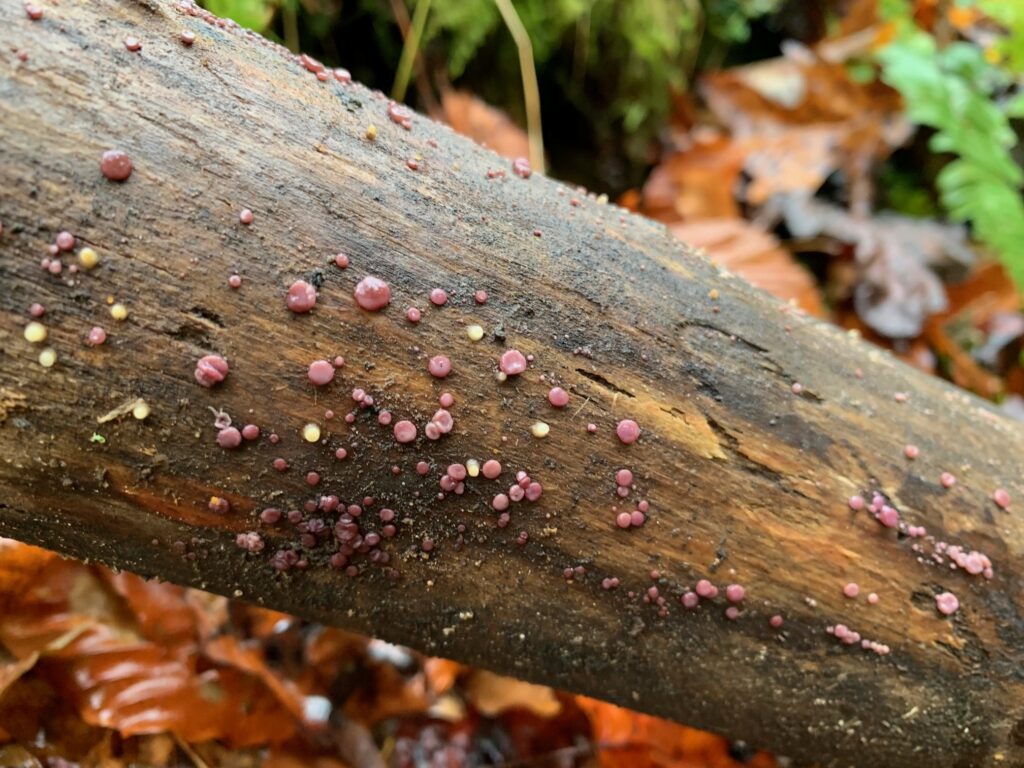 This northeast-late-season RV weekend trip was mainly to enjoy the changing colors on the leaves, and West Virginia did not disappoint! However, we did have to cut our hiking short due to the rain, and I would love to return to see the remainder of the trails next spring or summer.
PIT STOP!
Almost Heaven Desserts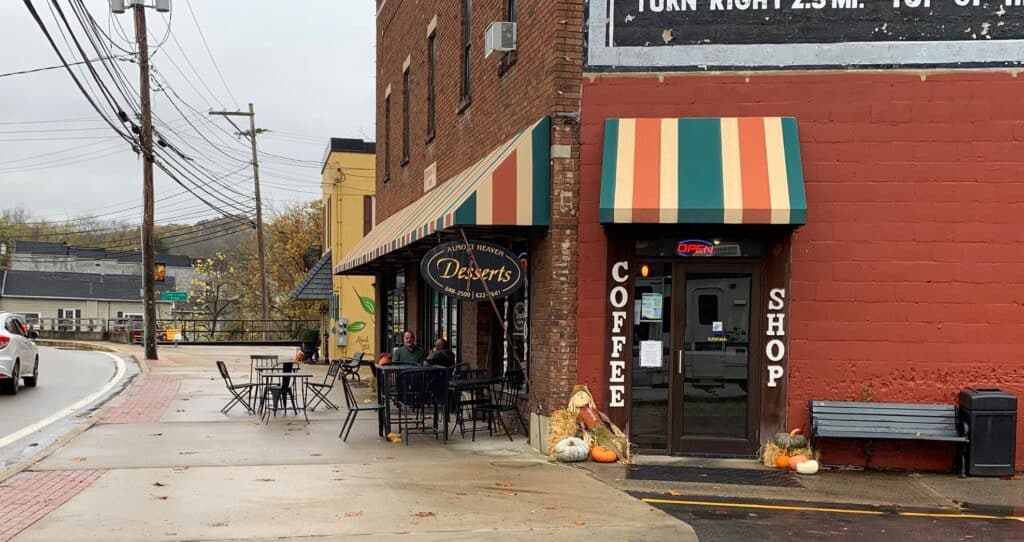 On your drive home and just an hour northeast of Cedar Creek State Park, take the Bridgeport exit off Route 79 to visit Almost Heaven Desserts and Coffee Shop. 
The display case alone will have you leaving with an armful of sugary goodness – from flavored cheesecakes and decorated cookies to scrumptious cannoli and a variety of biscotti!
We opted for a well-rounded, RV-driving meal: the Mountain Mama Breakfast Melt with sausage, egg, and cheese along with a large half-caf coffee and chocolate-dipped peanut butter cookie.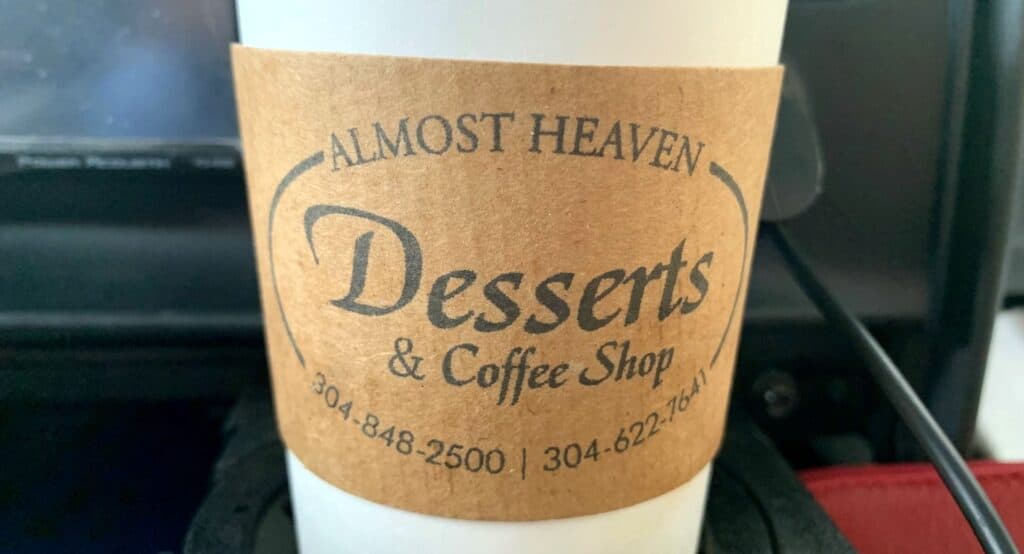 Every now and then we like to leave the Pennsylvania state park system, and West Virginia is a close, wild, and wonderful alternative. 
Their rolling hills on the drive alone will have you itching to hike when you arrive at the campground. 
Hazel wants to know what you are waiting for?