Please note that some of our links are affiliate links, which means at no additional cost to you, we will earn a commission if you click through & make a purchase. Happy clicking!
Deep in the mountains of West Virginia, Holly River State Park offers a peaceful yet challenging weekend of camping and hiking.
Holly River State Park is in Hacker Valley, central West Virginia, about 3 hours south of Pittsburgh. Its 8,100 acres make it the state's second-largest state park. 
If you arrive feeling pretty neutral, it may just be the ghosts of the Swiss immigrants who originally settled here in the late 1800s. Soon after that, the area was deforested for the timber industry, then reforested by the late 1930s. 
Holly River became an official State Park in 1938…sort of. Seems it still belonged to the federal government. They turned it over to the state in 1954, and West Virginia began to make the improvements visitors enjoy today like the hiking trails, campgrounds, and game areas.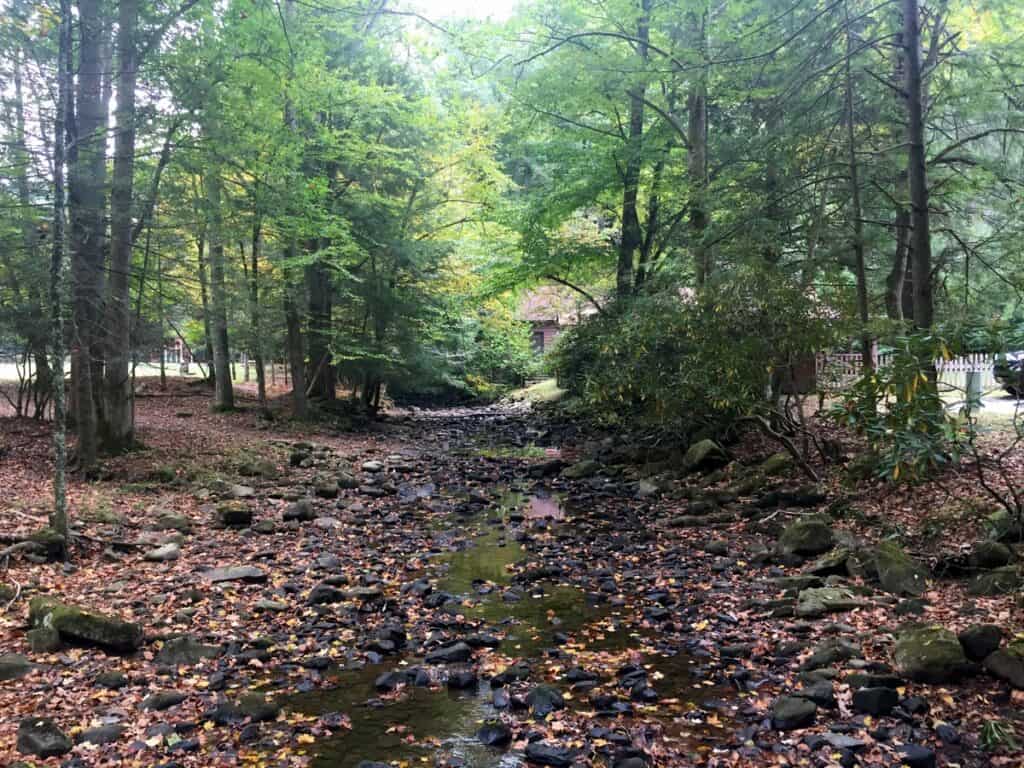 The brook/fork was cool, clean, and clear (with the exception of some early fall leaves).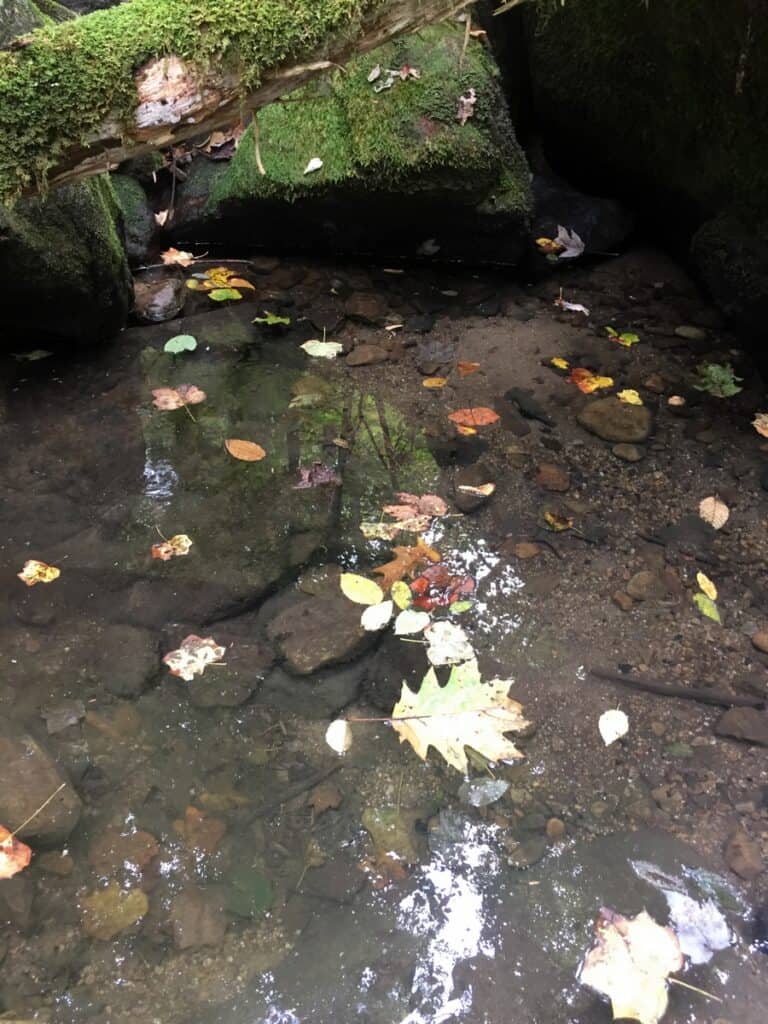 Hazel and Franklin took advantage of having a new kind of playground in their backyard for the weekend!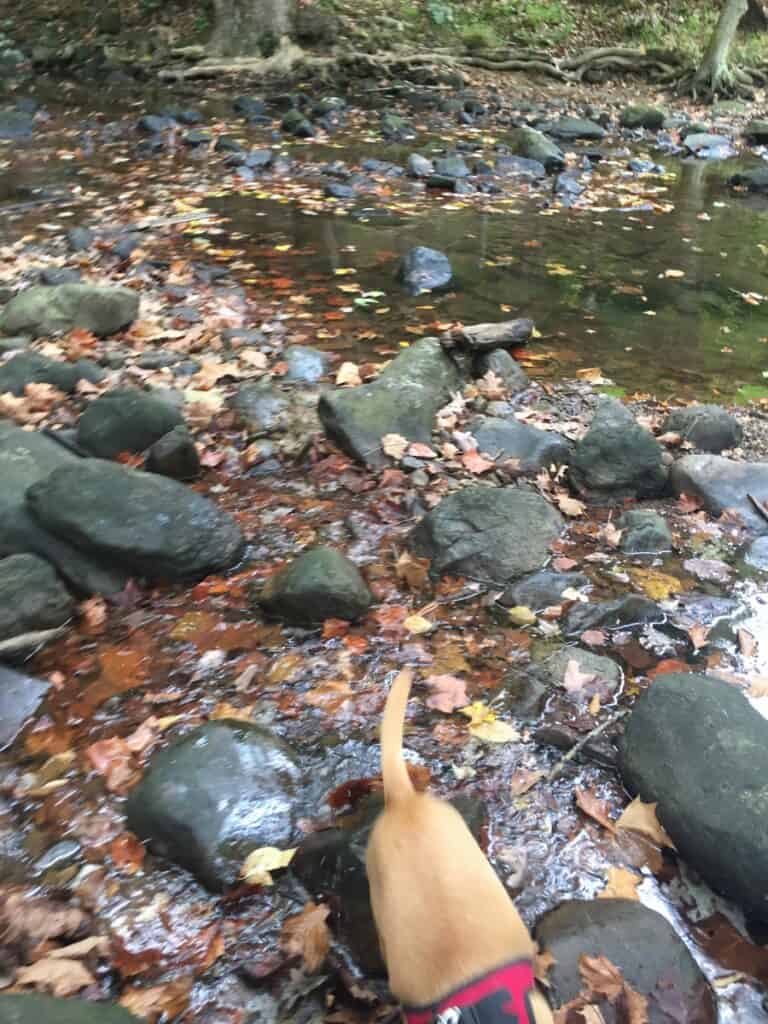 There was one shower stall in each side of the bath house in our Loop, and I am happy to report that the showers had COMPLETE hot water control and NO timer buttons! 
Yay, West Virginia!
PRO TIP for the Campground
The Campground is HUGE and really spread out! You will likely need to drive to the parking lot near the Restaurant to have easy access to all the hiking trails. The cabins are much more convenient to the amenities and hiking trails in the park. 
Holly River State Park has 42 miles of trails, and some of them are real killers! 
Take for example High Rock Trail. 
It might only be 1 1/2 miles, but the first half of it is straight up the mountainside! 
One you reach the top, it is quite scenic, and there are plenty of rock star photo ops, including this spooky face-in-the-rock one.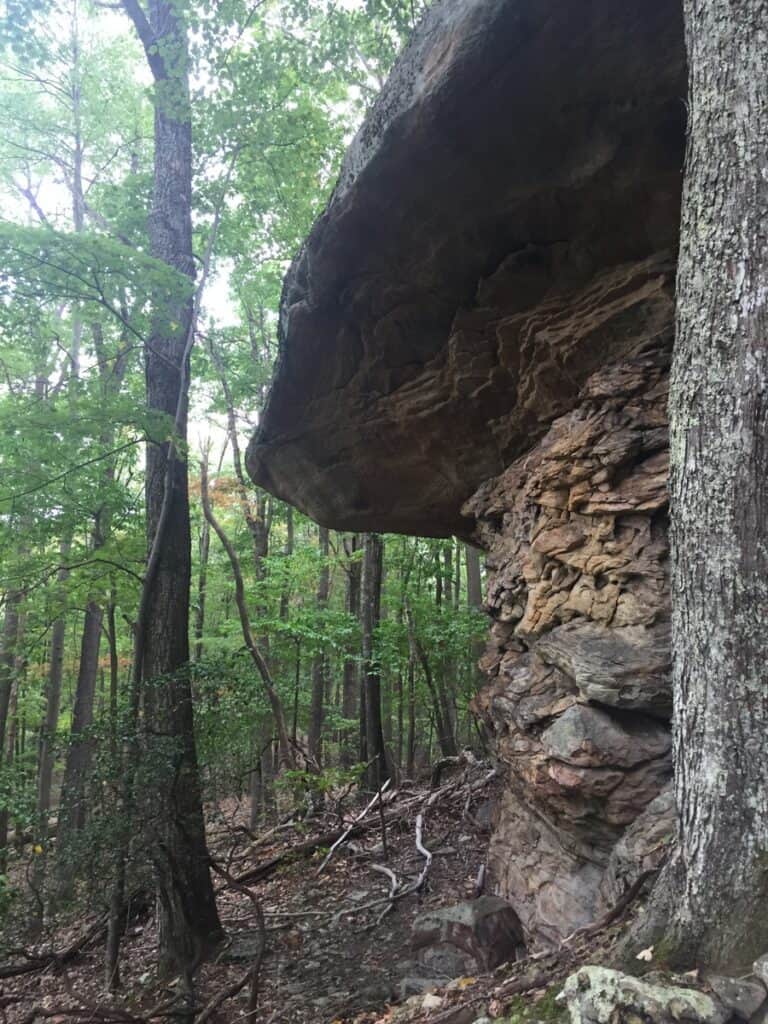 Don't get discouraged on the way up- the long walk is worth it!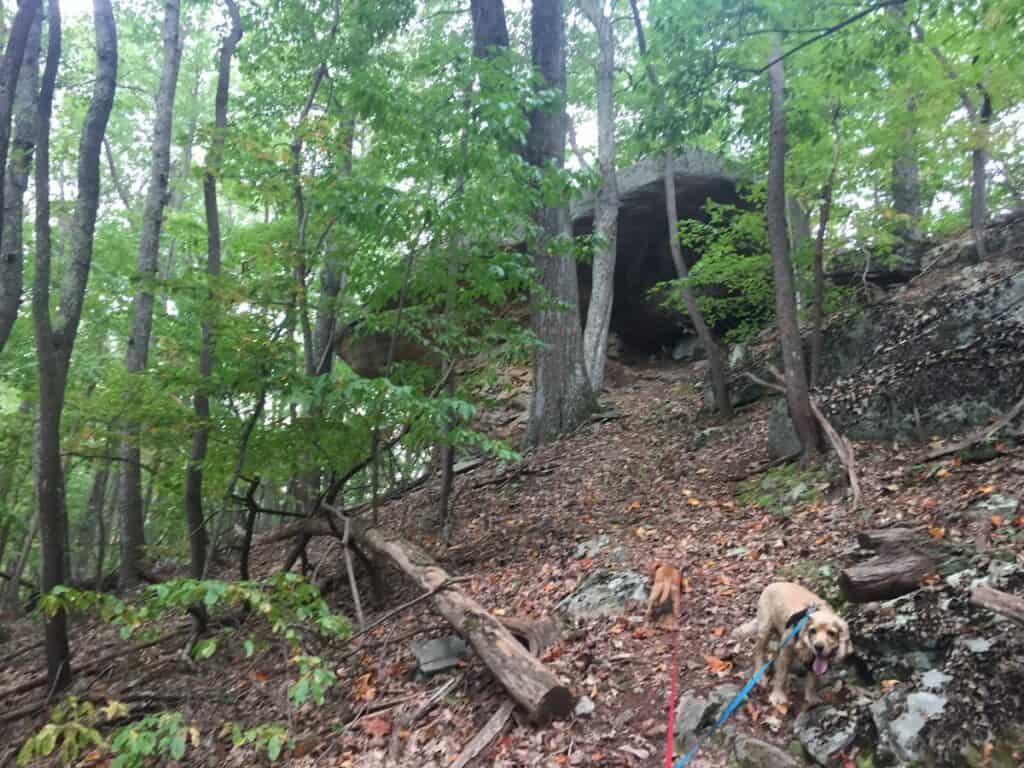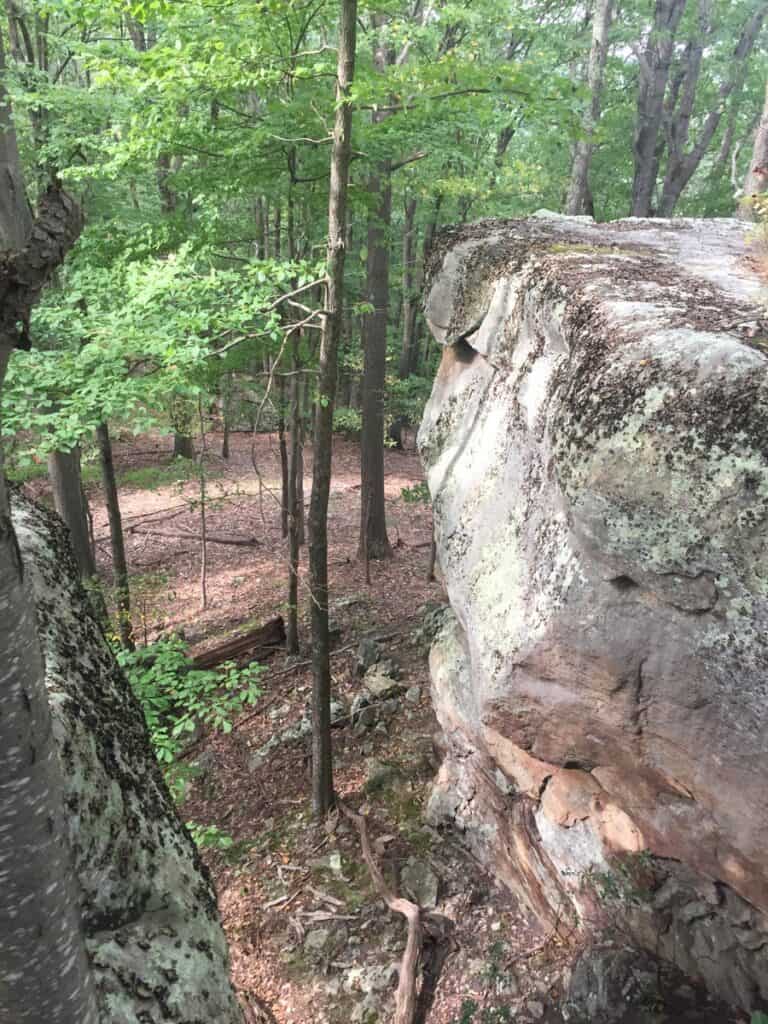 And on the way down…more rocks.
Next, we hiked up 2 miles of Reverie Trail in search of Tecumseh Falls.
While the trail was beautiful, unfortunately the creek was dry, and we never found the falls.
We DID find a nice pile of bear poop and a place where I suspected a bear could hide (no bears though).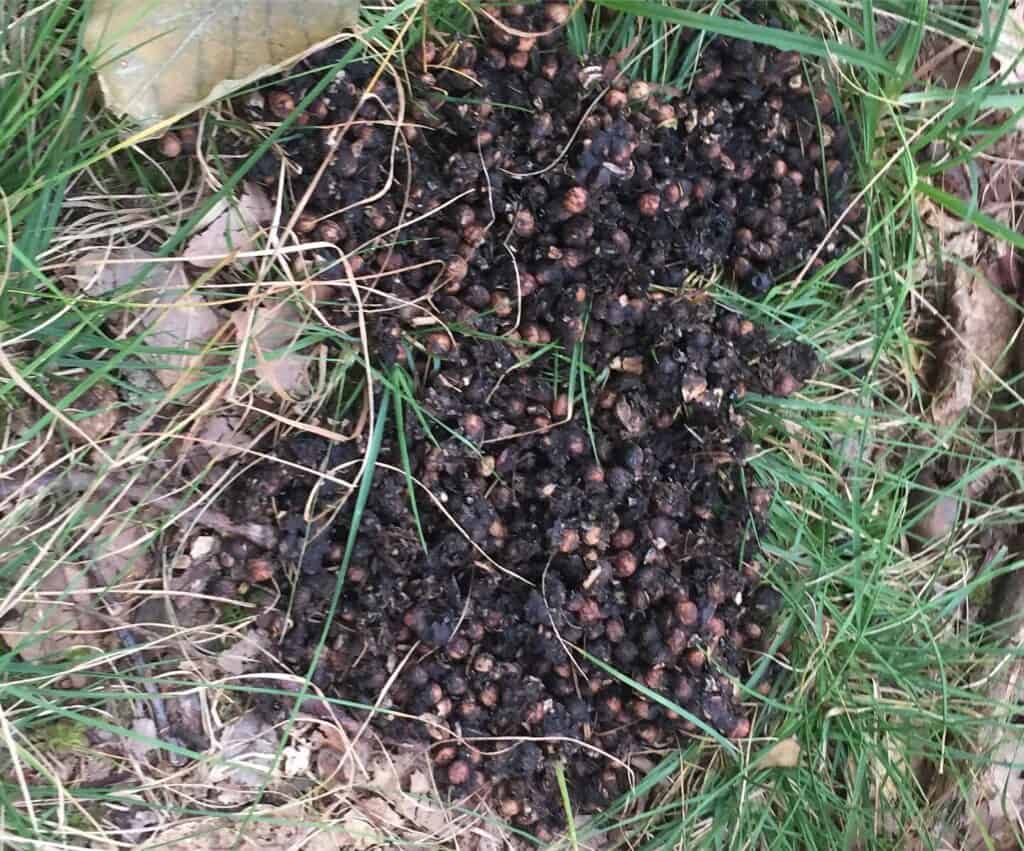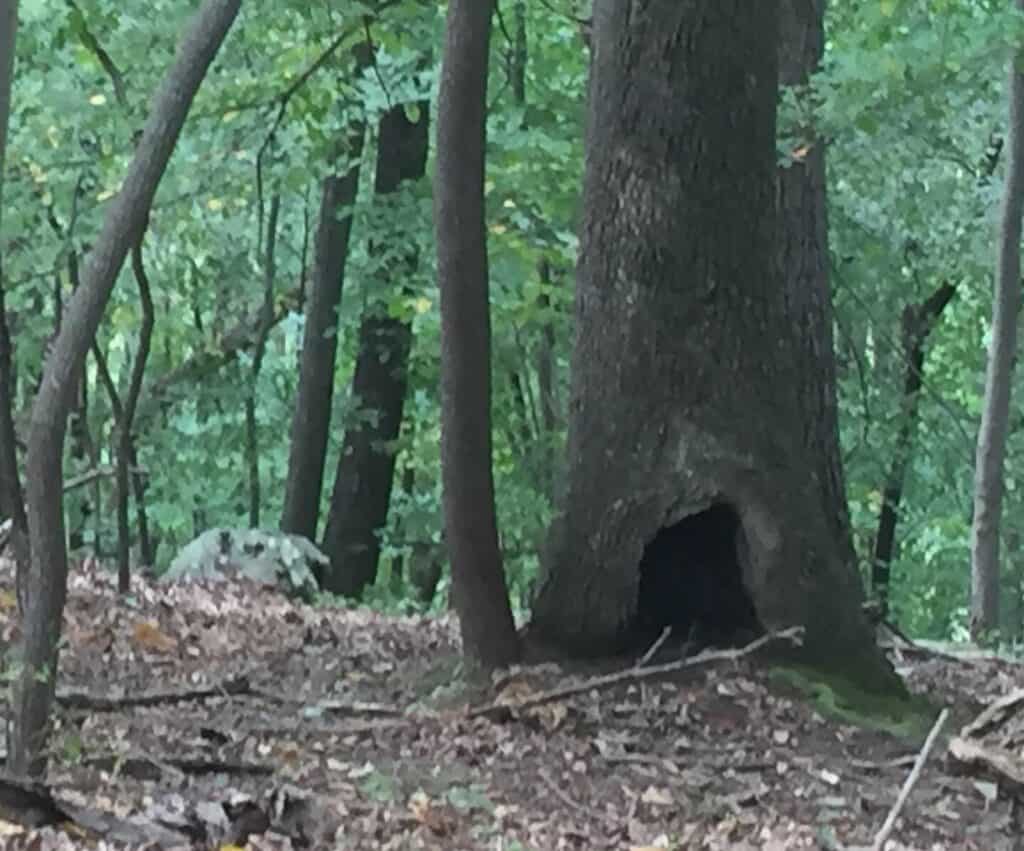 After we stopped for some dessert at the Holly River Restaurant (DELISH blackberry cobbler and apple pie with ice cream), we decided to round out the day with one final hike. 
We headed into the cabin section to do the one-mile interpretive Nature's Rock Garden Trail. 
This trail may sound nerdy, but it is gorgeous, and you won't regret doing this quick loop. 
From its wild tree roots and moss covered rocks to its delicious-to-dogs bark pieces and stony seats, I can truly say there was something for everyone on Nature's Rock Garden Trail!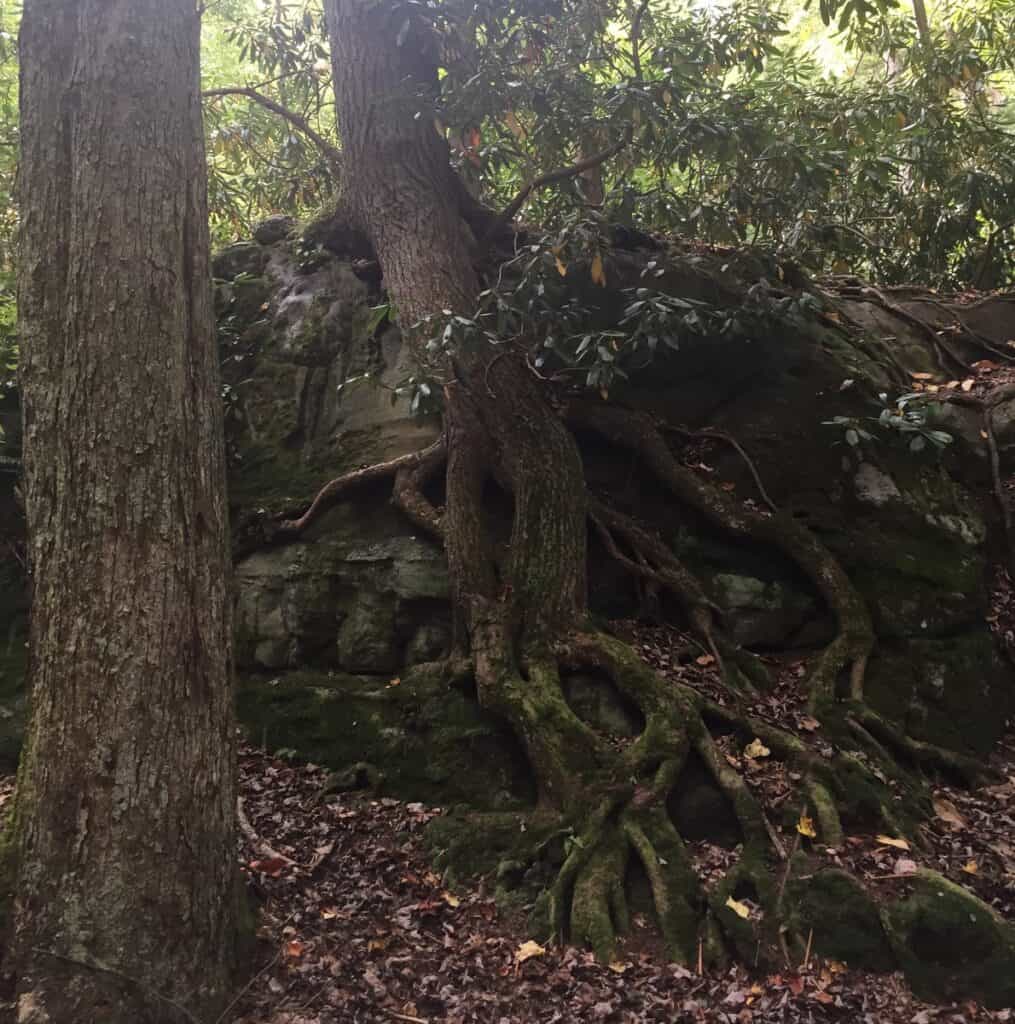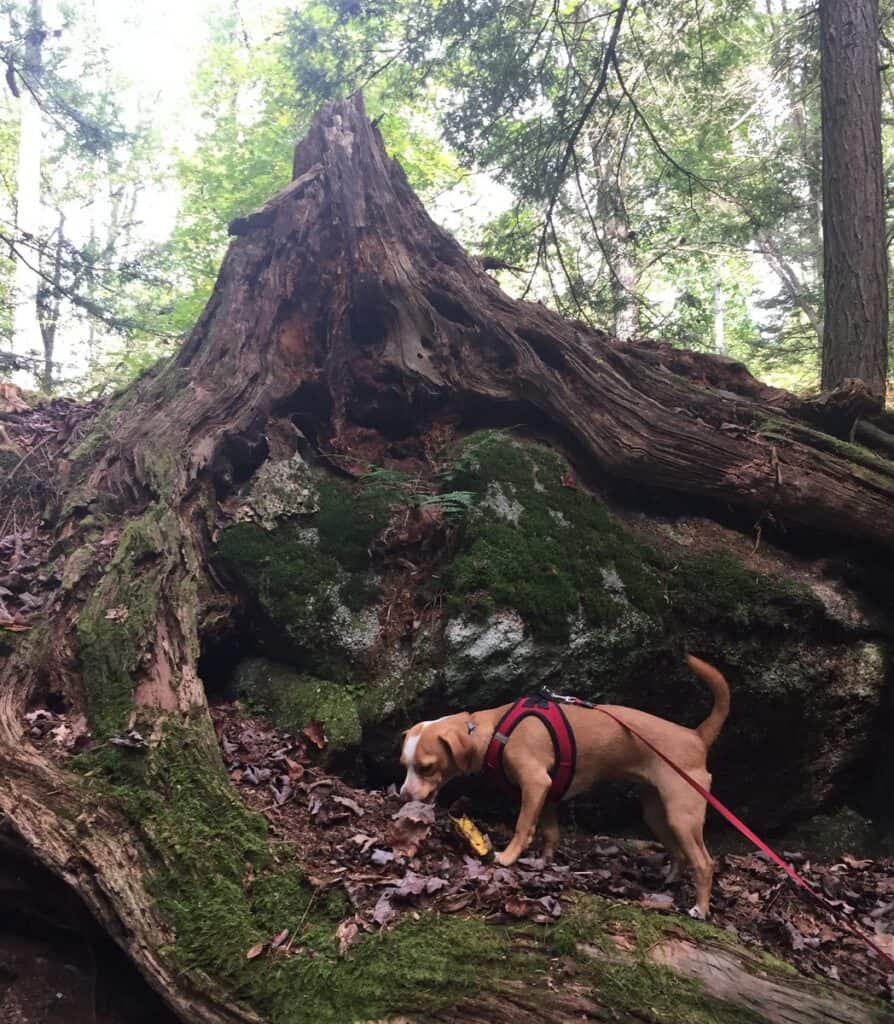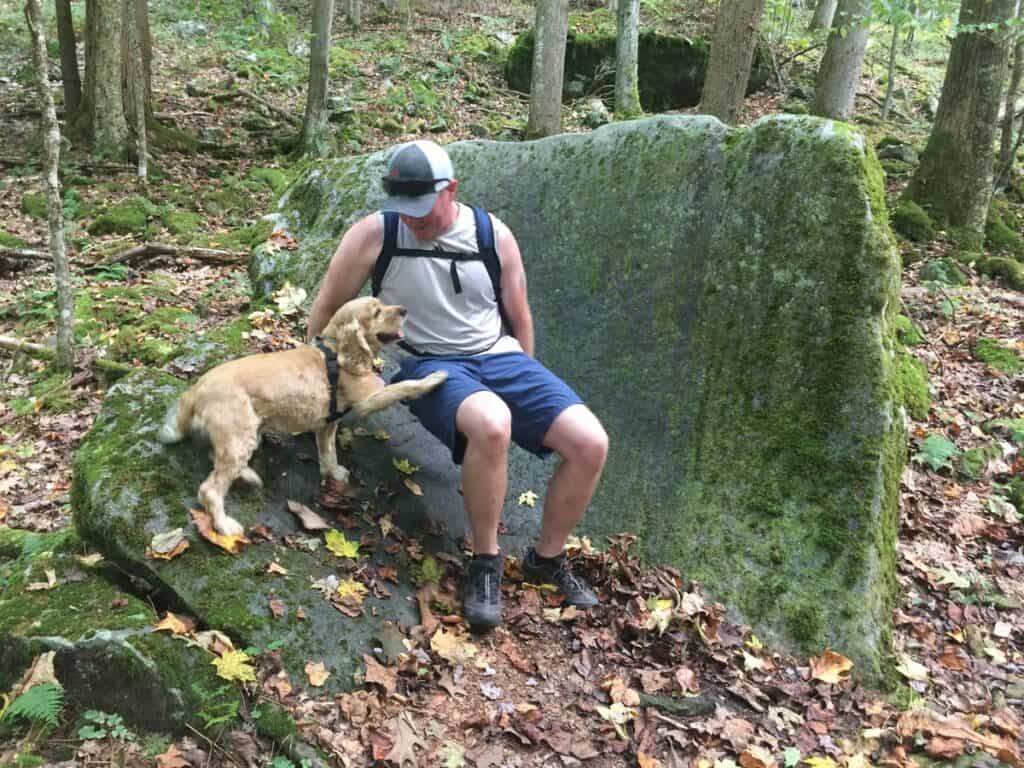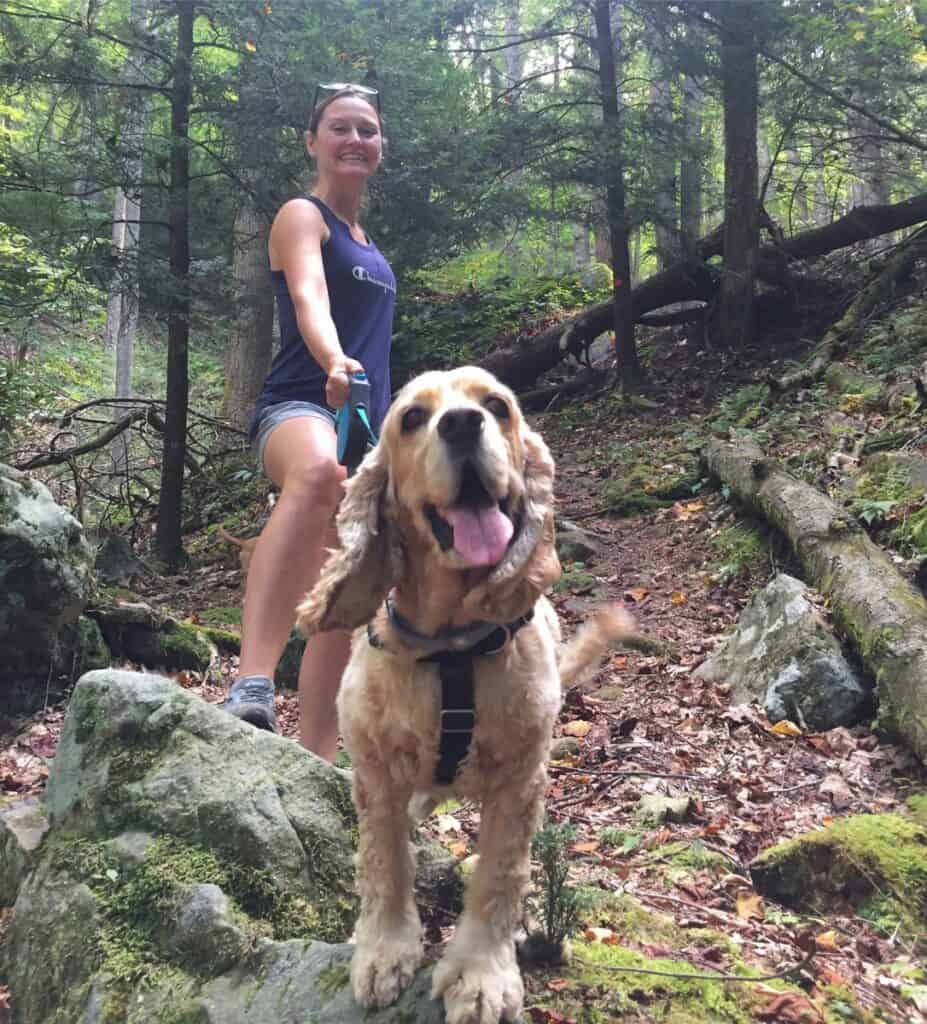 There are plenty more trails in the park we didn't get to hike that you might enjoy- ones that lead to other waterfalls and lookouts. 
The first trail map we were using was a little wonky, so be sure to stop in the Gift Shop and ask for a Foundation Trail Map.
Trust us. Get the Foundation Trail Map! 
Our Favorite Things About Holly River State Park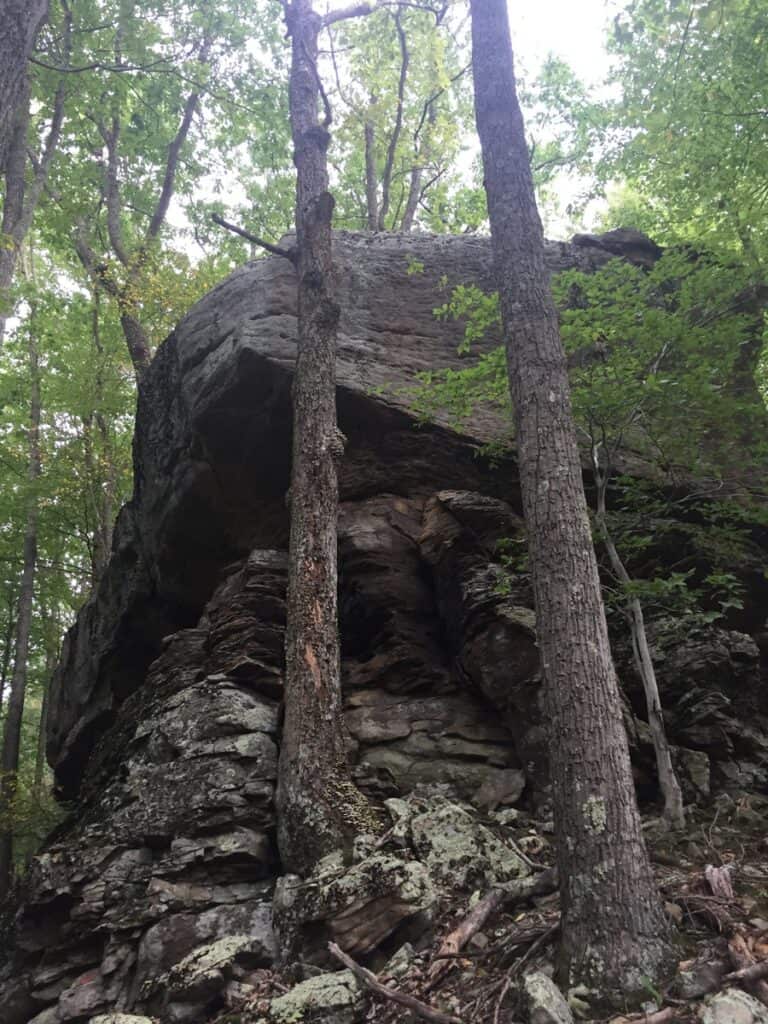 Great Roots, Rocks, and Mosses
The roots, rocks & mosses along Holly River's trails were some of the best we've ever seen!

That counts as three, right?!
Side Trip: We Aren't Going To Talk About It
There are plenty of other state parks close to Holly River, including Stonewall and Audra, but we decided to go a little closer to home and make a stop at Watters Smith.
I wish I had photos to share, but it was a DISASTER. 
The trail map was awful, the hiking trails crossed with similarly-named mountain biking trails, and I got us lost.
I thought Russ & the dogs would murder me in the woods if we all didn't die of thirst first, but we thankfully found our way out before it came to any of that.
We had an extremely uneventful lunch at Panera, so I don't have an original Pit Stop to share this time, either. 
Womp, womp. 
We did see this nice box turtle though.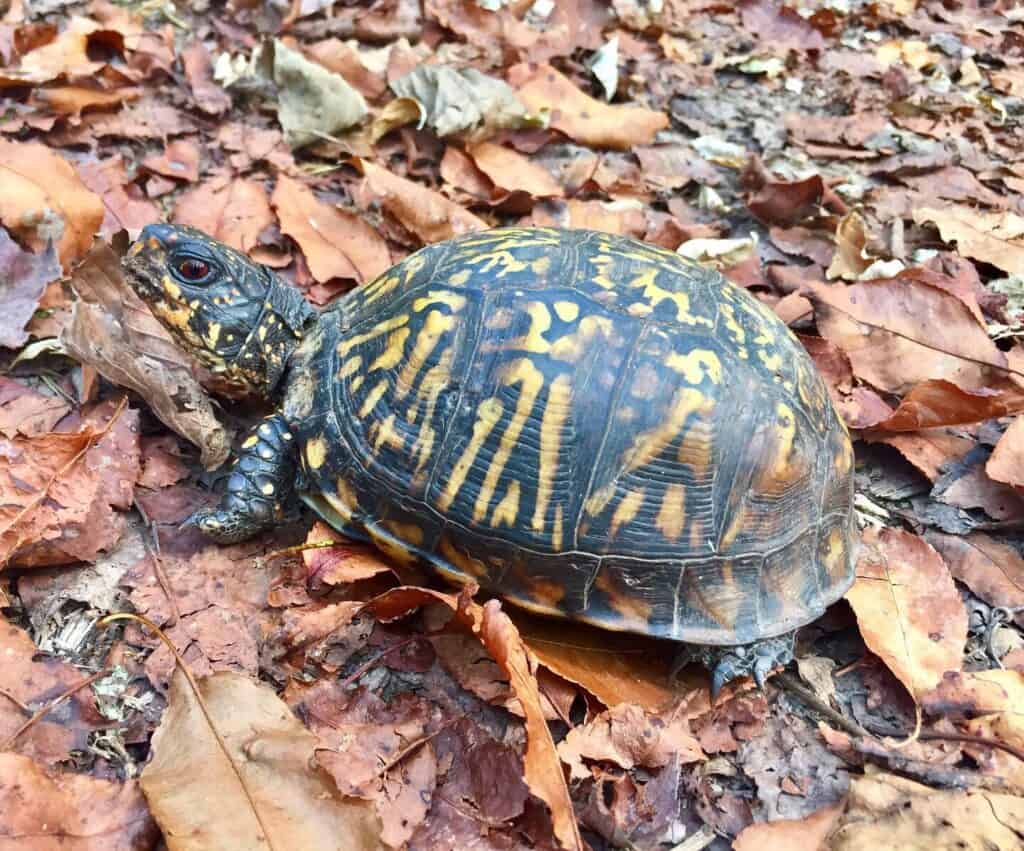 Despite our RV weekend having a harrowing ending, we thought Holly River State Park was a beautiful, peaceful park, and the dogs enjoyed the calm river and rocky hiking.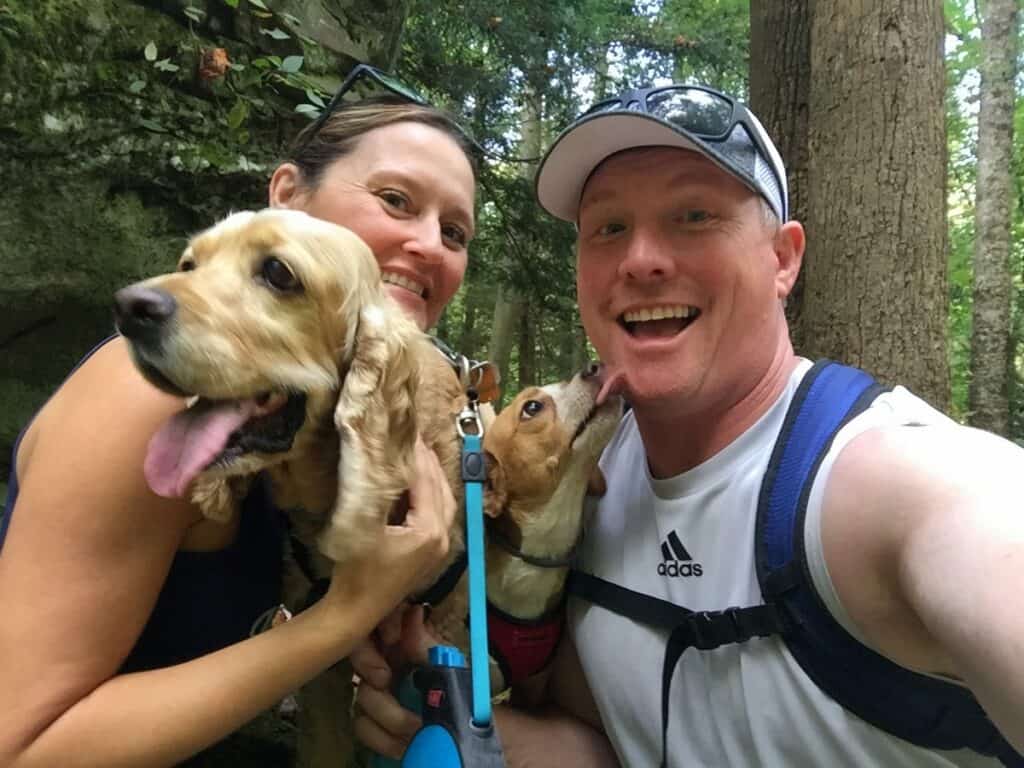 Reception isn't the best in the mountains of West Virginia, but we could still rock out.  This is why.