Please note that some of our links are affiliate links, which means at no additional cost to you, we will earn a commission if you click through & make a purchase. Happy clicking!
DAY TRIP! 
Raccoon Creek State Park in Pennsylvania has camping, hiking, biking, and boating options less than half hour from the city of Pittsburgh. 
Raccoon Creek State Park is located in Beaver County, right near Pittsburgh International Airport.
With several separate areas spanning its 7,500+ acres, you'll find hiking, biking, and horse trails; a lake for boating, kayaking, and swimming; a Wildflower Reserve (no pets allowed! womp womp!); and a full-service campground. 
Like most state parks, the Civilian Conservation Corps played a huge part in the development of this park. At one time, more than 700 men lived and worked there! 
Within the park boundaries, you can visit a historical resting place called Kings Creek Cemetery with over 140 markers, including those for veterans of the American Revolution, War of 1812, and the Civil War.
You can also take a short (or long, depending) hike to Frankfort Mineral Springs, whose waters were once thought to have healing powers – so much so that there was once a health spa and resort there. 
The Campground has 172 sites (about half with electric) and bathrooms with hot showers.
While we did not stay at the Campground for this trip, we did take a drive through so we could recommend the best spot. 
Loops C & F are pet-friendly, but Loop F also has electric- so our pick for the best spot would be Site #23.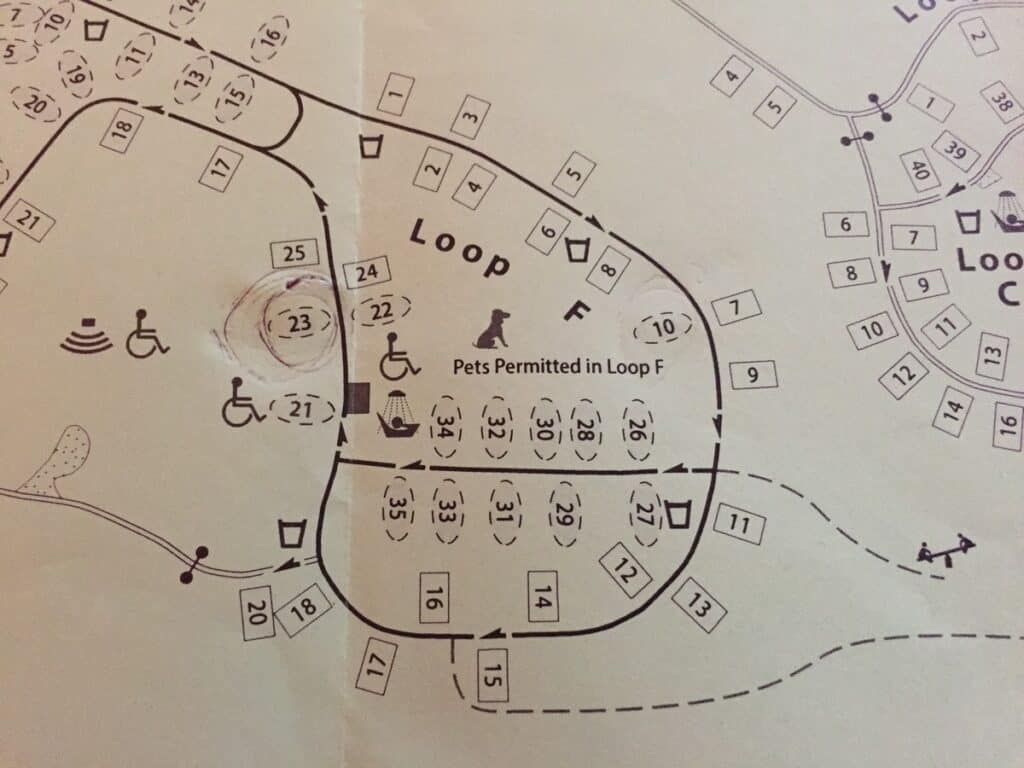 PRO TIP for the Campground
When you are looking to book an RV spot at this campground on the state reservation online system, make sure you just check "Any Loop" under "Loop" and "Any camping spot" under "Looking for" to see all of the available electric/non-electric and pet-friendly/ non-pet-friendly spots. For some reason, this parks' sites do not come up if you use "Looking for" and "RV sites".
Raccoon Creek State Park has many miles of different trails- it's hard to know where to start! 
We opted first to see Frankfort Mineral Springs. If you'd like to do the same, the parking lot at the Park Office right in the middle of the park is the most convenient.
There is a short way and a long way to the springs. For the short way, you can hike straight ahead when you enter the trail head.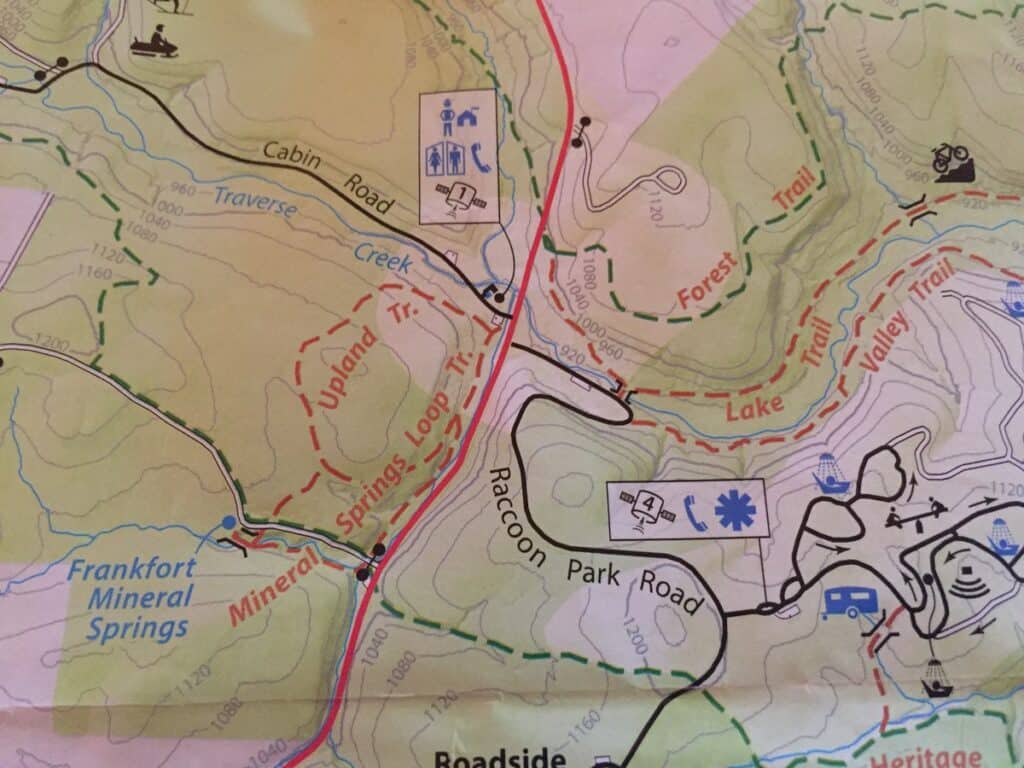 Of course, we opted for the long way, heading to the right to attempt a loop with Upland Trail, and got lost twice.
Fair warning, Upland Trail gets pretty confusing once you arrive in the upland. I'm not sure if there is so much trail traffic in this area that everyone is just creating their own path, but we had trouble figuring out which trail splits were actually mapped trail splits and which were just shortcuts to peoples' homes (legit, we found one). 
A few wrong turns and a set of correct directions from a nice couple later, we finally arrived at the mineral springs. 
We had a good time posing for photos and checking out the falls & spring, and Franklin & Hazel wasted no time testing the water.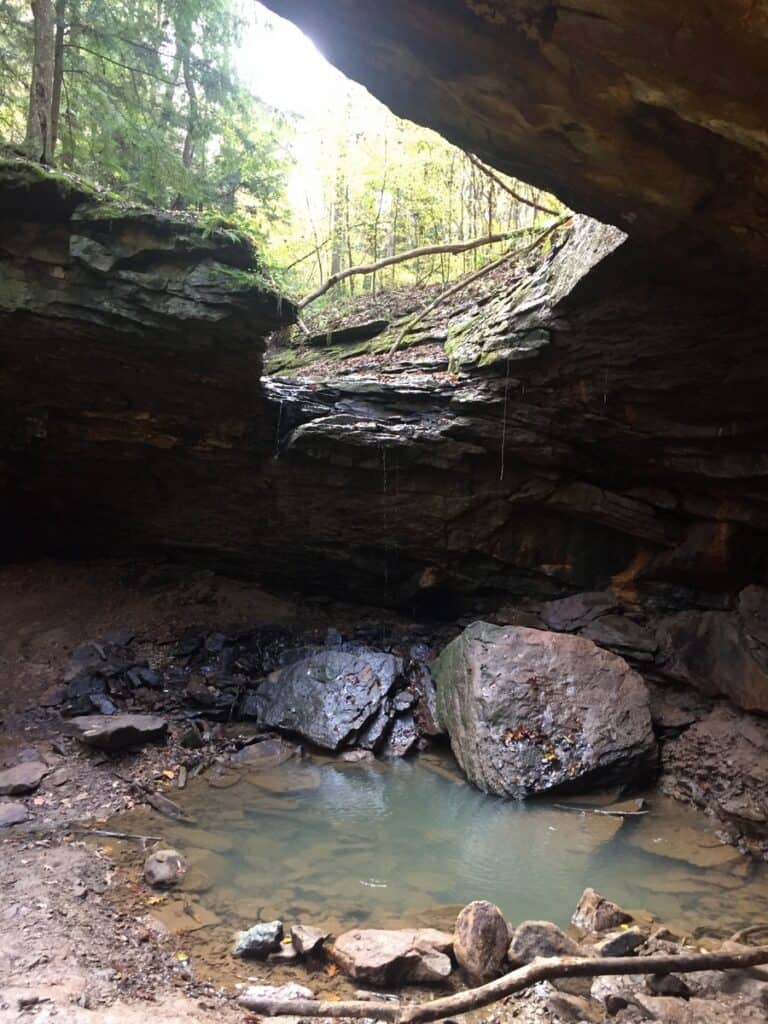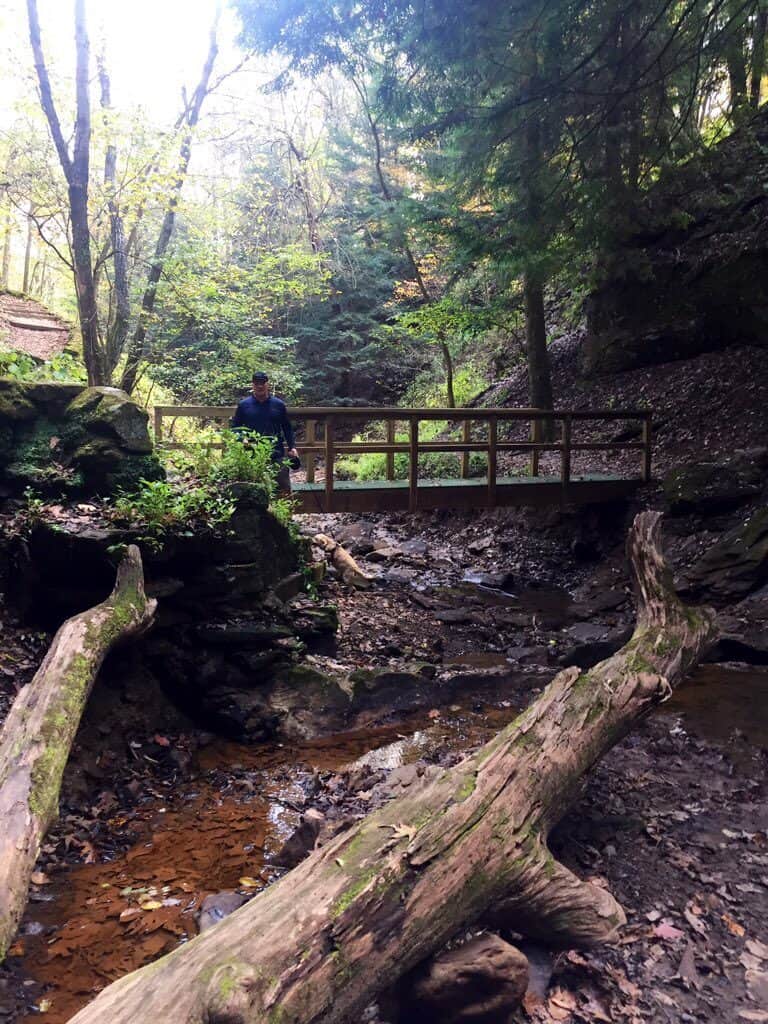 Having grown up in the area and knowing what orange sulfur mine subsidence looks like, I was little suspicious of these "mineral" springs…but Hazel & I threw down and took a sip anyway.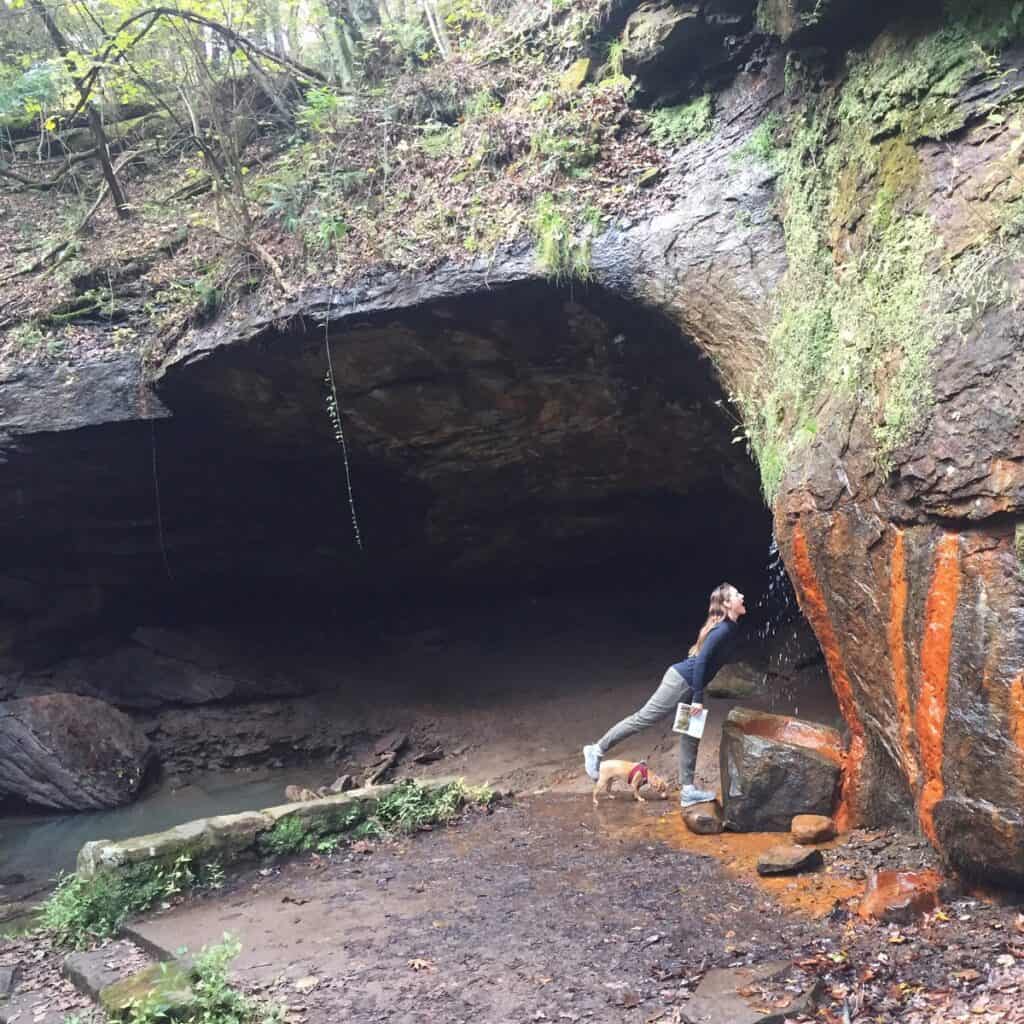 Once we found our way back on the Mineral Springs Loop Trail to the Park Office, we decided to make an approximately 4-mile-long loop out of Forest Trail and Lake Trail next: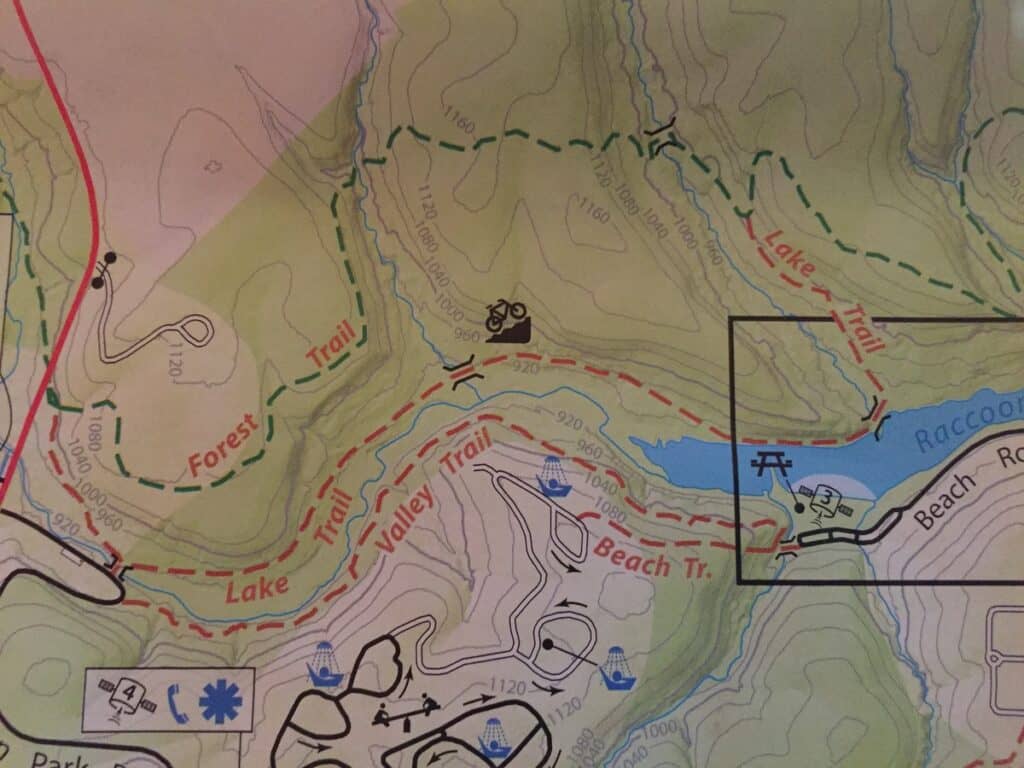 The uphill hike to the top of Forest Trail was intense, but the gradual downhill and walk around part of the lake on Lake Trail was pleasant.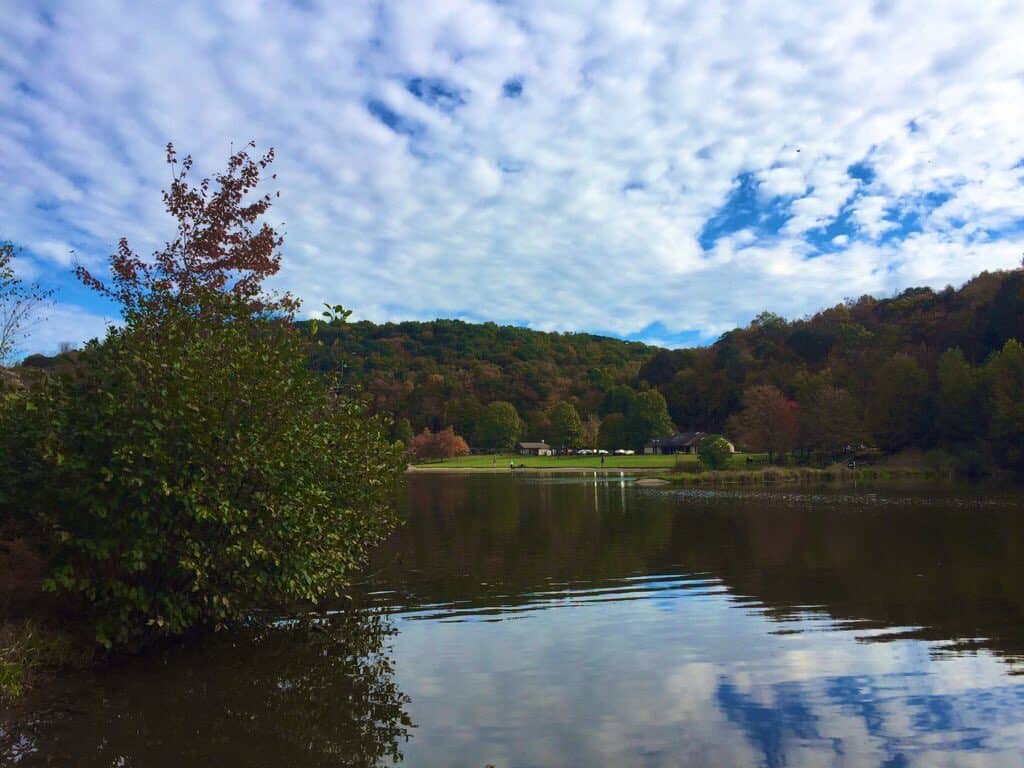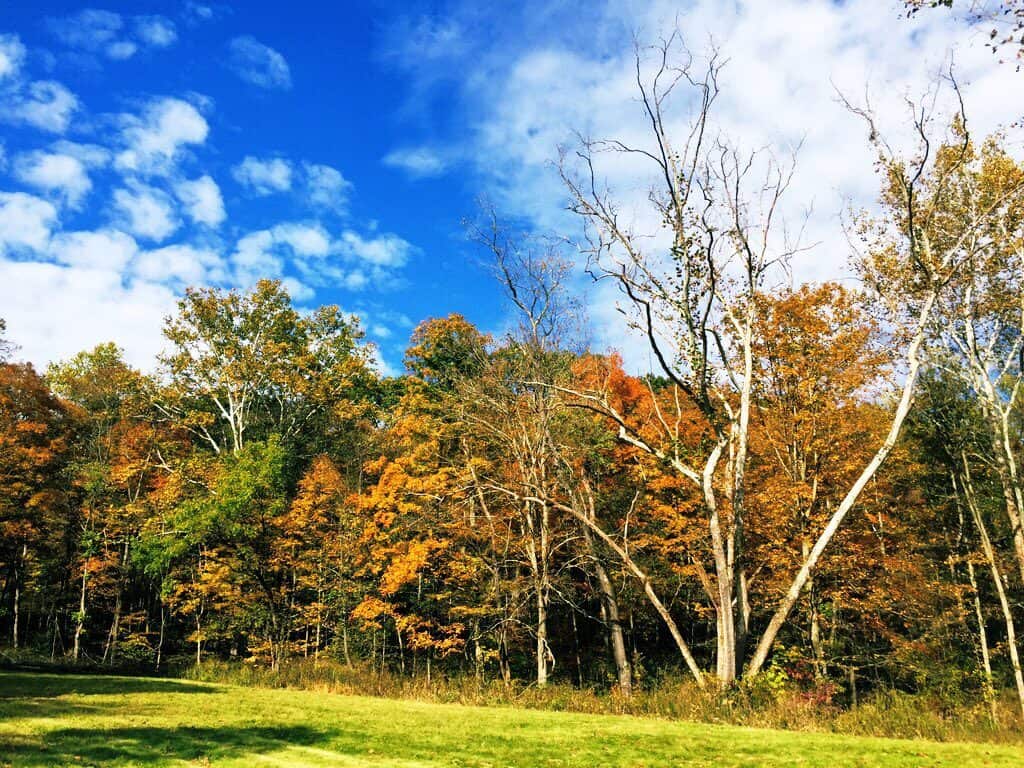 As always, I recommend taking water and dog treats on every single hike. You never know when you'll take a wrong turn or end up taking on a trail that's much harder (or longer) than you initially thought. 
Thank goodness for easy creek access at the end of Lake Trail, because Franklin and Hazel lost their patience on this longer-than-usual-for-them hike.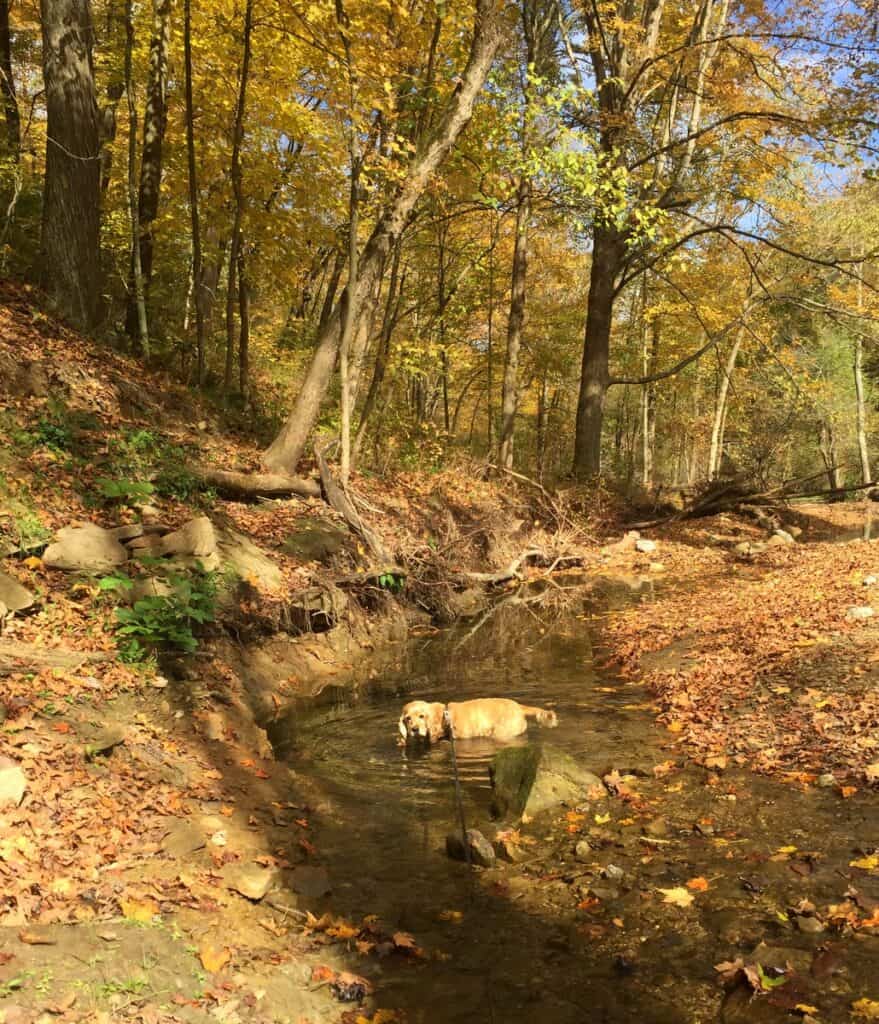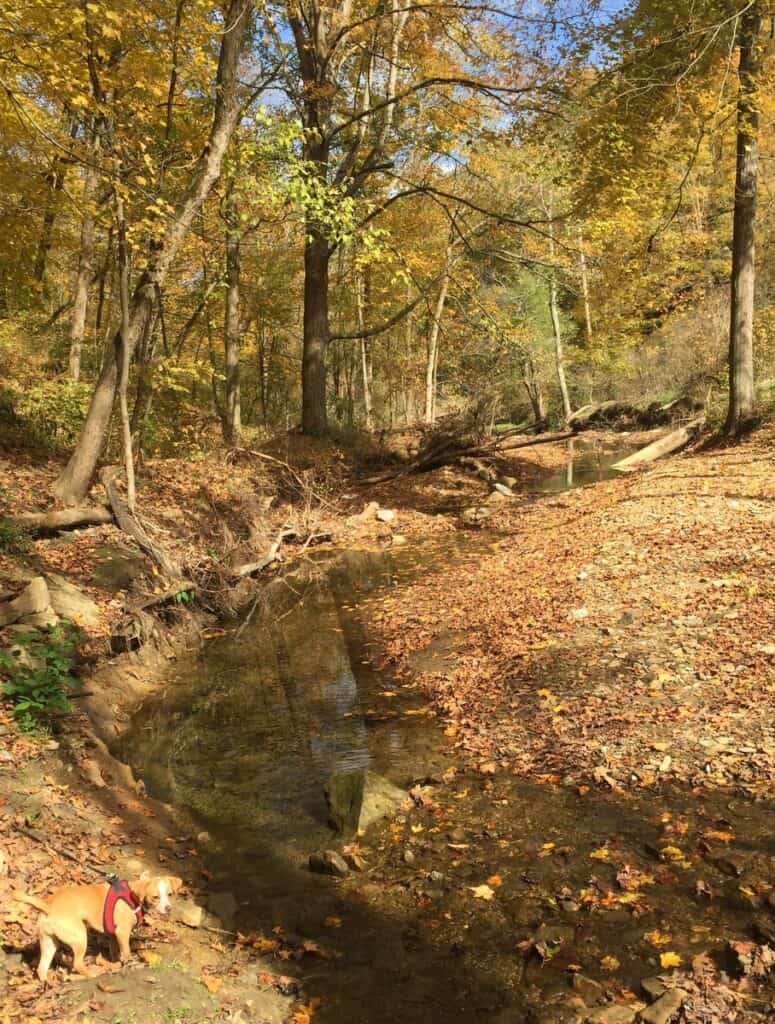 We did not see any wildlife during our hikes, but the kind couple who directed us to the mineral springs did mention they had seen a corn snake. 
We did see a few mushrooms, and these were the most photogenic: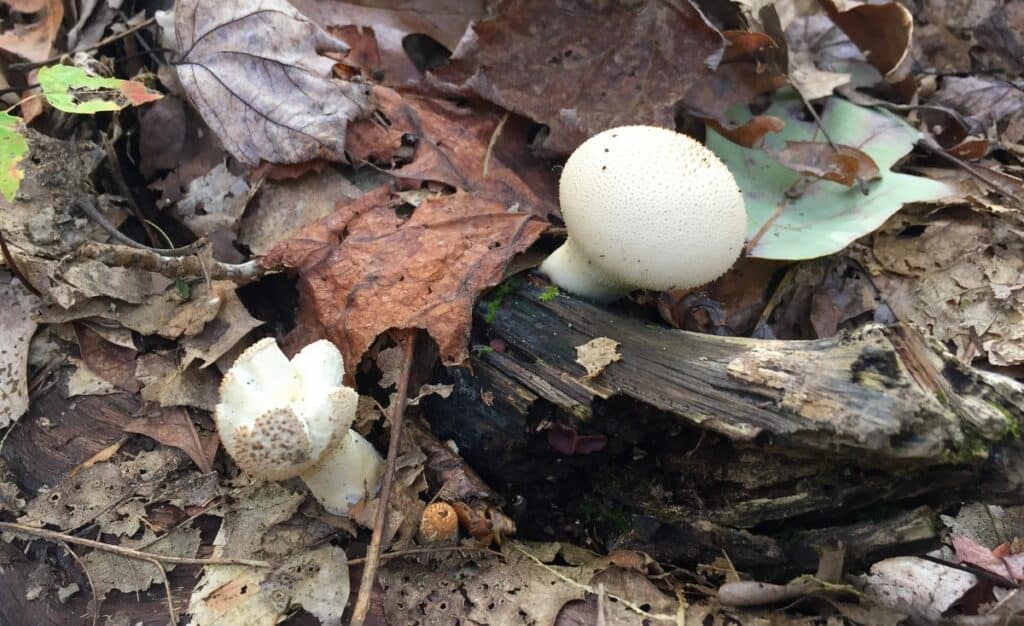 Pit Stop: Janoski Farms and Greenhouse 
About 10 minutes from Raccoon Creek State Park, make a stop at Janoski Farms & Greenhouse for some fresh in-season produce, baked goods, and local wines, plus a million other things like salsas, sauces, and small gifts- even milk & eggs!
We picked up some zucchini bars, raspberry cookies, apple cider, and ice cream sandwiches- all delish!
DEFINITELY make a stop if it is during the autumn months, because Pumpkinland will be in full swing.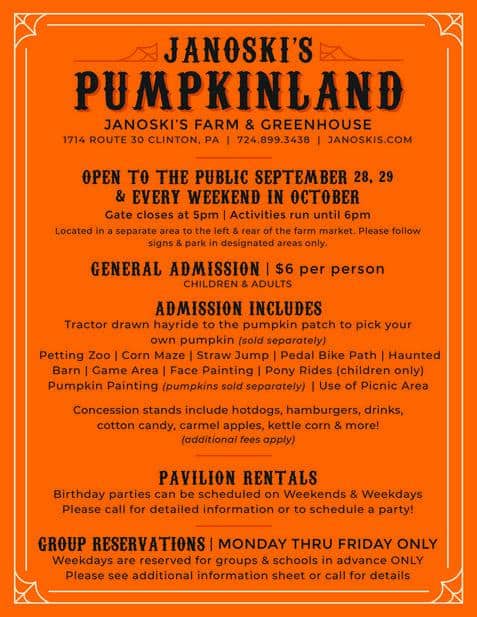 If you are in or around Pittsburgh, Raccoon Creek State Park is a great option for outdoor adventures- and take the pups!