Please note that some of our links are affiliate links, which means at no additional cost to you, we will earn a commission if you click through & make a purchase. Happy clicking!
Hocking Hills State Park in south-central Ohio is full of intricate rock formations, colorful sandy hollows, and dark interesting caves winding through an amazing, deep river valley. 
Hocking Hills State Park is just southeast of Columbus, Ohio, about three and a half hours west southwest of Pittsburgh.  
With proof of inhabitants from over 7,000 years ago, the area also saw Native Americans and early settlers travel through the area and put down roots. The natural features became a popular spot to visit and marvel as early as the late 1800s.
The state land preservation efforts began in 1924, and the park was acquired by the Ohio Department of Natural Resources when it was formed in 1949. 
In just over 2,300 acres, Hocking Hills defies what most people would consider Ohio-type terrain!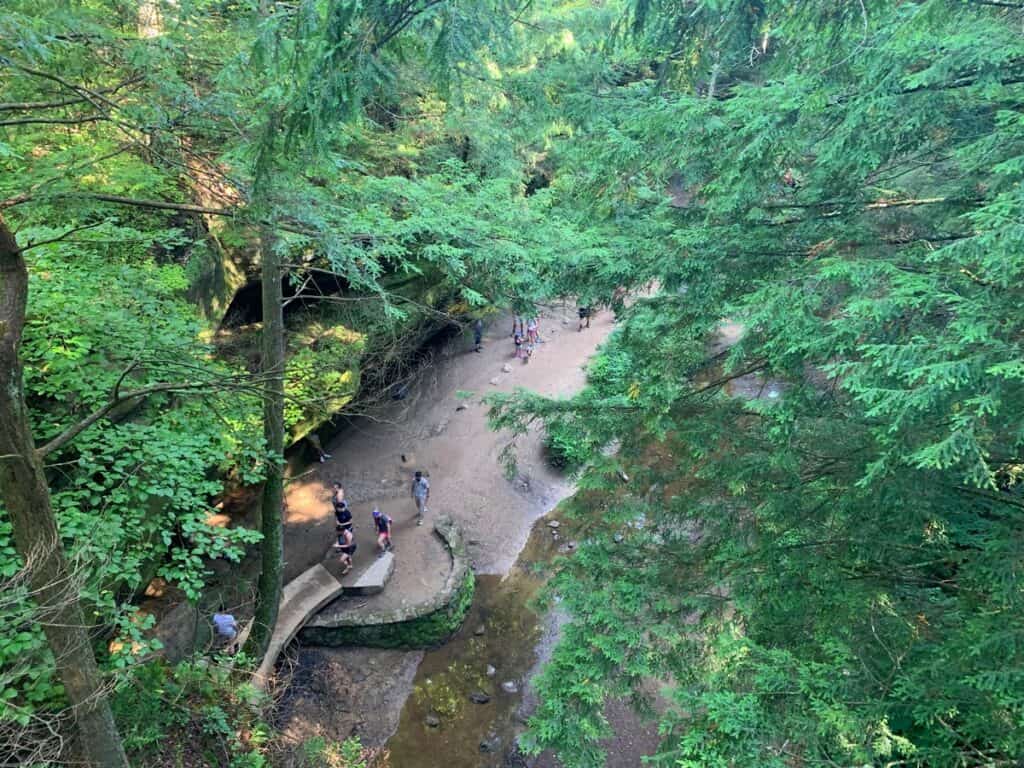 Hocking Hills State Park Campground has around  45 full-service, 110 electric, and 13 non-electric campsites, along with three cabins and four group-tenting sites. 
If you are looking to get a spot in this campground, make your plans early! They accept reservations up to six months in advance, and the spots fill up quickly.
We got our spot last minute from a cancellation, and the campground was packed! 
Unfortunately, the last minute site we landed was #109 – right next to the bath house and very close to site #111, too.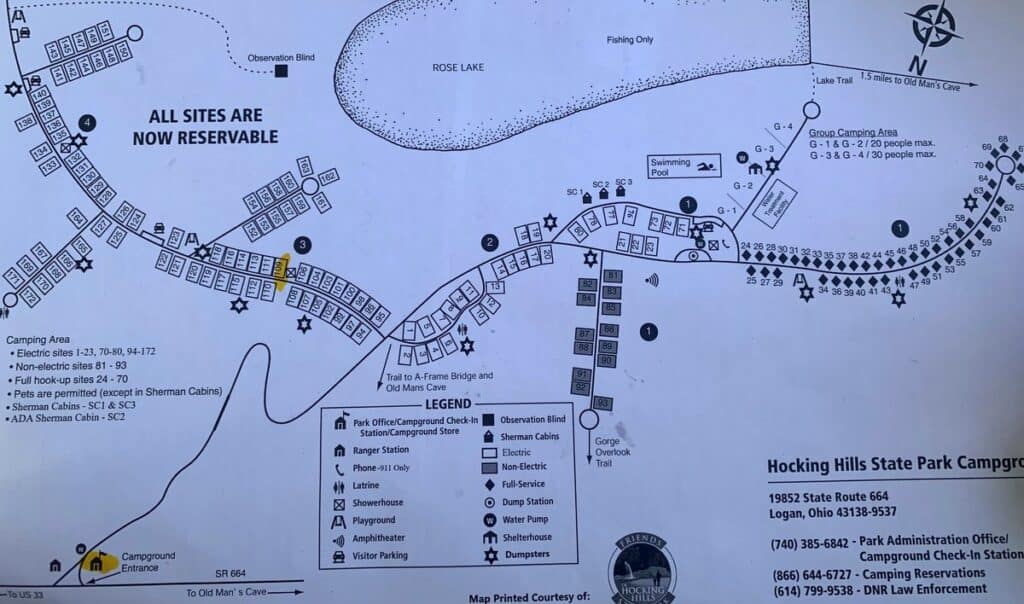 If you have a reactive dog like Franklin, this is not the best site or section – and honestly, most of the sites are pretty tight. 
PRO TIP for the Campground
To avoid crowds, do not visit on the weekend. I know that's a tall order- but the park itself is worth it! This is literally the busiest campground and park we have visited in the last five years! 
The bath house is small given the crowd size, but the three showers have great pressure, remain hot, and do NOT have timer buttons…on the "Women" side!
Russ reports that the "Men" side does not have great water pressure, and his water temperature never went above lukewarm. 
So…mixed review on the bath house depending on the side. 
The connector trails out of the campground lead to the main hiking trails in the park, so you can easily walk to many of the natural features. 
Hocking Hills State Park has about 20 miles of hiking trails to explore. The most popular areas, like Old Man's Cave, Whispering Cave, and Cedar Falls, have one-way trails that guide you through the specific features. These one-way trails provide a little less congestion and confusion than two-way trails would, but they don't alleviate the crowds we experienced over a summer weekend. 
To create a 5-mile loop (our sweet spot!), we left the campground via the connector trail marked "MM" on the map below to a walking bridge.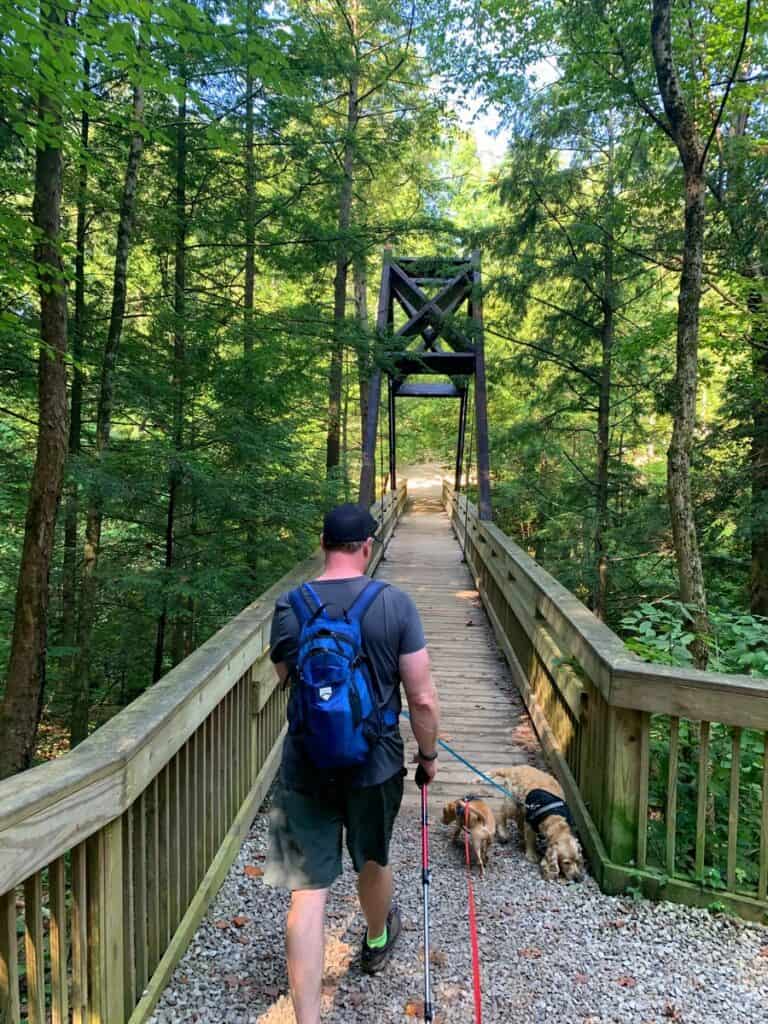 This walking bridge will take you to the Visitor's Center where you can fill up your water, grab a snack from the vending machines, go to the restroom, check out some displays, or visit the gift shop.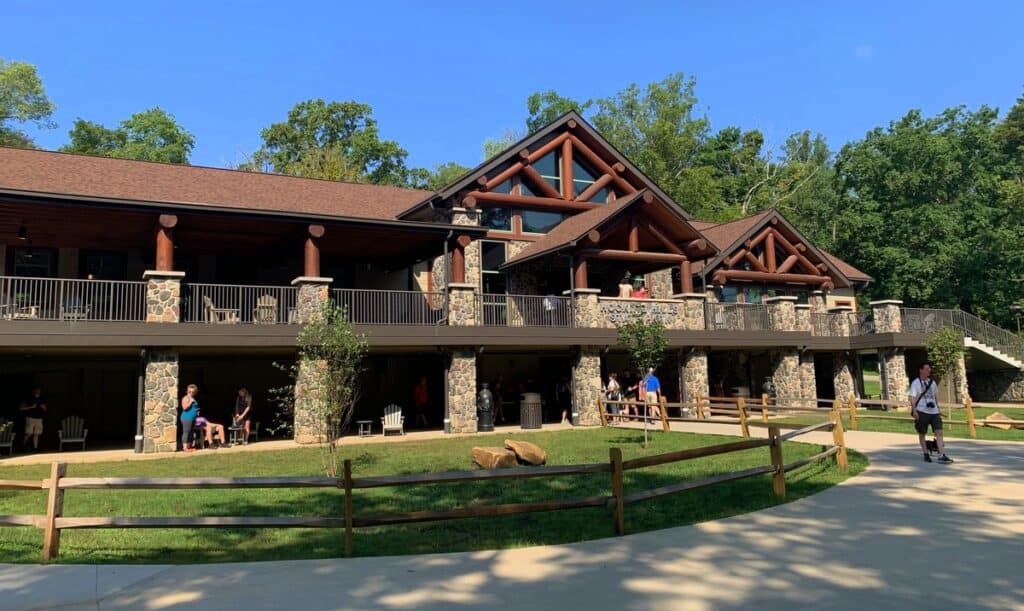 From the Visitor's Center, you'll walk along the Blue Trail to Old Man's Cave:  
The crowds weren't too bad in the morning near the Visitor's Center until we got near Old Man's Cave- and the noise was intense!
This is not a calm walk in the forest by any means. The line was akin to something you might find in Disney World, and Franklin, our reactive dog, was going crazy. 
We did our best to wait in nooks and crannies so he could calm down- or we steered him to areas he couldn't get agitated. 
Thankfully, Hazel practiced her Canine Good Citizen skills to distract from Franklin's freak outs.
The struggle was real, but the scenery was gorgeous!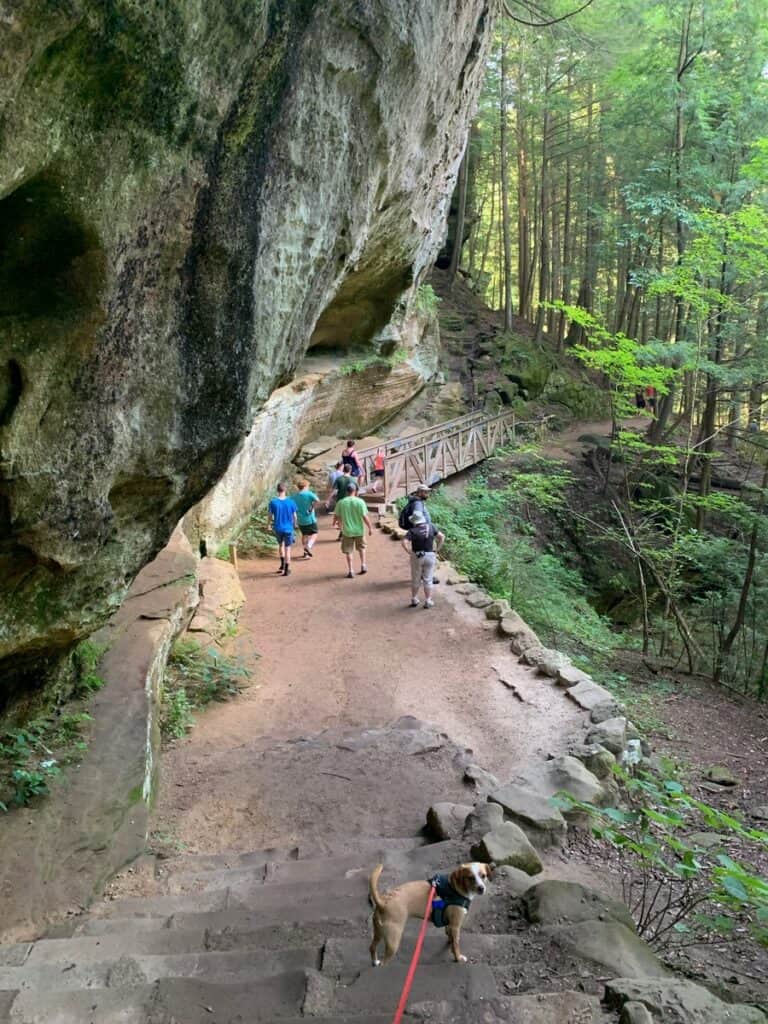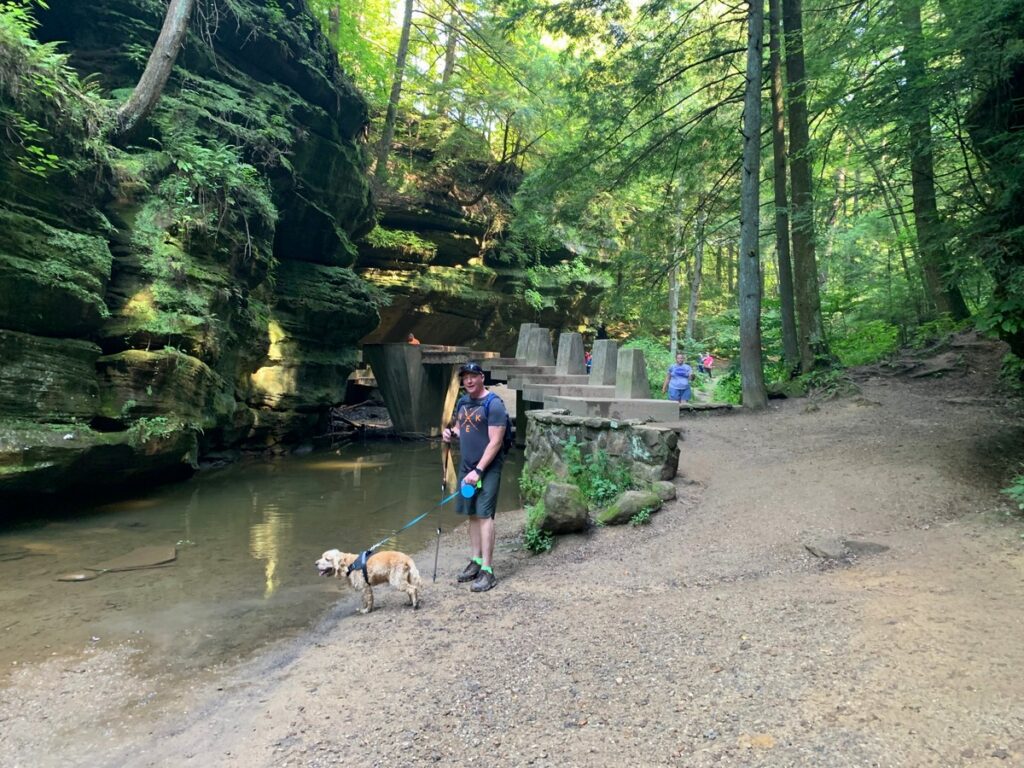 Once you've done the one-way loop at Old Man's Cave, you can continue down the Blue Trail to Whispering Cave (which we skipped because of the crowd) or keep going to Cedar Falls. 
The trails in between Old Man's Cave, Whispering Cave, and Cedar Falls run both ways and include interesting rock formations, wild tree roots, and a great wading creek for dogs.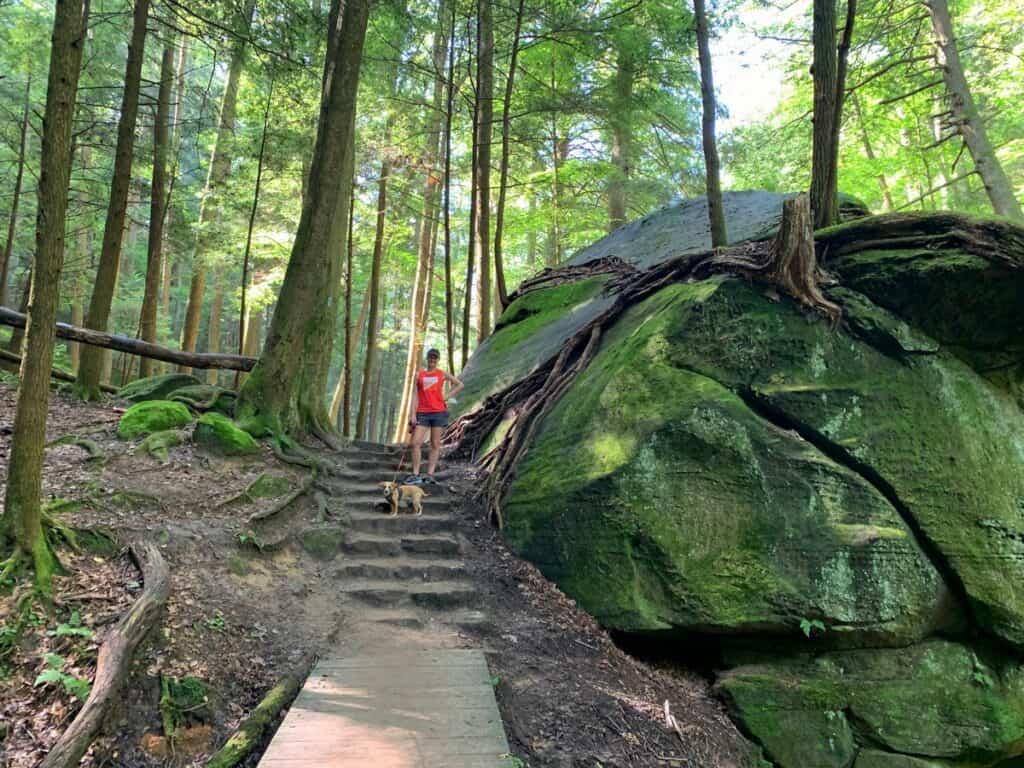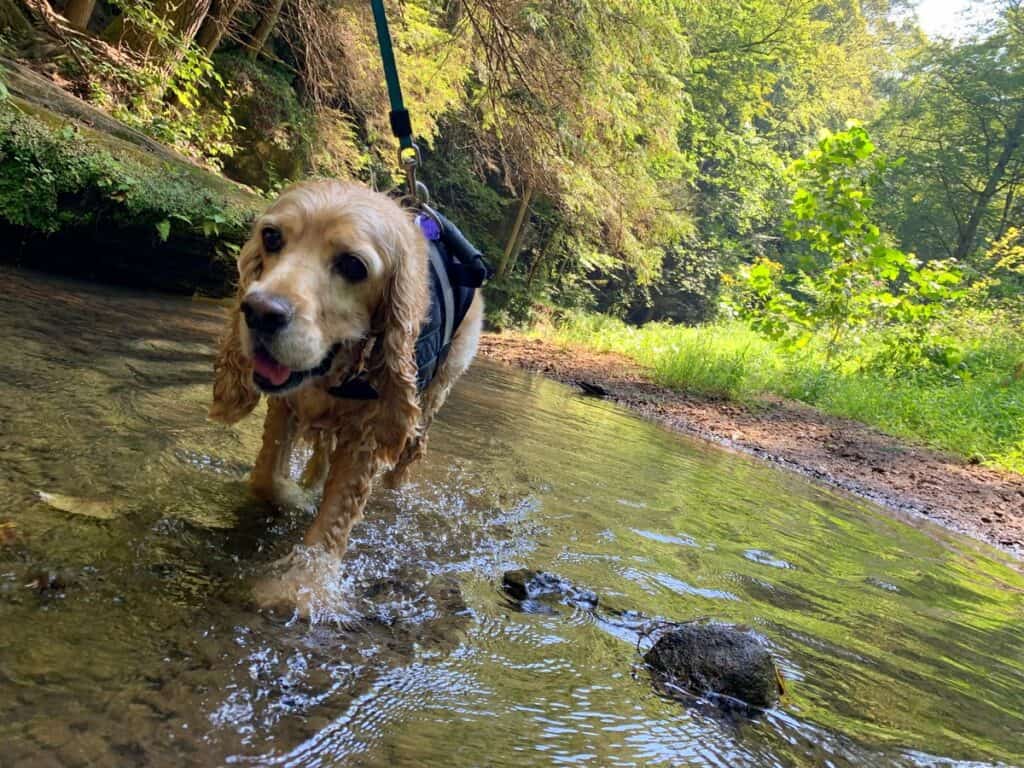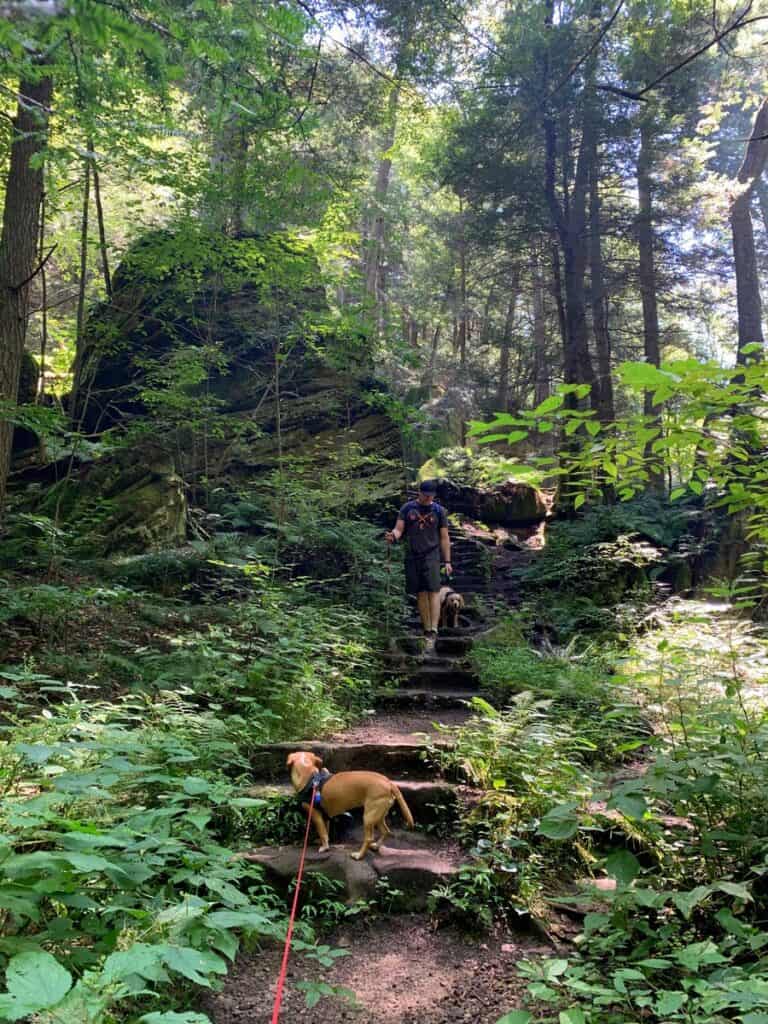 As you get closer to Cedar Falls, the rock formations get more impressive.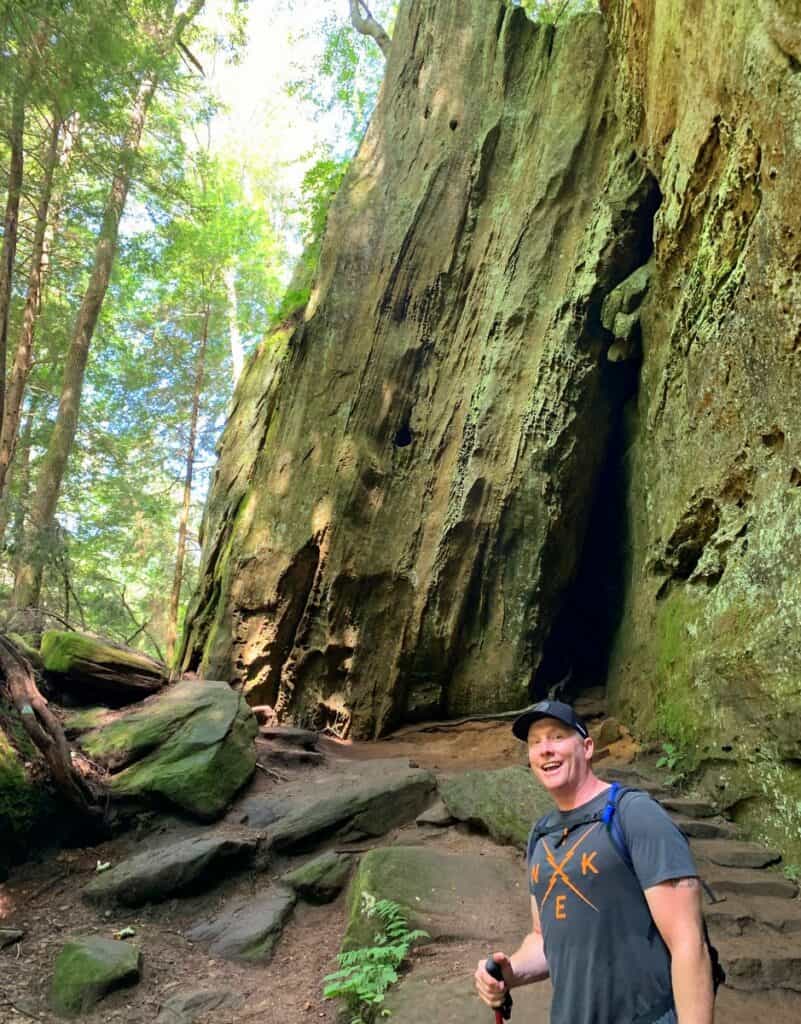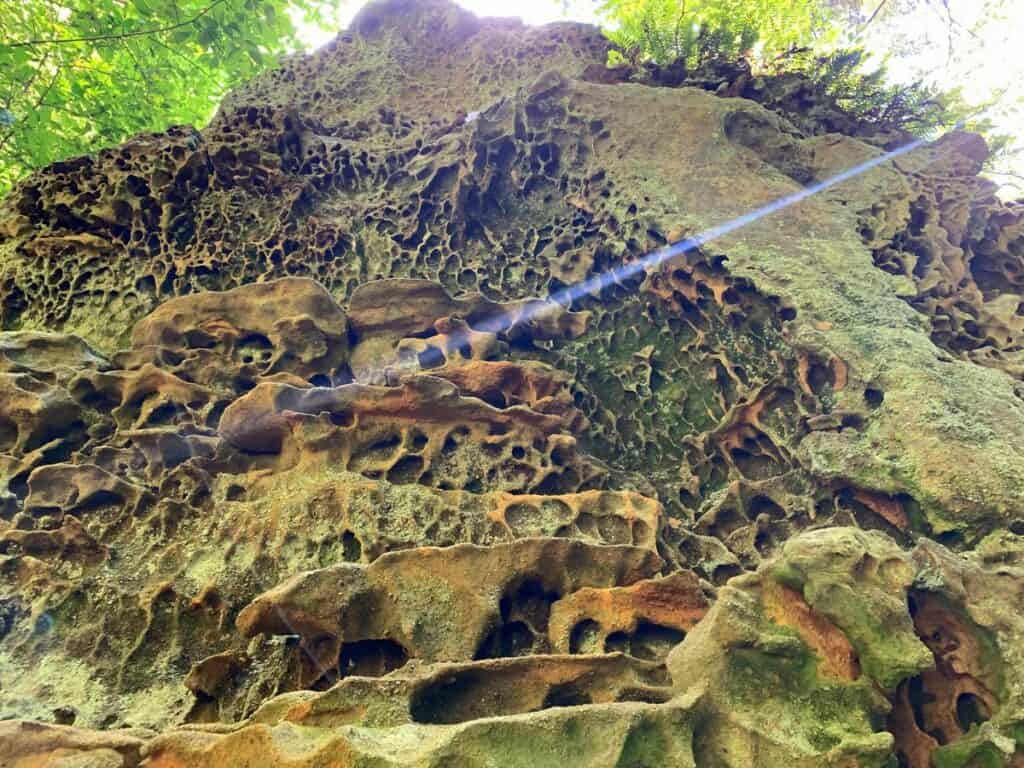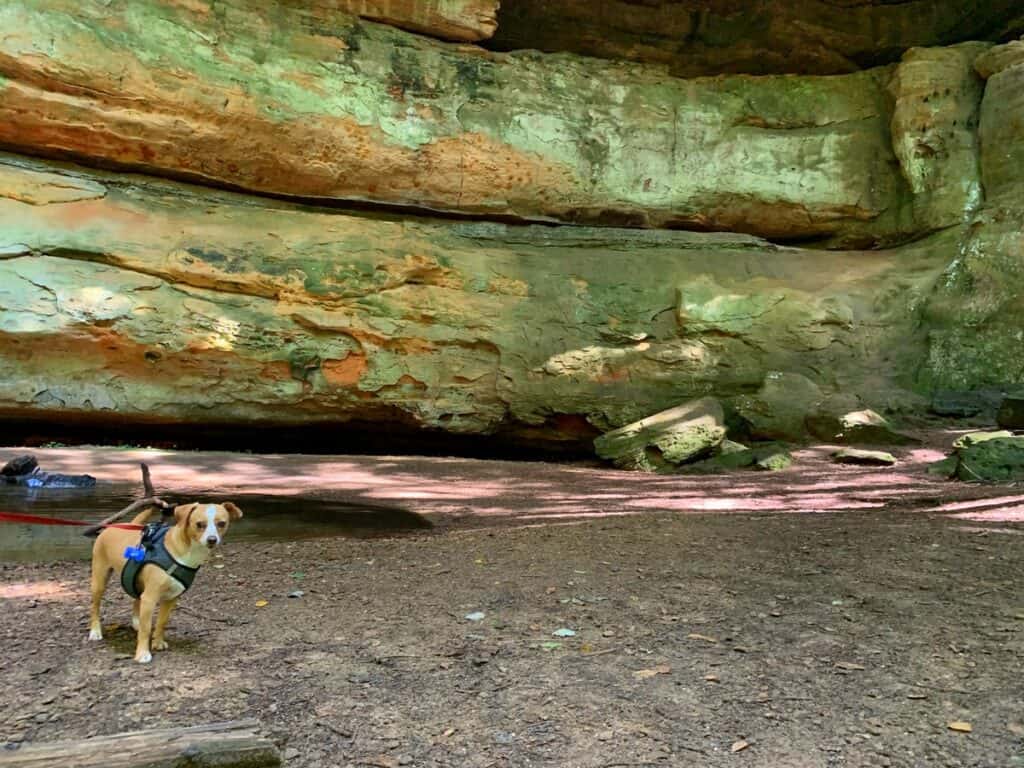 Cedar Falls is also a one-way loop, but the falls were more like a trickle in late summer!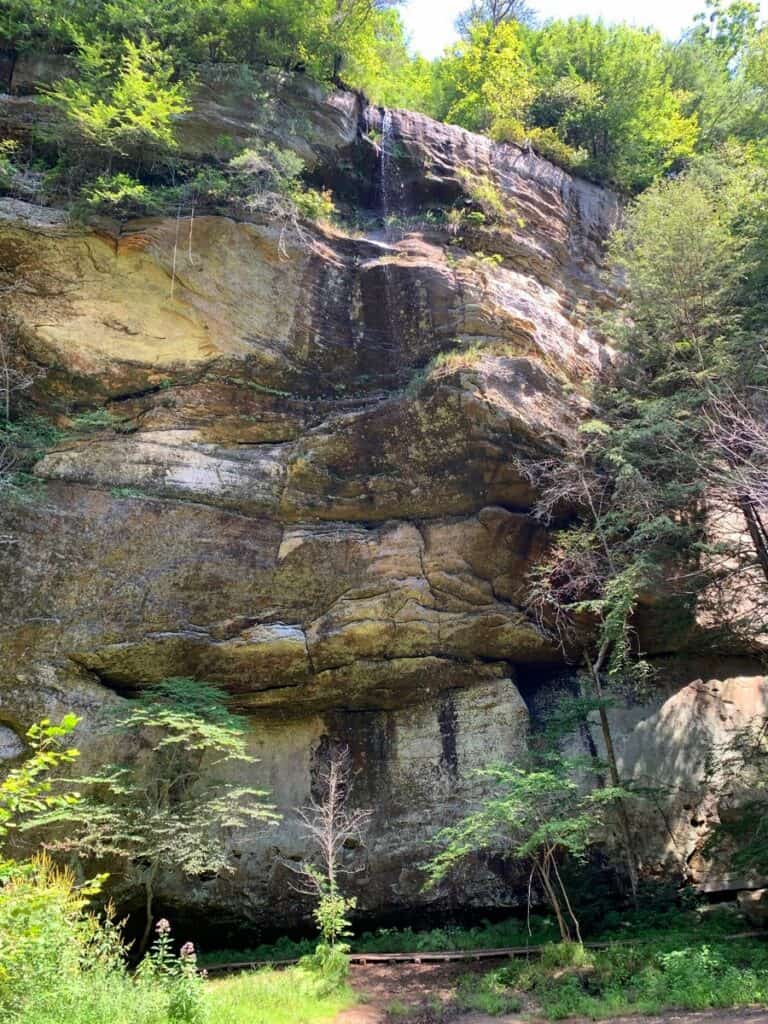 From Cedar Falls, you can get onto the red Gorge Overlook Trail and cross this snazzy bridge to go back about 2 1/2 miles to the campground area.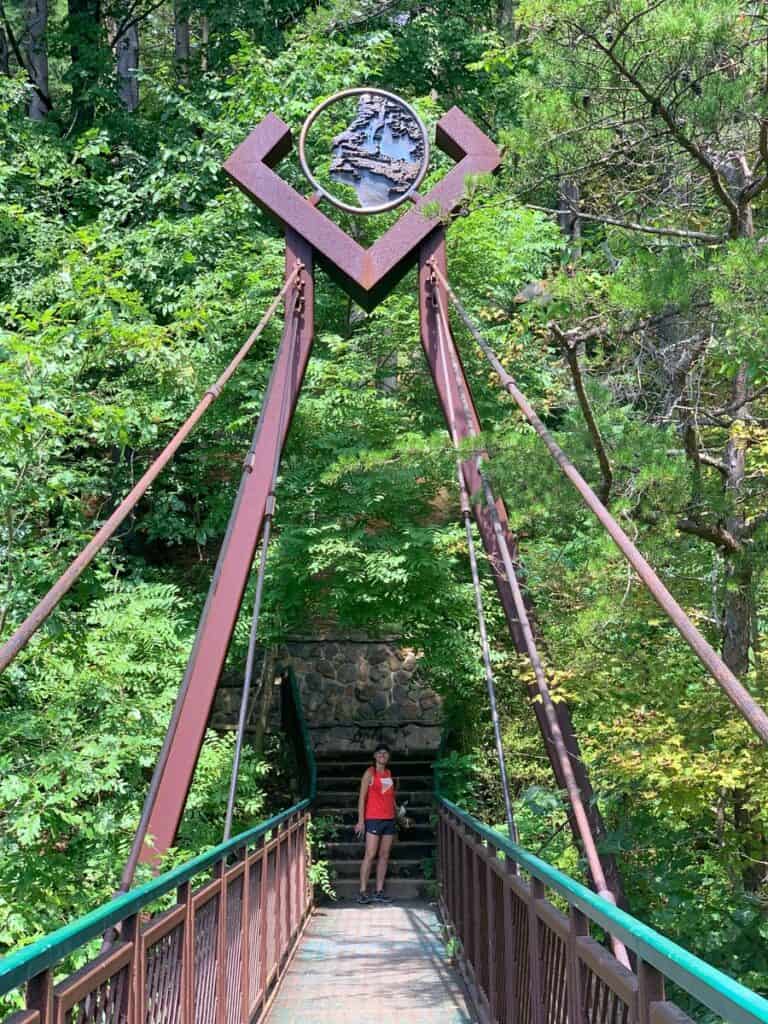 Fortunately for Franklin, this trail is much less traveled and winds around to a sweet water view of Rose Lake before returning to the campground.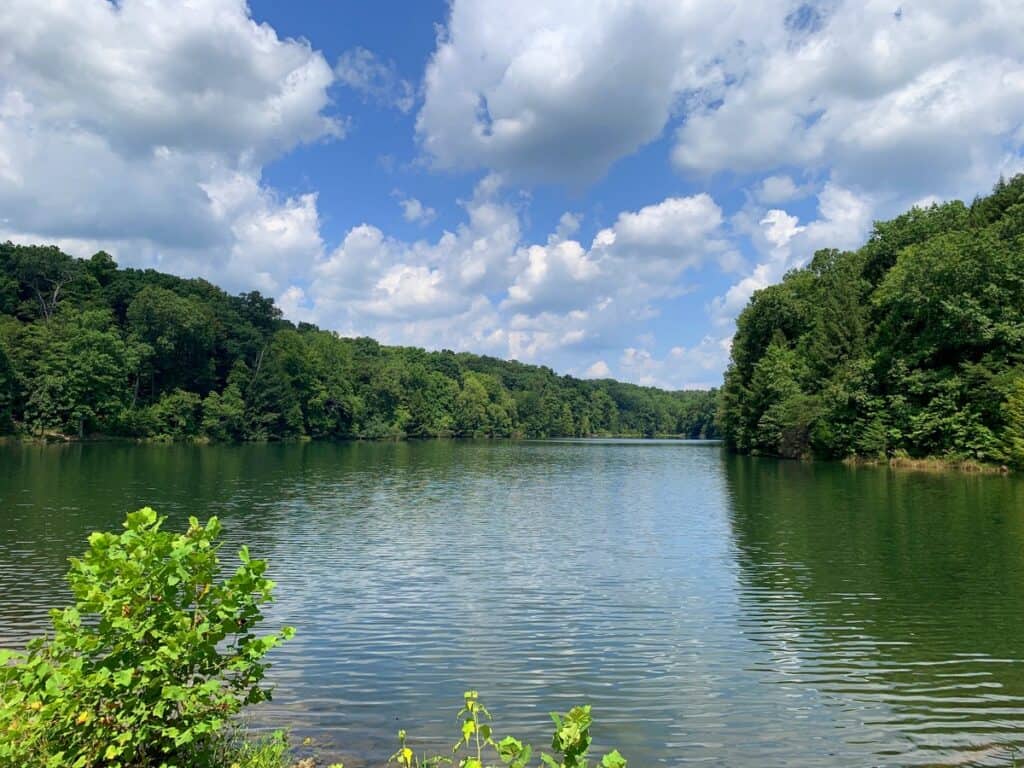 Because of the high summer temps, we decided that was enough hiking for one day. We decided to get one last hike in before we left on Sunday.
If you have a little extra time on your way out of the campground, travel a few miles northwest to Rock House. This quick 1/2 mile loop is a perfect short hike before you hit the road!
Rock House has a large parking lot big enough for most RVs.
You can begin at D from the parking lot or walk over to A for the full one-way loop.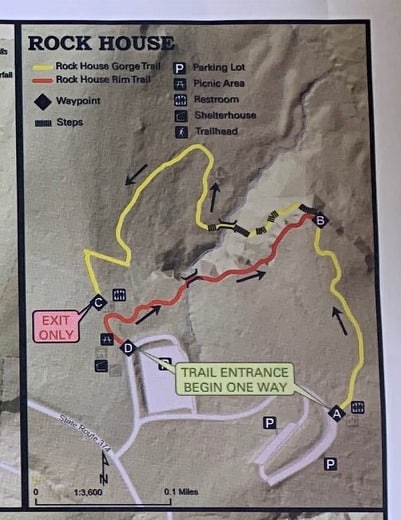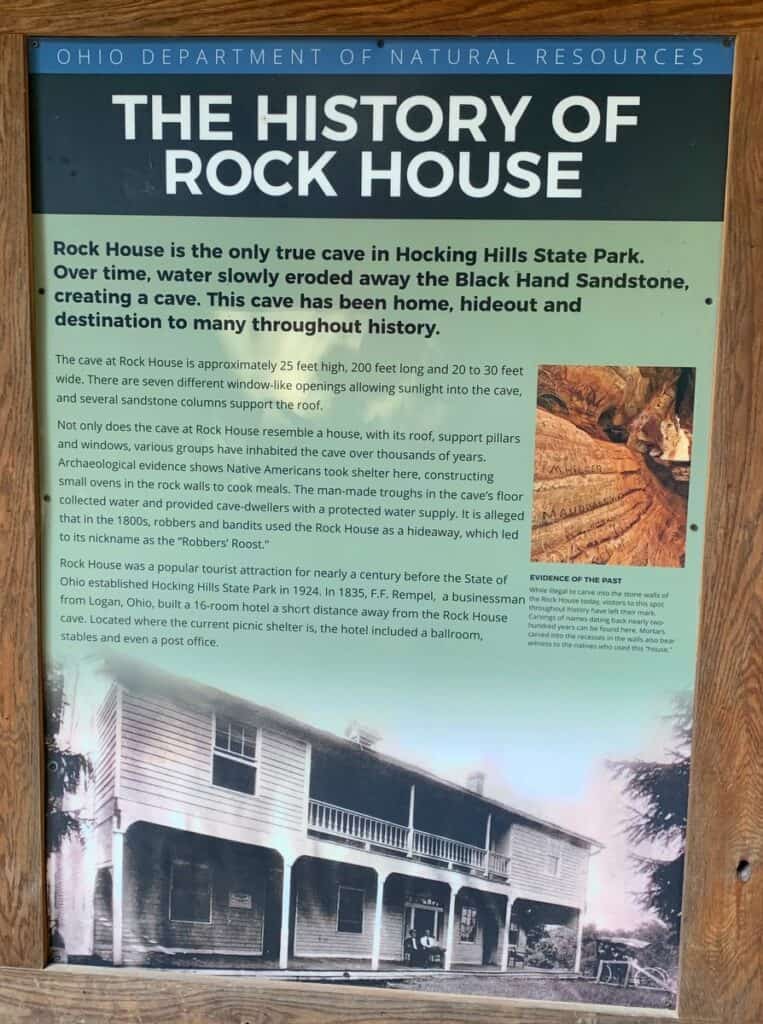 This trail was much less busy than those from the previous day, so Franklin (and everyone else) was much more relaxed.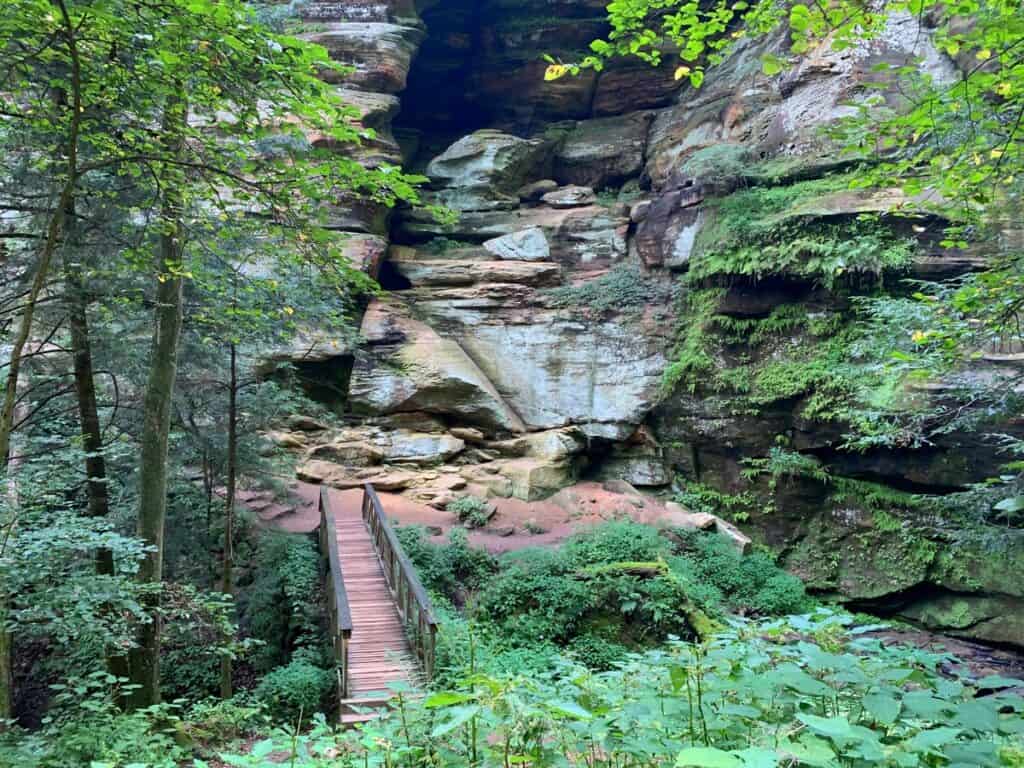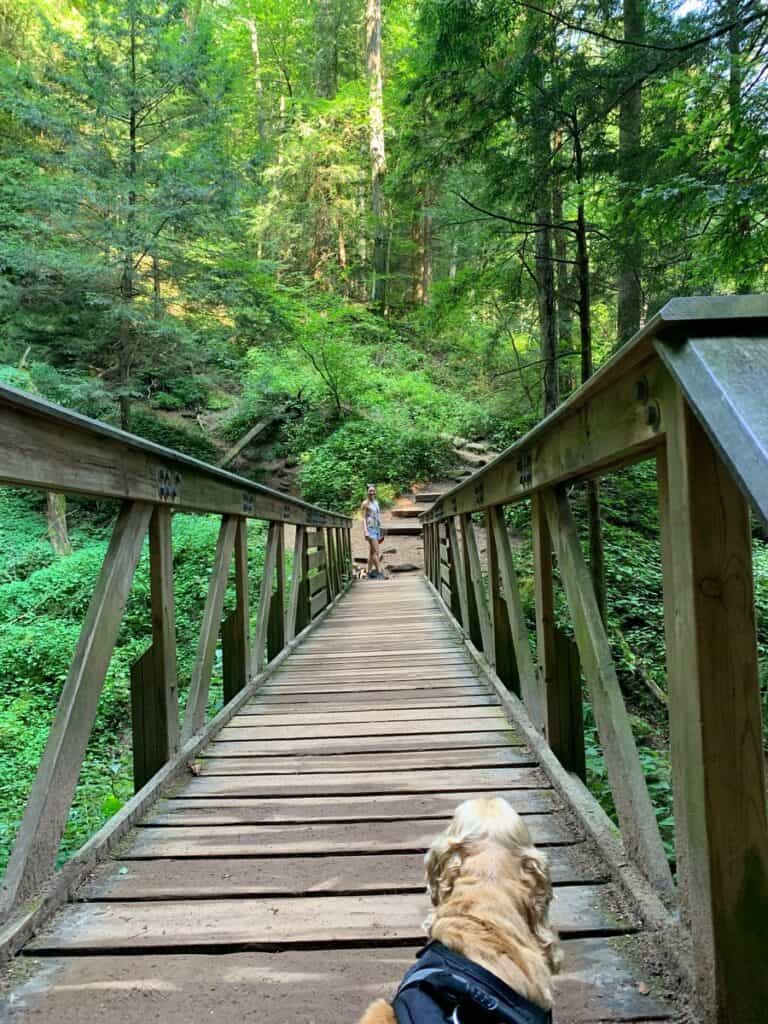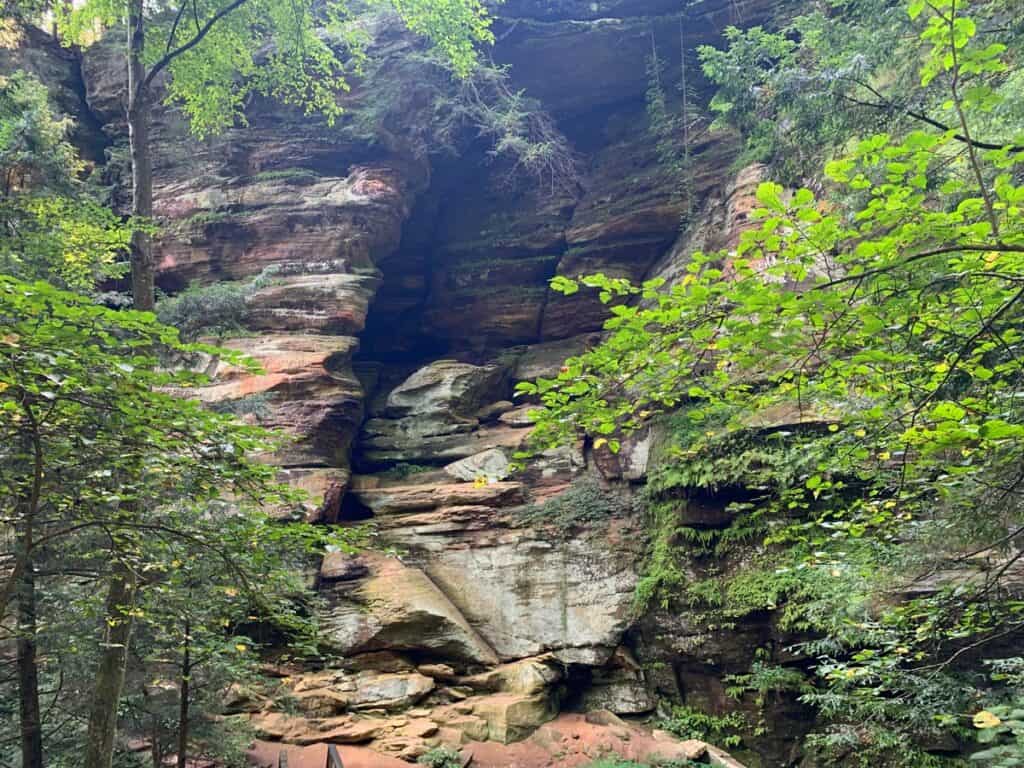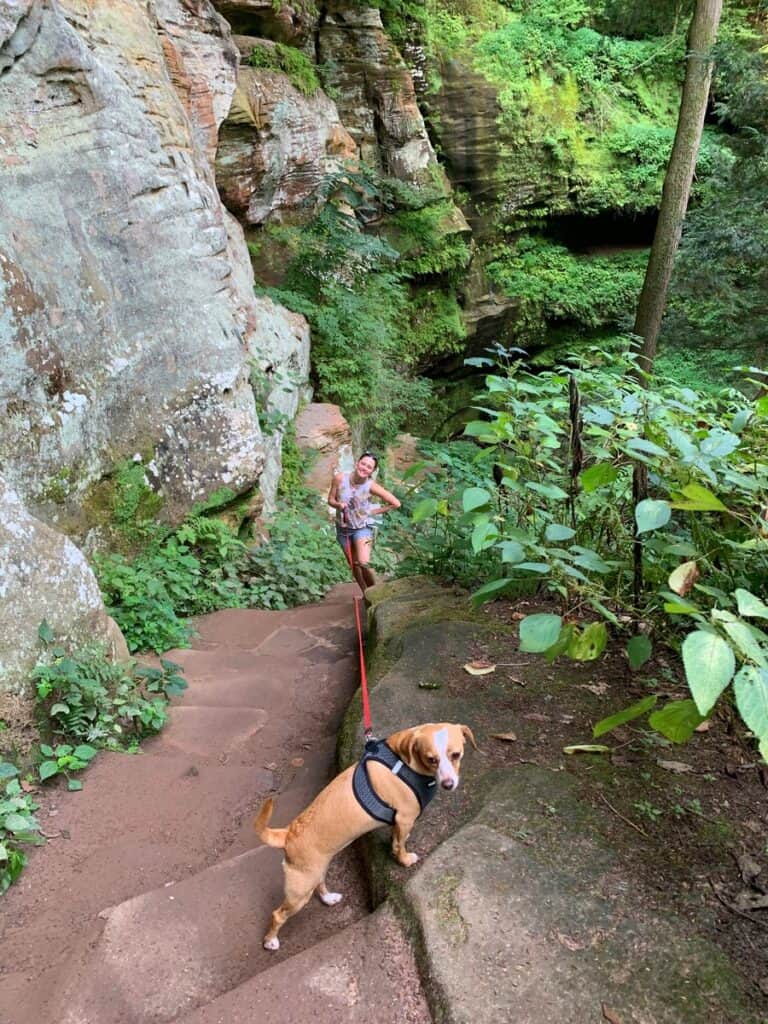 There are a few other hikes in the park you can do, including one through a state nature preserve which sounded interesting, but didn't allow pets. Womp womp!
Wildlife, Fauna, and Fungi
Despite the Visitor's Center display showing these creatures roaming the park: 
…we only saw a few chipmunks, a woodpecker, and some deer. The park was wayyyy too crowded to have expected wildlife to be hanging around!
However, mushrooms are a different matter! There were plenty to be seen at Hocking Hills State Park.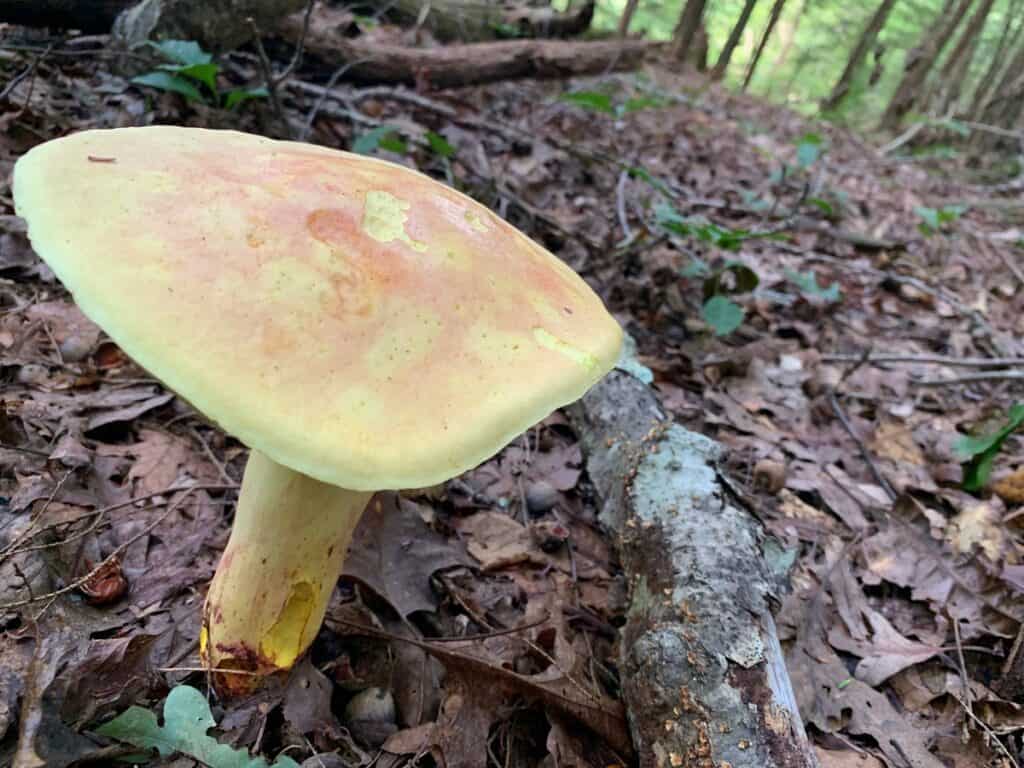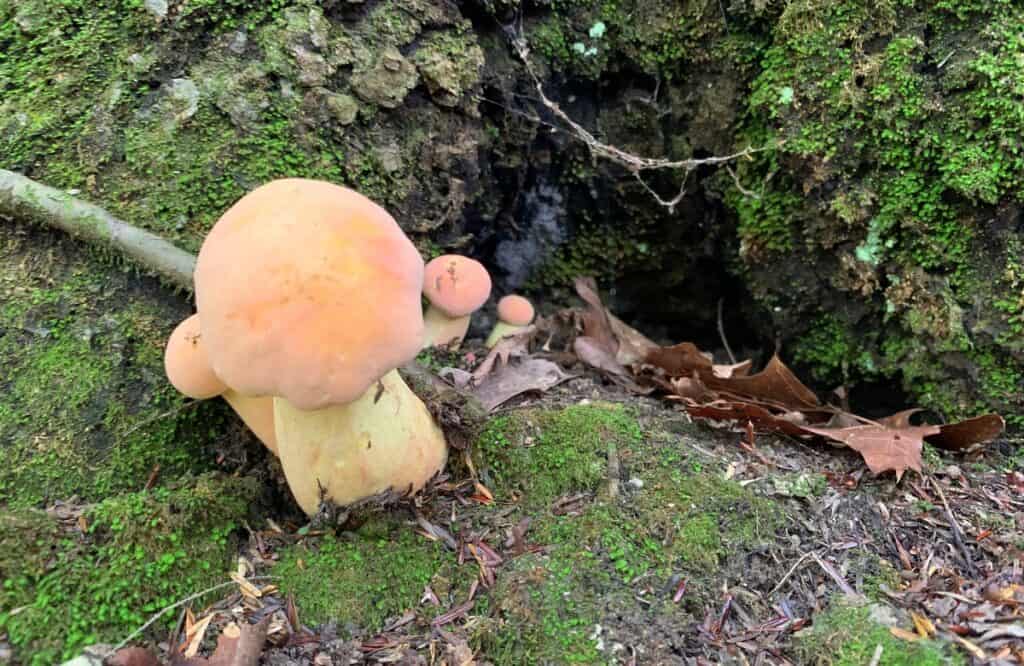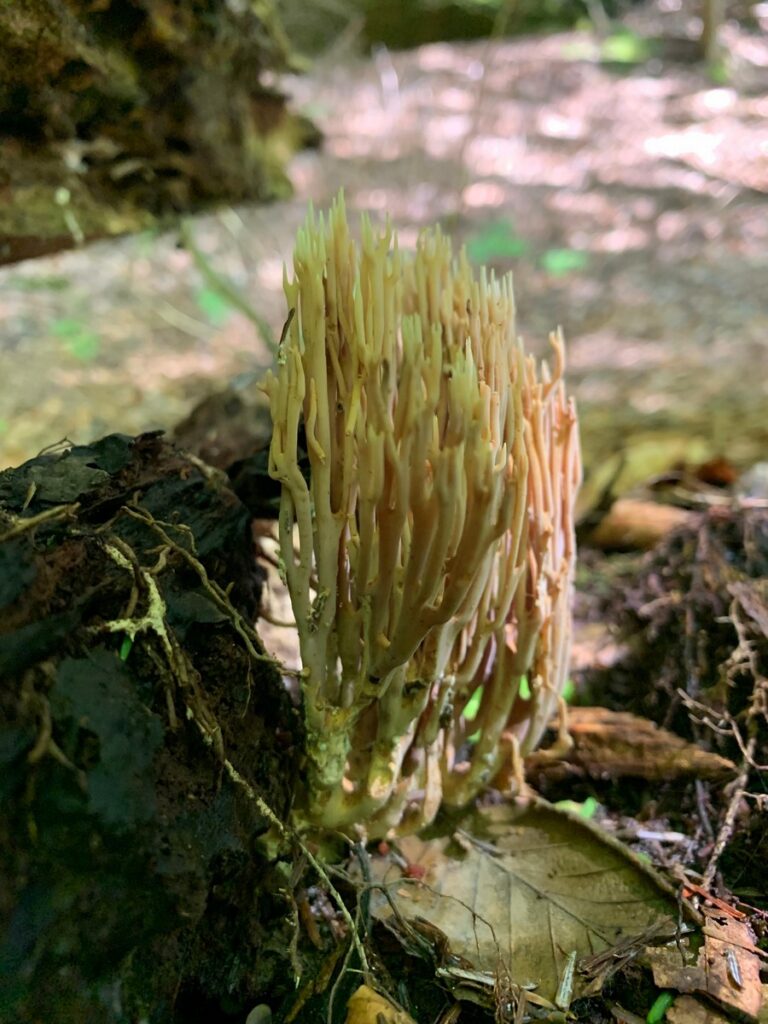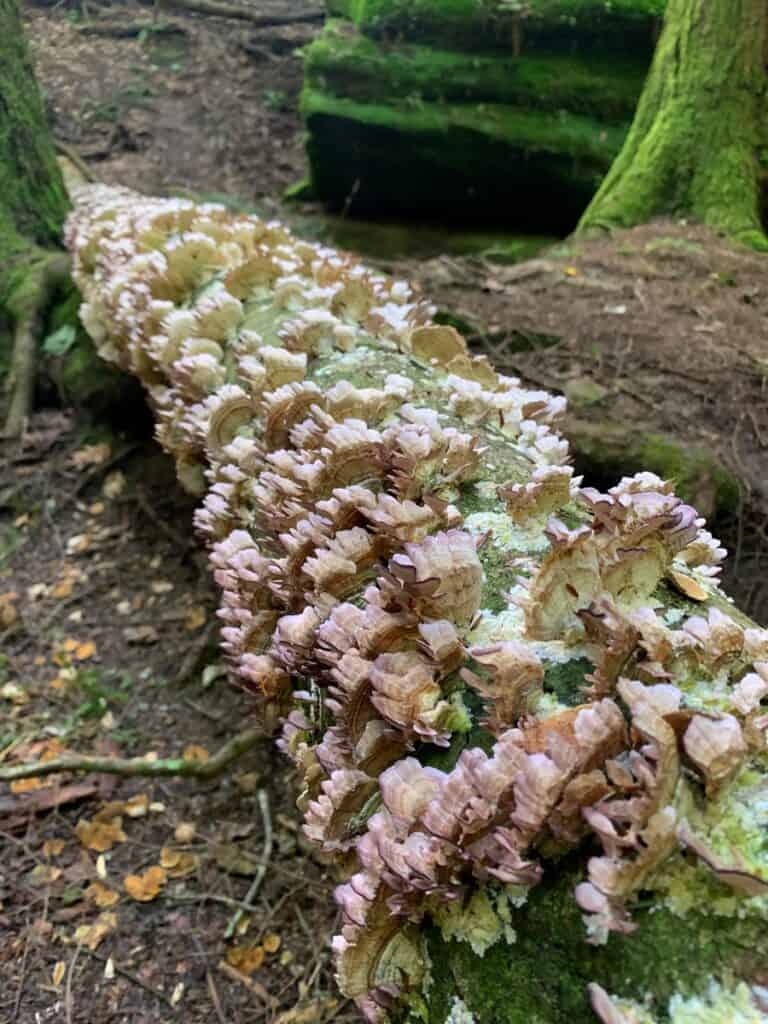 Hocking Hills State Park has some of the most geologically interesting hikes and nice places for dogs to splash around this side of the Mississippi! Just be ready to share the trails with a lot of people on the weekends.
Hazel suggests a weekday getaway so you'll have time to stop and smell the mushrooms.