Please note that some of our links are affiliate links, which means at no additional cost to you, we will earn a commission if you click through & make a purchase. Happy clicking!
North Bend State Park in the wild and wonderful hills of northwest West Virginia offers up beautiful hiking, challenging mountain biking, and relaxing natural views.
North Bend State Park, between Cairo and Harrisville, WV, is about 2 1/2 hours southwest of Pittsburgh just off Route 50. 
Buckle your seatbelts and hold onto your gear, because Route 50 is one heck of a bumpy ride – so bumpy, in fact, that our RV lost a hubcap!
The park was established in the mid-1950s, and is named for the horseshoe bend the North Fork of the Hugh River makes. There are designated trails for hiking, mountain biking, and horseback riding, plus areas for swimming, kayaking, canoeing, and even miniature golf! FORE!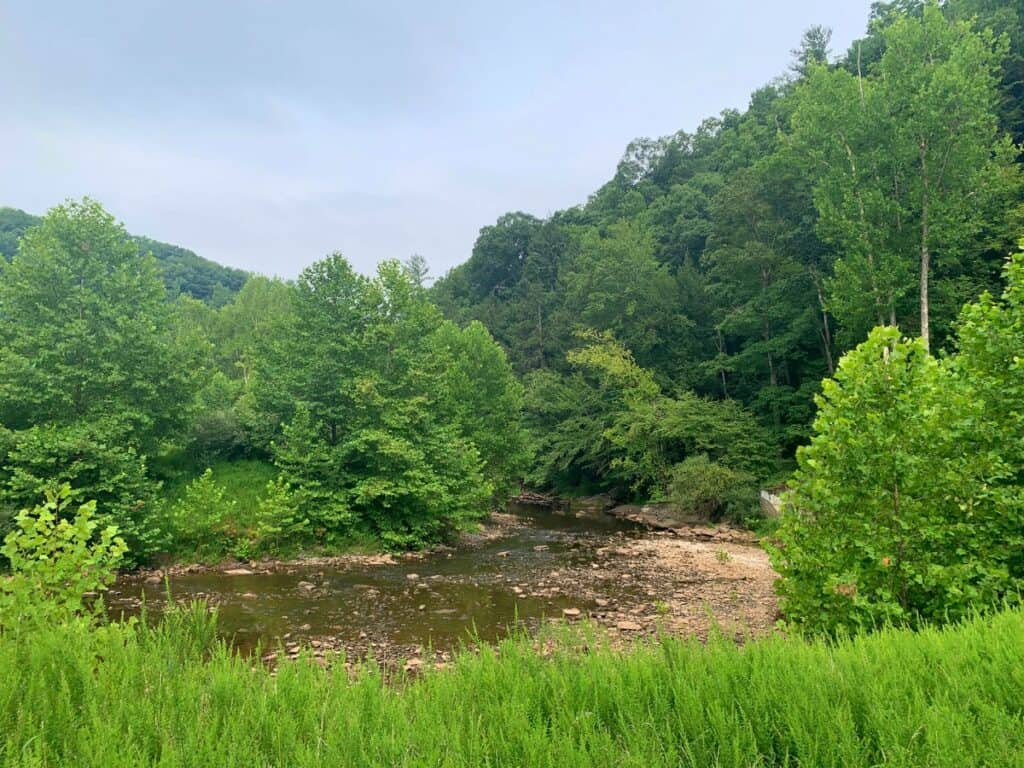 North Bend State Park Campground has two different campgrounds:
Cokely Campground, with 26 sites that have electric, but no showers 
River Run Campground, with 49 total sites, and 26 of those that have electric. These sites share one bath house with showers.  River Run is also more centrally located in the park, with close access to a playground, basketball court, fishing pond, and the nature center. 
Our site was #25 in River Run Campground- just a short walk to either the campground check-in building or the bath house: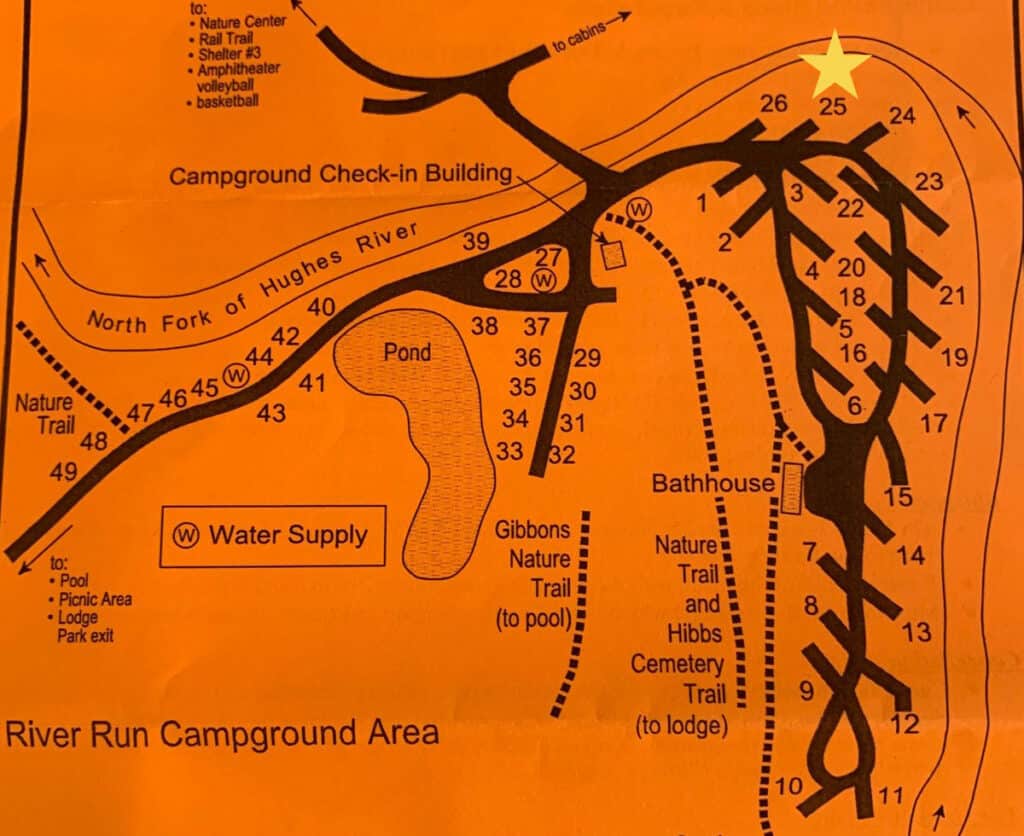 The sites are flat and nicely sized, and ours had a small path down to the creek behind it. In mid-summer, the creek was low and didn't look particularly dog-swimmable, so we kept Franklin and Hazel out of it. 
If you are tenting, sites #39 and #40 looked good. Avoid sites #48 and #49, as they are right next to a small water processing plant that was generating some loud humming and an unpleasant smell when we walked by.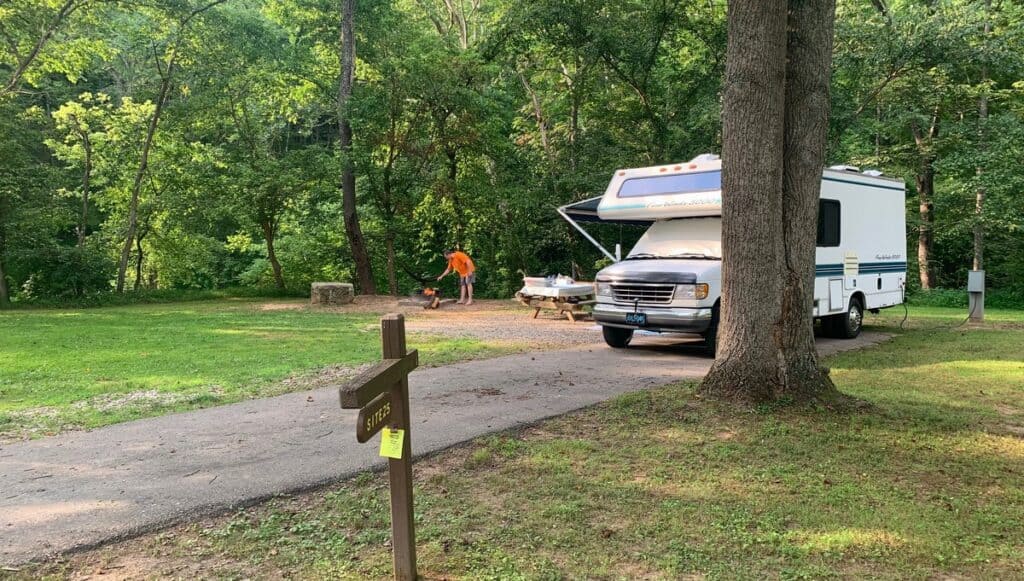 PRO TIP for the Campground
The West Virginia State Park system does a great job with programs and events in their parks, so be sure to stop at the park office or campground check-in to pick up a schedule. Just in the weekend we visited alone, they held a fishing derby, morning paddle, road bowling, a night hike, geocaching, and a sand art session!
The bath house in River Run Campground was clean. The showers thankfully did NOT have timer buttons, but the water did not get particularly HOT either – so the showers get a mixed review. 
Also, the showers only have hooks in the immediate area (no bench) so get a sturdy shower bag with long handles so you don't have to set anything on the wet floor. 
North Bend State Park has around 20 miles of trails. Some are designated for hiking, biking, and horseback riding, while others are hiking and biking or hiking only.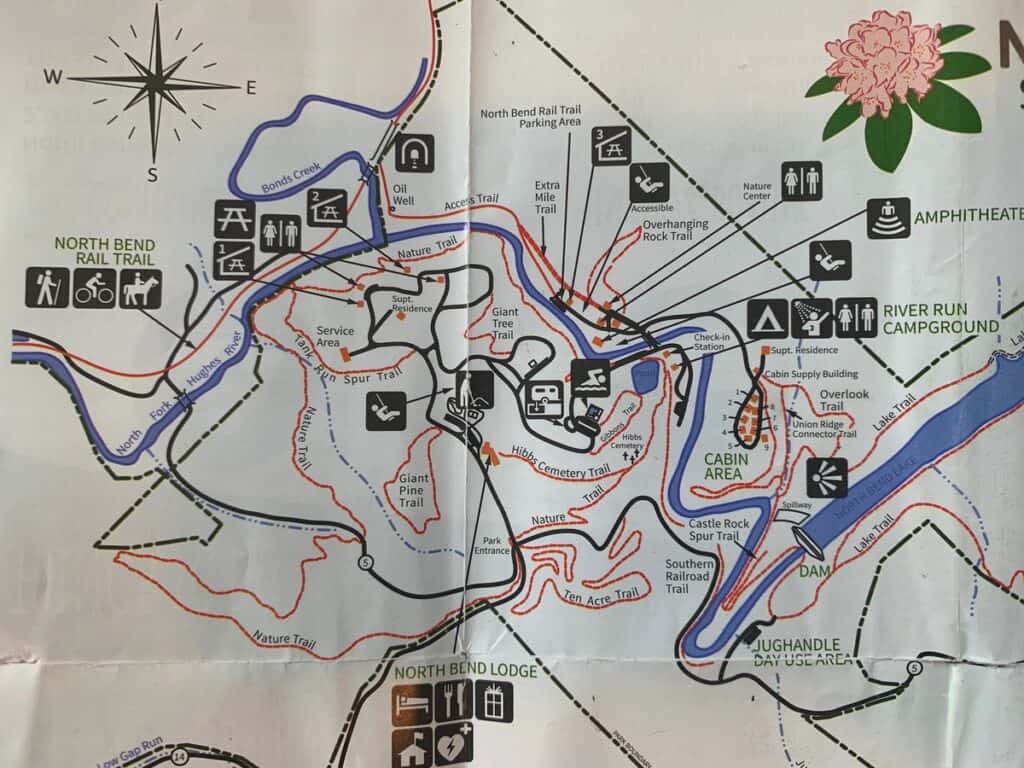 To create a 3-5 mile loop, you can take Hibbs Cemetery Trail out of the campground towards the North Bend State Park Lodge.
Unfortunately, the Lodge was being renovated during our visit – not much to see there – so we looped the half-mile Giant Pine Trail. 
From Giant Pine Trail, you can make a left and follow the road down to Pavilion 1. To the right of the pavilion, you can get onto Nature Trail to wind back to the campground. 
That entire route is outlined in green here: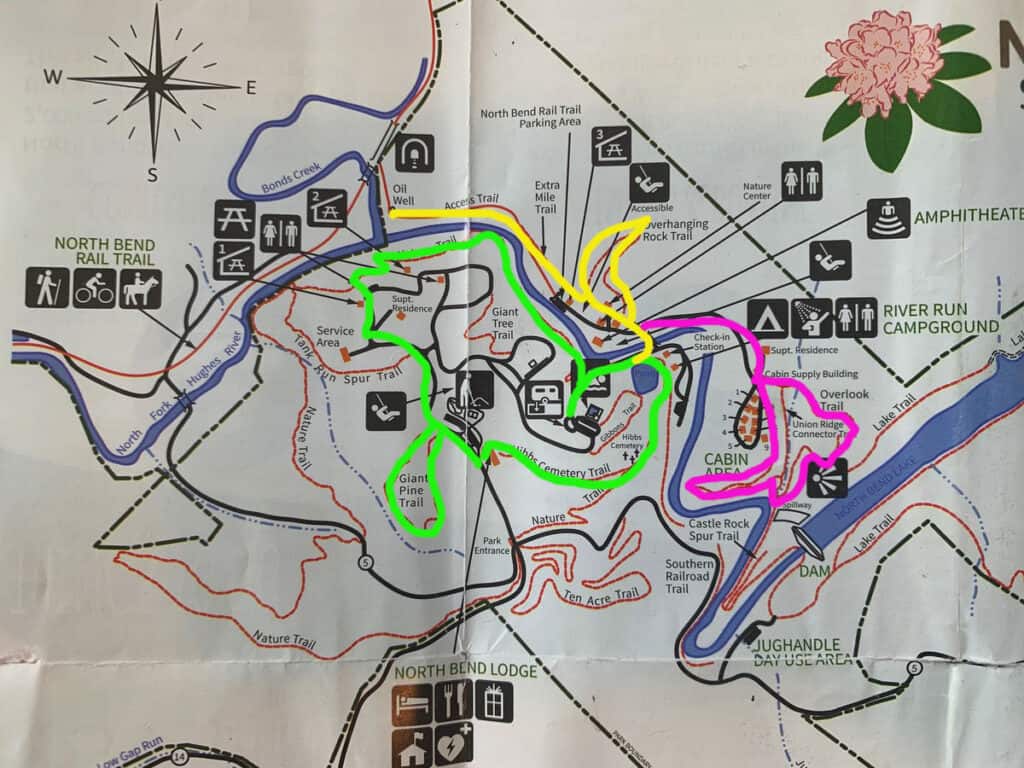 If you'd like more mileage for the day, continue on towards the Nature Center and head up Overhanging Rock Trail (part of the yellow route above). 
While Overhanging Rock Trail only covers about half of a mile, it's a STEEP and FUN half mile!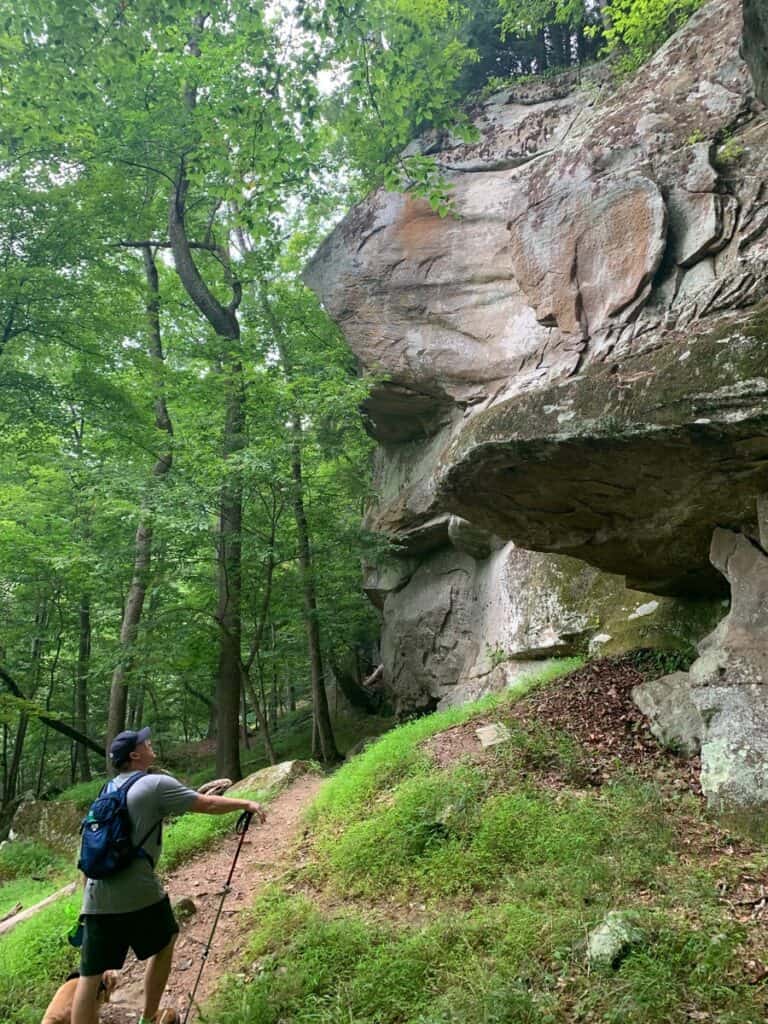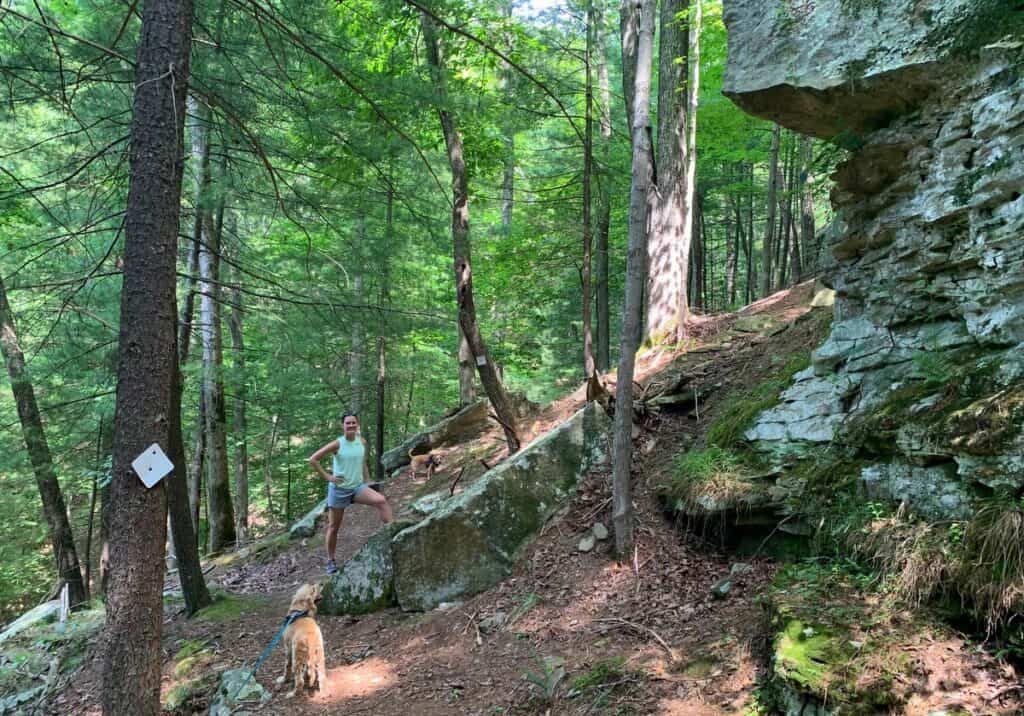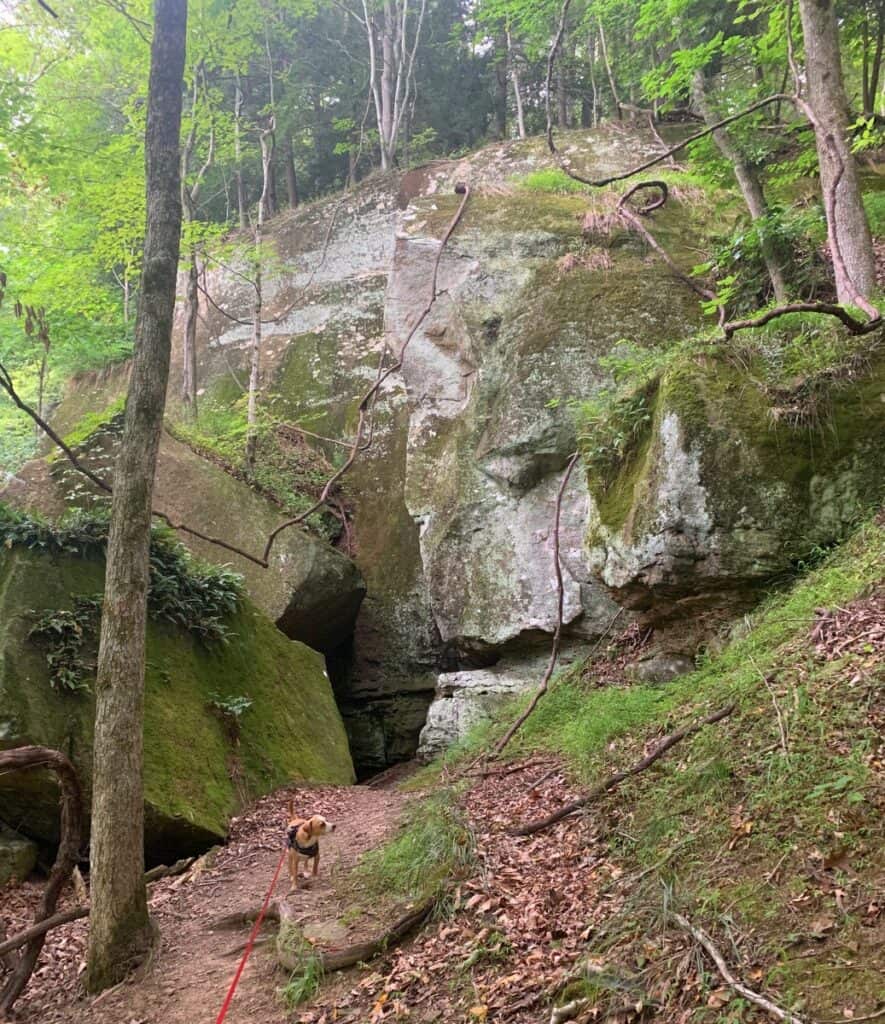 When you've completed Overhanging Rock Trail, it drops you right onto Extra Mile Trail – a short, paved trail that ends at a lookout deck.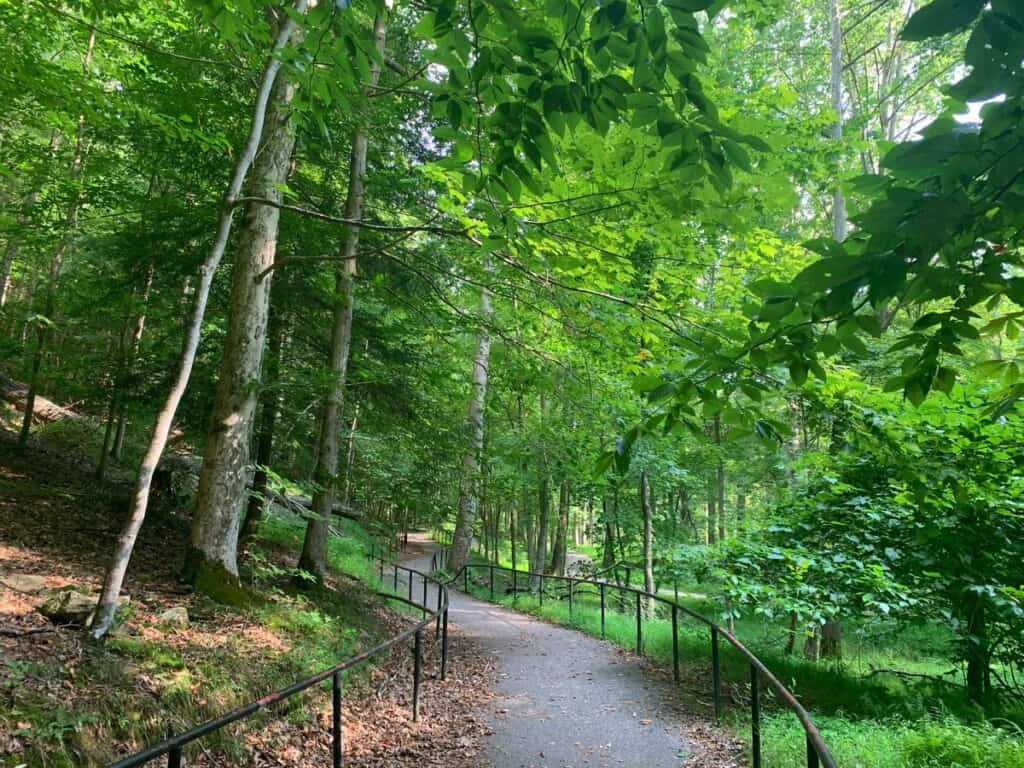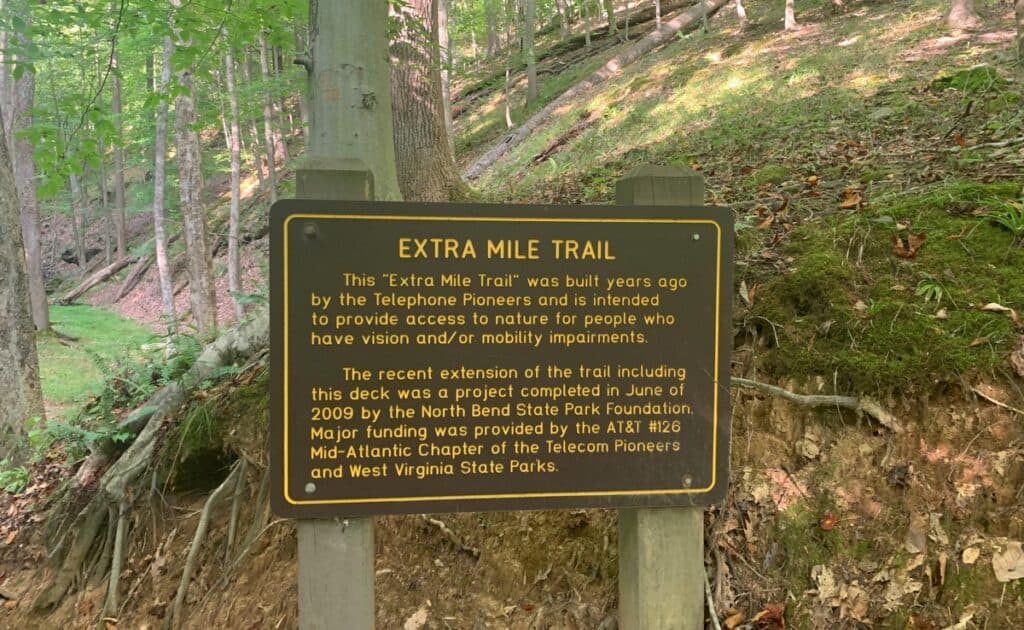 At the end of Extra Mile Trail, you have the option of taking the gravel Access Trail to the North Bend Rail Trail. 
If you brought your bikes, you'll want to check out at least part of the 72-mile long North Bend Rail Trail. The park is right in the middle, so you have plenty of options to see one of the scenic overlooks or tunnels:  

To round out the weekend, you can also tackle Overlook Trail (the pink route on the trail map above). It's a little over a mile, and can be found in the cabin area. 
You'll see more rock formations and a dam overlook on this challenging hike.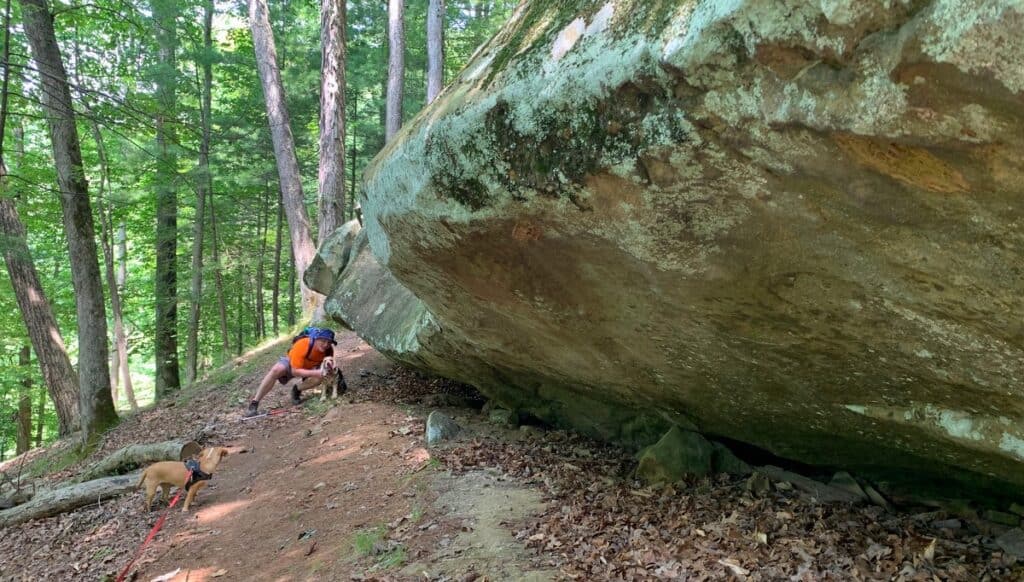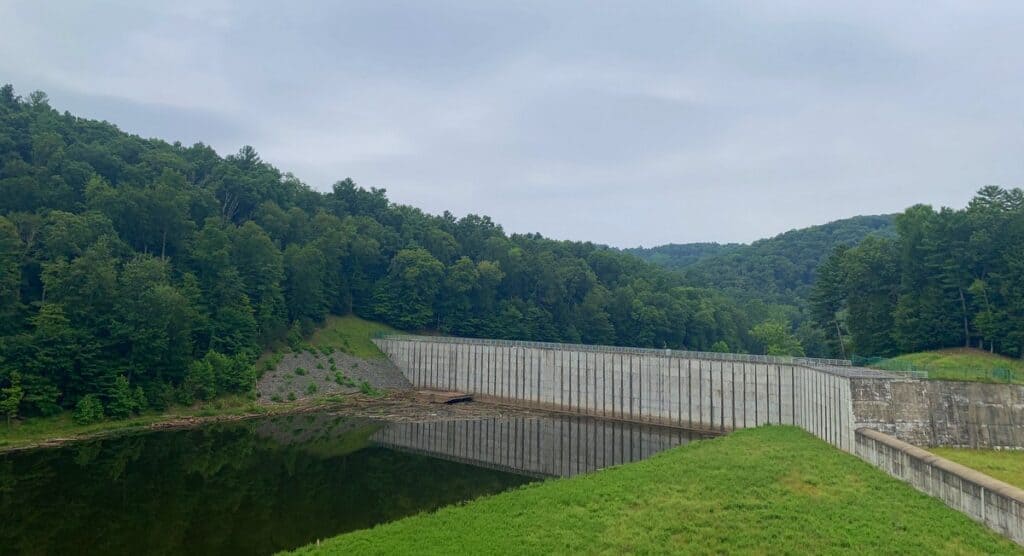 We also found a creek with just enough water for Franklin to take a quick dip!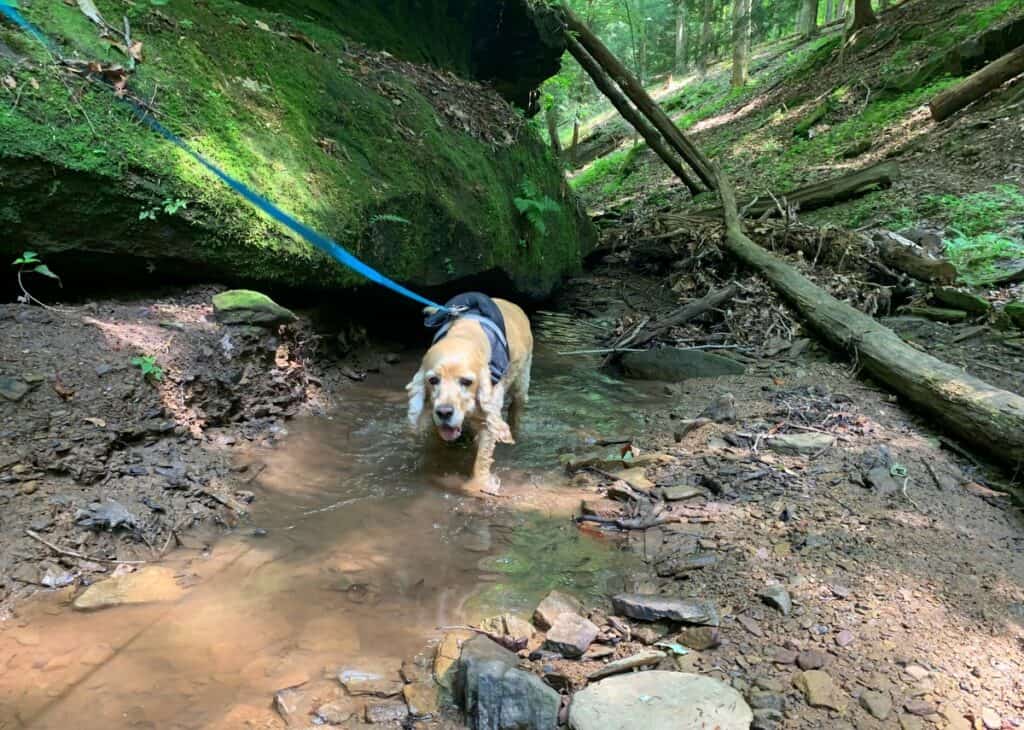 Wildlife, Fauna, and Fungi
West Virginia's Department of Natural Resources would like you to report sightings of box turtles…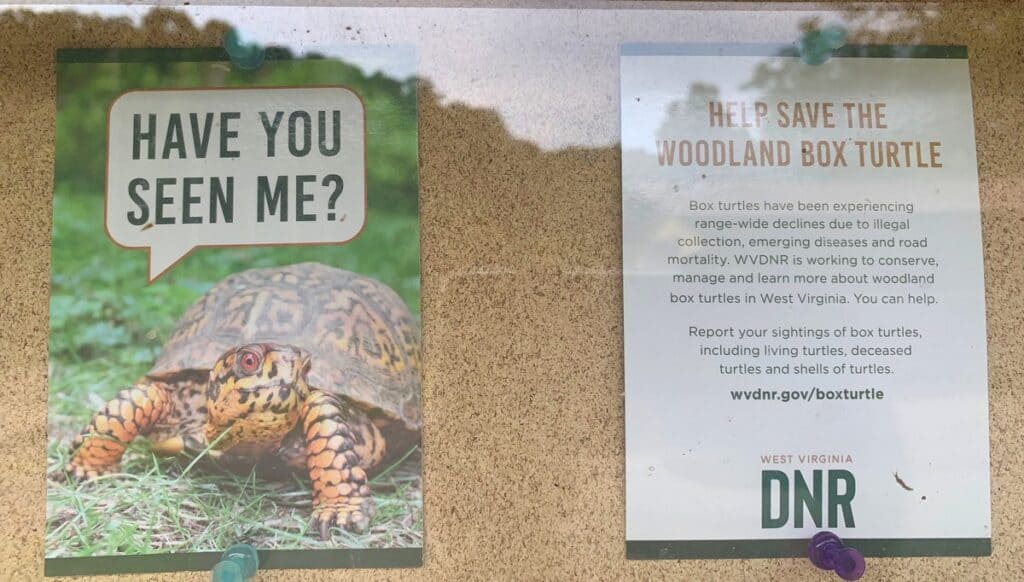 …and we were happy to help out!
We spotted this guy along the Nature Trail nibbling a mushroom and submitted his photo on their website: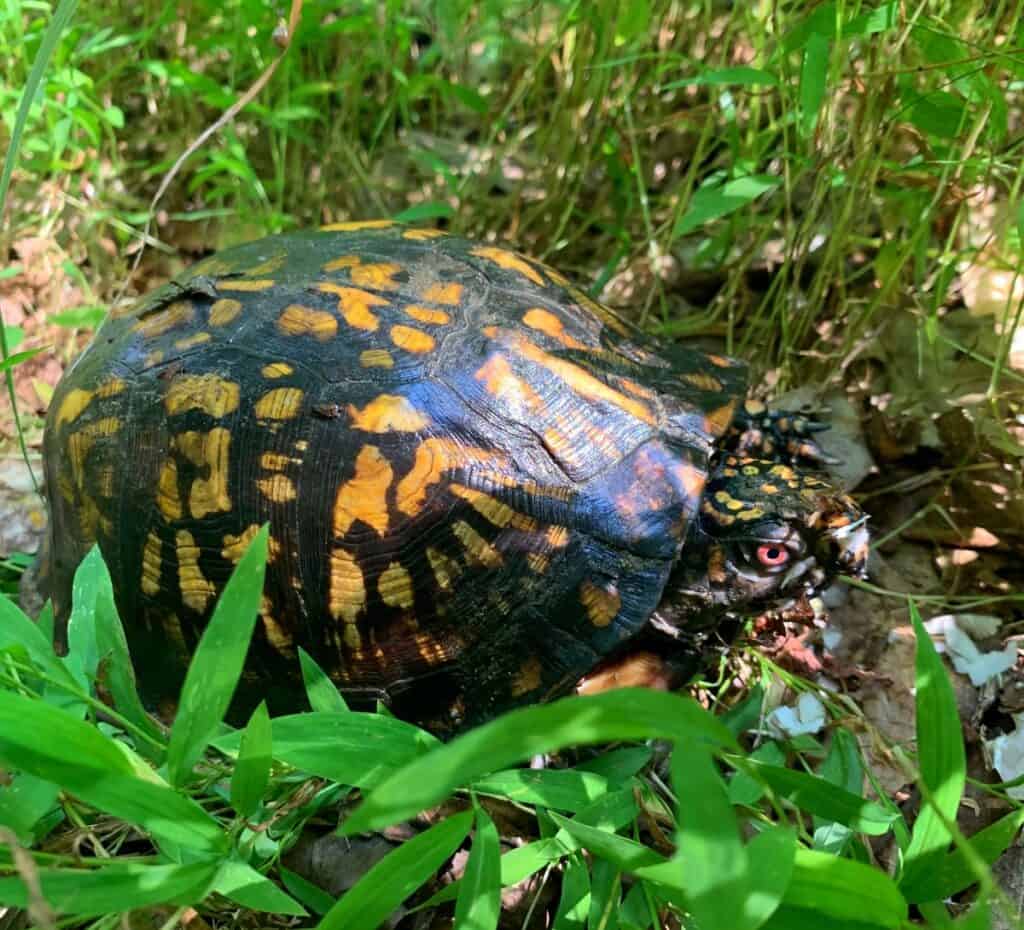 This interesting caterpillar was also crawling around nearby, which iNaturalist categorized as dagger moth: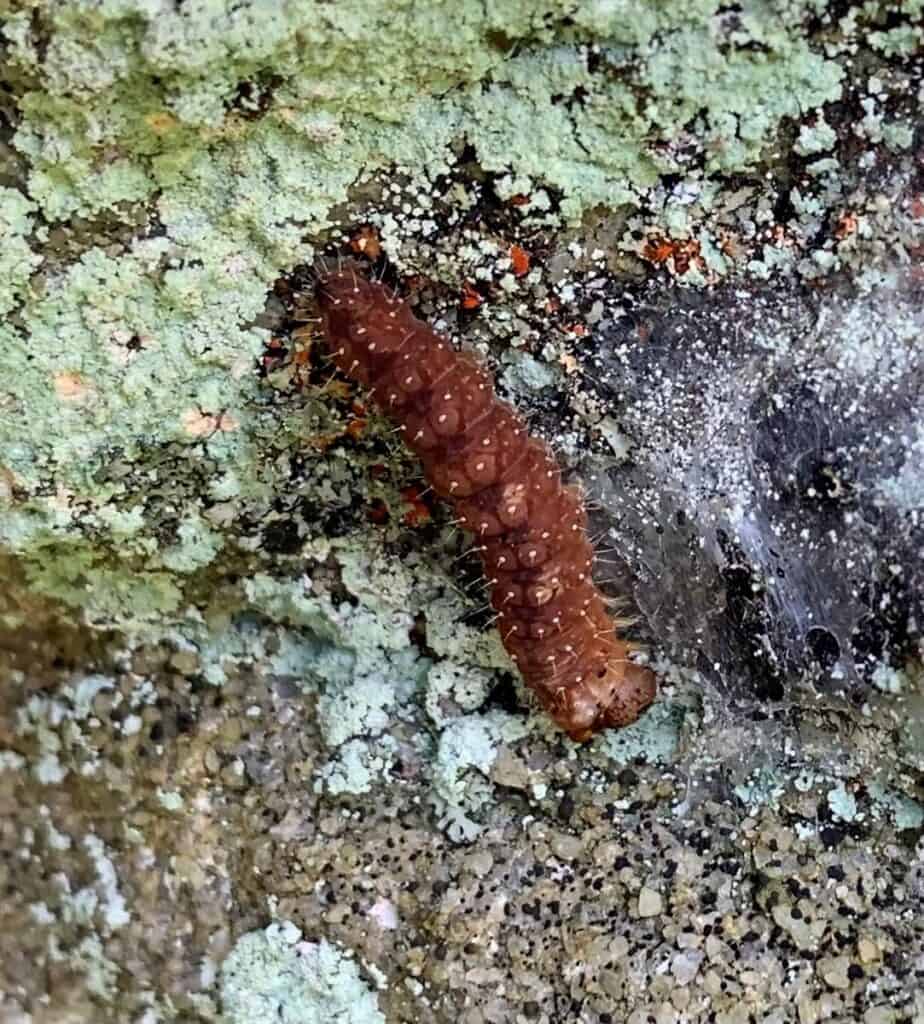 The park had many chipmunks, squirrels, and deer running around, too. 
The mushrooms at North Bend State Park had some interesting varieties. The peachy one was new to me!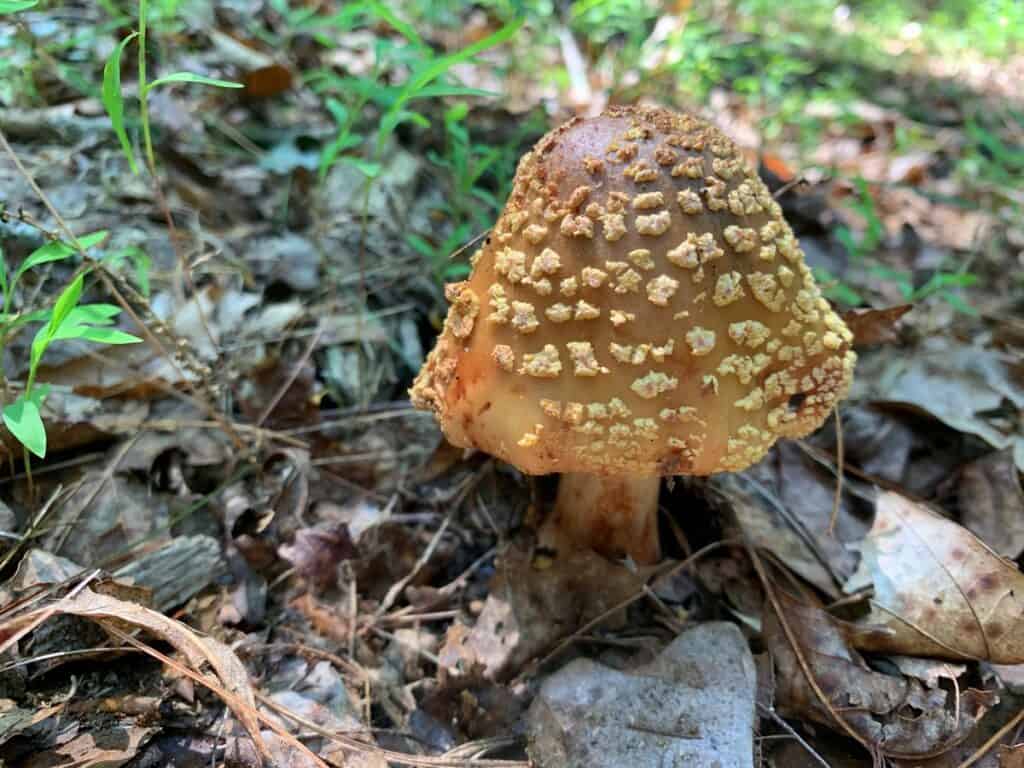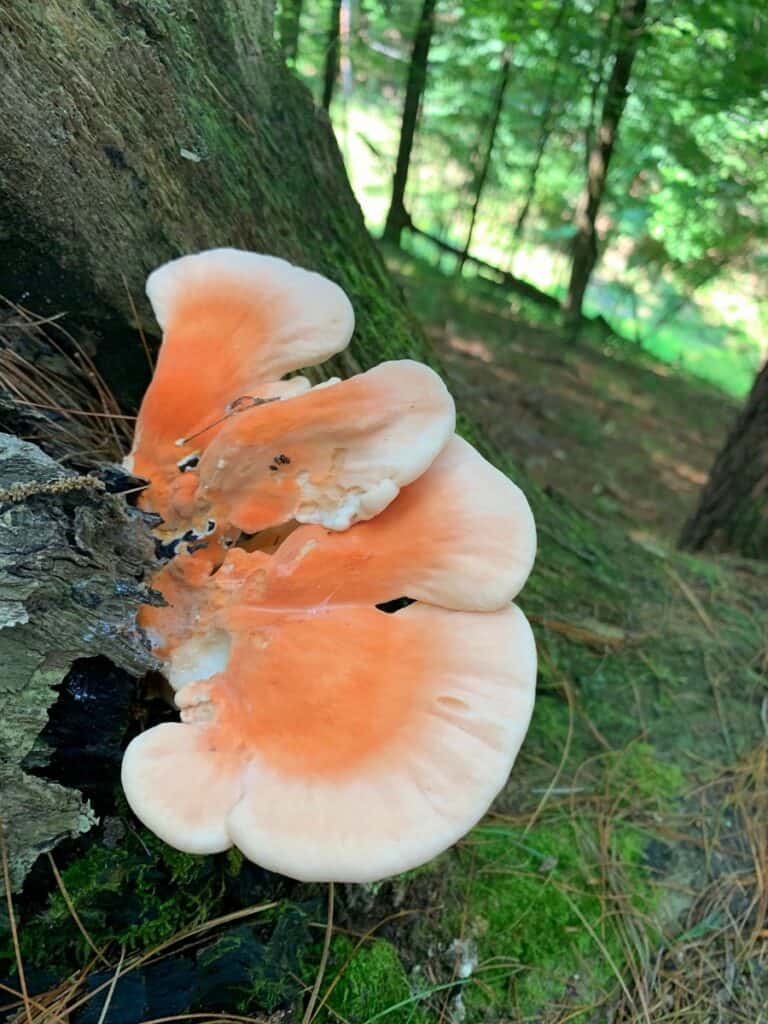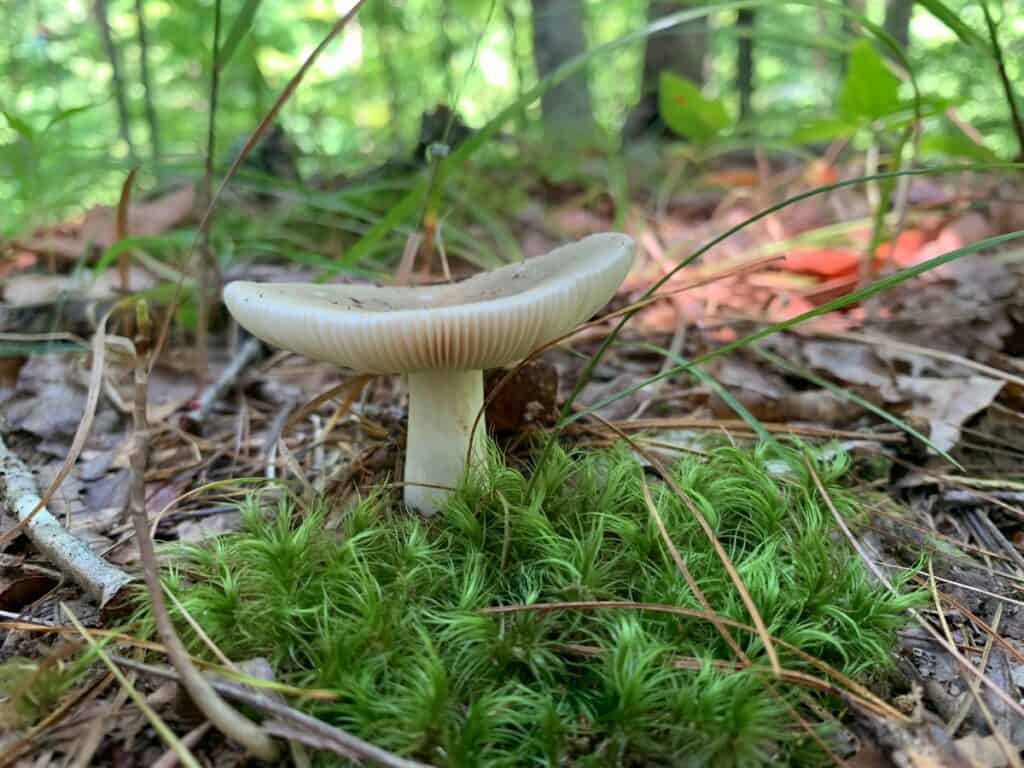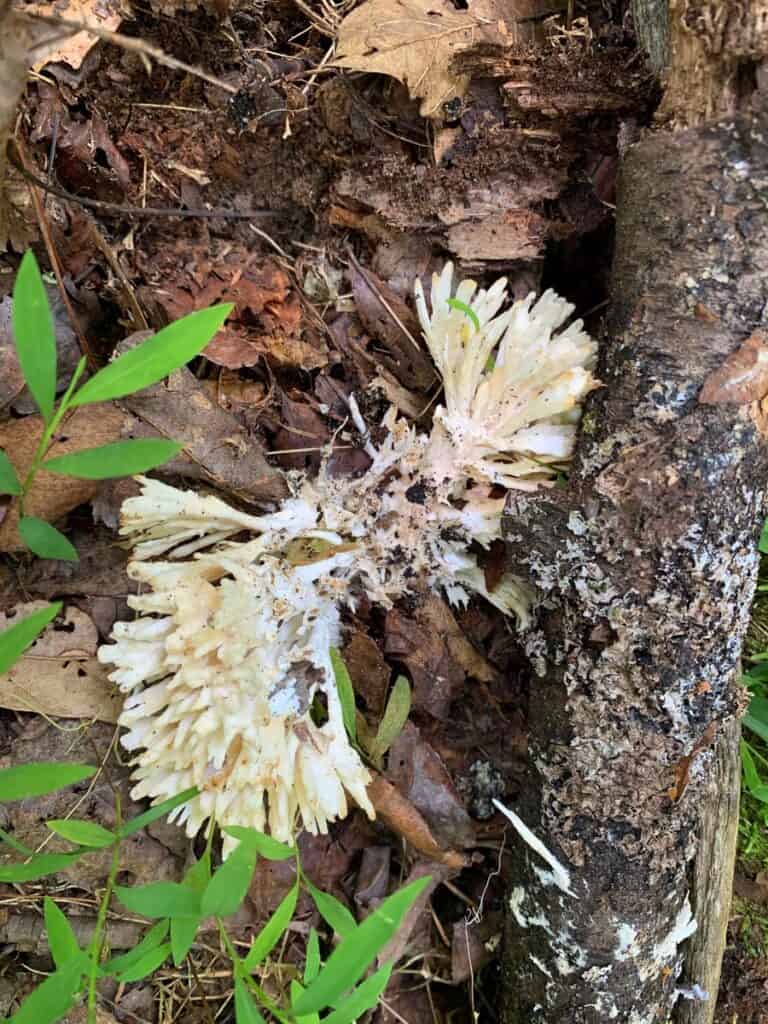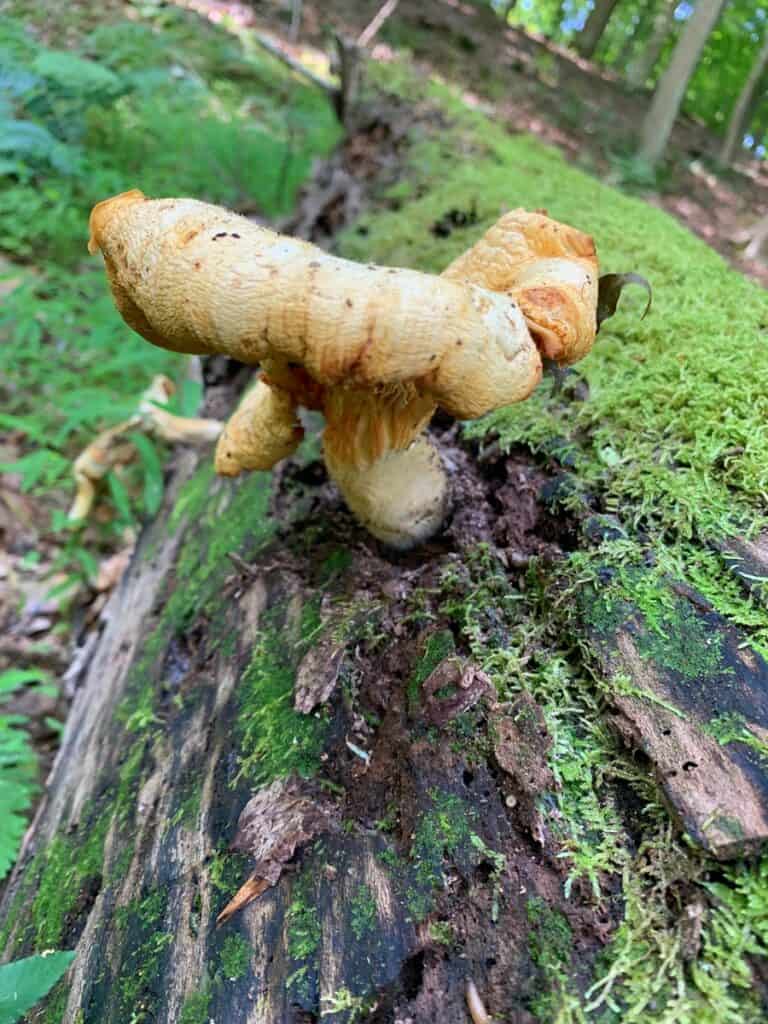 PIT STOP Remix!
Almost Heaven Desserts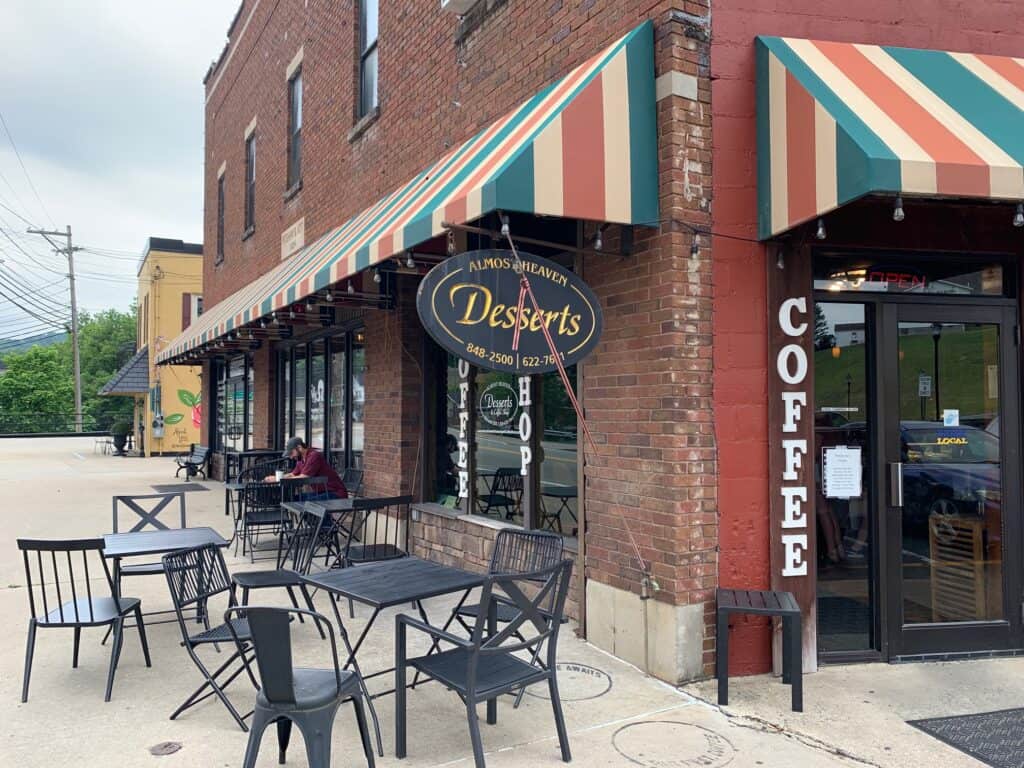 If you read our Cedar Creek State Park Trip Report, you might remember the Almost Heaven Desserts and Coffee Shop off the Bridgeport exit on Route 79.
We sure did!
Their display case of goodies and selection of coffees, teas, and sandwiches is magical.
We again ordered two Mountain Mama Breakfast Melts, a snazzy sugar cookie, and coffee. 
Between the beautiful mountains and the delicious sandwiches and desserts, you don't want to skip this Pit Stop!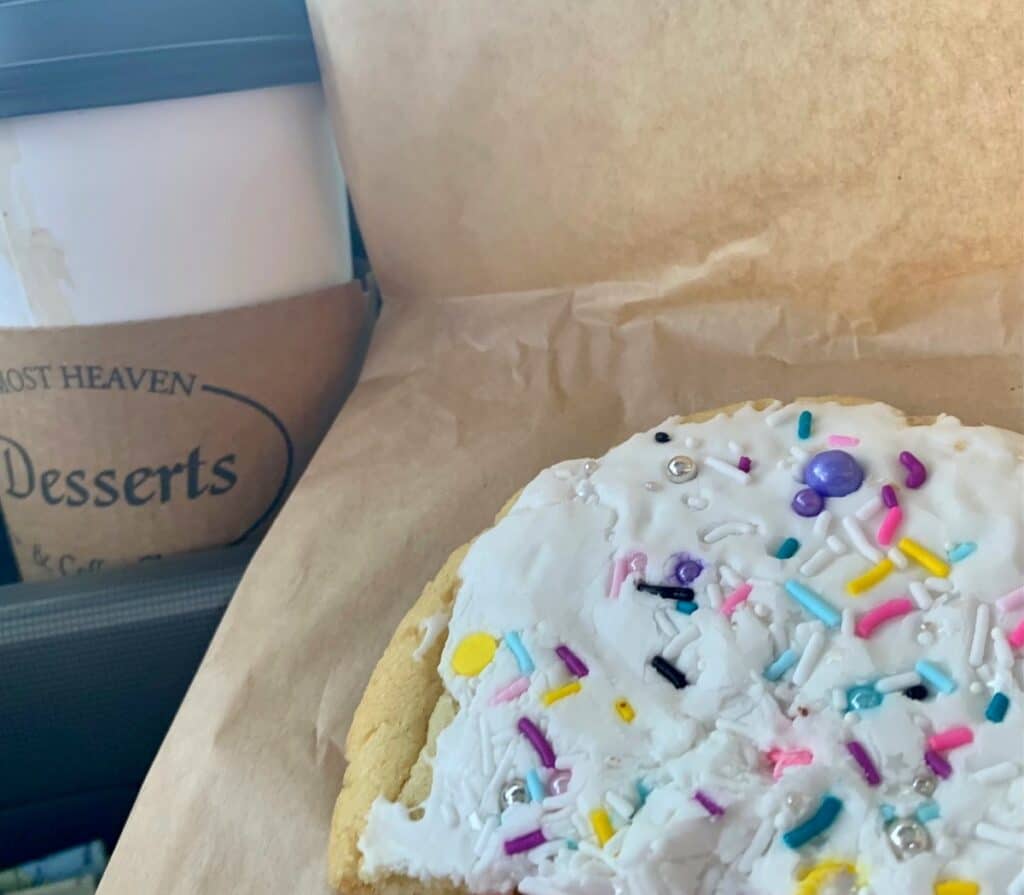 Wild and wonderful West Virginia always impresses us with their gorgeous hills and well-marked trails!  It also doesn't hurt to have a Pit Stop with one of the best breakfast sandwiches this side of the Mississippi. 
The bumpy ride and missing hubcap were worth the trouble!
This was NOT a crappy RV weekend, no matter what Hazel tells you…