Please note that some of our links are affiliate links, which means at no additional cost to you, we will earn a commission if you click through & make a purchase. Happy clicking!
Little Pine State Park, nestled in a cozy valley of Tiadaghton State Forest in north central Pennsylvania, has challenging hiking trails, beautiful wildflowers, fishable creeks, and a comfortable campground. 
Little Pine State Park is located in Waterville, Pennsylvania, in the Tiadaghton State Forest just northeast of State College. 
The park is about a 3 1/2 hour drive from either Pittsburgh or Philadelphia, in what is called the PA Wilds region of the state.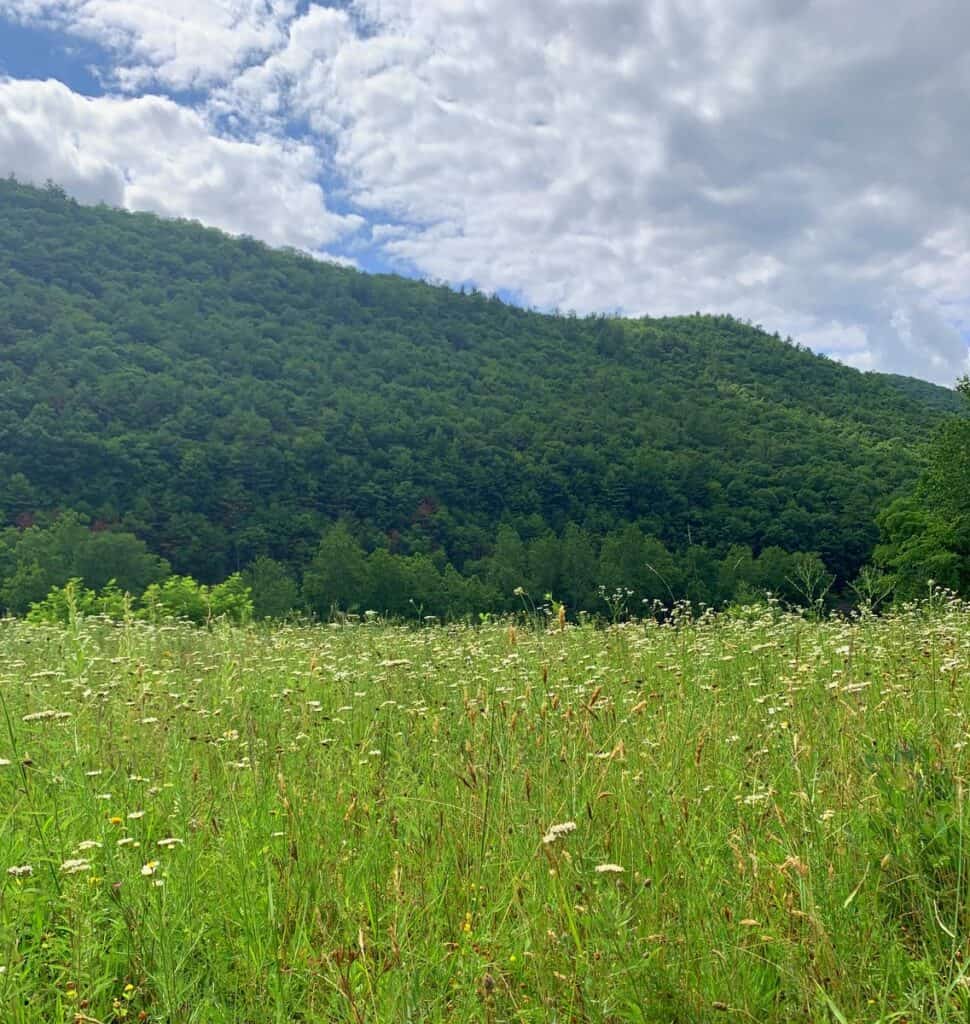 Indians once used the area of the park for hunting, but then settlers moved in and began exploiting the area for lumber. Williamsport was just down-creek, and was considered the lumber capitol of the world in the mid-1800s. Logs were jettisoned down Pine Creek in large numbers from the region until the early 1900s.
In the early 1900s, the area was home to a Civilian Conservation Corps Camp and picnic area. After the construction of a dam, campground, and swimming beach, Little Pine became a state park in 1939. 
Little Pine State Park Campground has 88 campsites, 3 cottages, and 2 yurts. Most of the sites have electric and about 1/3 are pet-friendly. 
We stayed at site #92, which backed up to a small patch of trees above a tiny creek.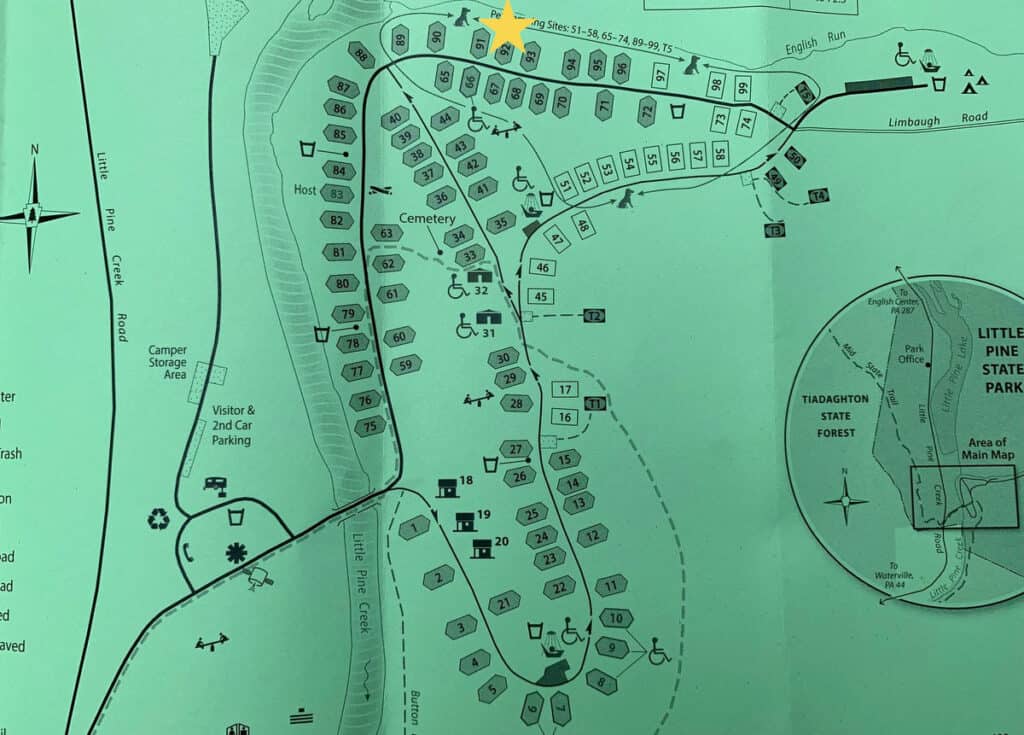 Both bath houses nearest our site were clean and had two shower stalls each.  
The showers do have timer buttons, which I usually have a fit over; however, the water is hot, and one button push lasts over a minute! Not perfect, but not awful either.  
PRO TIP for the Campground
If you'd like a water view of the dam outlet from Little Pine Lake back into Little Pine Creek, try to book sites #86-88. These sites are also have nice access to playing or fishing in the creek!
Little Pine State Park has close to 15 miles of hiking trails- including almost 2 miles of the 327-mile long Mid State Trail.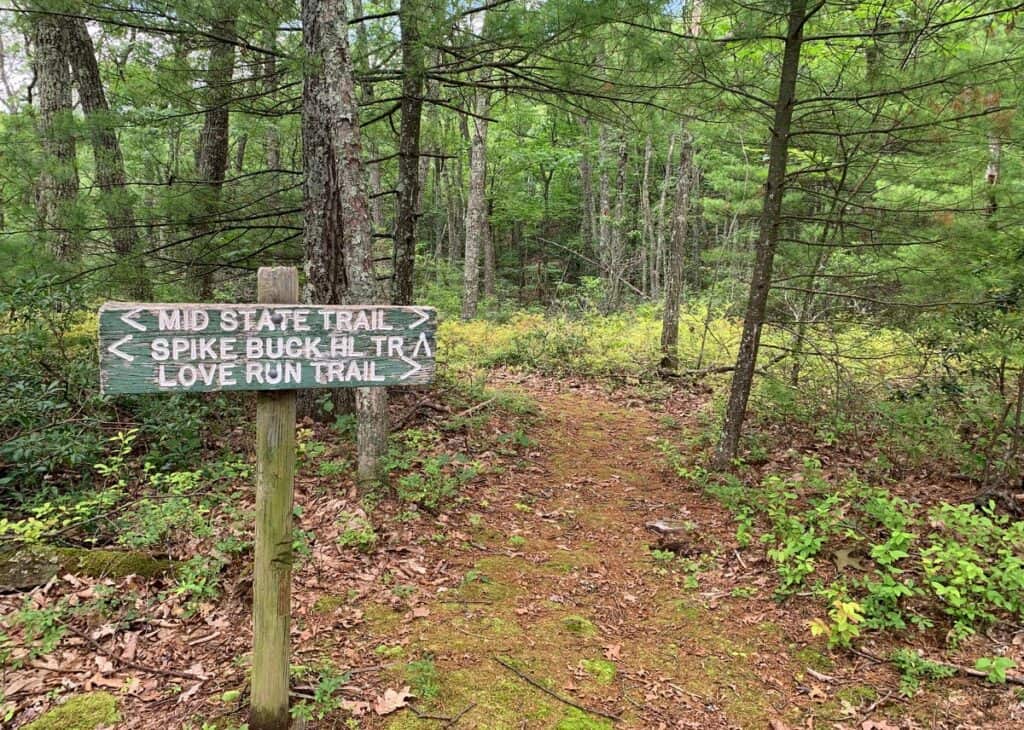 The hikes you can easily walk to from the campground are Button Ball, Mid State, Tiadaghton, Spike Buck Hollow, and Lake Shore Trails.
Like usual, we looked to make a dog-friendly yet moderately challenging 3-5 mile loop that would return us back to the campground. 
We followed the yellow route I outlined below, taking Mid State Trail out of the campground and across the street.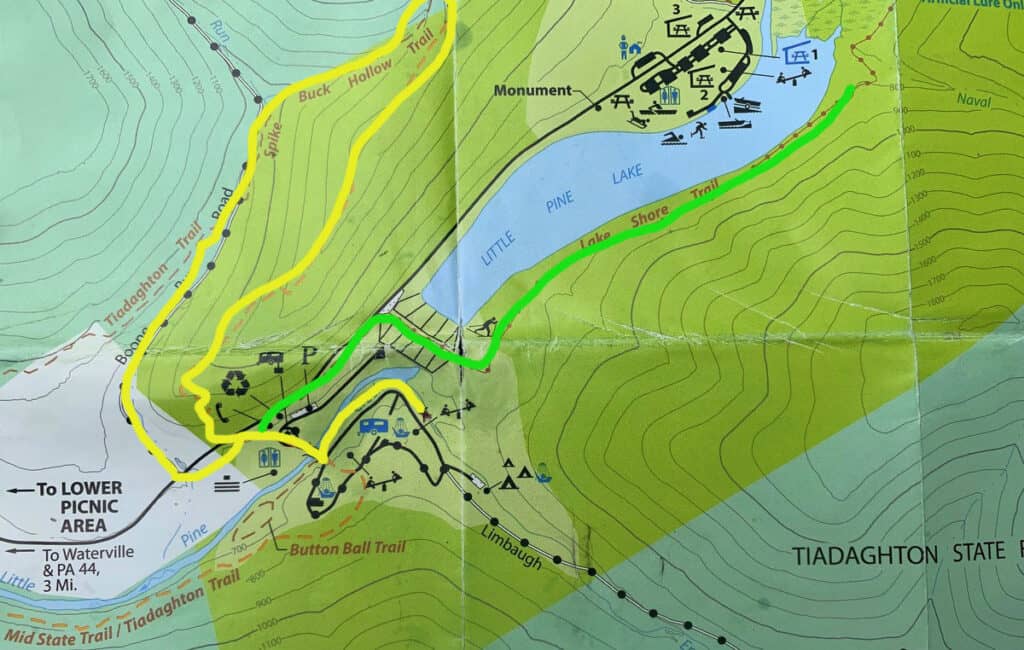 Mid State Trail ascends gradually for about two miles, so make sure your quads and glutes and poochies are ready for a steady climb uphill! 
The second mile of Mid State Trail has some beautiful rock formations Hazel and Franklin appreciated.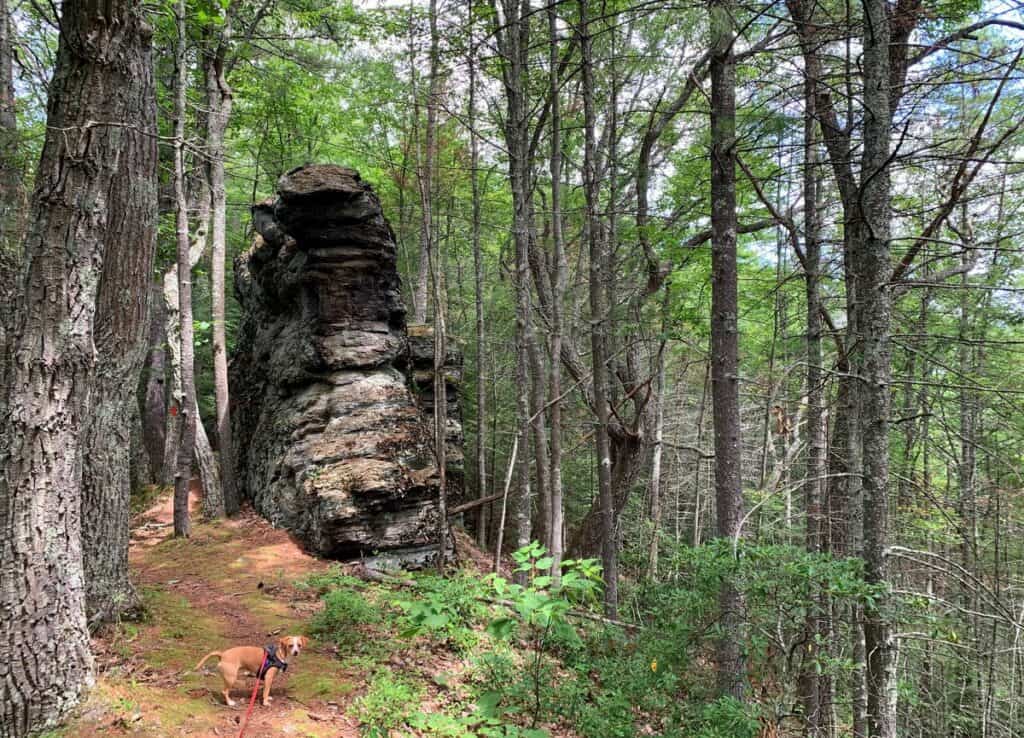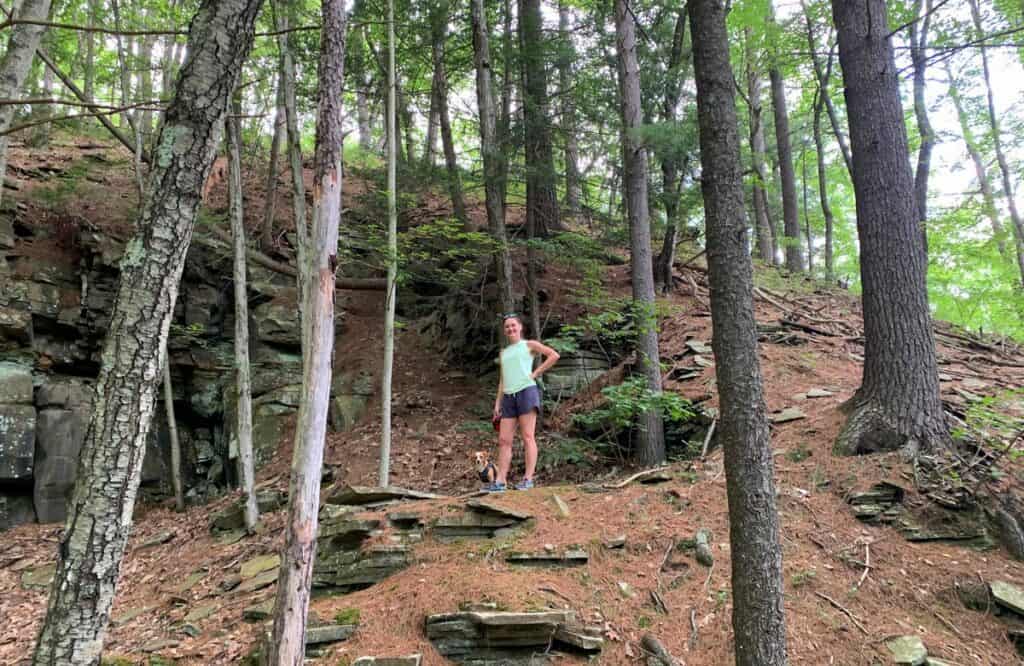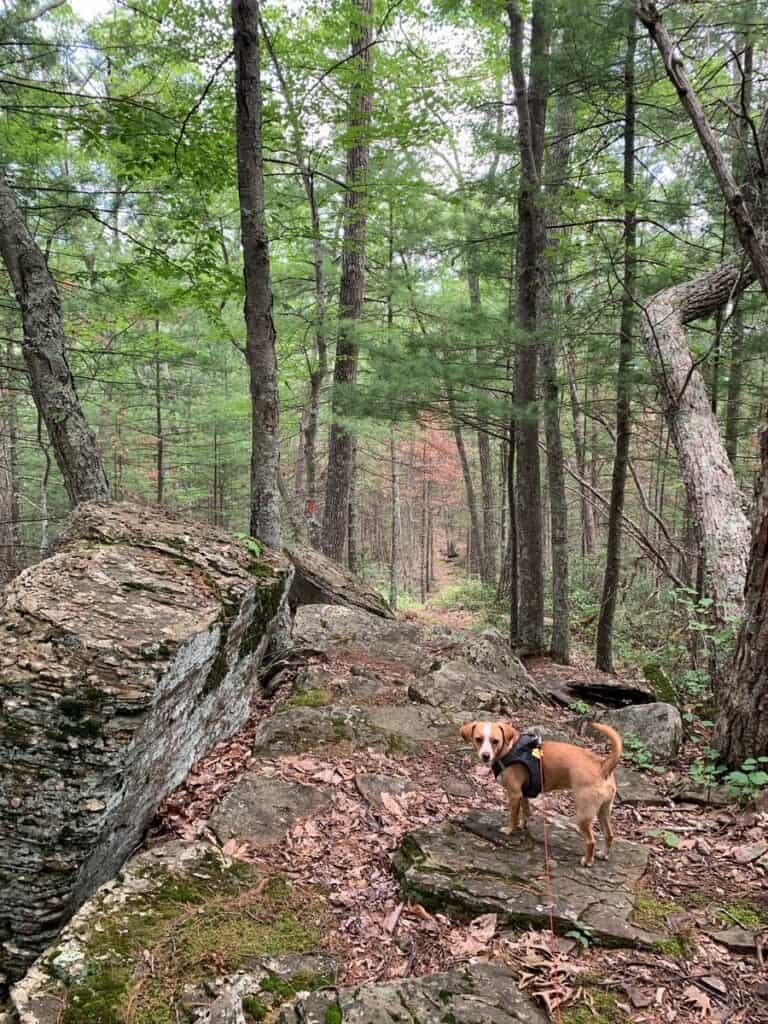 To loop back to the campground, take the left onto Spike Buck Hollow, down down down, until it ends on Boone Run Road in Happy Acres Campground. 
From there, you can make a left back to the Little Pine campground entrance. 
For another scenic hike, get onto Lake Shore Trail (green line on the map above) by walking behind the extra car parking lot across the creek from the campground. 
The Trail will take you up and over the dam and down into the very scenic and wildflower-filled valley before turning into a wide lake shore ledge high above the water.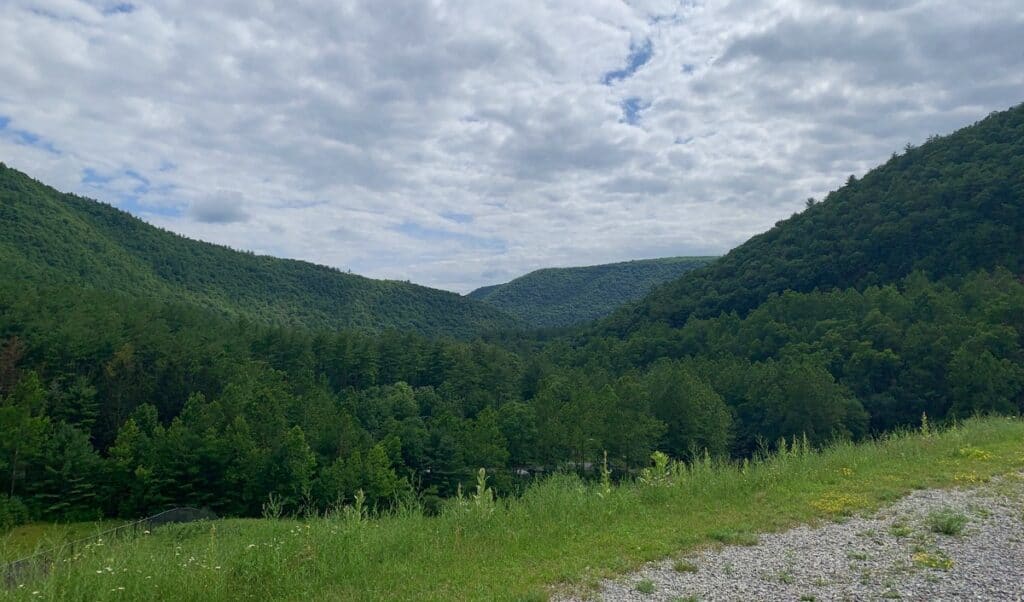 The remaining trails in the park can be accessed from the other side of the lake by parking in the beach and launch area. 
If you bring your bike, access to the nearby Pine Creek Rail Trail (red dotted line below) is just a few minutes drive away.  This 62-mile long cinder bike path winds along Pine Creek from Jersey Shore (PA!) to its northernmost point near Stokesdale and Wellsboro.  
Wildlife, Fauna, and Fungi
On our way to the park and on our hikes, we spotted several deer and many piles of what we suspected were bear poop – but no dang bears!
The park had an abundance of wildflowers, too, and I saw hummingbirds sampling them during our stay.
Speaking of birds, look out for bald eagles! While we didn't see any, there are several nests in the park and sightings are common. 
Even though we missed the eagles, I am always able to find the mushrooms! Little Pine State Park had the best colors and variety I have been able to find this travel season so far.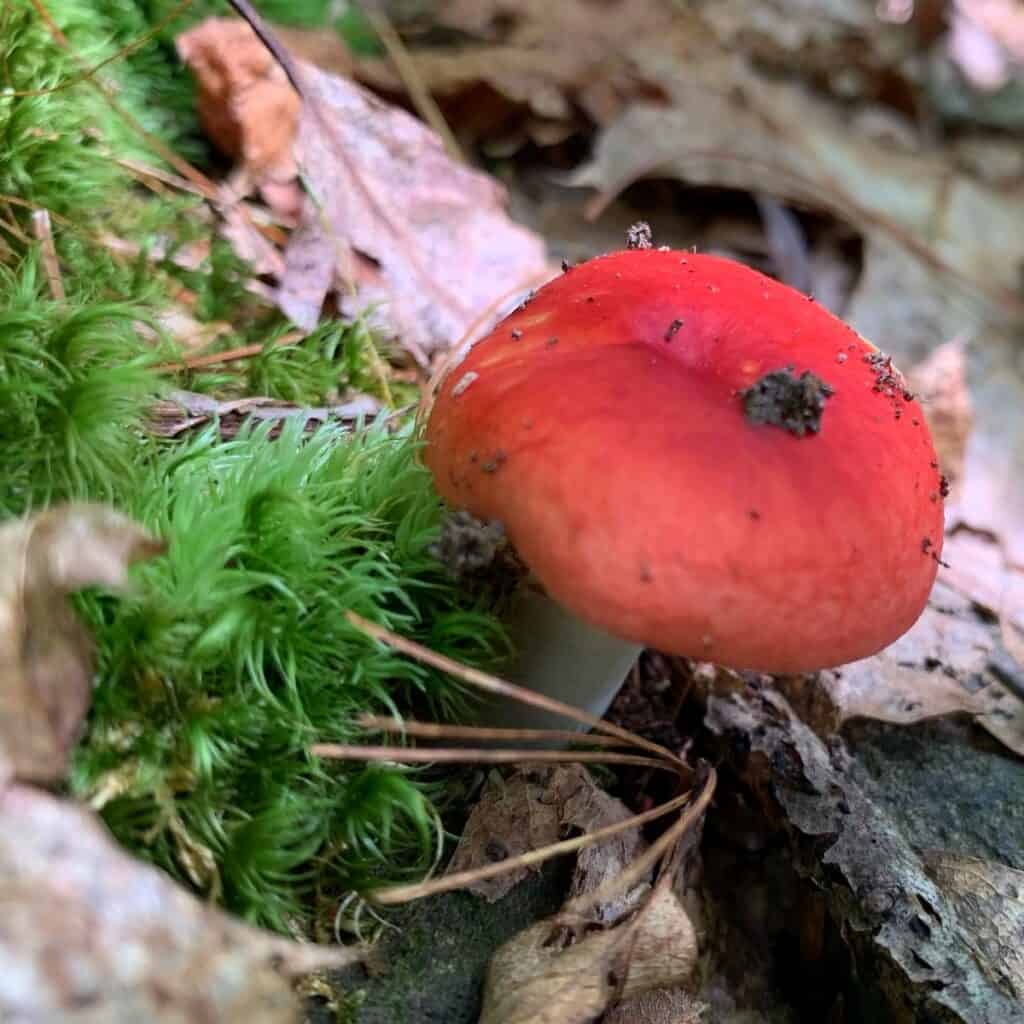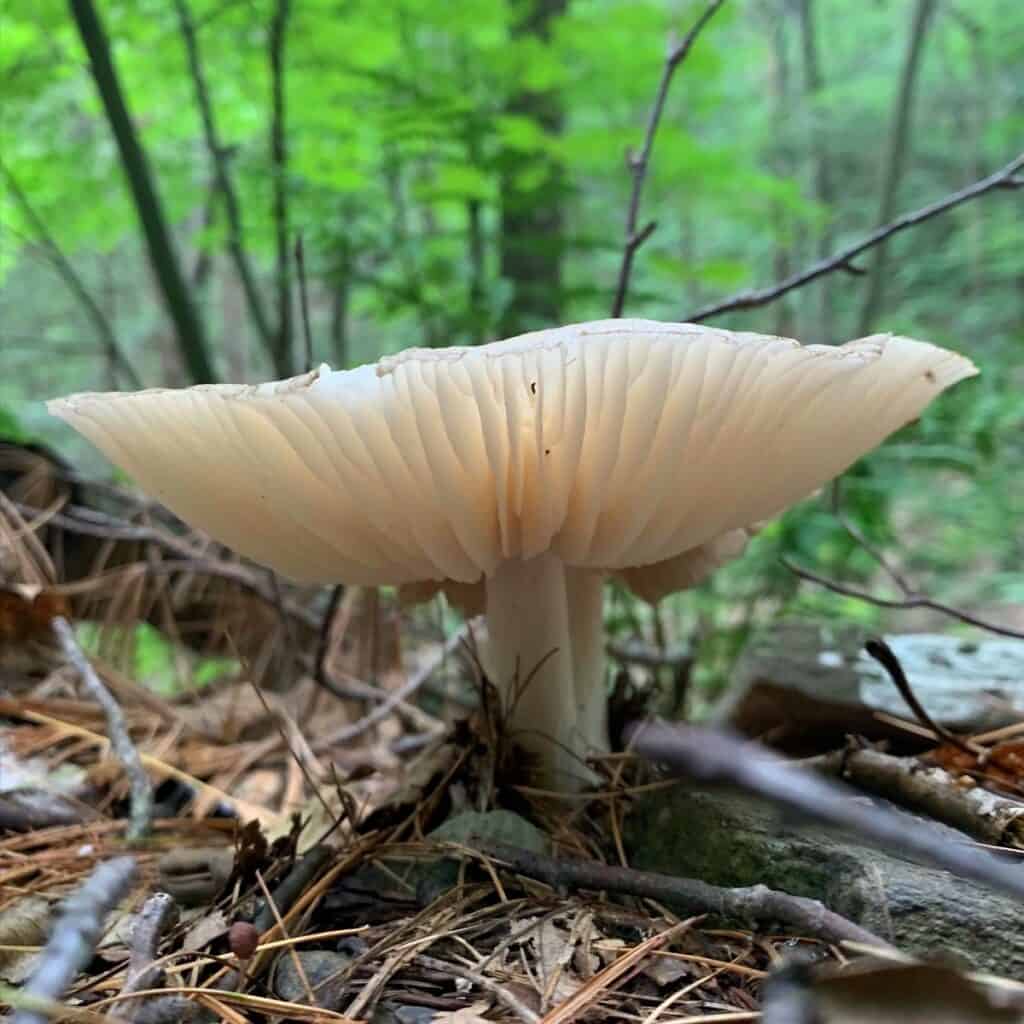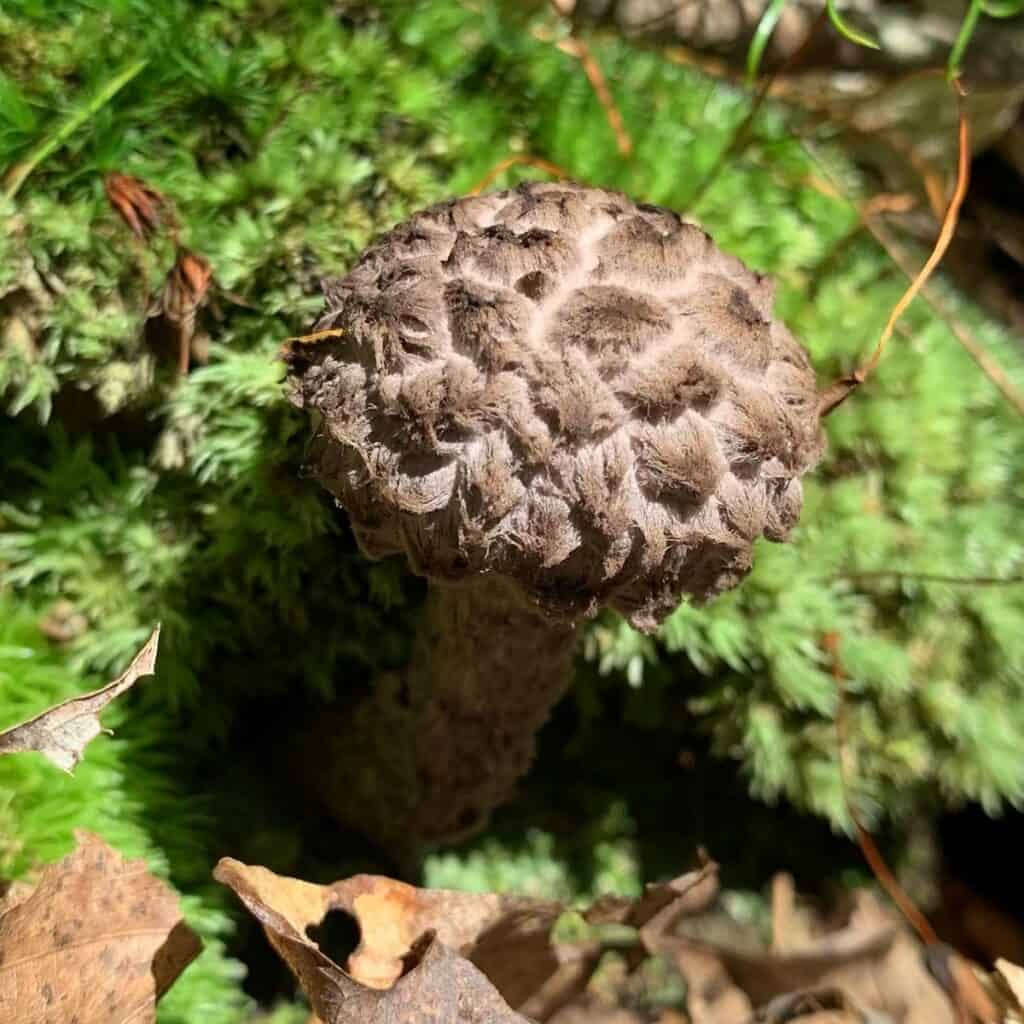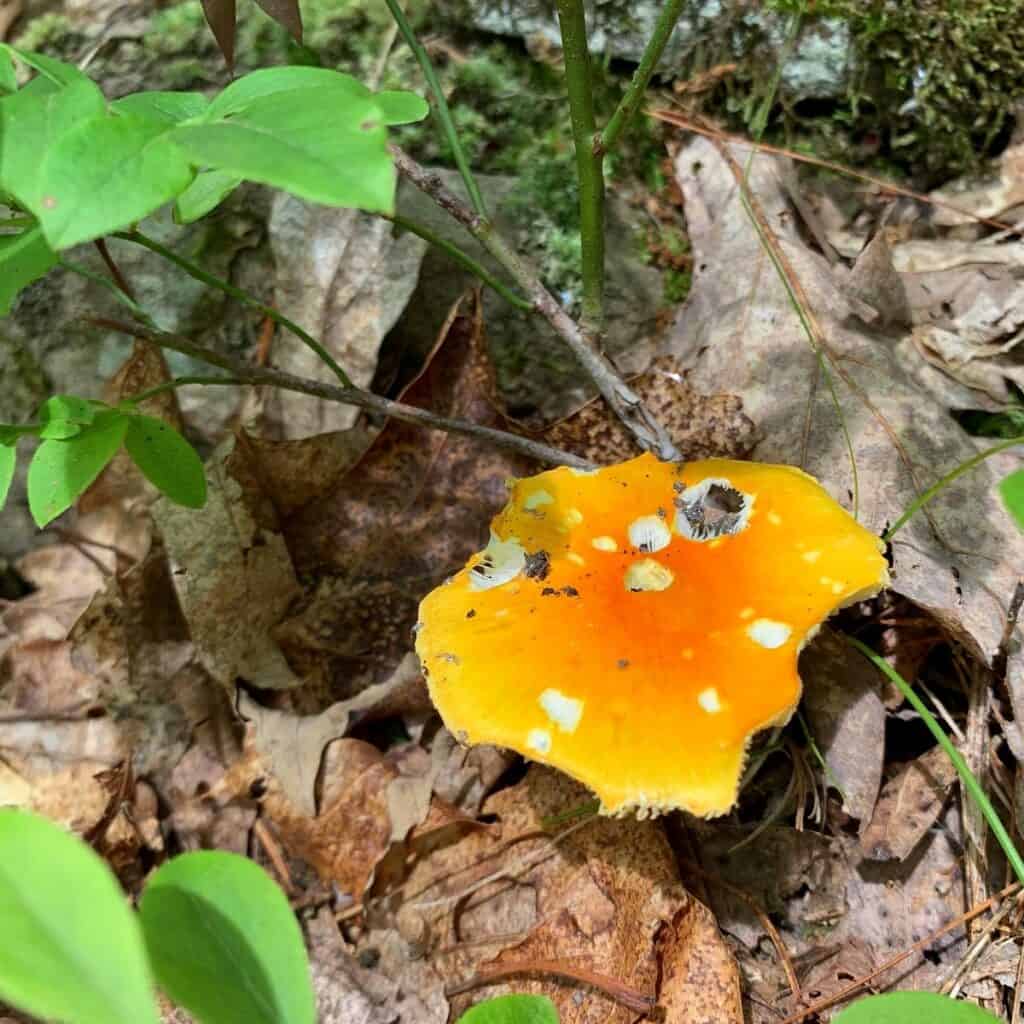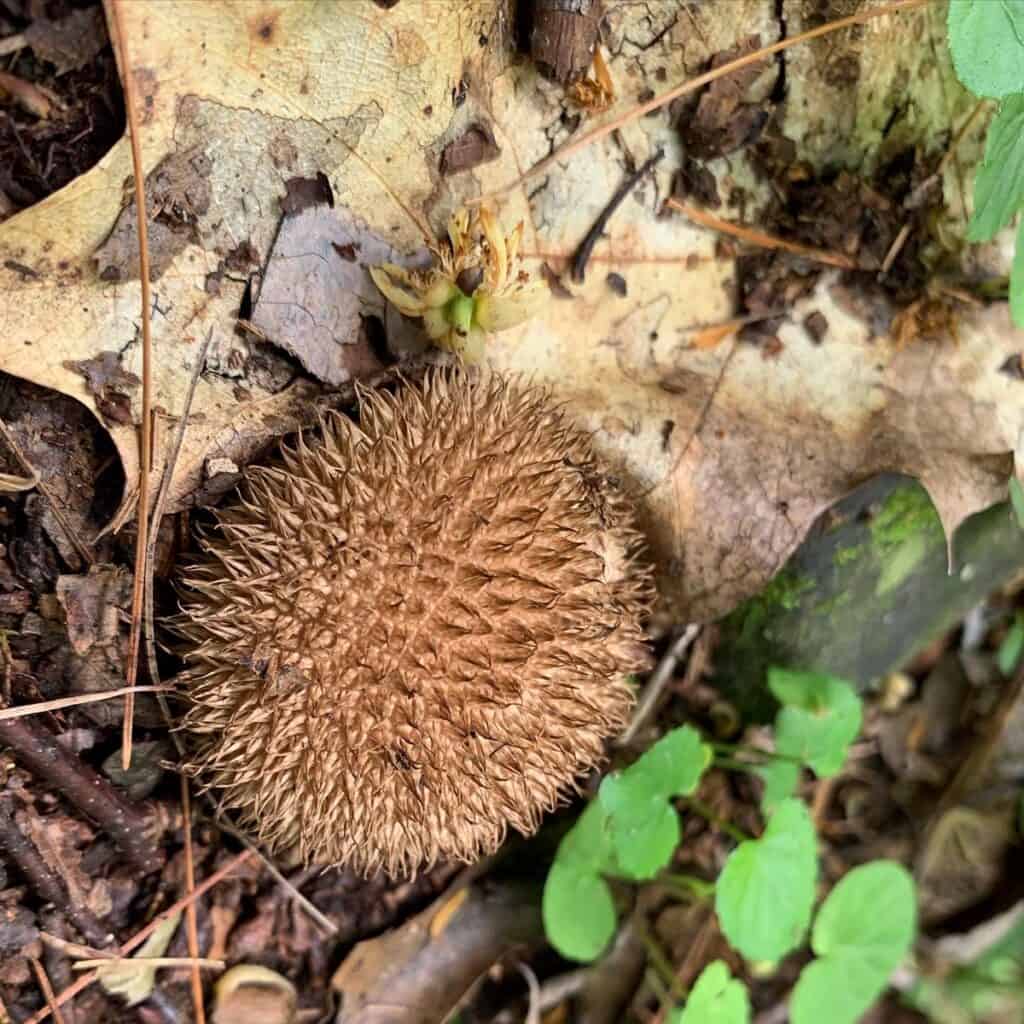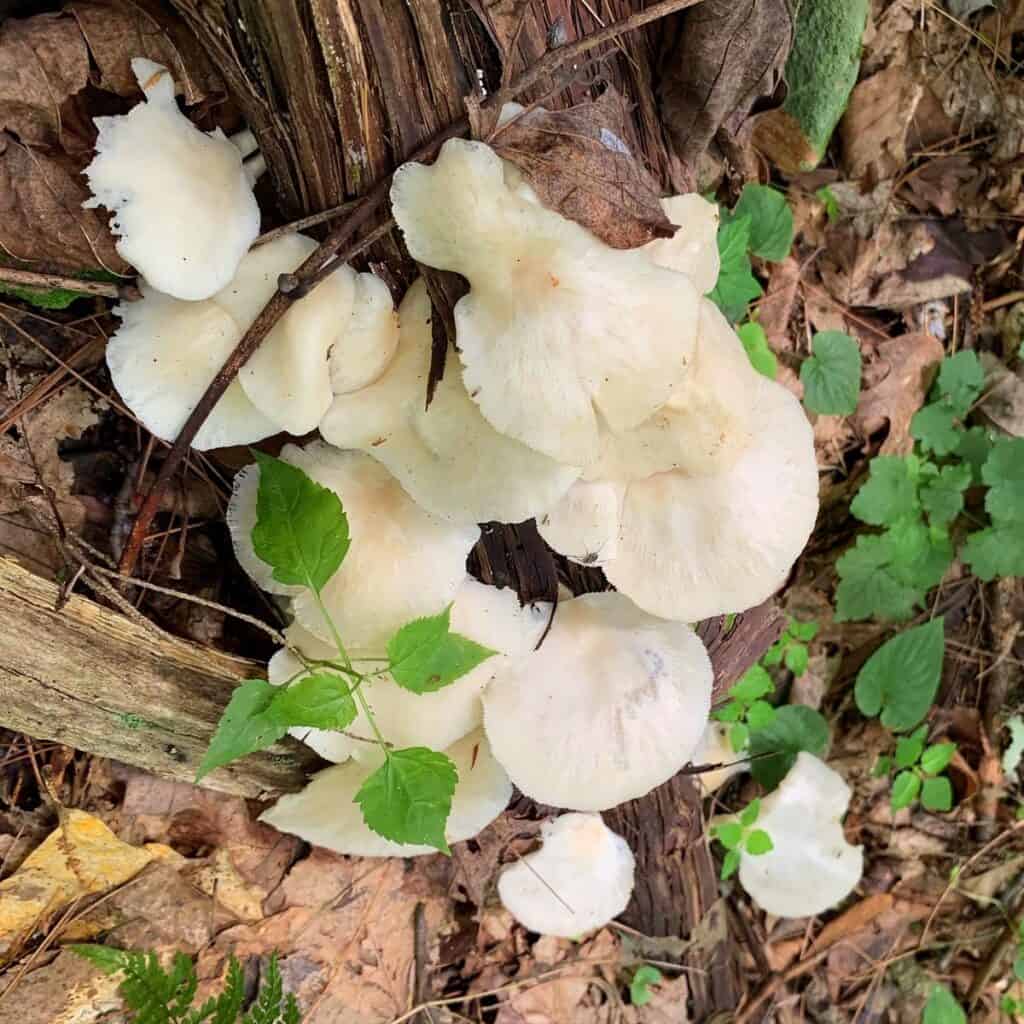 PIT STOP! Café Lemont in State College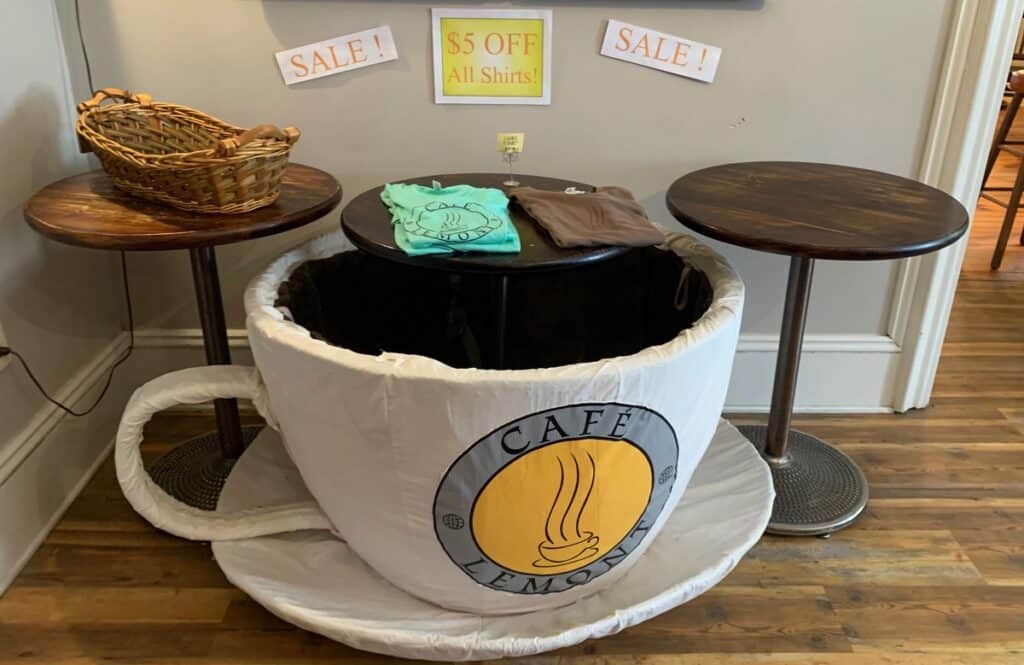 Driving southeast from Little Pine State Park, you'll be cruising along the beautiful, scenic highways near State College. 
If you are craving a breakfast snack and have a little time, Café Lemont is just a few minutes off the main highway. A large parking lot nearby can easily accommodate a small-to-medium sized RV.  
Café Lemont has a nice selection of coffees, teas, baked treats, soups, and sandwiches to pick from – but service takes awhile. If you are in a hurry, this probably isn't the pit stop for you!
We tried the sausage, egg, and cheese English muffin and the egg, pesto, and cream cheese English muffin, along with a coffee and orange juice. It was all delish!
If a picture is worth a thousand words, this  image of Franklin and Hazel laughing tells you all you need to know about the fun you can having camping and hiking at scenic Little Pine State Park.