Please note that some of our links are affiliate links, which means at no additional cost to you, we will earn a commission if you click through & make a purchase. Happy clicking!
Shenandoah National Park in Virginia is a beautifully scenic hiking (and even driving!) spot with well-blazed dog-friendly trails and comfy accommodations. The park is also a great weekend stop between long drives from the northeast headed southeast to the beach! 
Shenandoah National Park is located in Northern Virginia in the Blue Ridge Mountains. There are four places you can enter the park: Front Royal at the north end, Thornton Gap and Swift Run Gap in the middle, and Rockfish Gap at the south end.
Gorgeous Skyline Drive stretches through the park – and once you've driven it, you'll never forget it! Skyline Drive twists and turns and ups and downs for 105 miles with stops for 75 (you read that right!) scenic overlooks like this one: 

The speed limit is only 35 miles per hour, so you'll want to pick the entrance nearest to the park destinations you want to visit.
The park was established in 1935, after construction on Skyline Drive had already begun; however, the area of the park had been a recreation destination since the late 1800s. The Civilian Conservation Corps had a hand in building some of Shenandoah Park's facilities, and more modern overnight accommodations began being constructed soon after. 
If you are interested in more about the park's history, visit the park website's extensive History & Culture section here. 
For a snappy map of the whole park, all of the lookouts, entrances, and amenity markers, pick this one up from National Geographic- especially if you plan to visit more than once.
Accommodations and Campgrounds
Shenandoah National Park has five campgrounds, two modern lodging areas, one set of modern cabins, and one set of rustic camping cabins.
None of the campgrounds have electric service, so rather than bring the RV, we have always opted to stay at Skyland's pet-friendly modern lodging. The rate for a Saturday night stay in May or September has cost us between $150-200. 
At Skyland, you are close to several trails, a gift shop, full-service restaurant, and a snack bar.
Be sure to bring your binoculars for bird and wildlife watching right from the deck or porch off your room- the views are pretty spectacular!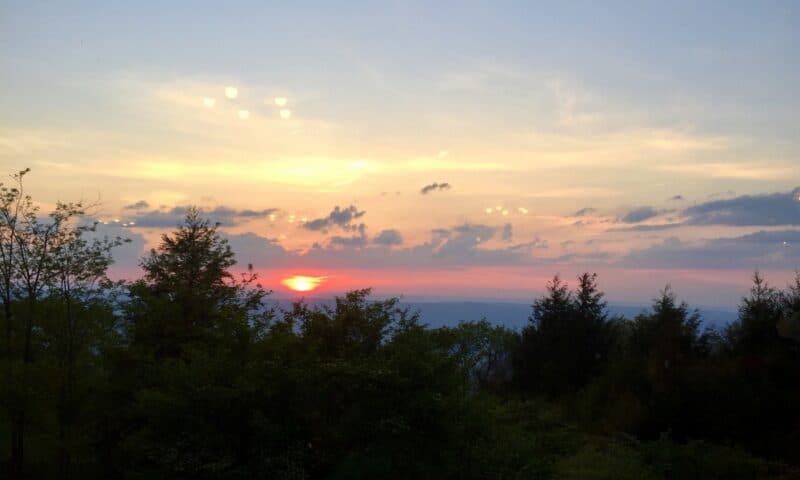 While the decor has an outdoorsy 70's vibe with a whole lot of wood paneling, the rooms are clean and comfortable- plus the shower water is hot and strong. (If you've read my other trip reports, you know I always appreciate very hot water, no timer buttons, and strong water pressure!) 
All of our dogs, even back to Benjamin, have had a good experience in the rooms here. Most recently, Hazel proved she is a huge fan of the double queen bed arrangement. 
PRO TIP for Staying at the Park
Bring snacks and drinks! Outside of the restaurant and gift shop hours and options, you'll find yourself very limited without a long drive.  
Shenandoah National Park has 500 miles of trails – including 101 miles of the famous Appalachian Trail that stretches all the way from Georgia to Maine. 
At each Entrance Station and at any of the Visitor Centers, rangers are always ready to help you select an appropriate hike. They can also can provide park section maps like these that give important details about each trail.  
Since we're weekenders who always bring their dogs, we keep our hikes in the 3- to 5-mile range. We've done 15-20 different hikes in the park, some very easy and others quite challenging. 
Three of our favorites are to waterfalls that we highly recommend you give a go if you and your pooches are in good shape:
 4-mile loop to 67-foot high

Rose River Falls

(between mile 49 and 50 on Skyline Drive)
3.2 mile out-and-back to 42-foot high

Jones Run Falls

(between mile 84 and 85 on Skyline Drive)
3.3 mile loop to 83-foot high South River Falls (between mile 62 and 63 along Skyline Drive)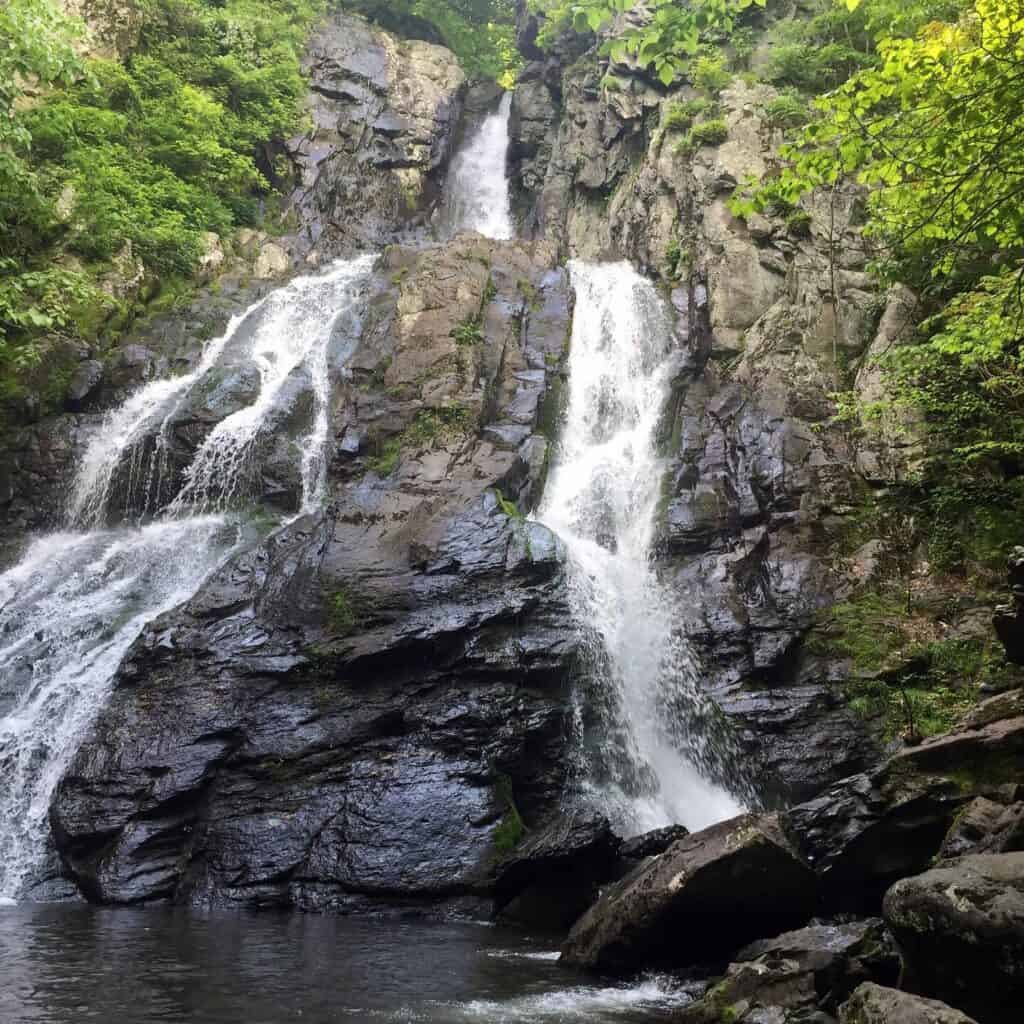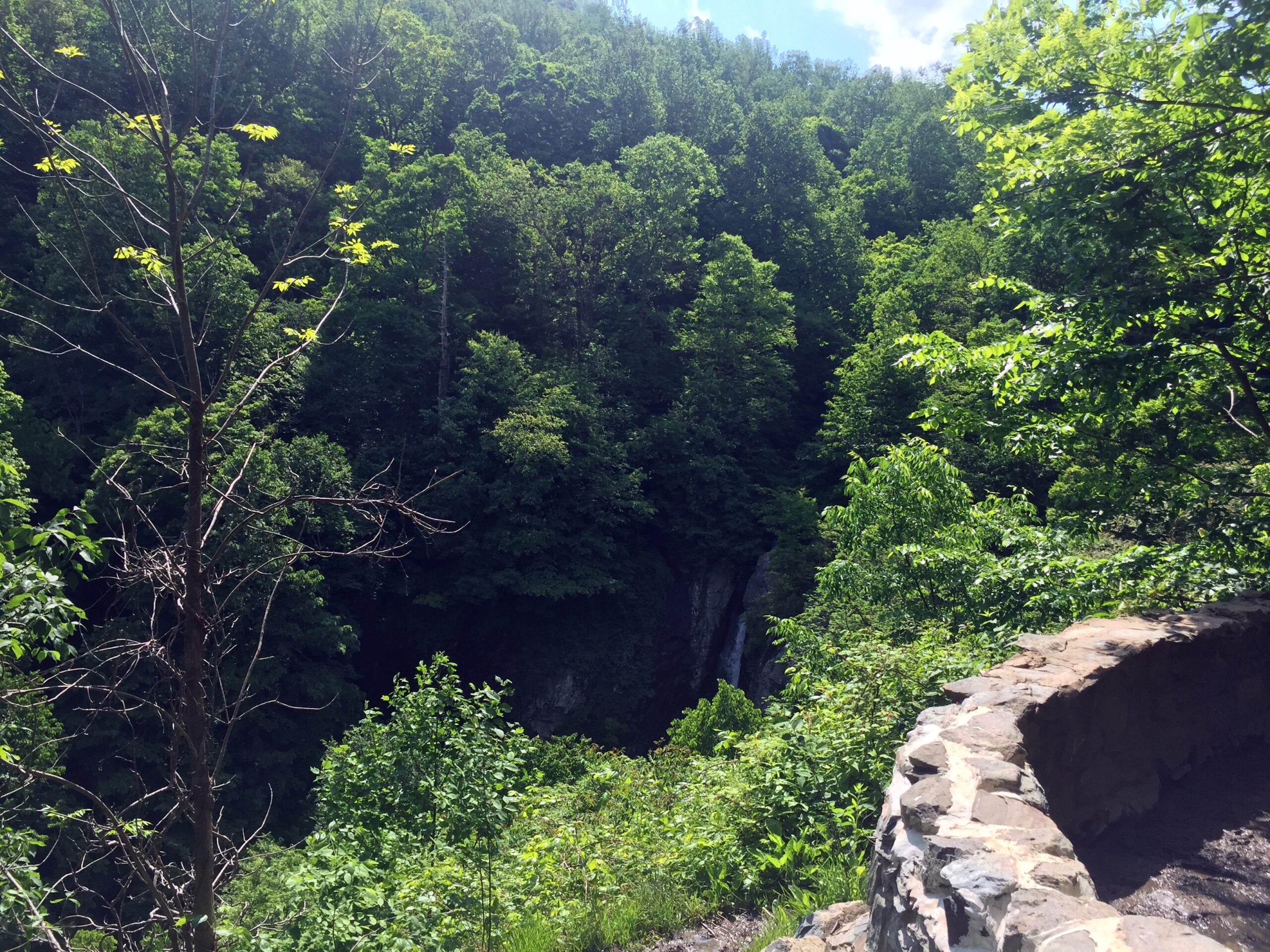 We have found all of the trails in the park to be well-marked and clearly blazed, with many having descriptive signage at the trailhead.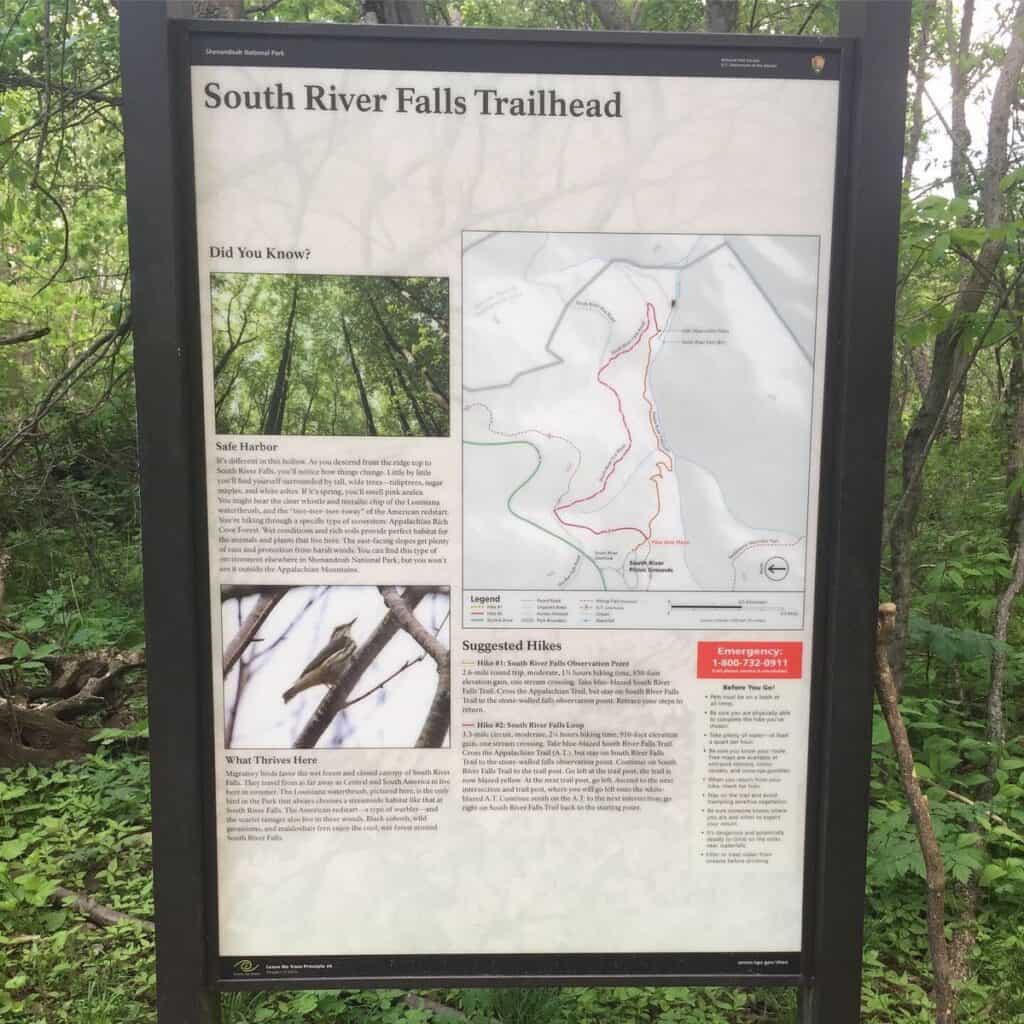 Keep in mind, some of the trails are not pet friendly- but they are close to ones that are.
Case in point: while pets are NOT permitted to climb up Stony Man Trail, they ARE allowed to hike Little Stony Man Trail, as demonstrated by Benjamin and Franklin.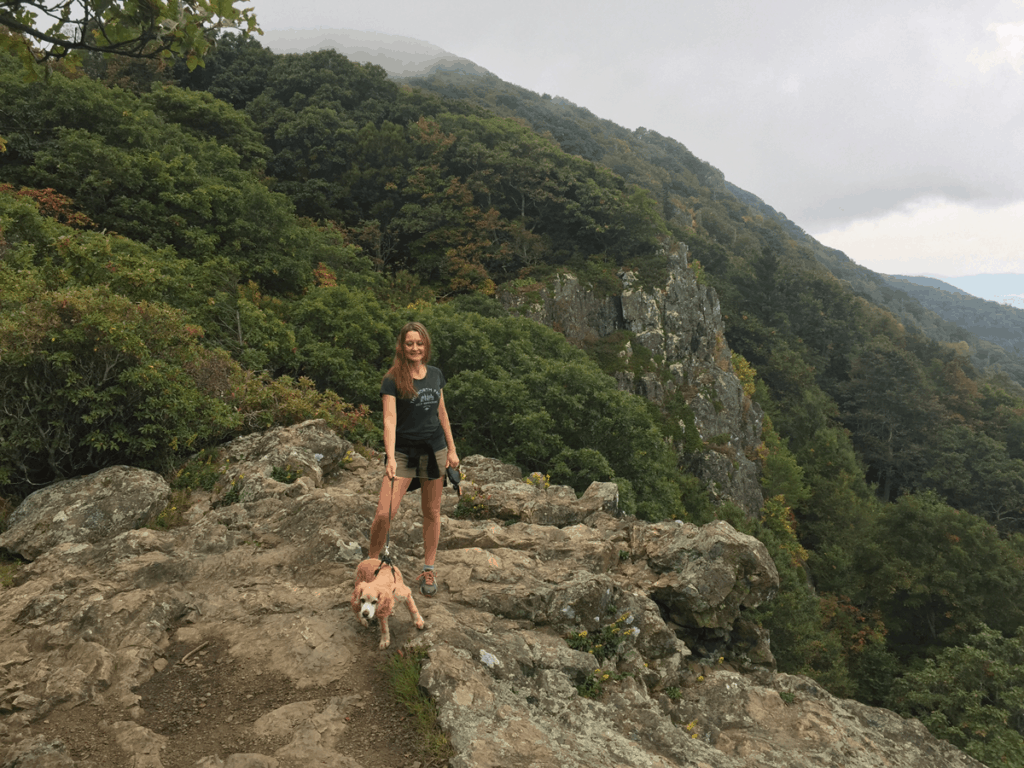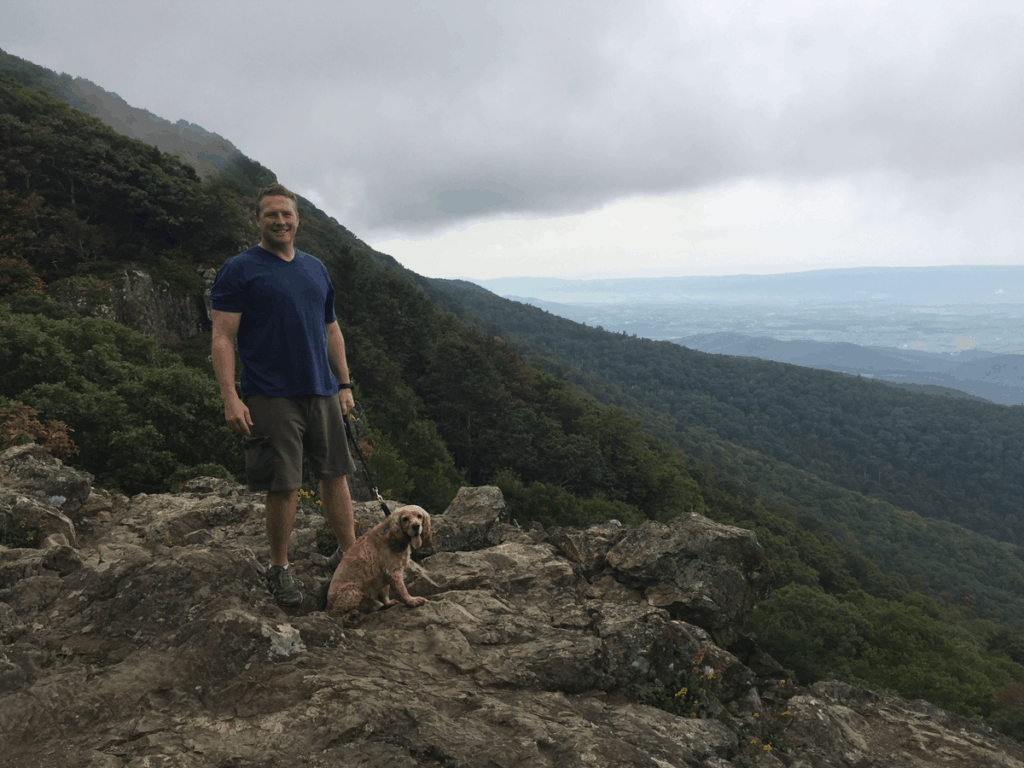 Wildlife, Fauna, and Fungi
If you are ready for some east coast black bear spotting, you are in luck at Shenandoah!
There are an estimated 5,000-6,000 bears living in the park, and they are frequently spotted along the roads, on the trails, and even in the fields.
On three of our trips, we've been lucky enough to see black bears inside the park. Once, a momma bear and some cubs were crossing the street at the Loft Mountain Wayside around milepost 80. Twice, we've seen a momma and some cubs, as well as one big guy right off Skyline Drive.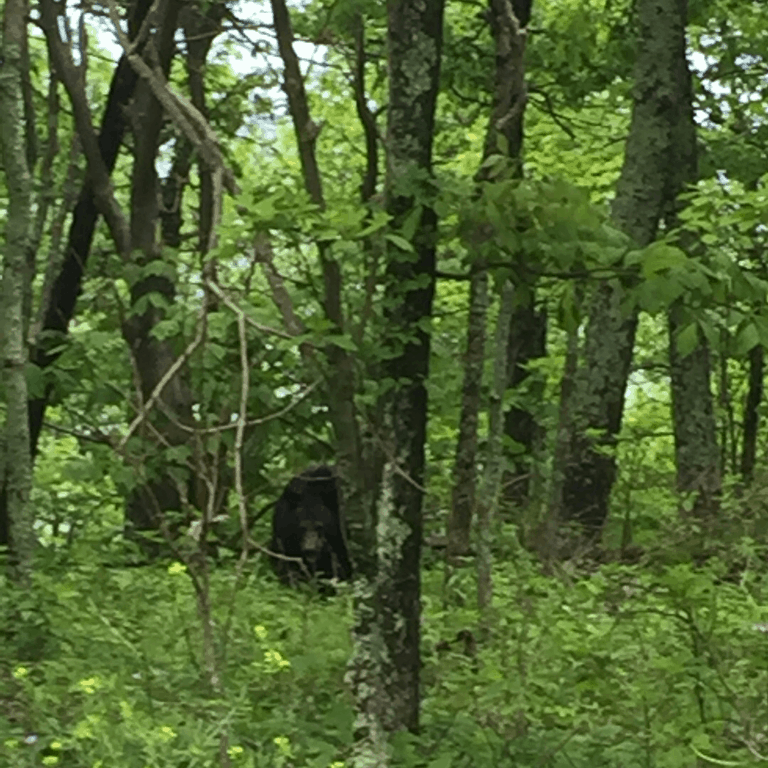 Also while in the park, we've seen a variety of butterflies, bugs, and salamanders- along with many deer, groundhogs, and hawks.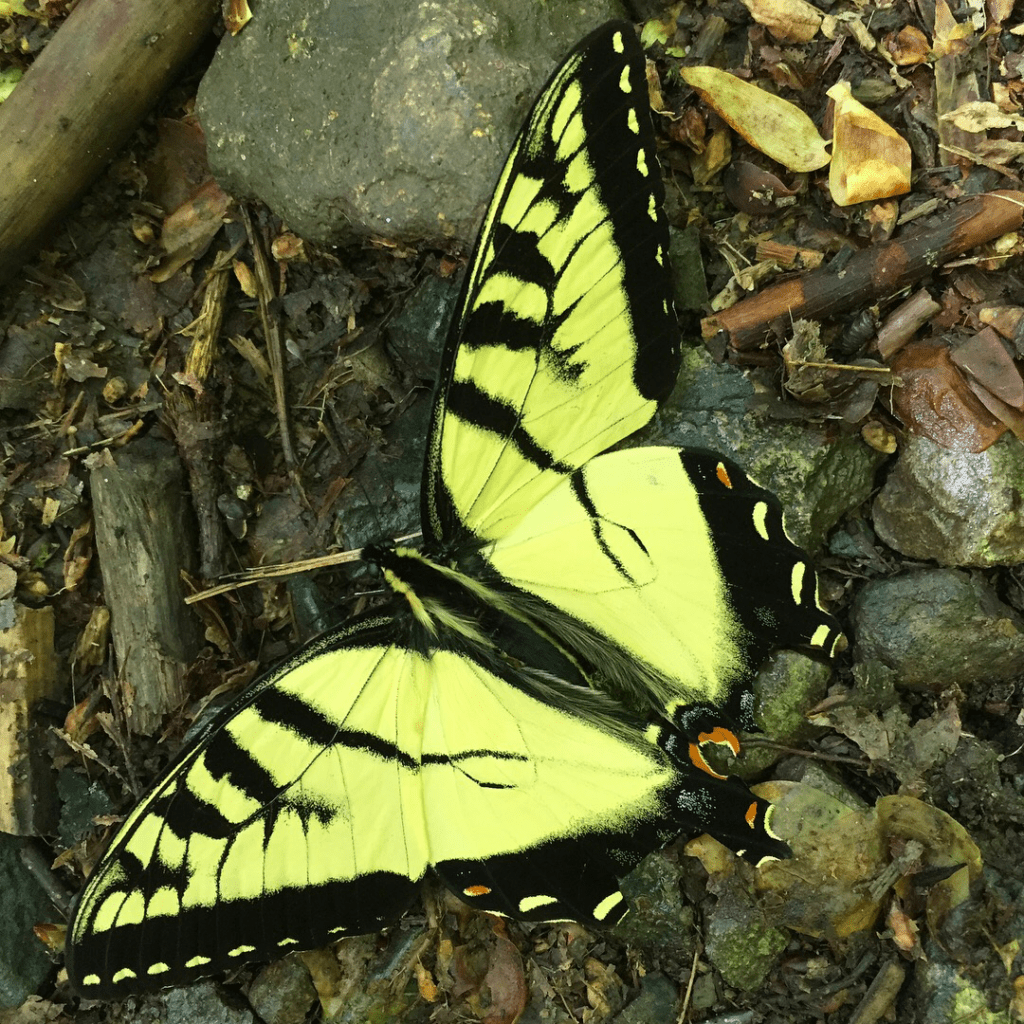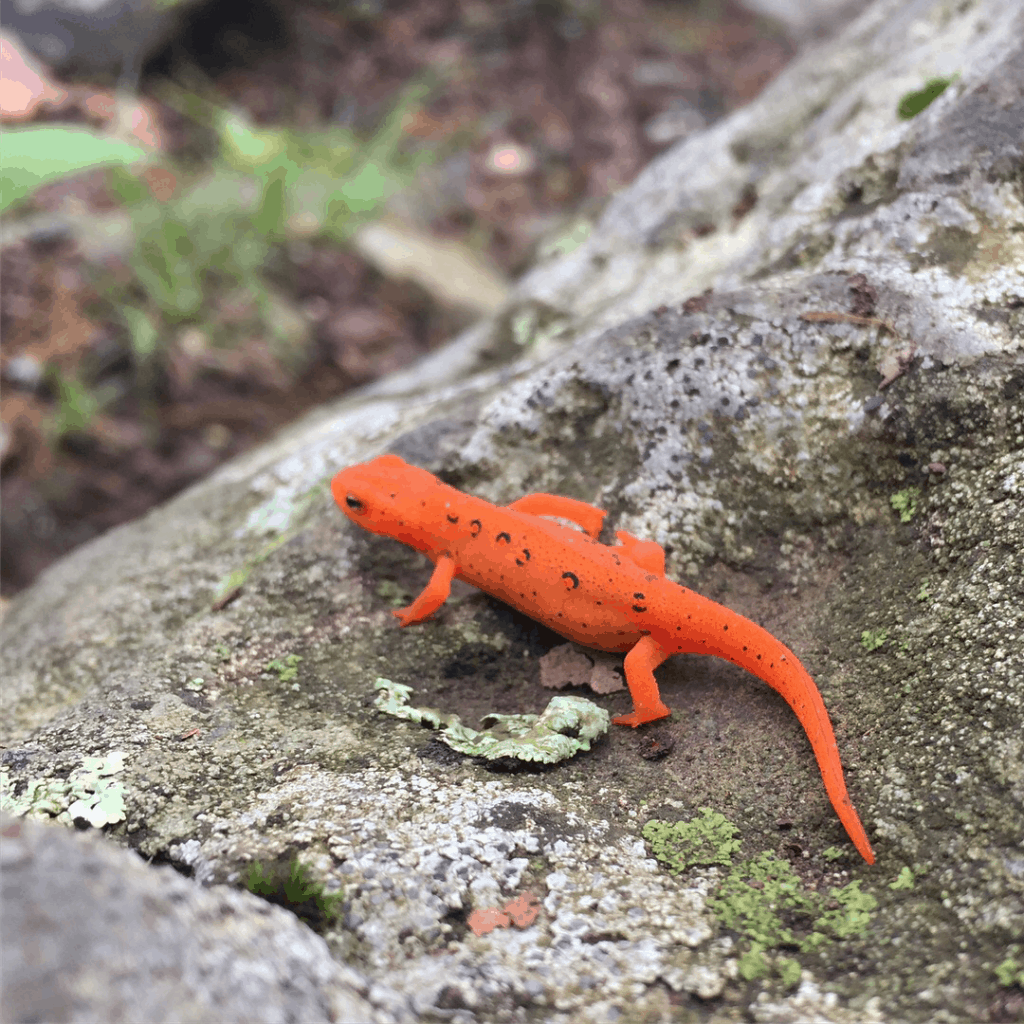 PIT STOP! Virginia Farm Market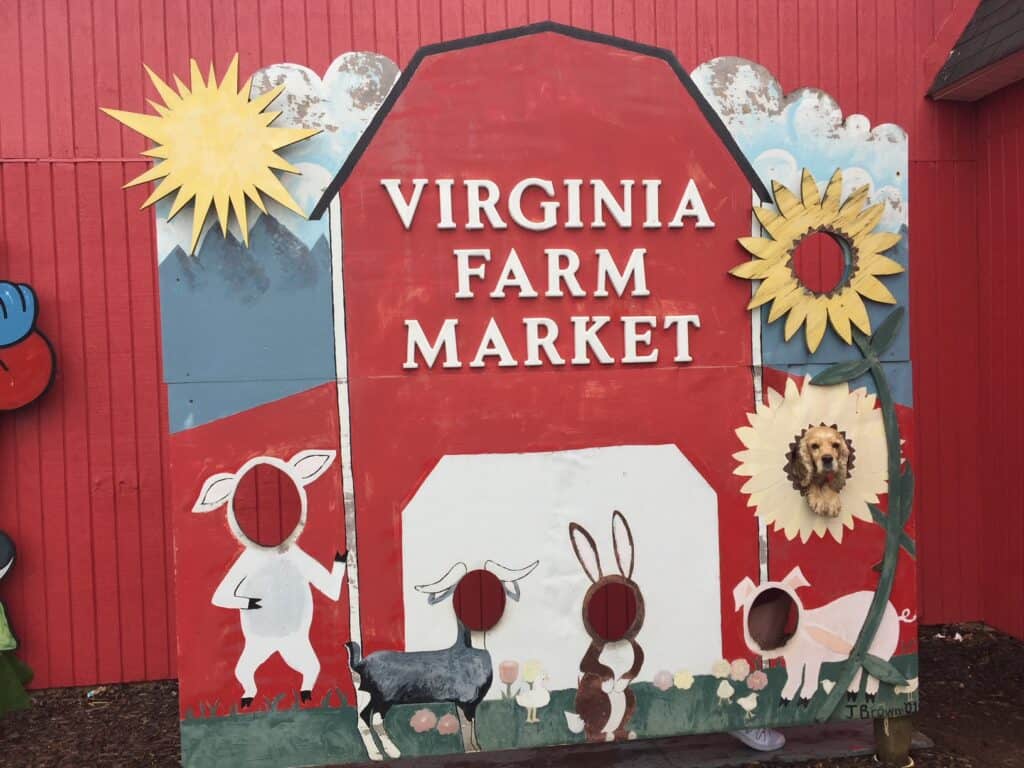 About an hour and a half from Shenandoah National Park and located in Winchester, Virginia, you'll want to plan a snack stop at Virginia Farm Market on 1881 North Frederick Pike.
On the outside of the open-air barn market, you'll find some fun photo-op cutouts for your kids or pets, as well as a small pavilion with a picnic table, dog-friendly grassy area, and a dog-water bowl near a water pump. 
On the inside, you'll find seasonal fresh produce like apples and peaches, plus delectable baked goods like doughnuts, pies, and fudge. They also have a great selection of bagged snacks like candy and chips and fresh ciders to make your drive a little easier.
When we drive from the Pittsburgh area to Virginia or Carolina beaches, this is a must-stop along the way! We all appreciate the leg stretching and special treats at the Market.