Please note that some of our links are affiliate links, which means at no additional cost to you, we will earn a commission if you click through & make a purchase. Happy clicking!
You may recall from previous posts, our 1997 Ford Fourwinds Class C RV Axl Roads started out extremely TEAL and sporting a very interesting (read: not found in nature) wood finish when we brought him home a few years ago. 
The RV booth carried the teal & wood theme through the seats and topped it off with a boring whitish-gray table top. Here's a throwback photo of the booth before: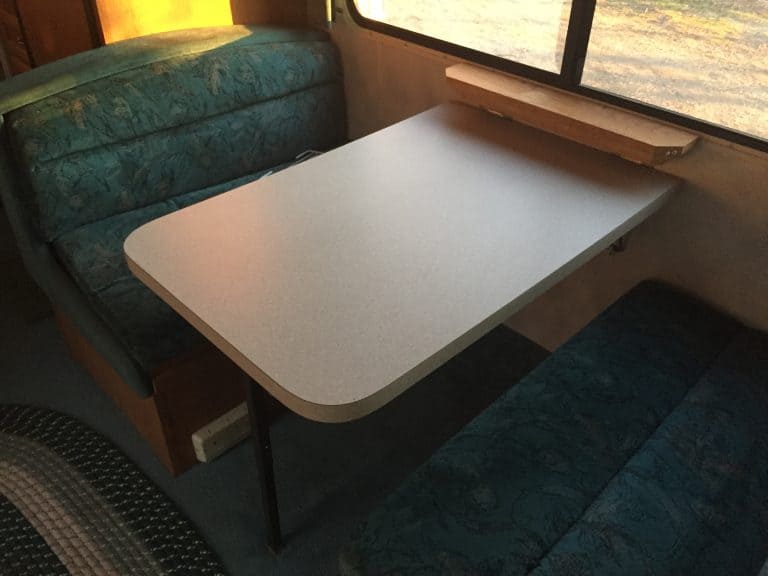 As the carpet was ready to come up and before the new floor was down, we removed most of the RV booth and table for this remodeling project (even though I wasn't sure we'd ever see it back together the same again).
If you are in the middle of a huge RV remodel or are just interested in updating the booth itself, it makes sense to remove as much of it as you. 
First, this will give you more room to work on larger areas like the windows, walls, and floors. 
Second, removing it lets you work on edges, backs & bottoms of pieces without twisting & turning upside down or dribbling primer & paint on your wall & floor.
RV Booth Disassembly, Prep & Painting
We found the easiest thing to remove was the RV booth table top. By unscrewing eight fat screws, it came right off the wall without a problem.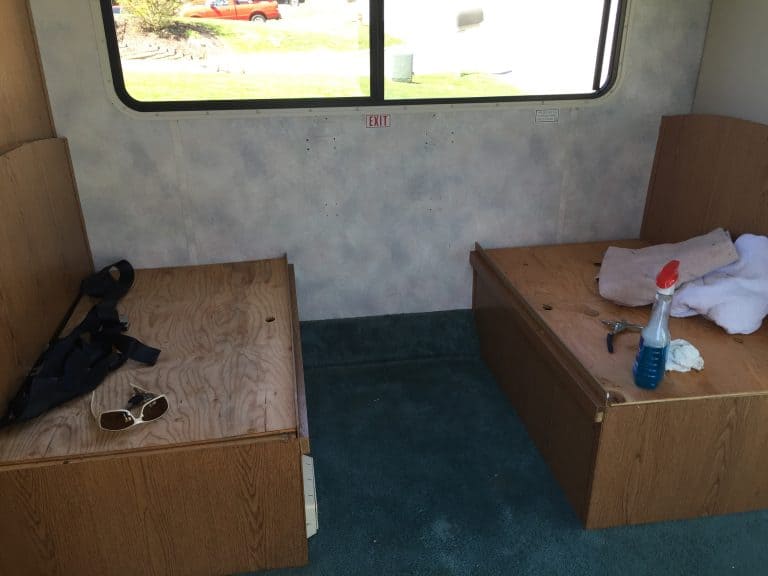 Next, we moved on to removing the seating, and decided to leave the left base in place, as it was housing a bunch of seat belts, electric components, and ventilation tubes that made us nervous- plus it was strangely bolted to the side of the refrigerator. 
Not things we felt comfortable messing with! 
RVs are all different, but typically one side of the booth seating holds more "guts" than the other. Be sure to check that out before you get too demo-happy!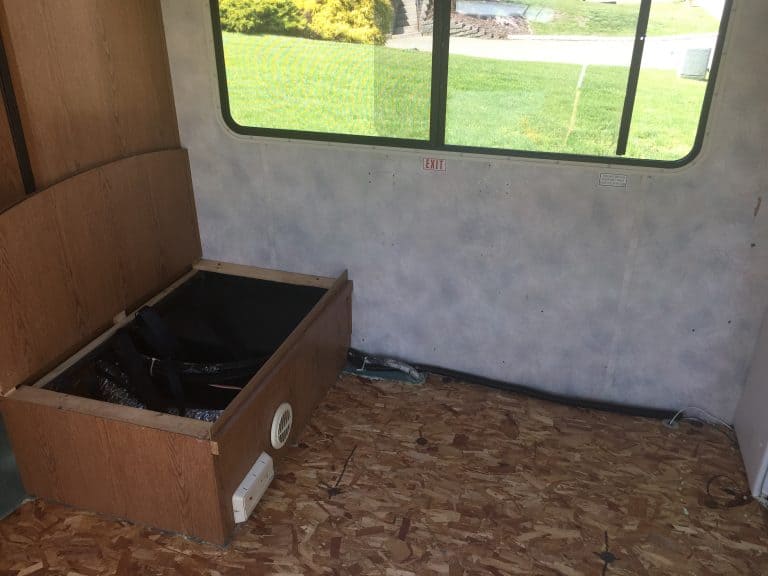 We roughed up the wood surfaces we wanted to paint with block sanding sponges and priming them with Glidden Gripper, our absolute most favorite crappy surface primer. 
We decided on white for the base booth color & used three coats to be safe. 
While those are drying, it's time to think about what you'll actually be sitting ON…
RV Booth Cushions: Decisions & Construction
Here are some things to keep in mind when planning your RV booth cushion replacements: 
How much wear & tear will they go through & how much weight will they be holding? This will determine how strong of a cushion you'll want. 


What activities will take place in the booth? Eating? Reading? Playing? Plan your material accordingly! 


Do you want to be able to take them apart for washing? Consider how simple the construction should be if you want to remove the covers. 
Because it was just us & the dogs, we were comfortable getting the cushions cut from the giant foam selection at Joann Stores (formerly Joann Fabrics). We went with the 5-inch thick, heavy-duty slab.  
We also picked a durable, 100% cotton (read: very washable!) fabric with a WILD print to counteract any dirty dog paws, pizza crumbs and hiking mud that it would likely encounter.
It actually looks like we already dropped pizza & wiped mud on it, so it's perfect!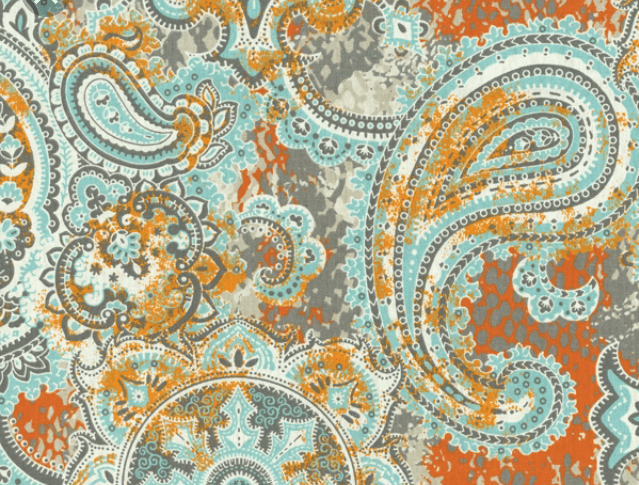 There's a fabric & print out there that is perfect for you- could be a very durable outdoor fabric that can withstand more wear & tear or a dressier, more formal upholstery fabric. There are so many, you'll get dizzy trying to pick! 
If you have skills on the sewing machine, you can make the covers yourself (so jealous) with all of your pattern, pinning, and bobbing talent. 
Another option for RV cushion covering I have seen is the gift wrapping method described here– but you can't remove it easily for washing. But, if you are super-clean campers or use a really durable, surface-washable material, this method might work for you. 
Since I have no talent in that area, we sent our foam and fabric to a local seamstress to construct the covers. We asked her to include zippers along the long edges of the cushions so we could easily remove them for washing.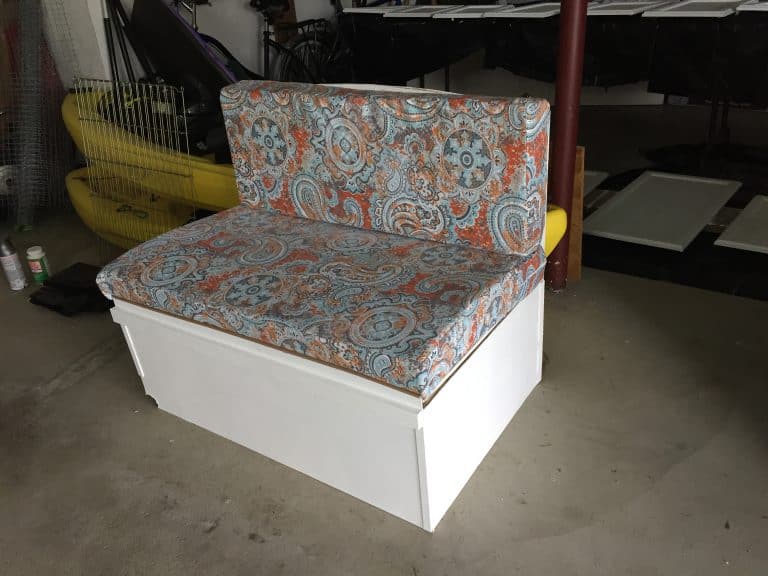 The RV Booth Table Top Project 
The final part to make your RV booth your own is the table top, and we went the Mod Podge/epoxy route.
The great thing about this part of the project is that you can pick whatever you want to cover the table! Here are just a few ideas: 
more fabric
photos
baseball or football cards
newspaper articles
drawings or sketches
calendar pages
heavy wrapping paper
We decided we wanted a map of the United States on ours to help inspire us to plan even MORE adventures. 
Luckily (*NERD ALERT*). I had saved every map National Geographic had included in their magazine during my adult life, and one of them happened to be a highway map of the United States!
After thoroughly cleaning the table top & letting it dry, we carefully Mod Podged the map to it. We had to touch up a few edges (a few times), but overall, the Mod Podge part was easy. 
Next, we used thick masking tape to edge the sides of the table top, leaving just a little sticking up to create a little barrier so the epoxy wouldn't run over the edges. 
Finally, we carefully mixed the epoxy slowly & poured it over the map even more SLOOOOOOOWLY. We used a blowtorch to pop any bubbles that arose after the pour, like the instructions indicated. 
Be sure to read the epoxy directions a few times before starting, because you only have a limited time to pour it so it sets correctly.
We let it dry for two days, and BOOM! Perfect table top to complete our RV booth makeover!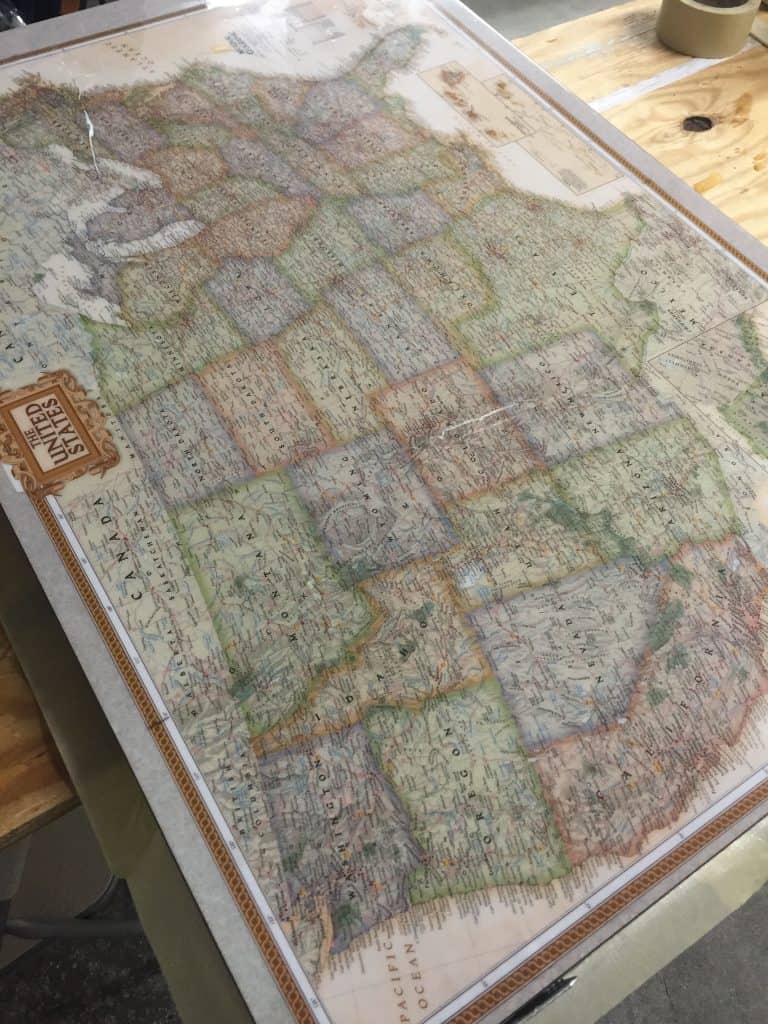 The RV booth makeover project took a few weeks to finish completely (with full-time jobs and all!), but we were happy with the final result: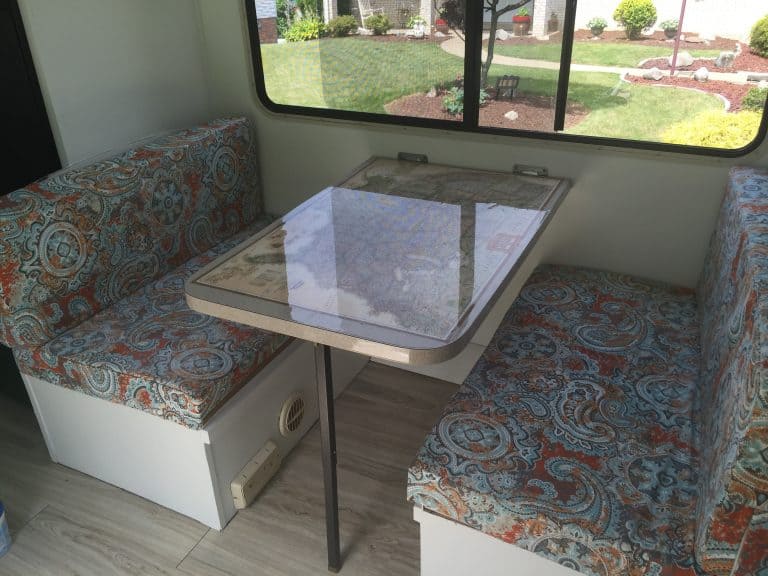 How did your RV booth makeover go or what are your plans to remodel your RV booth? Share below!