Like the real Axl Rose laughs in the face of doing the conventional thing, our Axl Roads laughed in the face of our conventional cleaning methods. He went right on smelling like an old attic with no ventilation no matter what cleaning formula we threw his way.
If you have older RV seats you are worried about removing and do NOT have any fancy electrical adjustment connections to them, JUST DO IT! Removing the seats gave us a good look at them and the area overall.
Once we removed the RV seats, the smell inside the RV improved significantly!
At first, I was convinced I could clean up the seats better now that they were out of the cab, and even went as far as to cut the covers off so I could reallllly wash them. 
But what I found underneath didn't excite me at all.
I could clean the cover all I wanted, but the foam smelled just as bad…and were those spots of mold?!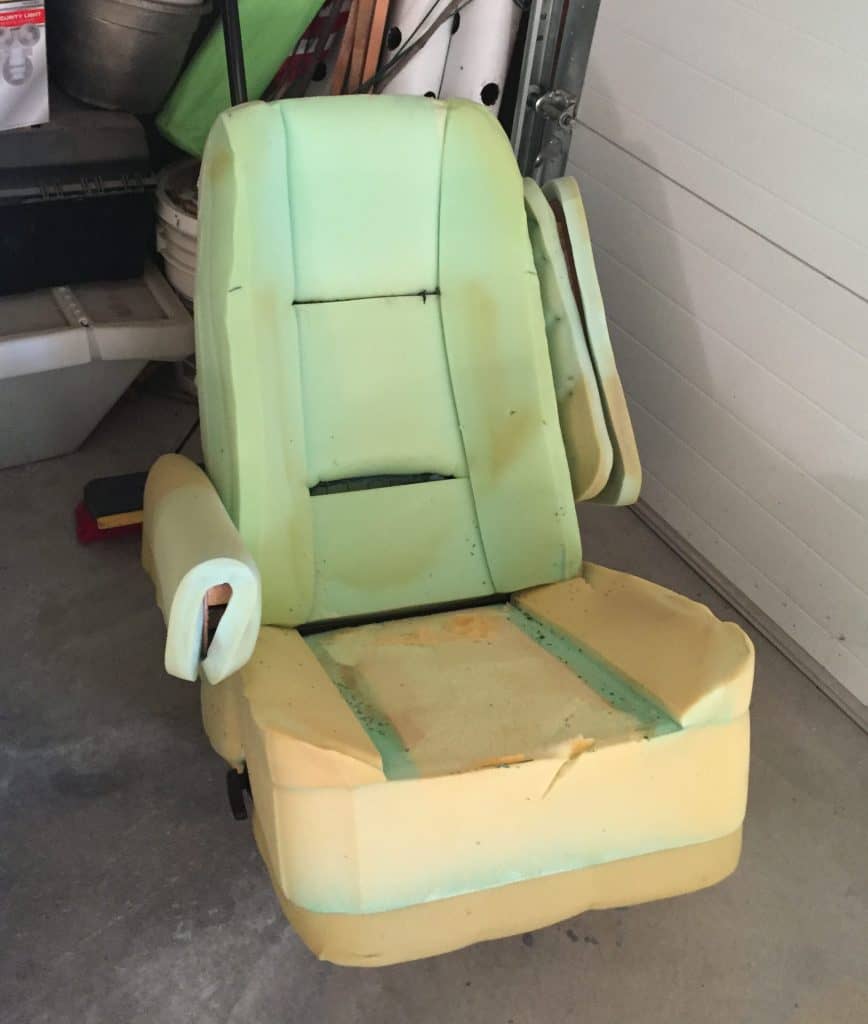 We don't scavenge much (read: ever), but we were looking for something really specific that couldn't be found anywhere BUT a junkyard. 
We began the hunt for late-1990s van front seats with a certain screw configuration and bottom plate – that most importantly DID NOT SMELL.  
At the first junkyard, Russ had no luck. The second, Marsh Auto Salvage, charged $1 admission and sent him on his way with a wagon to troll the aisles.  
Russ luckily and quickly found a gem in the U Pull It section at Marsh ("Bring your tools and cash, because we don't loan tools and we don't accept plastic.") 
What made this busted-up and over-striped van a gem? 
Only parts on the outside had been removed. The doors and windows had been shut tight, leaving the seats in good smelling condition.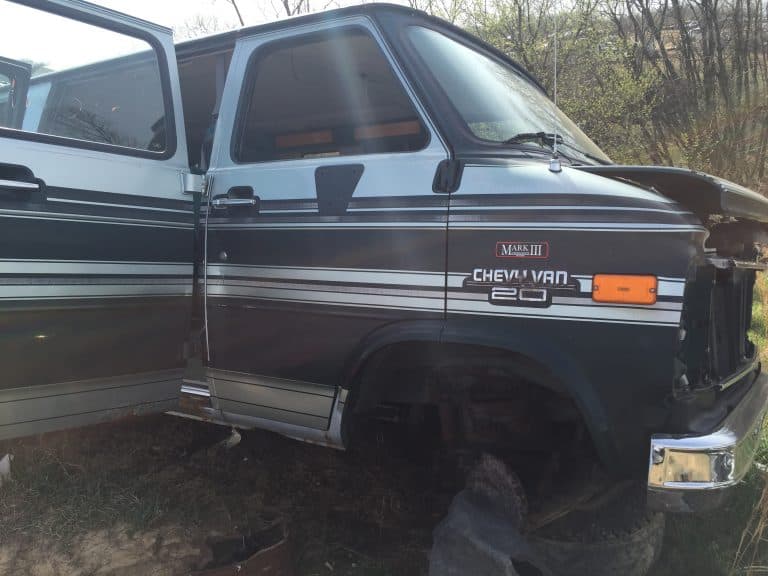 The best part? 
They were only $10 each! 
Yep! Only $20 total! 
Even though they didn't smell, I steamed and scrubbed them within an inch of their seat life anyway!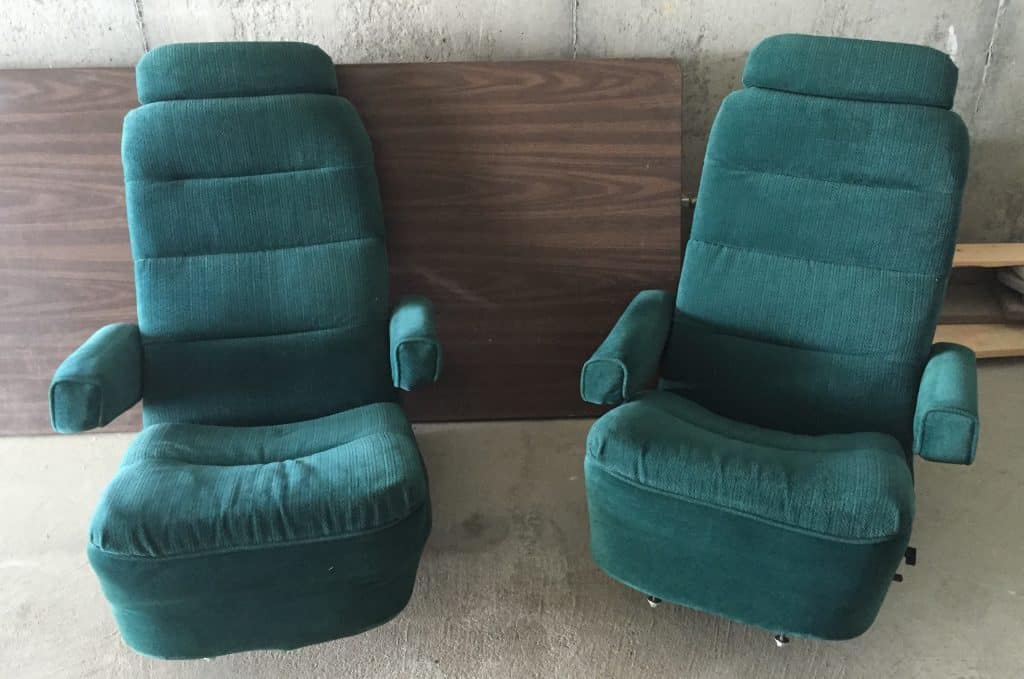 And then, because I STILL couldn't believe I'd be sitting on junkyard seats, I ordered some snazzy new covers for them. 
Shout out to Decor Auto, who could not have been more accommodating or pleasant to deal with. My representative allowed me to submit photos with my order and she communicated with me via email throughout the process to ensure a good fit.  
There are so many seat covering companies out there, so make sure you compare them! Some offer pet-friendly fabrics or stain-resistant options. You may even get lucky finding some right off the shelf at an auto-parts store. 
I decided on a pet-friendly gray velour-ish cover, but they come in a million colors and styles.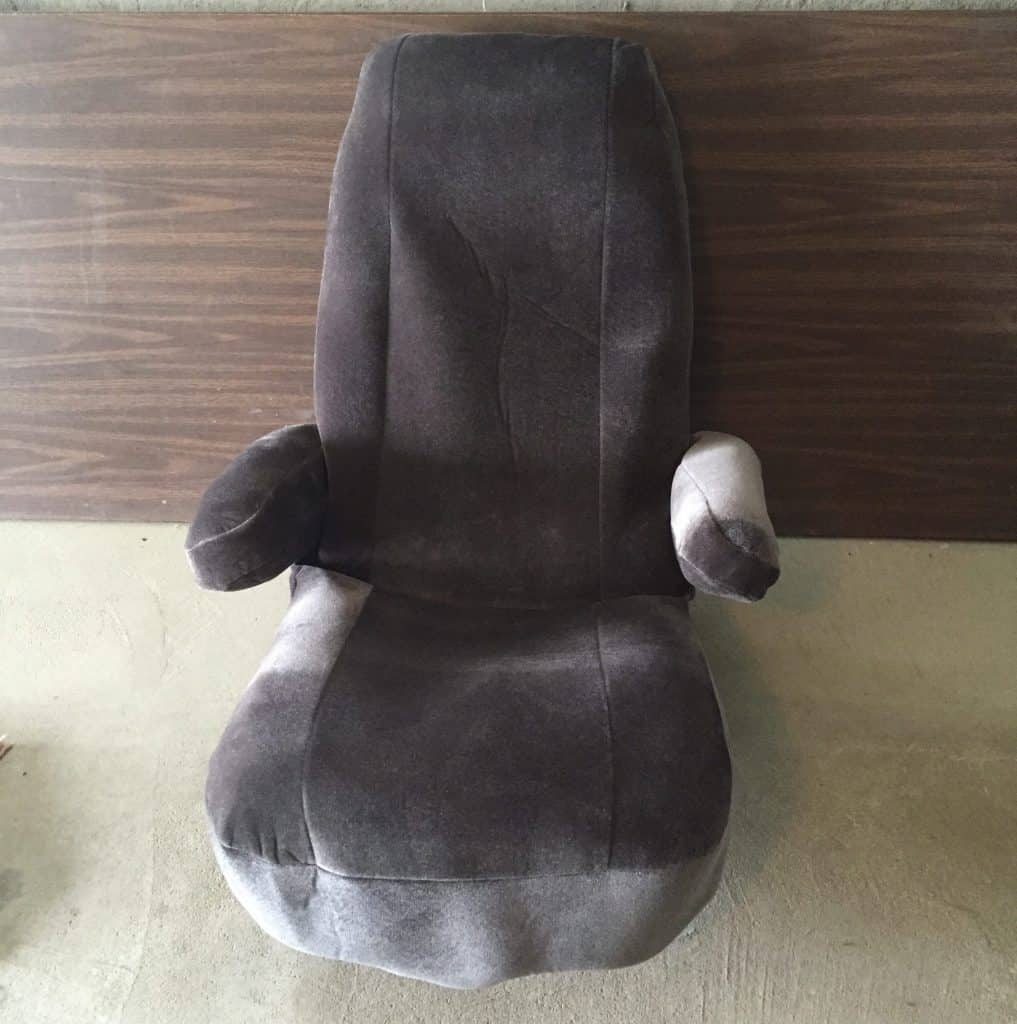 Have you done a RV driver seat and/or passenger seat makeover? How did it turn out? Let us know below!