Please note that some of our links are affiliate links, which means at no additional cost to you, we will earn a commission if you click through & make a purchase. Happy clicking!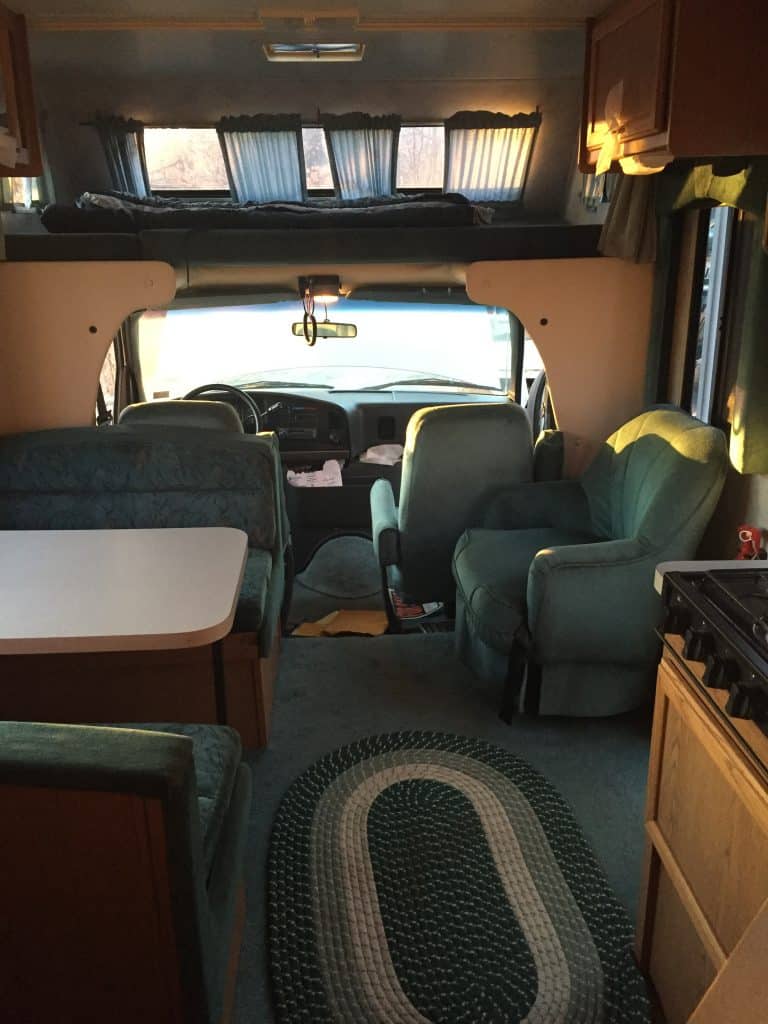 Teal, teal, teal.
That was all we saw when we walked into our RV, Axl Roads. 
Right after we pitched the curtains, cushions, armchair & mattress, we knew the carpet would be the next casualty of our remodel.
Are you thinking about ripping your RV carpet out, too?
No wonder!
For people who like to hike in the mud, snack on chips & cookies, or travel with furry, shedding pets, RV carpet unfortunately does a lot of not-so-great things:
Holds a scent, just like the curtains & cushions
Memorializes stains no matter how hard those stain lifters try
Gets discolored from the sun (especially this one, since it's circa 1997)
Lets crumbs, sand & tiny rocks get buried in its depths- and you can't ever give it a good shake
Gets wear marks & paths
RV Flooring Considerations
Once we knew we'd be removing the RV carpet, we needed to examine alternatives.
While we shopped, we considered:  
What texture should it have? Too smooth could be slippy (picture dog pinball) & too textured could be mildly uncomfortable. 
What sticking power did it need? How would it adhere? Some brands we saw stick completely to the floor, others only on the edges, and some floated. 
What pattern would look best?
Were there a lot of edges to navigate & cut out? That could determine whether the edges should run length- or width-wise- or totally crazy, lay diagonally.
Before we finally decided, we wanted to give the floor some time to air out- plus get a chance to look at the area without the RV carpet. 
It's not every day you get to see a naked RV floor!
Russ removed our carpet with a simple utility knife and used need-nose pliers to pry up the edging staples.
We were thrilled to find nothing under our RV carpet- thankfully there were no holes, rot, or other damage to worry about. But we were surprised to find how incredibly thorough the person who had riveted in the edges of the carpet had been!
Ugh!
Removing tiny bits & strands of carpet from the riveted edges was time consuming, but worth it to see that big, empty, teal-less floor! 
PRO TIP!
After pulling up the carpet, put a new container of Damp-Rid out for a few days, then run a fan inside for a day- just to make sure the floor is absolutely postively devoid of moisture before you put the new floor down. Carpet-free time is also the best time to do other repairs & painting!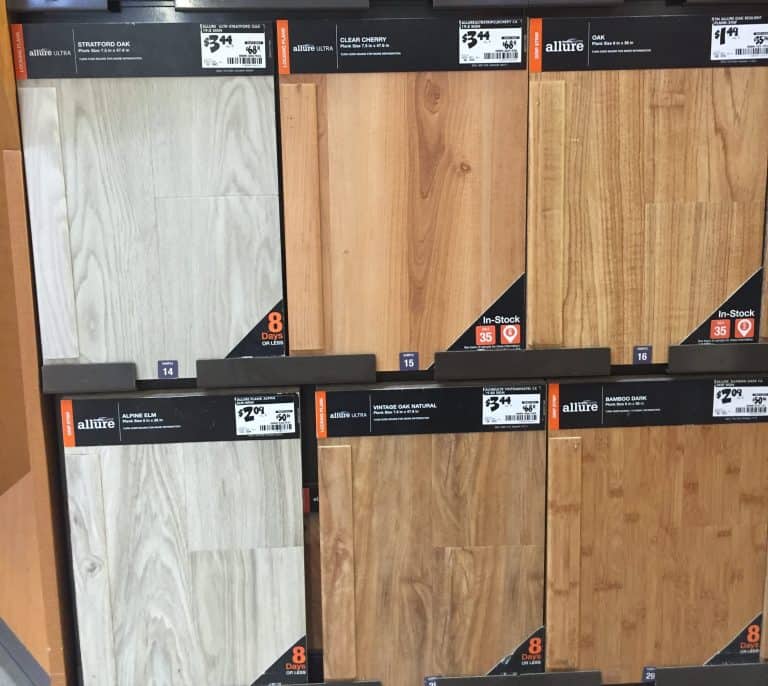 After weighing our options, we decided to go with Allure flooring from Home Depot. 
Once we let the exposed sub-floor dry out a few days, we started laying/sticking the planks by the side entry door and worked our way over and back.
The Allure plank flooring has sticky squared-off edges on two sides that stick to each other, but not to the sub-floor. You can squish them together pretty closely by setting them down on a 45-degree angle to the sticky part, edge-to-edge, then laying them down very carefully. 
We had to make some precise cuts around the edges, but it still only took us about three hours to finish flooring the entire RV.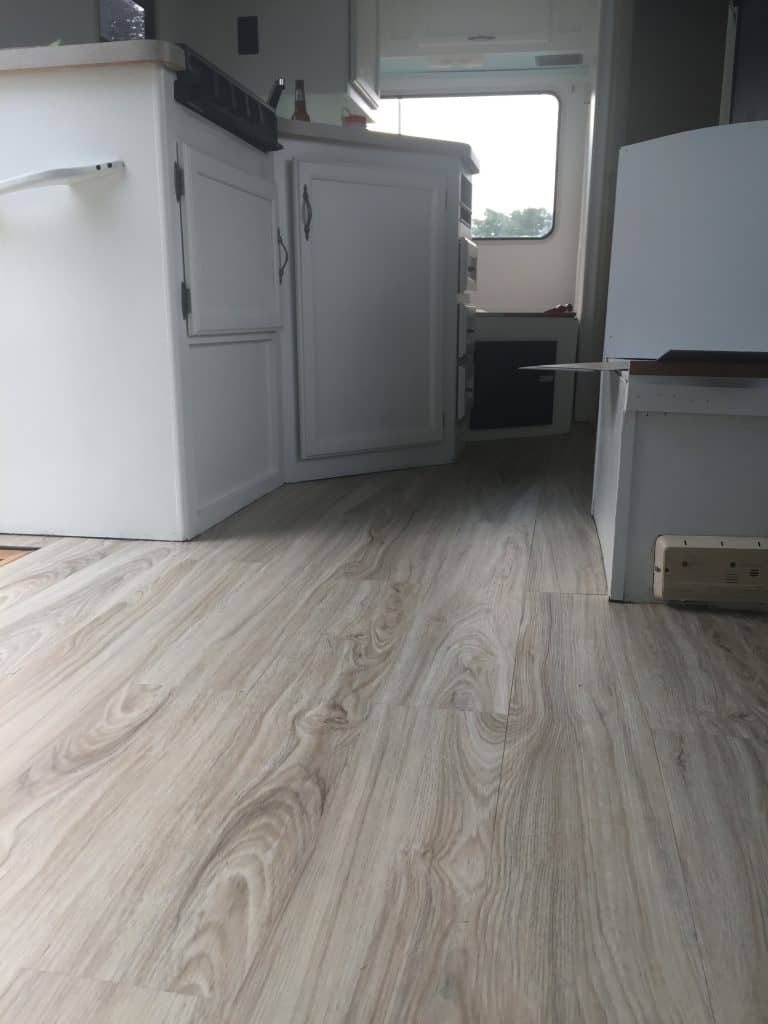 We loved the way the floor looked, and I wish I didn't have to share this next part…
but…
MONDAY MORNING QUARTERBACKING (or what we should have done)
Unfortunately, when the temps go up, our planks get wider, and when the temps go down, they get smaller.
Not hugely, but UGH. 
Little gaps appear between the planks, which causes tiny particles of fur, dust, dirt, potato chips, cookie crumbs, and more to get stuck in the seams.
Again, not a lot, but UGH.
If we could do it all over again, we would take really good measurements and buy sheet vinyl flooring right off the giant roll at Home Depot, so it could be laid all as one piece with zero point zero seams. 
There are some very snazzy options on those giant rolls, including this fancy pattern:
Do you have RV flooring advice or a story to tell? Share it below!