Please note that some of our links are affiliate links, which means at no additional cost to you, we will earn a commission if you click through & make a purchase. Happy clicking!
The Pennsylvania Pursue Your Scoops Ice Cream Trail
Passports are exciting things!
Traveling to new places, seeing new things – and getting a tangible ink reminder stamped into your book – is an exhilarating feeling. 
Pennsylvania has designed a passport of its own with a twist this summer  – and you'll get the same amount of excitement & exhilaration from receiving stamps for…
EATING ICE CREAM!
Yep! What a wonderful world!
Visit PA & the PA Department of Agriculture have mapped out The Pennsylvania Pursue Your Scoops Ice Cream Trail, a wonderful collection of creameries categorized by area on three different regional passports for you & yours to get stamped as you visit each one & sample the goods. 
Once a passport has a stamp from five different stops, you can send it in for a t-shirt. 
Feeling ice cream aggressive? 
Visit ALL the stops on a passport (between 9-13, depending on the region- totally doable!), and you can send it in for the tee PLUS an ice cream bowl!
Ignore the brain freeze you just got from imagining eating all of that ice cream & hurry up! You only have until September 2, 2019, to complete this summer's passports! 
Pursuing Our Scoops, Road Trip Tails Style
Once I found out about this, we wasted no time making a stop along our recent route to Poe Valley State Park at Vale Wood Farms in Loretto, Cambria County, in search of our first scoops & stamp.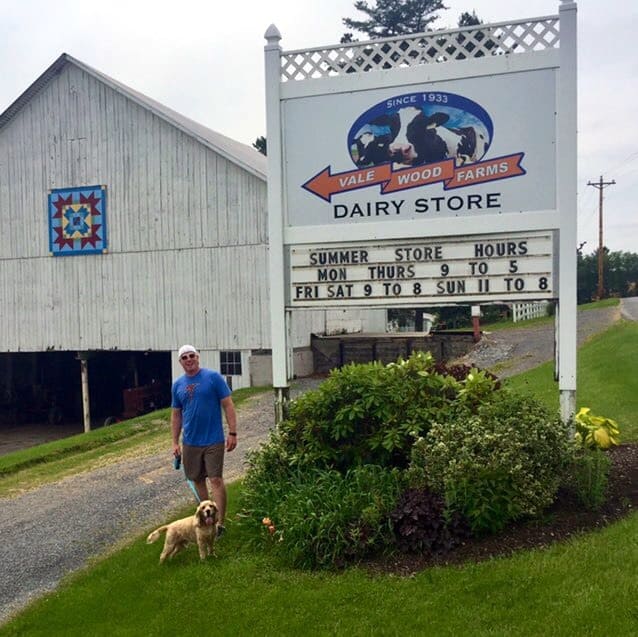 We saw the cows come home at this farm…literally. And quickly.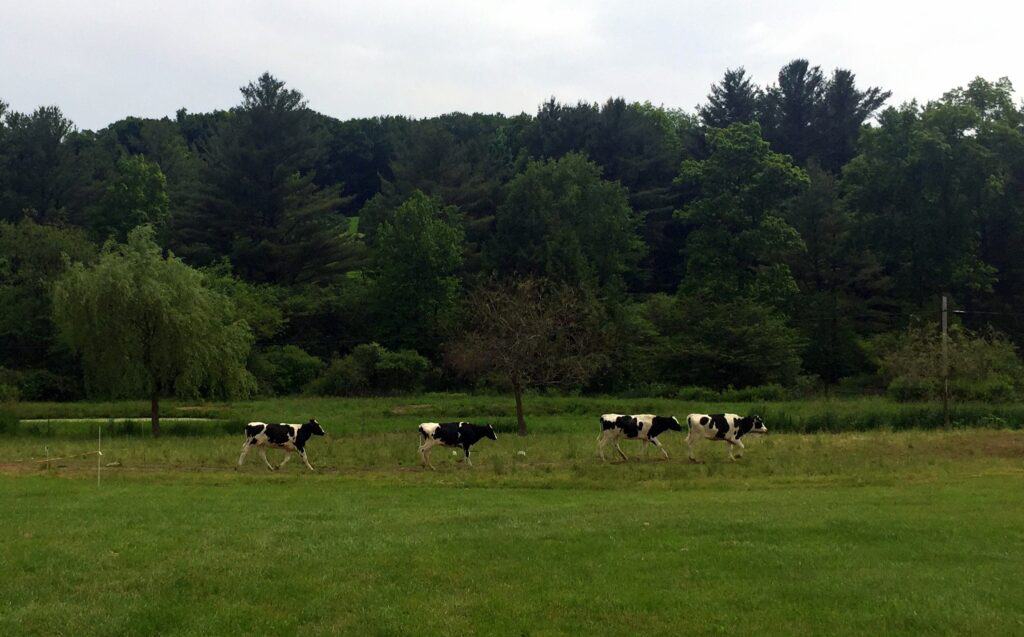 The ice cream store was located behind a barn and beside the cow pasture on this very-functioning dairy farm, and they offered a nice selection of interesting flavors, cones & accouterments to pick from. 
Of course, for the poochies, "teenie-weenie" cones with vanilla were the only way to go! 
Franklin & Hazel wasted no time enjoying their scoops…especially Franklin. Hazel's so new, she needed to pay close attention to the proper way to eat ice cream!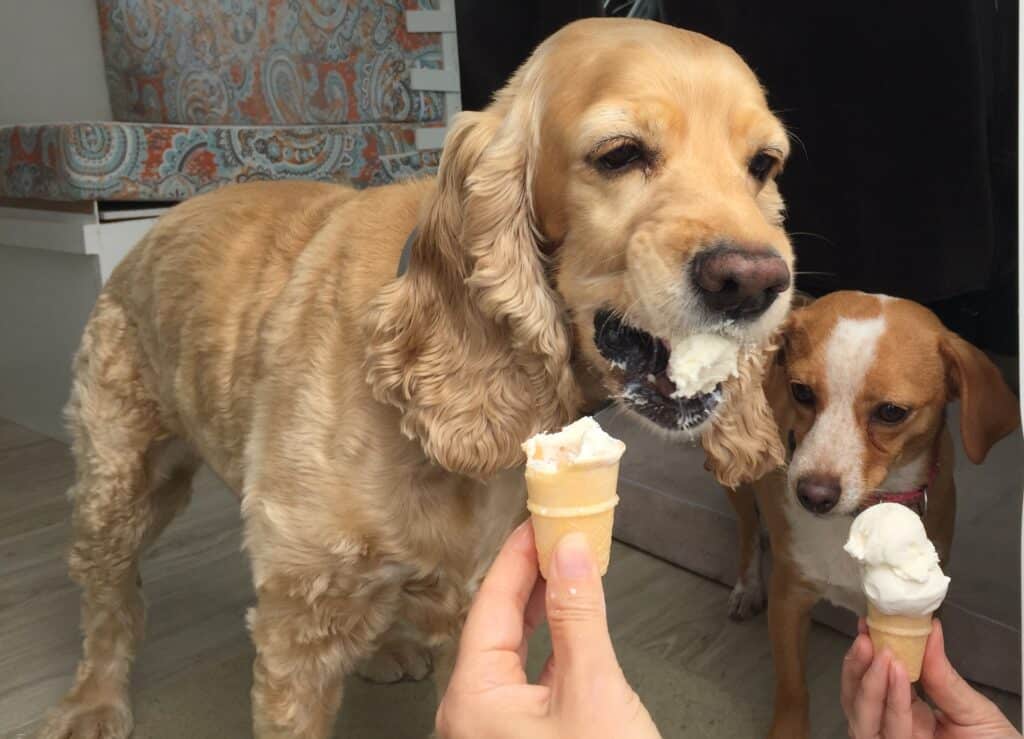 I opted for Cookie Monster (surprise! it was blue!), and Russ got Texas Peanut Butter.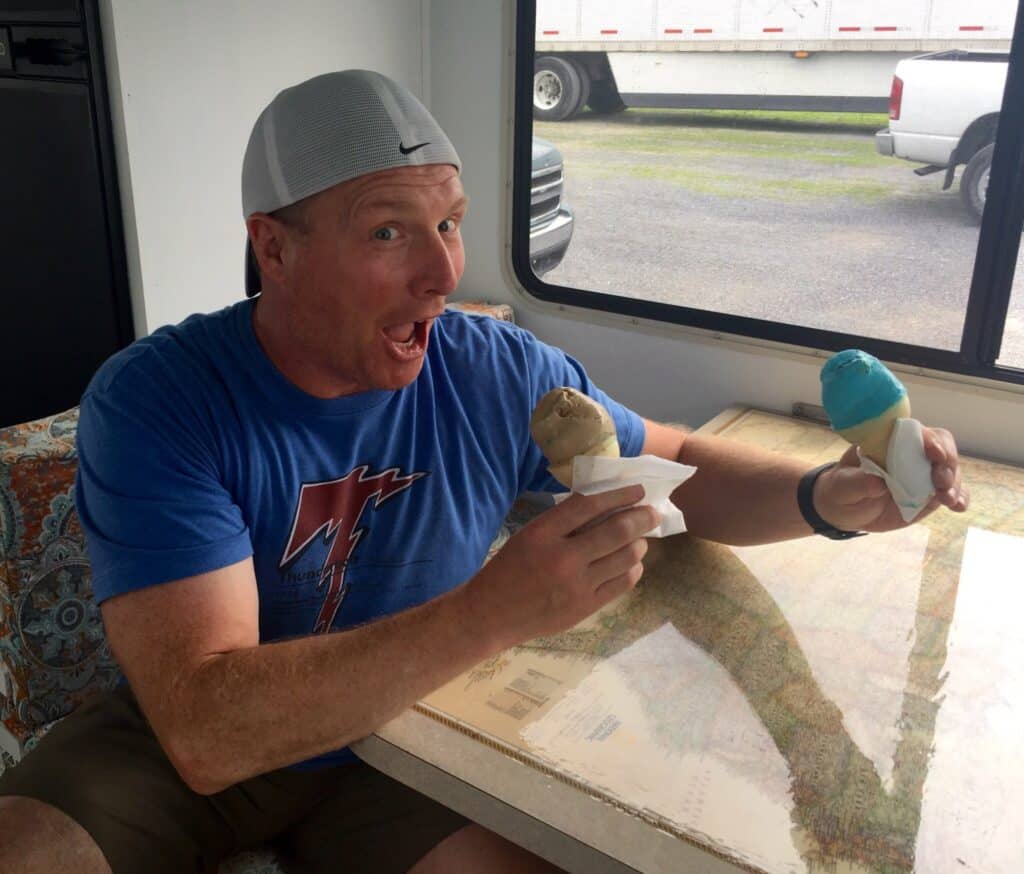 Russ looks so surprised because this entire ice cream haul cost us less than $6! 
I'm not sure what the ice cream economy is like around the country, but here in PA, under $6 for these four cones is pretty dang cheap. 
And now, for the pièce de résistance…our FIRST PA Pursue Your Scoops Ice Cream Trail Passport Stamp!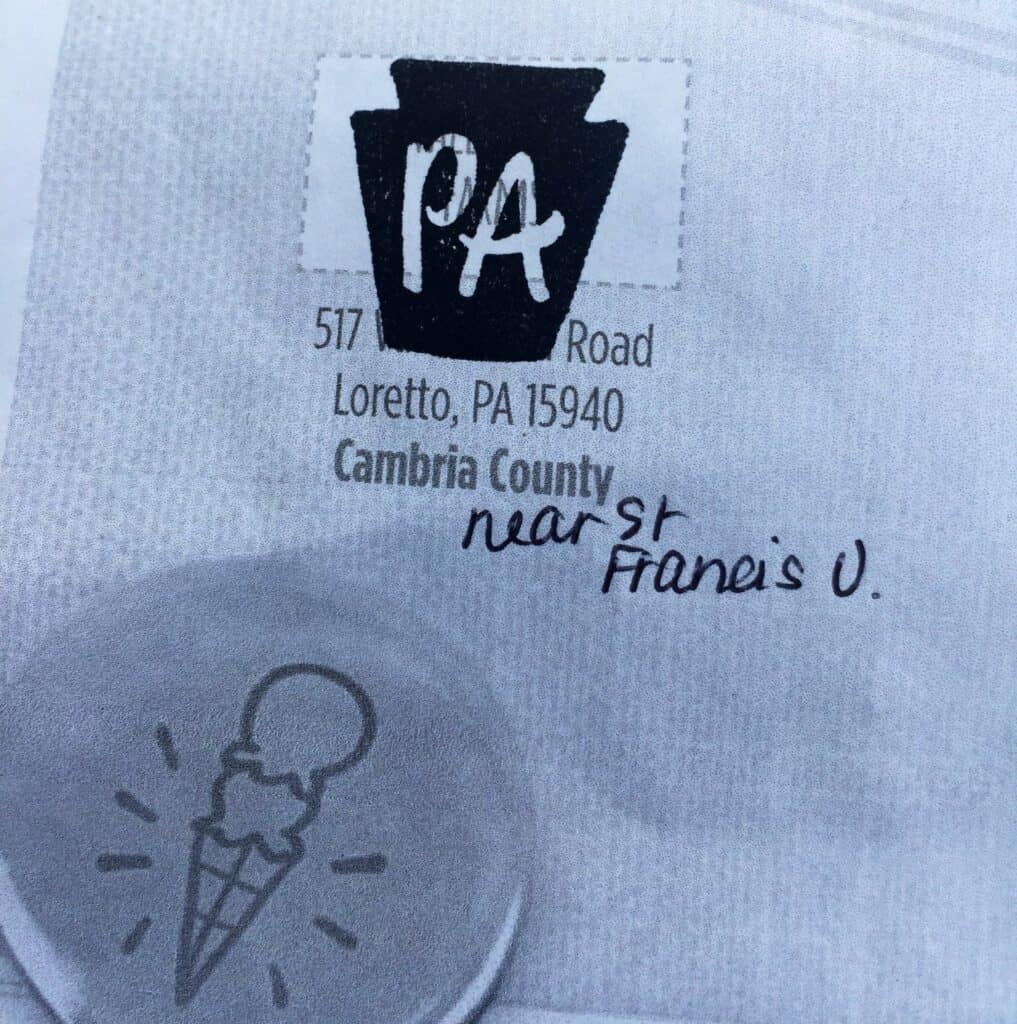 I took straight to Twitter to use #PursueYourScoops, so if some of these pics look a little familiar, that might be why! I can't resist a good hashtag.
Hopefully, we will see you on the trails this summer – not just the trails through the woods, but also the regional sections of The Pennsylvania Pursue Your Scoops Ice Cream Trail!