Please note that some of our links are affiliate links, which means at no additional cost to you, we will earn a commission if you click through & make a purchase. Happy clicking!
About 3 hours from Pittsburgh and just 30 miles northwest of Harrisburg, you can find Little Buffalo State Park. With its small campground, hiking, and water activities, you can easily fill up a camping or RV weekend. 
Little Buffalo State Park is located in central/south-central Pennsylvania, near Harrisburg and Hershey. Holman Lake and Little Buffalo Creek, both inside the park, provide great spots to swim, fish, boat, or kayak. 
Did the buffalo actually roam around Little Buffalo State Park?
Maybe! No one knows for sure. 
Indians first inhabited this area, followed by early American settlers. A charcoal burning furnace to feed Juniata Iron Works was built here, along with a water-powered grist mill. In the mid-1800s, the iron works ceased, and by the mid-1900s, so had Shoaff's Mill- but you can still see it along Mill Race Trail.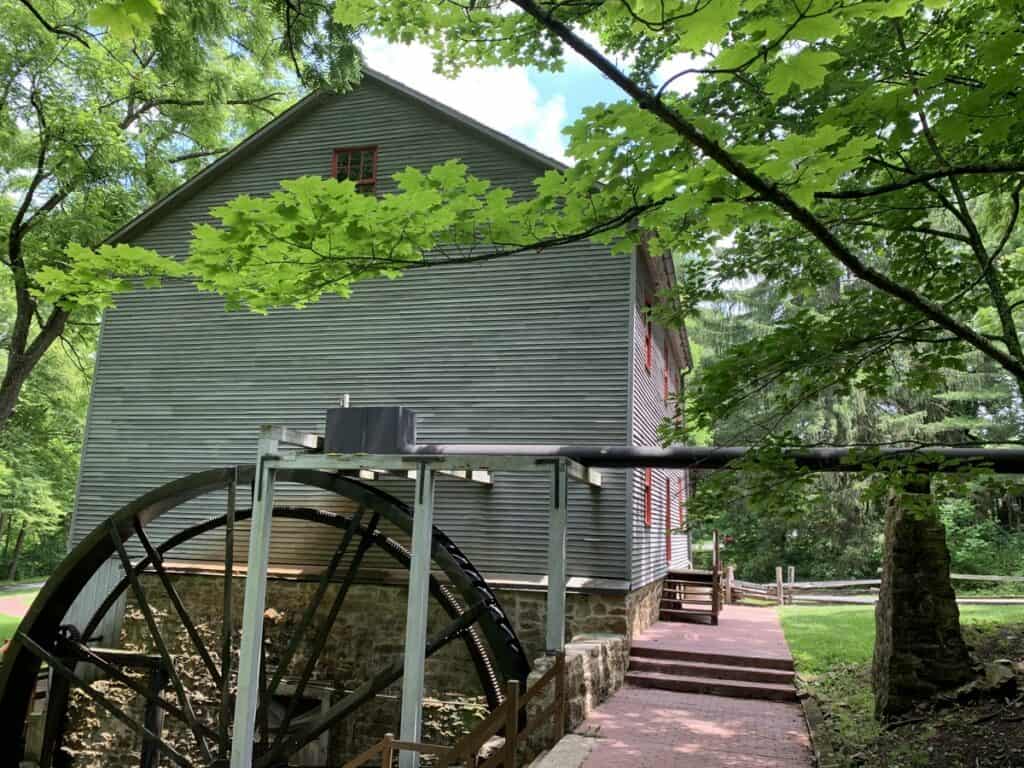 The land was eventually acquired by the state, and Little Buffalo State Park opened to the public a few years later in 1972.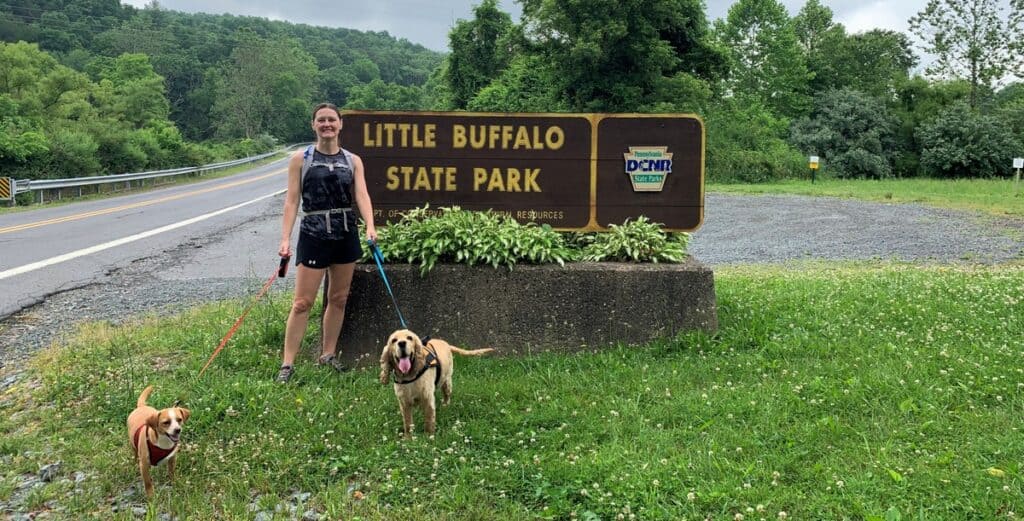 Little Buffalo State Park campground is one of the smaller in the state system. It has 43 camping spots, including 31 with electric, plus 5 camping cottages- all of which are pet-friendly. 
We stayed at Site #3, which was really narrow and bordered our neighbors pretty closely. We got to smell their cigarette smoke, hear their music, and enjoy their kid wielding an ax at fire time. We do not recommend Site #3!
Site #1 is tucked back and looks roomy. Site #17 is probably the next best. If you are roughing it, Sites #27-31 look like good tenting places.
You can see the entire campground map here.
Since the small campground has only one shower house that looks newly remodeled, my hopes were high that I wouldn't meet my nemesis, the timer button, in any of the showers…

Long sigh.
While the shower facilities are new and clean, the showers themselves are AWFUL. 
The shower heads are like teeny-tiny sprinklers with half the spray obstructed, and the water temperature never goes above barely luke warm.
And if that madness wasn't enough, wait for it…
They also have timer buttons!
That snazzy new building sure is deceiving. I'll take an old shower house with hot water, strong pressure, and NO timer button over a new building with crappy showers any day! 
PRO TIP for the Campground
If you are staying in the campground and plan to enjoy the Lake, you'll need to hop in your car and drive to the day use areas- especially if you are taking kayaks, towels, or a picnic. If you are planning to hike, you can head out from the campground.
Little Buffalo State Park has 8 miles of trails, mostly surrounding Little Buffalo Creek and Holman Lake. The trails differ in terrain, so be sure to watch your footing on the roots, rocks, and footbridges (especially in the dewy morning).
We also suggest taking ample water for your four-legged crew and you, as some of the creeks noted on the map where we had anticipated the pups taking a sip & dip in were dried up. We have wide-mouth water bladders for our small hiking backpacks so we can easily sip as we walk and share with the dogs when we stop that are life-savers!
You can see the whole trail map on the official state park site, but here's a snippet that shows your hiking options: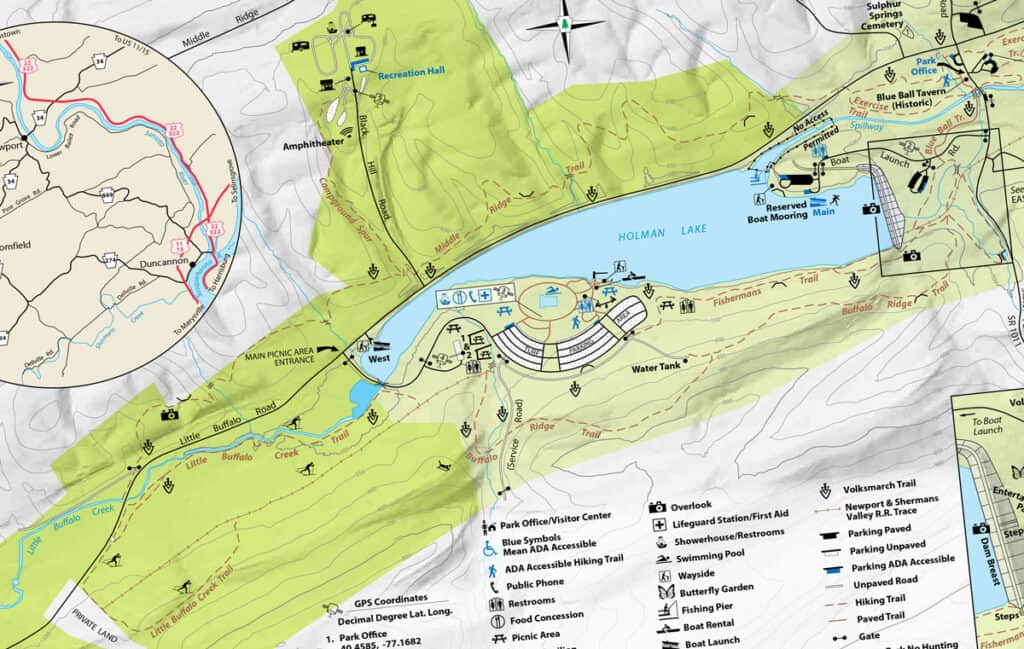 If you are up for seeing most of the trail system in one day, you can create a giant loop in a few different ways. 
From the campground, that loop starts with Campground Spur Trail, a short half-mile down a long sloped path to meet Middle Ridge Trail.
I say "short" half-mile, but I also want to mention "slippy".
Remember when I said to watch your footing?
Achilles-injury-recovering Russ promptly slipped and broke his hiking pole less than a quarter mile from the campground!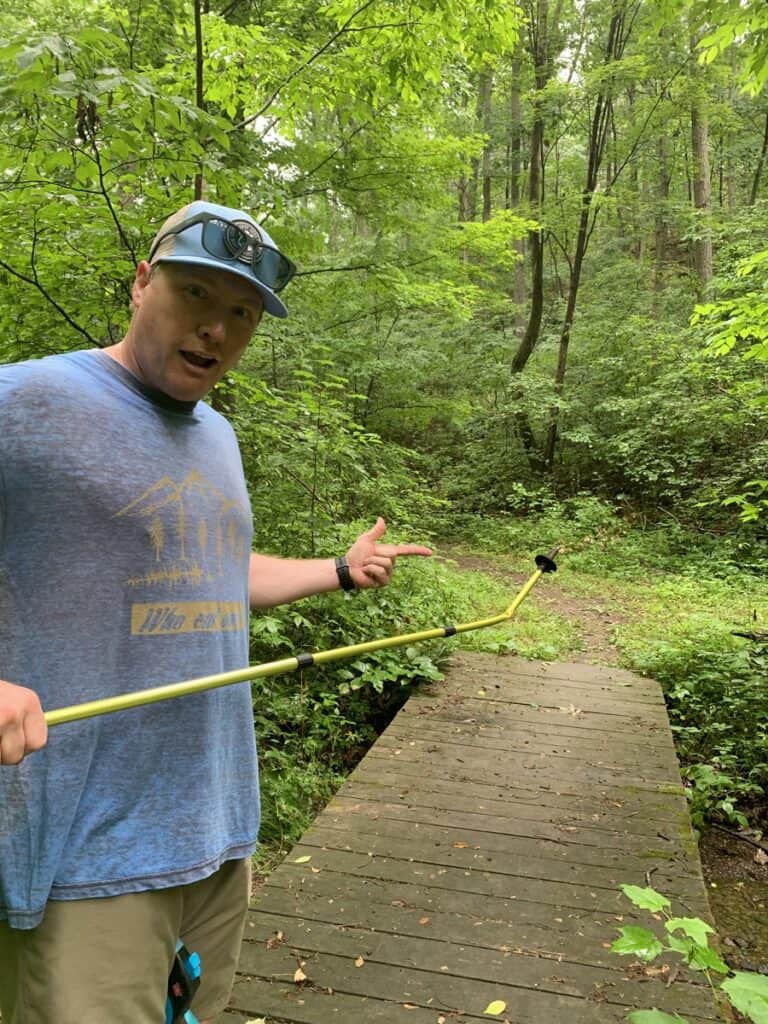 Those footbridges are slick in the morning! He was fine, and, oh yes, his shirt does say "Who cut one?".  
From Campground Spur Trail, you can take Middle Ridge Trail to the right or left.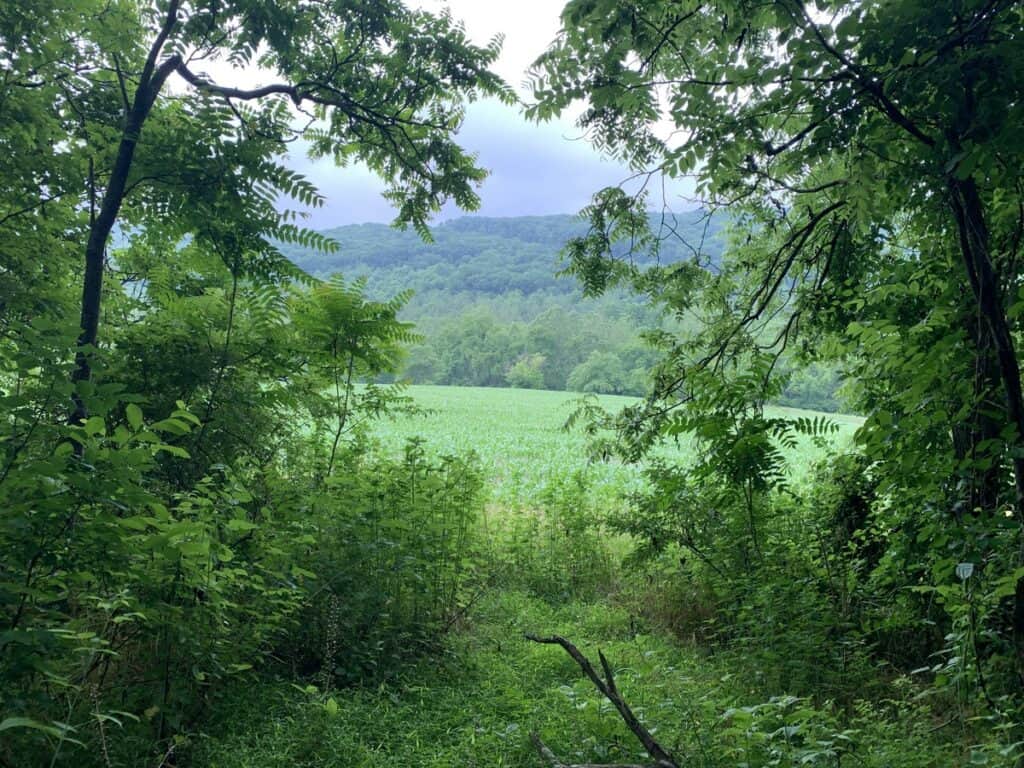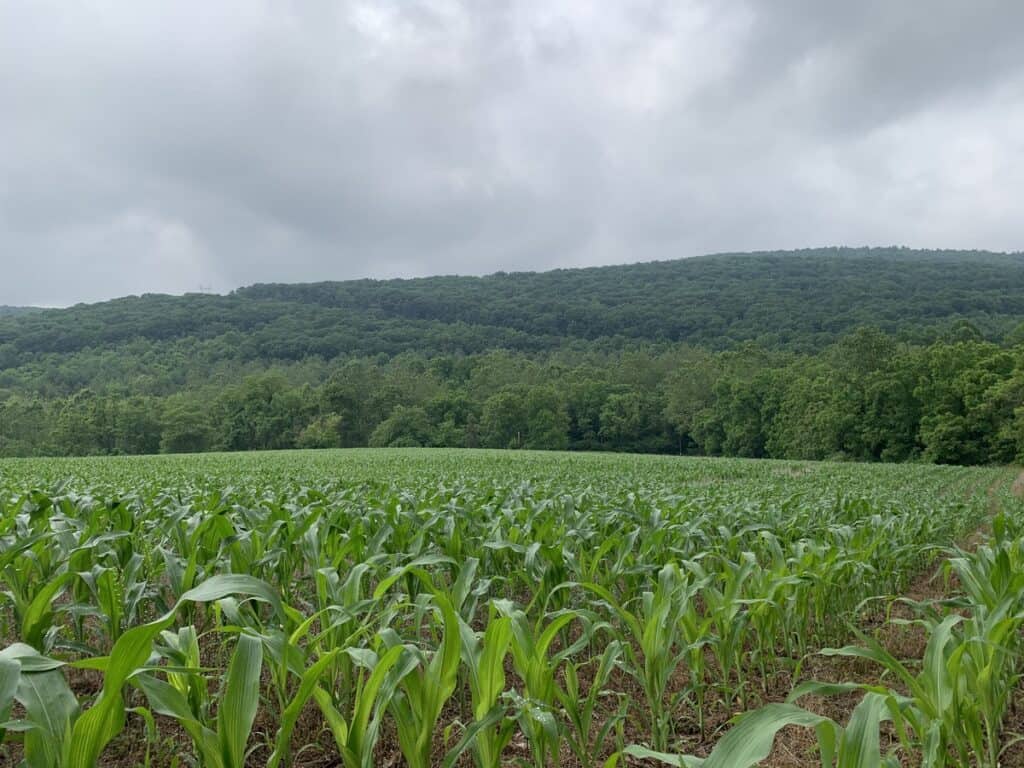 If you head right like we did, you'll pass through an area with peephole to a cornfield and can eventually meet Little Buffalo Creek Trail.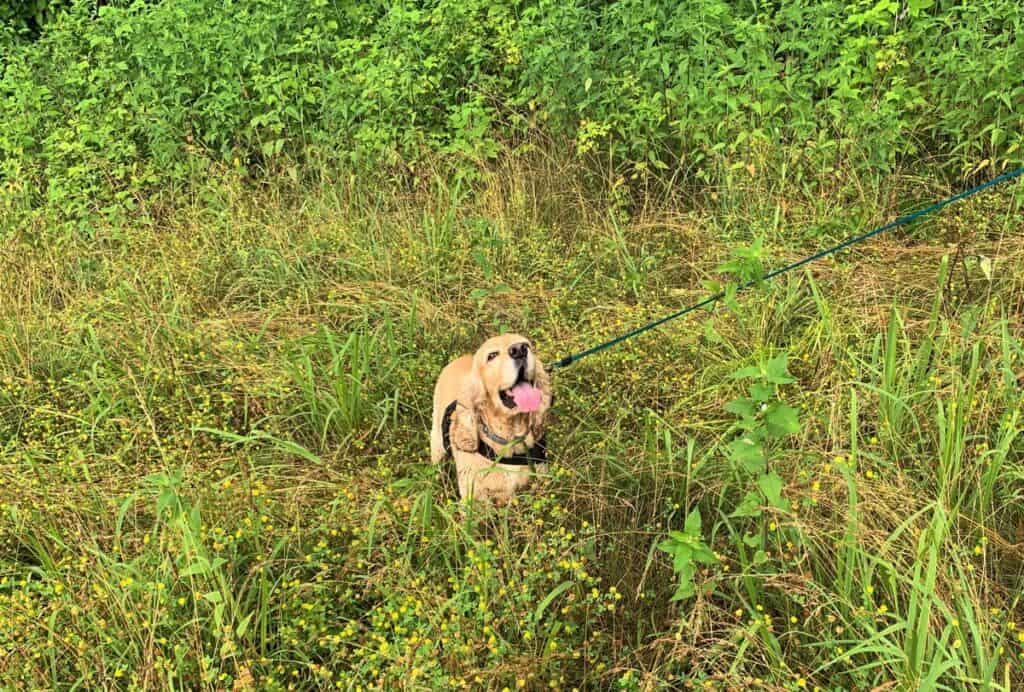 At the end of the creek, you can take either Buffalo Ridge Trail (if you still have lots of energy) or stroll through the day-use area to Fishermans Trail (if you'd like a flatter, water-view hike). Either way, you'll now be on the dam side of Holman Lake . 
From there, you can take a detour to go see the mill, caboose, and covered bridge (which we did), or continue on Blue Ball Trail to see Blue Ball Tavern.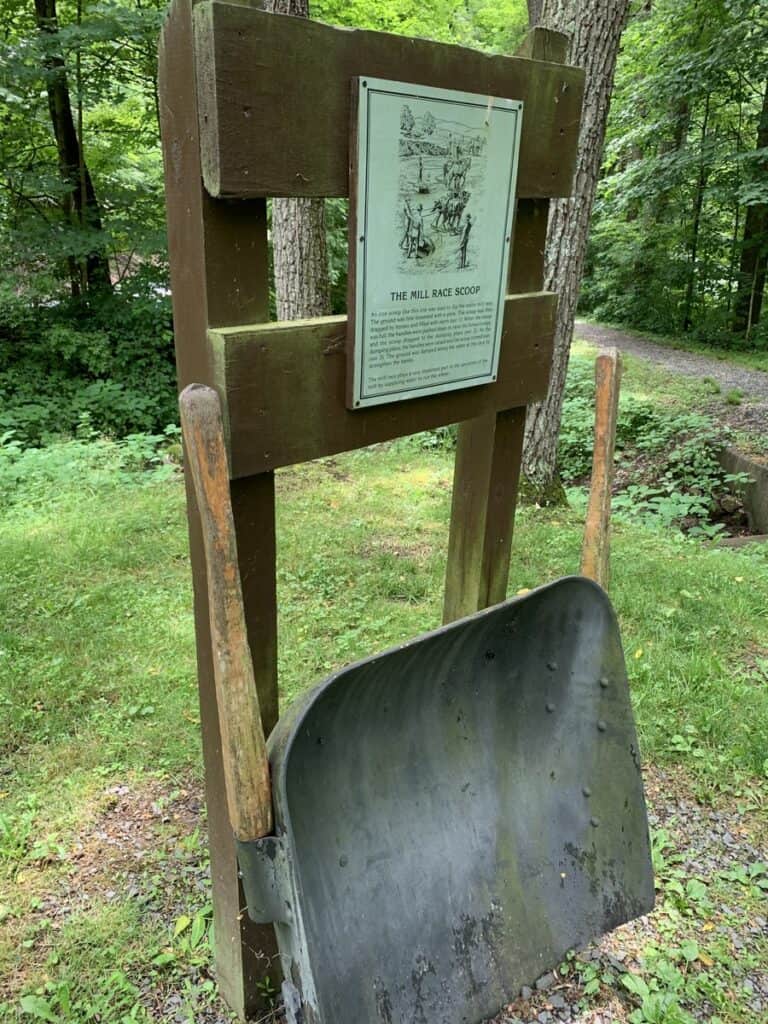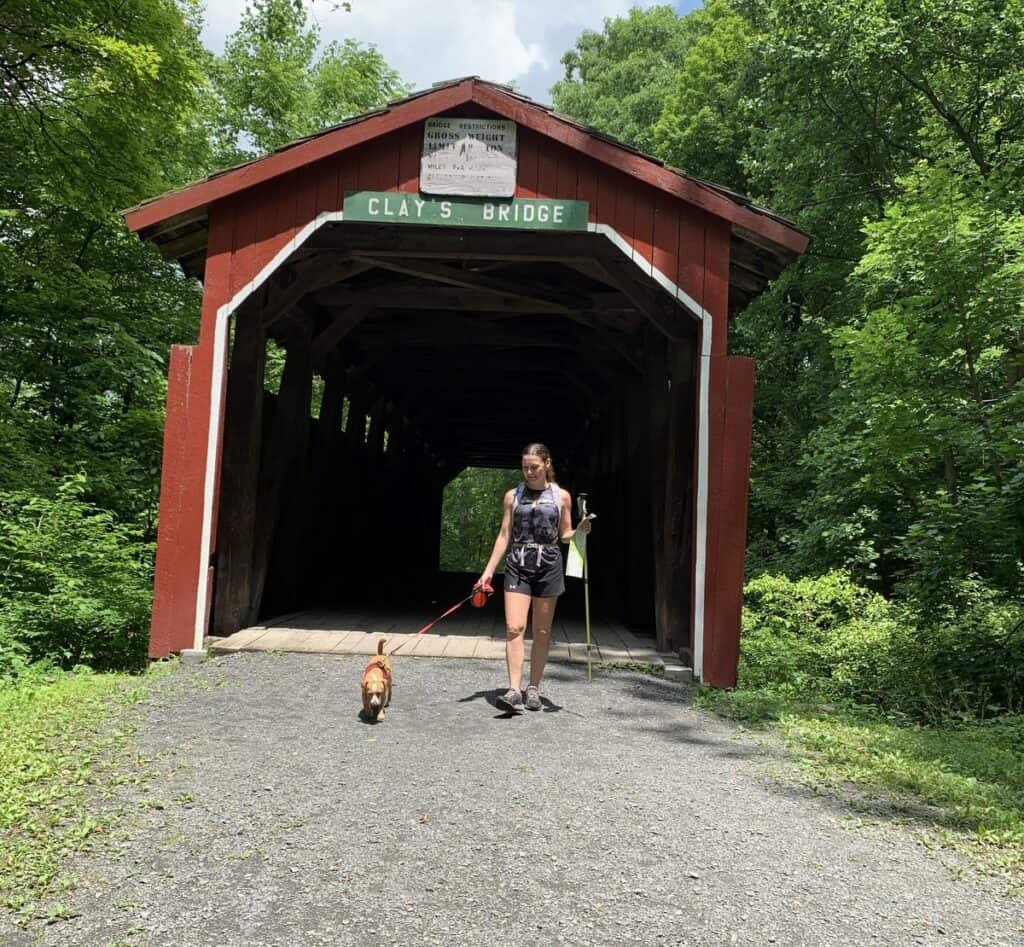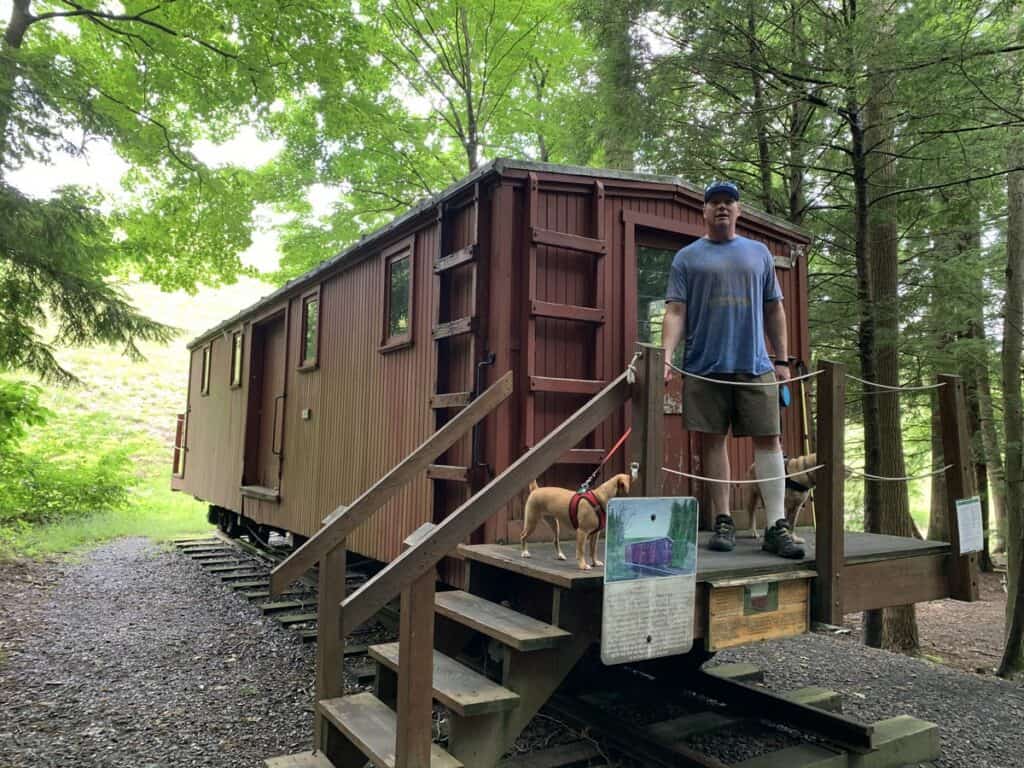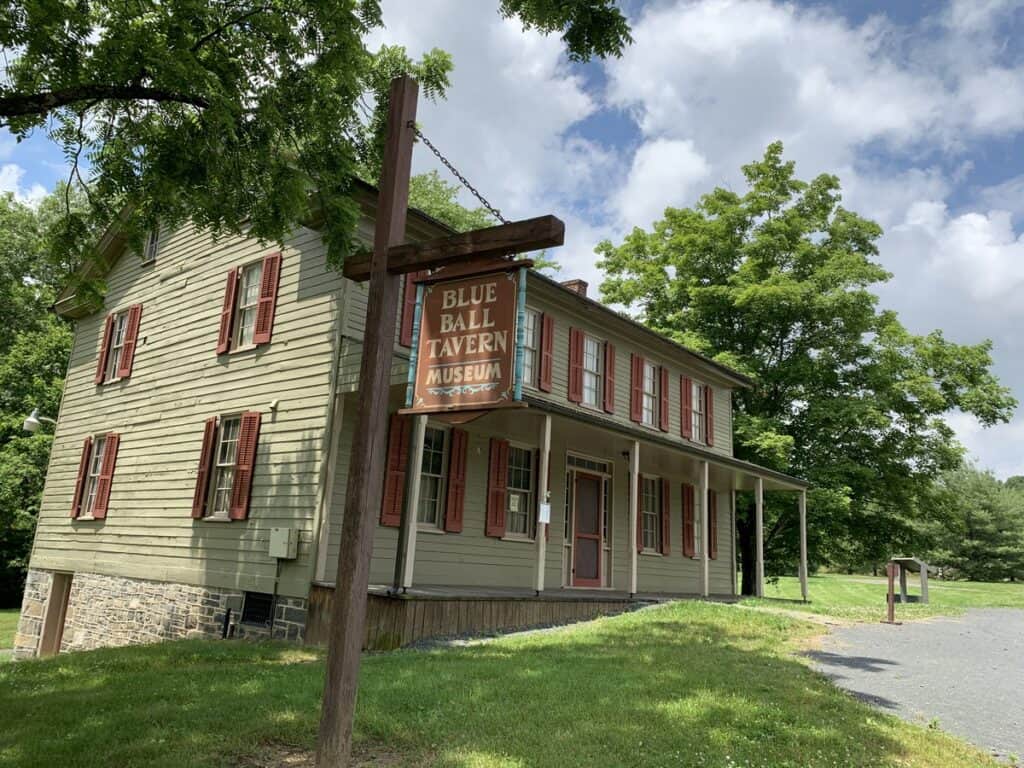 Finally, you'll have to hike part of Exercise Trail before it returns to Middle Ridge Trail so you can complete the loop back on Campground Spur. 
Once you return to the campground, you'll have completed between 6-8 miles – the perfect distance for an ice cream reward and afternoon nap!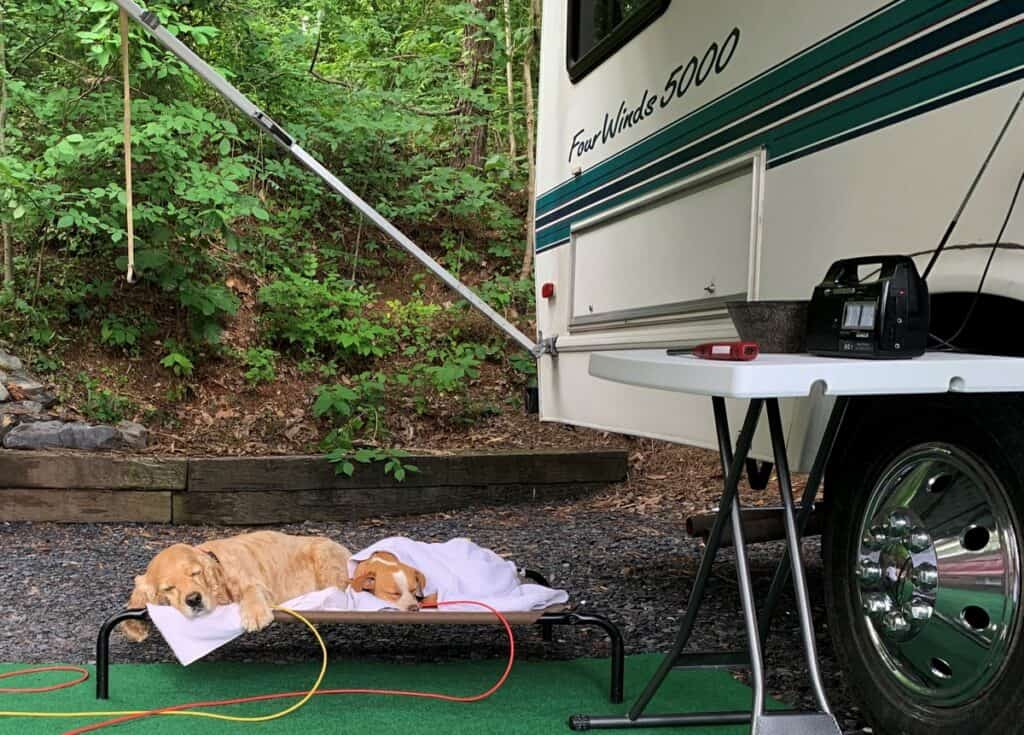 As far as wildlife, we were surprised to learn there weren't any bears (or buffalo) to be found in the area.
You can see deer, beaver, and many species of birds- including heron, grouse, and ducks. 
And we never skip a chance to show you the mushrooms we come across!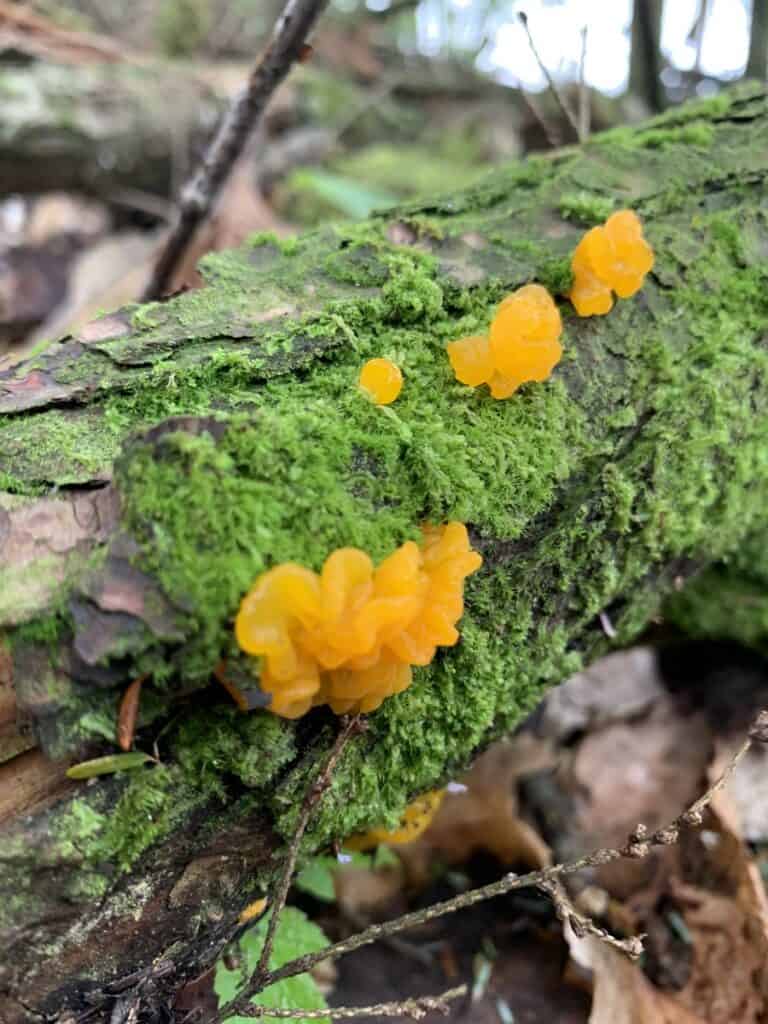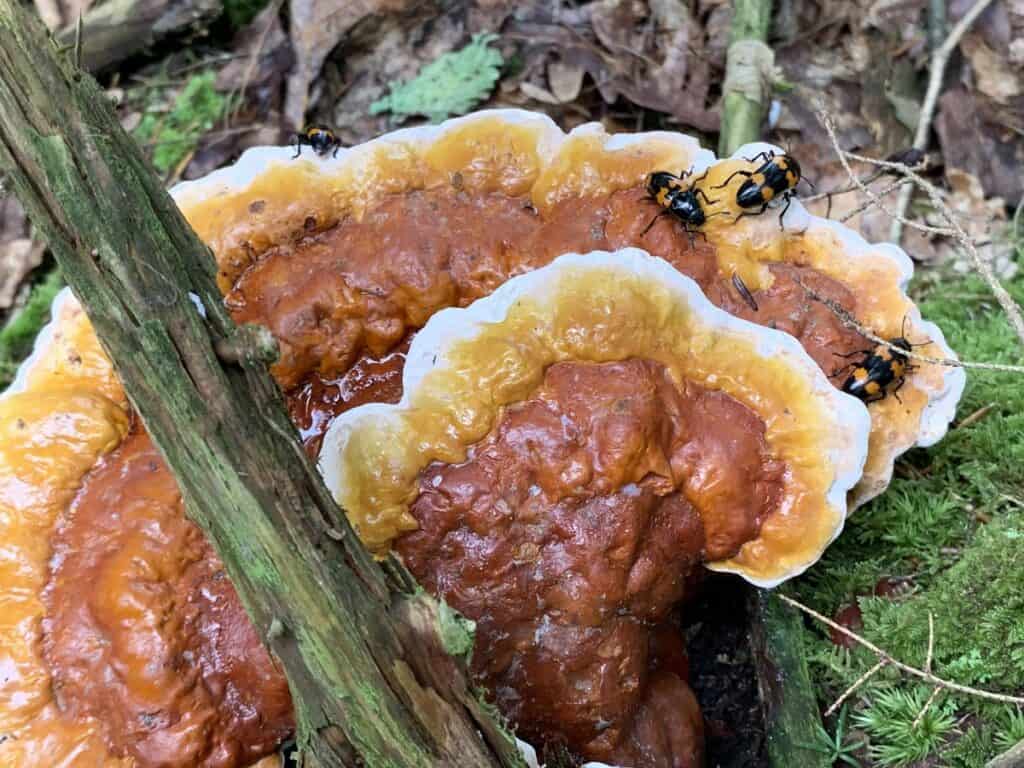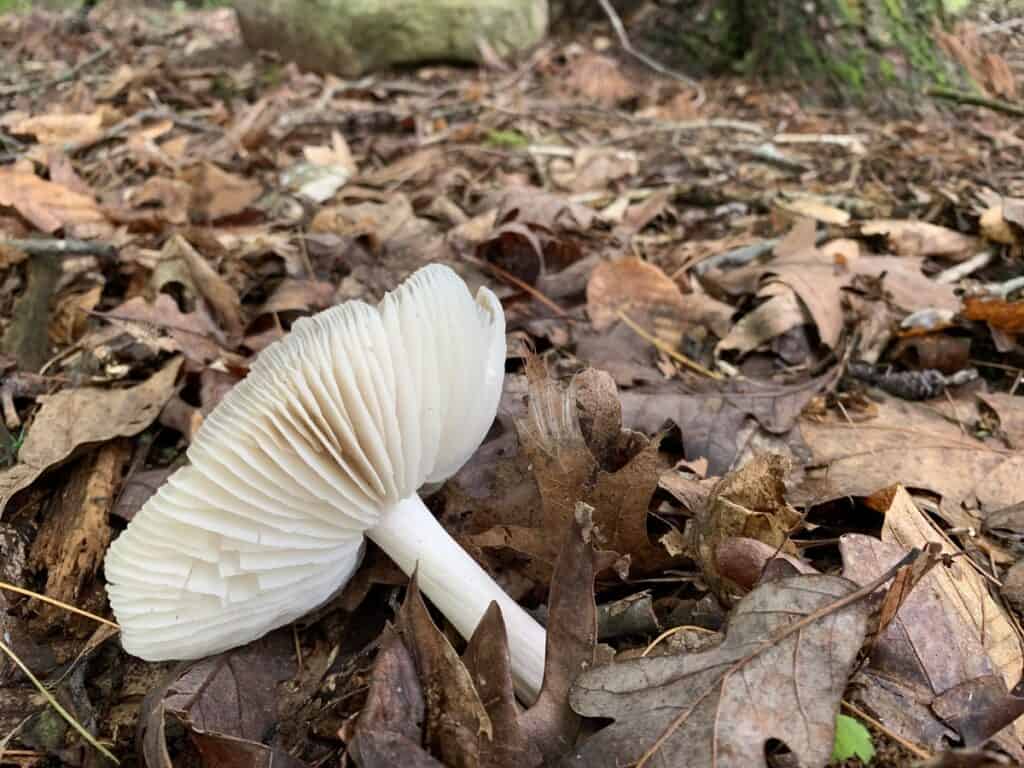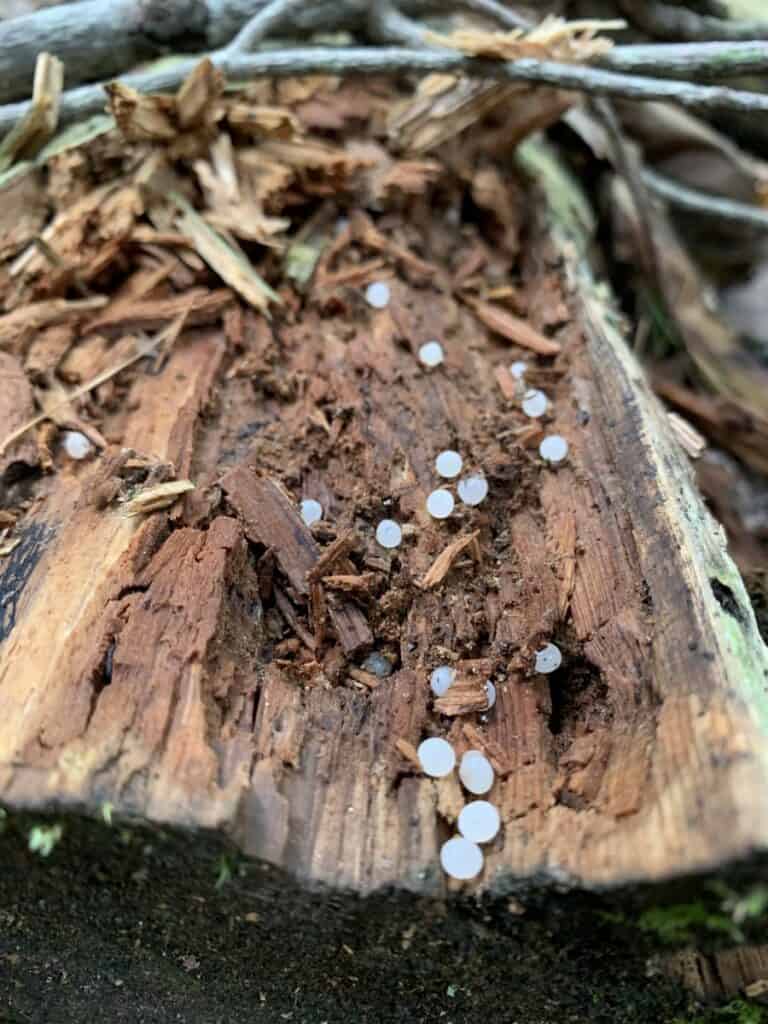 PIT STOP! Buffalo Brew Coffee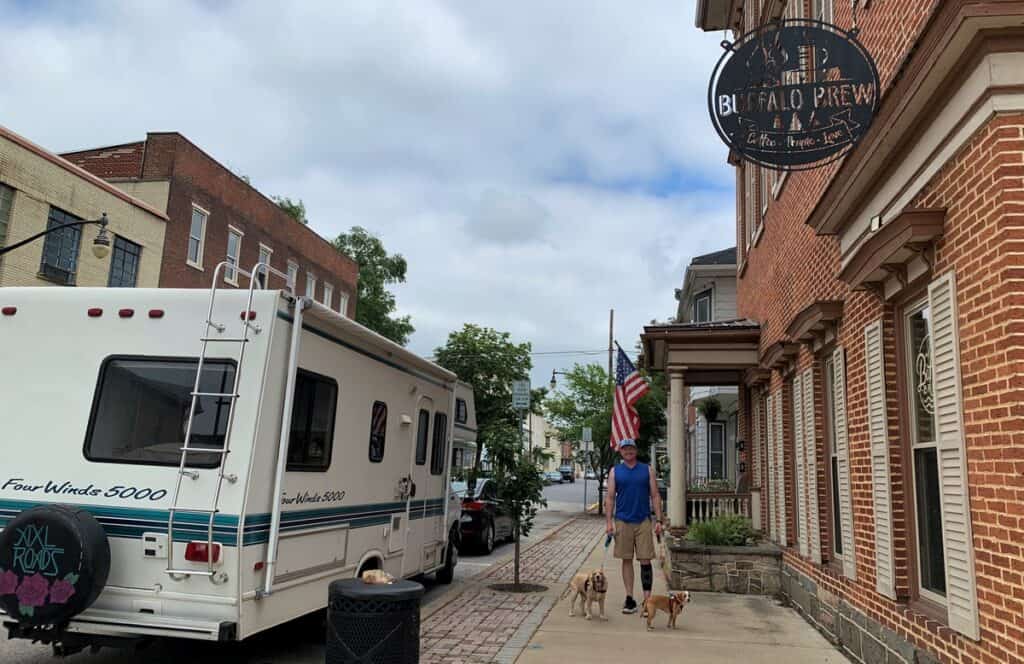 Just a quick five minute drive headed west of the park, make a stop in downtown Newport for cup of morning deliciousness at Buffalo Brew on 2nd Street! 
Your dogs will enjoy cruising the sidewalks around the downtown blocks while you savor the strong java flowing from Buffalo Brew.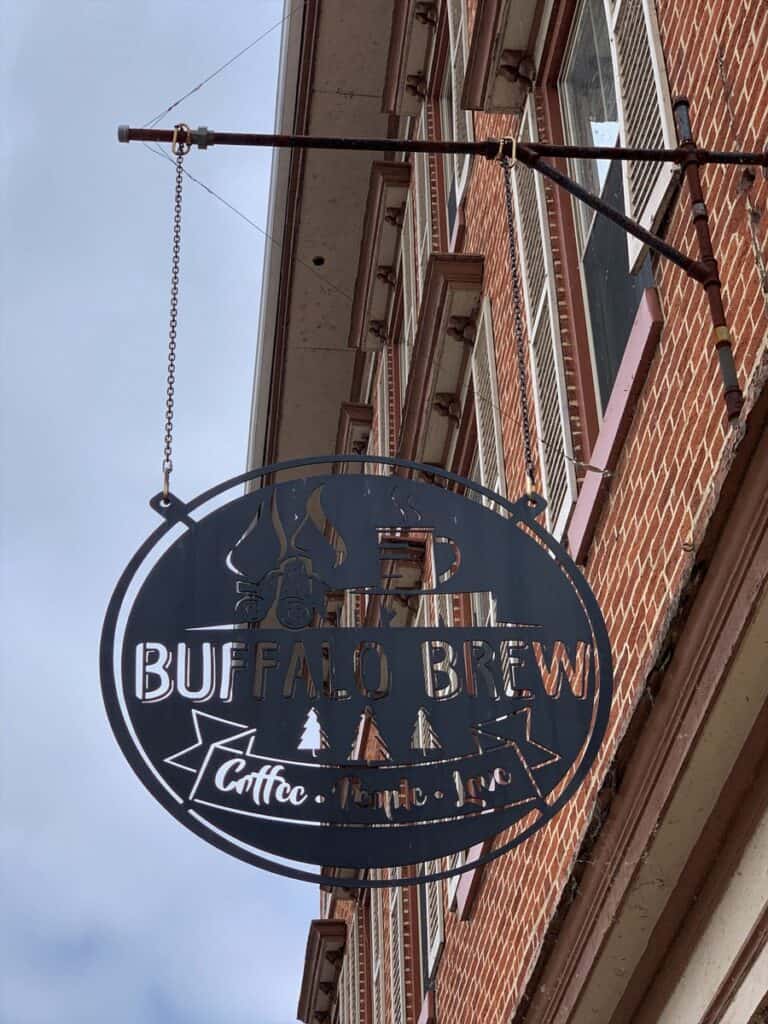 Side Trip: Old Sled Works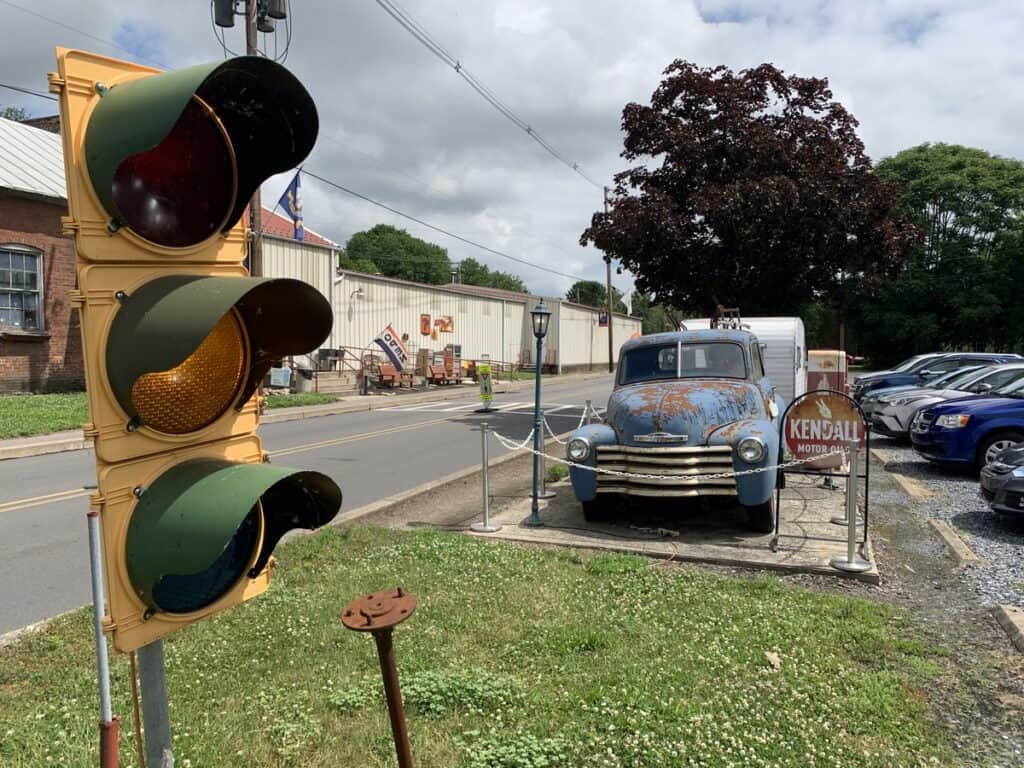 Now that you've had your morning coffee, you're ready for some kitschy shopping. We have the place! 
If you like eclectic antique and flea-markety kinds of finds, make sure you hit up Old Sled Works.
This warehouse-sized marketplace is just 20 miles southwest of the park and about 15 minutes from the coffee shop, plus the giant stone lot across the street has plenty of room to park an RV.
While they don't allow dogs inside the building, there's plenty of room to walk them around the edges of the parking lot. 
The marketplace is surrounded by interesting old-fashioned stuff boldly mixed to present a freaky scene – and that's just on the outside!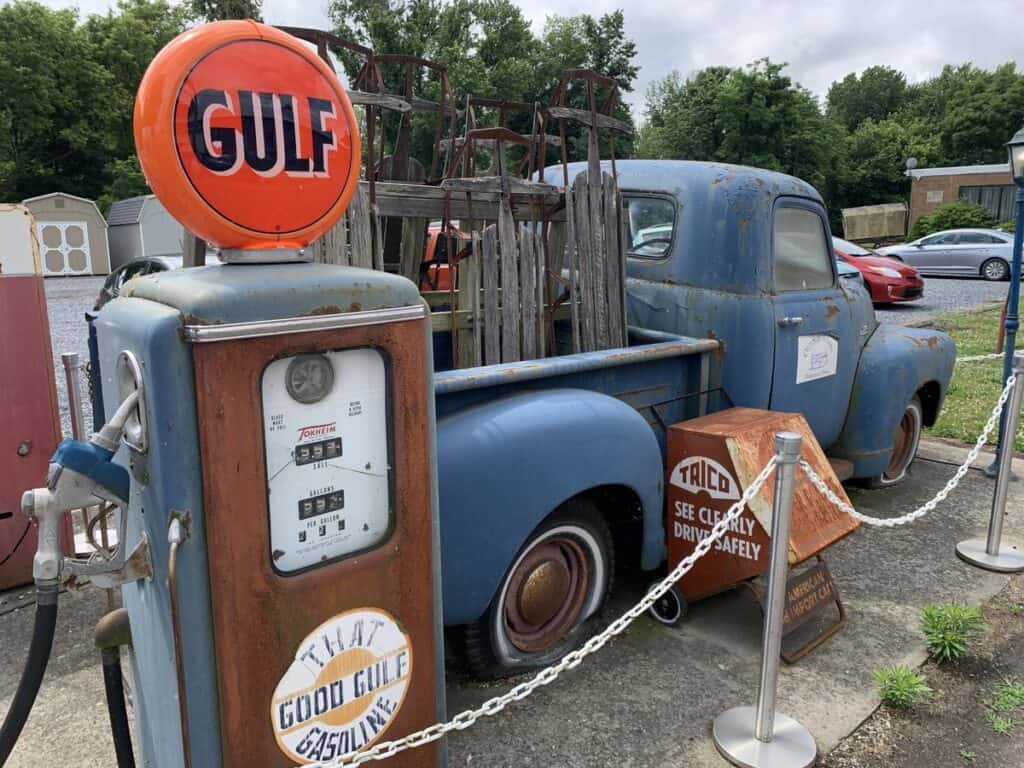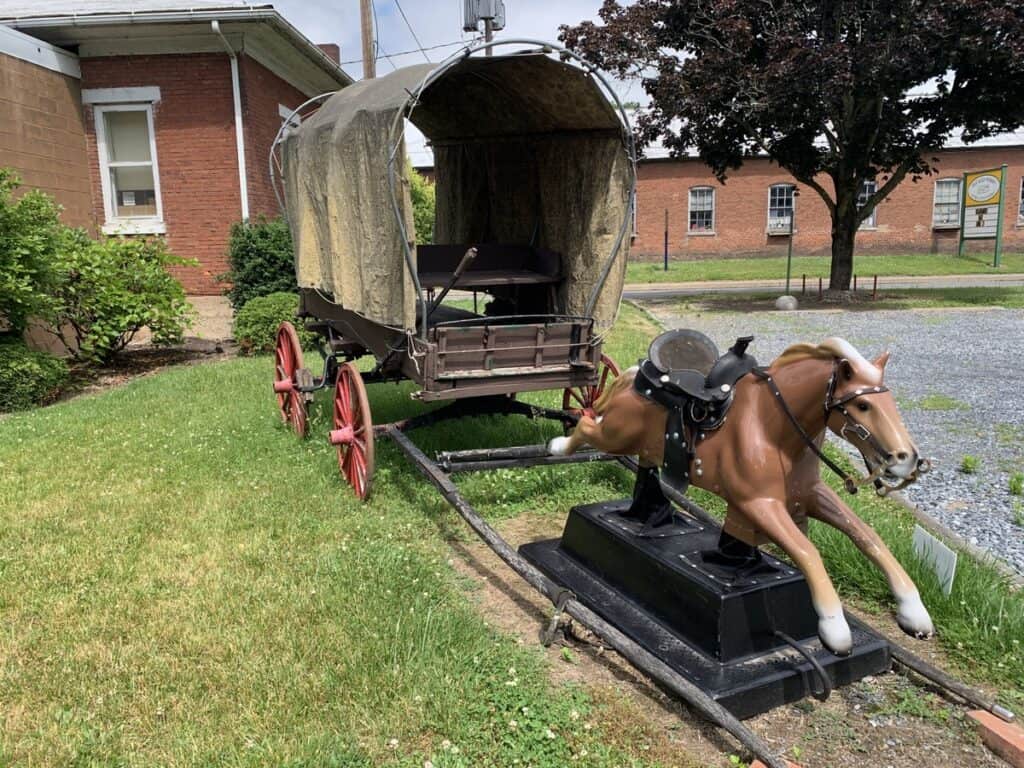 Once you step inside, you can walk down long aisles packed with hundreds of individual booths selling everything from metal signage and vinyl records to ceramic cookware and dinner sets from yesteryear. 
If you are looking for something you remember seeing in your grandmother's house, you just might find it here!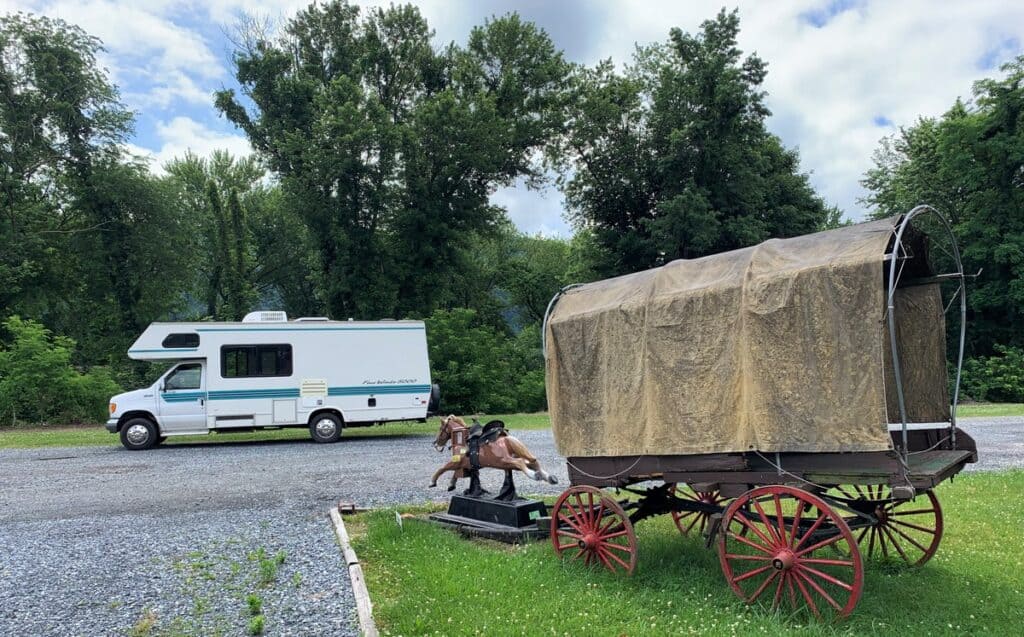 Staying close to home for the last few months made this RV camping weekend even sweeter than usual! 
We're happy the Pennsylvania state park campgrounds are open again. Simple precautions like masking up in the restrooms and keeping adequate social distance are small prices to pay to keep everyone safely opting outside. 
We're lucky to be on the road again!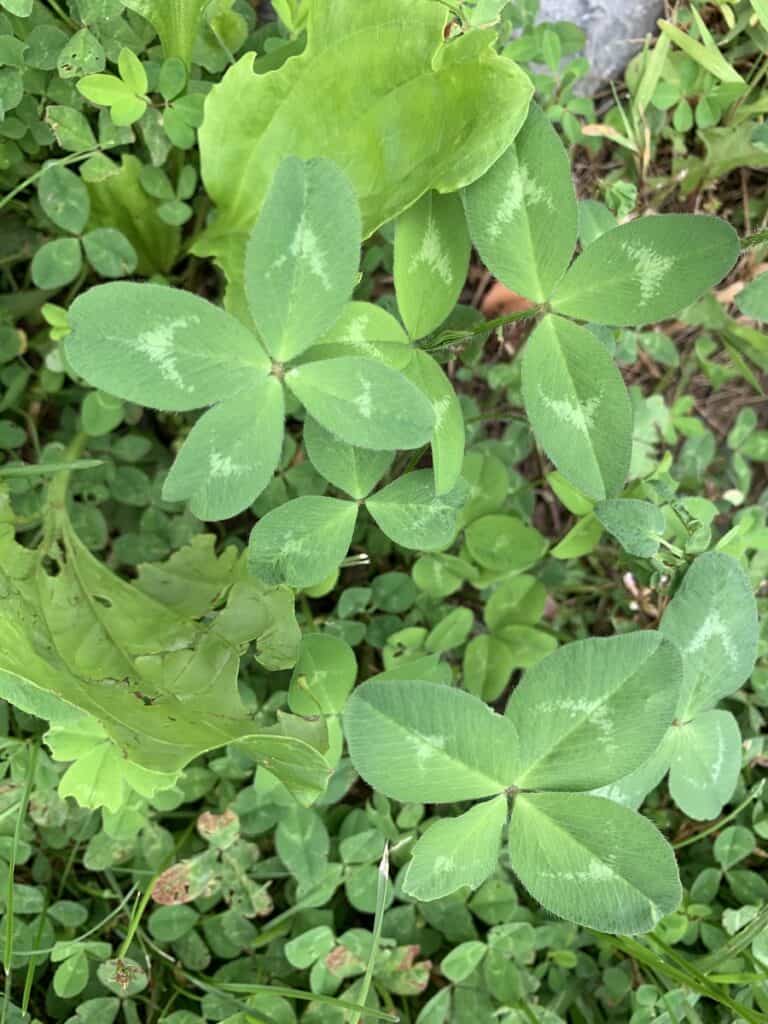 What state park did we see the most wildlife in? This one.