Please note that some of our links are affiliate links, which means at no additional cost to you, we will earn a commission if you click through & make a purchase. Happy clicking!
Chapman State Park in Clarendon, Pennsylvania, is a peaceful escape surrounded by wilderness in the northwestern corner of Allegheny National Forest. 
Chapman State Park is located in northwest Pennsylvania right on the northwest edge of Allegheny National Forest. From Pittsburgh, the drive will take just over two and half hours, and from Philadelphia, you're looking at closer to six hours. 
The drive from any direction is a long and winding one, with lots of woodlands and wilderness to appreciate along the way. Once you enter the park, you'll be driving along the shore of Chapman Lake, and you're sure to see kayakers, fishermen, picnickers, and beach-goers, along with the dam.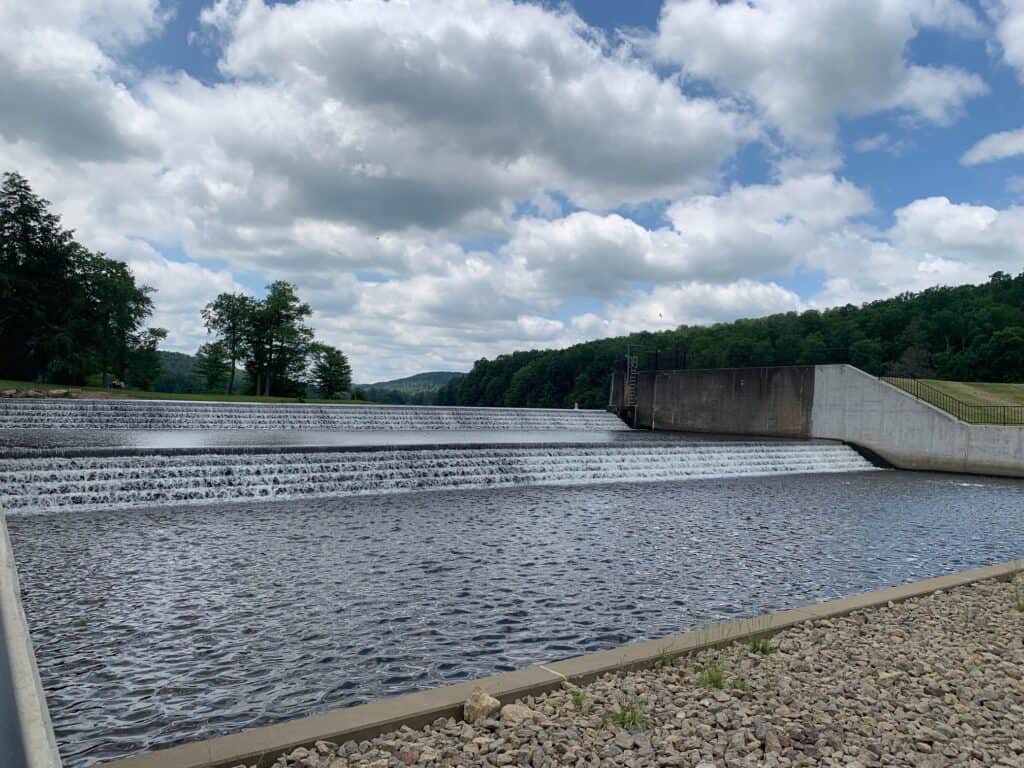 Not a lot of information exists on the history of the park. Many community groups are credited with it's creation, and it is named for Dr. Leroy E. Chapman, who was a state senator from 1929-1963. 
Once inside Chapman State Park, you can follow the directional signage to reach the campground, and the Park Office and Campground Host are both easy to locate.  
The compact campground has 81 campsites, 3 cottages, and 2 yurts. Of the 81 campsites, 24 are for tent camping, and the remainder have electric. 
We had site #9, which was in the middle loop on this map: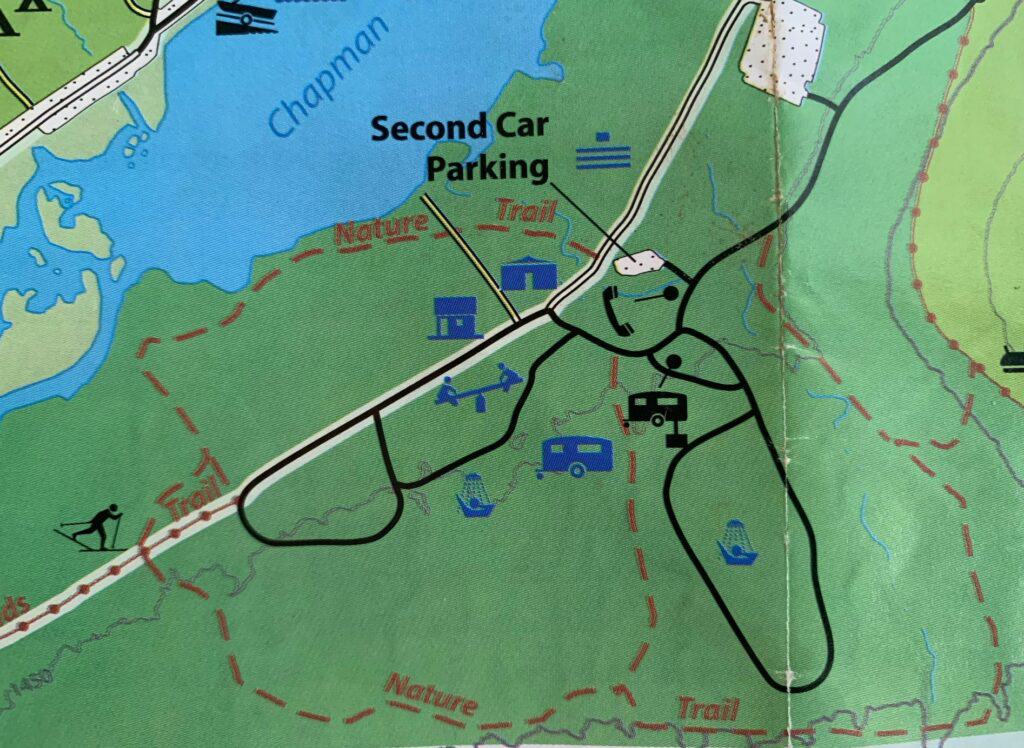 There isn't a lot of cover or privacy at site #9 or the sites around it, but you are backed up against the forest. You can see the full campground map here.
The bath house is newer and the showers do not have timers (hooray!)….HOWEVER, fair warning: during our visit the water temperature in the shower never got above lukewarm!
PRO TIP for the Campground
The two loops on the left-hand side of the map are pet-friendly. While the far left loop is further from the bath house, it is slightly more secluded and might be better if you have more reactive pets. 
Chapman State Park has about 12 miles of hiking trails, many of which serve dual purposes during different seasons for snowmobiling, mountain biking, and cross-country skiing. 
Because of it's close proximity to the Campground and it's ability to connect to trails around Lake, you can start on Nature Trail to create your own 3-to-6-mile loop.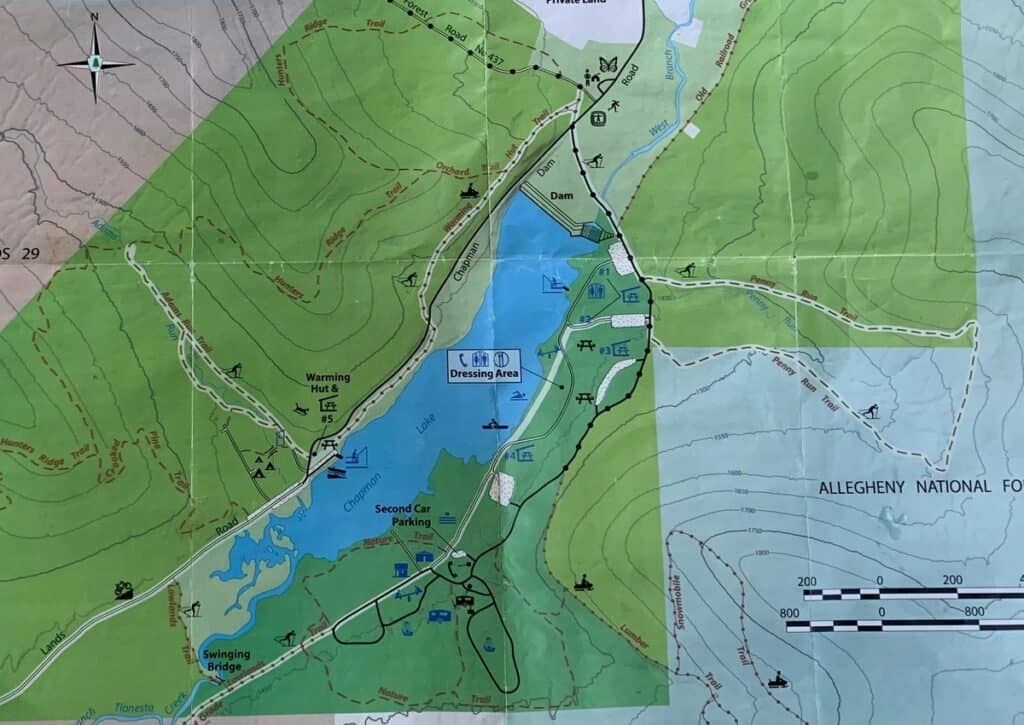 We intended to do just that, but found the map a little confusing. We kicked off our hiking day by taking the wrong half of Nature Trail and had to retrace our steps to get to the correct loop to connect to Lowlands Trail. 
Our best advice for heading on Nature Trail to Lowlands Trail is to make sure you take the path behind the second car parking lot in the campground going towards the lake and not in front of it. 
The main reason you'll want to get to Lowlands Trail is for the photo opps on the swinging bridge over Tionesta Creek!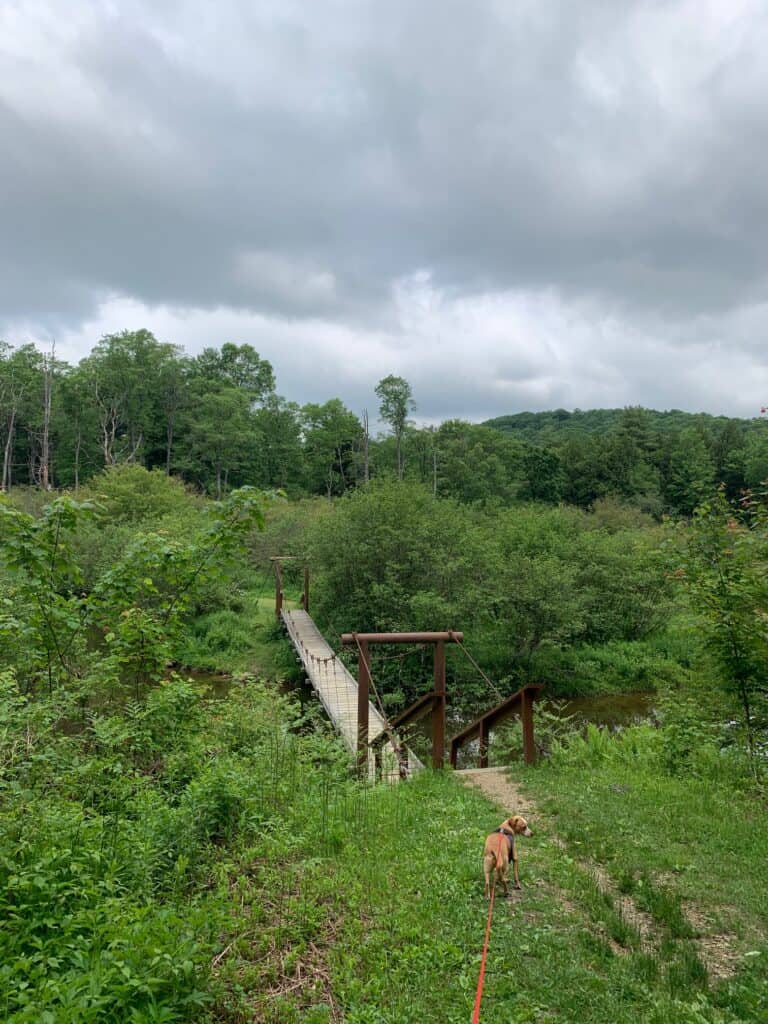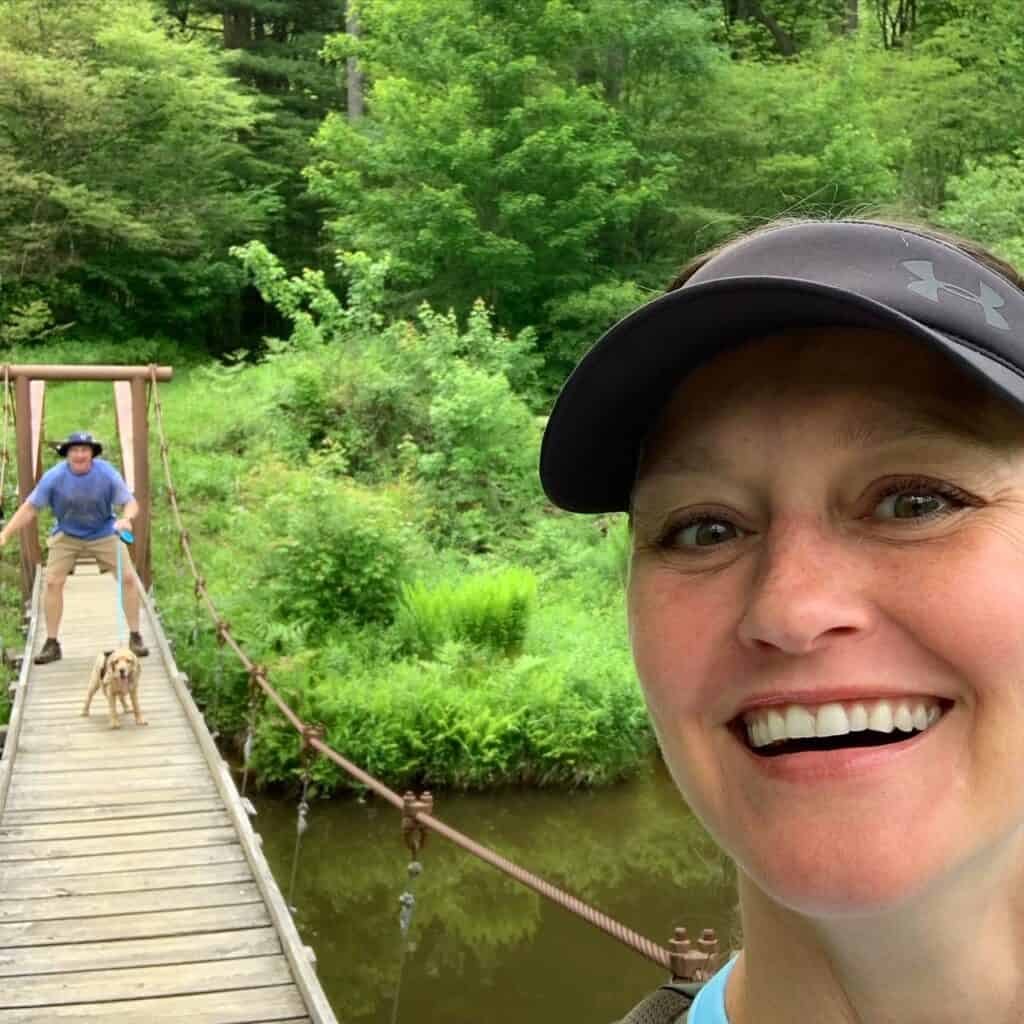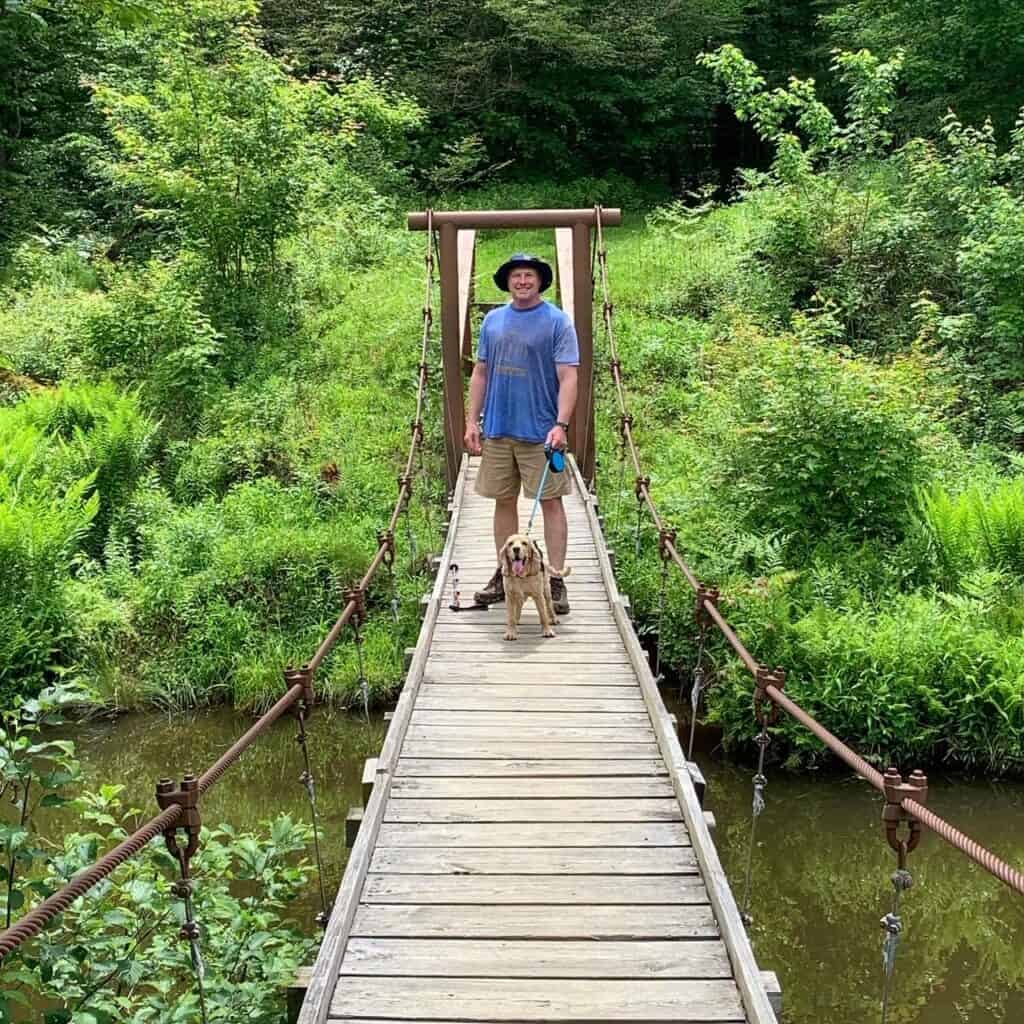 To make an interesting-and-approximate-5-mile loop,  make a right onto Game Lands Road at the end of Lowlands Trail. 
Just a short walk later, you'll see the entrance to Adams Run Trail on your left-hand side. 
At the end of Adams Run, make a right onto Hunters Ridge, and finally a right again onto Orchard Trail. 
This will land you on Warming Hut Trail, where you can make a left and then a right onto Forest Road to see the dam.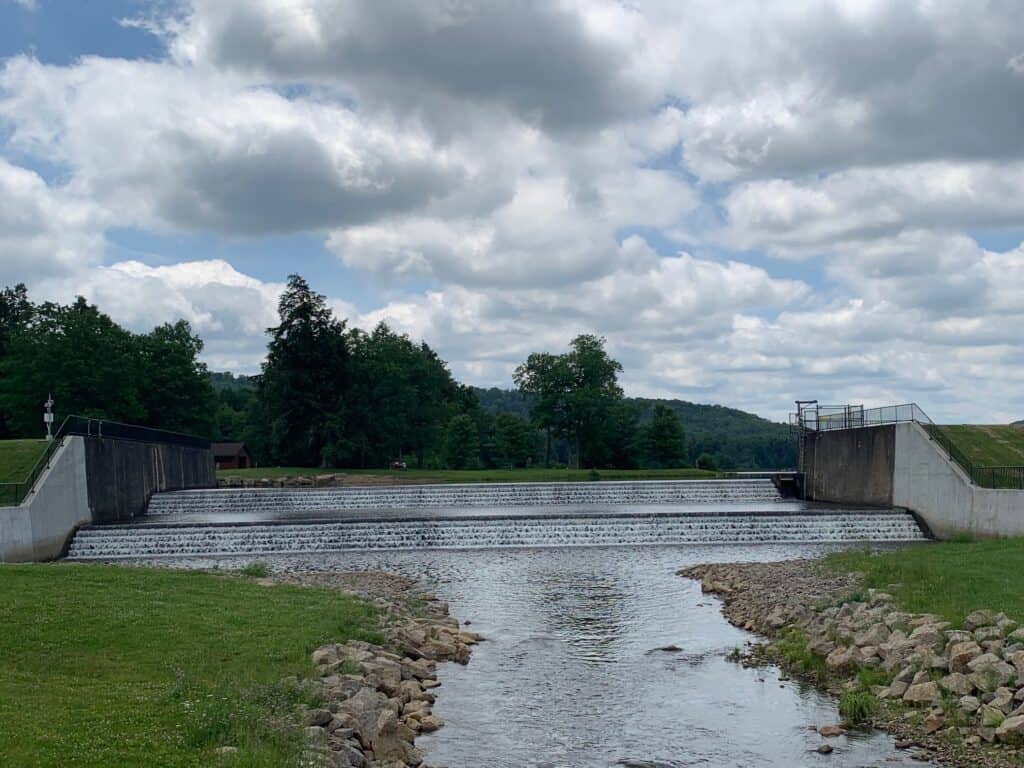 If you still have some gas in your engine, you get another mile and a half in by heading to Penny Run Trail, which we found to be a tiny bit overgrown in some places and a tiny bit flooded out in others.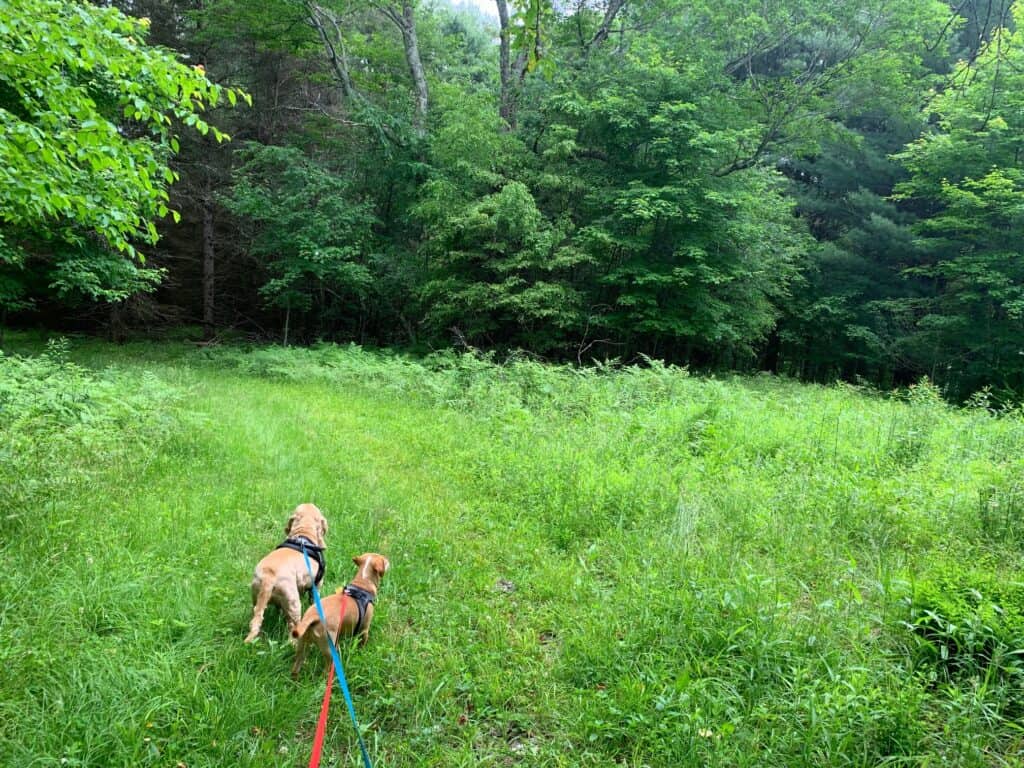 We ended our hiking day by taking the gravel path along the lake back to the campground. 
Wildlife, Fauna, and Fungi
During our weekend visit, we saw a few deer, a garter snake, and this slug: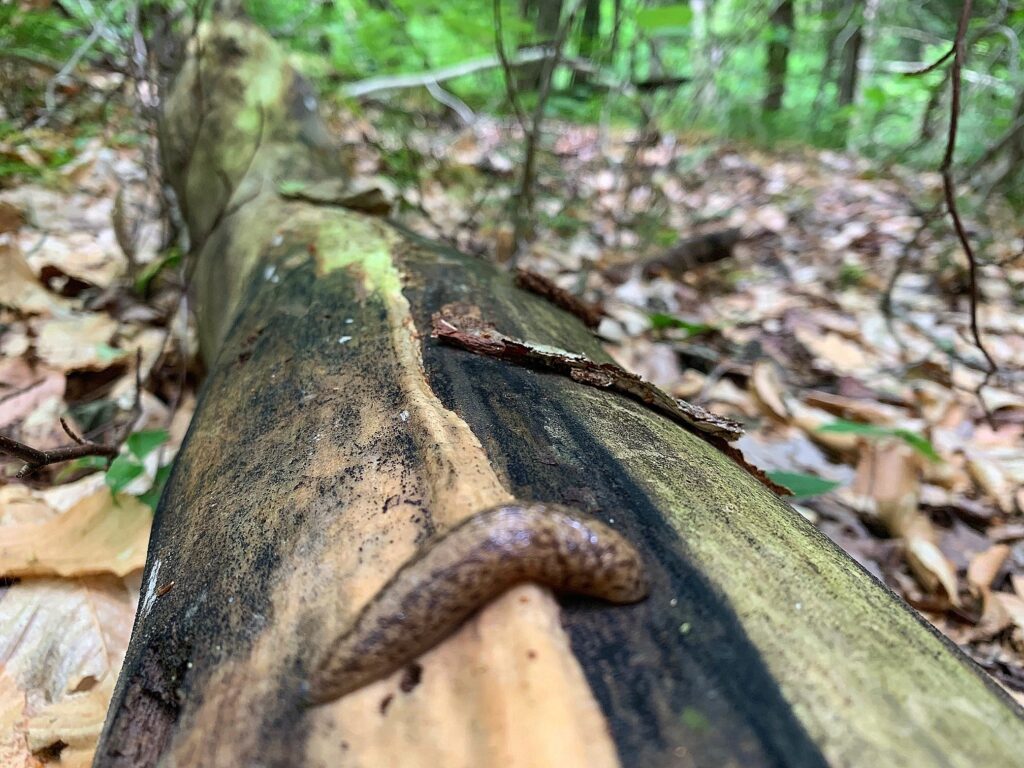 The campground host shared that there were not a lot of snakes in the area, and also that they didn't see a lot of bears in the park – even though there were bears in the area. 
We found this bat box along Orchard Trail- and the bug that snuck into the pic: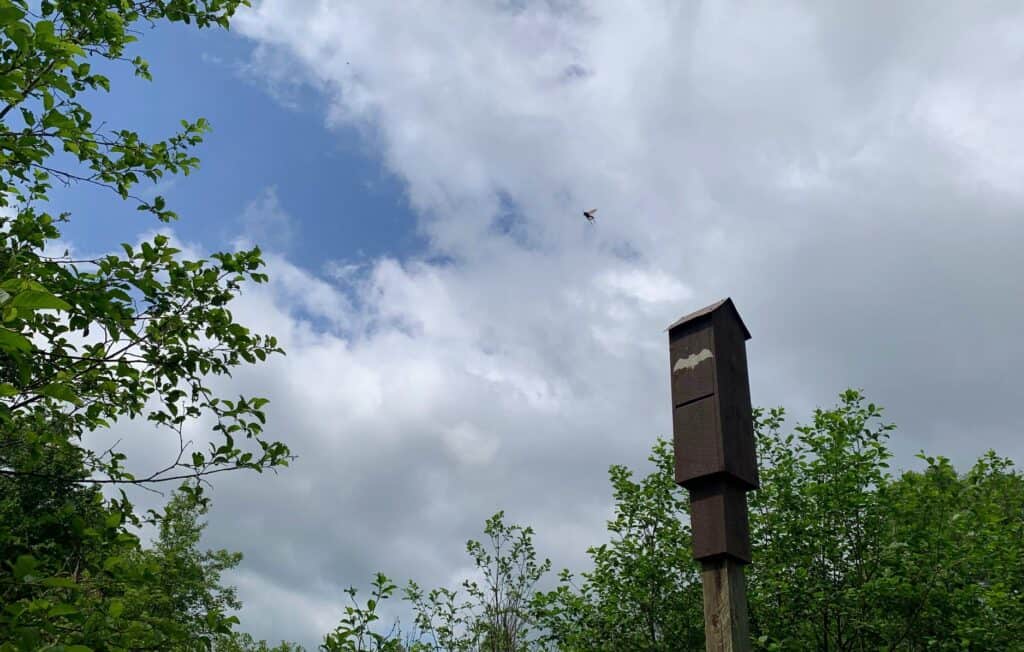 Much to my happiness, first mushrooms of the summer were popping up! Finally – fungi!
While these ones weren't too exciting, I have high hopes for this season…
SIDE TRIP! Presque Isle State Park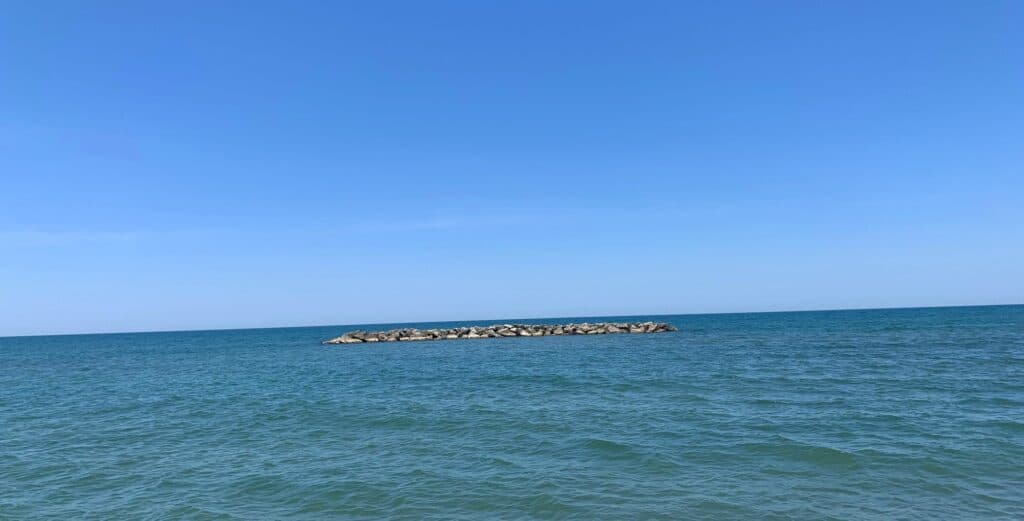 If you have a day to spare either before or after your visit to Chapman State Park, we recommend visiting Presque Isle State Park – just an hour and a half away on Lake Erie. 
Presque Isle State Park is a National Natural Landmark that boasts lots of sandy beaches, a National Recreation Trail bike path, and over 10 miles of hiking trails. 
You can easily park your RV in one of the larger beach parking lots or along the road near the entrance to Leslie Beach and the Presque Isle Lighthouse, like we did.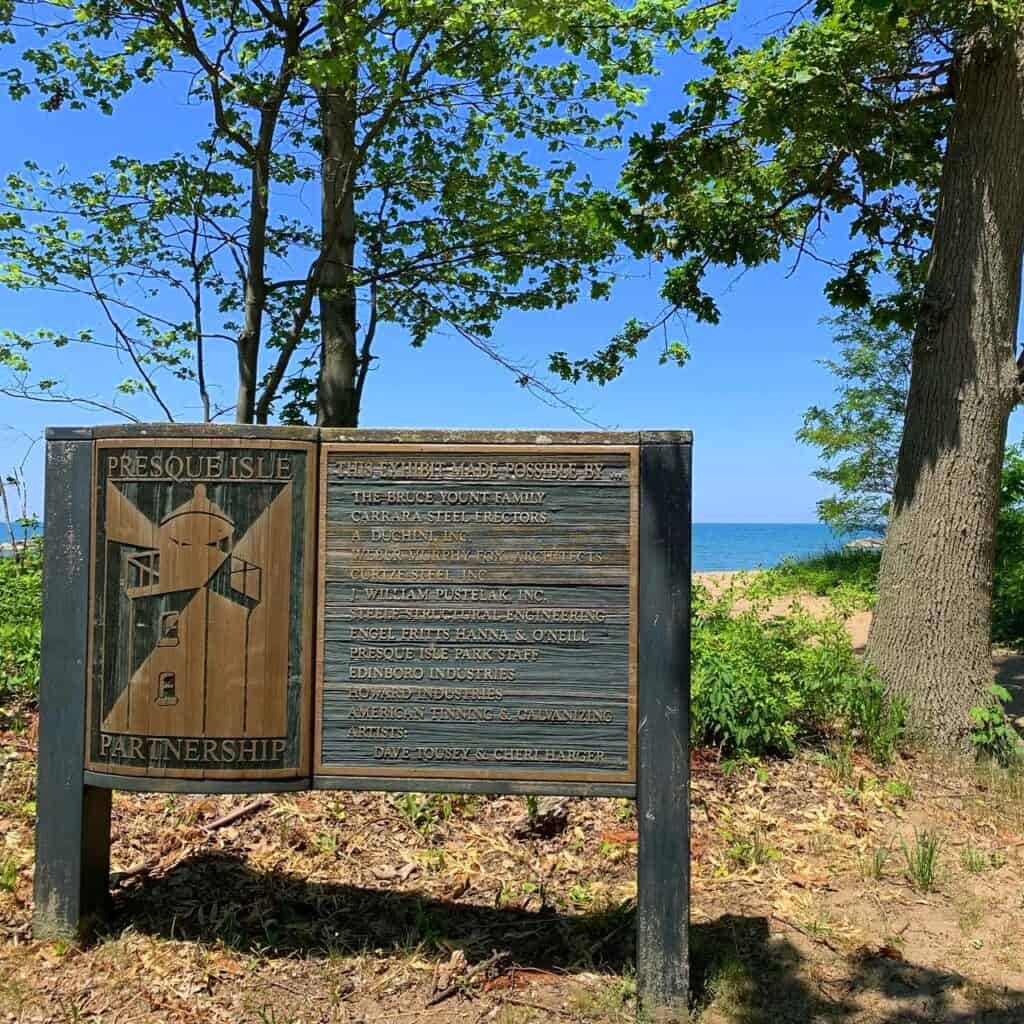 If you chose the parking spot near Leslie Beach, you can not only take a beach walk, you can also walk across the street to hike Sidewalk Trail.
Sidewalk Trail will take you a little over one mile along swampy, boggy Ridge Pond, where you'll see lots of birds and…bugs. 
Tons of bugs. More bugs than you think exist!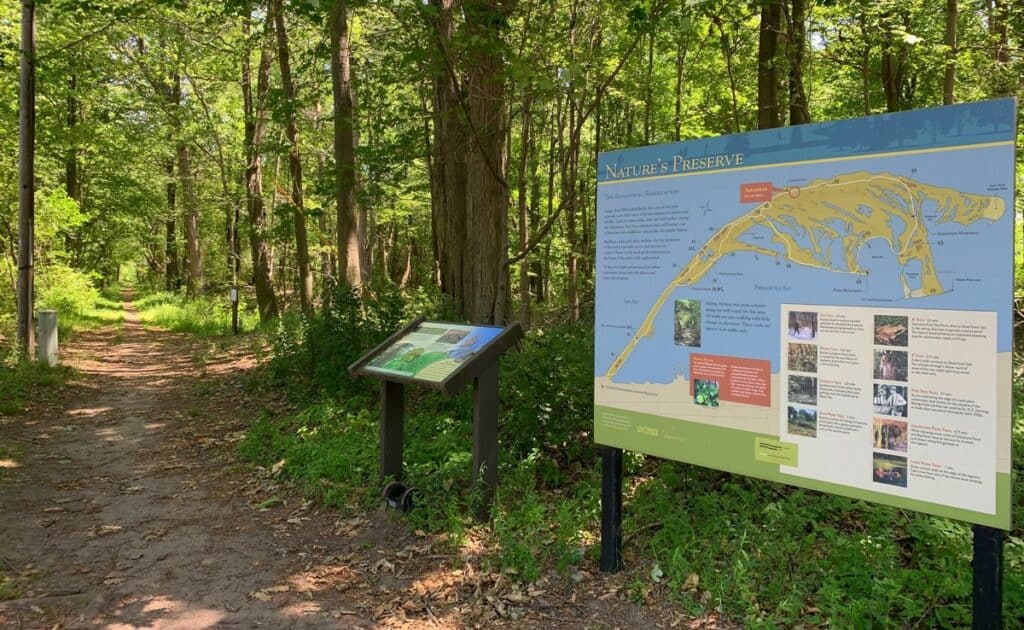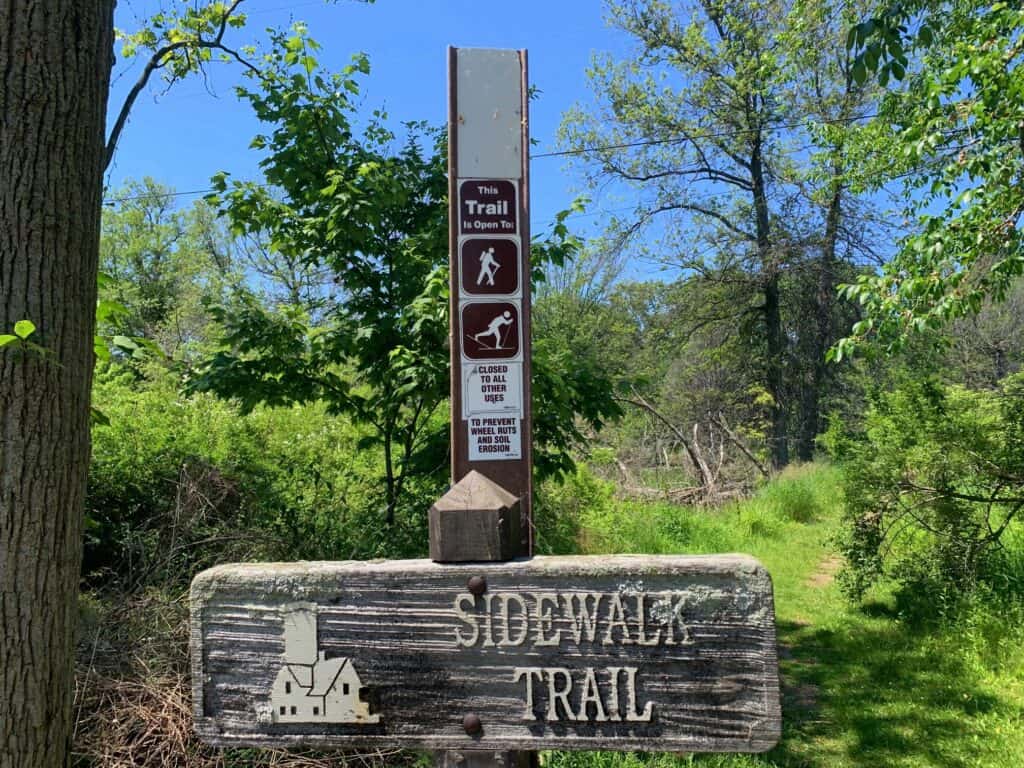 When you aren't swatting away the bugs, look out for the gorgeous lily pads in the pond!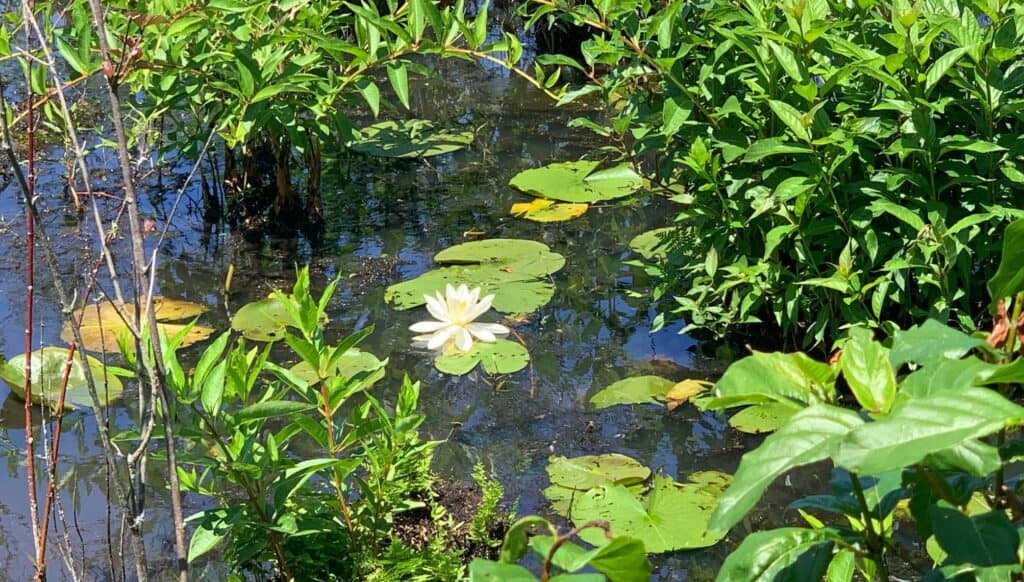 At the end of Sidewalk Trail, you can make a left and follow the road so you can return via a different route – Dead Pond Trail.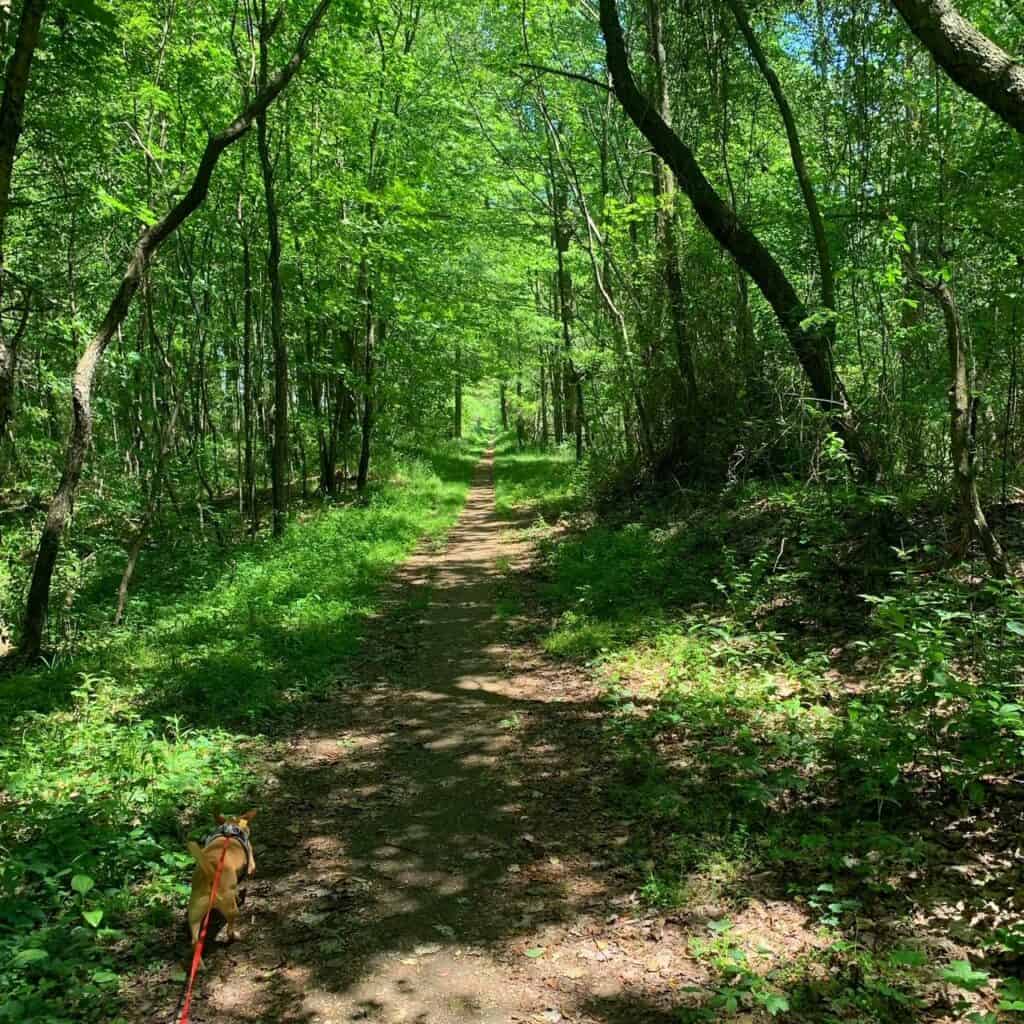 Dead Pond Trail is like the Jeckyl and Hyde of trails, so be prepared if it's a hot day and you brought your dogs!
It starts off pleasantly enough in the shady woods, but then it winds through the open sun on extremely hot sand that we had to carry Franklin and Hazel over (hot paws! hot paws!).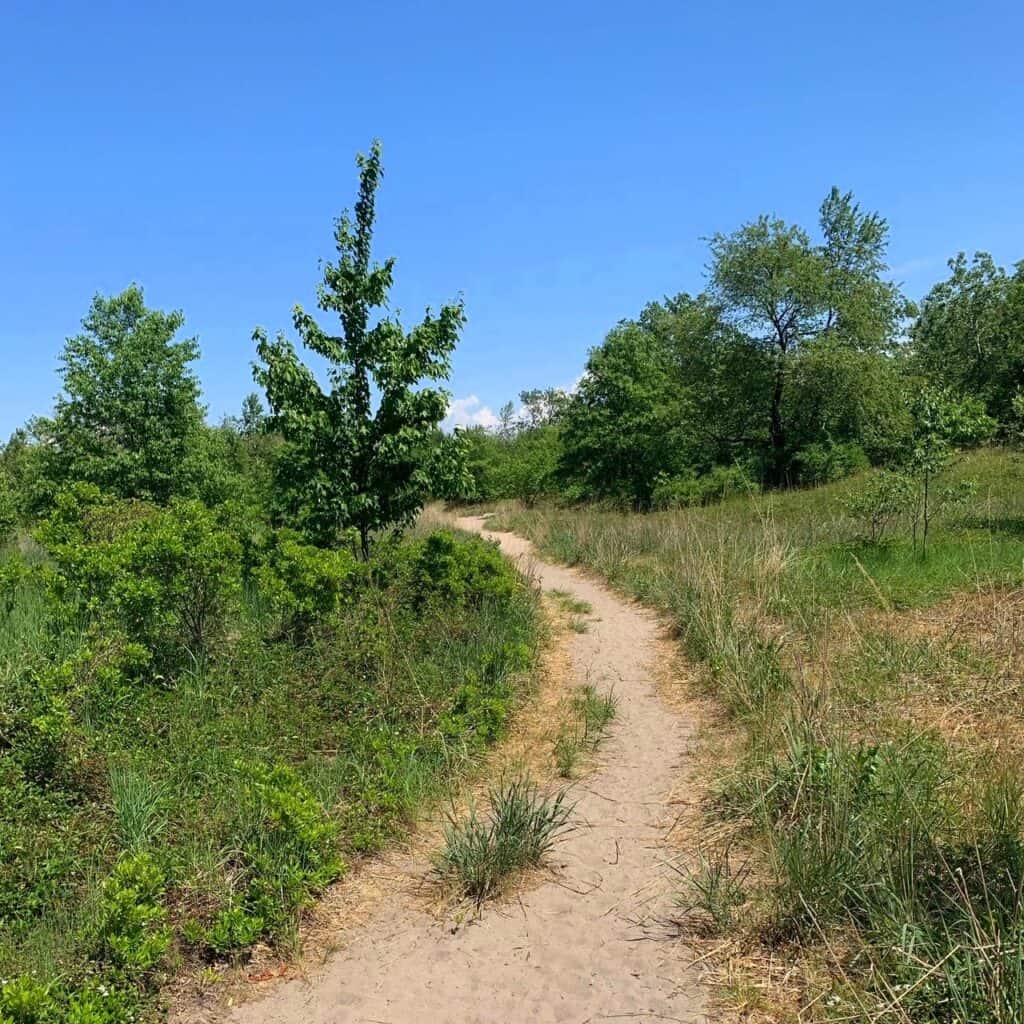 The trail does end up in the shady woods again, so you'll get a chance to cool back off. 
While we mainly saw birds and bugs, we did come across this (former) turtle nest on the way back to the RV.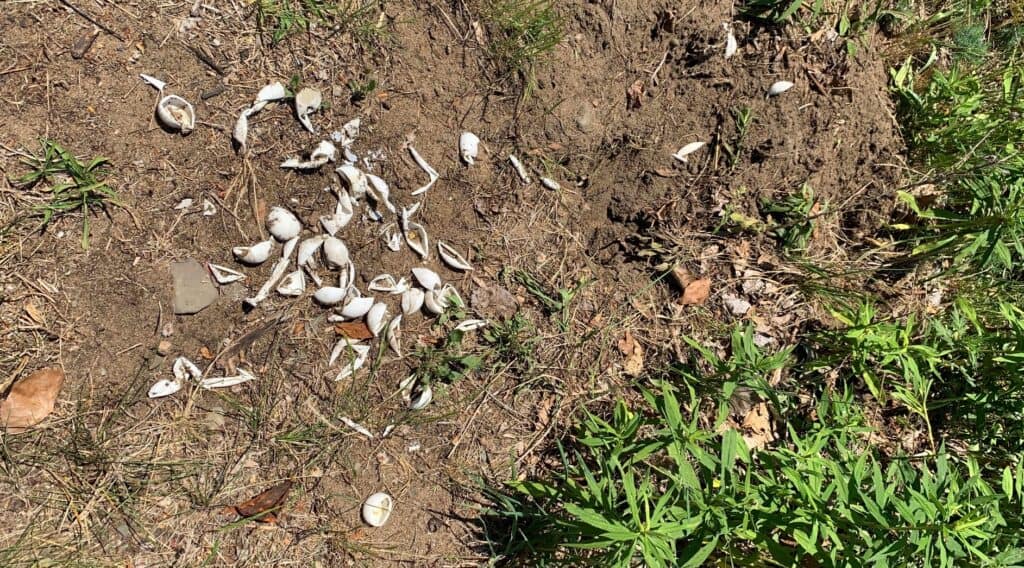 PIT STOP! West End Takeout
If you are near Chapman State Park and looking for the greatest RV weekend pizza EVER, accompanied by the best ranch dressing EVER – and we are NOT lying – make a quick call to West End Takeout. 
It only looks like a small building, and when you step into it, it only looks like a small hallway, but DANG! 
THE PIZZA WAS AH-MAZING! 
I'd share a picture, but it was gone in a flash!
They said they were under new ownership when I picked up our order. I couldn't find a website for them and their Facebook page is outdated, but here's the number for pizza bliss near Chapman State Park: (814) 726-7880.
We arrived at Presque Isle State Park in the early afternoon and stayed until late afternoon on Friday, picked up some pizza at West End Takeout, and then drove to Chapman State Park Campground to stay until Sunday.  This itinerary gave us reasonable travel time and ample hiking trails for a 3-day RV weekend. 
On the ride home, Hazel was already looking forward to her next adventure!