FLASH REVIEW! Camco Silent Top Stovetop Cover
Please note that some of our links are affiliate links, which means at no additional cost to you, we will earn a commission if you click through & make a purchase. Happy clicking!
Do you hear that rattling sound coming from your RV stovetop as you're rolling down a bumpy road? 
Since we got the Camco Silent Top Stove Top Cover & made a simple modification, we're riding more peacefully- not to mention we got back some much-needed counter space! 
The Camco Silent Top Stove Top Cover is around $30 on Amazon, and while it did decrease the noise coming from our stove while we were driving, it didn't eliminate it completely…but we figured out what would!
When you order the cover, make sure you add on a set of solid rubber stoppers. 
Once your cover arrives, follow the directions carefully to make sure the black screw knobs are placed correctly and your top fits snugly. 
Next, put the cover on stove top, and dry fit the rubber stoppers on the outside edges of the burners. 
Drill a pilot hole about halfway through each rubber stopper, then secure the stopper to the stove cover with a screw. The screw will be sunk about half way into both the stopper and the top. 
The stoppers will provide additional padding and help secure the stove cover better…and get rid of EVEN MORE rattling than the cover by itself!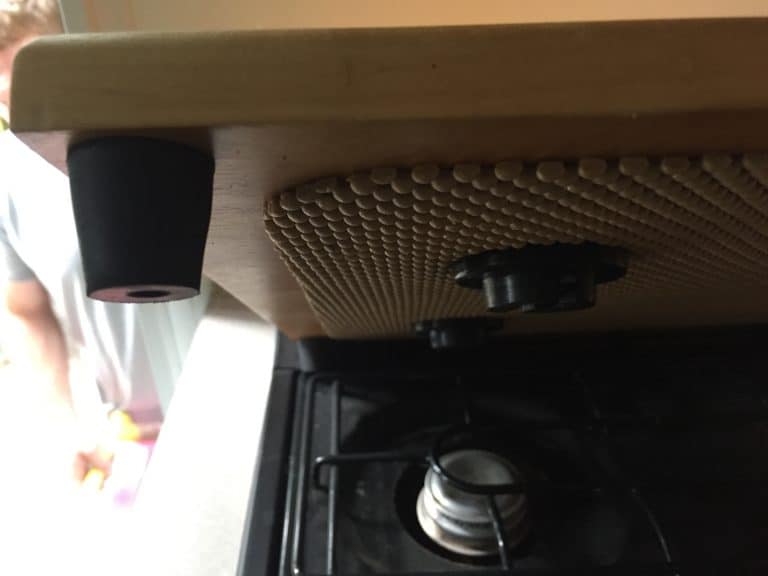 FIVE STARS with modification