Please note that some of our links are affiliate links, which means at no additional cost to you, we will earn a commission if you click through & make a purchase. Happy clicking!
Fort Macon and Hammocks Beach are two North Carolina State Parks we recently explored while visiting the Crystal Coast area. 
Both were located along the shoreline, but they provided a great opportunity to step away from the busy beach scene and experience the outdoors North Carolina-style!!
Fort Macon State Park is located in Atlantic Beach, at the northern-most tip of the Crystal Coast right along Route 58. 
The park has a restored Civil War fort, educational displays, and a gift shop – along with three trails totaling just under 5 miles (which means you can easily cover them in a day). 
Hammocks Beach State Park is located just off the island in Swansboro, in the opposite direction of Fort Macon State Park, a short distance off Route 24. 
The focus at the park is on Bear Island, a 3 mile long island just off its coast, that you can visit by kayak or passenger ferry by following one of a few paddling trails they outline. 
Trails & Wildlife – Fort Macon State Park
At Fort Macon State Park, the Elliot Coues Nature Trail starts right at the edge of the Beach Access parking lot.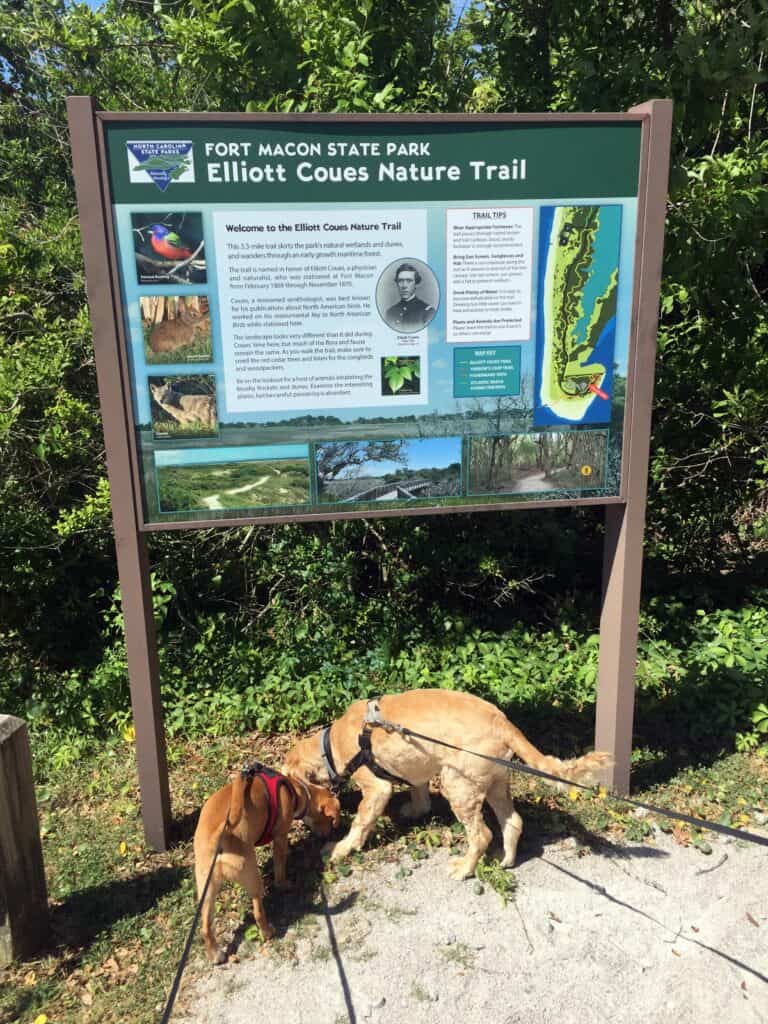 The trail is a little over three miles long and manages to wind through three distinct terrains – marsh, forest, and dunes.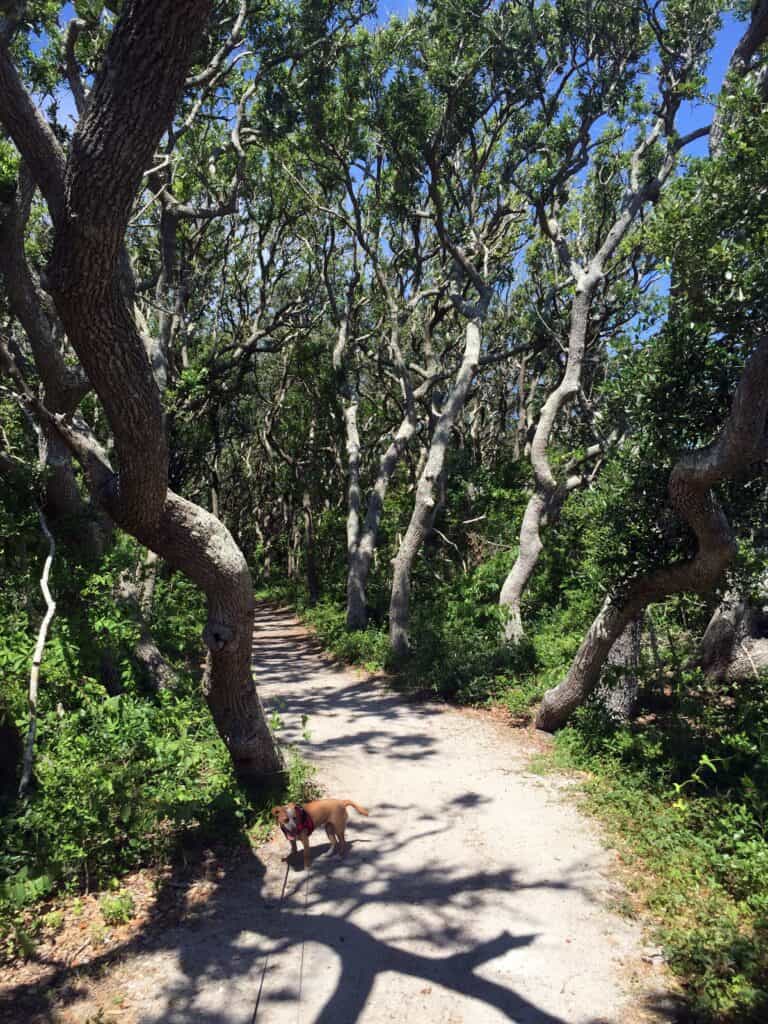 The forest is somewhat shady and cool, but then the trail opens up and DANG!
Get ready for some hot hiking in the blazing sun with a lot of bug action, both on the open boardwalks and along the dunes!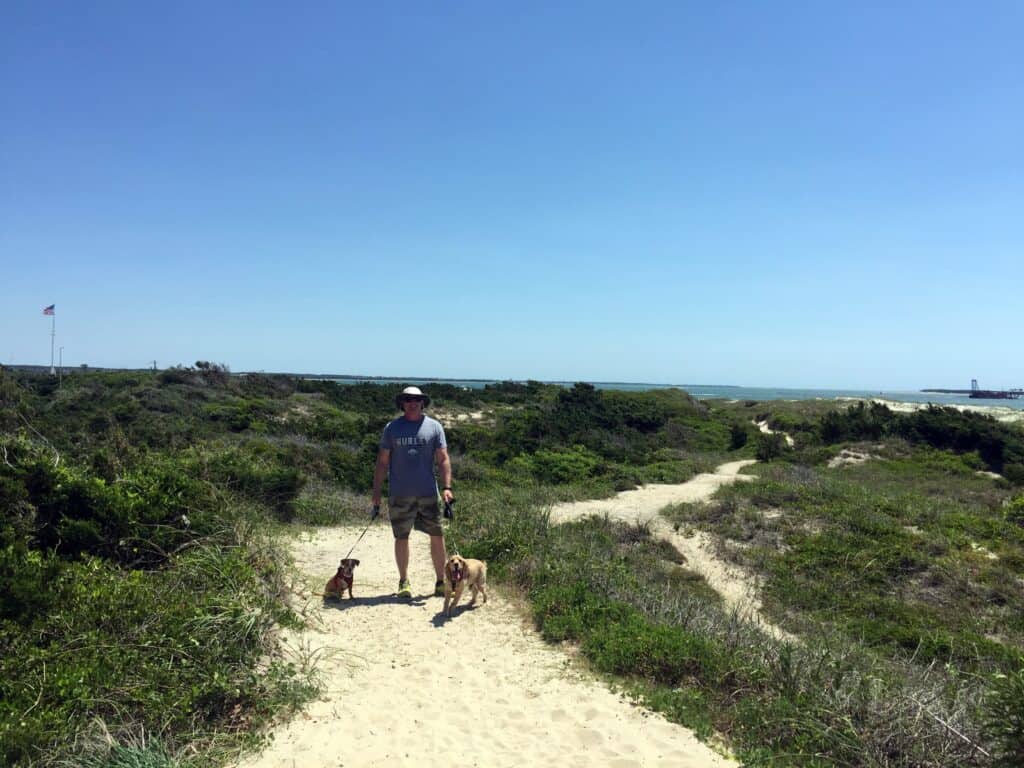 The trail does provide some beautiful ocean views!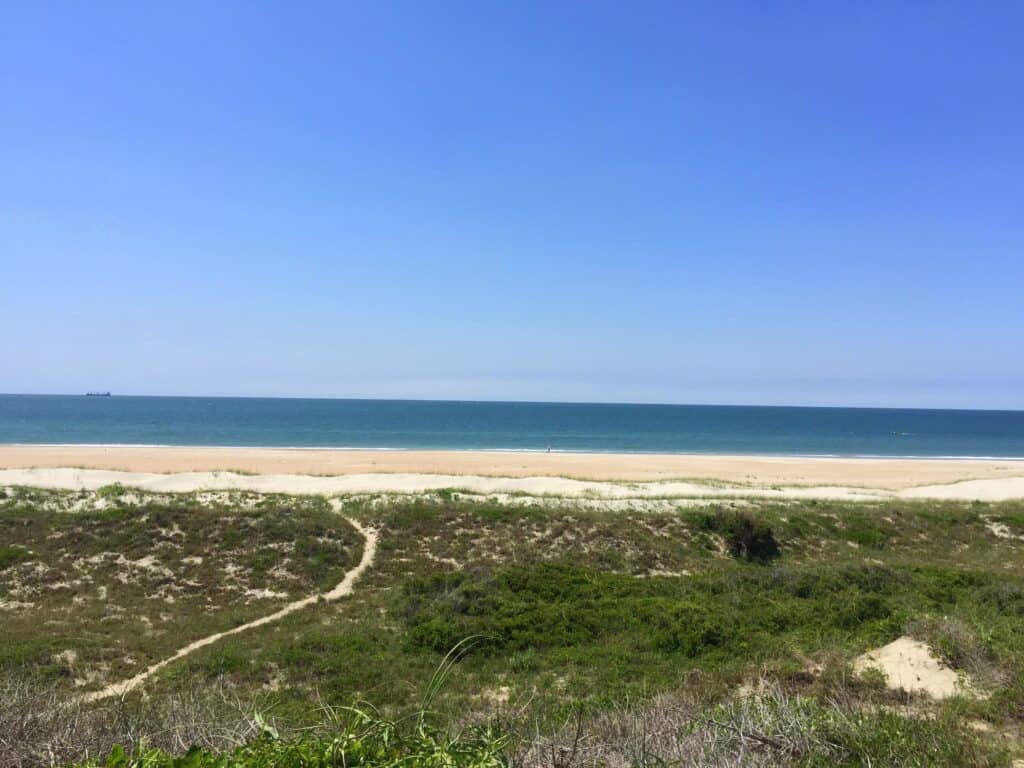 If you are taking dogs, I recommend doing this hike in the morning – the earlier the better – just to take advantage of the cooler temps. 
Wildlife we saw along this trail included lots of little skittish lizards (which Hazel loved) and a variety of shorebirds, including cranes and herons. The park boasts that over 300 bird species can be found in the park, so bring your binoculars!
Trails & Wildlife: Hammocks Beach State Park
As far as walking trails, you are a little out of luck at Hammocks Beach State Park! 
We did a quick Nature Trail that was around half a mile, and then we strolled the shore to add another half a mile to our walk. 
But as far as paddling trails, you're going to love it!
They have three marked paddling routes around Bear Island and Huggins Island, to Trout Channel, plus an easily visible route to the Bear Island Beach.
You can bring your own kayak or rent one on site to use the trails. 
Unfortunately, this park suffered from the effects of Hurricane Florence (in September 2018). At the time of writing this, Bear Island has no bathrooms or water- so you'll want to take care of that before you set out on your water hike. 
To get current information about the park's amenities, visit the North Carolina State Parks site. 
We did not see any wildlife on our short walk, but did hear a lot of birds and cicadas. 
Other Wildlife Spotted in the Area
During our stay in Emerald Isle, we also did the Nature Trail at the North Carolina Aquarium in Pine Knoll Shores, trails through Emerald Isle Woods just off Coast Guard Road on the island, and the Tideland Trail in Cedar Point. 
We spotted an Eastern Glass Lizard, which I initially (and quite wrongly) determined was a Speckled Racer found only in Central America…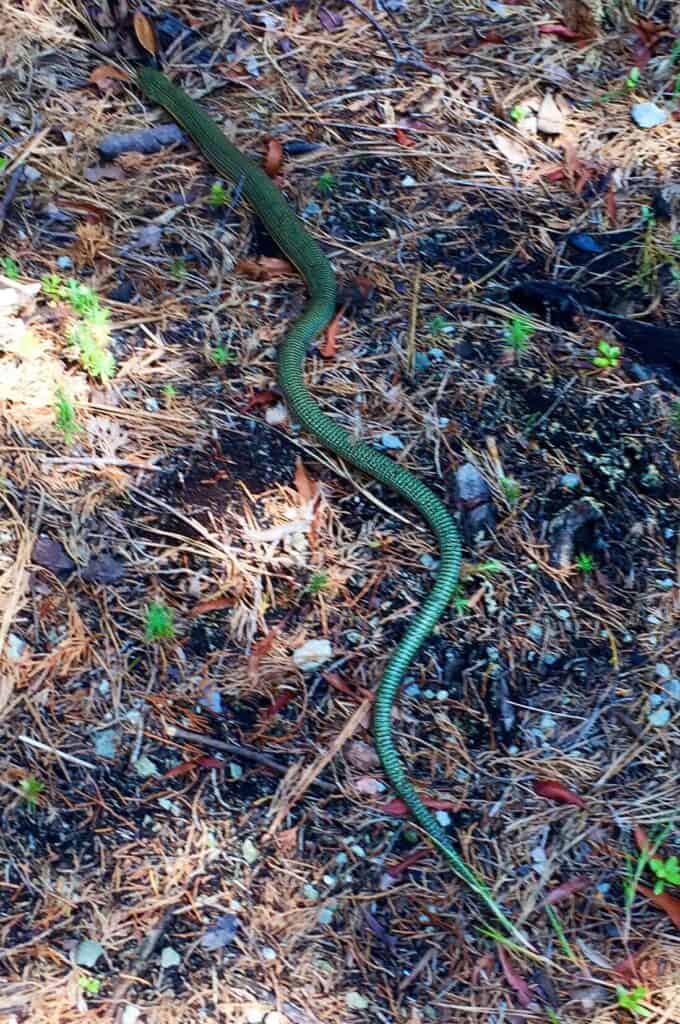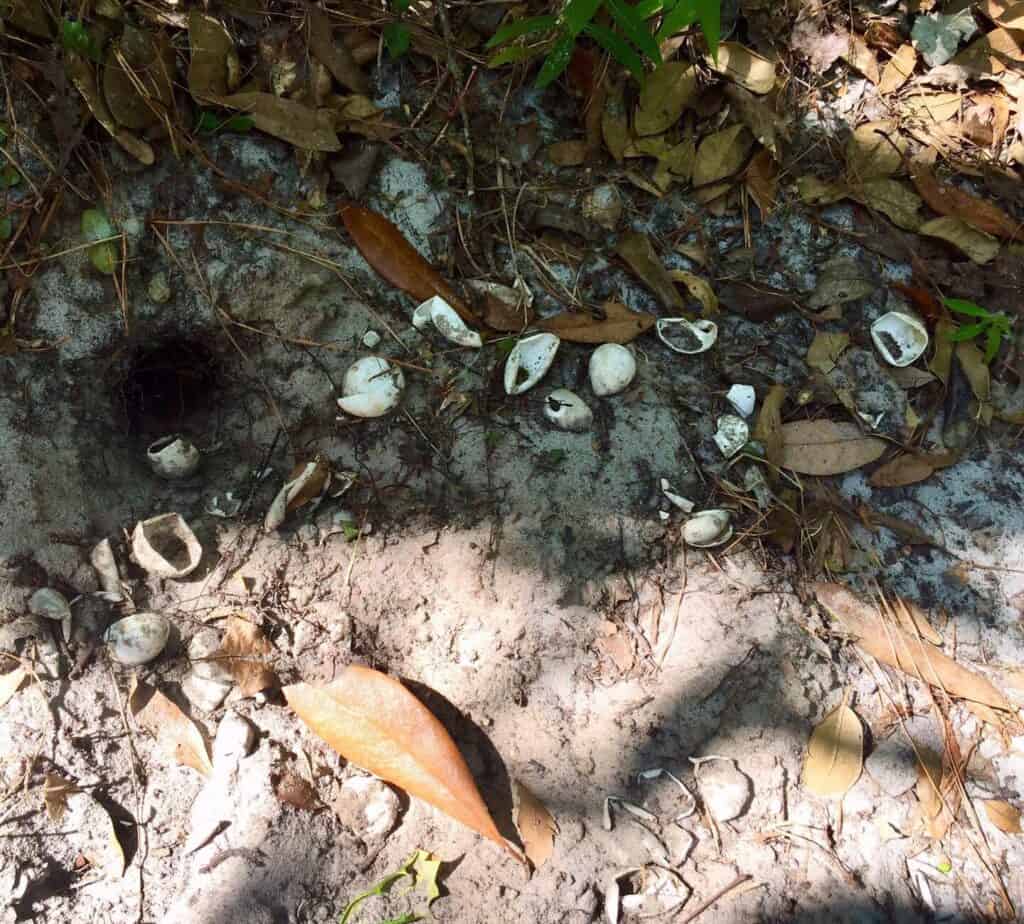 We spotted lots of little fish and a few different types of crabs – and again, tons of shore birds –  from the boardwalks in Cedar Point.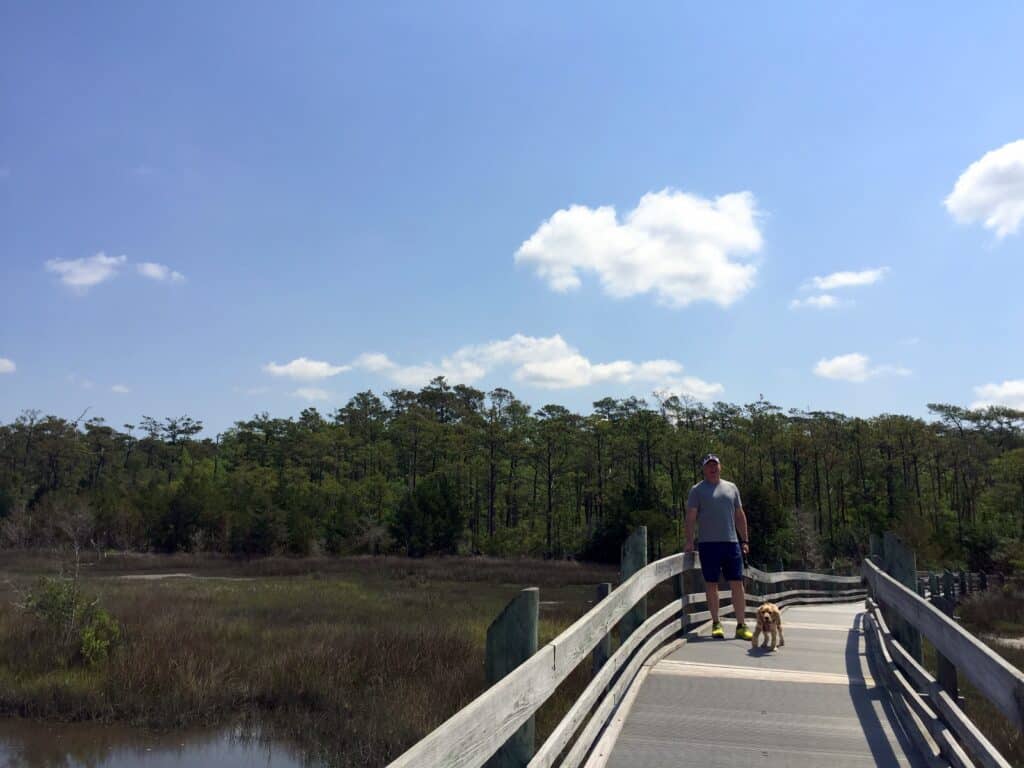 We were excited to see the Nature Trail at the North Carolina Aquarium had a number of bat boxes stationed along it- but unfortunately, we didn't see much else!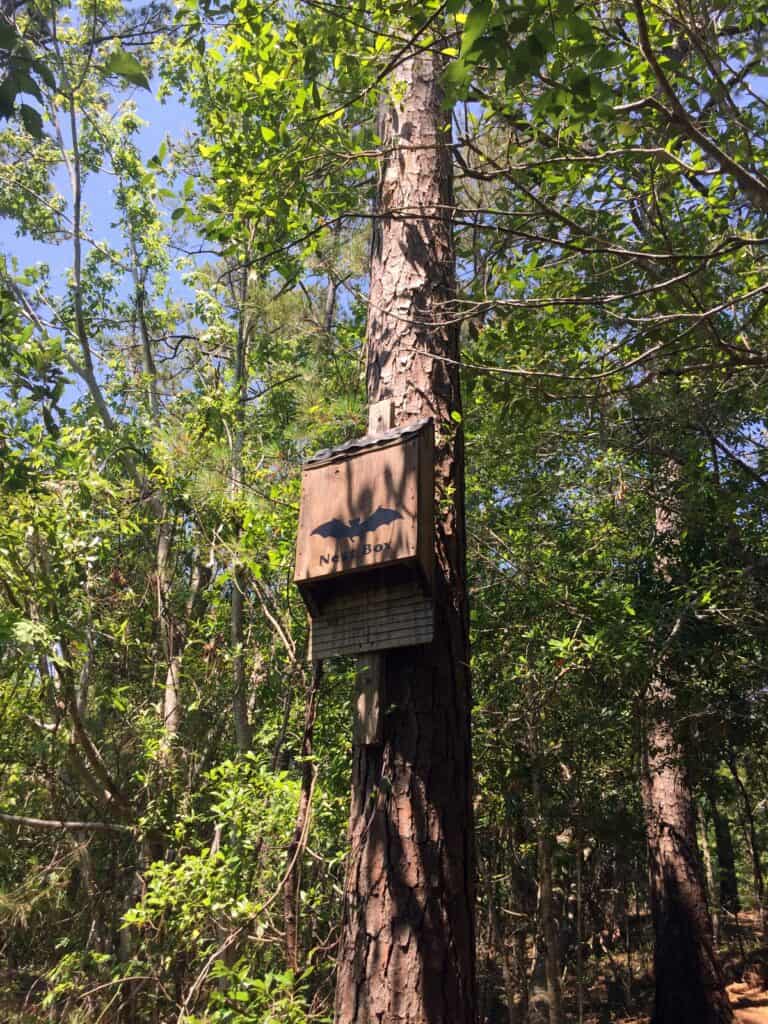 Pit Stop: Lunch at Boro in Swansboro
On the left-hand side as you turn into Historic Swansboro, you will find a delicious lunch spot with a dog-friendly shaded porch you SHOULD NOT MISS. 
Not only is The Boro Restaurant & Bar kind to the poochies, they also make a mean blackberry mojito!
I enjoyed a delectable chicken salad with spicy ranch dressing along with my cocktail, while Russ had a chicken Reuben and some local brew. 
The cheese on my salad practically changed my life it was so good!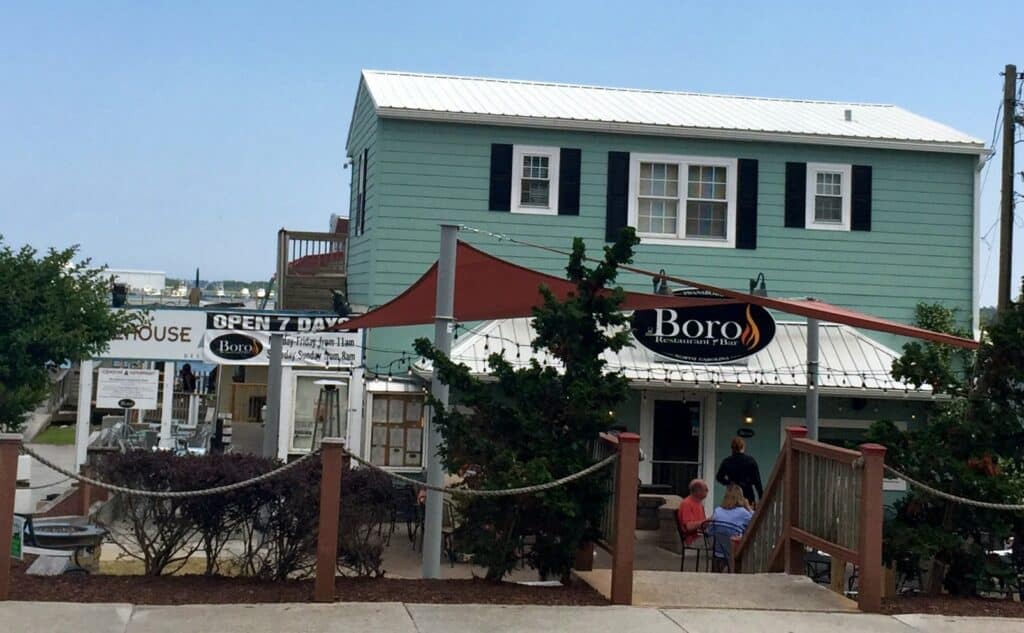 If you are visiting the Crystal Coast and want to step away from the busy beach scene, there are lots of less-crowded, natural areas, including a few North Carolina State Parks, to enjoy!