Please note that some of our links are affiliate links, which means at no additional cost to you, we will earn a commission if you click through & make a purchase. Happy clicking!
You've planned the perfect hike with your dogs, complete with trail choices, snack options, and great outdoor gear.
Now the special day arrives and…
It's raining! Or, it's much colder than predicted. 
Do you cancel your plans, because you can already smell the wet dog fur and see their shivering little faces? 
In most cases, you can soldier on! If you have Lands' End Dog Rain Jackets and Lands' End Dog Squall Jackets, there is no need to cancel any plans.
The Lands' End Dog Rain Jackets are water resistant and lined with comfortable, t-shirt-like lining. They are long enough to cover your dog's back half, and wrap around enough of their body to even stop some splash up!
Not only that, the adjustable velcro straps and up/down collar make sure you get a good fit. 
Add in the convenient harness/leash slot, and you're ready to hike a lot drier than before!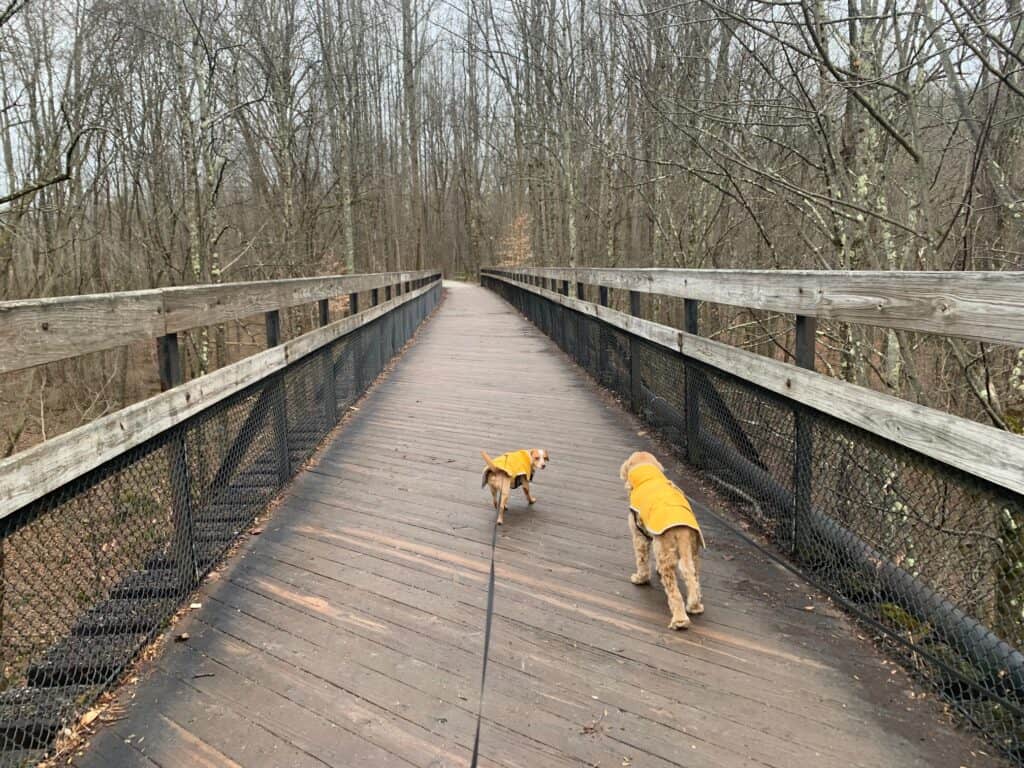 And if you're walking in the early morning or evening, a reflective strip provides even better visibility for your four-legged friends. 
For cooler temperatures, the Lands' End Dog Squall Jackets have a weather resistant shell with a thick fleece inside. With similar adjustable velcro straps and convenient harness/leash slot, it provides the same whole-length body coverage as the rain jacket.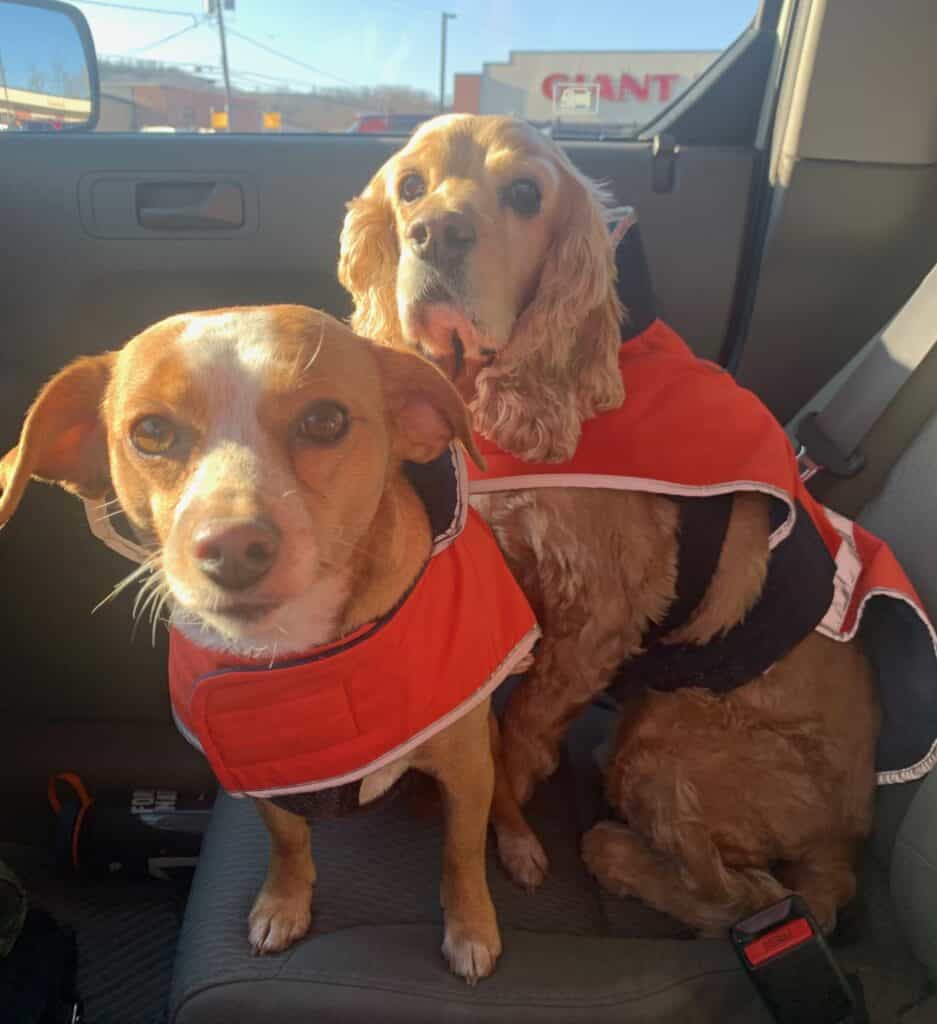 The major bonus for both dog jackets is that they can successfully be tossed in the washer and dryer – and come out intact time and time again! 

A few other reasons for this high rating:
These dog jackets are able to be put on and taken off two wriggly pups on your lap in the car easily. 
The velcro closures are strong, and the materials are flexible enough for active pups. 
Inevitably, our dogs stroll through the muddiest mud and duck under the wettest shrubs. The option to toss the jackets in the washer and dryer really adds that final star for us! 
We opted for matching versions of both jackets for Hazel and Franklin- yellow for the rain and orange for the winter. Yellow and orange also made sense for extra visibility in the woods, especially during hunting season. 
The dog jackets can lie flat with the velcro closed, making them easy to store or to pack along on your next adventure.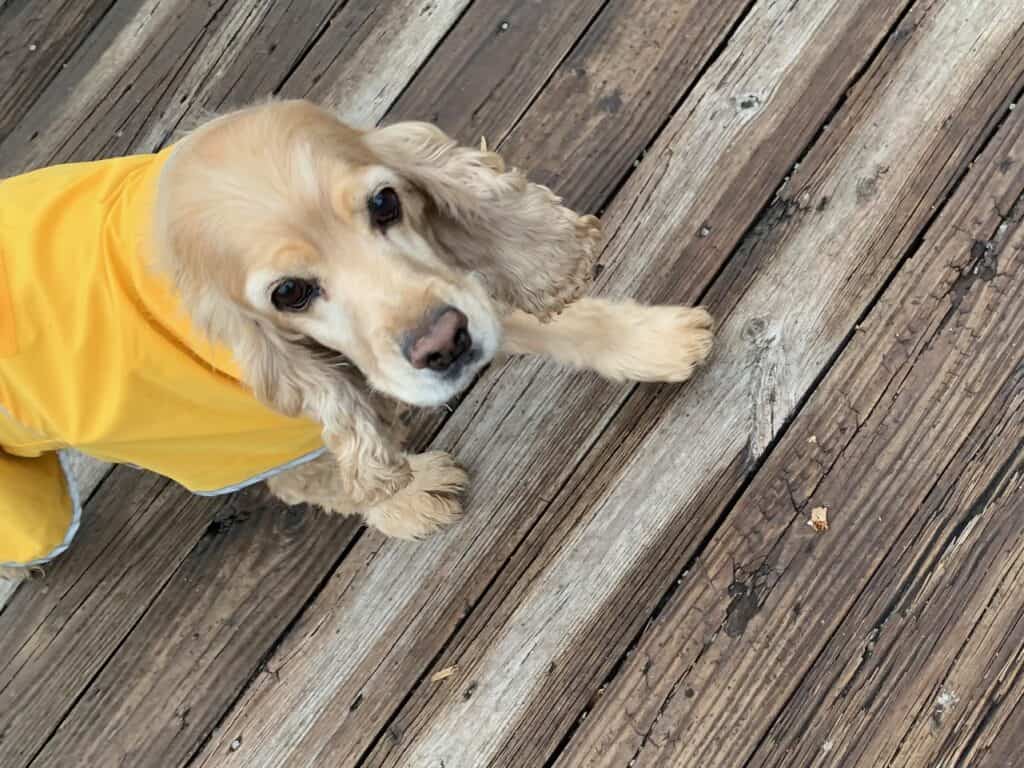 For Franklin, Lands' End Dog Rain Jacket is the better find, because his fur absorbs water and mud so quickly. Any extra protection is a big win for him!
Hazel gets cold much more easily than Franklin, so she leans towards the Lands' End Dog Squall Jacket as a favorite.
For both options, Lands' End offers a variety of sales and promotions throughout the year that make these jackets quite affordable! With holiday discount codes, we were able to get the Lands' End Rain Jackets for less than $20 each and the Lands' End Squall Jackets for between $20-25 each.