We heart Pennsylvania state parks!
We aren't "family-activities-public-pool-with-minature-golf-campground" kind of travelers. With one senior dog, one reactive dog, and no children, there's way too much stimulation & excitement in resort-style campgrounds for any of us to relax!
Fortunately, state parks offer the perfect alternative: low-key, close-to-nature, just-rustic-enough places to stay the night. I like to call ours in Pennsylvania "a few steps above primitive".
Almost all of the PA state parks with RV spaces offer electricity (some have water & sewage, too), fire pit and picnic table at your site, with a clean bathhouse & running water nearby.
We have also found the PA state park rangers & staff to be extremely courteous, knowledgeable, and helpful- quick to recommend specific trails, talk about wildlife in the area or share what programs they may have going on in the park.
In addition to not being "resort-campground" kind of travelers, we are also not "living-on-the-road-full-time RV" travelers, either. As weekend RVers with typically 2-4 days at a time to adventure, our goal for overnighting is to be close as to good hiking and decent bathhouses as we can.
We also love to take the long way while stopping at eclectic pit stops and having interesting places like wineries, nature preserves, and farmers markets within a short driving distance of our destination.
We've had good luck meeting all of those goals while overnighting at state parks in Pennsylvania!
Of the 51 state parks that offer overnight RV accommodations in Pennsylvania, we've visited 17 and have 5 more on the calendar this year.  And if you don't have an RV or aren't ready to buy one, an RV rental may work perfectly for you and your crew. 
You can find a complete breakdown of the PA state parks located in each region of the state here.
OF 67 PA STATE COUNTIES WITH
ACRES TO ENJOY IN PENNSYLVANIA!
The Pennsylvania State Park system started in 1893, and has grown to a (current) total of 121 parks located in 61 of 67 counties with over 283,000 acres to enjoy.
Valley Forge in King of Prussia (east) started out as the first PA state park, but was eventually turned into a National Historic Park.
Mont Alto State Park in Fayetteville (south) was next up in 1902 (and is STILL a state park) followed by Caledonia, also in Fayetteville (south), and Promised Land in Greentown (east).
The most interesting part of PA state park story is told through the hard work of the Civilian Conservation Corps (CCC). In 1929, President Roosevelt created CCC to put young men back to work after the stock market crash. While earning $30 a month, they were provided with shelter, clothing and 3 meals a day to work on conservation projects, including building up our state parks. While operating in Pennsylvania from 1933 to 1942, the Corps established the second highest number of camps in PA at 151, behind only California.
Two museums exist to honor the Civilian Conservation Corps- one at Parker Dam in Penfield (north) and the other in Promised Land (east).  You can learn more about the CCC and even search their online archive here.
The largest PA state park is Pymatuning in Jamestown (west) with over 21,000 acres, and the smallest is Sand Bridge State Park in Mifflinburg (north) with only 3 acres!
The two newest PA state parks are Washington Crossing Historic Park in Bucks County (east) and Nescopeck State Park in Drums (east).
As a lifelong resident of Pennsylvania, my favorite state parks (so far!) that I can promise are well-worth the visit are: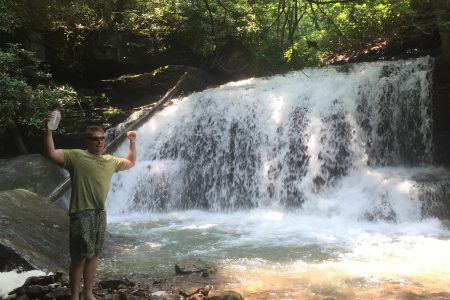 I've visited this park my entire life, and it's my absolute #1 pick!
To start with, it is located along the famous Great Allegheny Passage biking & hiking trail that starts in Pittsburgh and ends 150 miles later in Cumberland, Maryland.
It has the best white water & calm river kayaking & canoeing in the state and is the starting point (or ending, depending where you begin) of the challenging 70-mile long Laurel Highlands Hiking Trail .
All this activity will make you crave a well-deserved brew at Falls City Pub.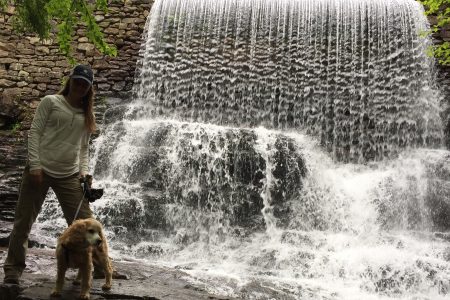 Hickory Run in the Pocono Mountains has an amazing trail system, and my personal favorite trail of all time (so far) Shades of Death Trail. No kidding. Benjamin almost made that a reality when he launched himself into the bottom of this dam along the way (he's fine).  
Walk across Boulder Field (disclaimer for those with senior dogs who have previously had vestibular disease: carry them!) and get some ice cream afterwards near the lake.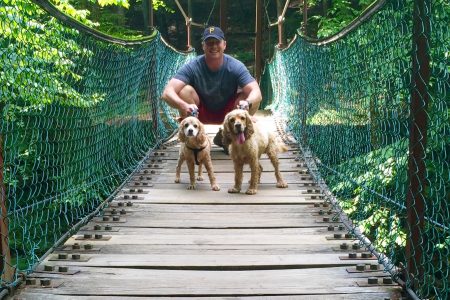 Cook Forest has Benjamin's favorite trails that form a loop through the Forest Cathedral and include rock outcroppings, swinging bridges, swimmable creeks, and the tallest white pine north of the Smokies.
There are plenty of options to float down the Clarion River when the weather is warm, plus a bunch of wineries in the area will make sure you don't go home empty-handed!
BONUS & HONORABLE MENTION PARK: Stop at Clear Creek, just 11 miles east of Cook Forest, on your way home and do the Ox Shoe Trail to learn the logging history of the area. 
Have you visited a PA State Park that shouldn't be missed? Leave it in the Comments below with a link, and we'll put it on our list!