Please note that some of our links are affiliate links, which means at no additional cost to you, we will earn a commission if you click through & make a purchase. Happy clicking!
Unfortunately, the COVID-19 crisis has put a wrench in everyone's life! While we'd like to be getting the RV ready for this year's adventures, we've been following the stay at home orders from our Governor. 
Before more strict stay at home orders went into effect, we were able to visit Ryerson Station State Park. While all the facilities were closed, including playgrounds, pavilions, and rest rooms, you were allowed to hike if you followed social distancing guidelines. 
To get the most current COVID-19 news and restrictions for Pennsylvania state parks from the Department of Conservation and Natural Resources (DCNR), you can visit their Alert Details page.
Since I always throw in a History & Location section to our Trip Reports, I didn't want to skip out this time. 
Our house is located about 15 miles south of Pittsburgh, in close proximity to a lot of opportunities for outdoor recreation. We can get to several access points of the Great Allegheny Passage biking trail (we'll talk more about that later) in just a few minutes and are within an hour's drive of many of southwestern Pennsylvania's state parks.
The COVID-19 crisis began in our area about three weeks ago. I am on a work-from-home plan until May 4 (tentatively), and Russ has limited travel to the facilities where he's needed, plus works from home, too. 
With so much time on our hands, we've found ourselves trying all kinds of new projects, recipes, and workouts- a few that even remind us we'll be on the road again soon! 
Take a look and get some ideas of your own!
Once I knew I'd be working from home for at least a month, maybe more, I wanted to update the giant boring wall in my home office/spare bedroom.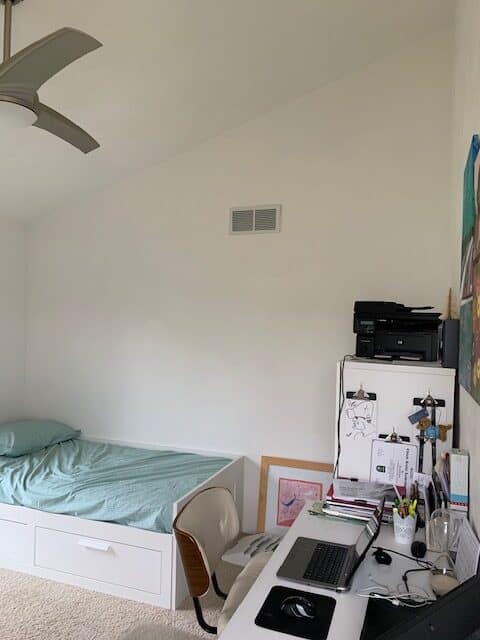 They just don't get much plainer than this.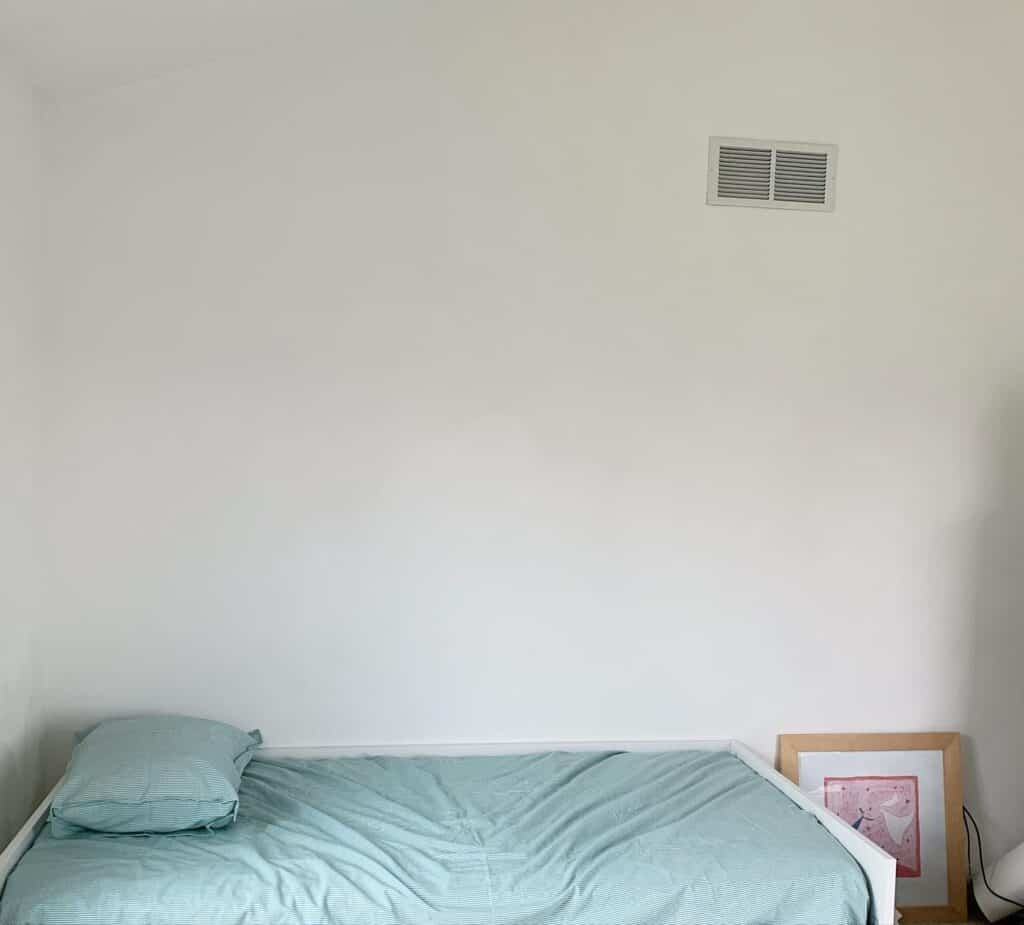 Since I'd rather be working from the mountains, I figured we could bring the mountains into our house!
A few weeks ago we were still able to visit Home Depot, so we gathered up everything we'd need to turn this wall into a mountain hideaway: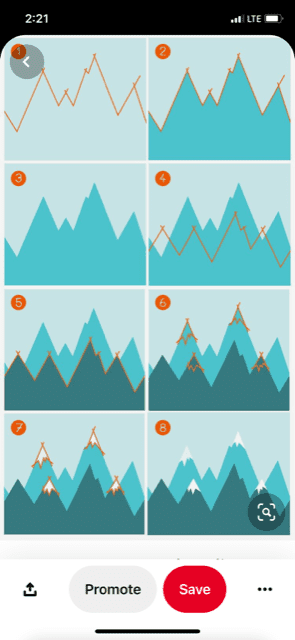 You can snazz yours up however you'd like and pick whatever colors you want- we choose to tape in some pine trees to add extra color. 
You may find yourself taping and untaping a few times to get the peeking mountains and valleys just right, so they don't seem like shark teeth. 
If you have the added challenge of your wall being plaster swirled like ours, make sure you push the tape down for a few seconds so it doesn't curl back up.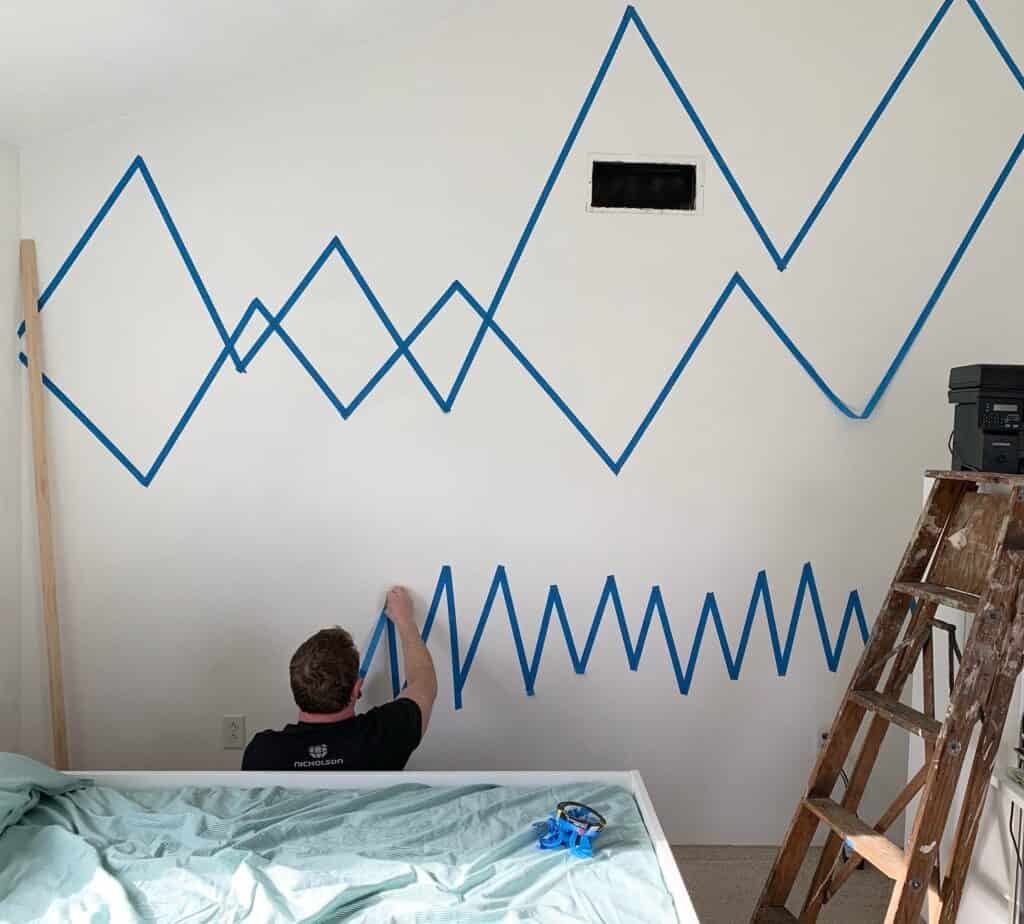 Once the outlines were taped off, we got to work with different colors on different sections. 
We weren't sure how we were going to handle the white tape outlines yet…we just kept painting.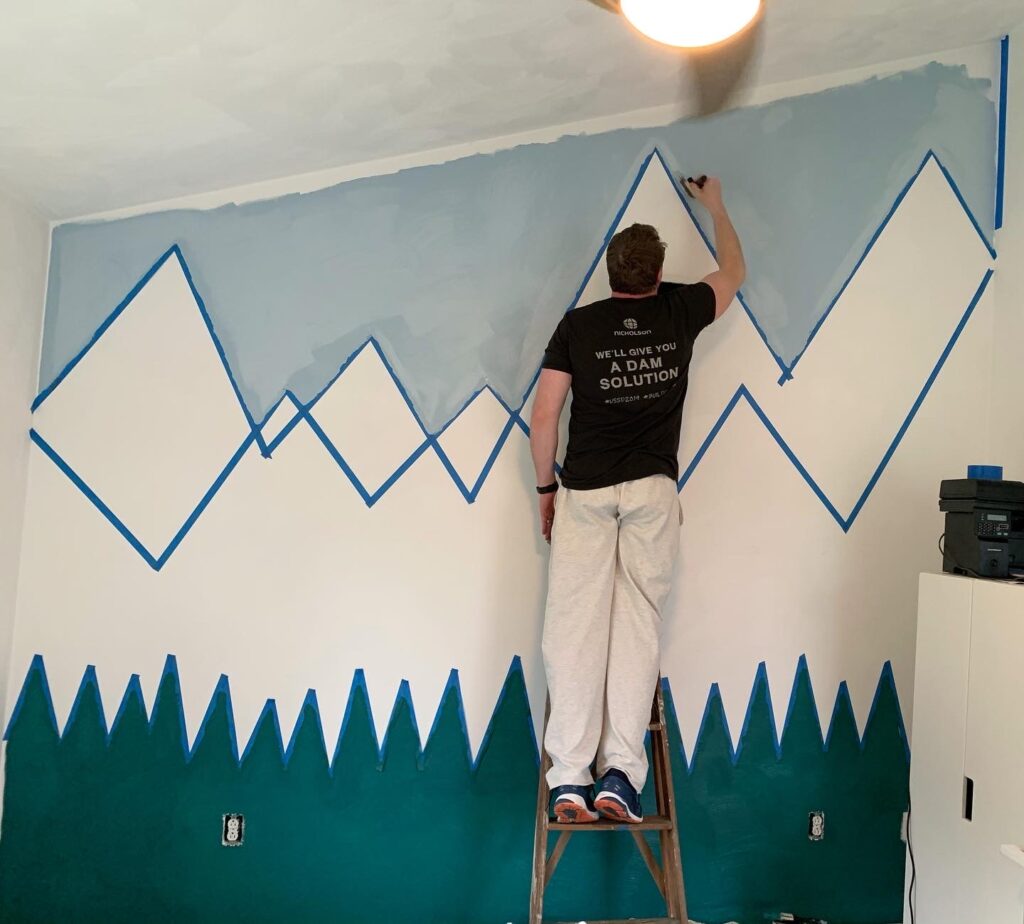 Here's what the mountain wall looked like with the tape still on: 
When the painter's tape came off, we really liked the white outline! 
Here's the view from my desk before we touched the white outlines up: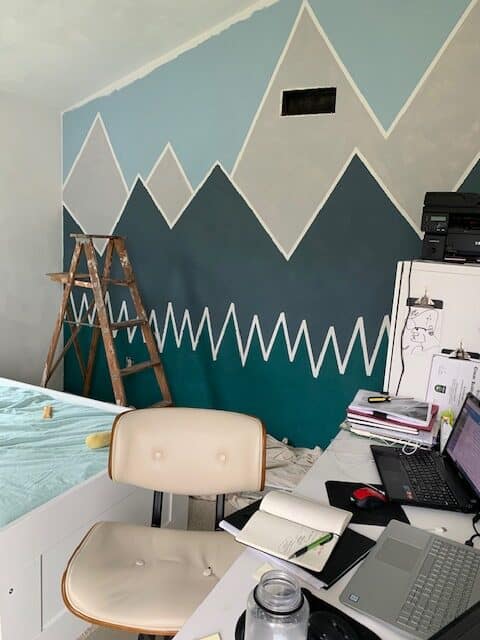 We cleaned up the outline edges, and finally got Hazel's approval!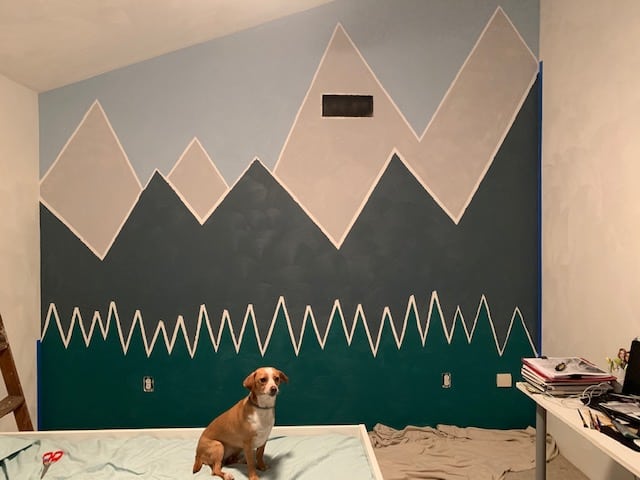 With all of the Zoom and Google Hangout meetings now, I'm happy to have a cool background!
Have you ever wanted to bake a homemade apple pie? 
Me, neither! Not until I was home for three weeks!
I tried out Simply Recipe's Homemade Apple Pie and used the sour cream crust recipe. 
Pie crust is no joke; however, my pie crust looked exactly like a joke. When I rolled, it crumbled; when i pushed, it flaked; when I tried to piece it together, it wouldn't stick. 
But, DANG, it tasted delicious!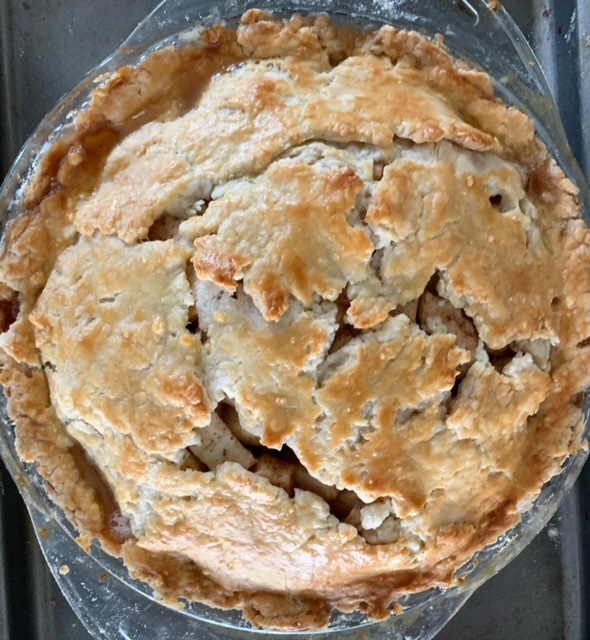 While the pie likely wouldn't travel well and I probably won't try cupcakes from scratch again, I can see us whipping up some of that peanut butter frosting to use as a dip for apples after hiking on a nice RV weekend!
Something I would have done anyway this time of year is kick-starting my garden- but with so much extra time, you can really get down to business in this category! 
If you are looking to start or expand your garden, check out the seed collection that Burpee's has to offer.
I had been using some of my seed packets for 3+ years, so I ordered up some new red peppers, cucumbers, spinach, and a few different types of tomatoes- plus a seedling tray to start them in. 
How fast can you get started? I just planted last week, and look how far along they are: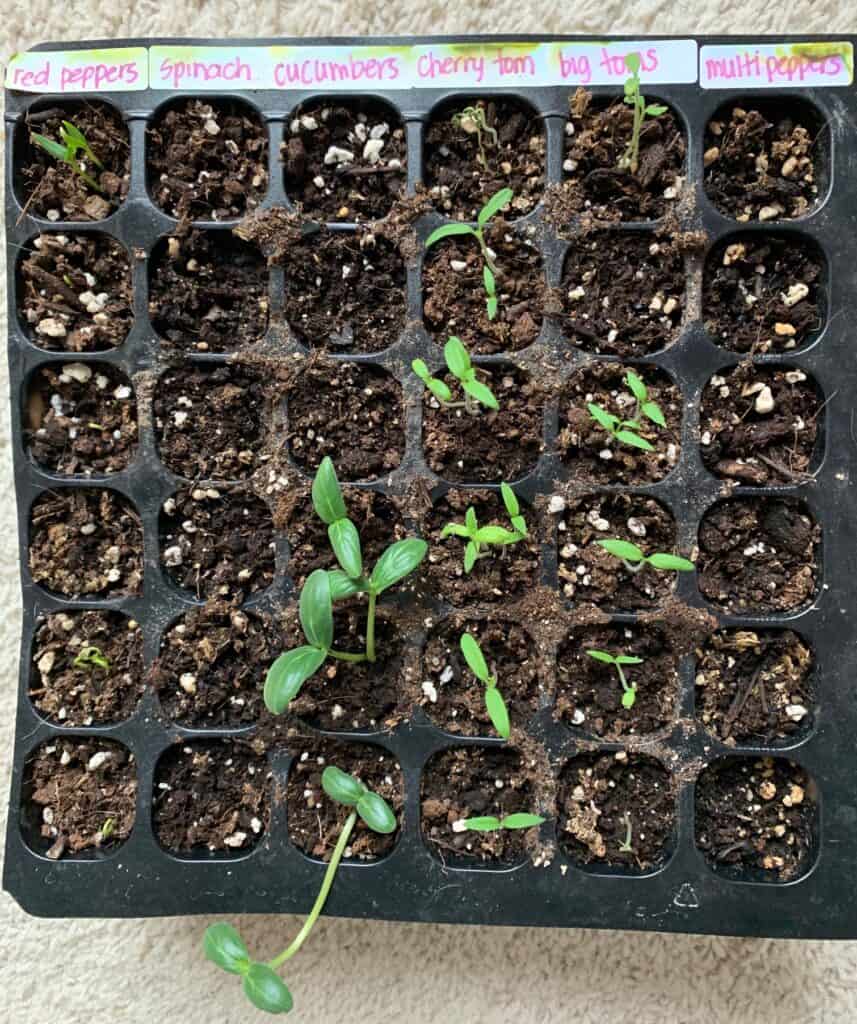 Stay at home orders have been sweet music to our dogs' ears! More walks, more cuddles, and more snacks mean that Franklin and Hazel are enjoying this much more than the people are. 
However, as our neighbors walk down the street and kids bike or scooter past our house, Franklin and Hazel make themselves heard!
Who would guess these two angels would need something to keep them occupied? 
When Franklin is toting around his stuffed squash and Hazel isn't sitting pretty, here are just a few of things we use to keep them busy: 
Have you suddenly found a lot of time you can dedicate to exercising? 
We are lucky to be close to the Great Allegheny Passage bike trail, which stretches all the way from Pittsburgh to Cumberland, Maryland. You can even continue on the C & O Canal Towpath from there to Washington, DC! 
The struggle is real during the COVID-19 crisis- for everyone! We've found new ways to keep busy and spend time while we stay at home and keep a social distance, and hopefully you have, too. 
We'll get through this separately together, and we hope to be sharing more actual Road Trip Tails soon. Thanks so much for following along!
Many more thanks to all of the people keeping our lives comfortable and safe right now- from first responders and healthcare personnel, to grocery store workers and online order fillers! We appreciate everything you are doing to make our lives healthier and easier during these crazy times.