Please note that some of our links are affiliate links, which means at no additional cost to you, we will earn a commission if you click through & make a purchase. Happy clicking!
How do you prevent people from seeing into the front of your RV when you are parked?
Once we removed Axl Roads' awful separation curtain behind the cockpit area, we tried using sewn-together Ikea curtains hanging from Command hooks stuck to the overhead area for privacy when we were parked.  
Hand-sewn with help from the dogs, I might add…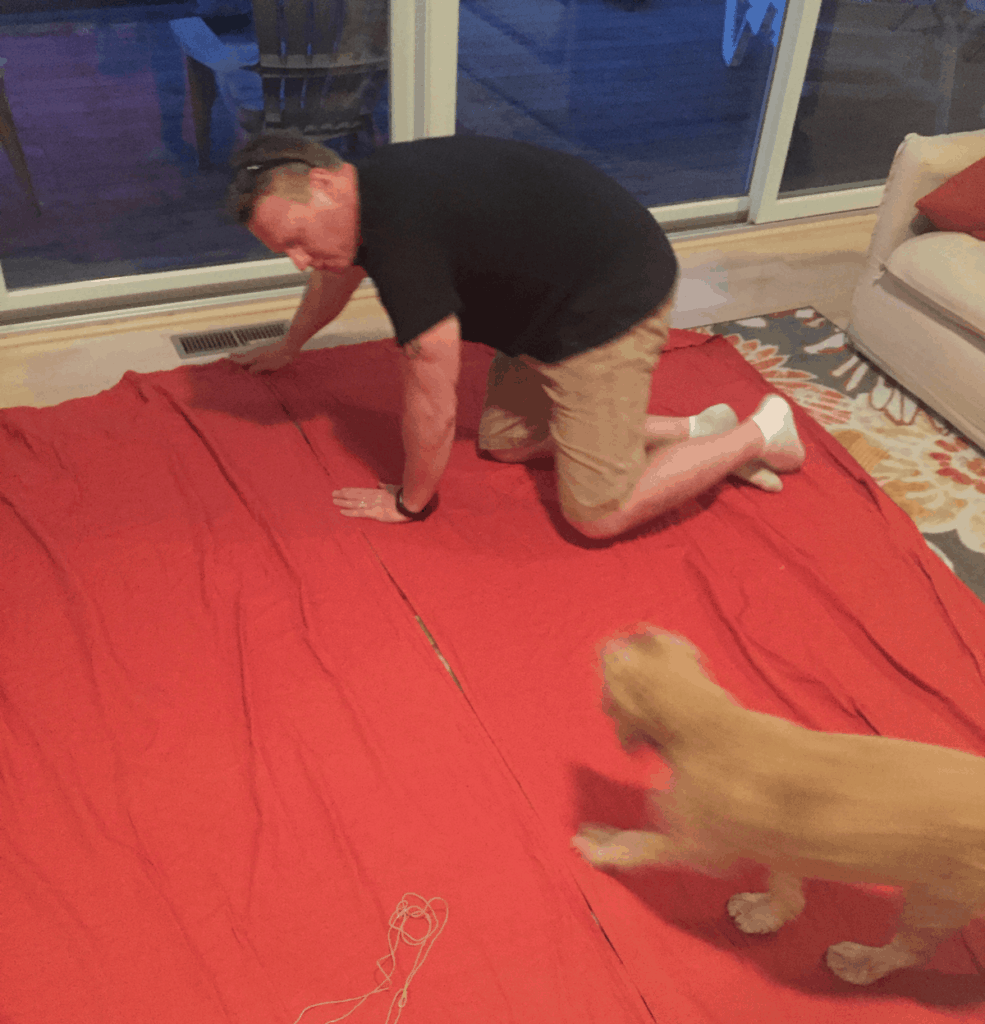 So many things about this solution didn't work! 
The curtain got discolored from hanging in the sun and seemed to amplify its heat. 
Our novice sewing job- surprise!- wasn't the sturdiest, so there were gaps between the curtains.
We also lost a few hooks from year to year, making the whole set up look a little wonky at any given time.
To top it off, the dogs actually enjoyed walking into the curtain like small canine Houdinis and sitting on top of it on the other side. 
The ADCO white RV windshield cover seemed to be the best option for us because it didn't have a lot of moving parts, was constructed from a durable material, and would be easy for us to take on and off. 
The cover comes in a cardboard box and inside of a black, velcro-top storage bag. The cover itself has thick straps that wrap around the inside your driver & passenger door at the top of the window and strong magnets that help it adhere to the bottom of it.
In addition, there is a velcro strap to wrap around your side-view mirrors, creating a very snug fit.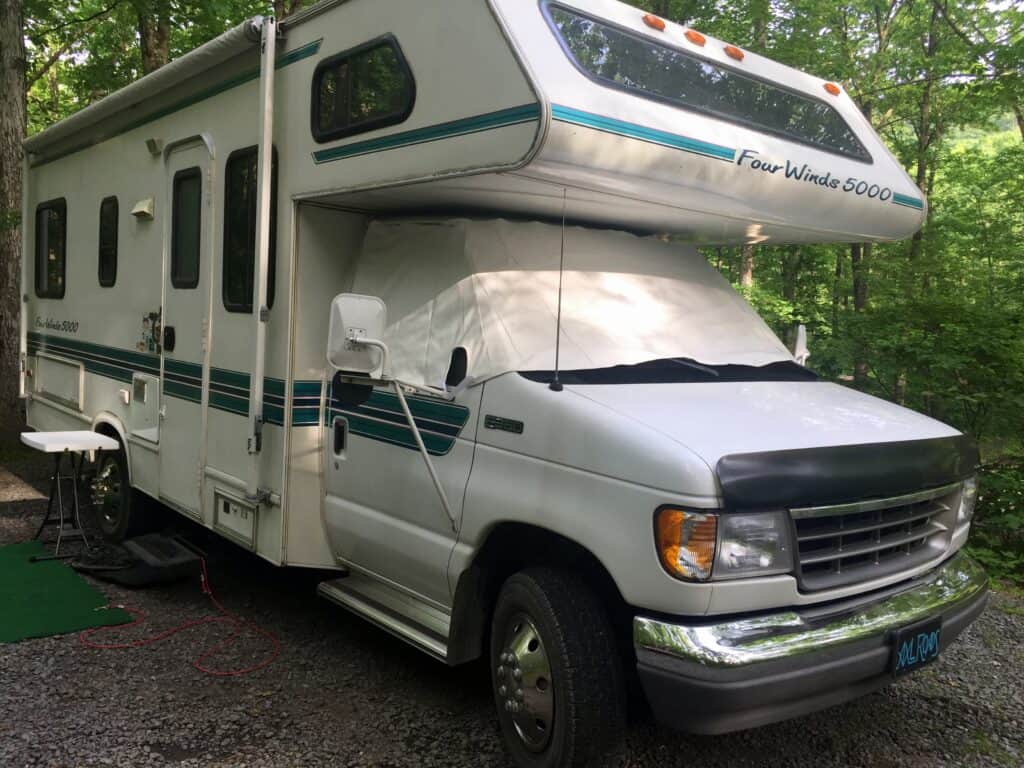 After this photo was taken at Poe Valley State Park, us two RV geniuses figured out that we needed to put the windshield wipers over top of it to help secure the bottom, making it an even snugger fit.  
We're always learning!

The ADCO white RV windshield cover with mirror cutouts was the perfect, clean-looking solution to our problem- and didn't break the bank at $38, either.
It took us about two minutes to put up and an additional 30 seconds to put the windshield wipers on top of it.
From the outside, it looked as sleek as a windshield cover on a 22-year old RV could.
From the inside, it provided the privacy we needed – plus double BONUS! –  the dogs couldn't mess with it AND they were able to use the driver & passenger seats as another hang-out area.
We were also able to remove it without any issues. I recommend giving the cover a quick wet-wipe to get rid of any little bugs that might want to hitch a ride before you fold it up- but otherwise, that was it! We put it back into its storage bag, and it's ready for the next adventure. 
I'm curious what will happen in the rain, but so far, for this sunny RV weekend, the the ADCO white RV windshield cover gets five stars.